Do We Need the Police at All?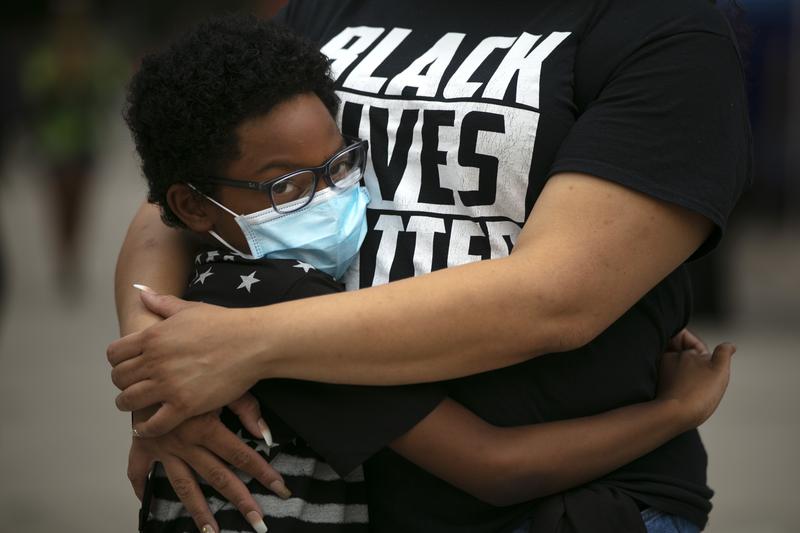 Transcript
[music]
Kai Wright: This is the United States of Anxiety, a show about the unfinished business of our history and its grip on our future.
Keith Ellison: I would not call today's verdict justice because justice implies true restoration, but it is accountability, which is the first step towards justice.
Al Sharpton: We don't celebrate a man going to jail, we would rather George be alive.
Protestors: Amen.
Erica Garner: This is trauma. This is trauma, I haven't dealt with my father's death. I haven't been mourning.
Joseph Capehart: I think it's super important that we differentiate between abolishing, defunding, and reforming the police.
Amber Rose Howard: When we send to the leadership of people who are impacted by these monster systems, then we find our way out of it, and we can show you a world that can exist without the function of police or prisons.
Fannie Lou Hamer: We're sick and tired of being sick and tired.
Kai: Welcome to the show, I'm Kai Wright. Thanks for making us your Oscar's pre-game. We are talking about the movies this hour, but I did interview Daniel Kaluuya last month about his role portraying Fred Hampton, the chair of the Illinois Black Panther Party for which he's expected to win tonight as best-supporting actor. Something I learned in talking to Daniel and preparing for that conversation is that one of the things that the director and co-writer Shaka King tried to do in that film is depict the Panther's ferocious love for Black people and for the Black community, and how it gave birth to Fred Hampton's work. You know what? The thing is, that's a real thing.
I have seen it, as corny as it sounds, that ferocious uncompromising love for community, it has so often been the fuel for movements, big and small. It's particularly the fuel for people who beyond the iconic personalities like Fred Hampton, are just there in the struggle for years and years. Sometimes sure they're organizing a daring protest, and sometimes they're organizing a food drive in a church basement.
Anyway, I say all of that as a background for our first guest tonight. Lumumba Bandele has one of those personal bios that's hard to reduce to something you'll immediately grasp because he's not famous. That's not his job. He doesn't have hundreds of thousands of Twitter followers. He's not on TV arguing over the news of the day, but if you have spent time in Black community organizing spaces over the past few decades here in Brooklyn, you have likely encountered him and his family.
He grew up in Brooklyn, literally inside what some people simply call the movement. Lumumba has been part of a long list of community groups, and throughout all of that activism, he has focused consistently on police brutality and abuse, which is why we have invited him here tonight. He's got a long view on an issue we are all talking about right now. Lumumba, thanks for joining us.
Lumumba Akinwole-Bandele: Thank you for having me. Appreciate it.
Kai: Help me give people a sense of who you are and how you came to this work. You were profiled in Ebony Magazine several years ago, and you described your childhood home as this place where people ranging from South African freedom fighters to Nina Simone came by looking for support and help. Describe your Brooklyn childhood in the movement.
Lumumba: My Brooklyn childhood was framed by the Black Power movement. My parents were a part of an organization called The East. Many people do not know of The East, but many people are benefiting and have benefited from the work of The East. The East created the first contemporary Black independent school, non-faith based in Central Brooklyn called Uhuru Sasa Shule. Freedom Now School is the name in English. From birth up until probably nine or 10 years old, I was in a Black-centered educational institution. I was a part of an organization that was centering not only Black experiences but Black experiences, specifically around the legacy of our freedom and liberation movement. I was born into that.
Kai: What would be your thumbnail sketch of the organizing history in that space around policing over all these years since you were born into it? Has it always been such a central part of Black activism in New York, and if not, when did it shift?
Lumumba: It has been. It always has been, and not just in New York, it's been actually, unfortunately, a part of the Black experience in the United States nationally. We can't get around it. The idea of policing in our communities impacts our daily lives. Many people have to have what we now know as the conversation with their children in order to make sure they come home. It's central to our experiences in this country, and specifically with The East.
It was a big part of what our organizing looked like, in fact. In a Malcolm X grassroot movement, we established a cop watch patrol in 2000. One of the first observations that I had of a cop watch patrol was done by The East and the Black United Front after the murder of Arthur Miller, the 77th precinct. There were Black men at that time, it was just Black men who patrolled outside of the 77th precinct, organized in uniform in the '70s.
Kai: Yes. I opened talking about the film, Judas and The Black Messiah, and that's one of the things they portray there is this long history of cop-watch programs in Black community. Let me ask you this, on last week's show, we talked about the limitations of police reform, how and why years and years of trying to find a technical fix haven't really stopped the violence, body cameras, chokehold bans, unconscious bias trainings, all of this, and yet here we still are.
This week, we're going to try to come at it a little more directly on the question of abolition, just this idea of you know what? We can do something else, we can start over all together. I want to start with you on that question, where do you stand on the spectrum between some reform and abolition?
Lumumba: I call myself an aspiring abolitionist, [chuckles] because abolition is a very comprehensive approach to creating a just society. It's not just the removal of a carceral system, but in place of it is also establishing a loving, nurturing process that allows for people to flourish. It creates also support for institutions and processes that allow people to deal with conflict, to deal with things as they arise. Many of those things we still have to work towards.
When I say I'm an aspiring abolitionist, I don't have all the answers. Many of our organizations don't have all of the answers, but if we put a fraction of the resources, time, and energy that we put into the carceral system, I guarantee that we will come up with some amazing antidote, some amazing answers, but because we do not do that investment, we continue to repeat some of the same things that have proven to fail, we don't really begin to even touch the surface of what we could be looking at in terms of a just society.
Kai: As you point out, it's really just not an easy question, and it's sort of what is our orientation here. Do we take on the hard question or not? Listeners, this is a question for you. The first part of the show is really about open phones, we want to have some honest conversation about what it would really mean for you if we were either to get rid of the police altogether or drastically cut back their size and their role. What else could you imagine? I'm particularly interested in hearing from people who are struggling with this.
Maybe you're convinced that, yes, policing is a problem, but you've had experiences where you're not clear what else you do if you didn't call the cops. Let's talk about it. 646-435-7280. Lumumba, in our show last week, we asked this question of listeners, and we asked them to send us voicemails. I want to play you one of the messages we received. This is Dustin from here in New York.
Dustin: I have a perfect situation where when the police were called they went awry, pre-COVID there was a domestic disturbance involving my brother and my mother's boyfriend, and things became physical. My brother pushed him, the gentleman fell down and hurt himself. He was completely in the wrong, he was making all types of threats saying that he was going to hurt the people inside the house.
However, my brother is a six-foot-five, Black man who just got done playing college football and he just basically pushed the guy he was so intoxicated, he fell and basically humiliated himself. After the guy fell down, he starts spewing more and more nonsense. At that point, once the police were called, they took my brother because he was the one who was less beat up. My brother ended up with a charge, ended up being in police custody at that the county for several weeks in processing. He was just trying to protect his family. It was more of a protective thing than anything.
The other gentleman was in the wrong. He had a previous record, but it's just erroneous how the police take people in the spur of the moment and they got the whole thing wrong. It even stated in all the records after the fact that they got the wrong person, and my brother now has a record, hasn't harmed a fly, was an honor roll student, and now they won't let him get his dream job in the Fire Academy, which I think is a travesty because this kid he's still successful what he does, but he can't get a job doing what he really wants to do in life and that's help people.
Kai: Lumumba, respond to what you hear from Dustin there. I start there because he's pointing to something that I think gets less attention than when police kill somebody, but that is certainly far more widespread, that's this sort of long-term impact that an encounter with police can have on someone's life. Can you talk about that from your years of following that?
Lumumba: Yes, absolutely. The idea that the police are supposed to resolve conflict when these things arise is a problematic framing. Number one, policing really is a reactionary approach to violence most times and other kinds of conflict. There is no real investment in trying to prevent these kinds of things, and so you end up having situations like this where people are dealing with conflict.
Conflict is a part of human life, it's part of human dynamic. No matter where you go in this world, there will always be conflict. What makes societies successful is their ability to navigate conflict, to be able to resolve those issues in a real meaningful way. We don't have that here, we don't have investment in those kinds of things, so what we have is the threat of going to jail. We have the threat of being arrested or beaten as a way to prevent. That does not work. [chuckles] It does not work. You end up having all these residual kinds of things that happen based on this flawed structure.
I'll give you another antidote. One of the things that we did, I had mentioned earlier that in the Malcolm X grassroots movement, we started a cop watch patrol in the 77th and 79th precincts of Central Brooklyn. About twice a week, we would go out with video cameras, very organized, video cameras, with attorneys, with leaflets and knowing your rights, and we did this for about five, six years, twice a week. What we found throughout that time span was that one of the main reasons that people called the police was in response to domestic violence situations.
Imagine if we actually put that money into an organization like Connect NYC, who focuses on not just gender violence, but specifically, violence prevention in the homes, imagine if we did that. Imagine if they were the ability to have people from vet organizations who were trained to intervene to go to those places and intervene and do follow up, and provide services because it's so layered with what they're dealing within homes, we would actually deal with the root cause of it as opposed to having people come, armed people come to respond to something as opposed to address the fundamental issues that are there.
Again, we're dealing with a flawed structure here. One of the things that I always say that is very uncomfortable for people to hear, extremely because we've bought into it for generations. That uncomfortable truth is that the police don't keep us safe. If they did, if they did, we'd be looking at a totally different society. I look around a corner from a precinct, the fact that you have the response to all things is add more cops, add more cops. I live on a highly policed block. I should live on a safest block in New York City. That's not the case. [chuckles]
Kai: We'll come back to that idea. I'm talking with Lumumba Bandele, who has been a community organizer in New York for many years, working against police abuse and many other campaigns. We're taking your calls on abolishing or drastically defunding the police. We want to know what you think about it, what it would mean for your life. 646-435-7280. We'll take calls after a break.
[music]
Kai: Welcome back. This is the United States of Anxiety. I'm Kai right. This week, we're talking about what it would mean, it would actually mean to abolish the police, or at least to reduce their number drastically in our lives and in our city. I'm joined by veteran community organizer, Lumumba Bandele, who has spent decades in campaigns to rein in the excesses of NYPD, including years in the campaign against Stop and Frisk.
We're taking your calls, what would abolition mean in your life? I'm particularly interested in hearing from people who aren't so sure. Maybe you're convinced we need less police involvement, but you've had experiences where you're not sure what else you would do if you couldn't just call the cops. 646-435-7280. That's 646-435-7280. Let's start with Steven in Sayville, Long Island. Steven, welcome to the show.
Steven: Yes, thank you for taking my call. Hi. Okay. I just want to point out that the police are incredibly powerful. I'm a New Yorker, I was in the city when the police attacked the crowd around Tompkins Square Park in like 1990. There were horses. I saw a horse that was trying to throw a karate sidekick. I know because I used to do martial arts. I saw the horse kick a man. The man was just on the sidewalk. The police would like clubbing people coming out of bars right in their head and stuff like that.
I had a friend who got it on video, the actual captain or whatever, given the order to charge the crowd, and this is in New York. Just think about the aggression against these protesters, peaceful protesters for the most part last summer in New York.
Kai: Can I ask you this, Steven? I'm gathering from what you're describing that you would support at least reducing, if not abolishing the police, what would that mean for you?
Steven: Okay. I would like to see funds redirected to mental health workers, would have those cases, and of course, we have too many police in New York, it's like an army. What I'm saying is, in my mind, it's going to be extremely difficult because I see the politicians frightened of the police, their threats, not to show up for violent crimes. They're incredibly powerful and cohesive, and they have all the guns and tanks, et cetera.
Kai: Thank you for that, Steven. Really quick, Lumumba, can you just-- This question of police political power in the city, you have spent all this time in these movements trying to rein in police power? What do you think about that?
Lumumba: Steven is absolutely correct. There is a law and order prioritization among elected officials that they do not stay away from, they literally toe the line, but what you don't see is a public safety line. The union, the PVA specifically, Sergeants Benevolent Association, detectives, extremely powerful unions that have the ability to make elected officials bow to their will. Now, that absolutely is not something that necessarily needs to happen, but what we are having a hard time finding are elected officials that are not afraid to challenge them, they're not afraid to go up against them.
The power of the law enforcement community in New York City specifically is extremely significant, but we're seeing now that that power is decreasing. We're seeing now that people are recognizing some inherent racist approaches that the union specifically have been displaying, the defending of police who kill unarmed citizens, the calling for attacks on protesters. This is coming from unions. The power that they have is tremendous, but we were finding that we've been able to have some victories over them, and they're losing some of that power, and they're very petrified that they're losing some of that power.
Kai: Let's go to Savannah, who is one of our listeners we asked to call in. She emailed over, emailed last week from Los Angeles. Savannah, welcome to the show.
Savannah: Hey, thanks for having me on.
Kai: Savannah, in your email, you said you grew up learning to distress the police because you had some pretty awful experiences in what sounds like a poor family in the south. Can you briefly repeat what you told us about those experiences?
Savannah: Well, basically, I think before any event, or any phrase or story had to be told to me, kids are really receptive and they're really intuitive. When you grow up, and the police pull up behind you or pull in front of your apartment building or whatnot, and the people around you are just stricken with this pure terror because the police can and will say whatever they want, and act with impunity, you grow up being very afraid of the police.
I grew up in houses of domestic violence and never felt-- It always felt like the violence that happened in the household could never be as great as the violence that was going to happen in the system. I ran away from home when I was a kid and spent most of my teenage years homeless. You accrue a lot of charges being homeless because it's criminalized, poor people are criminalized, homeless, migrants. These are criminalized things in our society.
By the time I was in a circumstance where I really had to call the police because we were in a trailer park and the police show up to trailer parks and ghettos in any neighborhood that's poor, thinking you deserve to be there and you should be punished for being there. That's check one against me and then check two is that I have a bit of a record nothing really big, but yes, stuff. The police look it up and I'm immediately the suspect one.
Kai: You did have an incident where you decided you would call the police?
Savannah: I did and I never thought that I would because I've never seen the police make anything better. Yes, one time I was visiting a family member and her boyfriend started beating her real bad. They were both really drunk. I couldn't make it stop. None of the neighbors wanted to get involved. Now I understand why. Yes, eventually I did, I called 911 because I just didn't know what to do. This was in a rural place. If I was in a city, maybe I would have looked up a different response to have because I know that they do exist.
Yes, I call 911 and the police came, and they did arrest him, and she had to go to the hospital. They came and they searched my car, they ran my name, they put me in cuffs. I filled out the police report and the police report itself is from the perspective that is so suspicious of the victim. The police report literally would ask questions like, "Did you do anything to provoke this attack? It just doesn't make any sense. They're not trained to deal with those things. Plus, I've read a lot of studies that say that the romantic partners of police suffer from domestic abuse at much higher rates than civilians. There's just all sorts of wrong going on in that situation.
Kai: Savannah, thank you so much for sharing that story. I'm going to let you go because we've got a bunch of callers I want to get to, but I will say that these are two things that have come up over and over again, in our emails, both homelessness and what their experience is, the negative experience with police when you're homeless, and then domestic violence and the catch 22 of that situation when dealing with police. Lumumba, before I asked you to speak to that I want to try to slip in one or two more callers, and then give you the last word. Let's go to Michael in Flatbush. Michael, welcome to the show.
Michael: Hi, thank you for having me on. I just think about a lot of the protests that I've been on since last year. One of the chants is who do you serve? Who do you protect? Directly toward the cops. That's not rhetorical I think a lot of people have been and increasingly so been answering that question. It's capital, it's private property. I think that I'd love to hear Lumumba speak to the inextricability of the abolition of police with the abolition of capitalism, getting to something beyond this society because people thought that the sun would never set on the king.
This idea of there is no alternative is definitely pernicious and definitely holding us back from seeing a future beyond coercive violence that dresses itself up in community affairs, PR, all that stuff. If we can't get beyond class society where people have to work or they'll die, literally, and think about what can really motivate people and incentivize people, then we're never going to get rid of it, it'll all just be lipstick on a pig. I appreciate you taking my call.
Kai: Michael, thanks for calling. Lumumba, very briefly, if you could just respond to what Michael prompted you to speak, talk about that a little bit?
Lumumba: Yes, that's that's a lengthy question, but I'll just say really quickly to the whole idea of the carceral system really does try to commodify our bodies. When we talk about the idea of exploitation of class dynamics, when we are talking about abolition, it absolutely is connected to a redistribution of wealth, it absolutely is connected to a reexamination of how we see our relationship to wealth, how we see our relationship to each other.
Kai: Let's get in one more caller. Sheltry in New Jersey. Sheltry, welcome to the show.
Sheltry: Thank you. My concern is that we should have educated police, not a person that can walk in off the street take a test, and receive a gun. That is not what's good for the people.
Kai: What kind of education would you like to see, Sheltry, what do you mean?
Sheltry: At least an associate's degree because then they would have to take certain courses that would expand their thinking. I also would like to see Black officers police Black areas, and white officers police white areas because they police very differently. It's not often that a Black officer has to shoot a person, period. If he shoots a white person, he's going to jail no matter what.
Kai: Thank you for that, Sheltry. We're tight on time. I'm going to stop you there. I'm not sure, I'd have to fact-check what the requirements are for at least for NYPD. I'm not sure what education level you need. Lumumba, on that last point about diversity of officers, this has come up over and over and over again. What do you think? Is that an answer?
Lumumba: It's not. Unfortunately, we are seeing and have continued to see Black officers, Latino officers, Asian officers be as brutal, if not sometimes more, in order for them to fit into this society with our communities. We're still struggling for officer Wayne Isaacs to be fired. He's the one that is responsible for the murder of Delran Smalls at Atlantic Avenue, about four or five years ago. There's a long history, every time that I'm stopped here in Central Brooklyn, the majority of times is a Black and white cop.
The idea that black police will police differently does not automatically mean that we will number one, walk away from that interaction. Number two, be not abused, or mistreated, or misused in any particular way, but at the end of the day, imagine that if we actually had people who were educated to do other things that the police are setting out communities to do? Imagine if we had educated people who are trained to do domestic violence intervention? Imagine if we had educated people who are trained to service homeless people? Literally, just again, invested in the things that help prevent these particular things that police respond to.
Kai: Lumumba Bandele is a veteran community organizer here in New York, a Brooklyn native, and has been organizing against police abuse in Black and brown communities for decades. Thanks for coming on.
Lumumba: I appreciate it. Thank you for having me. At the end of the day, again, the uncomfortable truth is that the police don't keep us safe, but also it's important for us to remember that the safest communities across this globe aren't the most policed, they're the most resourced. That means they have the ability to feed their community members, they have the ability to clothe them, to provide the services that they need to function and exist. If we can do that, we can deal with issues around safety.
Kai: We have to leave it there. Thanks to everybody who called in and sent emails over the past week, we received an enormous response. Sorry, to those who we couldn't reach tonight, but you can keep tweeting at us with the #USofAnxiety. You can always reach me by email at anxiety@wnyc.org.
[music]
We're going to turn now to the mental health aspects of this. Shortly, I'll be joined by a psychiatrist who will help us think about how watching the parade of violence we have seen can impact our mental health. To get us in the right mindset for that conversation, I want to share an essay we received. Hali Bey Ramdene is a writer and editor who lives in Albany, New York. After Ahmad Aubrey was shot while jogging in Georgia last year, Hali felt a deep need to write down her thoughts because as she told us some feelings need to be witnessed.
She saw a photo of Aubrey and she felt like she was looking at a brother. She felt like she just had to get it out. As she sat and wrote, she remembered a moment from her childhood when a teacher understood how watching violence against Black people can impact your psyche, especially as a Black child. Hali recorded this essay for us about it. It's called On Sweetness and Wounds.
[music]
Hali Bey Ramdene: In 1997, I was in the fourth grade and had a wonderful teacher who made Black History an essential part of my classroom experience. Ms. Brian might as well have been 6 feet tall and one of the most beautiful people in the world as far as I was concerned. My mom would always tell me, "You know she's a Delta. Black excellence down to the bone." She made us memorize a page-length poem every month.
Recording of Langston Hughes: I've known rivers ancient as the world and older than the flow of human blood.
Hali: She celebrated our curiosity and nurtured our friendships, and never once made things easy. Ask me about when my mom put together a fashion show in City Hall for Black History Month, where 20 something children put on clothes from different countries in Africa, learned those flags, learned those stories, wore those clothes. Ask me about my Black being beautiful.
[chorus singing]
One day, she rolled a TV into the classroom during Black History Month and we watched Roots.
[music]
I covered my eyes with my hands and watched in between my fingers. The scene where Kunta Kinte's foot was severed. I had nightmares for days. When the class watched the rest of the series, I sat outside and read a book, How to Make an Apple Pie and See the World.
[music ends]
That visceral violence against someone, particularly because they were Black was a trauma I could not tolerate.
News Anchor: Breaking news tonight at 10:00, newly released body-camera video--
Hali: Elijah McClain had sweetness and he was cold. The music in his ears that day made him move. Perhaps he was trying to shake off the chill from his anemia or the fear that Black people have while walking in their neighborhood, that someone might call the cops on them for being cold, or dancing. For that reason alone and a hate so deep, we end up dead. Let's guess since the sweetness in him led to playing the violin for kitty cats [violin playing] and running out to get his brother an iced tea, he decided to listen to music and do a little dancing, so he could have a quick recharge to feel safe and warm on his walk home.
[music blasting in headphones]
"I'm an introvert," he told them. These stories, these people and their precious lives ripped from existence create wounds that do not easily heal. The fatal negligence of this America towards both the sweetness and the wounds is the world you're raising your children in, the world your parents will die in, the world we're all living in. Numbed out and enraged until it leaves vacant Black spots on our souls. We have to take to the street after what Tony, our beloved got right about the wait for justice, the Rodney King uprisings of '92, and was prophetic about regarding the souls in the streets today, how long they waited. How long they waited.
How do you sleep knowing what happened to sweet Breonna, baby girl. To Elijah and George. Big Floyd you are my friend Israel, this giant of a Black man who was all sweetness and trained my weightlifting Black mama back in '98. To Trayvon and Tamir, little ones, you have my heart. To Philando, angels are real I know a few. To Eric Garner, what I'd give for loosie right now. Sweet Llama, did you know I used to buy those over on Quail street? Now it's just the gooder. To Sandra with all the hope in your heart and hurt feelings in your glove compartment. To Ahmaud, your smile brought me to my knees, not me though, not my own brothers, not my jihad, not my baby Grahame.
I think of all the children who are inundated with images of this very particular brand of American violence and hope that someone is kind to them when the violence becomes unbearable, that someone both shows them the unflinching truth of things and takes care of them when it hurts too much. How could I not watch what's happening and not feel that fear and pain and my own body and the bodies of all the me's?
Every time we name someone else who has been brutalized or murdered because they are Black, I'm both myself as I am today infuriated and active in my pursuit of something better for the world, something better in the world and in the pain that only subsides on the steps next to my classroom. A book about apple pie was not an escape, it was not a place of peace. It was me engaging in what I am and remain deeply curious about.
Did you know the finest cinnamon comes from the Kurundu tree in Sri Lanka? Racism is a distraction. There's something to be said about my fourth-grade teacher, Ms. Brian, privileging my curiosity rather than making me endure the pain of that movie. Perhaps she knew I didn't need that particular mode of delivery when it came to learning about the history of racism and slavery in this country.
What I do know is she was conscious of my wellbeing with that decision and I haven't stopped making that same choice for myself ever since. A diagnosis, heavy hearts will sink to the floor of the ocean and they will rebound, but today mine is very deep in the dark wet sands that the sun cannot touch. Tomorrow it will rise to the surface and I will feel the warmth of the sun, but today, please pay attention to the children. They're watching all of this and they will remember every last moment of how this world was made.
Kai: Thanks to Hali Bey Ramdene for that essay. Coming up, I'll talk with Dr. Jameta Barlow about how we take in the constant stream of violence and what it does to our brains.
[music]
Carl Boisrond: Hey, there, I'm Carl Boisrond, a producer on the United States of Anxiety, here to remind you to always check the show notes of our episodes. We've made it something of a further reading or listening section. This week you'll find links to two past episodes that deal with the culture of policing and the real human toll of our prejudices. Listen, and let us know what you think on Twitter using the #UsofAnxiety, or you can send us a voice note to anxiety@wnyc.org. Thank you.
[music]
Kai: Welcome back. This is the United States of Anxiety. I'm Kai Wright. Just a quick fact check from our last segment. One of the callers asked about what your qualifications have to be education-wise to be in the NYPD. You have to have a high school diploma, plus at least 60 college credits with a minimum GPA of 2.0 or two years of full-time service in the US armed forces. That's the answer to that question. I'm joined now by Dr. Jameta Barlow. Dr. Barlow is a community health psychologist and an assistant professor of writing health policy and management and of women's and gender studies at the George Washington University. Dr. Barlow, thanks for coming on the show.
Dr. Barlow: Thank you for having me.
Kai: We have a lot to get to and not much time. I want to just dig right in. One of the questions that a lot of people are reckoning with right now is whether or not Derek Chauvin's conviction for murdering George Floyd will be a one-off or something systemic has changed. Many, many people, I'm one of them are living with a bit of resignation that things in fact will not change.
Especially when you consider that the same day that Derek Chauvin was convicted for that murder, a police officer in Columbus, Ohio fatally shot, Ma'Khia Bryant, a teenage girl. My question for you is when we're inundated with this endless violence and this feeling of resignation sometimes in the face of it, what actually happens to our brains and our bodies? Let's start there.
Dr. Barlow: That's a great question. This is a layered question. I'll start with the biological aspect of it is that we know that brain development begins in the fourth prenatal week, and it continues through age 25, 30. When the brain is exposed to high levels of cortisol, it's the stress hormone. In utero, if mom is stressed, then the fetus could be stressed, and then we have this thing called adverse childhood experiences.
If you're exposed to ongoing violence, then what can result in this literally handing down of trauma, handing down of changes in the brain function. We know that it can happen with the abuse, you can experience deficits and structure, but it's particularly a decline in the hippocampus. That's related to learning and memory. Young people who are exposed to violence over and over then that's what happens. There is a change in learning and memory. Now it's layered because--
Kai: Literally in our brains?
Dr. Barlow: In our brains. Most of that that's happening is biological to about age 25 or 30. Then, what's also happening is that if you're older than that, this ongoing seeing violence on television, seeing Black death on television, that's an additional level of stress, so it's multiple layers there. When you're above 30, it's most behavioral change that we can point to, but early on, I'm more concerned about the kids and the children who are not only seeing violence, they're hearing it and they see it every day in their neighborhood, or maybe as the previous callers have talked about at home, every day what's happening in terms of violence, but then police violence. We know that there are biological effects.
Kai: Then, how does that feel? How does that show up in your body so if you are a child, for instance, as you're talking about, how would that manifest?
Dr. Barlow: It shows up in so many ways trouble sleeping, anger, acting out, anxiety, helplessness, feeling hopeless, frustrated. We know that there's a concept called racial battle fatigue, and so that's that constant having to cope with all of these things. We know that it also shows up as disturbed sleep, people having nightmares, racing, heartbeats, all of these things, cold sweats, intrusive thoughts, all of them contribute to this racial trauma, this either perceived and very real experience of racial discrimination.
It's something that is handed down. It's not only dependent on your environment, it is also dependent upon the messages you receive in terms of media. Again, I can't emphasize enough that we show Black death in media over and over and how traumatic that is. Not only for Black people and other people of color, but for children.
Kai: What about that? Because I mean, one of the things that happens is these viral videos. There's a police murder, or a violent attack happens, and there's a video of it, it goes viral. Some people feel an obligation to watch these gruesome videos on one hand, and on the other hand, of course, there's just dread at the site of it. One, do you watch them, and then two, because there's also the argument that this is how we know about these things. We know, for instance, specifically, in the case of George Ford's life, we only know that he was murdered because of the video. What is your relationship to these videos, and what would you advise people as news breaks each time?
Dr. Barlow: I do not watch them now. The last one I watched was Eric Garner, he was killed on my birthday.
Kai: Oh, my goodness, I'm sorry.
Dr. Barlow: Well, more sorry, my condolences to the family. Watching that, and the visceral reaction in my body, we hold trauma in our body. Literally, it affects our muscles, it affects everything, but it has major effects on cortisol, it increases hypertension, increases cardiovascular disease, risk for stroke, as well as high blood pressure. All of these diseases that are more likely to be in Black and Brown communities. Now, I don't watch the videos and I encourage other people to really create those boundaries if they can, they play over and over. What we need to do as a society, find a way to share information without having to view Black death over and over.
The US has a fascination with Black death. Remember, lynchings used to be opportunities in the history for people to come together and bring food and bring their children to watch people die. There's this infatuation, it didn't start with police violence, but it started with police violence in the sense of catching former slaves, the policing of Black bodies. There's been this ongoing infatuation with Black death, we have to find a new way in which to find justice for Black people who are killed.
Kai: One of our producers points out, listening to you talk, that Erica Garner, Eric Garner's daughter died of a heart attack at age 27.
Dr. Barlow: Yes. Thank you for reminding me, I usually use that as an example, that the biggest thing we can do right now, and the biggest threat, I would say to white supremacy is Black joy, Black wellness, Black optimal health, taking care of ourselves through mindfulness. That is the best way we can combat this. in addition to policy and advocacy and fighting, but in fact, we are taking on so much through stress, also due to other stressors in life, but that is a major stress, seeing violence over and over, experiencing violence.
Also, that knowledge knowing that you can't do anything about it, and it's a numbing effect. A lot of people I know, a lot of people I've talked to, communities I've worked in, people are numb, it's so much that people are numb, they don't feel anything. It can get worrisome when you can no longer feel how bad it is.
Kai: What is it? Do we have a precedent for that in science in terms of what does that mean if we become numb in that way? Because I relate to it, it does get quite numbing. Because it just becomes unfathomable, the idea that you would be literally in the middle of watching a verdict, that is this historic verdict of a police officer being held to account for murder, and within an hour there'll be a new case of a 15-year-old girl, again, Ma'khia Bryant being killed. It does become unfathomable, and so what in terms of this, the science of it, does that operate on an even different level?
Dr. Barlow: I mean the ongoing I think science when we look at trauma and science, we have so many examples throughout history and throughout the world. Relating it to this, we do now that, like I mentioned earlier, there is the science of trauma, but in terms of how do we alleviate, that we really have to dismantle these systems, as past callers we're talking about, because that's the only way we can alleviate the threat, the stressor, otherwise we're going to continue to see increased rates. Even now, we know, for example, Black men have increased rates of heart attacks at the age of some times under 40, but more so over 40.
We also know that most mental illnesses occur by age 20. I can't emphasize enough that if our kids are taken care of mentally, physically, emotionally, we can improve their chances later in life. What we're seeing now I think about when I grew up, there was a lot of violence in the '90s, when we heard about-- I remember a lot of Black men saying they didn't expect to live past 18 or 21. These are the men who are in their 40s having premature heart attacks. We have to think through that, of what these levels of violence and exposure to violence. Think of it as a social exposure, and that becomes a stressor, which contributes to this hormone imbalance.
Kai: You're a community health psychologists, but you also teach in the writing department speaking of solutions, and finding joy, we heard Hali Bey Ramdene's essay earlier in the show when she said she wrote as a way to cope with the violence she witnessed. So in your instruction, how do you use writing as a tool to move forward emotionally and psychologically, through this stuff?
Dr. Barlow: I'm so glad you asked that because I do that with my students, but I also do like community write healing, is what I call it W-R-I-T-E, so write healing, and it's using check-ins. It's using African American literature, and really engaging. We know that journaling, we know that writing can affect your emotions. It's a type of mindfulness. It's a type of meditation, and we know that mindfulness can create neural pathways. Even if you're over 30, after your brain is fully developed, we know that we can create new neural pathways by using mindfulness such as writing, such as yoga, such as meditation. This becomes a way of healing.
In this, you can uncover trauma, you can heal trauma. Of course, engaging in therapy is also a solution. I use write healing with my students, I do check-ins, they have writing prompts, and they use breathing. These are ways in which we can decrease cortisol in our body, and really contribute to long-term effects related to cardiometabolic syndromes, such as cardiovascular disease, high blood pressure, et cetera.
Kai: It's so interesting. It's healing not rhetorically, but literally physically healing our neuro-pathways by writing.
Dr. Barlow: Yes, it's beautiful. It's a beautiful experience. I've seen these moments when women and men they're like, "Oh, my gosh, I didn't know those things were connected." It's that realization that is able for them to free, but we do know through a lot of scientific studies, that there are changes in the neural pathways. There's much more research to be done, especially in Black communities, but it's something that needs to happen.
Kai: Dr. Jameta Barlow is a community health psychologist and an assistant professor of writing Health Policy and Management and of Women's and Gender Studies at the George Washington University. Thanks so much for joining us, Dr. Barlow.
Dr. Barlow: Thank you.
[music]
Kai: United States of Anxiety is a production of WNYC Studios. Jared Paul makes the podcast version, Kevin Bristow, Matthew Mirando, and Milton Ruiz, were at the boards for the live show. Our team also includes Carolyn Adams, Carl Boisrond, Emily Botein, Karen Frillmann, and Christopher Werth. Our theme music was written by Hannis Brown and performed by the Outerborough Brass Band. Veralyn Williams is our executive producer and I am Kai Wright. You can keep in touch with me on Twitter @kai_wright. As always, I hope you will join us for the live version of the show next Sunday at 6: 00 PM Eastern. You can stream it at wnyc.org or tell your smart speaker, "Play WNYC." Until then. Thanks for listening. Take care of yourselves. Happy Spring.
Copyright © 2021 New York Public Radio. All rights reserved. Visit our website terms of use at www.wnyc.org for further information.
New York Public Radio transcripts are created on a rush deadline, often by contractors. This text may not be in its final form and may be updated or revised in the future. Accuracy and availability may vary. The authoritative record of New York Public Radio's programming is the audio record.