David Dinkins vs. the NYPD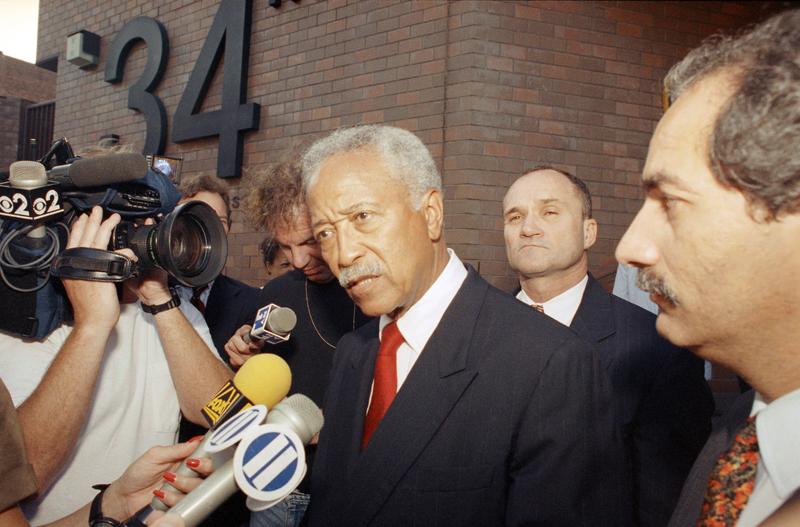 Transcript
[music]
Kai Wright: This is the United States of anxiety, the show about the unfinished business of our history and its grip on our future.
Reporter: At Washington Square Park a clash over a new curfew last night led to nearly two dozen arrests.
Mayor Ed Koch: You know, the mayor is not the police commissioner. I'm not a professional cop, who knows how to handle crowd control. It's ridiculous. You hire people who do that.
Sam Scudder: I don't know. I think the cops are being a bit too oppressive, if I'm being honest.
Protesters chanting: We said defund, dissolve, abolish the police!
Ken August: I ain't even trying to go nowhere near no subway with all these slashings, all this craziness I'm hearing. I think they definitely need to increase police, more police.
Mother: Now I understand that you have to strive, struggle and survive, but not with a gun.
Marcia Kramer: You ever worry about your own personal safety?
Mayor David Dinkins: There's just not much one can do about that and to live in constant fear is not to live.
[music ends]
Kai Wright: Welcome to the show, I'm Kai Wright. Last weekend, a 10-year-old boy, Justin Wallace, was killed when a bullet shot through his family member's home in Far Rockaway, Queens. The details of who fired the gun and why are still emerging. What seems clear is that it all stems back to an argument over a shared driveway, over parking presumably. This child lost his life just days before his 11th birthday, because tempers flared over something trivial, and guns were involved.
Justin's death shook people and it has come to symbolize something in New York City right now: a palpable anxiety about our safety. As millions of us joyfully flocked back into the streets after a deeply traumatic year, there is also an edge to this moment. There were more shooting incidents in New York last year than in nearly 20 years. The striking rise in anti-Asian hate crimes which we talked about previously on the show, it has really changed the way some New Yorkers go about their lives.
One of our producers who grew up in Southeast Queens, she's been out talking to people in her part of the city, about how they feel about their safety right now. I want to share what one person said Richard David, who's a [district] leader in the Queens Democratic Party, because I think he pretty well captures the emotions of those who are concerned.
Richard David: What is, I think, really worrying and I think this is where the perception is increasingly matching the reality is, we know that summer months in New York City happen to be more violent than other months. And if this level of violence is here, and it's not even summer, then the likelihood of it'll only getting higher is very real for people. I think the sense of alarm you're hearing is because we know the worst is coming.
Kai Wright: The worst is coming. If you've been in New York City long enough, you'd know there's a lot of emotion in history buried in that phrase, the battle days when violent crime was such a big part of the city's identity and the lived experience of people here. It should be no surprise then that public safety has been at the center of the mayoral election. Every single candidate has had to answer for how they are going to make us feel safe. Also remember that this time last year, our city was an epicenter of the national uprising against police brutality.
There is still a more widespread desire for more fundamental change to how we deal with public safety, than, I would guess ever before. This will be perhaps the largest challenge the next mayor faces, balancing very real concerns about public safety with equally real concerns about the police force that is currently charged with keeping the public safe. We're going to think about that challenge in a couple of ways on today's show. The second part of the show, we're going to talk to an organizer in Queens who's been trying to come up with new community-based answers to public safety for many years.
We're going to take your calls too. First, we're going to look back at the history that haunts this moment because a previous mayor also faced this tension between widespread fear of crime and widespread distrust of the police. What David Dinkins experienced when he tried to solve both of those problems is instructive. The story begins in the last month of the Koch administration, just before Dinkins began running for office. Our senior editor Christopher Werth takes us back to the New York city streets of the late 1980s.
Christopher Werth: Kai, a few weeks ago, I went out to the Lower East Side in Manhattan to find this specific spot on the sidewalk.
Tisha: You're somewhere around here.
Christopher Werth: I met up with a woman named Tisha Pryor there. She lived in the neighborhood in the late 1980s as a college student.
Tisha: If you had a GPS locator for me at that time, you would see me crisscrossing in the area all the time.
Christopher Werth: This neighborhood, as Tisha describes, it was really diverse. It was interesting. Tisha is Black. At the center of it all this community was Tompkins Square Park.
Tisha: You would see the normal folks with their things out on the sidewalk that they were selling. It was pretty busy.
Kai Wright: What was that this spot on the sidewalk that you were looking for?
Christopher Werth: One hot summer night, this was August 6th 1988. It was a Saturday, Tisha and a friend of hers were standing on this part of the sidewalk just outside the park.
Tisha: Maybe there.
Christopher Werth: What you have to understand is that Tompkins Square at that time had become home to a number of homeless people, drug users, people playing that music late at night. We can't go into all the details of what was happening. Suffice it to say that tension had been growing for months between people in the park and some in the surrounding community. The city, to try to clear the park out had established a curfew for Tompkins Square, and a couple of 100 people had gathered on the street that night to try to keep the park open.
Tisha: I along with some other people ended up here. There was a huge amount of police. I was a little taken aback. There were offices on horseback that were lined up on the avenue. There was a helicopter flying above. The presence of the forest definitely was giving a message that was meant to intimidate the crowd.
Kai Wright: How many officers were there? Do you know?
Christopher Werth: Newspaper accounts, there was a total of 440. As for the crowd, it's unclear exactly how big it was. There weren't that many more protesters than police there. There were some people throwing bottles and other debris, which made things even more tense with the police that night.
[crowd cheering]
Tisha: They seem pissed.
Christopher Werth: Then she describes it just as that 1:00 AM curfew was about to hit, the police rushed into the crowds.
Tisha: They rushed on horses and they rushed on foot. Then at one point, an officer pushed me and said, "Move you Black [beep]. Then I was hit on the back of my head by a police badly.
Christopher Werth: Were you bleeding after that?
Tisha: I was bleeding, yes. Then I turned around because I realized that my friend wasn't with me. I saw that he had been shoved by police and there were a number of them surrounding him hitting him.
Speaker 9: Call an ambulance.
Clayton Patterson: It was just total, total chaos.
Christopher Werth: This is Clayton Patterson. He's an artist and photographer who lived just down the street from Tompkins Square. He still does.
Clayton: I was videotaping because I had a Panasonic AG-155 which was one of the first commercially available handheld cameras.
Christopher Werth: He filmed Tisha and dozens of other people being attacked.
Clayton: If you watch the videotape, you will see some cops had no badges on. This lady got hit in the head with a nightstick by a police officer. I'm a witness. I've seen it. Cops going wild.
[background conversation]
Christopher Werth: Now, Kai I think as most people know, cases of police abuse are really hard to prove. In this case, these images of Tisha and all these other people start making the news.
Speaker 10: For the past 48 hours, a video was been surfacing like this sequence in which the police approach a demonstrator and begin first berating him then beating and chasing him.
Christopher Werth: Today, of course, we know this as the Tompkins Square Riot of 1988. Dozens of people were injured. There were 121 complaints filed against the NYPD but in the end, very few officers actually faced any kind of repercussions for what happened that night.
Tisha: I would have hoped for some true accountability but I didn't have any illusion that there would be because at that time is still the case the police themselves.
Christopher Werth: Just to unpack what Tisha is saying here, in New York, we have what's called the civilian complaint review board or CCRB. It was started in the 1950s. It's supposed to investigate cases of police misconduct. The problem, had been that it was controlled by the police department itself. Let me ask you a question here. Out of the 73 investigators who worked for the CCRB at that time of this riot, how many of them do you think were actually civilians meaning not police officers investigating other police officers? Do you want to just take a guess at a number?
Kai Wright: I'll be generous and say 10.
Christopher Werth: Your generosity is a little too much because it was six. The people who were coming in to report police misconduct said that they did not feel comfortable talking about what happened to them with another police officer, right?
Kai Wright: Right.
Christopher Werth: What evolved out of Tompkins Square, were calls from more civilian oversight of the NYPD, a truly civilian, independent Civilian Complaint Review Board.
Kai Wright: Ed Koch was our mayor at the time, did he support anything like that?
Christopher Werth: Well, Koch had already made some smaller changes to the CCRB the year before, it's just that he had been very reluctant to do so. Even the chairperson of the CCRB at this time, after this riot had said, it had not been enough, but there was about to be an election in New York in 1989. Just a year after that riot at Tompkins Square, someone would come along who had a very different view of policing and police misconduct than any of his predecessors.
David Dinkins: I'm David Dinkins, and 20 days from now I will be sworn in as the 106th Mayor of the City of New York.
[music]
Kai Wright: Coming up, the story of David Dinkins versus the NYPD. This is the United States of Anxiety, I'm Kai Wright. We'll be right back.
[music]
Kai Wright: Welcome back. This is the United States of Anxiety, I'm Kai Wright. When David Dinkins stepped into office, he faced a similar if far more intense version of today's political dynamics. A lot of people were thinking about police brutality because of scenes like the one you heard before the break, the extreme force NYPD used in clearing people out of Tompkins Square Park.
At the same time, lots of people in the city just didn't feel safe, and they wanted something done about a very real violent crime problem. Dinkins, New York's first and still only Black mayor, he tried to confront both things, and his experience is instructive for whomever is about to become the next mayor of New York City. Our senior editor Christopher Werth has been talking with former Dinkins staffers and with people who knew him and understood the obstacles he faced. Christopher starts by explaining the role policing played in the 1989 election.
Christopher Werth: Well, we have to remember who Dinkins was running against in 1989.
Speaker: Here is your other candidate, Rudolph Giuliani.
Christopher Werth: Rudy Giuliani was this former federal prosecutor who taken down the Mafia, who really tried to cast himself as Mr. Tough-on-crime.
Rudy Giuliani: Yes, to the toughest crackdown on criminals this city has ever seen.
[applause]
Christopher Werth: In at the time, the crime rate in New York was really spiraling out of control, breaking new records for homicides year after year. We talked about this increase in crime that's happened in the city over the past year. What we're seeing today is nowhere close to what it was back then, over 1900 people were murdered in New York in 1989. That number was 462 last year, but Dinkins had his own plan for how to take on this problem.
David Dinkins: With respect to crime and drugs, most people know that my plan is to double the number of community patrol officers in my first term, put a cop on every subway train every night.
Michael Carfin: His fundamental goal was community policing.
Christopher Werth: Kai, this is Michael Carfin. He worked for Dinkins when Dinkins was Manhattan Borough President in the 1980s all the way through his time as mayor.
Michael Carfin: Communities of color basically felt like there was policing because you were Black, policing because you were Latino and because the police force had been declining in numbers, they moved off of the sidewalks and they moved into cars. A lot of policing became patrol cars, like a military vehicle going through the community, and most of the police force didn't live in the city.
Christopher Werth: It's interesting, Kai, this is still a point of contention today. It's come up in the mayoral debates this year. At the time we're talking about here, roughly 40% of officers lived outside the city.
Michael Carfin: They lived in Long Island. They lived in Westchester.
Christopher Werth: Today, that number is 51%.
Kai Wright: Wow.
Michael Carfin: You have police who don't have an affiliation or have an affinity with the community and a culture that you have to change.
David Dinkins: I want us to get back to the days when the police officer knows the neighborhood and the people in the community knows a police officer and says to the officer, "How's your wife, how's your husband," as the case may be, and the police officer when he sees the child on the streets is, "Go home Johnny, I'll tell your mother." Back to those days.
Michael Carfin: I think that rubbed up against the established police culture from the beginning because they were perfectly comfortable being in patrol cars just driving around, not having to build relationships, and now you're trying to totally disrupt that. That's what he wanted to do.
[music]
Kai Wright: Dickins had this idea of shaking up how the police department does its work, how it actually police's, but he also wanted to make them more accountable in what they did when while they're in policing. How did he talk about that on the campaign trail?
Christopher Werth: Yes, I have to say, it was not an issue that came up a lot in the 1989 election, but during one of the debates that year, a well-known Black journalist here in New York, Dominic Carter, he stands up and asked that question.
Dominic Carter: As mayor, what would either one of you gentlemen do to cut back on police brutality?
David Dinkins: Well, it is a very important area. I have tried always when I have been critical of the policing and--
Christopher Werth: In his answer, Dinkins list Black and brown people who'd been killed by police or died in police custody, these really high-profile events that had happened in just the recent few years before the election.
David Dinkins: Eleanor Bumpurs, Michael Stewart, Juan Rodriguez. I've spoken out at those times, but each time I tried to use great care to make the point that I believe that the vast number of women and men who make up the New York City Police Department are good, honest, hard-working people who put their lives on the line for all of us every day. Having said that, it still is important that it be understood that it is illegal to use excessive force.
Kai Wright: That sounds very cautious to the modern era, I imagine. He's being very careful there, but we have to remember that there wasn't anything like the support for reform that there is today, even in Black communities, let alone outside of the Black community.
Christopher Werth: Yes. I think what you also have to remember is that the police unions in New York, in particular, the Police Benevolent Association, or the PBA, it's still one of the most powerful unions in the city today. Historically, it did not like any of the kinds of ideas David Dinkins was talking about.
Kai Wright: No matter how temperate they may be.
Christopher Werth: Yes. They have always wielded a lot of influence with whoever is mayor of New York.
Keith Wright: The PBA certainly thinks they are a force to be reckoned with. Dave represented absolute change.
Christopher Werth: This is Keith Wright. He also worked for Dinkins when he was Manhattan Borough President. He claims the union could be very aggressive, well past the point of politics.
Keith Wright: Listen, I talk from personal experience.
Christopher Werth: Keith's father was Bruce Wright, a judge in New York City criminal court and later in the state Supreme Court.
Keith Wright: My father was probably one of the most famous judges in New York. At that point, they call him "Turn 'Em Loose Bruce," and the police union hated him because he would let Black and brown people out with no bail.
Christopher Werth: Some of the people he'd released were accused of assaulting police officers.
Keith Wright: I used to get packages, letters all the time, some with human excrement in there, saying that this is what you're going to look like if your father keeps up his anti-police stance.
Christopher Werth: You're saying the police union used to send threats to you and your family?
Keith Wright: All the time. Oh, hell yes. All of that. Where would you go to take them to? You can't take him to the police because they're doing it.
Kai Wright: Has that been confirmed elsewhere that the police union actually sent threats like that?
Christopher Werth: Yes. I worked really hard to confirm this. It happened a long time ago, Keith's father passed away in 2005. I reached out to the police union, haven't received a response, but I've spoken with several people with first-hand experience of the police unions who say this would not have been out of character for the unions at the time.
[chanting]
Speaker 11: Stop that. No.
Christopher Werth: That it was still the case when Dinkins defeated Giuliani in 1989.
Speaker 11: No, quiet. Quiet. I just spoke to Mayor-elect David Dinkins on the telephone. I've congratulated him. It is a historic event. He'll be the first--
[chanting]
Speaker 11: Listen--
[music]
David Dinkins: I see the decade of the 1990s, there's a time when we move away from selfishness and privilege to a time of community and inclusion.
Christopher Werth: Dinkins came into office with this vision for what the city could be.
Kai Wright: Right.
David Dinkins: A new urban agenda, an agenda that recognizes government as a tool for good.
Kai Wright: As Michael Carfin describes it, Dinkins had inherited some really huge problems.
Michael Carfin: We came into office in January 1st of 1990. The city had a billion-dollar hole in its budget that Koch had not fixed. We were in a recession and the crime was alarming.
Speaker 12: A few months after becoming mayor, David Dinkins today was confronted with one of the most heinous crimes ever perpetrated in New York city.
Michael Carfin: The murder rate was reaching new records.
Speaker 12: The mayor told us it was the worst moment in his public career. Going inside seeing the bodies, he said.
Christopher Werth: In a move that you would think would appeal to the police unions, Dinkins sets about hiring thousands of new officers. Around 6,000 total new uniformed police officers.
Kai Wright: In the middle of while he's dealing with this massive budget deficit.
Christopher Werth: Yes. Yes. At the time it was described as the biggest restructuring of the NYPD in the city's history. It was the thing that was going to allow Dinkins to do what he talked about in his campaign. To get police out into communities, actually getting to know the people they're supposed to serve. That was his ideal.
David Dinkins: We will seek to cure the disease, not to curse the afflicted. We will push back the frontiers of fear to take back our streets and our parks from the pushers, the muggers, and the murderers.
Christopher Werth: The other thing he does, and we're really fast forwarding through time here is he starts hammering out a plan with the city council to fix the problem. We identified at the top of the show with Tompkins Square, which is that the police were essentially policing themselves. The Civilian Complaint Review Board was under the control of the police department. Dinkins wanted legislation to create a truly civilian agency that in his view could start to strike the balance you were talking about earlier between police power and community distressed.
David Dinkins: I feel strongly that a fully independent Civilian Complaint Board empowered with the means to reach impartial decisions will serve to men, such riffs.
Christopher Werth: He believed that we in public service were accountable and that included the police. They weren't exceptions to that because they were public servants. They had tough jobs so that a lot of people had tough jobs. Sometimes they made mistakes while they needed to be held accountable for that because they also had power. That's why he believes so much in that Civilian Complaint Review Board.
David Dinkins: Such an impartial mechanism becomes not only a natural component of the community policing model, but will serve to instill greater community confidence in the neighborhood.
Kai Wright: You mentioned how the police unions had always fought every mayor ever on any type of reform. How did they respond to Dinkins?
Christopher Werth: Late in the summer of 1992, the Police Benevolent Association or the PBA began organizing a protest of their own and they were going to do it right outside Dinkins's door.
Marq Claxton: They were trying to get as many offices as possible to take off and come down for this rally at City Hall.
Christopher Werth: Kai, this is Marq Claxton. He's been on the show before. He's a former in NYPD detective. He's an outspoken critic of the NYPD. At the time he was an active-duty cop.
Marq Claxton: Quite frankly, the Blacks on the jobs were like, "No, we're not participating in that. We pay our union dues, we're in the union, but we're not coming down to your demonstration."
Christopher Werth: Do you recall how the day began?
Michael Carfin: The job that I had and when there were disturbance is the police desk in City Hall would call me
Christopher Werth: Carfin by this point he was working as Dinkins community director. On September 16th, 1992, it was a Wednesday. He gets the word that thousands of off-duty police officers had stormed onto the steps of City Hall, protesting David Dinkins.
[protests]
Michael Carfin: They barged onto the Plaza and then just filled the Plaza.
[protests]
Marq Claxton: They ended up knocking over barricades, disrespecting the on-duty police officers who were there.
[protesters shouting: He needs to go!]
Christopher Werth: These police officers, they were 10,000 of them. They pushed past the officers who were supposed to be guarding City Hall. They were jumping on cars parked around the building. They were carrying placards. One read Dinkins must go. Someone had a very offensive caricature of Dinkins with an Afro and large lips.
[protesters booing]
Kai Wright: Good grief.
Christopher Werth: Another sign called him "A washroom attendant".
Michael Carfin: So I'm like inside the building at City Hall, looking out at this sea of pretty much all white faces, screaming and chanting and using the N-word constantly.
Marq Claxton: The white officers hated David Dinkins. I mean, they would be frothing at the mouth. And the two Black officers that I know that were down there, they were most shocked by the open vile racist language, being thrown around by guys that just a couple of hours before that they were working in squad cars together.
Speaker 15: Dinkins sucks.
Marq Claxton: It was more about the fact that some people were uncomfortable, especially unions were very with a Black mayor.
[crowd whooping]
Kai Wright: This is not a rally first of all. It doesn't sound like to me, this sounds like it's a riot, like a literal riot by the New York Police Department against the mayor of New York.
Christopher Werth: Yes, at one point they blocked traffic and took over the Brooklyn Bridge. The man who was there, firing them up on stage with Phil Caruso. You know, the police union boss was the man Dinkins had beat in the election.
Rudolph Guiliani: The mayor doesn't go why the morale of the New York City Police Department is so low.
Christopher Werth: Rudy Giuliani.
Rudolph Guiliani: He blames it on me. He blames it on you. The reason the morale of the police department of the city of New York is so low, is one reason and one reason alone, David Dinkins.
Keith: I was probably a predecessor of what happened on January six at the United States Capitol.
Christopher Werth: This again is Keith Wright.
Keith Wright: The PBA, they felt as if they could do whatever it is that they did and say, whatever it is they wanted to say with impunity.
Kai Wright: How did Dinkins respond to this violent show of force?
Christopher Werth: Dinkins had this reputation as a true gentlemen, very statesman-like in public. That was true but this incident made him very angry.
David Dinkins: Let's assume this is the worst legislation known to man. It is still no excuse for the behavior that released the reports I've gotten of how they behaved out there today. I say that Phil Caruso and the leadership of the PBA is responsible and for Rudy Giuliani to urge them on, as it were demonstrates an irresponsibility on his behalf.
Barbara Turk: He didn't pretend to be anything other than past. It was something that really got under his skin.
Christopher Werth: Kai, this is Barbara Turk. She helped run Dinkins's office of management and budget. She remembers leaving work that day, walking past City Hall, where the police had been.
Barbara Turk: On my way home that night, I actually was stopped by a guy who pretended to have a gun in his jacket. He had his hands stuck in there and he told me to empty my wallet. I did. I was about a block and a half from my home. I decided to call the precinct. The next thing that happened is that I had two police officers sitting in my living room on the couch, taking my statement and petting my cat. It was a man and a woman. They were both white and the woman had long red fingernails.
They asked me at some point where do you work? I said, "I work downtown near City Hall." They said, "Oh, did you see us down there today?" They were very excited about what they had done. It was a very, very uncomfortable circumstance to have these two police officers in my apartment. It's what I sometimes now refer to as white people enlisting me to be a white person with them. Meaning they just assumed that I would think it was the coolest thing. I have a certain amount of guilt, maybe even shame that I didn't tell them who I worked for, but I didn't feel safe to do that because I knew things were very tense between the mayor and the police department. I was afraid of them.
David Dinkins: It's not acceptable to be a bigot. It's not acceptable to be a racist.
Kai Wright: Christopher, what about Dinkins's plans for the Civilian Complaint Review Board? Did he ever get the reforms he wanted?
Christopher Werth: For the most part, yes. Soon after that riot, Dinkins and the city council created an all civilian CCRB. It's essentially the CCRB that we have today and in many ways, police behavior that day sparked even more impetus among lawmakers to get that done. To be sure, critics still say the agency has its flaws. For example, the police commissioner still has the final say over whether officers are disciplined and in serious cases they really rarely are.
Kai Wright: That's as far as Dinkins was able to push this reform ball. Christopher, what lessons do we draw from all of this from his experience with the police union, but also just in trying to reform NYPD in general?
Christopher Werth: Yes, like I said earlier, the police union still wields a lot of political power in New York. That's true in many other cities. Take Mayor de Blasio, he promised big reforms as a candidate, but he backed down when hundreds of police officers turned their backs on him at a police funeral in 2014.
Kai Wright: Literally turned their backs on him.
Christopher Werth: Yes, and that visible show of force was organized by the PBA, the Police Benevolent Association. The unions openly declared war on de Blasio. At the same time, this greater scrutiny that we've seen on police in recent years has also come with a greater scrutiny on the role that the unions play in opposing police reform.
Marq Claxton: They only have the power that was given to them by legislators by the elected officials. That's it.
Christopher Werth: Each of the serious mayoral candidates this year are promising some degree of police reform, some more than others. Marq Claxton says that what the union will do is challenge that new mayor's authority like it did to Dinkins, like it did to de Blasio and that whether they succeed depends on whether they're willing to stand up to the union.
Marq Claxton: Politicians are still afraid of the PBA. They still think that the PBA have more actual voting power than they do.
Kai Wright: Christopher, thank you for sharing all of this reporting with us.
Christopher Werth: Yes, thank you, Kai.
Kai Wright: Coming up, we resume the conversation we've been having about how we want our next mayor, to both manage public safety, and in police brutality and corruption. We'll visit a Queens neighborhood that has seen a lot of gun violence lately, and we'll take your calls. New Yorkers, do you feel safe right now? Why or why not? How big a deal is public safety for you as a voter? 646-435-7280, that's 646-435-7280. I'm Kai Wight, this is the United States of Anxiety, we'll take your calls after the break.
[music]
Kai Wright: Hey, a quick program note: in both politics and news, it's depressing to see how quickly people can just move on from something as if just because we all talked about a problem as the lead news story for a few months, that's enough, regardless of whether anything's actually been done about. It feels like that's happened with police reform. On this show, we're trying to keep policing and criminal justice reform on the front burner. Finding new and hopefully interesting ways to keep that conversation going.
As part of that effort, we've created a page on our website where we've gathered some of our episodes on policing, you'll find a pretty eclectic mix there more histories, like the one you just heard, some investigative work, conversations with former and active-duty officers, and intimate stories about young people in particular. Just go to wnyc.org/anxiety and look for the collections tab. You'll see the policing collection right there underneath it. Check it out, and if you like what you see, I hope you will also share it with somebody. Thanks for listening.
[music]
Kai Wright: Welcome back. This is the United States of Anxiety. I'm Kai Wright. We're going to come back to the present now and the mayoral election that is officially underway. Voting started in the Democratic primary yesterday, the winner of that race is almost certainly going to be the next mayor of New York, and whomever that is, will face a challenge similar to the one that David Dinkins confronted, balancing concerns about public safety with concerns about the police force tasked with keeping the public safe.
We want to hear from you. We've asked a couple of times in previous shows about police reform, but tonight, I just want to know, are you feeling safe right now? Why or why not? We've already put this question to some people out on the streets of Southeast Queens. That's an area of the city that's more than a dozen distinct neighborhoods. There have been a few high-profile gun incidents there and one of my producers Carolyn Adams, she lives there and grew up there. She went out to get a pulse of what her neighbors are feeling. Here's some of what she heard.
[music]
Shanelly: I'm from Queens Ozone Park,
Yaz: Hollis Queens,
Pierre: I've been working over there for over 25 years now.
Richard David: I'm a district leader in South Ozone Park and Springfield Garden.
Ian: I feel safer now than I did before COVID, to be honest with you (Hmm) because people were wild and free, you know what I mean?
Denise: I've been living in Queens, but maybe not the last 35 years, homeowner and it's scary.
Pierre: Since after [George] Floyd, everything is a little cool now because the country was too hot.
Shango: I feel safe wherever I go. I'm a New York City kid and I came up of age, at a time when it was the height of the crack epidemic. It's never been as bad as that.
Richard: There isn't a week that goes by, it seems in Southeast Queens that there was a stray bullet incident. It's not that abnormal. People are very worried.
Candace: I, like a lot of folks in this area, sometimes you don't pay close attention to it until and unless it hits you, in your household, or in your community.
Alexis: We don't need more police. We just need more social services to really help the people around here.
Erica Ford: We can't be calling 311. We can't be calling 911. As men and women in our community on our blocks, we got to establish order. If we are voting somebody in office, then we got to hold them accountable to do their job. They got to go get some racist police out of these police precincts.
[music ends]
Kai Wright: That last voice you heard was Erica Ford, a Jamaica Queens native who is the founder and executive director of Life Camp. It's a violence prevention program that Erica started back in 2008. Erica joins me now to help take your calls about whether you're feeling safe and what can be done about it.
Erica Ford: Thank you for having me. I just want to correct you on one thing that Life Camp was started in 2002.
Kai Wright: Oh, I'm sorry, I said the wrong thing. 2002 is what it says on my page. Sometimes my mouth does its own thing, Erica.
Erica Ford: [laughs]
Kai Wright: I'm sorry.
Erica Ford: We know about that. We know. There's a lot going on.
Kai Wright: Thanks a lot. Speaking of a lot going on. Is it my understanding that you are, even as we were preparing for this show, responding to a shooting incident?
Erica Ford: Yes, our team was responding to shooting incidents right before this call, right at the time of the call. Shots fired but nobody got shot as of right now.
Kai Wright: How would you portray, just characterize, where we're at right now? You've been doing this work for decades. On this feeling that there's more gun violence right now than there's been a long time, how would you portray where we're at?
Erica Ford: 1993, there was 5,269 shooting incidents. 2017, there was 789 incidents. 2020, it went up again to 1,531 incidents. In 201, also to take note, it was 290 killings. The lowest it's been in 25 years. We made New York the safest big city in America. We took it from that 5,269 to 789 incidents, and 290 people who were killed, unfortunately. What we do works. When you talk about a person that is going to win, he's going to go into a similar situation of Dinkins, one fundamental difference is that a new mayor has is the office to prevent gun violence and the New York City crisis management system. What we do works.
Kai Wright: What is that that we do? When you say, what we do works, what is it? What is that?
Erica Ford: What we do is we help prepare community and prevent shooting incidents. We help intervene and meet mitigate incidents. We help heal and recover. We respond to shooting incidents like we just did. What it comes from is violence interrupters, who work with those who have the highest potential to shoot someone or be shot because we know most of these incidents that are happening, of course, there's eight million people in the city. When we look at it, it's around like 1% not even 1% of the people who are involved and who are leading the incidents. Across New York City, there is this thing, this started in 2012 with five sites $5 million, it has expanded to 30 something sites and $53,000,000, 40 something $53 million, and we provide jobs, both workforce training, and real jobs during the work year and during the summer. We provide mentorship and work with individuals in the prison in Rikers and ACS close to home facilities. We provide direct services on the ground at the hospitals when incidents happen to prevent retaliation.
We work with the young people in the hot spot areas and give them different tools and resources to change the behavioral norms in those areas, so that they look at resolving their historical trauma with healing tools rather than guns. Because one thing we are sure is that when the shooting incidents through the decades, either declined and reduced, the economic improvement in those communities didn't, a poverty dip.
When you look at where coronavirus hit, and where was the epicenter in Southeast Queens and other areas, it was an area that the precondition that we suffer from is poverty. There's lack of like the video-- the tape that y'all heard me screaming so eloquently, or I should say not. They are police in our community, who don't work together with us. Stop and frisk caused trauma in our areas.
Kai Wright: Let me ask you, Erica, because in that tape, you say we shouldn't be calling 311 and 911, we got to handle this ourselves. What does that mean? What is the role of police in the model that you just laid out? Where do the police fit in it or not?
Erica Ford: I don't know the content of that conversation. That is a piece of me speaking. I don't know what the conversation was, but what I can say, not in this relationship to that clip because I don't know what the clip was attached to. The people in community have to work to resolve incidents amongst community, we have to, because it is us that live with us. It is our children. It is in our household. It is the men and women of community that we train to be interrupters, we trained to be credible conditions and credible messengers in the community to help work with these young people are in trauma. We cannot separate what is happening. We can't act like "Oh, that's just some people shooting for no reason at all." The shooting incidents happen in areas where there is no resources like I heard some of the people say on your video.
Kai Wright: I was going to say that the speech we played there that was at a Juneteenth celebration and rally last year. That was the context of that just so folks know, and you know. I want to ask you, Erica, because I started the show talking about Justin Wallace, the 10-year-old boy who was killed by a stray bullet in Far Rockaway last weekend, which wasn't the first stray bullet incident lately. What's your sense of just where the community is at around that event? It just feels like it's been such a big deal in so many of our consciousness.
Erica Ford: Yes. I think the incidence of this stray bullet is what you talked about it, you said it was over the driveway. I would take that situation, you have a lot of people in rage. People were locked in their houses for a year. People lost their jobs. People lost their loved ones. People couldn't grieve with family members who they lost. People couldn't connect to the people who they lost. People were living a large families in smaller environments and couldn't get to access space to just breathe.
When you're living in housing developments, when you're living in these close captured areas, you don't have big backyards, you don't have access to the parks because the rims were taken down. You couldn't go outside, you couldn't congregate here. People could not release. The insight on video games. The dopamine is building up. Everything is building up and there's nowhere to release. We have to put things in contextual reality. When you look at the lack of resources in community, then you get situations that are uncontrollable.
In March of last year, we went to the mayor and the city and said, "These are the things that we need to do, we need to double, triple," because if you talked about, in the beginning of your show, also that the summer was coming with more crimes, and the summer is coming, it's the most dangerous time.
Since you know it's the most dangerous time, when you know these situations are happening, when you know people are confined and need to release, how do you then prepare for peace? How do you invest, not police, but invest in peace? That means you have to give access to healing tools, you have to give access to space to allow people to have the freedom to breathe and live.
Kai Wright: Jenny in Yorkville, Manhattan. Jenny, welcome to the show.
Jenny: Hi, thank you for having me. I just want to say that there's a direct thru line here in our city, from George Floyd to January 6th, because there was a discernible notice of the police here standing down, meaning when they heard on January 6, and prior to that, stand back, stand down. That was a message to them to back up, don't go on as many calls, just hold off on your job. There has been a major notice of that when that guy opened fire in Times Square, their office is in Times Square on 43rd Street, and they're supposed to be on 46th Street, the SWAT teams in their cars. There's no reason that that shouldn't have gotten handled right away.
Kai Wright: Let me put that to you, Erica, we constantly struggle with this idea that, if you criticize NYPD, they pull back, and if you don't, then they do too much. I hear you talking about a model that is about neither-nor, that isn't about whether or not NYPD what they are doing one way or the other. How do you think about that?
Erica Ford: I think that we have to co-produce public safety. I think the police exist in our community right now and right now they need to do the job in a manner that is of empathy and compassion to our community. When they show up in Bayside, when they show up in the Upper West Side, when they show up in Howard Beach, it's not the same way they show up in our community. What we are saying is that they need to do their job.
The other thing that we're saying is that they have too much money in policing, everything can't be done with a hammer. You can't fix all problems with locking people up and rush your way out of it. You can't criminalize your way out of it. Therefore, you have to invest in community-based resolutions. You have to invest in the people being able to deal with the issues in their community.
When the 14-year-old boy got shot and killed on a basketball court in Baisley projects, the police were standing right there on the basketball court and there was a police tower on the corner. What was not there was a community center where he could have been playing inside. It was closed. The PAL, where he could have been playing basketball inside, it was closed. If we invest in our community and giving people the proper resources and equity in our community, and equity in policing, then we will see a difference.
[music]
Kai Wright: The United States of Anxiety is a production of WNYC Studios. A special thanks this week to Alexis Gordon, who helped collect our interviews with people on the streets of Southeast Queens. Hannis Brown mix the podcast version, Kevin Bristow, and Matthew Marando were at the boards for the live show. Our team also includes Carolyn Adams, Carl Boisrond, Emily Botein, Karen Frillmann, and Christopher Werth. Our theme music was written by Hannis Brown and performed by the Outer Borough Brass Band. Veralyn Williams is our executive producer, and I am Kai Wright.
You can get in touch with me on Twitter @Kai_Wright, and of course, I hope you will join us for the live version of the show next Sunday 6:00 PM Eastern, streaming at wnyc.org, or tell your smart speaker play WNYC. Till then, thanks for listening. Take care yourselves.
Copyright © 2021 New York Public Radio. All rights reserved. Visit our website terms of use at www.wnyc.org for further information.
New York Public Radio transcripts are created on a rush deadline, often by contractors. This text may not be in its final form and may be updated or revised in the future. Accuracy and availability may vary. The authoritative record of New York Public Radio's programming is the audio record.