Actor Daniel Kaluuya's Road to Revolutionary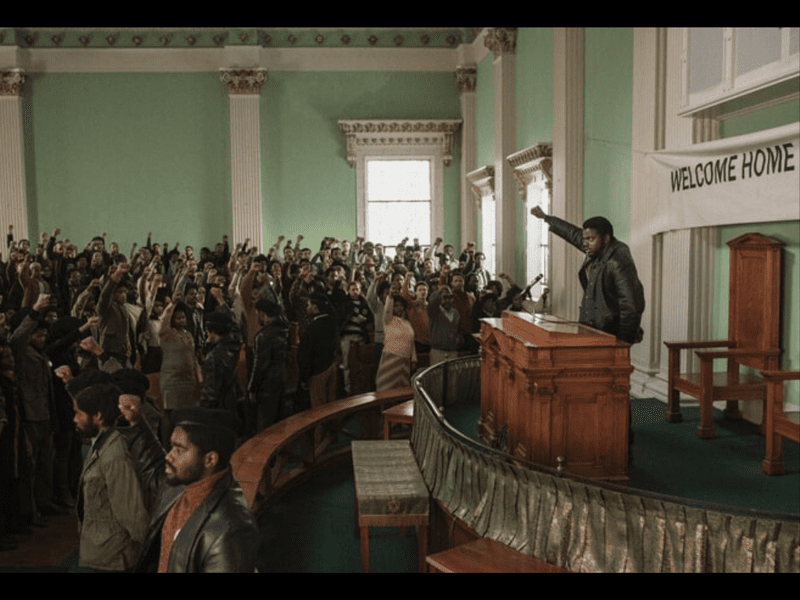 Transcript
Kai Wright: Hey everybody. I was excited to see earlier this week, right after we finished the show on Sunday actually, that actor Daniel Kaluuya won a Golden Globe award for his role portraying Fred Hampton, the chair of the Illinois Black Panther Party in the film Judas and the Black Messiah. It's a cool film and it just so happens that I recently had the pleasure of interviewing Daniel about this very role.
[music]
Kai Wright: The interview aired as a segment on The New Yorker Radio Hour, which is also a great show and we've partnered up with them a few times in the past. I really want to share a version of it with all of you as well. Now, obviously you haven't heard many celebrity interviews on our show, you're more likely to meet an activist or a historian. In this case, it's a really neat overlap because the movie is itself a history of this consequential life, this barely adult activist who gave literally everything to the struggle for racial equity. Actually, here's something Daniel said about that in his Golden Globe acceptance speech.
Daniel Kaluuya, 2021 Golden Globes: Man, this took it out of me. I gave everything. Like the great Nipsey Hussle says, "We're here to give till we're empty." And I gave everything and I couldn't give it to a more noble man, and that's chairman Fred Hampton. I hope generations after this can see how brilliant he thought, how brilliantly he spoke and how brilliantly he loved. He taught me about myself, made me grow as a man and I appreciate with all my heart. There's a lot of information about how he died, but I hope you people out there will grow and learn about how incredibly he lived.
[music]
Kai Wright: So, Daniel and I talked a lot about Fred Hampton and The Panthers, but we also talked about his overall career as an actor, as a Black man trying to carve out his own artistic path. I hope you enjoy it.
[music]
Kai Wright: When did you realize you wanted to be a storyteller and an actor?
Daniel Kaluuya: My teachers used to tell my mum, "He should get into acting." I realized back in the day, my mum actually told another mum. She said she got me into that to get me off the streets, essentially. You could get sucked into a couple energies. On Fridays and Saturdays and Sundays, of just doing something. It was improvisation. It was really scary at the beginning, as a 13-year-old doing it, and then I found that you could have a career of it. There was people in my class on TV. Not in my class. There was people in the more advanced classes that were on TV and I'd see them and I was, "Wow, you're on TV."
I say is improv is a creative art acting is an interpretive art. There's something about improve is inherently satisfying, essentially. You just creating something out of nothing and when it hits, it hits. I would just really challenge myself and always would do something different every week. I didn't really look at the script for the first three years of me doing acting. When people gave me words, I was like, "You can't tell what to say." It's amazing.
Kai Wright: Did you ever return to writing, writing plays and whatnot?
Daniel Kaluuya: I got back into the writing when I was 16, writing plays. I never used to write them down. I used to tell people like, "Yo, do this, do that." From there I was formulating ideas in that way, I realized that this was my thing. Then skins happened and then we was rolling.
Kai Wright: Skins ran for some years on British TV, but it was at least a decade before you had a lead in a big Hollywood film, which was Jordan Peel's Get Out. I don't know if you understand just how much that shook so many of us here in the US, how much your performance grab people like me. How'd you come to that rule?
Daniel Kaluuya: It's funny. When it started, I was in a bad spot in my life. I've got a lot of rejection of the color of my skin. I'd get rolls and then the execs would come in and say, "No Black leads." I was in a weird position where I felt like I'd done the time. I realized it wasn't meritocracy, this industry. It wasn't I was pissed that it wasn't a meritocracy. I was annoyed that I believed in it. I was like, man, I believed them. They told me something and I believed them. I didn't act for a year-and-a-half and I just dipped out. I was just like, "Let me take time. Let me just figure out who I am? Why am I doing this? Why do I act?"
Kai Wright: Certainly it was just the beginning of an eruption of essential performances from you. You play in Black Panther in 2018, and then later that year you're in Widows by Steve McQueen and then you follow that up with a lead role in the film Queen & Slim.
Daniel Kaluuya: Queen & Slim, that was really challenging because I felt like you didn't really see characters like that in natives because he's content. He doesn't want more than what he has. He wants to a lady to share that with, but that's it. I realized that was a real challenge for me because possibly I wasn't content and I wanted more than what I have, but what's that communicating about me to me? It's like you don't like yourself or you don't feel like you're enough. You feel me? Slim thinks he's enough. His life is enough. I think that's a beautiful thing to say. You don't really see Black people going, "Yes, I'm good."
Kai Wright: That feels like a great transition to talking about deputy chairman, Fred Hampton and Judas and the Black Messiah. I wonder before you read the script, what did you know about the Black Panther Party? What did you bring in to this in terms of that history?
Daniel Kaluuya: That wasn't taught a lot at school about it, very minimal. It was like a passing comment. I just was taking stuff in naturally, just dealing with the frustrations of being a young Black man in a white country, and actually caring deeply about self-empowerment. I would just be gravitating towards the Black Panther Party's ideologies and philosophies and concepts.
Kai Wright: If back then, before you made the film, before you started studying, if somebody had asked you to describe the Black Panther Party, how would you have described it?
Daniel Kaluuya: People who were uncompromising about protecting themselves is how I would've described it before.
Kai Wright: Did you know about the history of the FBI's role in trying to dismantle the Panthers? Were you familiar with that history as well?
Daniel Kaluuya: I was aware of that Black Messiah mandate agenda. I was aware of that. I don't know when that came to me, but I remember going, "What? They did what? They tried to do what?" I remember that, going, "Jesus."
Kai Wright: What about Fred Hampton himself? I have to say, I imagine any time an actor steps forward to play a notable person like this, it's got to be complicated because we're all watching and we already have all these ideas about this person. In this case, somebody like Fred Hampton, he really means something quite deep and emotional to many of us. To me, he's literally a martyr in the struggle for my own personal freedom. That's how I see him. I just wonder how you mentally, how you physically would prepare or did prepare for a role like that?
Daniel Kaluuya: It's a lot bro, it was a lot. Shaka King, the amazing director, I asked him about the Black Panther reading list. In order to be a fully-fledged Panther you need to go on six weeks of political education. I said, what's the reading list? He sent me the reading list and I just started reading. I started reading the books and I just saw it as before I started looking at Chairman Fred, I needed to get into the mindset and the idea what they were talking about and getting into it from late '60s point of view, as opposed to 2018, 2019 point of view.
Daniel Kaluuya as Fred Hampton: Because we've grown so accustomed to being poor, we think it's normal for kids to go school hungry. You think it's normal for us to go to the hospital with a runny nose and come home in a body bag. Our job at the Black Panther Party is to heighten the contradictions. I pledge allegiance-
Children: I pledge allegiance-
Daniel Kaluuya as Fred Hampton: - to my Black people.
Children: -to my Black people.
Kai Wright: One of my favorite scenes in Judas and the Black Messiah, it might be when Deborah Johnson, who's Fred Hampton's partner played by Dominique Fishback, she catches you listening to a speech. I think it was Malcolm X, and you're mimicking him like a kid lip syncing to a pop song, almost. I got to say, I was really taken back to my own teenage years there, listening to recordings of Louis Farrakhan and trying to mimic his voice myself. It struck me that you were performing a performer in some ways, who did not consider himself a performer, right?
Daniel Kaluuya: No, I didn't see it as a performance. I think if I saw it at a performance, then I'm engaged with ego, like Chairman Fred's ego. I think he's a student and understanding that he really did listen to Malcolm X speeches and Martin Luther King speeches in order to build his skill set of public speaking. I don't feel like it would have served me to see him as a performer because it was a very real to him. His want and desire for people to awaken for themselves manifested with those speeches and the way that he told those speeches.
Daniel Kaluuya as Fred Hampton: I don't believe I'm going to die in no car wreck. I don't believe I'm going die slipping on no ice. I don't believe I'm going to die because I got a bad heart. I believe I'm going die doing what I was born for. I believe I'm going die high off the people. I'm going die for the people because I live for the people. I live for the people because I love the people. (crowd cheers)
Daniel Kaluuya: I think it was so important to see him as a human being, because everyone calls him an icon and this and that, and he is that. He's an icon because he's a human being and because he's a human being that loved deeply and he loved the Black people deeply, that's why he's an icon. He was 20, 21.
Kai Wright: 21-years-old, is one of the things that just keeps sticking out to me. They were so young. They were babies doing these remarkable things. I want to ask you about a scene that doesn't include your character but I think is really important because it shows the differences between someone like Fred Hampton and Bill O'Neal, who was the FBI's informant, played by Lakeith Stanfield. The two men of course could not be further apart in terms of how they lived, how they viewed the world. While watching the scene, I wondered how Hampton would have responded to the FBI agent Roy Mitchell, he's played by Jesse Plemons. Here the agent explains the purpose of their work to the informant. Let's listen to that.
Jesse Plemons as Roy Mitchell: Don't let Hampton fool you. The Panthers and the Klan are one and the same. Their aim is to sow hatred and inspire terror, plain and simple. Now, I'm all for civil rights, but you can't cheat your way to equality and you certainly can't shoot your way to it.
Daniel Kaluuya: That, for me, that line is there. It's like seeing the radicalness of their perspective on things and how they presented it in such a rational way. It's like the people who lynch Black people, the Ku Klux Klan, are the same as people who feed kids. This is what we are engaging with. That one line illuminated so much to me and I'm like, "Wow, I didn't see it like that." You don't hear that point of view. I don't know, I think it's important for us to really dissect that this is how they see us. The antagonization rooted in white fear and white anxiety, them being named terrorists, because they're educated kids, because they love themselves, because they were uncompromising with that.
Kai Wright: That was experienced as terrorism by certainly the FBI.
Daniel Kaluuya: Look at the film. Everyone's looking at O'Neal, but O'Neal was actually activated by the FBI. Let's not sleep. Do you know what I'm saying? Let's not sleep. He was a 19-year-old kid put in a situation by men and they said, "You're either going to prison or you're doing this."
Kai Wright: But let me ask you this about O'Neal, because I've also heard Shaka King, the writer and director, say he wanted viewers to wrestle with where we each fit in the spectrum between these two people, Fred Hampton and Bill O'Neal. The communitarian versus the individualist, the socialist versus the capitalist, this brave Hampton versus a terrified Bill O'Neal. I wonder then for yourself, as you were making this film, if Shaka King wanted us to wrestle with that as individuals, did you have occasion to wrestle with that with yourself?
Daniel Kaluuya: Removed from the film, I can really see O'Neal's position and see the dangers of apathy, the dangers of indifference. You think you're preserving yourself but you are destroying yourself. I can see that in that, yeah.
Kai Wright: You mentioned earlier that earlier in your career you were upset that you had believed in the idea of meritocracy. I wonder then, after you have these films, this incredible run of films where you're successful by anybody's measure, I just wonder, do you reflect back on that moment? How does it change what you do or don't think about the process of getting these roles?
Daniel Kaluuya: That moment was dark and it was beautiful because I realized it's like, "No, you just go and get it." I left that mindset of, 'White people need to give me something." No one can give me anything. It's mine. Everything I have is mine. That's the shift. It was like, "Oh man, I had a belief in me that betrayed my essence." You feel me? I expect people to give me. I expect if you do this, you get this, you get this, you get this. I looked at their measurement of who I am as opposed to just looking at myself and going, "Who am I? What do I stand for? What are my feelings telling me about me?" I'm acting accordingly. That's why it was a beautiful moment, because I was free.
All this stuff, all the things that they say, "You need to do this, you need to do that, you need to do this." No, you just don't like me like that. You don't love me like that is the accurate.
[music]
Kai Wright: I have to ask you also before we go about your next project or an upcoming project as I understand it, which at least on the surface sounds to me like quite a departure from all the work we've been talking about, Barney the Dinosaur. I understand you're going to produce a film about Barney. Why Barney?
Daniel Kaluuya: Uh, why not? The reason why I fell in love with film is because I watched kid films. You can really allow really credible messages to go through that because you go to the base and core of story-telling. What really resonated with me is that Barney said, "I love you. You love me. Won't you say you love me too?" and people hate him. He never actually taught us what happens if that person you love doesn't love you back. I just found it really profound.
Kai Wright: Is it going to be a feature film or documentary, and when can we expect to have this?
Daniel Kaluuya: It's a film that is being built now. That's all I'm saying, Kai. That's it. You've got a lot already. You've got a lot already, my guy.
Kai Wright: That's fair enough. Fair enough. Thank you. Thank you so much for this time.
Daniel Kaluuya: Take care. Thank you so much, guys.
Daniel Kaluuya as Fred Hampton: I need everybody to repeat after me. I am-
Crowd: I am-
Daniel Kaluuya as Fred Hampton: A revolutionary.
Crowd: A revolutionary.
Daniel Kaluuya as Fred Hampton: I am-
Crowd: I am-
Daniel Kaluuya as Fred Hampton: A revolutionary.
Crowd: A revolutionary.
[music]
Kai Wright: A special thanks to our friends at the New Yorker Radio Hour for this interview and particularly to KalaLea who produced the initial version of this conversation. I hope you'll check out the film if you haven't already done so. If you want to really get your head into what the Black Panthers were trying to achieve, I urge you to check out a book. It's called The Black Panthers: Portraits from an Unfinished Revolution, by Bryan Shih and Yohuru Williams. The Panthers were more about social service and community building than anything else.
That gets lost sometimes in the focus on their unapologetic self-defense, which is a great thing and on the dashing young men who stood on the spotlight. This book, it's a collection of oral histories from the women, and the men, who were doing that work in the community. And many of them are still doing it today. Check it out. It's a great read and a really nice pairing with this film. Thanks for listening and talk to you next episode.
[music]
Copyright © 2021 New York Public Radio. All rights reserved. Visit our website terms of use at www.wnyc.org for further information.
New York Public Radio transcripts are created on a rush deadline, often by contractors. This text may not be in its final form and may be updated or revised in the future. Accuracy and availability may vary. The authoritative record of New York Public Radio's programming is the audio record.