The Dangerous Cycle of Fear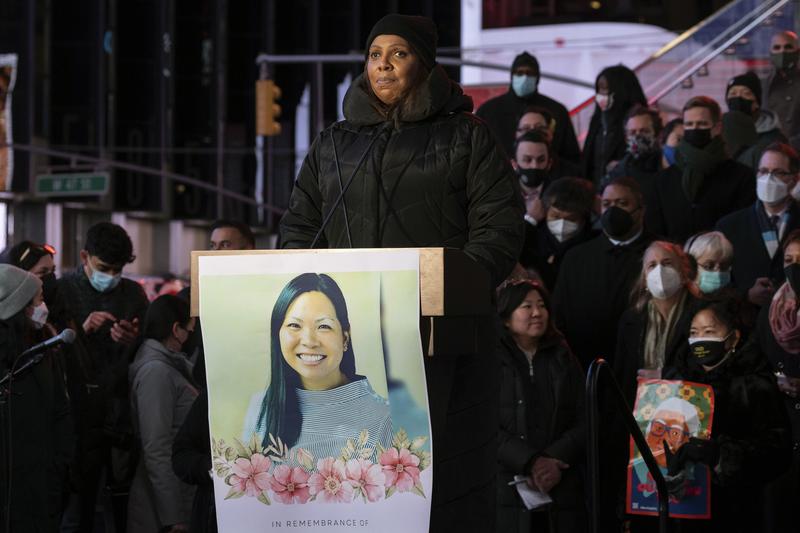 Transcript
Regina de Heer: How long have you lived in New York?
Bo: Four years I think.
Allie: I'm going on to two years now.
Jade: One year.
Maria: Three and a half years.
Regina: Have you felt unsafe at all in the city?
Angelina: No. I never think of that.
Jade: Someone was punched in front of the NYU stern building by several people I think. Five out of six of them are Asian so they think it was a racial issues.
Allie: The subways recently have been a little out of whack recently, I work really long hours, and I'll be going home very late and I have to constantly be switching trains or switching cars.
Maria: I'm definitely more aware of being my own race and knowing that puts me at a higher risk than other people.
Bo: I had my friend buy me a pepper spray and then also listening the news I'm Korean so hearing about Christina, Yuna Lee affected me a lot.
[distant chat]
Kai Wright: Welcome to the show. I'm Kai Wright and you're listening to a martial arts class I recently visited in lower Manhattan, just on the edge of Chinatown. There's a couple of young jockey-looking guys at the front of the room, but everybody else and I say this with true love, everybody else is a bunch of little old ladies learning how to punch somebody in the neck.
[applause]
This class is one of a handful that have popped up in cities around the country in response to a series of awful attacks on Asian Americans. The numbers themselves are alarming doubling and tripling and reports of anti-Asian violence since the pandemic began. Just as devastating, to me at least is the terror these attacks have triggered in many communities, people who once felt liberated by the chaos and the jumble of urban life, now feel stocked within it instead. These ladies they have asked for help getting their swag back.
Sammy Yuen: Hi, my name is Sammy Yuen, I am one of the CO lead instructors of Team Self Defense New York City.
Kai: Sammy's dad taught him Tai Chi when he was 10 years old and he's been studying martial arts ever since, taekwondo, MMA, Muay Thai, he's done it all. Yet, when stories about attacks on Asian New Yorkers began to circulate, he was as shocked as anybody else.
Sammy: I felt, at first very frustrated and angry. Having two kids on my own, I didn't have to tell them, that they had to be more careful and more aware of their situation and defend themselves if something unfortunate happened, and that really broke my heart. Then I realized that there's a lot more I can do and being a lifelong martial artist to translate my skills into helping other people move freely throughout the city and feeling just more comfortable about going through their day.
Kai: When the Jason and Alicia Lee Foundation invited him to create a self-defense class, he was ready, though he probably object to my description of his class as teaching you how to throw a neck punch.
Sammy: Self Defense is really about spatial and environmental awareness. I think there is a misunderstanding of what self-defense is. I'm not going to teach someone how to fight off five people at the same time on an hour session. That's really about avoiding the whole situation in general and being aware of your environment.
Kai: Nobody here is going to become a Marvel hero that's not the idea.
Sammy: Unfortunately, if you signed up to become the Black Widow, you have to get your money back.
[laughter]
That's not the idea it's always about just avoiding the situation being aware and time is your best friend, the sooner you can spot a threat, the more time you have to get away.
Kai: Sammy's classes have gotten so popular that Jason and Alicia Lee Foundation have made them available all over town. We'll put a link in the show notes for this episode if you want to find a class yourself. Sami's class reminded me of a show we did a few weeks ago, we talked about the fact that a lot of people don't feel safe lately. Tonight's a bit of a follow-up to that conversation. When we don't feel safe, it changes the way we see ourselves, the way we see each other, and the way we build community together. The cycle of violence and fear is just corrosive and I'm curious about how it's changing the way Asian-Americans relate to their cities.
I reached out to Jo-Ann Yoo. She's the executive director of the Asian American Federation, which is a pan-Asian nonprofit that represents a network of groups working in Asian American communities around the Northeast.
[music]
Jo-Ann, thanks for joining us.
Jo-Ann Yoo: Thank you for inviting me.
Kai: Sadly, the pandemic has been a particularly difficult time for Asian American communities all over the country and certainly here in New York. I have to say, now two years into it, it seems to me like the issues that you have been working to combat the hate crime and the bigotry and all the rest of it, have actually gotten worse. Is that how it feels to you? Am I overstating it?
Jo-Ann: I don't think you're overstating it, that's certainly how me as the head of the Asian American Federation, the Asian American Federation step, that's how we're feeling. I think now the feeling is the entire Asian American community and I'm going to be brave to say, I think this is now what New York City is also feeling some of the incidents that have happened the subway, some of the killing, I think all New Yorkers are feeling it. I think we're all just incredibly stressed out by it, where Asian American community is angry, we're in anguish, and just so much sadness in our communities and the feeling of being afraid to leave our own homes.
Kai: How would you characterize just for folks who don't know the data, but beyond the data how would you characterize the arc of this trend from early 2020 to now? How would you paint the picture for people?
Jo-Ann: There's always a lot of people ask me is this the start of violence in Asian-American communities? The reality is we've always had violence. I think this is a time where there's been heightened violence and now the violence is being televised and it's happening with tremendous frequency. The Asian American community, the leaders, we knew what was coming because we have seen this with the South Asian community after 9/11 and some of us got that sinking feeling in our stomachs when we heard the news that there was a virus that was in Wuhan.
I tell people, I know exactly when I've heard the news and said, "Oh, my God." It doesn't help that our former president didn't call it COVID or didn't call it coronavirus and call the China virus called it the Kung flu. When that happened you could actually see the spike of people calling us, oh, by the way, somebody spat at me, by the way, on the bus, somebody punched me. We saw the spike and then we were hoping that things would calm down. I know that President Biden, our state and our city leaders have they all stepped up and said, "This is not acceptable."
However, I think there's another factor that goes back, it's historic, and it's very much the invisibility of Asian Americans. How this plays out in my life and I think this is many, many Asian Americans. People ask us, "Where are you from?" We say, "I'm from Brooklyn." "No where are you really from, really from?" What is the assumption that we're not from here? What is the assumption that we are not Americans? I think in many ways, subconsciously, we are not seen as Americans so therefore, if you want to harm somebody, it's easy to harm somebody that you think is not from-- who's not American and I think that is what's happening.
Kai: I wonder because, I think a lot about honestly, when you talk about the invisibility and the fact that the invisibility of a given community, but just Asian American community in this case, but this pattern happens in other communities as well, where there's an invisibility in the public conversation, and then when there's a problem, when there's violence like this, suddenly, there's this hypervisibility around the violence. I actually just as a journalist have struggled with how to think about that. If invisibility was part of the problem in the first place and now though, all the visibility is about, oh, my goodness, they're victims. Does it make the problem worse? I don't know.
Jo-Ann: I don't know but that's a great question. I'll say what all of this happened when the pandemic happened being at home and lack of food and seniors being afraid to leave their homes because they didn't know how to go get a vaccine, all of that. The invisibility, how it played out was that there were never enough resources on the ground for us to be able to respond. I don't think this is just the Asian community, I think this is actually communities of color.
I've seen the Black community I've seen the Latino community, I think that's what we get for not having true investments in Asian, Latino, Black communities that we can respond to crisis. Then on top of that, how do you deal with the anti-Asian violence. I think invisibility is really dangerous obviously, we know what that is but sometimes I think about why is it that our community, people think it's easy to take out their frustrations on the Asian American community and they think we're vulnerable?
We're really angry about that. We are New Yorkers, we live in this city, we live in this country, we contribute to making this country very special.
This is an amazing experiment. Yet, here we are having to deal with so much anger and so much violence right now. It does feel like it's getting worse. Kai, sometimes it's really tough to get out of bed because there was a period when I was afraid to open my email, afraid to listen to the news.
Kai: Because you thought you'd see another report of an Asian attack?
Jo-Ann: Absolutely. These days, it's the same thing. There are days when, personally, being the leader of the Federation, there are days when I just look out the window, because I don't know what any of this means. I don't know why we're targets. We have nothing to do with what is happening.
Kai: Just to really take that seriously for a minute, that question of why because I sometimes find it hard to believe that it was as simple as like, "Oh, well, Donald Trump said that this was a virus to be blamed on Chinese people and then people just were like, "Okay, well, I'm going to go beat up people that I think that look Asian to me." It just seems like there's something deeper there. What really do you think is behind it? Is it as simple as fear of COVID? It feels like it's more than that, to me.
Jo-Ann: I think it's fear and frustration. What we saw, to be honest, I feel like what COVID exposed was just all the cracks in our system. People lost jobs and people died and having to be home for two years, and everybody feeling vulnerable. Folks needed to assign blame to somebody. I think it was a ready target. I think when people are frustrated, they need to take out their anger on someone something. I'm not a psychiatrist, but I think it's easy to point the finger at where you think this originated. I think it's easy to do that.
[music]
Kai: I'm talking with Jo-Ann Yoo, head of the Asian American Federation. Coming up, I'll ask Jo-Ann about the economic impact of hate crime on Asian American communities. We'll get into some uncomfortable questions about the relationship between Black and Asian communities. Stay with us.
[music]
Welcome back, I'm Kai Wright, and I'm talking with Jo-Ann Yoo. Jo-Ann leads the Asian American Federation, which is a network of groups working in Asian American communities around the Northeast. We're talking about the spike in anti-Asian hate crime and bigotry over the past couple of years and the impact it's having on Asian American communities.
Jo-Ann, when this first was beginning back in February 2020, you were a guest on WNYC's Brian Lehrer Show.
Among other things, you said that you encouraged people to visit their local Chinatowns to help combat this fear and the racism, and xenophobia. I have to say, now, it seems like those places, those cultural hubs are actually the center of some of these attacks. I hate to sound some kind of way, but I wondered if you give that advice now. I wonder if people in the community would actually prefer not to have strangers showing up?
Jo-Ann: No. My some kind of way feeling right now is can our fellow New Yorkers go to the Asian enclaves, go to the restaurants, go to the shops. One, because Asian American small businesses close much earlier. They closed as early as February. At some point, we worked with MasterCard and they did an analysis of customer spending during the height of COVID. Chinatown and the Asian enclaves, they lost.
Chinatown lost 95% of customer spending in the first year. Those are huge numbers. 95% of your business is not happening. How do they sustain themselves? I remember when all of us started the Lunar New Year that year, there wasn't the traffic, there wasn't the solidarity. Luna New Year, that's when everybody is Asian American in New York. None of that happened. Small businesses were closing. I think right now as we're slowly emerging out of COVID, we're starting to open our cities, I encourage people.
I think what this also shows is the violence in our community, the solution isn't just for the Asian American communities, we can't hide in our apartments, we need to go to work, we need to feed our families, we need to send our kids to school, our seniors need to go out for walks. All of us, we need to come back out of our homes. There's safety numbers, we need to see some solidarity from our fellow New Yorkers. We need to see deep empathy. Everybody is horrified by what they're seeing.
How they can show up for us is by going to the restaurant, supporting the small businesses who've just been hurting. What was so painful with small businesses is that some of the institutions have permanently closed because they can not make it. It's the lack of customers but also their own fears and their own fears for their staff members. On every level, it's been devastating, economically devastating. The first time I walked through Chinatown, I cried, because it was so devastating to see every other storefront closed.
We know what it takes for a family to open a small business, that is their entire retirement. When that closes, my fear is not just the restaurants and the small businesses closing, but what happens to that family and that economic security that they were building is gone. I wonder, what are they doing for money? How are they doing? What's going on? What's happening to the family nest egg that no longer exists? Those are the things that--
Kai: An echo effect. The echo of the long-term effect of that, what it's going to mean to the community.
Jo-Ann: Absolutely.
Kai: Related to that, though, I also just wanted to think about it in another direction, the long-term effect. I wonder about the long-term effect on the community, emotionally, and just how people relate to the city as a consequence of having been through this experience of feeling so unsafe. Do you worry about how this might change the way individual people, individual Asian Americans think about their relationship to others in the city?
Jo-Ann: Oh, absolutely. What makes me really sad is that now we look at each other differently. We look at our fellow New Yorkers differently. As a human being, as a New Yorker who loves the city, that is just one of the most painful part of all of this, because we have all of a sudden, looking at each other with this trust, we can trust our fellow New Yorkers. Were looking at each other suspiciously. Are you going to be the one to push me off the subway? Are you going to be the one to punch me in the face?
That hurts me so much. Where that hurts me, personally, is I tell people all the time, I'm one of those New York City subway weirdos where if you sit next to me, you got to talk to me. I'm going to strike a conversation with you, whether it's one station or five stations, we're going to talk a little bit. We don't do that anymore. It's so hard to do that because everybody is so paranoid.
I am trying to recenter my thinking that I don't want to live in a city where I'm suspicious of my fellow New Yorkers. Right now, the Asian American community, we are at a boiling point. I think we have gone beyond the boiling point. We are angry. And my fear is next time something happens where there's really negative interaction by the assailant and the victim, what is that going to look like? I hold my breath every single day.
Kai: What do you mean?
Jo-Ann: I've read reports that a lot of young Asian Americans who are angry and they're afraid so they're going to other jurisdictions to buy guns. What if there's a negative interaction in the subway, some young kids are screwing around and somebody gets freaked and pulls out a gun? What is that going to look like? I hold my breath every single day.
Kai: We've been here before, Jo-Ann. We've been here before with many different communities. Thinking about the history between the Black and Jewish community in Brooklyn, for instance?
Jo-Ann: Absolutely. That's what scares me a lot, to be honest. I'm going to say as a person of faith, I believe in putting my fears out there because everybody is going to be sharing this fear with me, but I think this is very much the world we live in and we have to acknowledge that because we need to make conscious choices, right? At the other side of that too, for the Asian-American community, what baffles me is one day you're coming to the restaurants, you're going to K-Town, you're going to China Town, you're going to Jackson Heights, you're going-- The interaction with the Asian-American community, you don't even think about it, right? That's what you get as a Newyorker.
When COVID hit, all of a sudden, you saw us differently, and I want to know why that is. We're still your neighbors. We're going through the exact same thing you're going through. We're having the exact fears. We're having to scramble for vaccines, and we're having to wear masks and we're frustrated and we're losing jobs too. What has changed?
Kai: You know what, Jo-Ann? It makes me think about it. In Black community circles, we often talk about that people love Black stuff, they love to buy Black stuff and Black culture but they don't love Black people. People love hip-hop, people love things they associate with Blackness but not Black people and I hear you saying something similar.
Jo-Ann: Absolutely, and it's exactly the same thing. You love all things Asian. Look at the rise of the Korean music culture. Look at the Korean films. They're, clap, clap, clap, award-winning but yet none of you love Asian-American. We are Americans. We are your neighbors. You love things from Asia but you should also love things from your own neighbors. Why is that not happening? Maybe that is an existential question that we can't answer, but that is what I think about all the time. I totally hear you, Kai. I think there's a lot of similarities, and yes, I wonder.
Kai: There is one thing I don't want to talk around. There is a perception, and I think it's rooted in just the actual cases of many of the people who are attacking Asian-Americans, at least in New York, have been Black and I do worry about where that goes. Particularly the relationship between Black Newyorkers and Asian American Newyorkers, and I just wonder if you hear that conversation in the community, and if so, what we do about it?
Jo-Ann: I'm glad you-- We need to talk about this. We tiptoe around these hard subjects but if we're ever going to get out of this we need to tackle these questions and tackle these perceptions together. We are talking about that. There are people who say, "What's going on?" I'm sure I'm going to get a ton of hate mail to be like, "You're wrong. You're wrong. You're wrong." If you really look at the national trends, first of all, right? It's not the Black community attacking Asian-Americans.
There are the national reports. It's white attacking, I think some of the high-profile cases and we don't talk about that. Some of the high-profile cases have been Black assailants, but they're homeless, they're mentally ill. As we talk about the situation, if we start to peel back the onion, right? Peeling back the onion, we need to talk about chronic homelessness. We need to talk about who the homeless are, who's suffering from mental health, and what is happening in our community, in our society. I think we can't talk about anti-Asian hate crimes without talking about everybody else around us.
There have been so many conversations that I've been a part of where even Asian-Americans don't know the history of collaboration between Blacks and Asians. One story I told often, the modern Asian-American social justice movement came with the death of Vincent Chin, and in June, it's going to be 40 years, right? That was a local Detroit case. That year, Reverand Jesse Jackson happened to be running for president. He heard about this and he said, "My community has to deal with this all the time. I'm going to go lend my support because other communities cannot-- We cannot replicate what is happening in the Black community."
He brought his entire national press entourage with him and made it into a national story. He certainly played a huge role in creating the modern Asian-American social justice movement. I tell this story repeatedly because it's not just about us doing our own thing. It is about communities that have a long history of marginalization, about enduring violence, and how these collaborations have come together to be able to support each other. As I think about all the anti-Asian violence, I think about paying it forward, right? Because I know that next time it's going to be some other community.
How will the Asian-American community having endured all of this, how will we show up for them? How will we show up and say, "We went through this and it's just immeasurable pain and sadness and frustration." How do we show up for the next community that happens? I pray to God that there isn't a next community but this is how racism works. It poisons the waters, right? Some other community surely will be victims. It is really about the work that we need to put in, solidarity work, and the fact that whether we like it or not we live in the same city, we share the same space.
Kai: Facts.
Jo-Ann: We breathe the same air. How are we going to get out of this together, because if you're starting to be afraid of people who were your friends before, or if you start to look at your friends before and you think suspiciously, we're never going to get out of this. We do need to have some radical thinking. We do need to figure out some way to trust each other.
Kai: Before I let you go, Jo-Ann, it just pains me so to hear people I love and respect say what I've heard you say in the course of this conversation about, "This is changed the way I go about my life and the way I engage with the city." I just wonder what you would say to folks in the community, Asian-Americans in the community who haven't had the luck of engaging with the resources you provide or haven't found support. Just, what you would say to them if they're feeling that?
Jo-Ann: There's lots of help available. There are trainings you can take to keep yourself safe because we don't know-- Nobody wants to be the next victim but you never know. There are trainings. There's de-escalation training, situational awareness but for my fellow Asians, I want them to know it's okay to be angry. I think we often hold our breath. It is okay to be angry because what is happening is atrocious and it is okay to be sad. It is okay to cry because it is very very emotional. I haven't had a day, or I haven't finished a day in tears. I'm welling up now so I'm going to hold it all in.
Kai: It's okay. You cry if you need to.
Jo-Ann: I also want to say to my fellow New Yorkers that this is the state of your Asian neighbors. This is how we're living. We're scared. We are devastated and we are really a community in anguish. We ask you to look out for us. Racism, the way we get out of all of this is that we have to support each other, and we have to stand up for each other. It's not just anti-Asian hate as we dig out of this pandemic, we're going to need each other's support and I think that is the first step that we need to take together.
Kai: Jo-Ann Yoo is the executive director of the Asian-American Federation membership organization that works with over 60 non-profit groups that represent and support the pan-Asian community. Jo-Ann, that's for this time, and thanks for the work you're doing on behalf of our city.
Jo-Ann: Thank you so much, Kai. Wonderful conversation.
[music]
Kai: After I spoke with Jo-Ann, she had a question for me, which means a question for all of you, so I want to let her ask it. I hope those of you with thoughts will send them in. It's a big wooly question but it's also the one at the root of our show, so here's Jo-Ann again.
Jo-Ann: How do we really do the work to make people see each other, the humanity in each other? All right, I keep saying, we need to see who we are, the best of ourselves, we need to see that in other people and our fellow New Yorkers. If you have any ideas for us to get people out of their homes and hang out in their neighborhood. I tell my staff, I'm the nosy auntie who sits on my stoop and says, "Hello," to everybody, right? I know who they are.
I don't know their names but I know how to wave and I know how to say hello. If you've had ideas that-- I'm up for trying anything at this point, so if you have any ideas please let us know.
Kai: Send them to us at anxiety@wnyc.org. You could record a voice memo on your phone and send that in or you could just write out an email. We'll get all your answers together and send them to Jo-Ann and we might use them for another show. That's anxiety@wnyc.org and thank you. Now, Jo-Ann said that what maybe pains her most is the change in the way New Yorkers see each other, how her own joy in unpredictable run-ins with strangers, how that is increasingly replaced with fear and distrust.
People love cities for all kinds of reasons. For me, the randomness of it, the potential for unexpected encounters that open my mind to new things, that's a treasure of my own New York life. Coming up, we celebrate the random encounters of urbanity with someone who's dedicated a year of her life to finding them through food. That's next.
[music]
Kousha: Hey everyone. This is Kousha. I'm a producer. Do you have a response to Jo-Ann's question? What can we, as individuals do to make our cities feel more like welcoming communities to really see and connect with each other? Jo-Ann was asking with the spirit of how to prevent xenophobia by building personal bonds, and that's had us thinking more generally about how we can connect with each other.
For me, this strikes a personal cord. I moved to New York City during the pandemic, and frankly, it's been hard to build the community. I can tell you one very small thing I've started doing, if there's a package for my neighbor in the lobby of my building, I'll bring it up for them and leave it at their door. Your idea can be that microscopic. Now is your turn. Have you figured out something that worked for you, maybe you hang out on your stoop like Jo-Ann, or maybe you're not from a big city, but you already know what works to build that neighborhood feel?
We can all learn something from each other I think. Please, send us your ideas. You can record yourself on your phone or just write a message and email to anxiety@wnyc.org or tweet us. Use the #USofAnxiety. All right, thanks. Happy to call you my podcast neighbors. Talk to you soon.
[music]
Regina de Heer: One of the great things and the things that people love about New York is the chance encounters that you can have. There's that saying like that was so New York, and everyone knows what that means. I wonder, has there been any chance encounter or story that comes to mind of a chance encounter or discovery you made that felt really New York?
Wei: Someone came to ask for my number, I guess if that counts.
Regina: Did you give the phone number?
Wei: Yes, I did. He said, do you want to go out for dinner tomorrow with me? Then I said, I'll see, and I gave him my number, and then that's it. He never replied me or anything.
Regina: Oh, no. Well, if you hear back send an email to anxiety@wnyc.org and update us all.
Maria: Just the other day I was walking to the train station. I met someone who was in a really cool outfit. There was just so many colors and different fabrics and things like that, and then he had a dog walking with him, but also was dressed up. I just talked to him for a bit as we were walking.
Regina: What did you talk about?
Maria: He just told me about his dog. He talked a lot about how he just sees his clothing and his dog as a way to bring joy to other people.
Regina: Can you share a time where you had a random encounter that stands out to you?
Allie: When I first moved here, I come here to Washington Square Park a lot just to sit with people, and watch and read. I'm sitting over near the fountain, I'm in the middle and this girl, she's like, "I've been here watching you." She's like, "I just want to take your picture. I take pictures of people that I just find very interesting and just very nice energy to them. I take pictures of them whenever I travel and I save them, so I want to take a picture of you." I was literally on the brink of tears, I was like, "That's so sweet." That was like a New York moment. I hold that very dear to my heart.
Regina: What about you?
Andrew: We are sitting in Washington Square right now on a bench. I was doing that a few days ago. I sit down with a roast pork bun on this bench and the guy next to me looks at me and says, it's so funny that you're eating that right now because I just smoked a whole joint and thought to myself, "I'm going to go to the Chinese bakery and I'm going to get a roast pork bun." He noticed that, and I was sitting right next to him, and we had a laugh, and that was a cute little moment. There's a cute little bonding moment about food, something completely different, but we both like the same pastry.
Regina: I love the moment of bonding over food.
[music]
Kai: In New York City in many dense cities where private space is a luxury, so much of our social life takes place in public, in the streets and parks and on stoops and over food. We go out to eat a lot, whether it's a fancy dinner or an egg and cheese in the park. That means food and restaurants are so very often the vehicles through which we experience each other and through which we discover often by accident, new people, communities, ideas that change us.
When we thought about how to celebrate the surprising random encounters of city living, we thought about food and about someone who's dedicated the whole of this year to exercise in discovery through eating. Tammie Teclemariam is New York Magazine's new Diner-at-Large. Her assignment, which began in January, is to eat as much of this city as she can while writing a weekly newsletter about her journey. It's called The Year I ate New York. We called up Tammie and she took us out to dinner. Hey.
Tammie Teclemariam: Hi, how are you?
Kai: I'm good. I'm Kai.
Tammie: I'm Tammie.
Kai: Nice. We're in lower Manhattan in the East Village. It's an area actually known for Ukrainian food, but on this particular corner of first avenue, there's a small cluster of popular South Asian spots.
Tammie: We're on a block with a really well-known Indian restaurant with lots of flashing lights, but next to that is a lesser-known Sri Lankan restaurant called Singiri. It's one of my favorite restaurants in New York.
Kai: When we asked you to take us out to eat, why here?
Tammie: The first time I came to this restaurant, it was just by accident. A friend and I couldn't get into the restaurant we planned to, I think they were closed that day, so she was like, "Do you want to try some Sri Lankan food?" I was like, "That sounds great." Then the food came and it was just-- Honestly, there's one curry here that's extremely spicy, and I love that. That's really a dish that I always come back for.
Kai: Well, let's go in.
Tammie: All Right. Great.
Kai: Singiri is on the second floor. You go up a flight of metal stairs and you walk into one of those quite essentially downtown Manhattan restaurants. It's like a shotgun apartment, long and narrow with the kitchen at the far end, maybe five or six tables running along each wall. We take the catbird seat at the one table in the front window, overlooking First Avenue where a brightly colored Sri Lankan flag flies over the sidewalk. I asked Tammie about her Gonzo assignment a year of eating out in New York.
She moved here eight years ago, one of the thousands of 20-somethings who migrate here after school. In her case, after growing up in a close-knit Eritrean-American family in the DC area, she'd gone off to study food and wine in France and then landed here in New York because it offered the greatest diversity of food and wine she could find anywhere. Now she seems to have taken this gig as a challenge to have as many random encounters as possible in this incredible unpredicted about massive town.
Tammie: Random encounters are I think my specialty. New York is great because if you are like me and you have such an addiction to variety, you can really indulge any kind of whim. That attracts a certain kind of person. If you have any curiosity about New York, the first thing you're going to do when you move here is get on the train and try to figure out what sites to see. I think that a lot of what I did when I first moved here at least was just go to different neighborhoods and try different foods. It's such an easy way to enjoy the city.
Kai: This restaurant in itself for you was a random encounter, right?
Tammie: Yes, and I've told lots of people about it, and now I've told everybody in New York about it.
[laughter]
Which is really great because I think when people ask what's your favorite restaurant, they conflate that question with like, what is the best restaurant in New York or something? I think they're very different standards for what you might rate a restaurant as versus how a person comes to personally value a place in their life. I still can't speak to all of the great New York places that everybody should go to yet. I'm still dining as quickly as I can. I'm at over 100 restaurants right now, just this year.
Kai: It's barely April.
Tammie: Yes. I know I'm working hard. I'm working hard.
Kai: Sri Lanka and food.
Speaker: Let me get you guys the menus and I set up the table. Yes?
Kai: Yes. While we wait, I asked Tammie to explain what she learned on her first encounter with Singiri.
Tammie: Singiri is, as far as I know, the only Sri Lankan restaurant in Manhattan and there aren't that many other Sri Lankan restaurants in New York. I've actually recently learned there is at least one in Queens, but the majority of the Sri Lankan restaurants and the Sri Lankan community is based in Staten Island. Sri Lankan food is really interesting because at the outset you might think, oh, it's next to India and like a lot of the food appears Indian, but it does have a lot of these other influences.
Particularly, I think Sri Lankan use of spice is very unique and it has a lot of cardamom in it. It's like, it's very surprising to me. Then they also have just a lot of dishes that are inspired by the history of colonization. They were colonized by the Portuguese and the Dutch and the British, and the Portuguese and Catholicism is why they eat pork, for example. The pork curry happens to be one of my favorite dishes here.
Kai: I'm not quite sure I get it yet, this mix of South Asian spice, and what I think about is bland fair of those colonizers, but we meet our server.
Kavisha: I'm Kavisha, I'm the manager.
Kai: Kavisha, walks us through the menu. I definitely want to try Tammie's favorite dish, that black pork curry.
Kavisha: The black pork curry normally is really good with rice and different kinds of vegetables. That's how we normally eat it. The black pork curry is also really good with hoppers. Hoppers, it's crispy on the outside, dense in the middle. One of them comes with an egg.
Kai: Our conversation with Kavisha of course, turns to the pandemic as all conversations do these days. Singiri barely made it through the past couple of years.
Kavisha: We were close for almost a year mainly because of a gas leak. We had to rebuild everything from scratch.
Kai: That's the thing about the pandemic. In the same way that the virus is harder on people with pre-existing conditions, the economic and social costs have been most taxing for people and businesses that have had to face any other kind of problem at the same.
Kavisha: Once we recovered, we weren't able to get all the things that we needed from our country. For example, the dry fish, we bring in from our country, so we couldn't get those. Some of the spices, we couldn't bring it here so we've closed and--
Kai: We talked in previous episodes about the torn social fabric, the way that even as we emerge from isolation, we do so damaged. That's one theory about the rise in violent crime and the insidious feeling that our cities are suddenly dangerous, different. The loss of small neighborhood restaurants, that's one of the tares. Who knows how many closed? At one point in 2020, an industry group in New York said nearly 5,000 in the city had already shut down for good.
Another report said the worst of it was here in the East Village, right where Singiri sits. It is also true that as a lot of us look optimistically towards spring and summer, restaurants like Singiri can be a place to repair the social fabric.
Kavisha: When we opened, a lot of people who have been waiting to come came. We were actually thrilled to know how many people allow there in a restaurant. It was a real joy. We didn't think we'll be able to recover because we close for so long, but thanks to all the people who have loved us. They came back, they kept coming, so that helped [chuckles] to get back on our feet.
Kai: When Kavisha brings us the famous black pork curry, it looks deceptively simple. It's these tender, juicy chunks of meat just sitting in their own rendered fat. It's not saucy in the way I think about curry. Instead, it's covered in a spice that's like a dark, almost achy paste.
Tammie: What makes the black curry black?
Kavisha: It's the roasted curry powder. It goes with a lot of spices and we roast it up until they get really dark. I think they add about 16 spices, at least, minimum. I'm not really good at the name of the spices. They mix everything together.
Kai: They talk food but I eat. The pork is so tender and earthy, and honestly, it's not that hot to me so I go to town.
[coughs]
[laughter]
Tammie pours me some of the fancy sake she's brought along.
Tammie: Have a sip of this.
Kai: The restaurant is BYOB by the way, which is a huge relief on the wallet in this town.
Tammie: Kampai.
Kai: Kampai.
Tammie: What do you think?
Kai: That's delicious.
Tammie: Yes, that's good sake.
Kai: That's good sake. Describe the sake, I would--
Tammie: The Pearls of Simplicity. This is a Junmai Daiginjos, which just means that it's made from rice that's really been polished. The whole point of polishing rice is that the outer part of the rice grain has a lot more proteins in it.
Kai: She gives this lovely tasting note about the salinity and the chemistry and all the rest, but the point is when it comes to spicy food, sake is like a glass of milk.
Tammie: The gentle sweetness. Really, it's not like a sugariness but the gentle round sweetness of sake and low acidity makes it really good for really spicy things.
Kai: As you describe it in such detail there, I have to name that it's like-- I don't know what to make of this, but if something to say about being in New York like we're three Black people sitting at a Sri Lankan restaurant drinking Japanese wine. [laughs]
Tammie: I didn't even think about that aspect, but maybe that's just like how it used to.
Kai: I am actually what's notable is her. Tammie is a rare Black woman in her field so much so that she's been profiled in the New York Times and New York magazine too before they hired her. That was back when she was still trying to make a career in wine specifically.
Tammie: Those spaces are honestly so white that it's hard for me to even feel self-conscious.
Kai: Her bigger challenge actually runs in the opposite direction, figuring out how to find and follow her own passions amid her particular version of the second-generation immigrant story. On one hand, food is, of course, a big part of that story.
Tammie: When you're surrounded by a lot of immigrants, especially older people, food tends to have a more important place in society because there are a lot of old women at home, and the way that they feel important is cooking and by taking care of their families. The textbook saw my grandmother cooking blah, blah, blah, blah, but it's true. One day maybe she wouldn't have any clarified butter.
She would have to go through the process of making this spice clarified butter, and the way that it smells when you boil a pot of butter with herbs that somebody smuggled in their suitcase and turn it into fresh Tesmi for that day's breakfast, it's a big experience.
Kai: Yet watching her grandmother cook like that, for Tammie, it's a mixed memory. Were they around long enough to see you become a food professional?
Tammie: I don't know. I'm kind of a strange through my family.
Kai: Is that something we can talk about or is it relevant or--
Tammie: It's just like--
Kai: I should say Tammie is plainly still working through the stuff. During her journey into the world of food and wine, and writing, her family traditions, and norms are actually more of a hindrance than an inspiration.
Tammie: It's just when you're dealing with the supervision, the mindset of people who have ideas that are from a place that you're not from, you're always going to come up against that or you don't--
Kai: One of those ideas it seems is about privacy, what's acceptable to say and do in public.
Tammie: If you're taught not to talk about yourself or not to talk about your home life, then you don't, and it makes it very hard to exist in a genre where people spend a lot of time writing about their home lives or being asked about their home lives. Old world cultures have such a gossip problem. It ruins a lot of people and you just end up seeing people who live based on the fear of the opinions of others.
When you realize that you're living on under the weight of somebody else's neuroses about a person you don't even know, and all of these ideas about what you can and can't say about yourself, it's really hard to get past that. Even if you have ideas about wanting to write about yourself, you have to figure out who you are. I think I just had a real turning point with who I wanted to be, the things I wanted to say, and the inherent restriction that I felt.
Kai: Moreover from an early age, what really excited Tammie was discovery, finding experiences through food that she knew nothing about.
Tammie: Because I spent a lot of time watching Food Network too.
Kai: Just as a kid, just look into Food Network?
Tammie: Yes. It came out when I was nine years old or at least that's when we got it like '99. That was the golden era of Food Network. The shows that they had back then were legit. That's when they had Iron Chef Japan. I was just watching that as a fourth-grader. There were just so many layers of intrigue for me because I was just like, "What are these ingredients? What is bonito? What is abalone?"
It was all subtitled and dubbed and it was such a rich place for me to just think a lot. I guess it just taught me how much was out there and how much was left to know.
Kai: Now, she's three months into a year of chasing knowledge by pulling up a chair at random food joints at restaurants around the five boroughs. One of the big things she's learned in her hundred-plus dining encounters so far is that this act such a common part of New York life, going out. It can be snobby and fetishistic for sure, but it can be something else too.
Tammie: Restaurants should be really, really regular places. That's the thing that's disappearing. My socialist dream for New York City, if they ever want to give me a city title, it's like I think there should be a city diners with unionized employees and bathrooms that anybody can use, and the price of an egg sandwich is regulated, kids can get lunch in the summertime for free or something.
There should be ways for people to be fed and seated and served because it's honestly just a very basic form of dignity that serves a purpose, but it's becoming harder and harder even at the fringes, it's just becoming more expensive to have restaurants. and you start to worry when the people whose food it is can't afford the food in a neighborhood that should belong to them. I'm glad, for example, that Singiri was able to stay here because that would have been a huge loss.
Kai: I hear Eric Adams is hiring so maybe.
Tammie: [laughs].
Kai: Well, thank you for taking us out to dinner, us and all of our listeners. It's been lovely.
Tammie: Thanks for having me. I'm so glad that I got to introduce you guys to this restaurant, and just all of the delicious things here.
[music]
Kai: The United States of Anxiety is a production of WNYC Studios. Our theme music was written by Hannis Brown and performed by the Outer Borough Brass Band. Sound Design by Jerry Paul. Our team also includes Emily Botein, Regina de Heer, Karen Frillmann, and Kousha Navidar. I am Kai Wright. Keep in touch with me on Twitter @kai_wright or of course next Sunday 6:00 PM EST, you can stream it @wnyc.org. Or tell your smart speaker to play WNYC. Until then, thanks for listening, and take care of yourselves.
[music]
Copyright © 2022 New York Public Radio. All rights reserved. Visit our website terms of use at www.wnyc.org for further information.
New York Public Radio transcripts are created on a rush deadline, often by contractors. This text may not be in its final form and may be updated or revised in the future. Accuracy and availability may vary. The authoritative record of New York Public Radio's programming is the audio record.