The Culture of Gun Violence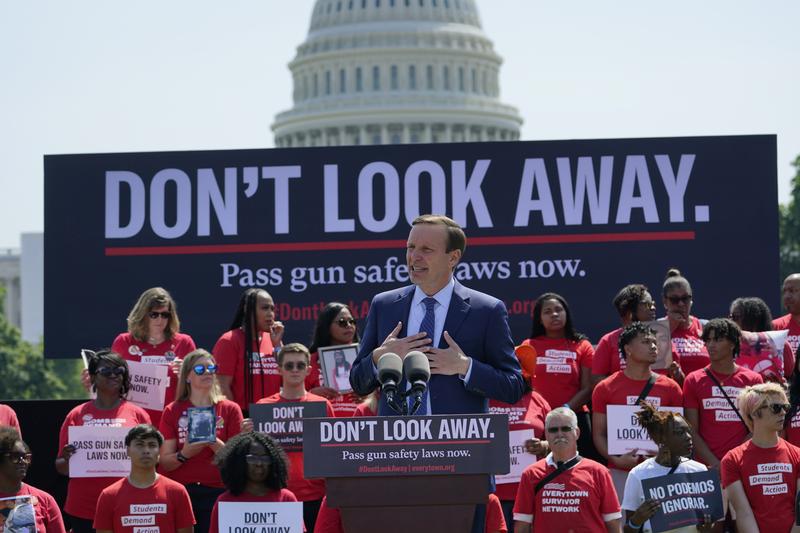 Transcript
Kai Wright: Hey, this is Kai. Just a quick reminder before we get started here, that we've changed things up in the podcast feed a little bit. We are now separating out the segments and dropping them down the feed individually to give you a little more control over what you listen to and when. We know that's what you want as a podcast listener. What you're about to listen to is the first part of this week's show. Later this week, you'll get the second part of this week's show, and if you want the whole show as one live experience, you can always go over to our brand new YouTube channel. You just go to WNYC's YouTube page and you'll find us there. Enjoy the show.
[music]
Regina de Heer: Do you own a gun or have any experience with guns?
Hazel: I've never owned a gun or held a gun ever.
Liane: Yes, I have 345 Magnum.
Charles: I'm a certified firearms instructor.
Brian: Never owned a gun or held a gun.
Regina de Heer: Do you have any feelings surrounding guns?
Charles: I'm in my 70s. The young people today that have criminal intent are attacking people like me with no remorse.
Liane: I'm Canadian, and I was very anti-gun when I first moved here. When I learned how to handle a gun safely, my views changed dramatically.
Hazel: I'm from Los Angeles. It's not super common really to go shooting as much or hunting.
Brian: It's not something that I ever wanted to have around the house having two kids.
Charles: Guns don't kill people or shoot people. They're just options, so to blame them is pointless.
Hazel: I don't love guns. I don't love what they represent in the United States.
Kai: Welcome to the show. I'm Kai Wright. This spring shortly after a teenager slaughtered 21 people with an AR-15 at an elementary school in Uvalde, Texas. I was listening to Senator Chris Murphy on the news. Senator Murphy represents Connecticut and a decade ago when he was a congressperson, his district included Sandy Hook. Gun control is a big part of his political agenda, and he's been one of the point people working on bills in Congress ever since.
Anyway, after Uvalde he was on NPRs All Things Considered talking about the prospects for some kind of progress, and he was asked, why should anybody have any hope for any progress on reducing gun violence at this point? Really, it is a solid question, and Senator Murphy said something that got me thinking. Here's what he said.
Senator Chris Murphy: There are very few moments where a right turn happens in American politics. It's really about political power. How much do you have? How much does the other side have? In 2013, the modern anti-gun violence movement didn't exist. All these groups that we think about today from March for Our Lives to Gabby Gifford's group, Moms Demand Action, they didn't exist, but the gun lobby did, the NRA did, and they just were more powerful than we were in 2013.
What we've been doing for the last 10 years is building up our own power. We're a significant political organization. The NRA is weaker today than they were, and maybe that balance of power, political power today, much more even than it was in 2013 will allow us to get something done.
Kai: I thought when I heard that, huh? What if he's right? Could that be true? Of course, Congress did pass a gun control law this summer. It felt far short of the kind of stuff that is being pushed by the movement that Senator Murphy talked about, but it was something. I really want to examine Senator Murphy's theory that quietly, even though we are not seeing real change yet in policy or politics, that maybe there's been a shift on the topic of guns, or maybe there could be a shift on the topic of guns and it's something that will lead to real change.
I'm joined by Nina Vinik. She's the founder and executive director of Project Unload. Her project has a big idea about gun violence. They're arguing that we'll only get so far on the policy and politics of this if we don't first change the culture around guns, and that's a slow but necessary road we've got to walk. Nina, thanks for joining us to talk about this.
Nina Vinik: Thanks, Kai. Good to be here.
Kai: Listeners as I talk to Nina, if you've got a question you want to put to her about how we might finally make some progress on gun violence, you can call us up. Nina, to start with my basic question about what Senator Murphy has said, that the gun control movement at least is stronger than ever. Do you think that's true? Has there been a shift in power in some way on this?
Nina: I think it is true. There has been a lot of progress in terms of the strength of the movement, the number of activists who are mobilized to call for stronger gun laws, and we have seen progress on the policy front. Even before the bipartisan package that passed the Congress was signed into law by President Biden, the states or at least many states had been moving in the right direction in terms of strengthening their gun laws.
Now, other states had been moving in the opposite direction, but by many, many metrics we have seen a lot of progress in terms of political strength and policy. However, where we're not seeing the progress is in terms of our rates of gun violence. They are moving in the wrong direction, and we have to confront that and think about what's missing? What else should we be doing to attack this problem?
Kai: Well, it's interesting too, your thought about what else we should be doing to attack this problem is going to involve culture. I wonder if that's moving in the wrong direction as well. I've seen several places this idea that there's a renewed interest in guns in recent years and that we've even seen it in communities that get less press coverage about that. There was an NBC story recently that in 2020, the sale of guns to Black Americans rose 58%. Is this a trend you've noticed? Am I right to think people are more into guns than they were.
Nina: 100%, our culture is shifting in favor of gun ownership. It's important to know that it was not always this way. If we go back about 20 years, gun ownership had been steadily declining for the previous quarter century. From about the mid-70s until 2000, household gun ownership had been on a steady decline and at that point, most Americans believed correctly that bringing a gun into their home would make them less safe, not more safe.
Well, today that has completely flipped, and now most Americans believe the myth that having a gun will make them safer, and gun ownership is on the rise and the reason people say why they're interested in having a gun now overwhelmingly is for protection, but the evidence tells us that that's not the case. That having a gun at home increases your risk of dying by suicide, of dying by homicide, and where there are more guns at the community level, those communities experience higher rates of gun violence. We need to take on that culture and the myth that's driving that culture and that's what we're doing at Project Unloaded.
Kai: What do you think is driving that change in the first place? I understand you're saying that there's this myth that people believe, okay, guns are going to make me safer, but why the change? Why do more people believe that than used to? I imagine it's different for different communities perhaps, but have you looked at the cause at all?
Nina: The short answer is we don't really know what's behind it, and I would bet there are multiple reasons behind that trend, and certainly the reasons are going to be different for different individuals and different communities. What we do know is that overwhelmingly today, people believe they need guns for protection when all of the research tells us that not only do guns not offer protection, they increase the risk that you will die by gun violence. That's why we need to shift that thinking and take on that myth.
Kai: While we were getting ready for the show our producer was interviewing people around Washington, DC, around that area about their feelings on guns and several people brought up the bystander in an Illinois mall or in Indiana mall that killed a gunman who had three guns and hundreds of rounds of ammunition, and this person killed him and has been labeled a hero for all the people that he saved by taking down the gunman. That story in particular, or at least the way it has landed in the political culture, how would you address it to those people who look at it and say, "Oh, yes, that guy's a hero. That's what we need more of."
Nina: Look, it happens, and that does seem to be an example where an armed citizen was able to put an end to a situation that could have been worse, but that's the rare exception. The research tells us that those kinds of defensive gun uses just do not happen very often. They are far outweighed by the number of times that guns are used to harm oneself via suicide or to harm others via interpersonal gun violence.
Kai: Project Unloaded targets social change amongst young people in particular, your idea is that we got to start with the young people. Why young people specifically on these ideas?
Nina: Yes, that's right. We did a lot of research working closely with researchers to really understand young people and what they think about guns. What we learned is that like other Americans, they too have bought into this myth that we need guns to be safe, and they're interested in gun ownership, but for the most part, they have not yet made up their minds about guns.
We know that by the time we become adults, we tend to get pretty set in our ways. Our views about all kinds of issues tend to solidify or even calcify, but what we learned from our research is that during the teen years, we're still forming those attitudes and behaviors when it comes to guns. We have the opportunity and ability to share accurate factual information with young people and persuade them to make a decision that's in the best interest of their health and safety and the health and safety of those close to them. That's a decision not to own and use guns.
Kai: I'm talking with Nina Vinik, Founder and Director of Project Unload. She says we'll only get so far on the policy and politics of gun control if we don't first change the culture around guns. We'll be right back.
President Clinton: Hillary and I are profoundly shocked and saddened by the tragedy today in Littleton.
President Trump: Our nation is overcome with shock, horror, and sorrow.
President Bush: It was the worst day of violence on a college campus in American history.
President Clinton: We have taken this important part of life of millions of Americans and turned it into an instrument of maintaining madness.
President Obama: Our unalienable right to life and liberty in the pursuit of happiness. Those rights were stripped from college kids from Blacksburg in Santa Barbara, from high schoolers at Columbine and from first graders in Newtown.
President Bush: May God bless and keep the souls of the lost and may His love touch all those who suffer in grief.
President Biden: There are too many other schools, too many other everyday places that have become killing fields, battlefields.
President Clinton: It is crazy.
Regina de Heer: Hi everyone. I'm Regina, a producer with the United States of Anxiety. Last week, Kai talked with Author Danielle Smith about the Black women who have defined pop music and about how the summer jam is so intimately connected with the memories we all have. For the rest of the summer, we'll be building a Spotify playlist with songs selected by you and by our team. Here's a contribution from our listener, Stacy.
Stacy: I love Ciara's summer jam, Conversation. My summer jam that's been going on since spring is Tame Impala's, I'm a man off the current album. It's sexy, chill vibe for sexy outdoor summer evenings. I'm just thinking about what I said and the implications.
Regina: Thank you so much, Stacy. If you like Stacy would like to be involved in this special project, send us a voice recording, telling us your song choice and why you chose it, and send it to anxiety@wnyc.org. That's anxiety@wnyc.org. You can start listening to all of our contributions so far on Spotify starting this week. You can find a link to the playlist in the episode description, and as the summer goes on, we'll report back with the progress. Thank you so much. We look forward to hearing from you.
[music]
Participant: They had one message for all of us. Do something, just do something. For God's sake, do something.
Participant: We need the wide majority of responsible gun owners who grieve with us every time this happens.
Participant: Not to let people ever again in this country use a legitimate part of our American heritage in ways that blinds us to our obligation to the present and the future.
Participant: We vow to act with urgent resolve.
Participant: I pledge that we will stand ready to help local law enforcement and the local community in any way we can.
Participant: All of us need to demand a Congress brave enough to stand up. The gun lobby's lies.
Participant: This isn't about taking to anyone's rights. It's about protecting children.
Participant: All of us need to stand up and protect its citizens.
Participant: It's about protecting our freedom to go to school, to a grocery store, to a church without being shot and killed.
Participant: All of us need to demand governors and legislators and businesses do their part to make our community safer.
Participant: After Columbine, after Sandy Hook, after Charleston, after Orlando, after Las Vegas, after Parkland, nothing has been done.
Kai: Welcome back. I'm Kai Wright, and I'm joined by Nina Vinik, Founder and Director of Project Unload. Nina, we just heard every single president going back to Bill Clinton, giving the now familiar and frankly maddening, just cot about the action we so badly need to take. I think this is actually a core source of frustration for so many of us. The performative consensus on guns that really doesn't connect with any lived reality.
I wonder for you as somebody who's looking at the culture on guns, how much consensus do you think really exists outside of Washington? We talked before the break about there's been this change in the way people think about gun ownership, but what about just on gun safety and gun control in general? How much consensus do you think it actually exists?
Nina: I think there's a good deal of consensus on the need for greater restrictions on access to guns. If you look at public polling that's been done over many, many years now, you'll find that a vast majority of Americans agree with many of the common sense proposals that have been put forth that would strengthen our gun laws and make it more difficult for people who should not have access to guns to do so things like universal background checks. These have overwhelming support among Americans across partisan lines.
I think there is a lot of consensus. I think you saw a manifestation of that consensus in the bipartisan package that was recently passed by the Congress. I think there is an opportunity for these kinds of incremental policy steps around issues where there really isn't a lot of disagreement among the American public.
Kai: Among actual voters as opposed to political parties. Let's take in a couple of calls because we do have callers with questions. Let's go to Toni in Maplewood, New Jersey, Tony, welcome to the show.
Toni: Hi, how are you?
Kai: Very good. Do you have a question about gun control or gun culture for Nina?
Toni: Well, it's more of a comment. I'm in my mid-60s and I never thought of owning a gun. Never would've thought of owning a gun, but in the vicious cycle we're living and seeing certain people arming up more and having watched the January 6th hearings very closely and seeing people attacking the Capitol and armed, having no problem having guns. I'm concerned that, and it's the first time I ever felt this way in my life, that there is a fraction of people out there that may attack people because of their political views. If they're all armed and the other side is not, it's leaving yourself open for whatever might happen.
Kai: Did that make you go get a gun?
Tony: I don't think I ever would. I'm a criminal defense attorney and I defend people who have gun possession and I agree with all sorts of regulations about possession of guns. I think we don't want to be naive either. If this grows and this continues, these fractions of our society. Again, you don't want to be the one with your head in the sand while everyone else is armed and there is real animosity among these different groups.
Kai: Thank you for that, Toni. Nina, what do you think about that? I've had this conversation with many people who would have never been gun owners before who are like, "I don't know. Maybe I need to get a gun because things are heating up out here."
Nina: I've heard that a lot as well. What I would say is it's important to remember that despite the gun lobby and the gun industry's efforts to normalise gun ownership, it is still the case that it's a minority of Americans who own guns. Even while gun ownership is on the rise, it is just not true that everyone is buying a gun. I think we need to just do some fact checking on that because it's still true that most Americans don't own guns. We're trying to shift that narrative and normalize non-gun ownership because, in fact, that really is the norm in this country, not the opposite.
Kai: Let's go to Colleen in Montclair, New Jersey. Colleen, welcome to the show.
Colleen: All right. I'm on. I love your show. Love the program.
Kai: Thank you.
Colleen: My question with gun ownership and all of this stuff has been mainly, what is the data and statistics on the number of people who own guns have actually protected themselves because of that gun? In other words, we hear about all the deaths from guns, et cetera, but how many lives were actually protected by just owning a gun? For example, an intruder into the home. "Oh, I've got a gun."
Kai: Just for time, Colleen. I'm going to stop you and let Nina answer that because I know she's got to go. Nina, is there any data on that?
Nina: We don't have great data on that. In fact, there is some dispute among the experts about the data that we do have, but the balance of the evidence, and what the experts believe is that these kinds of defensive uses of guns are extremely rare that they don't happen very often, and they are far, far outweighed by the number of offensive uses of guns and the number of times that guns are used against the individual gun owner in the form of self-inflicted violence.
Kai: Nina Vinik is Founder and Director of Project Unload. She's working to change the culture of guns, especially amongst youth. Nina, thanks for coming on the show.
Nina: Thank you, Kai.
Kai: I'm going to turn now to someone who's come into the gun control movement because of gun violence touched her life directly. Marie Delus is the New York State Survivor Lead with the organization Moms Demand Action. She's a Marine Corps veteran, and she, along with other survivors in the organization are redefining what it means to be marked by gun violence. Marie, thank you so much for coming to the show.
Marie: Thank you so much for inviting me to be part of your show.
Kai: Can we just start with the basics, why did you get involved with Moms Demand Action?
Marie: The reason why I got involved with Moms Demand Action is because I'm a survivor. I'd like to share a photo. I don't know if you can see it real quick. Sorry. This is my nephew, Pierre-Paul Jean-Paul Jr. that was shot and killed in November 11, 2008 in Queens. So we are called survivors. I joined Moms after the tragic killing in Sandy Hook in Newtown. When I heard that the 20 children and six educators were killed, I was so devastated. I could hardly function. What I ended up doing is actually going to work the following Monday.
My director at the time, Dave saw that I couldn't function at work and he asked me what happened. I was almost hysterical, like, "Did you hear that they're killing babies in school?" I couldn't function and he's like, "Well, my wife is also devastated and she was able to find a group on Facebook." That group turned out to be created by Shannon Watts, who actually created organizations that would eventually become Moms Demand Action. We consider ourselves OGs, so I joined. She created Moms Demand Action in December of '14, 2012. I joined December '17. I've been with the organization every since doing gun violence prevention work.
Kai: Can I back up for folks who aren't watching on YouTube that get to see the picture of your nephew? Tell us briefly about him and what happened to him.
Marie: Yes. I'm sorry. I should have warned you guys. I normally take out his picture. His name is Pierre-Paul Jean-Paul Jr. He was shot and killed in Jamaica, Queens, New York on November 11, 2008. What happened with Pierre Paul is that, and I'm sorry, I think you'll see a reflection, is that he was actually talking to a female friend of his that he hasn't seen for quite a while. The reason why we know the story is that we are one of the few lucky families that actually the perp was found and we went to trial and she was just talking about how they were having such a good conversation.
She was saying, "Oh, you know you didn't reach out to me." He was like, "Yes. I did." He was showing her his phone to show, "I just text you." Then he invited her to go grab something to eat, and they were walking away to go to, I think it was McDonald's on the corner of Linden Boulevard in Springfield. Then a perp approached him from behind, shot him 10 times. Unfortunately, the bullet that ended up killing him, ironically, is the bullet that shot into his heart. It's been devastating for our family. Even after his death, I've done few work with gun violence prevention because that was my cause but I really joined the movement after Sandy Hook in Newtown, and this is Pierre-Paul Jean-Paul Jr.
Kai: That's wonderful. Well, the memory of him is wonderful, and your spur to action is wonderful. What do you think that-- It's one of the things that is notable about the movement now versus 10 years ago is how many people in it, how much it's driven by either people who survived gun violence or family members of people who didn't. Does that seem like that's a change from when you started, and why do you think that matters, if so?
Marie: It's definitely a change. A lot of the survivors that I work with has been doing this work for a long time. I think the reasons why the change is more prominent now is because we were determined because of the constant mass shooting, the constant daily shooting, it became such an issue. We didn't realize, even me when I joined the movement didn't realize that there was such a block in preventing gun violence bill from getting into Congress.
We realized with organizations such as Moms Demand Action and other organizations that we needed to come in as a united front to battle this public health issue. As we went along, we realized that survivors have a voice. Survivors are the ones that I always said is losing our bloods in these streets. We determined to be a voice in this movement. The only way in my opinion, and this is why I share my nephew picture all the time whenever I speak, the only way to bring a voice to the gun violence movement is with survivors, and to show the faces that are being lost and the bodies that are being lost.
Because everyone likes to think like it's an obscure issue, that it won't impact me, it won't hit me, and that's what the survivors bring in to the movement, to show that look, "We are alive. We are here. We are survivors, and that we've lost our family members, and we don't want you to lose your family member too." So the survivor voice came into the movement because it was needed. It was much needed for a very long time and we just started realizing as a group that we could actually have an impact in the movement.
Kai: What do you think about the argument that Nina Vinik was making about the need for culture change? What's the part of the culture around guns that you think is the biggest problem? What is the part of the culture that needs to change?
Marie: Well, I respect Nina's views and a lot of our survivors feel as Nina does, but as an organization itself, Moms Demand Action, believes in gun rights. We have gun owners. That is part of our movements. We do believe in the Second Amendment. I'm a former Marine, actually, I'm a sharpshooter myself, and I knew the responsibilities of having an M16 when I was in the military. We do believe in gun ownerships but I do respect the fact that Nina wants it to be known that in this culture, there isn't a lot.
There is statistic out there that shows a small amount of Americans own a large amount of guns. It's not everyone is getting a gun. We're a small amount that has a lot of guns. Another culture change that we as survivor wants is for people to realize that we're not out here trying to take guns away from responsible gun ownership. You have a right if you want to, whether you're Black, brown, or white, whatever our brothers or sisters, whatever religion, you are to own a gun, if you feel that makes you safe.
It's just what we're saying is that we want to remain safe in a society where we don't have to be in a group of people. We can't go into a library, we can't have coffee, we can't go to church without having to worry about someone with an AR-15 coming to shoot us and making us uncomfortable. Not even uncomfortable, making us unsafe. We are concerned. In this culture, as far as I, I just want everybody to respect each other.
If you're a gun owner, respect the responsibility of you being a gun owner and keep your guns to protect yourself and keep yourself to yourself. As for the other people who are not as comfortable with guns, we want to respect them, and we want them to respect us too. Your right to gun should not oversee our right to feeling safe in our own environment.
Kai: Where do you think we're at on that kind of compromise, because as I said at the start of the show, it feels very hopeless. It has felt very hopeless. You've been doing this for now a decade, where are we?
Marie: The hope that happened is a lot of our advocates do not feel that the bill that was signed by President Biden and that was approved by Congress, a lot of our survivors, a lot of our advocates doesn't feel is enough, but for someone like me who started in 2012, and I was there in 2013 when the Congress would not even sign the universal get background check, I think that was the time when I really became awakening to this scourge and this solid block against anything that has to do with gun violence to actually see almost 10 years later that something was done, that gives me hope.
I've been in these streets, fighting these streets for 10 long years. We finally got a bill passed by the Congress, by the house, and the Senate. We finally got a bill signed by Biden. That's something. Iit's not a lot in everybody's opinion and for some advocates, but it's a lot for me. It's a lot for our survivors. Now, what we want to do now is we want to take this movement and start dealing with trafficking of guns. Okay? We want people to start concentrating on that. Let's get these guns off these streets and out of our community. That's what a lot of the survivors are doing. I do see the movements. I know there's a lot of people that feel hopeless because of the shooting, but things are changing.
Kai: Marie Delus is a lead organizer with Moms Demand Action. She's been working on this stuff since 2012. Thanks for joining us, Marie.
Marie: Thank you for having me. Thank you so much.
Kai: United States of Anxiety is a production of WNYC Studios. You could follow us wherever you get your podcasts or by going to wnyc.org/anxiety. Our team includes Emily Botein, Regina de Heer, Karen Frillmann, Kousha Navidar, Rahima Nasa and Jared Paul. Matthew Miranda is our live engineer and I am Kai Wright. You can find me on either Instagram or Twitter at Kai_Wright, or just back here next Sunday evening. Thanks for spending this time with us. I will talk to you next week.
Copyright © 2022 New York Public Radio. All rights reserved. Visit our website terms of use at www.wnyc.org for further information.
New York Public Radio transcripts are created on a rush deadline, often by contractors. This text may not be in its final form and may be updated or revised in the future. Accuracy and availability may vary. The authoritative record of New York Public Radio's programming is the audio record.