The Coolest Music Parties You Didn't Know Were Happening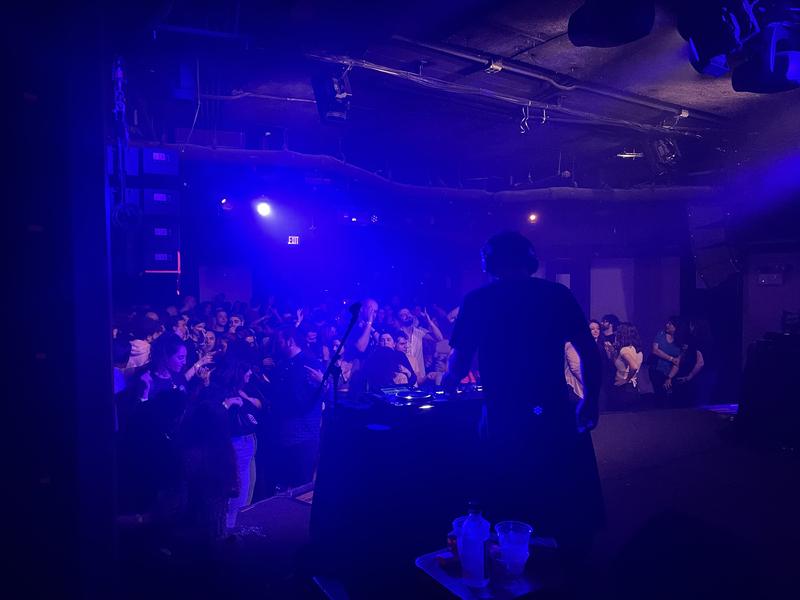 Transcript
Kai Wright: It's Notes from America. I'm Kai Wright and I am joined by one of our producers, Regina de Heer. Hey, Regina.
Regina de Heer: Hi, Kai. Happy solstice.
Kai Wright: Happy solstice. It is officially summertime and that, of course, means once again, we are launching the Notes from America summer playlist.
Regina de Heer: Yes. You know I love music.
Kai Wright: I do.
Regina de Heer: I'm always looking for new recommendations. Last summer I thought, "Why don't we create a playlist with our listeners?" At the end of last summer, we had this amazing set of songs generated by you, our audience. This summer, we're doing it again.
Kai Wright: Okay. Is there a theme this year?
Regina de Heer: Well, the best way to get into this year's theme is to tell you about the experience that inspired me.
[music]
Regina de Heer: I went to this incredible party in DC called Laylit. It's put on by these three guys who were looking for a way to celebrate their Arabic culture. You can really feel that mission of the parties. I was so inspired by the experience. I reached out to two of the three founders, Philippe Manasseh and Nadim Maghzal, who are actually a music duo themselves. Kai, you can really get an idea of what they're trying to create just by hearing the story of how they came up with their band name, Wake Island. Here's Nadim.
Nadim Maghzal: I was one day looking at Google Maps, just randomly just scrolling around the planet late at night. I found this spot in the middle of the ocean, of the Pacific Ocean that's literally like halfway between the Asian continent and the American continent. It was called Wake Island and I found the name interesting. I showed it to Phil and there wasn't much more to it than this. It's like, "Oh, half of us come from the Asian continent, the other half come from the American continent, it's cool." Then when we researched a bit more, there was some fun facts about the island. It's a place that's also like the first time zone.
Philippe Manasseh: It's in the future-
Nadim Maghzal: It's kind of like in the future for everyone.
Philippe Manasseh: -for everyone. Honestly, I personally I just like the imagery because, for me, music has always been a way to deal with things. For me, like when I started making music, for example, on a personal level, it was about the time that I started thinking about coming out as a gay man. I'm realizing now that I think I came out through the music mostly and I just realized that just the name Wake Island is just a very nice way to position yourself spiritually in terms of trying through this project to wake up, in a way, to the realities of the world, but also to our own selves and try to explore who we are and try to be the best versions of ourselves and inspire other people to do so.
[music]
Regina de Heer: As Phil put it, waking up to the realities of the world, to ourselves, to the future is such a vivid image. That's exactly what it felt like to be at a Laylit party. You can see it in the way people respond to the music, to the space, to each other. You can tell these parties are truly filling a need. Here's Phil again.
Philippe Manasseh: I think, at the essence, what we're trying to create is a space of freedom for people to feel free and open while simultaneously bathing in the culture that we bring from the region, from the Middle East, North Africa, Southwest Asia region, which we call SWANA. It's just really about exploring togetherness through this particular culture. There's other ways to explore togetherness and we engage in these other ways in our lives, whether movies or other parties or techno music or whatever. There's so much you can do.
In our situation, we found this kind of energy within our culture and it's something we haven't seen a lot and that we were hungry for, as individuals, as Lebanese men, Nadim and I, and as immigrants too. We were like, "Why can't we feel these feelings within our culture?" I think we do take it very seriously, but we don't take ourselves seriously in a sense that we're just very aware that it's a party.
Nadim Maghzal: The keyword for us has always been a celebration. It's really a celebration of who we are as a culture, where we come from because particularly in North America, our culture is quite often misunderstood and people just don't know how is the Middle East portrayed always, like war and problems and deaths and terrorism and whatever, but that's not it. [chuckles] The celebration that you feel on Laylit dance floor is, that's how it feels like for us genuinely.
Regina de Heer: Can you say more about this feeling you're describing? Can you help me understand that idea?
Philippe Manasseh: Growing up after 9/11 in America as a young Arab, it's very hard because you have to constantly pretty much hide who you are in fear of being bullied or all these things. This experience is very difficult. The best things, for me, as a founder of Laylit is to hear these testimonials all the time of people who tell us they've been waiting for a space like this where they can feel like they don't have to hide.
[music]
Regina de Heer: While I was taking a break outside the party in DC, I asked some people what having a space like Laylit meant to them. They highlighted this exact point.
Speaker 1: I was born in Iran and I grew up listening to Arabic music. This was very specifically like an Arab dance party. It's just a place where people of all different types of Middle Eastern descent get to join together and be able to, maybe politically not agree, but be able to dance to the same music and enjoy a night together. I think that anytime music can bring people of different ideological backgrounds or ethical backgrounds together I think is a good night.
Speaker 2: I am Lebanese. I would say that it really is something that we need here to establish a really fine footing for our community. It's just beautiful that this place actually gave us a chance to do that. You can finally feel more validated in being where you're from and also being able to represent that culture and also being validated by everybody around you. It's very cool…
[music]
Philippe Manasseh: What I think is the most important thing our party's doing is to provide the space for people to just be, and even discovering. Even, us, we're discovering ourselves. I've been hiding this Lebanese part of me for years and years and years. Even when I was living there, there's this kind of weird inferiority complex we have sometimes with Europe and America. The way that the discourse is around our region gets into the region. We start feeling like we're seen as inferior. That dictates a different weird behavior where we look up to these countries like America and Oh my God, Canada and France. It's like we need to deserve them.
When we come here, we work hard. It's very much like dating honestly. You have to prove yourself and prove your worth all the time. It's hard because to do that, the only, or at least the easiest way is to erase your identity first. Laylit for us, Nadim and I, and Wake Island, actually our music project, has been about reclaiming that side of our identity without erasing the newfound one.
Nadim Maghzal: That's been really the loveliest thing for me is seeing people come together from our region, first and foremost from our community, and put their differences aside and party together because there is, sadly, because of the misery in those countries really, and I'm not dramatizing here when I say misery, like the misery in Syria, the misery in Lebanon and Yemen like-
Regina de Heer: In Palestine.
Nadim Maghzal: -in Palestine-
Philiippe Manasseh: Of course.
Nain Maghzal: -of course, the entire region, thoughts, and feelings of hatred to the neighbor is something that is so easy. It happens all the time. We're not saving the world or anything, but we're trying to say-
Philippe Manasseh: No, we're definitely not.
Nadim Maghzal: -one thing that even if we don't do Laylit physically in the Middle East, the message we are sending is that we are the same people. We've the same DNA, musical DNA, it's the same culture and we are stronger when we unify and when we celebrate each other. The problem is not our neighbors.
[music]
[applause]
Kai Wright: It's Notes from America. We'll be right back.
[music]
Regina de Heer: I really want to go back to the music. At the DC party, the space was absolutely packed with people of all ages, all backgrounds, singing and dancing to some songs I recognized and some I didn't. Can you talk to us about the music? How would you describe the sound of Laylit?
Nadim Maghzal: The mix of music is not just like what you would expect Arabic music to be, in a way, it's not only nostalgic connecting to your roots only, it's this idea of, "Hey, we're here and our culture is naturally going to evolve." We can't stop that, in fact, we promote that. There's going to be a new identity. It's always renewing itself like second generation, third generation.
Philippe Manasseh: Yes. As founders, there's three things that really come into the music. First of all, yes, there's this, what happened in the past, the nostalgia, the fun, the pop, and respect to that.
[music]
Philippe Manasseh: It's definitely that as part of the formula of the Laylit song. We don't want to stop at that so the other things we explore is, "Oh, by the way, look at what's happening today, there's artists like Elyanna-
[MUSIC - Elyanna: Ana Lahale ft. Massari]
Philippe Manasseh: -who are really breaking in the US.
[MUSIC - Elyanna: Ana Lahale ft. Massari]
Philippe Manasseh: I feel like now, the language is becoming like a confession, like we're singing in Arabic, and that's how it is. Of course, here and there, include some English for reliability, get a guest star, you know how the music industry works the way it works. There's an interest, I think, in the culture that is growing, and we're seeing big producers like Skrillex and Marshmallow getting into this game, collaborating with artists, and all these artists are doing all these incredible things.
Let's show you that and let's also explore the possibilities of the future. How can we mix the nostalgia with the modern, with the futuristic sound, with the experimental, and somehow make it accessible in a way that you can start imagining the possibilities of where this music could go or where you as an artist may be in the audience would be inspired to take it if you were making music.
We want to make sure that if our community is going to go on the rise, that the voices that are inspiring the mainstream are diverse. That's a big part of our role also, is to, we don't want our culture to become another stereotype that can sell money. We used to be the villains in James Bond movies, and now we're going to be what pop stereotypes and belly dancing. It's like, "We don't want this stuff to happen."
Nadim Maghzal: That's really the driving thing is in this current climate we're in, we're hoping that this time with the rise of Arabic music, that people at the core of it are people from the community.
Regina de Heer: Can you give some examples? You're so ingrained in this music, so can you give us some song examples?
Philippe Manasseh: Yes, of course. One of the biggest artists right now like Haifa Wehbe, she's been huge for like 10, 20 years.
[MUSIC - Haifa Wehbe: Tigi]
Philippe Manasseh: Her songs sound almost like the American pop songs with Arabic lyrics, at this point. This is not in anywhere near traditional music.
[MUSIC - Haifa Wehbe: Tigi]
Philippe Manasseh: Part of what we're trying to do at Laylit is we're trying to redefine what it means to have what we call Arabic music or SWANA music.
Nadim Maghzal: One of our roles is to make sure that there is a space for our artists, artists from our community, to exist and thrive and be able to have a platform, at least, in this continent, where they can come and share their take on their culture. The music sonically might not be what the stereotypical Arab sound is. That's something that's very, very important because it's a fluid process.
Identity's going to change, so be it, let it change. It's not this like central dogma that we can't mess with. Even if we look at our own countries and their history, they've changed so much. Whatever is Lebanon today, which is this country that's has been colonized like 700,000 times, I don't know how many times, by so many different languages and religions and cultures and, and, and, and, the list goes on and on and on. I find this fascinating personally, that identity is a fluid thing.
[music]
Regina de Heer: Identity is a fluid thing. The beautiful thing about our identities as products of diaspora is we get to straddle multiple cultures and we have the ability to create a new one that's a mix of them all. We are going to celebrate our histories and our futures with this year's Notes From America's summer playlist. Over the next couple of months, I'll be learning about the music of diaspora communities and how that music reflects the past and the future of these cultures. We also wanna hear from you.
Send us a voice recording with your name, where you're from, and your response to this prompt. What's a song that represents your personal diaspora story? Tell us the name of that song and the artist, and maybe a short story that goes along with it. Make sure your recording is, at least, a minute long. You can add your song to the playlist by going to notesfromamerica.org and look for the record button to leave a voice note with your answer. We asked the guys of Wake Island to kick us off with their own submission. [strumming sound]
Nadim Maghzal: We can give one that's been like a staple.
Philippe Manasseh: There's a staple, staple.
Nadim Maghzal: There's one that's been a staple of Laylit that we've played for many, many years. I jokingly feel like we should actually cover this song live at one of our parties in the future. There's this track, it's called Ya Rayah. It's been covered many, many times by many different artists.
Philippe Manasseh: The version we connect to is the one that was popular when we grew up. It's the Rachid Taha version.
[MUSIC – Rachid Taha: Ya Rayah]
Nadim Maghzal: Originally, it's by Dahmane El Harrachi.
[MUSIC – Rachid Taha: Ya Rayah]
Nadim Maghzal: This song is about the process of immigration leaving your country.
Philippe Manasseh: What gets lost.
Nadim Maghzal: Where are you heading? Where are you going? This song it's been part of the Laylit sound, I would say. It's-
Philippe Manasseh: It's a classic.
Nadim Maghzal: -it's a classic.
Philippe Manasseh: It's by no means an original choice, but it's a very fitting mainstream choice because also it's beautiful music.
Nadim Maghzal: It's a beautiful, beautiful track.
Philippe Manasseh: It's an Algerian song. There's something magical about it. There's something magical that happens on the dance floor. There's a few songs that have that effect, but this one, I find has the most special one.
[MUSIC – Ya Rayah]
Nadim Maghzal: Plus, with the lyrical imagery, it's just beautiful. This idea that diaspora and leaving your home and traveling and all that stuff with this groove, with this beat, I don't know, it's peaceful.
[MUSIC – Ya Rayah]
Kai Wright: That's musicians, Philippe Manasseh and Nadim Maghzal in conversation with our producer, Regina de Heer. As Regina said, we'll be updating our Notes From America Playlist all summer with songs of diaspora and we want your help. Tell us what's a song that represents your personal diaspora story, tell us the name of that song and the artist and maybe tell us a short story that goes along with it too. We'll gather all of the songs and your stories in a Spotify playlist, and we'll keep that updated all summer long. We'll hear all about all of our various diaspora stories and be able to dance along to it.
Here's how to participate. Just go to notesfromamerica.org, look for the record button, and leave a voice note with your answer right there, that's it. It's that simple. Notes From America is a production of WNYC Studios. Find us wherever you get your podcast and on Instagram @noteswithkai. Mixing and theme music by Jared Paul, reporting, producing, and editing by Billy Estrine, Karen Frillman, Regina de Heer, Rahima Nasa, Kousha Navidar, and Lindsay Foster Thomas. Andre Robert Lee is our executive producer, and I am Kai Wright. Happy Summer.
[music]
[00:19:31] [END OF AUDIO]
Copyright © 2023 New York Public Radio. All rights reserved. Visit our website terms of use at www.wnyc.org for further information.
New York Public Radio transcripts are created on a rush deadline, often by contractors. This text may not be in its final form and may be updated or revised in the future. Accuracy and availability may vary. The authoritative record of New York Public Radio's programming is the audio record.