The Conservative 'Swing' Vote: Explained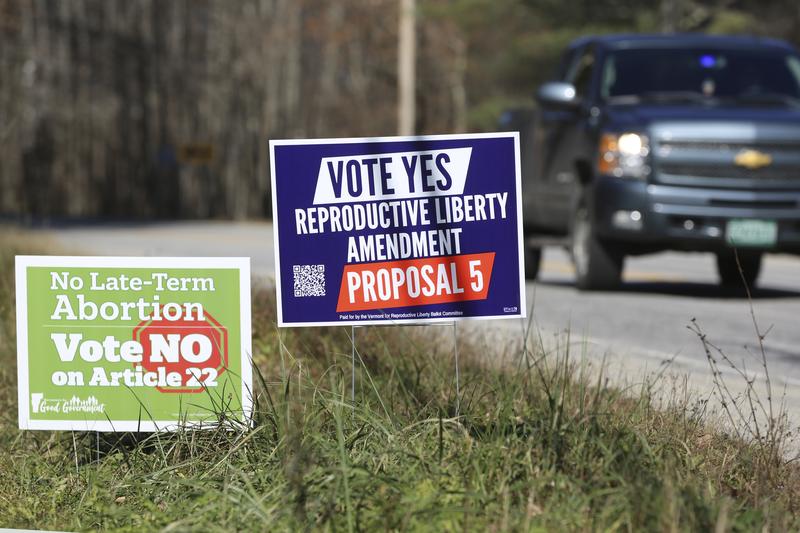 Transcript
[music]
Focus Group Clip 1: I'm 37, I come from a family that's very diehard of Republican and it doesn't matter who's elected.
Focus Group Clip 2: That drives me up a wall that the Democrats have put much money into these so far right, Republican candidates.
Focus Group Clip 3: He's just way too extreme and he's just so off putting.
Focus Group Clip 4: I've been a Republican for 45 years. We don't like the government up in our business. Don't reverse Roe versus Wade. That's about control. It's about controlling women.
Focus Group Clip 5: That also was kind of upset about what President Biden did recently. He forgave all the loans and I really scrimped and I saved and I sacrificed my home, my car, I drove a crappy car for years, and I paid my loans and I'm really angry about that.
[music]
Kai Wright: It's Notes from America. I'm Kai Wright, and welcome to the show. All of those voices you just heard were from voters and focus groups held in key states in recent weeks. Their focus group's convened by Sarah Longwell, who is publisher of The Bulwark. She's been listening to voters in these groups throughout this whole election cycle and in each one she collects a distinct group. Democratic voters, dyed in the wool MAGA voters and then this third fascinating group, the modern-day swing voter, which for Sarah is someone who voted for Donald Trump in 2016 and then Joe Biden in 2020. We had Sarah Longwell on way back at the start of the primaries. We brought her back now for our final show before election day to check in on these focus groups. Sarah, hey again.
Sarah Longwell: Hey, happy to be here. Thanks for having me.
Kai Wright: Just listeners understand, you do have a particular interest here. Yes, you're doing this work for your podcast at The Bulwark, by the way, is called The Focus Group. The name describes it. Also, you were and still are one of the founding members of this movement of Republicans and conservatives who tried to stop Trump's takeover of the party, and who are now thinking about how to just counter MAGA and the election lies more generally. Is that a fair way to describe your mission here?
Sarah Longwell: Yes, that's fair. I mean, we're in these races. I mean, I have campaigns running and a lot of these swing states, trying to defeat these anti-democracy Republicans and one of the main reasons I do the focus groups, besides the fact that I really want people to hear what people are saying, is to understand what is motivating people and to understand how to best persuade them in these moments.
Kai Wright: With that in mind, one of the big, and maybe alarming to you, takeaways from these months and months of focus groups you've been doing is that the swing voters, again, this is people who went from Trump to Biden over the course of this past year, more and more of them have told you that they regret that choice. Why do they say that?
Sarah Longwell: In the beginning, shortly after Biden was elected and in the months after, they'd never regretted their votes. I was talking to swing voters all the time and even though they weren't that happy with how things are going, this was around sort of Delta, Afghanistan, they didn't regret it. They were glad, that Donald Trump, somebody described him as a car alarm that had been going off and that someone had finally shut it off. Just that relaxation was still with people but in the last, this back half year, last eight months or so, we've seen a lot of backsliding.
People, not everybody and probably not even a majority, you just hear more people saying they regret their vote. You hear more people saying if Trump ran again, they'd vote for him this time. The reason is, there's among all the groups pretty uniformly there's just a ton of pessimism. I would say certainly in the MAGA groups and the Trump voting groups, there's a lot of catastrophizing, and people talk across the political spectrum about things like gas prices, housing prices, the inflation and what it costs to go to the grocery store. If you listen to people, they are reacting to just what everything costs, and that is the thing that is dominating. Not their votes, actually, but their sense of how things are going in the country, which is they think it's going badly.
Kai Wright: Do they regret Biden specifically? Are they like, "You know what, this was the wrong choice?"
Sarah Longwell: I guess yes, because that was their choice. It's actually there's two types of voters that we think of. There were people who went for Biden, who went for Trump in '16, and then Biden and '20. Then there's people who just didn't vote for Trump in '20. They voted for him in '16, but they went third party or they wouldn't cast the vote for either of them, we get a fair number of those people. I would actually say it's the latter category, the third party voters, the people who just didn't vote, who now feel like, "Well, things are really bad and I should have voted for Trump because look how things are going."
Kai Wright: I mean, to be fair, everybody, as you said, this is across voters. There is a lot of fear or concern about where we stand right now. Would you say that that pessimism you're describing, is that different than the norm? We've heard pessimism from voters for a long time now. I mean, is it a qualitative difference this time around that you've been hearing or is it just this is what happens?
Sarah Longwell: That's a good question and in some ways, this is how people were talking before too. For a lot of the focus group time I've been doing them, we were in COVID and people were miserable during COVID. They thought things were going terribly. Back then, I mean, the stories that people would tell of the depression and their families or not being able to go to funerals, the loss, their kids being out of school, the things parents were dealing with. Then even prior to that, a lot of the groups I was talking to going into Trump's re-election, I was also talking to a lot of people that I would have said were persuadable Trump voters. People who had voted for Trump but rated him as doing a very bad job.
They were also always unhappy because they didn't like Trump and didn't like that they voted for him. I think it's fair to say that people have been unhappy now for a long stretch of time but I think that the big difference that people kind of where they look back is if they have regret. They'll tell you a lot of it is the economy. They were like, "Yes, he was a jerk and I couldn't stand him but at least the economy was doing well and my 401K and the market." That's the kind of thing that people will say.
Kai Wright: Can we just talk about why this group of voters matters? I mean, beyond the horse race of it, because in the political media I feel like we all very often fetishize a group of voters particularly as we run up to election day. This is a relatively small group of people we're talking about, actually. To you, just spell out like why this is such an important group of people.
Sarah Longwell: There's lots of different types of swing voters. For a lot of people, there are Obama Trump voters, which tend to be white, working-class voters. For us right now, and like I said, when I was thinking about persuasion going into 2020 and how I would persuade Trump voters to not vote for him again, I was talking to people who voted for him but rated him as doing a very bad job and so then that was our target audience. Our target audience this time are the Trump '16, Biden '20 voters, because those are the people who are decisive in the last election.
These are the people who put Biden over the top. If you assume, as happened in 2020, that both parties are essentially able to turn out their people, then you've got to fight for these swing voters. Now, these swing voters, though, this category of them that we're talking to right now, the Democrats need to hold on to because they're the ones who put Joe Biden over the edge by those narrow margins in the swing states, which is where the competitive races are. Right now these voters are actually center right. Which is the problem, I think, for Democrats. Is a lot of them they voted for Trump the first time because they thought of themselves as Republicans and they sort of liked that he was a businessman, and they were willing to take a shot on him.
They're also they're not like these white working-class Trump-Obama voters, they tend to be more college-educated, suburban voters, that are the kinds of people that are trending blue. They're trending more Democrat these days because there's a political realignment of trade going on where more of these white working-class voters, these Obama-Trump voters, they are more and more culturally aligned with sort of the MAGAfication of the Republican Party. To Democrats, they need to pick up these college educated suburban swing voters this time. with these very Trumpy candidates, that's the target that I think people are fighting over.
Mitch McConnell, they really want to push back their coalition of suburban voters with rural voters. That's who we're fighting for in places like Arizona, in places like Georgia, where Herschel Walker and Kari Lake and these are very Trumpy candidates. As much as these folks tend to be center right, they also don't like MAGA candidates. I always talk about them like they have this Reagan hangover where--
Kai Wright: Reagan hangover?
Sarah Longwell: Yes. They still like limited government and free markets and they are always like, "Man, is Paul Ryan going to run again, do you think?" They just don't have a sense of how much the Republican party has changed and that it ain't going back to the Reagan times.
Kai Wright: Listeners, Sarah and I can take your calls while we talk. I'm particularly interested if you are one of these Trump-to-Biden voters, or maybe you're a Republican who just can't get down with am MAGA Movement in general. What's on your mind as you vote? We can also take anybody's questions for Sarah Longwell. Sarah, before we take a break here, one of the things that's I think interesting listening to your podcast is like you have on these other folks who are political professionals like yourselves, and there is something that gets lost in the bedside manner of the conversation because your specialty in this, it's like listening to doctors talk about people's heart disease.
This is stuff that is of such huge consequence. I do wonder, listening to these focus groups, are you as calm and clinical in your emotions as you sound when you talk about them?
Sarah Longwell: Yes, I think so. First of all, I'll tell you, it is helpful. I like people and I like most of these people. When you talk to them for two hours every week, even tough Trump voters will talk about how they take care of their sick parents and how much they're worried about their kids or they volunteer at the local dog shelter. I understand, I get a lot of grief sometimes from people who are like. "Do not humanize these horrible Trump voters." They are humans and they are our fellow citizens. My job, this is the thing, people are always like, "Why don't you yell at them when they say things that are wrong or why don't you push back and tell them that their facts are wrong?"
I always respond with, "I want to listen to 10 people explain something to me so that I can persuade 10,000 people. If I can't understand what's really going on, then I can't do the job." You do have to be clinical about it. I think this is part of the problem, is that a lot of progressives, they want to fight Trump but they don't understand the voters and how to do it.
Kai Wright: Hold that thought, Sarah. Sarah Longwell is publisher of The Bulwark. We're going to take a break and we'll be right back.
[music]
Vanessa: Hey everyone, this is Vanessa. I'm an intern. Last week, our episode was inspired by a listener named Edward who asked what someone is supposed to do when voting doesn't feel like enough to make the impact you want to see. We got a bunch of listener responses. Here's one.
Dale: This is Dale from Chelsea. I did vote today early. I didn't vote yesterday because I was on a bus with volunteers going to Long Island to knock on doors. If people are really frustrated, then they should get on a bus and canvas and knock on doors instead of just voting.
Vanessa: Thanks, Dale. This is just one of the messages we received. If you want to check out more, we're sharing a few on our Instagram page. You can find us and follow us @noteswithKai. If you got something to say, send us a message, email us. The address is notes@wnyc.org, or record and send us a message from our website. It's notesfromamerica.org. Thanks. Talk to you soon.
[music]
Doug: Hi, this is Doug calling from Monterey County, California. I am a longtime fan of Kai Wright and a longtime fan of Sarah Longwell. As a conservative, I don't know that anything is at stake for me in the midterms, and that's what troubles me so much. I have believed for many decades that an anti-racist, pro-capitalist person is conservative, and it feels like the conservative movement is now at least racist curious, and anti-capitalist. I wish that these midterms were going to reveal whether my views are still conservative and I'm sorry they won't.
[music]
Kai Wright: It's Notes from America. I am Kai Wright and I am with Sarah Longwell, publisher of The Bulwark. Doug, thanks for your longtime support for both of us. Sarah, that's one of the voicemails we got from a podcast listener who heard the advanced promo for this episode. Heads up to listeners, you can always leave us a voice message right on our website at notesfromamerica.org. Just record it right there on the site. Sarah, respond to Doug's despondence there in that message. What would you say to his feeling as a conservative, there's nothing for stake at stake for him in this election?
Sarah Longwell: Well, I don't quite know what he means by nothing at stake. There is a great deal at stake in terms of the people that we elect in 2022, they're going to certify the election in 2024. To have Donald Trump on the precipice of announcing that he is going to run again, to have it happen when a bunch of people that he basically anointed in their Republican primaries who may or may not win on Tuesday. If they do, they will owe him a great debt. Many of these governors and secretaries of state who denied elections, they'll be in a position to certify elections going forward. That matters a great deal. I will say there's probably not a sadder group in America right now than the swing voters that I talk to.
They're so conflicted. They are center-right. A lot of times they are moderate Republicans and they think that the Republican Party has lost its mind. They don't think that there are candidates that they can vote for. I think for a lot of people, there's a realization that's dawning on them that dawned on me, but a while back. I think you can forgive people who don't do politics professionally for realizing it later, that Donald Trump fundamentally changed what the Republican Party is. I think for a lot of people, I certainly thought this, when I was trying to defeat Trump in 2020.
I thought if Biden just beat him by 10 points, and it was a thorough repudiation of Donald Trump that the Republican party would see this was a mistake. It would reform itself. The old muscle memory would kick back in. It became very clear after January 6th that Trump was, to the extent that Trump was a cancer on the party, he had metastasized. As you look across the 2022 landscape, it's just a bunch of mini-Trumps. It's just a bunch of people who are aping both his style and substance. I don't want to call it substance.
Kai Wright: Huge numbers of people who are just election deniers, open election deniers, running.
Sarah Longwell: That's right. The 70% of the party does not believe that the last election was ran fair. That is a result of what I call the Republican triangle of doom, which is the toxic and symbiotic relationship between the right-wing infotainment media, the voters, and elected officials. For a while it was just Trump saying it, but then right-wing media really leaned into it, and then all the elected officials felt they needed to say it. Pretty soon all the voters believed it. Not only that, but it was basically the toll you had to pay to get Trump's endorsement in 2022 in all of these races. That saddled us with a whole bunch of candidates now, some of whom were poised to win, who are election deniers.
Kai Wright: I want to play a clip from one of your episodes that cuts in a different direction than this part of the conversation. You held a focus group with the swing voters in Georgia a few weeks ago. Listeners, a reminder that Georgia is very likely to decide control of the Senate. That's the race between Herschel Walker and Rafael Warnock and both guber candidates are big figures in the national conversation. This is a really important state. Anyway, listen to how some of Sarah's Swing voters, again, people who voted Trump in 2016, Biden in 2020, how they talk about Democratic Senator Rafael Warnock.
Focus Group Clip 6: One thing that I do like that he does is he is not a strict Democrat. He does go across the party lines a lot if he believes in the cause. I think that's very positive quality of a politician.
Focus Group Clip 7: Etiquette-wise he's very approachable. I don't know as far as meeting the road, that he goes across the aisle too much. I'm just feeling like he's followed suit with the Democrat agenda through and through on Biden and other things. He has done a good job going out to Georgia businesses and I've seen some press releases about him visiting and taking the time out to look into specific needs in certain industries and stuff. In that case, I would say he's done a great job.
Focus Group Clip 8: I feel like Rafael, he's done well. I feel like he holds himself pretty well and he's good with debates. I also feel like that there's always some trap that everyone's getting caught in between. I don't know. I am more always leaning towards Warnock but I also did vote for Trump.
Kai Wright: Sarah, these voters point to another one of the big takeaways I think from your months and months of focus groups here, which is that we may indeed see a lot of ticket-splitting this time around. This is one of those things that people talk about. In political media we hear about ticket splitters, but as I gather it's actually not something that happens very often. You are hearing from people in Georgia and in other races, but let's talk about Georgia for a second, that is likely that there will be people who will vote for the Republican governor gubernatorial candidate and the Democratic senatorial candidate. What's going on here?
Sarah Longwell: That Georgia group, the whole group was going to vote for Brian Kemp the Republican governor. Everybody but one guy, that guy was very unsure, was going to vote for Warnock. This is actually happening in states across the country. Like you said, the reason that it doesn't happen as often as it used to is a lot of it's because of the polarization. People are just more tribal. There's a little less of the, "Why just vote for the best candidate?" You just don't hear that quite as much anymore, but what's happening in these states now is you have these really bad-- Republicans have a real candidate quality issue because of the people that Donald Trump pulled across the finish lines in the primaries.
In Georgia's case, there were three Black women in this group, I'll say. They were not voting for Stacy Abrams. Some of it's just the incumbency bias where they said, "That guy's fine. He did a good job on Covid and I like Brian Kemp. Fine." They were horrified by Herschel Walker, just too much baggage, too much craziness, too many scandals. This is also happening in a place like Pennsylvania, where you've got a governor's race between Josh Shapiro, the Democrat, and Doug Mastriano. Doug Mastriano is maybe the scariest candidate on the ballot.
Kai Wright: About as radical as it gets.
Sarah Longwell: As radical as it gets. He was at January 6th, he breached the lines on January 6th. He paid to bus people to January 6th. Josh Shapiro is actually well-known in the state. He's the AG, people really like him. There's a bunch of people in the groups that are Josh Shapiro voters, but they are going to vote for Oz, the swing voters. Part of it is that Oz to them is one of the-- They don't like him. Negatives are high. They don't trust him, but they want to vote for a Republican somewhere. They feel like he's safe enough. The other place that it's happening in a big way is Ohio, which doesn't get as much attention, but right now Tim Ryan is picking up at least 17% of DeWine voters, who is their Republican governor in Ohio who's going to cruise to victory here in re-election.
Ryan is picking up a ton of DeWine voters, and also I think Trump voters. He's running very close with JD Vance. It's one of the few, I think, real bright offensive spots for Democrats right now. There's even a weird one where, in Arizona, Mark Kelly is the incumbent Democratic senator. People are like, "He's okay." Blake Masters has been gaining on him, but people like him fine. Again, incumbency bias, but they're going to vote for Kerry Lake, the Republican insane person who's a big election denier. There's some Lake Kelly voters, which is I think one of the most surprising split tickets I've heard about.
Kai Wright: That's a lot of facts that have come at us. The point is that-- Well, let me suggest a point. Is the point that we hear so much about the nationalization of all local politics, is this a hopeful sign that in this election, actually a lot of these races are in fact local? That people care about what's happening in their state?
Sarah Longwell: I would love to take it as a hopeful sign because that's a good, optimistic thing to do. Unfortunately, I think it's a negative sign about how bad the candidates are in the Republican side that there's a bunch of Republican governors and whatnot that people are fine with but the Republican senate candidate is too much.
Kai Wright: They wouldn't otherwise be splitting their ticket, they would be Republican.
Sarah Longwell: They wouldn't otherwise be splitting their ticket. I think that if there was a Republican governor in the offing that was a normal style, like, if there was a DeWine style for Pennsylvania, Republicans would be going for them. This is actually the bigger macro story. Republicans should be crushing these midterms. They should be running away with it. House, senate, governors races. Inflation's super high, Biden's not popular. Taxes are up, gas has been expensive. There's a million reasons why Republicans should be cruising to just a shellacking and they're not. The reason they're not is the candidate quality, plain and simple.
Kai Wright: Let's go to some calls here. Let's go to Scott in Union County, New Jersey. Scott, welcome to the show.
Scott: Hey, what's up guys, how are you today?
Kai Wright: We are good. What's on your mind, Scott?
Scott: First a quick question then a detailed observation. The focus group, you mentioned you try to persuade voters. Are you doing a non-biased focus group, or is it totally focused on trying to get voters to vote Democratic?
Sarah: No. This was the question that was being asked earlier. You said, "You're so clinical," and I said that's because I'm not trying to persuade anybody in a focus group. In the focus group, I'm just trying to understand them. Then I go out into the world and I do create ads and campaigns to think about how to persuade similar types of voters. In the groups, I am only trying to learn.
Kai Wright: To be clear, Sarah, you're also talking about what you're supporting a range of political candidates at by party, but your effort is to support pro-democracy candidates.
Sarah Longwell: Pro-democracy candidates. There were Republicans we helped in the primaries who were much better than their opponents and then now we're trying to defeat a bunch of anti-democracy Republicans.
Kai Wright: Just for time, I'm going to move on to the next call, Scott, but thank you. Let's go to Asa in Niantic, Illinois. Am I pronouncing that right?
Asa: Yes.
Kai Wright: Awesome.
Asa: Yes, that's right.
Kai Wright: Welcome to the show, Asa.
Asa: Thanks. I like to listen in and see what all you guys have to say. We're a small area here, but I feel like a lot of people around me are really just getting disgusted and frustrated that it's just been years of pessimism and years of frustration over elections and where things are going. Do you have any insight as to do you think things are going to turn around and people are going to feel any positive direction about our political choices in the future or is this really the direction that we're going to be headed for quite some time?
Kai Wright: Thank you for that. That's a good question. As somebody who's talking to voters all the time, is this a death spiral we're in?
Sarah Longwell: No, I love that question because I don't think we're in a death spiral. Again, people are good, and here's the problem. I rarely blame voters. I blame elected officials for working actively to lie to people, to divide people. I think one of the reasons that Biden was able to get over the line was because he ran on a unifying message. I think one of the frustrations is that people wanted us to be more unified by this point. You hear so much frustration in the groups about how divided we are but honestly, here's what I think pulls us out of it, and that's leadership. We are going to have to have somebody who comes along and says, "Hey guys, it doesn't have to be this way."
Who presents an optimistic vision for America. Who talks about why we are already great, the great things we've done, the great things we could be. I don't know which party that's going to come from, but I do think that if we keep going in this vortex of backlashes, "Well, I can be terrible because they're terrible." I see this all the time with Herschel Walker, where people are like, "Well, he's paid for some abortions and he didn't raise his children, but what about Bill Clinton?" As long as we're what abouting all the time, somebody's going to present an affirmative positive vision for America that I do think can bring us back because I do think there's a big hunger for it. People are hungry. People don't want to live like this.
Kai Wright: No. People are tired. Part of that, I think, pessimism of the moment is that we're all tired of it. We're all tired. Let's go to Chris in Weatherfield, Connecticut. Chris, welcome to the show.
Chris: Hi. What is distressing me is that I would like to hear more about the candidate's proposed solutions and discussion about solutions and debate about solutions. It's a lot of fun to talk about the horse race and who's doing what in the polls and what little tactics they're having, but it's the solutions that count. I agree with one of the other callers, we need to recognize leaders. Part of recognizing a leader is to understand how they can solve problems, to see what their critical thinking is, to be on the world stage as the president of the United States of America.
Kai Wright: Thank you for that, Chris. Is that in fact something you hear in the focus groups, Sarah, that people want solutions? This is one of those things where it's like we say we want healthy food, but we eat a lot of junk food. Do you hear that in your focus groups?
Sarah Longwell: Yes, I would say the parties are different in this regard. I would say Democrats tend to be much more focused on policy and specific things. You get a lot of people that are like, "Well, we should be doing this on the environment, or we should be doing this on energy." On the Republican side I would say there's much--
Kai Wright: Oh, I think we've lost Sarah for a second.
[music]
Kai Wright: Let's see. Do we have Sarah back to say goodbye? We do not. Sarah Longwell is the publisher of The Bulwark and host of the podcast, The Focus Group. We thank her for coming back on the show. It's always great to check in with her and hear what some of these voters are telling us. Listeners, like I said, if we didn't get to your call, we still want to hear from you. You can leave us a voice note right on our website. Just go to notesfromamerica.org and find the record button and tell us what you're thinking as we go into this election. Notes from America is a production of WNYC Studios. Follow us wherever you get your podcasts or on both Instagram and Twitter @noteswithKai.
Our live engineer was Matthew Miranda. Mixing and Music by Jared Paul. A team also includes Karen Frillmann, Regina de Heer, Vanessa Handy, Rahima Nasa, Kousha Navidar, and Lindsay Foster Thomas. And I am Kai Wright. Thanks for spending time with us.
Copyright © 2022 New York Public Radio. All rights reserved. Visit our website terms of use at www.wnyc.org for further information.
New York Public Radio transcripts are created on a rush deadline, often by contractors. This text may not be in its final form and may be updated or revised in the future. Accuracy and availability may vary. The authoritative record of New York Public Radio's programming is the audio record.