Clarence Thomas and his Hotep Supreme Court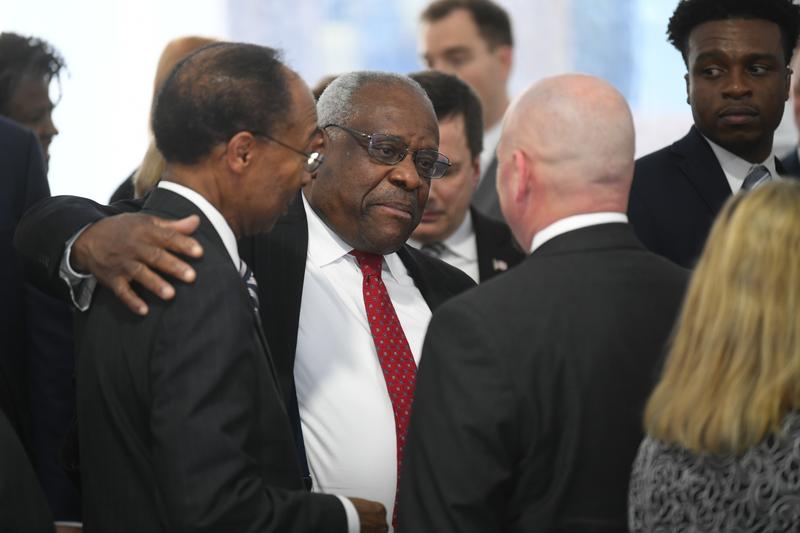 Transcript
[music]
Regina de Heer: Has your opinion or perception of supreme court changed recently?
NYU Law Student 1: Definitely. I don't think it's representative of America at all, currently. The court has appeared a lot more partisan with the recent decisions, especially with Dobbs, and then also with ethics scandals as well.
NYU Law Student 2: I'm not that optimistic about the Supreme Court until we get some change in there. I do like the court reform measures about having rotations, maybe adding judges.
NYU Law Student 1: The Supreme Court is a bit of a farce in general. It's built on a lot of systemic problems, racism, misogyny, xenophobia, all that stuff.
NYU Law Student 3: The past few years specifically, it's been showing what the Supreme Court can be at its worst. This particular court does not care at all about precedent, and it's just been a lot more blatant pointing out a lot of things that have been there the whole time.
[music]
Kai Wright: It's Notes from America. I'm Kai Wright, and welcome to the show. It is coming up on that time of year the end of a Supreme Court term when the justices start dropping their biggest and most controversial and anxiety-provoking decisions. This year, the court still has dozens of rulings to deliver before the end of June, including big decisions on affirmative action on President Biden's student loan relief, on congressional redistricting, on the Indian Child Welfare Act, among others. This is just a sampling. This is rather a moment when many, many people feel like the court has just become uniquely partisan, and like the justices, have become uniquely unaccountable.
See under Clarence Thomas, and his undisclosed gifts from the wealthy Republican donor Harlan Crow. We're going to start this week by talking with a court watcher who is admittedly one of its most vociferous critics Elie Mystal. He is the author of Allow Me to Retort: A Black Guy's Guide to the Constitution, and justice correspondent for The Nation magazine. Elie, welcome back to Notes From America.
Elie: Hi, Kai. Thanks to you for having me, at the beginning of the worst month of my life annually as the-
Kai Wright: [unintelligible 00:02:29] on a Friday.
Elie: -Supreme Court starts to release its horrible decisions.
Kai Wright: Well, let us do begin with Clarence Thomas. You had what I found to be an interesting take on the news about his relationship with Harlan Crow. Just in case there are listeners who don't follow this stuff, let me recap. Last month ProPublica published an investigation into court ethics that found Thomas has for years been accepting gifts of luxury travel and fine art and the like, without disclosing those gifts. Harlan Crow is, of course, not just any rich friend, he's a major Republican donor, and funder of conservative causes that have been before Thomas on the court. Elie, you wrote in The Nation that those of us who are worried about these gifts should not think about them as buying Thomas' votes, but rather, buying influence over his written opinions. Explain that.
Elie: Yes. What's really buying Thomas' time is what's happening. Supreme Court opinions are very long, they're very complicated, and they contain lots of phrases and words that can shape the law or change the law going forward, beyond the actual five, four, six, three, nine, no vote of the opinion. Clarence Thomas is a crazy man. There is a level of things that he is going to do that he would happily do for free. He would happily eat people's rights for free. He will happily overturn affirmative action this summer for free. You don't have to buy his vote on some of these hot button issues.
What you want to buy is his time, what you want to buy is his writing, what you want to buy is that little phrase here or there that can set up a legal change down the road or reinforce a change that he was already set to make. One important way of looking at the Harlan Crow gifts and the trips to Indonesia and the yachts and the whatever, is that these people, Harlan Crow and his rich Republican buddies, got the opportunity to lobby Clarence Thomas to his face for hours and hours and hours over years and years and years. Think about what I would have to do to get that kind of time.
As a non-rich, non-Republican donor, what would I have to do to get an hour of Clarence Thomas' time, to try to convince him of my point of view? Well, I'd have to file a case, have that case get appealed all the way up to the Supreme Court, be admitted to the Supreme Court bar, and then maybe, if I was lucky, I would get half an hour to plead my case to Clarence Thomas. If I was a friend of Harlan Crow's, all I have to do is show up for Memorial Day weekend, and all of a sudden, I get my hour, I get my two hours to make my case directly to that man. That's where the corruption lies. It's not just buying votes, it's buying that ability to either influence an opinion, or to harden his heart on a particular ruling that he was already likely to make.
Kai Wright: Let's just dig in a little bit specifically about how these opinions matter and how this process unfolds, how that one little sentence here and there changes things down the road. You offer the example of gun laws in your piece. This is in your essay in The Nation, and you draw a line from the court's 2008, I believe, ruling that the constitution grants a personal right to bear arms back to a 1997 opinion in which Thomas introduces this idea, which was novel and fringe at the time. Unpack that for us non-lawyers slowly, about what he did in '97, and how it led to 2008.
Elie: Exactly. For people who haven't been following the development of the National Rifle Association, the idea that the Second Amendment protects the right to bear arms so that you can kill somebody else who is bothering you. That is a new NRA ad campaign that they launched in the late '60s and early '70s. That's not how America worked for the first 200 years of Second Amendment. The NRA launches this ad campaign in the '70s, and for 20 years, it is disregarded by serious people, including everybody on the Supreme Court, but Clarence Thomas comes along.
Clarence Thomas gets pushed up to the Supreme Court, Antonin Scalia gets pushed up to the Supreme Court, and they buy the NRA marketing campaign, that for the first time in American history, the Second Amendment doesn't protect the rights to bear arms for a well-regulated militia, blah-blah-blah. No, no, no, it suddenly now protects a right to bear arms for personal self defense, as the NRA ad campaign said in the '70s. The first person to put that into writing at the Supreme Court level is Clarence Thomas in this case in 1997, where he opines, where he adds in.
They're already making a decision to knock down a gun law. Again, Clarence Thomas' vote, he's a crazy man. In this ruling, where they're knocking down a gun law, Clarence Thomas introduces this poison, which is the idea that the Second Amendment protects a personal right to bear arms for self defense. That poison then gets repeated by federal society law professors.
Kai Wright: Why does that matter that Clarence Thomas wrote that sentence in his concurring opinion or whatever? That's one justice. Why did that matter?
Elie: Now, you fast-forward to 2008, and DC versus Heller, when Antonin Scalia is officially inventing this right to bear arms for personal self defense, it doesn't look so crazy now, because he's got precedent to rely upon. You have to understand the kind of circular logic of Republicans especially. They now are able to refer to themselves in the past. As I know, it's actually established Supreme Court precedent for 10 years, that there's a personal right to bear- we're not just making it up now. This has been a precedent for 10 years at the Supreme Court level, which it technically has been because of this line from the Clarence Thomas opinion in 1997.
Again, not just the Supreme Court precedent, but then you put it into a Supreme Court case, then you get [unintelligible 00:09:13] then you get professors, law professors working on it, federal society law professors especially writing law review articles saying, "Oh, yes, it's totally normal to have a right to bear arms to shoot people."
Kai Wright: They're talking about a Supreme Court work. They're talking about words that were written in a Supreme Court opinion, so, it's not just some fringe journal article.
Elie: It's not just fringe crazy people. That's how they normalize Clarence Thomas. Clarence Thomas has not had a lot of majority opinions, given how long he's been on the court and that kind of stuff. What he's been extremely effective at, is incepting these ideas and shifting the conversation, shifting the Overton window. When Clarence Thomas showed up on the court, he was understood to be a fringe extremist. Scalia actually, at one point in an interview with The New Yorker, I think in the late '90s or early 2000s said something to the effect of, "I'm an originalist. I'm not a nut like Clarence." That's Scalia talking. Clarence Thomas was well understood to be a fringe actor in the late '90s and early 2000s, but over time, his fringiness is now mainstream, conservative intellectual thought. That's where I guess start to ask, what has Harlan Crow been paying for for the past 30 years? What have all of Harlan Crow's friends been paying for the past 30 years? Remember, Kai, these people were not friends before Clarence Thomas was on the Supreme Court.
Kai Wright: This is an important point that gets lost in the conversation too. It's not like they're like old buddies from college. This was--
Elie: These are not college buddies.
Kai Wright: This is post-court hanging out with billionaires.
Elie: Two or three years after Clarence Thomas is already ensconced in the Supreme Court, that suddenly Harlan Crow wants to be his friend. Suddenly, Harlan Crow wants to take him off out to trips. Suddenly, Harlan Crow wants to, and I am not making this up, pay tuition for the secret son that he adopted. I got really good college buddies.
Kai Wright: No one wants to do that for you.
Elie: I don't got a single one of them who is going to pay tuition for my kids.
Kai Wright: All right, but if we're being real, how many billionaires do you know, Elie? Come on.
Elie: That's a good point. I wasn't nice to those guys in college. That's on me.
Kai Wright: Here you are now with nobody to pay for your kid's college tuition but yourself. Listeners, we've got open phones this week. If you've got a question about the Supreme Court for any case before it pending this term, call us up. Let's see if Elie's got an answer for you. This is any question about the court, about Clarence Thomas and his undisclosed gifts, if you will, or any quick question about a particular case.
Elie: Any case, damn.
Kai Wright: Any case, Elie, and we're going to see if we can stump you. I'm talking with Elie Mystal, author of Allow Me to Retort: A Black Guy's Guide to the Constitution and justice correspondent for The Nation magazine about this of the end of this Supreme Court term and all of the questions that surround him. We'll be right back.
[music]
Natalia Silva: Hey, everyone. This is Natalia Silva. I'm a Brazilian journalist visiting WNYC studios. I'll be working with the Notes From America team for the next few weeks. One thing I really enjoy about this show is how much it talks to you, the audience. Do you know what would be really nice? Getting to hear what you think about the show. How do you feel about the conversation we're having today? Do you have any personal experience to share with us?
There are a bunch of ways to engage with this. You can reach out to us on Instagram or Twitter @noteswithKai. Again, that's notes with K-A-I. You can also send us a voicemail. It's quite simple. You can record it right on our website. Just visit notesfromamerica.org and click on the green button that says start recording. At last, but definitely not least, you can email us your voicemails or written messages Our email address is notes@wnyc.org. Thank you.
[music]
Kai Wright: Welcome back. It's Notes From America. I'm Kai Wright and I'm talking with Elie Mystal, justice correspondent for The Nation and author of Allow Me to Retort: A Black Guy's Guide to the Constitution. We've been talking about Clarence Thomas and I'm going to revisit the good Justice Thomas and his ideological journey a little later in the show but, Elie, your book's now out in paperback and you've updated it because this court does stay busy. You added a chapter on Dobbs. Let's start there talking about what we're facing right now. There is new stuff before the court right now dealing with reproductive rights.
Elie: Right, I just added a thing on Dobbs to really explain how Dobbs is the culmination of a generations-long federal society project. Again, I was talking about poison before with Clarence Thomas, to inject the poison of originalism into our public discourse, it was all so they could do a decision like Dobbs. Without originalism, without this kind of fake way of interpreting the Constitution that conservatives invented, the Dobbs' decision would be impossible, because Roe v. Wade was subtle law resting on 50 years of subtle precedent, with no significant change in the circumstances of women's reproductive rights and how they work.
That would require updating that precedent from Roe. They invent this thing they call it originalism as a way to undo the civil and social rights gains of the 20th century and reset the law back to circa 1850. That, obviously, we see it with women's reproductive rights, obviously we're seeing it now with some of these decisions regarding the abortion pill coming out of the Fifth Circuit and we're about to see it heavily this month, as the Supreme Court gets into the controversial part of its term, where they are going to undo a bunch of other things that have also rested on very long precedent.
I think, first in their firing chamber this term is going to be affirmative action, which is another 50-year-long social policy. I would argue affirmative action has actually been the single most successful racial justice policy since emancipation. Then if you just think about what affirmative action has actually done, we don't have a Black president without affirmative action, we don't have the sense of racial comedy that we have now without affirmative action, because the key thing that affirmative action does, is that it finishes the work of Brown v Board of Ed, by forcing people to be educated together. What we see is that when you're educated together-
Kai Wright: In elite institutions.
Elie: -at elite institutions, at many colleges and universities. What we see is that when people have to learn together, when people have to live together in college, they tend to not hate each other as much. They tend to realize, "Oh, you're more like--" My best friend from college is a white guy from Maine, that without affirmative action, I never would have met. By the way, when I say affirmative action, I'm not talking about that's how I got in. I had good scores.
Kai Wright: I'm sure I was going to [unintelligible 00:17:41] Let me ask you--
Elie: I'm talking about my white friend from Maine, probably doesn't get into- I went to Harvard, probably doesn't get into Harvard, without a little bit of like, "Well, we don't have a lot of kids from Maine in this class." People don't realize that the geographic sort is one of the most important aspects of building out a college class. These are really successful social policies, and the Supreme Court is going to undo them all this year.
Kai Wright: That affirmative action case before the court this year, it could indeed be decisive. It is a question of whether or not race can be considered in college admissions for the purpose of achieving diversity. I take it from you from what you've just said, you expect in fact, they're going to say, "No, it can't and that's the end."
Elie: That's going down six-three. I joked a couple of years ago that Clarence Thomas won't die until he gets to be the Black person who ends affirmative action. That's literally keeping him alive. He hates the policy so much, he hates it, and you'll talk about this with your next guest, but he hates it in part because people were super mean to him at Yale. When he went to Yale people were like, "Really? You're affirmative action at me." He was like, "No, I'm not. Stop saying that, Chad." Then, his reaction to that, instead of being like, "Screw Chad, I'm going to go on," was just, "I will end affirmative action, and then nobody will be able to say." That's what he's going to do.
It is particularly galling in this case because the case is about whether or not Harvard and University of North Carolina were discriminating against Asian American students, AAPI students, by admitting African American students. No, they weren't. When I say no, I don't mean just my feeling is no. I mean, in the University of North Carolina case, the record shows that AAPI students have a better chance to get into UNC than African American students or Latino students or any of these people, they're claiming have benefited from affirmative action. The idea that affirmative action is somehow hurting AAPI students is just bollocks on its face.
The Harvard case, it's really annoying to me because they did find something that you could argue was discriminating against AAPI students. Harvard uses a particular factor. It's called a personality rating that's based on rec letters and guidance counsellor stuff. AAPI students were scoring significantly lower on that scale which is bollocks which is probably racist. It's probably racist high school guidance counsellor saying, "I don't think Jim is a very nice person. He's good at math." That's the thing that's hurting AAPI students at Harvard, not affirmative action, not admitting African American and Latina students. After the Supreme Court decision this June, the racist thing that Harvard does, they're going to still be allowed to do but affirmative action which isn't hurting AAPI students is going to be the thing that's unconstitutional.
Kai Wright: I'm going to work through some of the questions we're getting. Some of these are going to be legally [laughs] and I want you to be as succinct as you can so we can get to as many as we can. Somebody on YouTube asked, "I'd like a comment about Thomas's opinion on Stafford Unified School District versus Redding. He argued that the school was correct in strip-searching a student accused of having ibuprofen." Are you familiar with the case?
Elie: Vaguely. I know that Thomas generally as his thing. He's pro-authoritarian. Basically, Thomas only believes the state can do two things; fight crime and terrorism, the state has ultimate power to do that, and harass people. If the state is doing some fundamental invasive harassment and fundamentally invading a person's privacy or whatever, Thomas is also cool with the state doing that. That's how you explain that decision. Everything else, the state's going to act like, "Deal with the environment. No, no, no. How [inaudible 00:21:57]." Rubber gloves. A high school student, yes, the state can do that according to Clarence Thomas.
Kai Wright: Let's go to Jason in Chicago who I think wants to disagree with you. Jason, welcome to the show.
Jason: I appreciate you for letting me get on air here with you. My questions and a comment I guess are a little bit of both would be that couldn't the same argument be made in reference to your guest talking about Clarence Thomas changing the Second Amendment as he claims that somebody would own a gun just to shoot people. In the reverse, couldn't I just say that for Roe versus Wade in abortion? For many years prior to 30 years ago, that was a precedent that abortion was illegal, and then some Supreme Court justices changed that. Couldn't I use that same argument against him in that regard?
Kai Wright: Elie?
Elie: Well, here's your thing, Jason. First of all, it wasn't 30 years ago, it was 50 years ago, and second of all, it wasn't some Supreme Court justices, it was all the Supreme Court justices. That's number one. You've got a much deeper precedent for abortion rights in a row than you have for Thomas's interpretation of gun rights. Number two, and I think the bigger issue here is that I look at Roe v. Wade as correcting a fundamental flaw with the Constitution itself, and that fundamental flaw was that no women were allowed to participate in the writing of the Constitution. Jason, if you're okay with no women being allowed to have a say in the government under which they live, that's one thing.
If you're not okay with that, one might argue, I would argue, let's put it like that, that doing something like acknowledging that women have a reproductive right to their own bodies, while yes went against established precedent at the time that it was put down in 1973 which again, was 50 years ago, not 30 years ago, but was done against the established precedent because the established precedent did not allow women to have a say in anything as opposed to what Scalia and Thomas and the other conservatives did in 2008 with Heller, and changing the laws around gun rights, I would just point out that guns, while many people love them and pray to them and think that they're super important, they're not people.
Changing the law around a not-person thing is something where you can really go into the legalese and the history. Changing the law around whether or not we're going to acknowledge people as people who weren't treated as people when the document was written, I think is different in kind than what happened with the law.
Kai Wright: To be fair to Jason, Jason did not say anything about his opinion about abortion or whether it was the legal logic. Does it not apply to the same? The point is no because it's a question of degree of precedent and substantively what we're talking about. Let's go to Kathy in New York. Kathy, welcome to the show.
Kathy: Hi. Thanks. It's a good show. I just wondered, and this is a broad stroke question but in terms of types of cases or types of litigation, has there been a notable acceleration of some types over others that the court will take? If you had a bar chart of constitutional topics but the cases reflect does one recent decade look significantly different from another?
Kai Wright: That's a great question, Kathy. Elie.
Elie: Kathy, the best way I can explain that is that the way a case becomes a Supreme Court case, 7,000 cases are appealed to the Supreme Court every year around that. Only 100 or so are taken up. What decides which 100 they're going to take? Well, they have a vote. They have a vote on whether or not they want to hear the case and that vote does not require a majority of the court. That vote only requires four. The biggest change that's happened in recent history with the Supreme Court is really that change from Anthony Kennedy to Brett Kavanaugh because Brett Kavanaugh became the fourth vote along with Thomas who was already there, Alita who was already there, Gorsuch who replaced Merrick
Garland but really replaced Antonin Scalia who was already there.
Then Kavanaugh became the fourth vote, legal people like me we call them the four horsemen, to hear the most aggressive extremist Republican version of any case available. Now, they don't always rule with the most extremist Republican version of any case available but they're always willing to hear it. That's, Kathy, been the real big difference the last few years here as opposed to what came before. You're getting a constant barrage of-- A great way of putting it is, think about Dobbs itself. When Ruth Bader Ginsburg was alive, Dobbs was already in the system and what Mississippi was--
Kai Wright: The literal case?
Elie: The literal case Dobbs v. Jackson Women's Health, was already in the system, was already coming up for appeal and the argument that Mississippi, the forced birthers, were making was that they should uphold Mississippi's 15-week abortion ban. They weren't going to overturn Roe v. Wade but then Ruth Bader Ginsburg died, and Amy Coney Barrett replaced her. At that point, Mississippi changed its argument. It went from asking the Supreme Court to uphold the 15-week ban to asking the Supreme Court to overturn Roe v. Wade outright which is what it did. That's the power of each individual justice. Once you get four, you can hear any wackadoodle version of the case. Once you get five, you can win any wackadoodle version of the case and once it gets six, you can lose one of them and still win any wackadoodle version of the case. That's the difference.
Kai Wright: Speaking of individual justices, my question is, has there been anything that's emerged thus far that gives us a sense of Justice Ketanji Brown Jackson and what impact she will have on the court? Have we seen anything that gives a window into what kind of justice she's going to be?
Elie: The first year, all of this is just tea leaf reading, based on her oral arguments which are fantastic, I'm a big fan of how she argues just in person at the court, she feels more like a Kagan person to me than a Sotomayor person to me. Again, it's really early, well, from what I gather, KBJ is a rule follower. Just like Lana Kagan, she likes a rule, and she will, I believe, rule against herself if the rule is strong and good and based on good reason. If she thinks the rule [inaudible 00:29:04] [crosstalk].
Kai Wright: She wants a logic to the law.
Elie: If she thinks the rule was logical, even if she doesn't agree with the rule, she seems like the person who's going to follow the rule, as long as the rule was logical. As opposed to how, let's say, I would be if I was a Supreme Court justice, and I will note that I am not. I'd be like, "If the rule's stupid, don't bring it to my court. I don't want to hear about your stupid rule." Are we going towards fairness or away from fairness? Put it like this, if you think about this in a D&D term, I am neutral good. I'm not lawful good. Anything that gets us to the good place, I'm willing to do it.
Kai Wright: We're at Dungeons and Dragons and I can't follow you, Elie. I'm going to sneak in one more call before we have to go to break. Let's go to Brett in Elgan, Illinois. Brett, welcome to the show.
Brett: Hi, there. Thanks for taking my call. I have two questions. The first one is--
Kai Wright: Collapse them as quick as you can for me, Brett.
Brett: Certainly. Certainly. If we're operating from the observation that there are bad faith actors on the court that are adjudicating based on ideology and not law and precedent, is there any sign that this administration might seek to expand the court, and if so, what's the metric for doing it? The second pertaining to Justice Thomas and his gifts, I think campaign finance reform is the way we're going to fix politics in general in this country. Are there any cases before the court or in the lower courts that pertain to campaign finance and cannot somehow be used to correct the courts and the gifts that justices get?
Kai Wright: Elie, you got one minute. You got one minute, Elie to answer this.
Elie Mystal: No and no. The Biden administration is really against court expansion, has not come out in favor of any significant method of court reform. Biden is not on board with doing anything, and basically his accolites in the Senate, Dick Durbin, Chris Koons, they're also not on board and actually using legislative powers to bring this court to heel. That's number one. Number two, the campaign finance question. Great question. Citizens United, they've already decided that we can't do anything about campaign finance laws, and as long as there are six Republicans on the court, that's how it's always going to be.
Kai Wright: That's just a dead end then on both things. With your remaining 20 seconds, what can happen then on more accountability for this court?
Elie Mystal: I yell at Dick Durbin every time I get a chance.
Kai Wright: [laughs]
Elie Mystal: At some point, Dick Durbin and Joe Biden have to abandon the old ways and embrace the idea that the court must be stopped and reformed. That's the only way forward.
[music]
Kai Wright: Well, we will leave it at there shouting at Senator Dick Durbin. Elie Mystal is the justice correspondent for The Nation and author of Allow Me to Retort: A Black Man's Guide to The Constitution. Elie, thanks for coming back on the show.
Elie: Thank you so much for having me.
Kai Wright: Coming up we go a little deeper on Justice Clarence Thomas. How did he develop his particular ideology, and more than that, what does his journey tell us about the country overall? We'll be right back. Stay with us.
[music]
Kai Wright: It's Notes From America. I'm Kai Wright. Some of you audio nerds will recognize that o yea, o yea soundmix there from the opening theme of the Supreme Court podcast More Perfect. Our WNYC colleagues have just launched season four of that fantastic show and I hope you'll check it out. Their most recent episode is a deep dive into the life and logic of Justice Clarence Thomas, and we found it so provocative that we decided to call up one of the scholars that More Perfect spoke with and get some follow-up questions into him. I'm joined now by Corey Robin. He is a political scientist at Brooklyn College and the CUNY Graduate Center and author of the book The Enigma of Clarence Thomas, which was published in 2019. Corey, welcome back to Notes From America.
Corey: Thanks for having me back.
Kai Wright: More Perfect kicks off their episode with a line from a speech Clarence Thomas gave, and I want to play that for listeners to get us started as well.
Justice Clarence Thomas: It pains me deeply or more deeply than any of you can imagine, to be perceived by so many members of my race as doing them harm. All the sacrifice, all the long hours of preparation were to help not to hurt.
Kai Wright: One of the primary takeaways in studying Thomas that you seem to have come to is that he's concluded that anti-Black racism is basically unsolvable. If that's the case, now what? Seems to be his beginning point. introduce us to that part of Clarence Thomas.
Corey: This is something people don't really know about him, but if you read both his opinions and read his speeches since he's been on the court, before he was on the court, when he was ascendant in the Republican party, what always stands out about that is his belief that racism is intractable, that racism is not going away, that this country has the stain of white supremacy and white supremacy is not going away. Now, that's not necessarily a strange opinion, it's a fairly common opinion. What is strange is that Clarence Thomas is of course a very hard-right conservative. One of the reasons I called my book The Enigma of Clarence Thomas, was how do we put those two things together.
In a nutshell, I would say that Thomas believes that race really affects things that the government does, that the state does. In this, he draws from a long tradition of Black nationalism, Malcolm X, Marcus Garvey. Things like voting, things like affirmative action, all the things that the state does in order to improve the condition of Black Americans, Thomas sees as a kind of poison pill that will debilitate Black Americans ultimately.
On the flip side, he has this belief that there are places and niches of the economy, of a capitalist market economy, where Black people can thrive, particularly Black men like his grandfather, and that the fate of Black people as a people in America depends upon propping up and cultivating these very powerful Black men. He has said explicitly that the fate of Black America depends upon the fate of Black men. It's a very patriarchal vision, it's a very masculine vision, and it's one where Black men in economic institutions can essentially provide the salvation for Black people as a whole.
Kai Wright: This is the foundation of his Black nationalism. Are you familiar, Corey, with the term "hotep"?
Corey Robin: [laughs]. Yes. I learned this in the course of writing the book.
Kai Wright: [chuckles] For me, on some level, this is not that complicated. I've met this man throughout much of my life. The pro-Black person who is actually just pro-Black men, not pro-Black gay people, not pro-Black women, not pro-Black poor people, just Black men, seems to be that is what we call hotep, for those who are not in on it. Well, let me put it this way. When in his ideological journey did his roots in Black nationalism, as a youth he's reading Malcolm X like many of us, he's taking these patriarchal ideas about it, but he's reading those parts of it, when and how did that start to show up as a legal framework?
Corey: Well, not really until the 1980s. Thomas gets his, as you say, he has his roots in this Black-- He starts out off on the left as a campus activist and radical. He starts making this journey to the right during the 1970s, but he's primarily a political activist and a political actor. He joins the Reagan administration, but he has his heart set and his eyes set on the Supreme Court, but he doesn't have a jurisprudence at all. The more charitable reading of him is he's like an older Supreme Court figure. People like Earl Warren and Hugo Black, they were not legal scholars. They didn't serve in the Justice Department or things like that. They were political actors.
Kai Wright: They were liberal heroes of the Supreme Court, we used to say, for people who don't follow.
Corey: Correct. We've so gotten used to the idea that everybody on the Supreme Court went to Harvard and Yale and is probably a law professor, Thomas is really an outlier in that regard, but he is part of an older tradition. As he gets closer and closer to the court, he first gets appointed to the Washington DC Circuit of Appeals by George H. W. Bush, he begins to develop this jurisprudence, and he gets a lot of help from conservative legal activists that Elie Mystal was talking about earlier, people in what becomes the Federalist Society. What's fascinating about him is the way he manages to marry this conservative Black nationalism, hotep nationalism, whatever you want to call it, to a legal vision, to a constitutional vision. It just starts unfolding pretty much from the moment that he gets on the court.
Kai Wright: Just to talk about exactly how that unfolds and what it means for his jurisprudence, in a New Yorker piece about a year ago you wrote to try to explain how he came to be so opposed to unenumerated rights, what they're called unenumerated rights, abortion rights, same-sex rights, and things like that, being read into the Constitution by liberals, and that that very much connected to his Black nationalist, his ideas of Black nationalism. Explain the connection between these two things.
Corey: This gets a little bit wonky so I apologize.
Kai Wright: Yes, it can, but I think it's an important understanding of where he's coming from.
Corey: Yes. We mostly know the 14th Amendment because of the Due Process clause and the Equal Protection clause. These are the foundations of both civil rights and individual rights. As you said, the way that happens is people read the Due Process clause in a substantive way saying that it guarantees certain fundamental rights. Elie was talking about reproductive rights earlier. The idea being that the state can't take those rights away from you unless it has a really damn good reason to do it. Foundational are they to individual liberty and freedom.
There is, however, a third clause in the 14th Amendment that nobody has ever heard of called the Privileges or Immunities clause. This was originally supposed to be the palladium for people involved in reconstruction, for people who were involved in the emancipation of Black America. This was supposed to be the foundation for Black freedom, the Privileges or Immunities clause, because the idea was that all the things that we think of as fundamental rights and freedoms of the individual and of the citizen, all are guaranteed by the federal government against the state. Now that Privileges or Immunities clause was gutted pretty much right away after affirmative action.
Thomas has from a very long time ago actually, even going back before he joined the court, had what some people have called an African American reading of the Privileges or Immunities clause. That's where he sees the foundation for Black freedom. Now you might say, "What kind of freedoms are we talking about?" Here we get to the more conservative aspects of it. The fundamental freedom that he thinks is protected by that Privileges or Immunities clause, is the right to bear arms. I think for many of us, we'd say, "Aha. This is all BS." It's just a fancy way of dressing things up. There's truth to that.
If however you read his opinions on the right to bear arms, they are laced and steeped in a reading of the violence of abolition, emancipation, and reconstruction, that essentially and we go back to that Black man, that the only thing that Black people can count on is that firm Black father. He ends one of his cases with this vision that firm, strong Black man standing in the doorway, facing down a white supremacist terrorist mob with his gun. That is the fate of Black people. You can see right there how he has this alternative reading of, and not really an alternative reading, he's actually quite right about the violence of the 19th century and so forth, married to a very truncated vision where you have Black men with guns protecting themselves and their communities and their families against the white mob.
It's not a strange vision, it's just strange to know that Clarence Thomas, this hero of Harlan Crow and Donald Trump and all these other people, he has been not so secretly, these are not tucked away in archives, they are right there in his opinions, has been teaching this line about the fate of black people and whom they can and cannot depend upon.
Kai Wright: It's consistent ideologically with some of the people you just named because, again, it's about a strong man at the center of society, so that is quite consistent, using violence to create order. Then what does that have to do with my rights as a gay man? All of that can be true and have nothing to do with, okay, we can still have abortion rights. We can still have same-sex marriage. Why are those things mutually exclusive in Clarence Thomas's ideological vision?
Corey: Thomas gave a really interesting speech. I think it was '93 or '94, two years after he had joined the court, where he critiqued what legal scholars call the Rights Revolution of the 20th century. That liberals, first with the New Deal, championing economic rights, second with the Warren Court championing the due process rights of criminals and people who have been accused against a carceral state. Then third, with the sexual revolution. That those are the big liberal freedoms that were won in the 20th century. What Thomas says about those three things is that all of them had a very negative impact, he claims, for this Black man, this Black male patriarch.
He has gone so far by the way to say this, both before and after joining the court, that the thing about Jim Crow as terroristic and totalitarian, he's even used the term, as it was, is that it claws forth through this almost superhuman strength from these Black individuals who overcame their circumstances. What the Rights Revolution did was to sap their will, their discipline, that iron strength that he saw in his grandfather, producing somebody like his father who left, abandoned the family when he was something like two or three years old.
That's a long way of answering your question. Say, what about people who are gay? What about abortion rights? He sees all of those liberties as making life easier. The whole idea that we have of opening up avenues so people can move forward Thomas thinks is destructive of Black men in particular and with them of the Black community, that it's under very, very hard conditions, very, very difficult and adverse conditions, that you will get the rise of these superhuman kinds of figures upon whom Black people have depended for hundreds of years.
Kai Wright: Now, having said all this reading and listening to you, a lot of it feels like the point is that this is all beside the point nowadays with Clarence Thomas. We spoke earlier, about this scandal surrounding his undisclosed gifts from Harlan Crow. After that story broke, you wrote in Politico, and I'm going to quote you because it's a useful turn of phrase, "Money hasn't paved the way to Thomas's positions. On the contrary, Thomas's positions have paved the way for money." What did you mean by that? What does that have to do with any of this Black nationalism?
Corey: If you'll allow me to tell a quick story or not so quick. In 1987, Thomas gives a speech to a libertarian think tank, out in San Francisco. He says, "The problem with 20th-century liberals is that they have contempt for people who make money. People like my grandfather," he says, "People who earn, built small businesses, and were able to put me and my brother through private school and college and all the rest of it." Liberals have contempt for that vision of money. Instead liberals like, what he calls the people in the speech professions, lawyers, journalists like yourself, [laughs] lawyers like Elie, professors like myself, people who he calls in the idealistic professions, and he says he maxed this all out.
It's actually fascinating. It's all there. Those kinds of people who privilege speech in the 1st Amendment. What we need to do on the right is to find a way of turning money into speech so that it will have the same 1st Amendment protections against the government regulation that other kinds of speech have. Thomas has pursued this line long before Citizens United. As soon as he came onto the court, of money being speech, and even more than that, saying that if money is speech, it stands to reason that wealthy people are going to have more access and be able to direct more of the political process by its virtue--
Kai Wright: It's probably appropriate because it's speech and that's what that is.
Corey: Exactly. Again, Thomas has a reputation and rightly so of being a little bit playing fast and loose and crooked and all the rest of it. What I find so shocking about him, is actually how often he's so bracing and honest about what he's actually doing. You go back to all these opinions in the '90s and you think how could we have not known about Harlan Crow? He was providing a roadmap for everybody to see of what was going on. I think this is part of what's been so- I wouldn't say it's a tragedy, but he was dismissed throughout the '90s and the Aughts as just being the guy who never asked questions.
He was thought to be stupid, Scalia's puppet, all these things. What we're now seeing, while people were saying all of that he was mapping out this whole terrain that we are now, as you say, living with and it almost feels beside the point in terms of him, how we got there.
Kai Wright: We got to leave it there. Corey Robin is a political scientist at Brooklyn College and the author of the book The Enigma of Clarence Thomas. Thanks for coming back, Corey, and you can hear more about Justice Thomas's interesting political journey by checking out the new season of More Perfect from our colleagues in WNYC studios. Wherever you get your podcasts, check it out and follow Notes From America wherever you get your podcasts as well, or find us on Instagram @noteswithkai. I'm Kai Wright. Thanks for spending this time with us and I'll talk to you next week.
[music]
Copyright © 2023 New York Public Radio. All rights reserved. Visit our website terms of use at www.wnyc.org for further information.
New York Public Radio transcripts are created on a rush deadline, often by contractors. This text may not be in its final form and may be updated or revised in the future. Accuracy and availability may vary. The authoritative record of New York Public Radio's programming is the audio record.