Celebrating Terrance McKnight's 'Every Voice' Podcast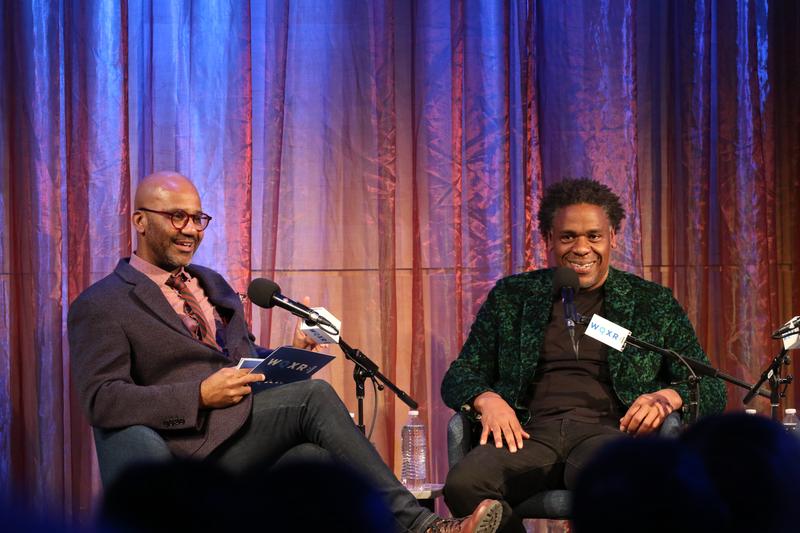 Transcript
[music]
Kai: Hey, everybody, this is Kai. Last week I had the pleasure of hosting a launch party for a new podcast. It's called Every Voice with Terrence McKnight. Now, you've heard Terrence on our show a few times in the past. He's a host on our partner radio station WQXR, which is dedicated to classical music. Terrence has spent decades, frankly, interrogating the classical world, raising questions about its Eurocentric ideas, about representations of people of color in the work, and introducing his listeners to new voices.
His new podcast does all of those things and more through interviews, through historical investigation, and through some personal storytelling. Terrence unearthed the hidden voices that have been shaping our musical traditions all along. We kicked off the podcast with a live event at The Green Space last week here in New York City, and I want to share some of the night with you. We talk about history, we meet a composer writing operas about Black stories in Atlanta today, and we hear some pretty beautiful music, so check it out.
[music]
We are excited to be here tonight to celebrate the new podcast, Every Voice with Terrence McKnight.
[applause]
That was the theme music that you were listening to, that we were coming out to. We're going to hear a lot of great music tonight and a lot of great music in this podcast, but some of it quite complicated. One of the first things that is clear, Terrence, from the very beginning of Episode 1 is how personal this podcast is going to be, and you can just hear how much at stake you have in the conversation. I wonder if we can start there and talk about that. What does this mean to you to be telling this story?
Terrence: The first episode of the show started with a very personal story talking about my father. I don't know if you all heard this but my pops used to come home every evening and if I wasn't practicing piano or playing my trumpet, then I was fair game for whatever he wanted me to do. If I heard his car coming in the driveway, I would like run to my piano just to save myself from doing some chores. I want you all to hear this. I think we got a clip of the story that I told in the first episode.
[music]
When I was a kid, sometimes when my father would come home from work, he and I would walk down to the corner grocery store, not to buy groceries now, but to pick up any litter that was in the parking lot. Man, I hated doing that. One of my friends saw me picking up trash on the corner. Can you imagine the jokes? Dad would pick up this trash with this long broom stick, had a nail on the end of it. He'd put it into this garbage bag that I was holding. At some point I asked my mother, "Is this dad's part-time job?"
She said he was just trying to beautify the neighborhood, just trying to clean up a bit, wanted the place where we lived to be beautiful. I think my father was onto something that's something that any of us can do, whether it's in our personal or professional lives. My artistic neighborhood was classical music. I walk the streets of classical music every day. We all know that classical music in America isn't the most inclusive of art forms. In this podcast, we're going to try and create something more inclusive, something more beautiful for all of us.
Kai: Terrence explained that in his artistic neighborhood of classical music opera in particular has needed some freshening up.
Terrence: Because I remember a professor saying to me at Morehouse, he said, "I do most of my singing in Europe, because in America, nobody wants a Black man hugging a white woman on no stage, especially down here, down south." I went to Morehouse, so he was saying that about Georgia. That just stuck with me. When we started thinking about this podcast or me doing more documentaries, it was based on a letter that I got from a listener who said it, "Go back to where you came from and take William Grant Still with you." I was like, "Cleveland?" [unintelligible 00:04:49]
[laughter]
Kai: What's Cleveland got to do with it?
Terrence: It's like Mississippi? How do you know my parents were from Mississippi and Grant Still was from Mississippi? He said, "Your culture is inferior to mine." Our staff at QXR wasn't happy about it, man. We thought we have to do something about this. We don't want to be a haven for people with supremist ideas. We don't want to be a safe space for that. We want to create a station that embraces all of New York's culture, all of the classical styles that are a part of our city, and the people that are part of the city.
We started to diversify our playlist a little bit more and tried to make that kind of person uncomfortable. The podcast and all of my documentaries are an extension of that, making stories and telling stories. We told the story of Florence Price back 13 years ago. We told the story of Hazel Scott who was so important in Harlem. Music and the life of Dr. King and just so many stories that really, hopefully, bring our people together.
Kai: The first season is looking at Blackness and opera.
Terrence: Yes.
Kai: As you said, that's where you're. Starting with opera why there? Why is that the place to start?
Terrence: Opera is a very expensive art form. I thought if we go back to opera you're talking early 1600s and it mirrors the Atlantic slave trade. You start thinking about the folks who invested in the trade had to be entertained by something. Their entertainment had to match their politics, one would think. I wanted to investigate that and look at how they were crystallizing these ideas about blackness in their entertainment. That's why we started with opera. In this series, we're starting with Mozart and we're going to go and look at Shakespeare's Otello as composed by Verdi later, but Shakespeare wrote it in 1590s or so. We're looking at these stories that have these Black characters. I can talk a little bit about Monostatos if you'd like.
Kai: Yes. Well, we're about to get there. Hold one moment we're going to get to Monostatos. We're going to get there. Crowd favorite. Because we're going to hear some music we have a soprano with us today who's going to sing an aria from the Mozart's Magic Flute first four episodes of the season deal with the Magic Flute. This character is Pamina. Let's start there. For those of us who are not familiar with this story, who is Pamina and what does she represent?
Terrence: Pamina, she is the daughter of Queen of the Night. She is being held captive by a man named Sarastro, who in many productions around the world, has been played by this bass right here Kevin Maynor. He's played Sarastro. Yes.
[applause]
Sarastro is keeping Pamina because he thinks that her mother is a bad influence. He's trying to protect her from her mother. Now, the man that he has watching over her is a fellow named Monostatos, who is the Black character in the opera. Well, Pamina is described as a beautiful princess, and Monostatos says she's white, and white is beautiful. Pamina doesn't even look at Monostatos. She falls for a prince, a guy named Tamino. When she thinks that love is impossible for her, she sings this beautiful aria. Regardless of how she looks, when you hear this aria, I think you understand why Monostatos may have had some affection for her.
Kai: Okay, well, we are going to hear it. Soprano Asha Lindsey is a native of Washington Heights. She's a graduate of New England Conservatory in Boston, and received her Masters in Opera Studies in Vienna, Austria at University for Music and Performing Arts. Her career took off in Europe and now she's back in New York City to continue her musical journey. Joining her at the piano is going to be Kyle Walker, who is a member of the piano faculty at NYU Steinhardt and the Kaufman Center. He is a frequent collaborator with composers including VJ Iyer, Jeffrey Scott, and Tania León. Please welcome them to the stage.
[applause] [music]
[applause]
Kai: After we heard Asha Lindsey's moving performance, Terrence explained that he wanted us all to contrast the way Mozart treated this character, a white person, and her deep emotional logging with how he treated a Black character who had the same exact emotions. In his aria, this Black character he sings about his own Blackness and how it makes him ugly and unworthy of Pamina.
Let us finally hear from Monostatos. Our next singer is Tenor Ian George. He is a multi-genre vocalist and a Harlem native with roots in Haiti and Guyana. He's a graduate of Morehouse College where he studied voice. Ian is also a researcher on Every Voice podcast and joining him again at the piano is Kyle Walker. Please welcome them to the stage.
[applause]
Terrence: The important piece about this aria is Monostatos is singing this lyric that I've been talking about and he's not to have a beautiful voice. He's supposed to be just a little ragged around the edges.
[Music- Alles fühlt der Liebe Freuden from Die Zauberflöte, Ian George]
[applause]
Kai: After a break we'll meet a composer who is writing new operas that give all characters their full humanity. Stay with us.
[music]
[applause]
Kai: We're going to shift gears a little and learn about some contemporary opera being composed in Atlanta. Dr. Sharon Willis is the founder of Americolor Opera Alliance. She has written 16 operas and a number of plays that center on Black American characters. Their stories range from the only Black passenger on the Titanic to an opera on the life of Madam C. J. Walker from my hometown Indianapolis, the first woman to be a self-made millionaire, to biblical stories about the seduction of King Solomon. Dr. Willis is based in Atlanta, but she is, thankfully, joining us in New York tonight to talk about our work. Please welcome Sharon Willis.
[applause]
Dr. Willis: Thank you.
Kai: Dr. Willis, what I loved about meeting you in Every Voice is that I immediately thought, "Oh, wonderful. I'm going to hear from somebody who is writing something new, who is writing a different story for Black people in this space." Tell me about the origin of that. When did you decide to focus on Black characters in your operas?
Dr. Willis: For me, it was the culmination of everything that I had been. When I was a child, my first talent was a storyteller. I was just a remarkable storyteller. I had such a great imagination that I imagined that I could play the piano when I could not. There was a talent show when I was about 13. I looked like I was about 11. The talent show, you have these day programs and at the end of the two weeks during the summer, we still have camps like that, the lady that was in charge said is there anybody that can dance and people raised their hand. Is there anybody can sing? Then he asked, "Is there anyone that can play the piano?" I don't know what possessed me but I raised my hand. I just thought that God was going to strike it [unintelligible 00:20:11].
[laughter]
My aunt was sitting out there in the audience and when they said, "Now we will have a piano selection from Sharon Willis," I went proudly to that old upright that was flushing the wall and the audience was just as they are here. I went out and I used to watch The Ed Sullivan Show, and, of course, Lawrence Welk because that's what my aunt watched. I went over to the piano and I looked up, and I said, "God, you're ready. I'm ready."
[laughter]
After I'd sat there, about 15 seconds, nothing happened and I knew the gig is up so I started hitting any note. When I finished, I timidly got up and took my little bow and people were elbowing. I was a child so it was forgivable, except for the aunt that was sitting out there. I embarrassed her and she did some Sunday School words that I can't say here. She said, "What, in the blankety-blank possessed you," was her word, "to get there and act like a fool that you could play?" From that, her friend, my godfather said, "Don't punish her. If she's that foolish let me find a piano teacher."
Kai: If you're that bold this is somebody who's got a talent.
Sharon: He found me a piano teacher and in a year I learned to play. I became the Sunday school pianist for that year after I became about 15. To answer your question more directly, I know I then went all around America to say this to most people when they celebrate 50 because that is a remarkable milestone to say that I've got to be 50 years old because when you're in your teens, you think 50 is just over the hill and you don't realize that it isn't.
It's if we're living to be 100 some of us, that's just halfway through. I did not want to have a birthday bash. I wanted something that was going to represent legacy for me, because I grew up in Atlanta in the Black experience in that Mecca. Even though I was born in Cleveland, Ohio I left there when I was about 10 and all of my other relatives were in the South. I wanted something that was going to be special a culminating activity that would represent what have I done with 50 years of living. It said, why don't you write an opera? I had no idea. Just like, I didn't have any idea that I could play the piano.
[laughter]
Kai: I love it.
Sharon: I've said about writing about what you know. To that extent, I had to think about, I had this classical voice coming up. I remember being in my church, and the young people sang in the gospel choir, and I wanted to sing in what they called the old fogy anthem choir because that was my voice type. I had been trained under Mr. William Revere, who was this great choral master. We did everything acapella. We had to sight read every day of our lives five days a week. He made us great musicians. I wanted to sing with them so I had to sing in both choirs. I sang gospel, but I couldn't sing gospel. I'd sing an octave above everyone else. Then in the anthem choir I reigned supreme.
I thought, "Why don't I write about how difficult it is to be an opera singer, not only in the world of opera, in the European style, with whites, but even with my people who could not accept that?" It was a double whammy. I said, I'm going to write a story and the first opera was called The Opera Singer, where I then would present just vignettes of characters like Roland Hayes, who had a difficult time, travelled the world seven times and never joined an opera company because he was not accepted. I ended with this story called [unintelligible 00:24:07] who was a vaudeville singer trained, but they wouldn't even let her have her own name.
They called her the Black Patty, after Adelina Patti, an Italian American. She couldn't even have her own name because that just was not normal. If she's going to sing it has to be in the shadow of someone else and that was my first opera. I had no intention of writing another until the singer came up to me and said, "When's the next?" What are you talking about? I'm done. 50 is over. It led me to put a mission out there. What I realized is not only did I have an opportunity to preserve and advocate and cultivate African-American history and culture and we don't live in a vacuum. It's not that I can write that story without everybody else.
I came up with this name called Americolor which was supposed to be across the spectrum. It gave opportunities to everyone, whether you were of color or not because my stories are all-encompassing. I got that name Americolor because when I was maybe 20 years old I didn't care for pageant but they were offering $750. Believe it or not, that was going to pay for my tuition that year. I entered this pageant and it was called Ms. Aquarius.
Kai: You'd certainly do that. You will take a notion to do something.
Sharon: I will do that. I was Ms. Aquarius. I sang my man's gone out. I'm a lyric soprano, but I got away with it. I sang my man's gone now and walk with blue swimsuit and all of that. Then they said I was Ms. Aquarius. At the same time, they were having a contest in New York. The people that were producing it here did not have time to have a pageant in Atlanta. They said, "Can you send your Ms. Aquarius here and represent Georgia? This will be called the Ms. Americolor Pageant." I remember that and I kept that name and that's why I'm Americolor Opera.
?Speaker: Amazing.
[applause]
Kai: [unintelligible 00:26:30] I could sit and listen to you tell stories all night, but let's hear some of your opera. We're going to hear this is On the Wings of a Dove from The Herndon Opera.
Sharon: The Herndon Opera.
Kai: Tell us about this scene before we hear it.
Sharon: The Herndon opera, of course. Alonso Franklin Herndon married Adrian McNeil, and we're talking about 1892. Of course, Alonzo himself had been a slave, but his master was his father. Through life, he had a hard time. Even though he was fair enough to pass for white he refused to do that. He honored his Black ancestry because his mother was a slave and his mother's sister also bore children for that same man. He eventually walks after slavery 20 miles to Jonesborough road, learns the barbering trade, learns to become a millionaire cutting white people's hair downtown 66 Peachtree Street. That building still stands today.
Then he marries this elegant woman who taught at Atlanta University along with Dubois. She's an aspiring thespian, but no one will have a Black woman or anyone of color. I don't care how fair she looked. She passes herself as Crayola or some French name [unintelligible 00:27:56]. She goes to Washington DC, and she performs all these Shakespearean characters. Then she is sadly diagnosed with Addison's disease and no one knows how to treat it. President Kennedy had that. She dies from that. She gets this news as she is teaching her students and the doctor comes by.
This is in the opera. This is my libretto. The doctor comes by and says, "You're not going to live much longer." Her grandmother had died a year before. Now the stage is set. She's in costume and rather than face death in fear, she faces it with faith. Then at the same time, you might say that she's a little angry. I'm upset with you, God fates. I've just turned 42 years old. I have a 12-year-old son to raise. I'm just at the beginning of my career and you're telling me that I have less than six months to live? I'm building this beautiful mansion to live in. It becomes her death chamber. She faces death on the wings of a dove. I shall ascend my spirit, and that's what you hear.
Kai: Let's bring back soprano Asha Lindsey and pianist Kyle Walker. This is On the Wings of a Dove from The Herndon Opera.
[applause]
[music] [applause]
Kai: On The Wings Of A Dove from the Herndon Opera, composed by Sharon Willis. If you want to watch this entire night with all of our conversations, you can go to thegreenespace.org. That's G-R-E-E-N-E, thegreenespace.org. Lots of other cool events are there to watch as well. Check it out and do check out Every Voice with Terrence McKnight wherever you get your podcasts. Thanks for listening, and I'll talk to you on Sunday.
[music]
Copyright © 2023 New York Public Radio. All rights reserved. Visit our website terms of use at www.wnyc.org for further information.
New York Public Radio transcripts are created on a rush deadline, often by contractors. This text may not be in its final form and may be updated or revised in the future. Accuracy and availability may vary. The authoritative record of New York Public Radio's programming is the audio record.