The Blurry Line Between Appropriation And Appreciation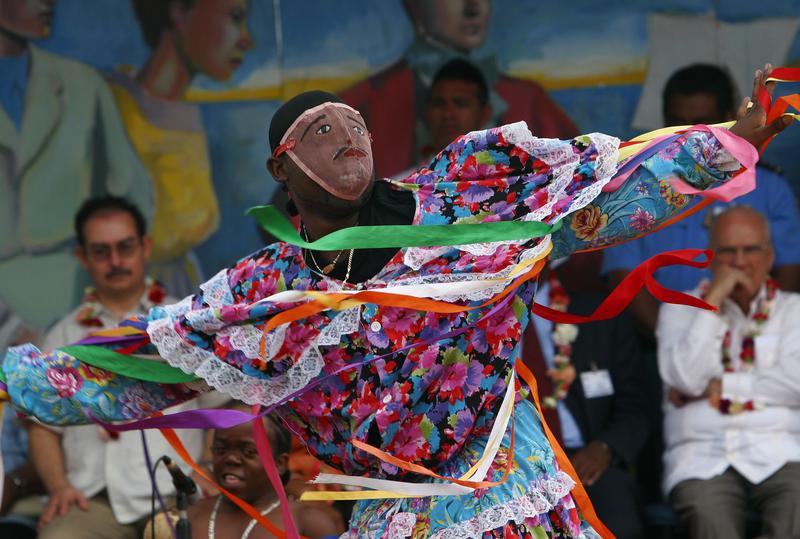 Transcript
Announcer: Listener-supported WNYC Studios.
[Intro music]
Sound Byte 1: My diaspora story, that's a tall order, but I will tell you a song--
Sound Byte 2: I grew up with my white family in the American South. There weren't any other Samoans around, so I didn't grow up knowing much of my culture other than summer visits to the island.
Sound Byte 3: It taps into a deep-seated knowledge that I don't belong here, I don't belong there. It is my destiny as part of the diaspora to always be on the go and to carry my home on my shoulders with me.
Sound Byte 4: As I've grown up and learned more about myself, I feel more and more connected to that side of me, and I love to explore more about it.
Sound Byte 5: It has a melody that transports me to my enchanting country. It just feels like home.
Sound Byte 6: In the song, there's also a feeling of longing and of affection towards our different homes.
[Intro music]
Kai Wright: It's Notes from America. I'm Kai Wright and Happy Labor Day weekend. It is the unofficial end of summer, sadly, if you ask me, and that means it's time to wrap up the second annual Notes from America Summer Playlist Project. I'm joined, once again, by our producer, Regina de Heer. Hey, Regina.
Regina de Heer: Hi, Kai.
Kai Wright: You've been asking listeners to share songs that represent their personal diaspora stories all summer, and you've been taking those submissions and creating Spotify playlists that listeners can stream.
Regina de Heer: Yes. We've made three playlists so far and they're available to stream right now at wnyc.org/playlist. They are really special. Listeners, if you missed it, go check it out. I'm adding our final submissions this weekend, and so, Kai, I thought it'd be cool to get one from an actual songwriter.
Lolade: My name is Lolade. I'm originally from Nigeria, but I have lived in Ohio, I've lived in Philadelphia, and Houston is my home now.
Regina de Heer: Lolade performed live for us during our special Juneteenth broadcast from Houston. When I checked in with her and told her about this playlist project, she immediately thought of one of her own songs, and it fits this project perfectly.
[MUSIC - Lolade: Immigrant Song]
Lolade: I wrote a song called Immigrant Song. It's one of the very first songs that I ever got professionally recorded. That song, as much as it's about me and the perspective that I have on just being an immigrant in this country, it's more based around, I would say, my parents. The chorus of the song talks about "these hands."
[snippet plays]
Lolade: I got that visual in a dream, actually. I just saw a vision of really worn hands. My mother, she had to work as a beautician and she worked with her hands. I know a lot of people coming to this country from other places end up doing manual labor and they have to, literally and figuratively, carry so much in their hands
Regina de Heer: In the bridge, Lolade sings, "There's a fire in my bones, a piece of home. Africa. I count the days until we're together again." As a child of Ghanaian immigrants myself, I take that two ways. This constant yearning I feel for the place I felt the most like home, and also, it's part of my identity. It's a fire within me. It's a thing that makes me me.
Kai Wright: Yes, I love all of Lolade's music, actually. Honestly, listeners, if you didn't catch our Juneteenth special, do go dig around in our podcast feed to hear her incredible performances in that show. Regina, you've added Lolade to our playlist, and I know you've got more listener submissions to share with us this week, but I just want to name the point of this project quickly.
It's been a way to talk and to learn about all the incredible cultures and all the incredible experiences that we as Americans, as people living in these United States, carry around with us. That's what we're doing here. Alongside the listener submissions, you've been talking with musicians and with cultural historians about some of the identities that have come up. You've got one more of those conversations to share with us this week, right?
Regina de Heer: Yes, that's right. I wanted to talk with someone whose relationship to a particular diaspora is complicated. What happens when you're living in the US as an immigrant and you're seen as part of a diaspora, but, for you, it's not quite a fit?
Nodia Mena: My name is Nodia and I am a Garifuna woman.
Regina de Heer: Nodia Mena is a former lecturer of Spanish in the Department of Languages, Literatures, and Cultures at the University of North Carolina, Greensboro. She's currently completing her doctorate there, and she gave a TEDx talk a few years ago about her background as a Garifuna person born in Honduras, who is living in the United States. Have you ever heard of the Garifuna people, Kai?
Kai Wright: I have, but only in the most surface way if I'm honest.
Regina de Heer: Well, the Garifuna are a mix of the Indigenous people of the Island of St. Vincent in the Caribbean and enslaved Africans from Spanish colonial ships that wrecked on the island. In 1797, British colonizers expelled the Garifuna from their home in St. Vincent and sent them to Honduras as a punishment to the Spaniards who claimed it. Now, as Nodia remembers it, that history was never taught to her in schools, but she describes the way the Garifuna communities have preserved their own culture over the generations.
Nodia Mena: I was about five or six years old, and I remember my grandma made me this flower-print skirt, and it was really wide, and then this red top. My grandma was part of a club, El Club de los Tigres, that was a very popular club. When I tell you about a club of Garifuna women who dance, think about a sorority, so these women would come together and they would organize.
They will have their dress, which is called "La Valeria" because it was flower prints and very colorful, and you will see happiness all around, from the way they dress to the way in which they act and dance and so on.
It was "La feria." "La feria," it translates to "The fair." It was this La Feria de San Juan and my grandma took me with her, not only to watch her dancing but also for me to be part of the event. That's the reason for which I remember, because not only did the event took over my mind because I was engaged with it, but it's also my body. Listening to drumming, for me, when I cannot dance to the drumming, to the beats of a drum whenever I hear it, and it takes me back to that particular moment.
[drumming plays]
Nodia Mena: Punta, the dance, our dance, that's what represents all the Garifuna people. Punta is a dance that is performed by moving your body from side to side to the rhythm of the drum. What happens is that the drummer, as they are playing, they play the drum, but they are also communicating with the dancer, and the rhythm that they play is basically dictated by the movement of the body of the person who's dancing to that rhythm. People use the tip of their feet and then they move their-- [Spanish language], flew the name away from my mind. Your hips, you move your hips to the rhythm of the "Garawon," the drum.
"Garawon" is the name of the drum in Garifuna. That's what it is, you're just swinging your body to the rhythm of the drum and communicating with the drummer as well, at the same time.
Regina de Heer: How was that represented in Honduras growing up? Was it embraced by all people? Was it particularly at Garifuna events? All the above?
Nodia Mena: It's interesting that you asked that question because there were periods of time where Punta was stigmatized because it was associated with being vulgar and just Black people do those things. That there is no way that it could be dignified because it's coming from a group of people who are not necessarily part of the national identity of this country. Then, I don't know if you have heard of La Banda Blanca and Sopa de Caracol? [MUSIC - Banda Blanca: Sopa de Caracol]
Nodia Mena: La Banda Blanca was a group of musicians from Honduras who were all Latinos. They basically performed this song, which is a Garifuna song, Sopa de Caracol, and they became super duper famous internationally for singing this song.
Regina de Heer: This was back in 1991, and the song climbed to number one on the Billboard Top Latin Song chart. To clarify, La Banda Blanca was not Garifuna and not Black. Punta got whitewashed.
Nodia Mena: From that point on, Latinos started dancing Punta because they saw their own people doing it, so now, they could do it. Before when it was only the Garifuna people, it was something that was associated with negative stigma. Now after La Banda Blanca-- and then they were on TV, and they were all over the place, all over the world, now the Latinos want to do it, and the phenomenon that is happening now is that all of a sudden, La Punta, the dance, is the national dance in Honduras. It has been-- I say "co-opted," but it has been adapted as the national dance, and now the Latinos are the ones who want to dance Punta.
Regina de Heer: That is fascinating history. I just wonder, what are your takeaways from that story? What do you think, as someone who it's originally to your culture, are you glad that it's being accepted more widely? What do you think?
Nodia Mena: No, I cannot be glad that it's being more accepted because the word is not "accepted." It's "co-opted" because if it was accepted, they will also understand the experiences of the people who originated the dance, but it's unfortunate that the only thing that is being done is to co-opt the good part, or the emotion, the joy that they feel by dancing, but they want absolutely nothing to do with the experience of the people who are the originators of this dance.
I know that because most of the people who are marginalized, continue to be marginalized in the country, are the Garifuna people, and still, to this day, the education system has not yet adapted a curriculum that represents this history of Garifuna people from a dignified perspective.
Regina de Heer: How can you embrace the dance without understanding the history that created it?
Nodia Mena: That is the question, right?
[drums playing]
Kai Wright: We got to take a break. Coming up, Nodia Mena moves to the United States and wrestles with what it does and does not mean for her to be part of a Latin American diaspora. Stay with us.
[pause 00:12:51]
Rahima: Hi, everyone. My name is Rahima and I help produce the show. I want to remind you that if you have questions or comments, we'd love to hear from you. Here's how. First, you can email us. The address is notes@wnyc.org. Second, you can send us a voice message. Go to notesfromamerica.org and click on the green button that says "start recording." Finally, you can reach us on Twitter and Instagram. The handle for both is @noteswithkai. However you want to reach us, we'd love to hear from you and maybe use your message on the show. All right, thanks. Talk to you soon.
[jingle]
Kai Wright: It's Notes from America, I'm Kai Wright. We've been talking all summer about what it means to consider yourself part of some kind of diaspora. This week, our producer, Regina de Heer, is talking with someone whose experience with diaspora and with identity inside it is a bit more complicated. Nodia Mena is a professor at the University of North Carolina, Greensboro. She's of Garifuna descent and grew up in Honduras, so to many people in the US, she's part of the Latin American diaspora or even Afro-Latina, but she is not so sure either of those things are true.
Nodia Mena: Growing up, I internalized, a lot, the ways in which I was excluded from spaces where I thought that I did not belong, so I internalized the sense that my culture was less-than. Now, as growing up, then I started to realize that being in the spaces with members of my community were the places where I felt whole. That was the moment in which I felt the most joyful.
Regina de Heer: I'm curious to hear more about your life as a Garifuna person versus your life as a Honduran person. Did you see them as separate, and is that a common experience for Garifuna people?
Nodia Mena: Absolutely. It's an everyday conversation that I have with people that I know and who have come to that level of consciousness of understanding what is going on because not everyone really understands what is happening.
It stems, of course, from this legacy of racism. The association of everything that is negative towards Black bodies, and the effort that has existed in the region, in Latin America, for example, to lump us all-- meaning Black, Indigenous, and Europeans, into one, and creating this idea of "mestizaje," which means that we are all mixed and there is no reason for making any distinctions, because the more effort we make in establishing distinctions, then the more conflict it creates, which is so erroneous from so many different levels because by trying to lump us into one, that's the conflict from the get-go, right?
That is the conflict because you are dismissing my heterogeneity, you are dismissing my individuality, you are dismissing my humanity by trying to make me feel like I am like someone else, and not appreciating the ways in which I am different and the ways in which I am unique. It has been a very systematic effort because, first of all, in the education system, for example, in schools, like I said before, we did not learn anything about our cultural background, but we did learn about the Latinos or the Latinos' background. That's the predominant culture, so that is the dominant culture.
Regina de Heer: That's the dominant culture in Latin America, but part of your story takes place here in the US. You first moved to New York before relocating to North Carolina. What was that shift like?
Nodia Mena: There was a culture shock for me when I moved to North Carolina because as a Garifuna woman who, I'm not only Black, I am not only from Latin America but now, I am from this particular ethnic group who no one knows anything about. In many different ways, one thing that I missed a lot was a community where I could feel that I was part of. I felt like I didn't belong for too long in North Carolina.
Then I realized that I was able to create community here with the Black community more than with the Latino community because what continues to happen in this side of the world with the Latino communities, those who are not Black continue to associate themselves mainly with whiteness rather than trying to create community with Afro-descendants from the same country. Although we speak the same language, it continues to be difficult to create meaningful connections in the Latino community who's not Black and the one that it is.
Regina de Heer: In the past few years here in the US and, I'm sure, globally, there seems to be a distinct conversation about Black Latin-Americans or Afro-Latinos. With your history, you have complicated feelings about identifying with that title. Can you tell me about that?
Nodia Mena: The issue that I find with identifying mainly as Afro-Latina is that I see it as another effort at lumping everyone who is Black and Latin American into one identity, and completely dismissing our unique cultural background and our-- We have many cultural differences because, for one, when you think about an Afro-Latina from Brazil, for one, we don't speak the same language, we don't have the same story, we don't have the same experiences. A Black Latina in Colombia, for example, also have different experiences with a Garifuna woman.
I was in Cuba and, for me, it was a shocker to get to an airport and see Black people speaking Spanish who were in charge. That does not happen in Honduras. You get to the airport in Honduras, and if you see one Garifuna person working-- listen, not even to sweep the floors are we hired in those areas. For me, when I went to that region-- when I was in Cuba and I saw that, I'm like, "Dang. Yes, we can do this in Latin America."
[drums playing]
Regina de Heer: I want to come back to dance. You talked about La Banda Blanca and their appropriation of Punta dancing. This inquiry started because I just became a licensed Zumba instructor, and, to be honest, I have complicated feelings about it because the main cornerstones of Zumba are salsa, merengue, reggaeton, and cumbia. These are very distinct to Latin America, they have rich histories, and I am not Latino at all.
I wonder what your reaction is to that. What would you say to someone like me who's trying to figure out my place and the difference between appreciation and appropriation?
Nodia Mena: People in a particular place are exposed to a more diverse culture. I think that there is a tendency to have the desire of understanding more, being involved more, and engaging more with cultures that is different than yours. If that is what is happening, I applaud the person who brings their bodies into spaces to engage with cultures that they are not familiar with because I see it as a step into trying to understand more.
That's the way I see it. Listen, this is a very important question because appreciation has to be unpacked. Like, what are you appreciating? Are you appreciating the way in which a body moves, and what kind of effect does that have in you? Are you appreciating the history that comes with the movement? Are you appreciating the history? Are you appreciating the current state of that particular group?
What is it that you appreciate? I think we have to be more complex about understanding what the appreciation is. It's not an answer that could be a "yes, no." It's about understanding, deeply, what is going on.
[MUSIC - Miles B: Where Ya From]
Regina de Heer: I really do strive to understand more about and be engaged more in different cultures, even if I don't always get it exactly right because as Nodia points out, there's a blurry line between appreciation and appropriation, and so I'm excited to continue on this pursuit of learning more about the nuances and complexities of our identities. I'm excited to continue to deepen, rather than flatten, our ideas of culture in general.
Kai Wright: Well said, Regina. With that context, let us get back to appreciating and learning about some of our listeners' own experiences in diaspora. You're going to share with us a final sampling of listener submissions to the Notes from America Summer Playlist, yes?
Regina de Heer: Let's do it. I'll start with someone who does identify as Afro-Latina.
Natalia: I'm Natalia and I'm from Brazil. I just moved to New York City because I'm doing my Masters at Columbia. I came all the way from Sao Paulo to here. It means the world to me because I'm a Black person and my grandpa and my grandma barely went to school, and my father and my mom had to fight a lot to get their degree. I got to go to a great university in Brazil and now, I'm here studying in Columbia, in one of the best journalism schools on earth, so, yes, it's a dream.
When I was flying here to New York, I was listening to this song from Beyoncé, it's called Bigger. It's from her album, The Lion King. It's a song about how we are part of something bigger than ourselves, and it's a song that moves me a lot. She's talking about a legacy in terms of family, but it touches me on this point of the way we interact with the world by being a journalist is something that leaves a legacy for other people. I really love this song. It's beautiful and her voice is super powerful.
[MUSIC - Beyoncé: Bigger]
Natalia: That would be my song, and I've listened to that in other difficult times for me. In Brazil when I was, I don't know, doubting myself, I would listen to that song to get myself back together.
Danny: My name is Danny and I am the child of immigrants from Lebanon, so I'm a first-generation American. I grew up just south of Boston, Massachusetts. I think a lot of us in the generation that I'm in really thought of 9/11 as a very defining moment. Obviously, it was an incredibly tragic and horrific event. I think the aftermath of it, too, really impacted our communities in terms of just racism toward Arab Americans, and so I think a lot of us collectively felt really shaped by the response of 9/11, and still face that.
I think we still face a lot of those things amongst the Arab diaspora and probably Arabs in general, but I know for sure that amongst the diaspora, we always joke that it's the same four to five songs that are played at every single Arab wedding. One song that I always think of at any Arab wedding, almost without fail, is Nour El Ain by Amr Diab.
[MUSIC - Amr Diab: Nour El Ain]
Danny: Amr Diab is just an iconic Egyptian singer. He's been around for the last 40 years or so, and Nour El Ain was his big, big, big pop hit in the 90s. It still gets played at every Arab wedding, it still gets played at big family functions and what have you. It's a place of good vibes. It's a song of good vibes. It's a song that brings back nostalgia and things like that.
[MUSIC - Amr Diab: Nour El Ain]
Scott: Hi, my name is Scott. I'm from Portland, Oregon. I'm not exactly certain that this is what you had in mind, but I consider myself part of the diaspora of Ireland. I'm Irish by ethnicity, and I like the song Zombie when I think about the fact that, at least partially, my homeland, my family's homeland, my ancestors' homeland is still partially colonized, and Zombie just completely embodies that story. It's by the Cranberries, of course, and it's probably the best grunge song that was ever made. Thank you.
[MUSIC - The Cranberries: Zombie]
Kai Wright: Scott, yes, that is exactly what we have in mind, so thank you for that submission. I have to say one thing we didn't have in mind at the start of this project is those of us who consider ourselves part of some kind of diaspora inside the United States, so like me, for instance, I have always understood my identity as part of what's called "The Great Migration," this movement of Black Americans from the South to the North.
My grandparents were part of that migration, and though I'm not actually Southern, I grew up in the Midwest, I still always felt that their Black Southern culture is somehow part of my own identity.
Regina de Heer: Well, so, Kai, you understand what it's like straddling two cultures too.
Kai Wright: Yes, I do.
Regina de Heer: Well, now I have to ask, what song do you want to add to the playlist?
Kai Wright: I have given it some thought, I'll be honest, and I'm going to go with Gladys Knight and The Pips, Midnight Train to Georgia,-
[MUSIC - Gladys Knight & The Pips: Midnight Train to Georgia]
Kai Wright: -which is, of course, a song about chasing a man, but, still, I have always also heard in it that bit of yearning to reclaim or rediscover something you or your family left behind.
Regina de Heer: You're not alone in this thought at all. We did get a couple of submissions from listeners who also took the prompt to think about their place in a diaspora within the United States, so maybe this can be our last submission.
Koob: Hi, my name is Koob and I'm calling from Nacogdoches in the Pineywoods of East Texas. The song I'd like to contribute for the American Diaspora Project is That's Right (You're Not from Texas) by Lyle Lovett.
[MUSIC - Lyle Lovett: That's Right (You're Not From Texas)]
Koob: My mom and her whole family was born in Texas, and so it felt like a cruel twist of fate, at first, when I was born in New Jersey and my parents divorced and we moved back to Texas at an early age. In my family, we joke that if you're from north of I-10 in Houston, you're a Yankee, so I was especially considered a Yankee. Being that we were from the Houston area and my family's country music fans, I also listened to a lot of Lyle Lovett growing up, and when I heard the song That's Right (You're Not from Texas), which is about just being a Texan even if you aren't, it made me feel a lot better about myself because I've always considered myself a Texan. Thank you.
[MUSIC - Lyle Lovett: That's Right (You're Not From Texas)]
Regina de Heer: With that, you can now listen to the completed playlist on Spotify. Just go to wnyc.org/playlist to stream it. The songs are hits all year round. We hope you enjoy. Thank you, thank you, thank you to those who were a part of this project. It's been a blast getting to know some of you better through your submissions.
Kai Wright: We're going to continue this conversation with you about our many different intersecting and overlapping and sometimes even conflicting identities. This word, "identity," it has obviously become polarizing in the larger political conversation, but we are all shaped, as individuals, by all kinds of larger social and cultural forces. They're just part of our stories for better, sometimes for worse.
When we share any part of those stories, it's an intimacy, and it's one that, as Regina said earlier, helps us deepen our understanding of this wildly diverse country that we all share. Stay tuned, we'll be back to you in the fall with another exercise just like this one. A hearty thank you to all who have participated in this and in our ongoing effort to just foster community and conversation here on this show.
[music]
Kai Wright: Notes from America is a production of WNYC Studios. We love to hear from you, so if you heard anything that sparks a thought or a question, do hit us up. Go to notesfromamerica.org and look for the little, green "record" button. You can leave us a voicenote right there, just be sure to include at least your first name and where you're located. Mixing and theme music by Jared Paul. The Notes from America team also includes Karen Frillmann, Regina de Heer, Rahima Nasa, Kousha Navidar, David Norville, and Lindsay Foster Thomas. André Robert Lee is our Executive Producer, and I am Kai Wright. Thanks for listening.
Copyright © 2023 New York Public Radio. All rights reserved. Visit our website terms of use at www.wnyc.org for further information.
New York Public Radio transcripts are created on a rush deadline, often by contractors. This text may not be in its final form and may be updated or revised in the future. Accuracy and availability may vary. The authoritative record of New York Public Radio's programming is the audio record.