Billy Porter on Bringing Blackness, Queerness and Fullness to Art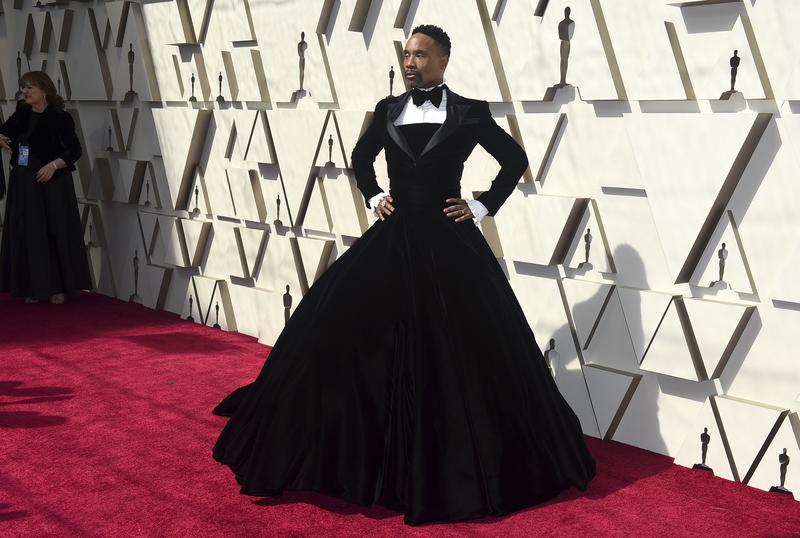 Transcript
[music]
Kai Wright: It's Notes from America. I'm Kai Wright and welcome to the show. It's the first night of Hanukkah and the Solstice is coming this week, which means the Persian celebration of Yalda. Love to all of you who celebrate both of those holidays. It's a time of reflection and my guest tonight has been reflecting on his life quite publicly in recent years. Billy Porter has won an Emmy a Grammy, and a Tony. He's just an Oscar shy of that rare group of artists with all four awards, but that recognition has come only after decades of work as an actor and a singer, and a life that has had its struggles.
He reflects on that journey and the particularity of it as a Black queer HIV-positive man in his memoir unprotected. It is now out in paperback, and I recently got to talk with him about the book, about how art saved him, and about his engagement in this perilous political moment in our history. Billy Porter, thank you so much for this time. It is just a pleasure and an honor to spend some time with you.
Billy Porter: Thank you.
Kai Wright: I want to start where you start your memoir because you open it with the closing lines of Tony Kushner's epic show Angels in America, and those lions strike me to my core every single time. This we won't die secret deaths anymore. The world spins forward. Of course, I immediately think of your role on Pose as a character Pray Tell, and to me, you portray an angel in America looking out for queer kids of color, but for you, why begin the book with that idea, this idea of Kushner's angel sending us off to the great work of life?
Billy Porter: Well what's interesting to me is that I didn't know that I was missing something in the business and in my work. We talk about representation today. We have language for it. We didn't really have language. It was 1994. I'm Black, I'm queer, I'm in this business. I'm used for my talent in these spaces but I'm not allowed to really be a human being. I'm used as a clown, essentially, and there doesn't seem to be much movement for me in these spaces. This is pre-Hamilton, this is pre-Cynthia Erivo in the Color Purple. When you sang like a Black person and didn't sound like Mandy Patinkin, Patti Lupone, or Bernadette Peters, you were a Black entertainer without a soul.
You were there to be used to stop shows and to entertain, but when it came down to telling real stories about real human beings, there was no space for us in that. There was no space for Black people in general, and not to even say about a Black queer man. Angels in America I took myself to see part one, Millennium Approaches, and it was the first time that I saw a representation of my Black, queer, educated, grounded, three-dimensional human self on anything. I had never seen it before at all, and it wasn't until I was seeing it that I realized I had never seen it, and Jeffrey Wright was extraordinary in the role.
Kai Wright: Breathtaking.
Billy Porter: I knew in that moment that if I was ever going to make it in this business and by make it I mean convince the world that I'm an actor, it would be through the role of Belize. I knew that I was going to have to stand at an intersection that didn't exist. I was going to have to represent a community that didn't exist yet, so that when the time came I would be ready, and that's exactly what happened. I saw that show, I looked at the market and I was like, "Oh, they're casting straight boys in these roles." It's okay for now, but not always. Because as the Black gay man y'all need to give me that role.
Kai Wright: It's so funny that you put, or interesting to me that you put it that way around literally hadn't seen yourself. When I came out, I'd say to people when they asked, "Oh, did you always know?" I was like, "Sure, but I literally had no point of reference. I had not seen myself." People couldn't understand what I meant when I said that, at least at the time. I literally had never seen myself.
Billy Porter: Yes, and I've talked about this too. I was around the corner- Well, actually the back of the theaters butted against each other, and I was in Greece, the revival of Greece with Rosie O'Donnell and Megan Mullally and all of that, and I was playing a teen angel and they had me in 14 inches of orange rubber hair, and I'd stay running around like a little Richard cartoon on crack and it was just not- I was miserable, and I didn't understand because it was like, oh, the dream is- I'm like in a Broadway show and I'm a principal and I'm creating a role and I'm miserable.
Seeing Angels in America gave me clarity, and it was the first time too where like you saw a Black queer man educated the heart of the show, the center of sanity with all these white people swirling around him during the AIDS crisis, and Tony was dealing with the issues that many communities weren't talking about. He was speaking for his Jewish community and the white community, and the Black community and women. It was just so much at the same time, and it changed everything for me, and then what happened is Pray Tell became my own personal three seasoned Angels in America journey.
[music]
Kai Wright: Pray Tell was his character in the TV series Pose, which is about a chosen family of queer youth in New York's Ball scene at the height of the AIDS epidemic. He won an Emmy for the role in 2019 and was nominated for two more in the following years. The character Pray Tell spends part of the series concealing the fact that he's HIV positive from that chosen family, and in 2021, Billy Porter disclosed that he too had been living with HIV for years and had sought to keep it quiet.
Pray Tell was HIV positive and went through a journey of revealing that to his community. You had lived with HIV for 14 years and kept it to yourself and have now told the world about that, and I actually wonder about because you've become such a symbol of laying down the burden and claiming our joy and I wonder what it's like. Now to be on the other side of that, now it's been some time since you made that public decoration through this role. What's it like to be on the other side of that?
Billy Porter: It's such a wonderful question because as an artist, as a human, as a Black man, as whatever, when you live in a space of lack for your entire life when abundance shows up, it's still work to understand how to receive that, and I'm in the middle space of that. I'm in the space of trying to let go of waiting for the other shoe to drop all the time, and choosing joy, choosing it, it's a choice. I have to wake up every morning and recommit to choosing joy. Sometimes I'm really successful, sometimes I'm not successful at all. Some days I'm not successful at all, during the election I was not successful for several days in a row leading up to it and after it. I was just not successful at Joy.
It's really difficult right now, particularly, we're all living inside of a collective trauma and chaos that we're trying to move through and we have to feel simultaneously, and I'm learning how to do both of those things at the same time. It's like, you have to feel it, you have to be in it, and being inside of what's happening is what then allows for us to move through it, and I don't know that everybody understands that part of the journey. I am just learning how to understand that part of the journey. Embracing the truth is what gets us to peace, what gets us to joy. It is effort, it takes effort. It's work, it is work. It's what I'm finding for myself at least. I'll just talk about myself.
[music]
Kai Wright: I am talking with Actor Billy Potter about his memoir Unprotected, which is now out in paperback. Coming up we'll talk about how he's done a lot of that work of healing and finding joy through his art, and we'll get the backstory on that tuxedo dress that broke the internet during the Oscars in 2019, so stay with us.
[music]
[advertisement]
Kai Wright: It's Notes from America and Kai Wright and I'm talking this week to Billy Potter about his memoir Unprotected, which is now out in paperback. It's a revealing portrait in which he talks about really hard stuff from his childhood as a queer Black boy. He finished writing it during the early COVID shutdown, and he says that gave him space to really dig into himself.
Billy Porter: COVID helped me find the form in which to tell the story.
Kai Wright: What do you mean?
Billy Porter: I didn't want it to simply just be a cradle-to-grave narrative. I love books, I love writers, and so my standards for myself was very high. It was debilitating me for a bit, and then when I was able to just sit during COVID and quiet my mind and just be present, I was able to just settle into what I was feeling and what I was feeling was a parallel disruption of my nervous system that I felt during the AIDS crisis. Then I was able to align those two things and write from toggling between how the past living in that space in the 80s and 90s how that really affected me and my generation, then toggle back and forth to how this one was making all of us feel as well, and trying to marry those worlds together to find a space for healing.
Kai Wright: You write about your mother in very powerful terms in this book. She's been a part of your public conversation. Can you tell us a little bit about her and really starting with her birth and the way that shaped her life, because that's become such an important part of your own story too?
Billy Porter: Yes. My grandmother was ready to have her, there was no doctor around. They gave her this medication they used to give to babies that weren't developing well to hold them back for a little bit so that they could grow inside the womb a little bit better and they gave that to my grandmother to hold the baby for a while. Then the doctor came and forced my mother out, which pinched some nerve and created this disability with her that to this day at 76 years old has never been named. It presents like cerebral palsy, but it's not cerebral palsy, but she's in a nursing home and she has no mobility and it's degenerative and it's been her entire life just degenerative starting from the time she was born.
I watched her fight a system that-- she was born in the 40s, so any disability was aligned with retardation and nothing was wrong with her mind. Nothing has ever been wrong with her mind, but she was treated as if something was wrong with her mind back then. She was just put out of the consciousness of civilization, and she was determined to have a different life than she did and she got up every morning, got up every day, and lived whatever life showed up for whatever life was in front of her and that is something to me to see every day of my life that she is my hero.
If anybody ever asks me, it's like she's my hero because even today the fight we had with the nursing home was that they weren't getting her out of bed early enough in the morning. She was like, get me out of the bed, get me washed, get me dressed. If I have to be here, I'm not going to stay in bed all day. That was the fight that we were having so she's a lifer. Whatever the life is she has shown up for it and she's taught me and my sister to do the same.
Kai Wright: You write though also about, it's been complicated about the ways that she tried to protect you as a child but that didn't quite come out right. Not always. The ways that you needed to be protected.
Billy Porter: Yes, she was sheltered and the shelter was religion, and religion was Christianity and Christianity was our colonizer's religion. One of the things that came with the colonization was the stripping of our ancestry, which is the condemnation of the two spirit, aka the queer. Every Indigenous culture, including the African Indigenous cultures, have the two-spirit, which in modern days, in our time, would be considered the queer people. We have a direct connection to spirit because we are aligned with the male and the female inside of us. We're connected to all of it. That's why we have a direct connection to spirit, and we're the ones that were charged to protect the villages and historically protect the tribes. My mother didn't really-- our people don't really remember that. That's on purpose. I'm here to remind everybody that I'm not nothing new and we're actually a gift.
[music]
Kai Wright: Gifts are not always well received. To some, that gift is a threat. To others, that gift is something to prey upon. Billy Porter shares in his memoir the ways in which he was sexually abused as a child, including by his stepfather. I asked him whether writing the book was a way to begin reckoning with that trauma.
Billy Porter: I've been reckoning with it for years, as a matter of fact, I went into trauma therapy during COVID and we really teased apart in a different way this sexual trauma. As she began to understand me and my work, she really began to understand that I've been using my art to try to heal my trauma for my whole life, but not even understand-- she said you were doing it unmonitored. You were just doing it instinctively because you understood somehow that dealing with it from a creative angle would be healing for you and I have in everything I've done for a really long time. It's not the first time. This book is not the first time.
It's just another that I've inspected and taken it out and tried to ask why and what the point of it was and how to heal from it and set myself free. Is that possible? I'm still in the evolution of that, when I think one of the things about early severe trauma is it doesn't ever really go away, but you learn how to manage it better.
Kai Wright: It seems like in that way your art has indeed been part of what changed the trajectory of your life. Is that how you see it? Do you think art would have found you one way or the other, or that it's part of what you needed in order to have your life?
Billy Porter: I think it's what I needed in order for me to have my life. I don't know that I would have survived any of this without it, and I know that for certain. I had something to wake to and for every day that made me happy, that made me focused, that made me feel I was being of service and contributing to the world in some way. [music]
Kai Wright: In 2019, on the red carpet at the Oscars, Billy Porter had one of those viral moments in our culture, one in which he indeed contributed to the world with his gift of queerness, and also truly established his place as a fashion icon. If you somehow haven't seen the tuxedo dress to go look it up and there is a story behind it.
Billy Porter: I'm a big believer in speaking life into yourself. Words have power. When I was in college, I was teasing. We would have Oscar parties, and I would tease that, I'm going to wear a gown to the Oscars. I'm sick of the same penguin suit. This doesn't make any sense. Women get to have all the fun. I was saying that in the late 80s. When the surprise of being summoned to the Oscars to host the red carpet for ABC, I was surprised. Immediately I was reminded of what I had said all those years prior. I was like, "I think I'm going to have to do that." I was at a Christian Siriano fashion show, and I thought, "Oh my goodness, what if it looks like a tux close."
If the shot is really close and it looks like a tux, and then when you pull back, it's a full-on anti-bellen ball gown with replete with [unintelligible 00:25:36] and everything. I said that would be a full gag. I talked to Christian at the party. We only had 11 days, 12 days, or something. He agreed and he snatched that up in like, nine days. He made that in nine days. I knew that it would make a splash. I didn't realize that it would change. There was a light that I had I say B-O-A-O Before Oscar After Oscar, it is completely different after Oscars. My life is different.
Kai Wright: In what way, what do you mean? Say more about that?
Billy Porter: It just that It cracked open a space that I knew in my heart existed but I didn't know that it was so big and I didn't know that it was so-- it cracked open the world to me.
Kai Wright: So ironic through the claiming of that two square and that queerness that you had to wrestle with through claiming it, it cracked open the whole world.
Billy Porter: Right. I say it all the time. It's like everybody told me my queerness would be my liability, and it was for two decades plus. I'm so grateful that I lived long enough to see the transition where my queerness is my superpower.
[music]
Kai Wright: The other thing I would ask you about that moment is while there, you spoke with the late Congressman John Lewis. I want to ask you the same question you asked him because it comes up a lot on our show from folks, which is for those of us who are feeling fatigue politically. Who are, as you put it earlier in this conversation, struggle some mornings to say, "Okay, I'm ready." What encourages the forward momentum and engagement, how do we find it?
Billy Porter: First of all, we have to figure out how to take care of ourselves. The self-care component is everything, because when you take care of yourself, then you can recharge. We have to refill our wells. The second thing is like he said, we can never give up. Eternal vigilance is the price of liberty. That's what Fred Douglas said over 250 years ago. The conversation that we're having and the messaging has to change. I know at 53, our messaging is a change is going to come. Sam Cook.
In that there is an implication that we arrive somewhere, and the work is finished. We arrive. Civil Rights Act, the Voting Rights Act. Marriage equality. We got a Black president, Roe v. Wade. We arrive somewhere and the work is finished. A change is going to come. The change came and the change went, because we didn't understand that the work continues. Yes, we fight for something specific, and then once we get that specific thing, we continue to fight to make sure it doesn't get reversed. If we know that going in, then we take care of ourselves in a different way and we will not ever be fatigued again.
Kai Wright: You've got an album coming out next year, and as I understand it, the album will speak to this political and social moment that you're talking about now and that's-- am I right about that?
Billy Porter: While it has everything, it's a pop album. I wrote a lot with the late, great Andrea Martin Eminek from London. I wrote a lot with Justin Tranter. He's an executive producer on it. For me, it is like I'm so proud of the work. It speaks to my time in this business. It speaks to what I feel about the world. It speaks to the journey of love and what that truly means and healing. There's a lot of flexing on it [chuckles] because I've come out on the other side of something that, on paper, I wasn't supposed to. It wasn't supposed to look like this for me.
Kai Wright: Right.
Billy Porter: History is written by the winners and I win. There's a joy in it. There's a flex in it that makes me chuckle because I've never really been that guy. It leans into that. Musically it is everything I've ever wanted to do and say and put out in the mainstream music market. I'm thrilled, and excited. There's a new single out right now I just put out right before the election called Stranger Things. Go Get it I second at Global Citizen. You can see the performance on YouTube. It's called Stranger Things. I'm so proud of the work. There's some stuff that's highly political on there, but it's not the whole album. It's everything. It's all of my dimensions.
Kai Wright: It's so interesting too that because you write in the memoir about pop being weaponized against you and now ypu-- I guess you already really were a pop star, but with this album, you become explicitly pop star.
Billy Porter: Yes. I'm trying. We'll see.
Kai Wright: Is there anything in that, just that this relationship with the genre, that at one point it was--
Billy Porter: Well, yes. Like I said, one of the lyrics is history's written by the winners, then I win. You all put me out in the 90s. She's bad.
Kai Wright: Thank goodness for it. Before I let you go, you mentioned earlier you're 53 years old and the world has exploded for you midway through your life. I just wonder how that does or doesn't shape your priorities as an artist.
Billy Porter: Well, first I have to say I'm grateful that it happened now and not earlier because I know who I am and I know what I'm here for. I'm ready for this and there's a service component to this intersection that I stand inside of these intersections that I stand inside of. It's my goal to make sure that I show up properly and I stand in the service that I'm here for. How great it is when your work is your service. My work is my service. It really fills me up. It really really does.
Kai Wright: Well, Billy Porter, thank you so much for this time and for your work.
Billy Porter: Thank you.
Kai Wright: It impacts on me personally. Thank you.
Billy Porter: Thank you. Thanks for having me.
Kai Wright: Notes from America is a production of WNYC studios. You can follow us wherever you get your podcast and join us on Instagram @notes with Kai. Listen, if you didn't catch the show last week, we did this awesome thing where we invited listeners to call in and live curate a Notes from America Holiday playlist. If you're looking for music to get you through the next few weeks, do check it out. You can go to our website and click on any other recent episodes to find a link to the playlist or you can just search for it on Spotify.
One more piece of exciting news, next month for the Martin Luther King Day holiday, we are going to record our show live from the stage of the famous Apollo Theater here in Harlem. This is part of an annual event produced by WNYC and the Apollo to honor MLK Day. For the first hour of it, I'll be hosting conversations inspired by the song Young Gifted and Black. The event is Sunday, January 15th. Tickets are free. You just have to RSVP to get them. They'll be available starting in the new year on January 2nd. You can get all the details @wnyc.org/mlk2023.
Jared Paul does the music and mixing for our show, editing, producing, and reporting courtesy of Karen Frillmann, Vanessa Handy, Regina de Heer, Rahima Nasa, Kousha Navidar and Lindsay Foster Thomas. I am Kai Wright. Thanks for spending time with us tonight and happy holidays.
Copyright © 2023 New York Public Radio. All rights reserved. Visit our website terms of use at www.wnyc.org for further information.
New York Public Radio transcripts are created on a rush deadline, often by contractors. This text may not be in its final form and may be updated or revised in the future. Accuracy and availability may vary. The authoritative record of New York Public Radio's programming is the audio record.