The Battle Over Black Studies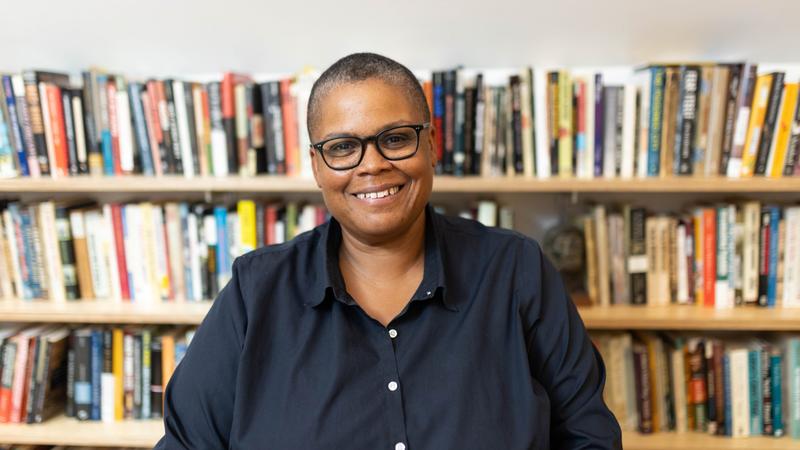 Transcript
[music]
Regina de Heer: We're here on the campus of Howard University, and we're asking people when was the last time you learned a new idea that challenged the way you see yourself or the world around you?
Speaker: In class last week, my professor was discussing the idea of radical self-care as introduced by Audrey Lorde. That self-care doesn't mean that you are lazy, but it's rather productivity. If you're not pouring into yourself, you can't help your community or the people around you.
Speaker: I'm actually a transfer student. I wanted to go to Howard straight out of high school, but everybody was pushing me to go to a PWI. It wasn't until my best friend sat me down. I realized that was such an invalidating opinion of HBCUs.
Speaker: Yesterday during class, we were having a discussion about the systems right now that are direct consequence of racist policies from 200, 300 years ago.
[music]
Kai Wright: Its Notes from America. I'm Kai Wright and welcome to the show. Here's the thing about new ideas, the best ones, the most consequential ones they are often hard to take in. They challenge us and not just intellectually. They call into question things we hold dear or that make us feel comfortable, or they just seem obvious. The sky is blue and the earth is flat until someone points out that it is in fact not.
New ideas that are of consequence are often hard. Black people in the United States have very often been the bearers of new hard ideas for everybody. Keeanga-Yamahtta Taylor has brought some of those ideas forward herself. Her 2019 book Race for Profit introduced many readers to the idea of predatory inclusion or the ways in which the financial sector enriches itself by prey upon Black ambitions.
That book was a finalist for both a Pulitzer Prize and a National Book Award, and she's just founded a new magazine called Hammer and Hope, dedicated to ideas from and about Black politics and culture. Keeanga-Yamahtta Taylor is also a professor of African American Studies at Northwestern University.
As such, her entire field of study is currently under partisan attack, not only in Florida but around the country. The field is articulating a set of ideas that some are finding very hard to take in. She joins me to talk about this moment, about the power of ideas and about the new magazine, Keeanga-Yamahtta Taylor, thanks so much for taking time.
Keeanga-Yamahtta Taylor: Thanks for having me.
Kai Wright: The term Black Studies has been bandied about broadly enough that I'm not sure that many people using it actually know what ideas it represents. I'm not being shady there, honestly, like maybe be included. Let's level set. What is Black studies?
Keeanga-Yamahtta Taylor: Black Studies, African-American Studies, Africana Studies. All of these kind of different nomenclature are really efforts to capture the ways that the history experiences, culture lives of Black people, African Americans, Black people throughout the diaspora. Not just African Americans what our lives are about, what constitutes them historically, culturally, politically over time.
In some ways, the teaching of that happened in different iterations throughout the process of higher education in historically Black colleges and universities. It really wasn't until the late 1960s that the study of Black life became part of the curriculum at predominantly white institutions. That was a direct result of the Black insurgency that exploded in the aftermath of the Civil Rights Movement in the late 1960s.
Part of that was a demand of Black students to understand the dimensions of their lives and history at school. To learn about themselves in school in ways similar to how other people would learn about their own cultures in history in school. Black Studies was really an effort to define what that would look like as part of a curriculum. That comes out of a much larger political movement.
Kai Wright: Black Studies is as a course of study, as an inquiry, it is distinct from African American history as a course of study. [crosstalk] Can you just help people understand that distinction?
Keeanga-Yamahtta Taylor: Sure. African American history is about the people, places, and things that populate the existence of Black people in the United States from 1619 thereabouts. Usually sometimes it's from to 1863 when the Emancipation Proclamation is, and then from 1863 to the contemporary period, that's usually how African-American history courses break up that time period.
That's very different from African-American studies, which also not only looks at history, so history is an important part of that, but also looks at politics. It also looks at economics. It looks at culture. It is not just concerned with the experiences of African Americans or Black people from the United States, but it's really looking at the dimensions of Black life from what we refer to as the diaspora.
People who originate in Africa but end up in places all over the Western Hemisphere as a result of slavery. It is interested in the lives of Black people in Latin America, Black people in the Caribbean Black people in Europe, Black people in Canada in North America, Black Mexicans. It's much more expansive than just the historical view of what happens to Black people in the United States from 1619 until the 21st century.
Kai Wright: Embedded in that, if I can push it a little, [crosstalk] the idea is that there is an analysis involved in Black Studies, which is not to say that there is an analysis involved in African American history but help me with the language. There is a step beyond this is the Black experience when you talk about studying Black lives globally.
Keeanga-Yamahtta Taylor: I think part of it, Black Studies are very contested. There are different ideas about what it should be, what it should be doing. Should it be educating Black people? People sympathetic to the Black struggle for freedom to be activists, to be involved in politics. Should it be mostly thinking about theory? Should it be mostly historical? Black Studies is very contentious and contested among those of us who study it.
I think part of what it is trying to do is understand the ways that Black people have suffered disproportionate effects of oppression and exploitation. Where does race come from? What is the relationship between race and the overrepresentation among African-Americans, among Black people more generally? The over-representation of us among the impoverished, the under-housed, the under-resourced.
How do we understand that? Historically within the field of Black studies has been a kind of belief that this knowledge analysis understanding is not just for itself. It's not just for knowing information for the sake of knowing information. How do we employ that in an ongoing political, social economic struggle to get free?
Because we see from the police killings, the continuation of police killings the way that Black women are overrepresented among those who suffer eviction, all of the social categories that we look at, the social barometers that we determine what is the quality of life in this country and beyond, should we be involved in a political struggle to change those? There are certainly some people who are in the field of African American studies that believe that other people believe that this is an academic field, but I think most people agree that it's not just about stating facts and figures.
Kai Wright: Yes.
Keeanga-Yamahtta Taylor: It is about trying to understand how Black people came to be overrepresented in these categories that represent oppression and exploitation.
Kai Wright: Having said that, if we are in this political moment where this field of study is being defined by some as a threat and I wonder are they right? I put that to you, is it in fact a threat to the status quo?
Keeanga-Yamahtta Taylor: I think any information that which makes us more intelligent, understanding, empathic, clear about the world that we live in is dangerous. For those who are interested in defending the status quo and those who are interested in not rocking the boat, that means that history is dangerous. It's not just Black history or African American studies that these people don't want to talk about.
They don't want to talk about any of the histories of struggle and resistance against the dominant forces of society. I do think that there is something particular in this United States about the power of Black studies because I do think that any engagement with the history of Black people, and the attendance ideas that come out of that history. If you want to talk about Black studies at large, really begins to shatter the mythologies that the United States has constructed itself upon. If we are to believe that this country is the paradigmatic example of what a democratic nation is, of what a just nation is, of what a free nation is, that all unravels.
It all falls apart when you include the history of Black people who came here as slaves, who were enslaved for more than 300 years. Then after slavery, faced another 100 years of legal subjugation. Almost 400 years of legal subjugation in one form or another, either as slaves or as second-class citizens. Then the whole notion of the US as an exceptional place, as exceptionally democratic, just, and free, completely unravels.
If that unravels, then perhaps, when Black people make claims for reparations, that maybe it has some truth to it.
Kai Wright: We need to take a break and we're going to come back to this. I'm talking with Northwestern University professor of African American Studies, Keeanga-Yamahtta Taylor. After the break, we'll talk about the new magazine and more about the power of these ideas and social movement. Stay with us.
[music]
Kousha Navidar: Hey, everyone. This is Kousha. I'm a producer, I want to remind you that if you have questions or comments about what you're listening to, we at the show would love to hear from you. Here's how, first you can email us. The address is notes@wnyc.org. Second, you can send us a voice message, just go to notesfromamerica.org and click on the green button a little bit down the page that says Start Recording.
Finally, you can message us on Twitter and Instagram. The handle is @noteswithKai. However you want to reach us, we'd love to hear from you and maybe use your message on the show. All right. Thanks. Talk to you soon.
[music]
Kai Wright: Its Notes from America. I'm Kai Wright and I'm talking with Northwestern University professor of African American Studies, Keeanga-Yamahtta Taylor. We're talking about the power of ideas and social change and how threatening the ideas in the field of Black studies have been to some because it does, in fact, challenge the status quo. Listeners, we can take calls from those of you who are like Keeanga, educators, curriculum that explores race, gender, inequality generally is now very much at the center of partisan politics, as Republican candidates have focused intensely on schools at all levels.
I'd love to hear how that reality is showing up or is not showing up in your classrooms and how it's impacting your work. If you are an educator, and you want to chime in on this, or if you have a question for Keeanga-Yamahtta Taylor, you can give us a call. Keeanga, as a student of ideas, I want to ask you to think back if you can to how you discovered Black studies.
Can you recall the moment of discovery, when a new idea grabs you and shakes you, and excites you? Can you remember that moment for yourself in this field?
Keeanga-Yamahtta Taylor: I am Black and both my parents were educators. My mom was not a teacher, but she was an educator of educators and my father is a historian. In that sense, I grew up with Black studies.
I grew up in a house with books that celebrated Black people, Black history as a small child before I was reading. Books that were read to me were about African American history. I think, probably when I began to think about these things on my own it was fourth grade. We were asked to write a little paragraph or something about Abraham Lincoln, and I asked my dad about it.
My father was very colorful, he was like, "Abraham Lincoln was a racist dog." I brought this up in the small paragraph that I was supposed to be writing for school, there was a conference that involved my mother. My mother calls my dad because my folks were separated at that time. All I remember from their conversation is, "She's nine years old." This history and ideas, in some ways, has always been with me in one form or another.
I've always been fascinated by Black history. I began to understand Black studies is much more expansive when I went to graduate school. I got a PhD in African American Studies and that's, I think when I began to understand it as a much more expansive field, just beyond the history of African Americans.
Kai Wright: I don't know what it is about fourth grade. That is, for me, also learning that because the Civil War starts to come up in civics class, and you're like, "Wait a minute, I don't know, something's not right about the way this is being talked about. I can't quite articulate it."
What about a challenge to you? Part of the premise I've laid out here is that new ideas of consequence are challenging and I think there are a lot of ideas in Black studies that are challenging to Black people too. What about it challenged you?
Keeanga-Yamahtta Taylor: Really, for me, and I would say, probably, this is common for a lot of Black Americans is realizing that you're not the only Black people in the world. There's a way in which living at the center of the empire you take on the empire sensibility that you are the center of the world, and that your experience is the most important one. For me, it wasn't so much a challenge, it was a discovery that there is a much more expansive diaspora.
I knew there are other Black people in the world, that have distinct culture and politics that flow from their experiences, but that we all got on this side of the world through the institution of slavery. Really understanding the diasporic nature of Black identity in the United States and beyond, was revelatory for me.
Kai Wright: I think it continues to be revelatory for a lot of African Americans. Even for me every time I travel the world. You are one of the scholars in this field whose work has been specifically targeted as too political for the classroom. When you hear that argument, just that basic point that this is too political for the classroom, this is indoctrination. How do you respond to it? I'm thinking now specifically about yourself, how do you respond to that?
Keeanga-Yamahtta Taylor: All education is political. I think when Ron DeSantis and people in the Republican Party are talking about history, what they don't like are the politics of some of the people who are writing history, writing about politics, writing about culture, and they want to replace that history with history that they like. Donald Trump in the twilight of his presidency commissioned what he called The 1776 Commission, which was to basically come up with a version of American history that he and other evangelical Republicans liked.
That portrayal of history is replete with politics, and a particular vision of what American history is. They don't mind that. They just don't like this other version of history. All education, what you decide to include, what you decide to leave out is political because we're all political people whether we are actively engaged in politics or whether we are passive about it meaning that we all have viewpoints, we all have ideas. That, to me, goes without saying indoctrination is a different kind of accusation because indoctrination is really about excluding versions of history, excluding ideas, and really trying to drill a certain set of politics, a certain way of thinking to impose that on students and to really discourage thinking, discourage any kind of engagement. That is certainly not what I or any other educator that I know talk about.
Personally, I have a very clear approach to teaching. I tell my students that I don't necessarily talk about my political commitments but I do tell my students that my job is to help you learn how to think and to figure out things. I don't need you to think like me. I don't want you to think like me. I want you to think for yourself.
To me, that's an important element of teaching and that's why you'll hear many of us talk about the most important thing you want to leave a student with is the ability to think critically. All of this history that myself and people who have been excluded from this college board list are engaged in are critical analyses of history, of culture, of politics, of social norms. It's not indoctrination.
It's thinking critically and not just accepting at face value what we are told but is really looking underneath. That is what it means to be radical. The Latin definition root of radical is root. It means what is underneath. Yes, that is what we are trying to look at is what is underneath not just what you see in front of you. We're trying to teach people not to take at face value what you see but be curious, interrogate, ask questions, think critically.
Kai Wright: You mentioned the college board and just so that we will loop everybody and your work was amongst those that were removed from the final version of the AP Black Studies class that has been in the news. This is following Florida Republicans' challenge to its existence in the first place. The college board has said revisions it made to that course were not a response to the challenge from Florida Republicans.
It was just part of the normal evolution of a course from a pilot to an official curriculum and you have expressed skepticism about that explanation. Do you want to speak to why you were skeptical of that explanation?
Keeanga-Yamahtta Taylor: It's just simply unbelievable. I can believe that perhaps they didn't change the entire curriculum and excise the particular authors and writers that they did because of Ron DeSantis. This attack on Black history, Black studies, has been going on for a few years now.
What began with the 1619 project that then turned into this kind of nonsensical attack on critical race theory that then turned into attack on AP African-American studies. I think that, clearly, the college board saw the writing on the wall and understood that there would be a right-wing backlash because this has happened before. They revised the AP American history, US history, curriculum in 2014 and the Republicans also had a backlash against that.
The Republican National Conference voted on a resolution denouncing the college board and the revisions that they made to the AP US History course. What did the college board do? They backtracked and they deferred to the hysteria created among Republican circles from the RNC on down. They backtracked and they took out many of the changes that they made so there was a history of this that this is a political-- it's a body that is sensitive to the politicization of AP because they're trying to sell the course to the states.
Kai Wright: With that in mind, let me ask you this and I don't want to belabor this because there's lots to get to. As we talked about this on our editorial team, we got distracted over and over again by the presumption of any kind of advanced placement course being a good idea from a racial equity perspective. That why do you have to be in a certain lane in order to get this level of education? Can you just speak to that briefly before we move on to something else?
Keeanga-Yamahtta Taylor: There's a larger discussion to be had about advanced placement courses and who they're available to. I think that nationally somewhere between 4% and 9% of Black high school-age students actually take AP tests or take AP courses. AP courses have been used to really create tiers of access to high-quality education in public schools across the country.
There is a question to be raised about AP. Why is this curriculum being developed for a very small stratum of students and why are we not talking about how the study of African American history, Black life in general, is taught in public school? That is a larger discussion to have. I'm all for it.
Kai Wright: Let's go to Fred in Minneapolis. Fred, welcome to the show.
Fred: Thank you. I'm just lifting and really enjoying the conversation and I just spoke with one of your teammates about I'm working with my kids which are middle school kids and we are delving into the west and the notion that cowboys were typically white which was not the case. Going with after enslavement the development of cowboy culture and the second syllable on that word, cowboy how derogatory term that was.
Then with that pushback that the original horse experts were really coming up from Mexico with the Spanish and indigenous people and just the misrepresentation that's out there, the absent narratives that we don't hear.
Kai Wright: Thank you. Thank you very much, Fred. Absent narratives that we don't hear, I'm going to use that to segue into Hammer & Hope because we're running out of time and I've not saved enough time to talk about the magazine. Speak briefly to Fred's point about the absent narratives that we don't hear in education and why we don't hear them.
Keeanga-Yamahtta Taylor: I think that there's a history of student radicalism, student activism, in the United States. That's how we got something like Black studies, African American history, in the first place and it's empowering for students. They want to know about where they come from and who they are, and how they got here, and more importantly, they want to understand the circumstances in which they live and how those developed.
That is why these ideas are dangerous. That's why this history is dangerous and that is why the most powerful people in the country are trying to stifle it and suppress it. It is a sort of electoral trick and we don't want to talk about social programs or spending so we will divert people's attention by talking about Black studies but there's also something that they fear about teaching these ideas, this history in class because of the way that it empowers the students who are recipients of it. I think they know that.
Kai Wright: I will apologize that I've managed the cock poorly. We don't have a ton of time now to talk about this awesome new magazine but in a couple of minutes we've got left, within this context what is the mission of Hammer & Hope?
Keeanga-Yamahtta Taylor: Hammer & Hope is a new magazine that I have created with, Jen Parker, who is a former staff editor at The New York Times. What we wanted to do was create a space within the wide ecosystem of publications to talk about Black politics, Black culture, Black activism, and really how we changed the conditions that helped to propel millions of people in the streets, in 2020, a couple of years ago.
One of the magazine came out of discussions between Jen and I, in the aftermath of that, that we're frustrated about how did we go from 26 million people thereabouts in the streets to the Biden election and then the Georgia Senate races and that was it. What processes needed to take place to turn that anger and activism into organization and to prolonged political engagement to really change the reasons why people were pushed into the streets in the first place?
That's why we created this forum for people who are engaged in those struggles, for activists on the ground, for organizers on the ground to be able to communicate with each other.
Kai Wright: We're going to have to have you back to talk in more depth about everything that comes out of it. Hammerandhope.org is where you could find it. Keeanga-Yamahtta Taylor is a professor of African American Studies at Northwestern University, a contributing writer to The New Yorker, and co-founder of the brand new Hammer & Hope magazine of Black politics and culture. Thank you so much.
Keeanga-Yamahtta Taylor: Thank you.
[music]
Kai Wright: Notes From America is a production of WNYC studios. You can follow us wherever you get your podcasts. By the way later this week, we'll put a longer version of the conversation with Mr. Copeland in our feed so check it out. You can also follow us on Instagram @noteswithkai.
Mixing in music by Jared Paul, Milton Ruiz is our live engineer. Our team also includes Karen Frillmann, Vanessa Handy, Regina de Heer, Rahima Nasa, Kousha Navidar, and Lindsey Foster Thomas. Andre Robert Lee is our executive producer and I am Kai Wright. Thanks for spending this time with us.
[music]
Copyright © 2023 New York Public Radio. All rights reserved. Visit our website terms of use at www.wnyc.org for further information.
New York Public Radio transcripts are created on a rush deadline, often by contractors. This text may not be in its final form and may be updated or revised in the future. Accuracy and availability may vary. The authoritative record of New York Public Radio's programming is the audio record.