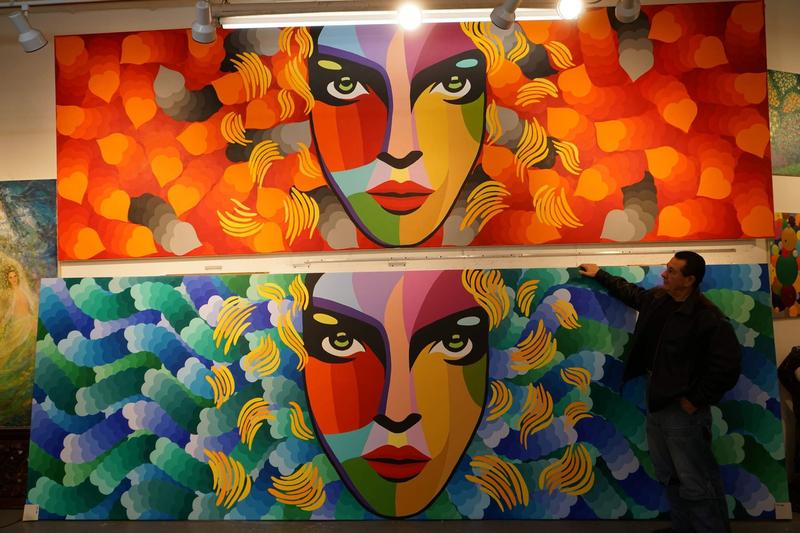 Transcript
[music]
Kousha Navidar: Welcome back. Lately, we've been talking a lot about how digital technology influences the way we live, and we found people using it in a lot of interesting ways. In fact, last year, an organization called 9/11 Day commemorated their anniversary with, get this-- NFTs. Those are basically digital assets. An auction of the digital art supported the efforts to make September 11th a national day of service. I met up with Vlad and James Nazarov. Hey.
Vladimir Nazarov: Hi.
Kousha Navidar: I'm Kousha.
Vladimir Nazarov: Vlad.
Kousha Navidar: Two of the artists who contributed, who are also father and son. Thanks for inviting us in here.
Vladimir Nazarov: Our pleasure. Come on in.
Kousha Navidar: We're in Vlad's Studio, right underneath the Brooklyn Bridge. You can feel the rumble of the trains passing by. Imagine 20-foot tall ceilings and bright studio lights. Paintings are everywhere, some of them more than 15 feet long, stacked on top of each other, along the walls. James walks us through it.
James Nazarov: This piece is from his series called the Pop Monalisa. When you see the face in total, you don't know-- Is she happy, angry, sad? It's combined with his heart patterns, which is one of the styles that he's known for.
Kousha Navidar: Over his lifetime, he's experimented with lots of different styles and he'll use whatever he can get his hands on.
James Nazarov: Wood metal, stone, acrylic, oil, air conditioning parts.
Vladimir Nazarov: Or toilets. You know, toilet chair?
Kousha Navidar: Yes, oh, right.
Vladimir Nazarov: Used to be [unintelligible 00:01:31].
James Nazarov: This piece is called The Fateful Feed the Flame.
Kousha Navidar: Imagine a tall canvas in brilliant red, covered by triangles outlined in black, with blue, yellow, and orange dots all over.
James Nazarov: It is also a blockchain-inspired piece, it's that concept of being first to a concept. It's that type of faith that keeps a flame going.
Kousha Navidar: This is a physical piece that Vlad turned into a digital NFT asset.
James Nazarov: You can see a little bit, in the geometric abstraction here, you get a little bit of a diamond shape there. On the nose, Ethereum diamond, perhaps, who knows.
Vladimir Nazarov: It's expression, and to present your art in a different way. You can play with colors. You can play with movement. I can see so many opportunities. Is give artists freedom, artists can create something, what he never was able to create before.
[music]
Kousha Navidar: I wanted to know why it was so important to Vlad and James, and how they ended up using these NFTs to support a 9/11 organization. To do that, I had to start at the beginning of Vlad's entry into New York City.
Vladimir Nazarov: I'm a refugee from former Soviet Union. Odessa, Ukraine. No freedom for artists to do anything. I just have to follow what government tell you to do.
Kousha Navidar: 40 years ago, at the age of 24, Vlad found his way to Brooklyn. He started making art while working at other jobs. A women's clothing designer, an engineer, and more. Eventually, he had children. His son, James, helps him with his art, and helped him see the opportunity in NFTs.
James Nazarov: Yes, we were exploring it early on.
Kousha Navidar: For a lot of folks listening, they might have heard of NFTs, but they might not be able to point and say, "Hey, that's an NFT." Maybe explain from your perspective what an NFT is.
James Nazarov: Well, so NFT, non-fungible token. NFTs, I feel like they get confused as art itself. This NFT boom that we've had recently, people think-- NFTs, they think like a picture that people are trading for obscene amounts of money. NFTs, it's an authentication mechanism.
Kousha Navidar: It's like a certificate.
James Nazarov: It's just a certificate.
Kousha Navidar: Got it.
James Nazarov: Right. They're certificates of authenticity, most of the time. If you're buying from a gallery, sure, something that a seller would put together to make a buyer feel more comfortable about the work that they're purchasing, that this is an authentic piece because this is where it started, and this is how it got to me.
Kousha Navidar: Is it fair to say that the NFT, for your purposes, is making sure what a person buys from you is authentic, but instead of it being tied to the physical world, now it's digital, and that opens up a lot of opportunities for you, for new ways to connect with folks?
James Nazarov: Absolutely. It's a complete game changer, because there's a lot of gatekeeping in the art world. You may not have access to all the transactional information, you may have to request that information, you might have to ask people for it. With an NFT, boom.
[music]
Kousha Navidar: In the case of Vlad and James, here's what working with NFTs looks like. Imagine a digital picture of a physical piece Vlad has actually painted. That digital picture could be static or animated, like a GIF. You can go visit a website, and just like you'd peruse an art gallery and look at one-of-a-kind paintings, you can peruse the site and these unique digital files. If you decide to buy one, you get an NFT. It's basically the deed to that file.
It replaces the physical certificate of authenticity. To honor September 11th, Vlad and James painted a landscape of New York City. Then they created a digital version of the painting, along with an animation of it getting painted, and bundled those digital files with a single NFT. Vlad, why did you feel moved to make a piece about 9/11, commemorating it?
Vladimir Nazarov: New York City is very important for me. Attack New York really hurt me so much, that I always thinking about how to create something to show to the world in a piece of art, how important New York City, how important freedom, what we have here. To show to future generation this tragedy.
James Nazarov: A little bit of like a story point, as to why this day had a personal effect on the family, was-- My sister, his daughter, was supposed to actually be at the towers that day. There was a client that we had in the building, and she was supposed to go to a meeting. I thank God, thank the universe, it wasn't her fate to be there that day. She was late. She's never late. She's not late to anything. She's just a punctual person, responsible, always on time. It's just one of the few times in her life she was late, and it saved her life.
[music]
Kousha Navidar: This was really difficult for Vlad to talk about because Tanya, his daughter from that story, and James' sister, recently passed away. The idea that art could be a time capsule for these memories felt really relevant, in a way I didn't expect.
James Nazarov: It's just something to think about. Destiny, fate, and luck, and how it just plays off in life. There's certainly a lot of exploration of that in his work, in general.
Kousha Navidar: Yes, a lot of universal forces, I guess. Do you think that's fair to say, Vlad, in your work?
Vladimir Nazarov: Yes.
Kousha Navidar: Tell me a little bit about how you participated in this auction, what was your role in it? What did you do?
Vladimir Nazarov: I create paintings. I create NFT and I want to help organization who promotes memory of 9/11 event.
James Nazarov: This was the 9/11 Day organization. We were reached out to, it was a way to give back and not just create one single physical work, which he did, but he was then able to turn it into different NFT editions. It goes into the multiple lives that a single work could have.
Kousha Navidar: Yes, I was going to ask about that. Was there anything special about working with NFTs, that helped commemorate the anniversary in a way that wouldn't have been possible otherwise?
James Nazarov: I think that the ability for him to digitize the work and to turn it into different movements, into different themes, and tell different stories, it's all one unique story of remembering this tragedy, to unite and to tell that in different ways. He was able to create the one work, which he used the country's colors of red, white, and blue to commemorate. It wasn't just New York's tragedy. It was, in a way, a country's tragedy.
Commemorate that all with those colors, and then at the same time, tell the New York story that he experienced, in different color schemes. That's what we are, we are this mix of color, of energy, of life, and he wanted to show that in different works.
Kousha Navidar: It was like you took the same picture, and because it was digital, you could adjust it in different ways?
James Nazarov: We can adjust it in different ways.
Kousha Navidar: Different hues, you're saying, or--?
Vladimir Nazarov: Yes.
Kousha Navidar: When you say movement, what do you mean by that?
Vladimir Nazarov: In NFT, you can create movement.
Kousha Navidar: Like a literal animation?
James Nazarov: Yes.
Vladimir Nazarov: A real animation.
James Nazarov: We were taking snapshots of him working on the piece, over time. It starts as just the background of the city with the towers. As it goes on, we have different layers of lines, and more lines, more lines, then dots, dots. We wanted to show that transition, because it's the growth. It's how the city has grown over time. How Vlad has grown within the city over time, how that art piece has grown, also.
Kousha Navidar: Do you know who got the NFT that you put up for auction?
Vladimir Nazarov: No.
Kousha Navidar: Have you ever been interested in trying to find out, or can you even find that out?
James Nazarov: No, we can't. We can't. That's the most amazing thing about NFTs, and blockchain. We have this ability to interact with each other and we never have to know, I guess, for better or worse, who we're interacting with. I think draws us to-- The term is trustless, which is really, really, really interesting. We think of trust as something positive, and it is, but it's almost like trust is grown from a negative concept, that these outward forces want to hurt you, whether it's people, or something.
You have to build trust. It doesn't just come out of nowhere. It takes time to build it. Whereas trustless sounds negative, from the way we understand it, it's actually a very-- I guess the word maybe is positive, because we don't need trust to interact on the blockchain. We don't need trust to send an NFT. We don't need to know who the people are. It's a mathematical protocol. These new concepts come around and really just changes not just the way that you conduct yourself in the world, but the way that you even view the world.
Kousha Navidar: I wanted to touch on that, how you view the world. NFTs, in general, feel like they hold opportunity, but it's hard to see how much of it is real and how much of it isn't. Do you feel like NFTs make the art world more fair?
Vladimir Nazarov: Yes.
James Nazarov: In the art industry, there are a lot of gatekeepers. It's a relatively small group that decides what is art, when you think about that. Art is almost everything, it's actually very difficult to define, but they are a small group of people that define what art is. When you have art that now can be forever cemented within this network, it becomes something then that's just hard to change.
Kousha Navidar: What about folks that don't have a seat at the table or don't have the easy access to getting their art out in the world?
Vladimir Nazarov: NFT.
Kousha Navidar: Why?
Vladimir Nazarov: More people can see my art.
James Nazarov: I think that also would've been just the benefit of any of the art that would have been traded or changed hands over that time. Theoretically, there could have been also some royalty coming back to Vlad, from those transactions.
[music]
Kousha Navidar: When James talks about royalties, he means that if an NFT is sold a second or third time down the road, it's possible to track that sale back to the original creator, so they could get some of the proceeds. It seemed like this technology did present benefits to creators, but frankly, I'm still suspicious of the idea that NFTs could bring more equity for underrepresented artists. There are risks. James recognized that too.
James Nazarov: Non-Fungible Tokens will be a part of our lives in almost every single way. Think of identification cards, ticketing, insurance, everything will be attached to an NFT.
Kousha Navidar: Because it's just a certificate.
James Nazarov: It's just a certificate.
Kousha Navidar: Does any of that give you pause?
James Nazarov: Yes. Yes, yes, for sure. It's utopia, dystopia, it's definitely a mix there.
Kousha Navidar: For James, a lot of the concerns that exist in the art world, also extend to NFTs. Money laundering, speculation, scams, and in general, this is really new territory. It's dangerous to start using the technology without real education.
James Nazarov: I think that we're going to be spending the next decade figuring that out.
[music]
Kousha Navidar: As I listen to Vlad and James, it's hard to miss the history in the room. 40 years ago, an artist found refuge in New York city. 21 years ago, that city faced a horrific attack. Now, that artist and his son are trying to honor that memory through their work. I want to know, what impact do they hope to have?
Vladimir Nazarov: People will remember this event.
James Nazarov: The way I view it is the importance of self-reflection. A lot of people often ask what does the artwork mean. We can describe what the artist was feeling but I think the real interest comes from what does it mean to you, or what does it mean for the viewer. This is a profound moment in history, a tragic moment in history. We can see the artist trying to capture that tragedy, capturing the hope that he has in tomorrow, the hope that there is more peace on the horizon.
We hope that there's a healing aspect to the work, that people can look at it. Hopefully, they can have that conversation with themselves.
Kousha Navidar: Yes. What do you hope this technology, NFTs, does, one way or another, towards that goal?
James Nazarov: That it allows people to reflect on art, to own art, to share it without the worry that there are some sort of outside parties that are going to manipulate or get involved in that experience. We hope that with NFTs, there's a way to just preserve art and preserve its history for people.
Kousha Navidar: Yes. Let's leave it there. Thank you both so much for the work that you're doing, for inviting us into your studio, for being a part of this city, making the art, and working with new ways of getting it out to people.
Vladimir Nazarov: A real pleasure.
James Nazarov: Thank you. Thank you for stopping by.
[music]
Kousha Navidar: A very special thanks to Vlad, James, and the entire Nazarov family, for sharing their studio, their story, and this city with us. The United States of Anxiety is a production of WNYC Studios. Our theme music was written by Hannis Brown and performed by the Outer Borough Brass Band. Mixing by Jared Paul. Milton Ruiz was on the boards for the live show. Our team also includes Emily Botein, Regina de Heer, Karen Frillmann, Rahima Nasa, and Kai Wright. I'm Kousha Navidar.
As always, I hope you'll join us for the live version of the show, next Sunday, at 6:00 PM, Eastern. Kai will be back with a special announcement we're all really excited about. You'll definitely want to take note. Until then, thanks for listening. Take care of yourselves, and each other.
[music]
[00:18:15] [END OF AUDIO]
Copyright © 2022 New York Public Radio. All rights reserved. Visit our website terms of use at www.wnyc.org for further information.
New York Public Radio transcripts are created on a rush deadline, often by contractors. This text may not be in its final form and may be updated or revised in the future. Accuracy and availability may vary. The authoritative record of New York Public Radio's programming is the audio record.