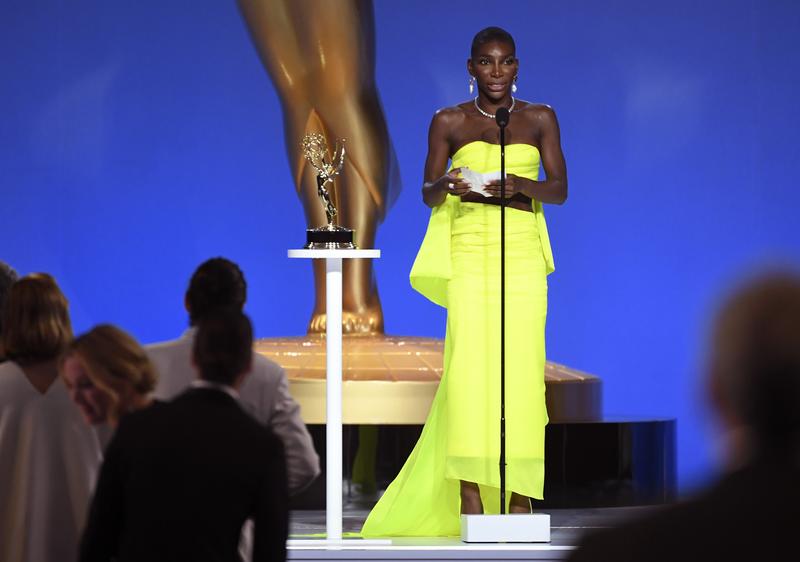 Transcript
Kai Wright: This is The United States of Anxiety - a show about the unfinished business of our history and its grip on our future.
Regina de Heer: Tell me your name and what show or anything, any piece of art, that's inspired you in pandemic time.
Jamil: What really inspired me was polls. It made me realize that we're getting better as an industry when it comes to LGBTQ representation.
Stephanie: Was Deana Lawson. She's a photographer and she just captures Black love, Black people of all diasporas.
Dunkin: I just got one word: Donda.
Leek: I was incarcerated for two years so the whole pandemic, I was like locked up. Seeing people create little clothes into great portraits of people's families is like amazing for me, and it's what people used to pass the time during the pandemic.
Lukeman: I watched a whole lot of comedy, people who are able to get people to think about a situation. That's something that I've seen definitely pick up throughout the 2020s.
Kai Wright: The truth goes down a little easier with a laugh, I guess. There is, apparently, really some science to that old saying too, that laughter is the best medicine, so perhaps some of you laughed your way through these painful past couple of years.
Welcome to the show. I'm Kai Wright. This week, we are thinking about the arts: from comedy, to TV, to museums, to books, theater. The Tony Awards are going to be on tonight, right after our show. I was at an opening for an art exhibit last night in Newburgh, New York. I actually ran into some of our listener's. Shouts to our United States of Anxiety peeps in Newburgh.
Anyway, the event was for a photo project documenting Newburgh's Black history, and it led to a hard conversation. There were a bunch of folks there, all, I gathered, well-meaning and genuinely wanting to build together, but coming at it from very different walks of life, across race and gender and class, city officials to art students, and the discussion got hard. There were questions about who gets to tell Black stories and why they're telling them, and what does it really actually mean to be in community when people have wildly different resources and privileges.
I've been chewing on it all day. It's just a reminder of the way art, creative work can nudge us into the hard stuff, get us to wrestle in new and often deeply personal ways with the questions about how we share space and resources in this country. That's what we're talking about tonight. I've got a straightforward question for you all to get us started. What's one creative work you've taken in during these hard months of the pandemic that inspired you in some way. However you take that word, inspired, and in any medium of creativity. It could be TV, film, theater, dance, books, just whatever. What's one work that has inspired you and why? 646-435-7280. That's 646-435-7280. Or tweet us using the #USofAnxiety.
Before this show, we've already gotten a bunch of tweets. Just to give you a flavor of what's starting. Someone, Tara Anderson, just posted a GIF of RuPaul's Drag Race. I think that falls under comedy, pushing us into sometimes some harder questions than we can normally ask each other. Bluebird Mountaineer tweeted Dixon on Apple TV inspired me to journal and be okay living in my head, which provided me a respite from the chaos of the world. It also reminded me that issues during that period are still relevant today and lots of creative ways to uplift others. I don't know that show, but I'll have to check it out.
As we take your calls, I am so happy to be joined by someone who's both watching the creative world as a critic and creating art herself. Morgan Jerkins is the Senior Culture Editor at ESPN's The Undefeated, and she's published not one but two books in the course of the pandemic. Her most recent work is a novel, Caul Baby, and it came out in April.
Morgan, thanks for joining us, and congrats on all that creation.
Morgan Jerkins: Thank you, and thank you for having me. I'm excited to chop it up with you. [chuckles]
Kai Wright: All right. What was it like, both making and releasing work in the middle of this pandemic?
Morgan Jerkins: Oh, chaotic. I think it was very, very chaotic. The interesting thing about it was my second book, Wandering in Strange Lands, was supposed to come out, I think it was May 2020. I think it was probably a week after, I had to go home - in terms of like I couldn't go to the office anymore. I got an email from my editor saying, "Hey, can we actually push your book back to August?" I'm like, "Sure, please. That's totally fine," because I lived in New York, I lived in the epicenter of the virus, and I was shell-shocked. I was living by myself at the time.
I was like, "That's totally fine." Then at the same time, I was also trying to hit the finish line with edits on my third book, Caul Baby. When I was doing that, that's when the protests happened in June [crosstalk]--
Kai Wright: Oh, with George Floyd?
Morgan Jerkins: Yes. George Floyd protests, and it was my birthday month, and it was also 8:00 PM curfew. So, hearing sirens, hearing just bloodcurdling levels of fireworks. It was a lot. Even though I still had the space to create because I was lucky enough, fortunate to work from home, it was very hard to be imaginative in certain parts of the beginning parts of the pandemic because just being surrounded by so much loss, I think.
Yet at the same time, I was absorbing so much content like everyone else. Sometimes I'll be on Twitter and I'll be like, "Did this come out during the pandemic?" Then I realized how long the pandemic has been because of certain TV shows.
Kai Wright: Yes. You are a Black woman who is a writer, who has created all of this work. I think it's important to note. It feels like even with all that as a backdrop, it feels like- all that trauma that you were describing as a backdrop, it feels like we're in a Renaissance - I use that word lightly - but a Renaissance moment for Black creators, certainly book authors. I know a lot of friends and colleagues who finally got the book deals they deserved long ago. But really in every medium, this has been a seeming explosion of access for Black creators.
Both as a writer and a critic, I wonder-- I mean, do you agree with that statement, first off?
Morgan Jerkins: I agree with it, but I also say it with a bit of apprehension. The reason why is because I do admit that in public speaking engagements, I've said we're in the middle of a golden period for Black art. We're in the middle of a Renaissance. However, I also have to remind myself that when I say that, I am thinking of the Harlem Renaissance.
As we know, the Harlem Renaissance, it was a finite period of time. Once the Great Depression happened, a lot of what made Black art in vogue in mainstream settings, it took a backseat in terms of just promotion, marketing and funding. So, even though I agree with you that there was an explosion of Black art that we're seeing centered and mainstream, I just hope that it is not a trend. I hope it is something that lasts indefinitely.
Kai Wright: To ask just a really basic question about that too, though, because I don't want-- Does it matter? You know what I mean? Not thinking for a minute about the creators themselves, but if we are in fact having this Black-driven art moment and all these mediums, do you think it's doing- has it, thus far, done anything to change the way all of us think or act in society? I know that's a large question, but I'd just throw it out to you as a Black artist. How do you think it's affected us so far?
Morgan Jerkins: I agree with you in that I'm seeing Black people get book deals in the figures that probably was not possible 10, 15 years ago. I'm seeing more chic TV shows with Black faces. I'm seeing more experimental storytelling, like Michaela Coel's I May Destroy You. I mean, wow. You know what I mean? At the same time, I do feel like there are still disparities happening.
I just saw something today by one of the creators of Raising Kanan. It's part of the Power universe by 50 Cent. He made a long post on Instagram talking about how this show - which, by the way, I watched myself, is stellar in terms of the plot, the pacing and the acting - only two publications reviewed it. Two. Why is that? Because there's obviously an audience for it. There's a hashtag I've seen it. Still, there are certain stories that are out there, but is it getting the proper promotion? Because promotion is everything. If you don't have the backing behind that, to know people that this exists, they're not going to know where to look.
I think that there's still much, much work to be done, not only in terms of who's getting the deals closed, but what type of support is being thrown behind them to sustain them in the industry.
Kai Wright: Let's bring a caller right in. Adrian in the East Village. Adrian, welcome to the show.
Adrian: Thank you. I was calling to say what inspired me the most was the show of Alice Neel at the Metropolitan Museum. She did mostly portrait painting and she covered a huge range of people, it was very diverse, and she wasn't recognized since she was in her late 60s but that didn't stop her. She worked at home. She had kids. She was involved in progressive politics. It was just very inspiring. Also, it's great to see a lot of Black artists getting their dues. Some are already established, but I think people are becoming more aware of it and it's wonderful.
Kai Wright: Thank you for that, Adrian. I also saw the Alice Neel exhibit. I have to say-- It's funny. One of my big inspirations throughout the pandemic was just New York's art museums period. With the timed entry and the control of the number of people who were able to go in, I was able to actually see the art for the first time in a long time. I got to where I would go to MoMA. I would go to the Met. I would go to the Jacob Lawrence room in MoMA, and just be able to stand with that great Migration series and not have a million people around me, and able to actually bring it in. I thank you, Adrian. I also was moved by Alice Neel.
Morgan, you mentioned Michaela Coel and her show, I May Destroy You. The Emmys were last weekend and at least in my circles, the big moment was Michaela Coel's speech after she won the award for outstanding writing in a limited series for that show. I want to play a little bit of that speech. Take a listen.
Michaela Coel: Write the tale that scares you, that makes you feel uncertain, that isn't comfortable. I dare you. In a world that entices us to browse through the lives of others to help us better determine how we feel about ourselves and to, in turn, feel the need to be constantly visible, for visibility these days seems to somehow equate to success, do not be afraid to disappear - from it, from us - for a while, and see what comes to you in the silence.
Kai Wright: I wonder what your reaction to that speech was. I was so moved by this idea that we need to be willing to disappear in a creative economy and capitalism period where it just puts such primacy on visibility and being constantly seen. As you point out earlier, if you do work and you don't have publicity, no one notices it. I just wonder what you as a creative thought about that speech.
Morgan Jerkins: Well, two things. I think that what she said about writing what scares you, I tell people that all the time. I tell people that all the time, and she is working in a tradition of many people, many writers that say that. If you are afraid of writing something, more than likely that is the thing that you're supposed to be writing because it's probably the most heartfelt and it's probably the most honest and probably the most heart-rending too.
To your point about disappearing. I think that in the age of digital media, that is so profound. Because social media, it's addicting. I admit it myself. There's so many times where myself and others want to reveal a lot about ourselves - our interior lives, our processes when it comes to creating our own work, the pitfalls and all that - and sometimes it's okay to not to share anything. It's okay to create this cocoon for ourselves that as we're still attempting to get to where we want to go, we just keep it private.
I think for her to say, hey, it's okay to disappear and be in the silence and find out what is going to meet you there, I think that that is extraordinary because of also what you just said. A lot of times, we're just taught to work, work, work. I think that's what's been inspiring for me about the pandemic is that many Americans and hopefully, many people around the world, are understanding that you cannot attach your personhood to labor and that grinding until you die is not exemplary. It's not something that should be replicated.
I think this idea of silence and disappearing and just cocooning oneself, especially during a time like this, is not only inspiring, but I think is necessary.
Kai Wright: I'm talking with Morgan Jerkins, novelist and Senior Culture Editor for The Undefeated. We'll take a break and come back to take more of your calls. We'll be right back.
[music]
Welcome back. I'm Kai Wright, and that is a shape note version of our theme song. Hat tip to our former producer, Jessica Miller, who was a shape note singer herself, and to composer Hannis Brown. I had never heard of a shape note. Anyway, pretty cool.
I'm talking with Morgan Jerkins, who is Senior Culture Editor for The Undefeated and author of two books, not one but two books in the course of the pandemic. Her most recent is the novel Caul Baby, which came out this spring, and we are taking your calls. Let's go to Laurie in Chelsea. Laurie, welcome to the show.
Laurie: Hi, thank you. Well, I read the book, The Sacred Path of the Warrior by Pema Chödrön, and I think I was searching for something. I really at the time between family issues and just what was going on when COVID started, and it changed my life because it brought me into some pretty heavy Buddhist studies, but I can't recommend it enough, The Sacred Path of the Warrior.
One, once you start talking about Buddhism about impermanence, which is something we all need to keep in mind about where we are right now is not where we're going to be even in the next second. Then this book was so strengthening about being a warrior and how you need to go through life as a warrior, and that pain exists and it's part of living the best life. That had a huge influence and changed my life.
Kai Wright: Thank you for that, Laurie. That's strong praise; it changed her life. Let's go to Mercedes in Forest Hills. Mercedes, welcome to the show.
Mercedes: Oh, hi, Kai. Good to talk to you.
Kai Wright: Good to talk to you.
Mercedes: I actually have been going to the theater a lot as Broadway reopens and we come out of quarantine. I went to see the opening night of American Utopia, and David Byrne said some things from the stage that then he went back and said that's from the original line, and it takes on a whole new meaning a year and a half later. Going to the theater now feels like a very communal experience. The audience is just so in the moment and this feeling of we're coming back. The house lights went down and everybody broke into applause. The curtain goes up and everybody goes nuts applauding.
I went to see Hadestown right after it opened, and it was right after Ida and so many lines took on a different meaning. Like when they start talking about the rain that never ends, and you could just feel this ripple of recognition going through the audience. When they made a toast about, here's to the world that we dream about and to the world as we live in it now, and it is a real sense of the audience having a recognition and a feeling. We're definitely looking at these works differently after the experience that we've had.
Kai Wright: Thank you for that, Mercedes. I also saw American Utopia, I actually streamed it over the course of the pandemic. It's funny. That's a show I probably would not have watched, but the pandemic had me at home looking for things to watch and it really blew up my heart, so I'm glad I watched it.
Morgan, what about theater? It is, as I'm suggesting there, one of my great joys as a New Yorker. There's much more to it than Broadway out there, but this is a historic Broadway season. There will be seven shows by Black playwrights. For perspective, folks, it is not at all uncommon for there to be zero such shows in a season. The show Pass Over written by Antoinette Nwandu was the first play to open on Broadway this season. It's gotten critical acclaim. Though it's going to have a short run, I believe, so you got to see it soon if you want to catch it.
I think you know the show and I think you know Antoinette Nwandu's work. What's she dealing with there that you would want to call attention to?
Morgan Jerkins: Well, I think the premise is eye-catching for me because it's about these two characters, their names are Moses and Kitch, and they're just chopping it up - well, I'll translate that to they're just talking [chuckles] - and they're thinking about plans and they're dreamers. Somebody sort of infiltrates their space and derails whatever it is they're conjuring up. I think that that's so interesting. I love stories about dreamers. I know that Antoinette has been working for a very long time, and so I think that all the critical claim that she's receiving and the spotlight are all well-deserved.
Kai Wright: Sort of on the other emotional end, I think, of those seven Black-written shows is Douglas Lyons' Chicken & Biscuits, which is going to be moving from off-Broadway. It's a feel-good comedy. I haven't seen it, but it's billed as a feel-good comedy and it's got a feel-good backstory as I understand it. Douglas Lyons apparently just pitched it a ton of times until a producer finally gave him a shot to move it to Broadway this season.
What about that show? Are you excited to see it or have you seen it? What are your thoughts on it?
Morgan Jerkins: I haven't seen it, but that's another one that the premise seems hilarious about family coming together in the wake of someone's death. There's Black films that deal with this and all types of high jinks occur. I'm thinking about the movie Kingdom Come. I don't know if you've seen it, but it came out years ago. I watched it. This is another movie I watched during the pandemic, and I could not get over how hilarious it was. It definitely was a balm to my soul, and I'm sure that Chicken & Biscuits will be a balm to other people as well.
Kai Wright: Yes, in this time. The thing about it I've heard a number of these writers say, or I've read some of these writers say that are coming out on Broadway this year, that it's also a hard moment, that it would be the hardest season in the history of Broadway, and this is the season when all of these Black playwrights get a shot. It begs the question of whether they're being set up for success or set up for failure. I just wanted to throw that to you and see what you think about it. Do we need to care about that?
Morgan Jerkins: Oh, yes. We need to watch each and every one of these shows closely. I'm not just saying watch them closely, as in watch all of them and then see what the reviews say. I think we have to be a little bit more surgical with regards to how these shows are being touted. For example, who is reviewing these shows? Are they all white people? The white people that review these shows, do they know Black people in their regular life?
Because my concern is that let's say, God forbid, all of these shows fail. Then it makes it that much harder for the next round of Black playwrights to get their spot on Broadway. It's not going to be because of this round of Black playwrights' fault, but because of the other systemic elements in place. That's not just with regards to funding and marketing and promotion, as we've mentioned earlier in the segment, but also with regards to who is reviewing Black art. Are Black people able to review Black art?
I just want to put it out there. That's not to say that white people can't critique Black art. We have to ask ourselves, for the white people that do critique Black art, do they consume Black art anywhere else in their life? Do they commune with other Black people in their regular lives in an intimate, non-transactional way?
I think that that is something that I'm going to be interested in knowing as these shows come out because I'm proud of each and every one of these people, but that's a lot of pressure for them and it's not just on them if these shows succeed or not. It takes a village and that not only applies to a child - although a lot of artists will metaphorically say that their work is their child - but it applies to things like this as well. Who's getting the shine? Who is critiquing these works? What is the promotion like for these particular works? That's how we really get the ball rolling and be able to gauge and assess these stories in their rightful context.
Kai Wright: Let's go to D'Mone in BedStuy. I think I pronounced that correctly. D'Mone, welcome to the show.
D'Mone: Hi, thank you so much. I just want to say that I agree so very much with the sentiments of your guest. I think that, yes, it is important that we as Black people that we look at things that mirror us, but I also want to say this: don't give me junk and say that I'm just going to watch it- quality stuff and I'm going to watch it.
The point that I called about was the show that I have been watching during the lockdown, I discovered Curb Your Enthusiasm. I have to tell you, it made me okay with being that old man, that old Black man on the street, on a block, who's, "Excuse me, pick this up," or, "Can you move your car because it's alternate street parking. I have a sycamore tree. All year long, it loses branches, it loses leaves. If you park there, that's just more for me to sweep up. How would you like it if I just took all these leaves and all this bark and put them in front of your door. Please move the car." "Sorry, you can't double-park right there because you're blocking somebody in."
So, it's absolutely fine. Thank you, and you enjoy the rest of your day. You guys stay safe and you stay healthy.
Kai Wright: Thank you so much for that. Larry David has helped him be his true self. What are you looking forward to? We've talked about TV a little bit, we've talked about theater. What about books? You're a writer. What are you looking forward to that's coming that you're eager to read, particularly thinking about stuff that's going to help us get through this next period together?
Morgan Jerkins: I have read Nobody's Magic by Destiny Birdsong, and it's a triptych of a book. It's three stories about albino Black women from Louisiana. The language is so rich. [chuckles] The language is rich. The way that Destiny describes the atmosphere, it's very visceral, and I loved it. I definitely just gobbled all of it up. That is a book that I'm looking forward to.
Another book is Another Appalachia by Neema Avashia, A-V-A-S-H-I-A. She is a queer Indian woman from - you guessed it - Appalachia. She writes about that part of society, which is oftentimes narrowed to deleterious stereotypes for those who are not from there, oftentimes overlooked. She broadens the scope, not only because of the identity and the body that she inhabits, but also the people that she interacts with, the ways in which her neighborhood has evolved over the years. Also, her political reckoning and moving away, coming back, all those sorts of things.
Those are two books that I'm looking forward to the rest of the public reading.
Kai Wright: We have about a minute left, Morgan. In terms of the takeaways for this fall season as things are coming down the pike, what do you think it's going to tell us about ourselves?
Morgan Jerkins: Oh, we have so much work to do. I think the hardest part for me, and I've spoken about it with friends, is that it's hard to stay soft. It's hard to stay compassionate. I think that's hard when you see over 600,000 American lives lost. It's hard to stay that way when politicians, other lawmakers fail and disappoint you. It's hard to stay soft and compassionate when you have things like the abortion ban in Texas. Or just the other day, I read there were teens from Missouri High School circulating a petition that asked for slavery to come back.
I think that as the weather cools down and we brace ourselves for what the Delta, or the Lambda, or the Gamma variant are going to do to us again as a society, I think that the challenge is going to be to remain soft and to remain compassionate and to remind ourselves that it's not about us and it never was about us. That individualism as fueled by capitalism failed us, and now we have to be a collective in order to imagine a new normal, not the normal that we were grinding towards before the pandemic.
Kai Wright: We'll have to leave it there. Morgan Jerkins is the Senior Culture Editor at ESPN's Undefeated, and her latest book is Caul Baby, which was released in April. So glad to have had you, Morgan, and thanks to everybody who called and tweeted at us. If you didn't get in, we'd still want to hear from you. Chime in. Send me a voice memo at anxiety@wnyc.org.
Up next, we're going to take a closer look at one TV show that really stuck to the bones of some of us who make this program. We'll talk with writer Ashley C. Ford about the HBO series Lovecraft Country. Stay with us.
[music] [advertisement]
[music]
Kai Wright: Welcome back. I'm Kai Wright. Last fall, we on this team were obsessed with the HBO show Lovecraft Country. It didn't win any Emmys, but it's back on our minds after the tragic death of Michael K. Williams. His character was, as always, a brilliantly tortured soul. For those who missed the show, it was a sci-fi horror series about a Black family in the middle 20th century that discovers literal monsters alongside the everyday white power monsters in their lives, and they have to summon magic in order to survive.
For our executive producer Veralyn Williams, the show was her escape route from the real-life horrors of 2020. HBO made a podcast to accompany the show that was called Lovecraft Country Radio, and it was hosted by the writer and thinker, Ashley C. Ford. Veralyn spoke with her at the end of the show's run and they talked about radical Black love, unapologetic anger, and real-life horror stories. Here's the conversation.
Ashley C. Ford: You have to think about the fact that the first film ever screened at the White House was Birth of a Nation. Horror and racism and the indomitable spirit are baked into the foundation of what America is. Right now as we try to figure out what the soul of the United States of America, what the soul of that is, what it looks like in the daylight without the cover of night when we bring these monsters and these horrors in to view, what do we see? How big are they? How scary are they? Can we beat them? Are we going to do it? Are we going to make it? Is the nightmare over? Is the nightmare just beginning? Is there a sequel? Only the future can tell. All of those questions are up for debate right now, just as they would be in any good plot of any good horror movie.
Veralyn Williams: You've described yourself as a horror enthusiast and you've tweeted in the past about wanting to write your own horror movie. Where does your relationship with the genre and horror come from?
Ashley C. Ford: Horror was a really great place to learn how to process fear. Because it becomes very apparent to you when you're a kid who likes horror that you're either going to have to stop watching this stuff, or you're going to have to figure out what to do with your fear and where to put it so that it doesn't sit on top of you and keep you up all night. I think even before I could really verbalize it, something in me realized I was learning something from horror emotionally. I was learning how to do something with my fear.
Veralyn Williams: Was this modeled for you on any level?
Ashley C. Ford: When I lived in Missouri with my grandmother for a year, we went to the movies every Saturday. We used to sit through the credits because she wanted to read all the credits after a movie finished, and you start to realize like, oh, yes, people make this. They don't go out and film it as it's happening and then make a movie out of it. It's like somebody came up with an idea, somebody created this monster, a makeup artist came in and turned the person into a monster using makeup and movie magic, and stuff like that.
Just the dissection of what was happening there, you can't be super scared of a monster when you see them sitting in the makeup chair and getting their makeup done and stuff like that. I think that that's what my grandmother modeled for me was like, this is all story. This is all art. It makes you feel a certain way, but if you stick around long enough, you get to see that it's made up of many, many pieces and not just some great source of evil. [chuckles]
Veralyn Williams: In the world of Lovecraft, there are many terrifying monsters we've seen in horror movies forever; ghosts, witches/wizards, giant, bug-eyed, vampire-adjacent, carnivorous, four-legged creatures. [chuckles]
Ashley C. Ford: Oh, yes.
Veralyn Williams: And police officers, right? In 2020, anyone living at the intersection of any combination of race, class, gender, immigration status, on and on, are living with the same undeniable fear that the main characters in Lovecraft are grappling with. As someone, you, who is living at the intersection of a few of these things yourself, what's been your experience watching it and working on Lovecraft Radio?
Ashley C. Ford: [chuckles] There's more intersections than you would even know, like as a Black woman, as an artist, as a person in this country right now, as a person who has both police officers and felons in her family. You know what I mean? Direct relations. What this show has done for me that I think a lot of people have appreciated well beyond me is that it has never pretended that you won't be dealing with all those things at the same time and those things that we should be focused on are never ending. There's always something we're not talking enough about. There's always something falling through the cracks. There's always something missing. The truth is that, that's real. That is the absolute truth. Just like we see with Dee in Episode 8 of Lovecraft Country.
[snippet Lovecraft Country, Episode 8]
Diana: Leti, where's Tig?
Leti: I don't know.
Diana: When is he coming back?
Leti: I don't know, Diana. Go inside. Call your uncle. Tell him you're here.
Diana: Wait.
[ominous music]
Diana: [tremulous] Leti?
Leti: What?
Diana: Behind you, there's, there's-- [choking]
Leti: You okay?
[end of snippet]
Ashley C. Ford: That's one of my favorite episodes because it shows that we're losing things through the cracks. We're losing people, we're losing lives, we're losing kids, we're losing hope, we're losing faith all the time. At the same time, we're moving towards something new and different. We're always being pulled toward the future, whatever the future may be. We do get to set some intention in what we want that future to look like, and we do get to decide just enough in our days to decide what kind of person we want to be in that future, even when that's really, really, really hard to remember.
Veralyn Williams: Then also at a time where it feels like life keeps happening to us, would you agree that Lovecraft Country is a reminder that we do have power?
Ashley C. Ford: Yes. This show is constantly making me think about power. It's constantly making me think about the little bit of power I have and the responsibility that I have because of that power. Because if there's one thing this show has shown me as much as the world has shown it to me over the course of my life, it's that the problem is not always that there is power. The problem is that we have limited definitions of power. We only think of power over and not power to or shared power.
Veralyn Williams: Thinking about magic as a metaphor for power, as Lovecraft has set up, why is magic useful? Why is magic and quite frankly, why is horror useful for thinking about all of this?
Ashley C. Ford: I think horror is useful because horror is essentially about hope and the indomitable human spirit. Because when you watch a horror film, what makes it interesting is the idea that somebody might make it to the end, at least one person might make it to the end. If they don't, still a horror film, but the reason you watched it was to see if they were going to make it.
You have to be cognizant, I think, at all times of the fact that white supremacy, if you want to go there-- And white supremacy really is the biggest monster.
Veralyn Williams: The lie of white supremacy.
Ashley C. Ford: Yes. Even the people it affects, it infects. Growing up in that environment, some of it is there in you. You have been taught and corrected in the ways of white supremacy. You absolutely have. This show is not just about what it does to you to be affected by it and infected by it. It also talks about the ways that you can try to use it, and it backfires or it works because we are still having the conversation long after the question has been asked, whether or not the master's tools will dismantle the master's house. Will they? Will they really? We have to keep asking ourselves.
Veralyn Williams: So far, I feel like the answer is no. How do you think about that for your own life?
Ashley C. Ford: The master's tools, I do not think will dismantle the master's house, but I do think that what is left of the master's house may be useful. Maybe there's something in the rubble and it is going to have to be transformed and re-imagined. Sometimes I think that. Other times I think, burn it all down and sweep it all out the door, never look back. We're just going to clean slate, start something new and go forward.
I don't think you can do that. You can't clean slate. We carry so much already in our blood, and in our histories, and the stories we tell each other about the world versus the stories that are true about the world, our identities. There's so much there that people have to be able to deal with, and nobody really wants to hear that. People don't really want to hear that not being able to deal with something emotionally actually affects their lives.
Veralyn Williams: There's a way in which even in Lovecraft and in our own lives, our families have made so many sacrifices for us, so that they're not living their full lives for us for our future, and now we're in the future making sacrifices. [chuckles] When do we get to just cash in? When do we just get to be the fulfillment of the sacrifice?
Ashley C. Ford: I don't know when we get that. That's the hard thing is that I truly believe that the worst thing that happens to children are the unlived lives of their parents, and they have been handed down the unlived lives of their parents who were handed down the unlived lives of their parents, and that's just not how we were made to survive or thrive. It's not.
Veralyn Williams: How did you get to that understanding? Where does your deep understanding of that come from?
Ashley C. Ford: None of it worked. I know what it's like to be a workaholic. I know what it's like to be a person who is on their hustle and on their grind constantly, who comes from nothing and is just trying to be a good person while reaching, reaching, reaching for something better for themselves whenever they can. Trying to snatch a little piece of happiness. Thinking that sleep is for weak people, thinking that needing love is for weak people, all of those things. I know what it's like to be the person who hardcore goes, feelings shouldn't matter. How can feelings matter when you need to survive? Lo and behold, they kept mattering. They kept affecting me.
There were times when the difference between me being able to eat or not eat was whether or not I got up and out of a depression and got myself to a job that I hated, and I couldn't do it. I didn't think it was real that you could be that sad, you could be that hurt, you could be that traumatized, that you lost- what felt like lost control of your will. I didn't think it was real until it happened to me because nobody around me ever affirmed in any way that that could be real.
Everyone around me made me think that if you could in any way be affected by your feelings that strongly, something was wrong with you. I tried five million different ways to pull myself up by my bootstraps, and it didn't work until I started taking care of myself and realizing that my feelings were not obstacles to my productivity. They were information about who I was and what I wanted.
Veralyn Williams: One thing I've been saying a lot in this 2020 racial pandemic, COVID, is that I have to actively choose joy for my survival. I have to actively. I think when I say that on social media #choosejoy, some people might look at it and roll their eyes and be like, "Okay, good for you," but it's like, "No, it doesn't mean that it's easy." [chuckles] Literally, it's hard for me to get out of bed. Then I think about something that brings me joy, and then I'm like, "Okay, let's do it." It's a choice.
Ashley C. Ford: Yes, but a lot of people-- And I understand because I was the same way. A lot of people are not in a position where they even really have the access or the resources to make that choice. To be able to really practice cultivating joy for yourself, I think of it as necessary. I think of it as incredibly healing-
Veralyn Williams: So necessary, yes.
Ashley C. Ford: -but I am so aware of the privilege I have in being able to even engage in the practice of it. Because I grew up around people who where would they have had the time, space, or energy to practice cultivating joy. What? What does that even mean? I try to be really respectful. I'm never telling people, "If you got problems, it's your fault because really you should get some therapy, you should start meditating, and you got to start cultivating some joy in your life." I'm not telling people that because I don't know their life. I don't know what they have.
I know that if you have the time and space and you can do it, if you have what you need to invest in yourself in that way, I really hope you go for it. I don't hope you go for it because I'm like, "You should do that." I hope you go for it because it feels great, eventually. If you're really in the practice of it, eventually - and you know this - it feels so good when you feel bad and you know what you need to feel better.
This is the time, I think, of great intention. If you have the time and the will to gather you some intention and point it in the right direction, now is the time to do that. That power, that magic is everywhere right now. It is in the air, and we see it. We see the evidence of how quickly things can change. We see the evidence of when we've built up these invisible institutions and systems that we think to ourselves, "That's the way it's got to be," and somebody came in and just said, "I'm not doing that," and now that's not the way it is.
You know what that creates? A little bit of magic. Not because it was the right thing to do, don't get me wrong, but because what it does is it plants a seed of imagination. The potential to plant a seed of imagination is there. You can do two things with finding out the world is not the way you thought it was: you can despair or you can imagine. I think this is a great time of imagination.
[music]
Kai Wright: United States of Anxiety is a production of WNYC Studios. Mixing and music by Jared Paul. Kevin Bristow and Milton Ruiz were at the boards for the live show. Our team also includes, Emily Botein, Regina de Heer, Karen Frillmann, and Kousha Navidar. Our theme music was written by Hannis Brown and performed by the Outer Borough Brass Band. This is the final episode in which I can say Veralyn Williams is our executive producer. Veralyn is moving on to greener pastures, and we will deeply, deeply miss her.
And I, I'm Kai Wright. You can keep in touch with me on Twitter @kai_wright, or send me a voice memo by email at anxiety@wnyc.org. As always, join us for the live show next Sunday, 6:00 PM Eastern. Stream it at wnyc.org, or tell your smart speaker to play WNYC. Until then, thanks for listening and take care of yourselves.
[music]
Copyright © 2021 New York Public Radio. All rights reserved. Visit our website terms of use at www.wnyc.org for further information.
New York Public Radio transcripts are created on a rush deadline, often by contractors. This text may not be in its final form and may be updated or revised in the future. Accuracy and availability may vary. The authoritative record of New York Public Radio's programming is the audio record.