The American Story, in a Single Day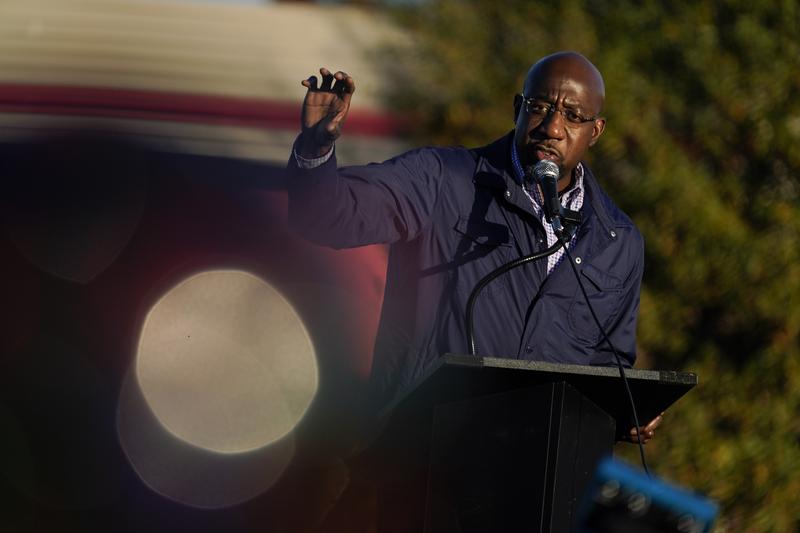 Transcript
Kai Wright: This is the United States of Anxiety, a show about the unfinished business of our history and its grip on our future.
Vladimir Duthiers: Democrats swept the Senate races in the traditionally red state of Georgia, Raphael Warnock and Jon Ossoff's victories mean that the Democrats will take control of the Senate.
Jon Sopel: The peaceful transfer of power, the cornerstone of American democracy seemed a highly-abstract concept today as Trump supporters clashed with police as they tried - and succeeded - to storm the Congress.
[crowds shouts]
President Elect Joe Biden: Threatening the safety of duly elected officials is not protest, it's insurrection.
Dr. Brittany Cooper: I don't want to hear about healing. I don't want to hear about putting the country back together again. All I want to hear about right now is accountability.
Joy Reid: In their minds, they own this country, they own that Capitol. They own the cops, the cops work for them, and people like me have no damn right to try to elect a president.
[music ends]
Kai: Welcome to the show. I'm Kai Wright. This is a special national broadcast of our show, so welcome to all the new folks around the country joining us for the first time. We broadcast from New York City each Sunday, and generally, we're asking what does it take to really make our democracy and our society reflect the remarkable ideas in our constitution?
We talk a lot about the ghosts of our history, how they remain close and present in our politics today, but rarely have we had such a stark example as the events of January 6, 2021. We're going to talk through that day with history in our minds tonight and we'll take your calls all throughout the hour and I'll be laying out a series of questions for you, so hold tight on that. First I'm joined by my friend and colleague, Christina Greer. Christina, hey?
Christina Greer: Hi there. Kai, how are you?
Kai: I am good. Christina is a political scientist at Fordham University and an author of Black Ethnics: Race, Immigration, and the Pursuit of the American Dream. She's also co-host of the politics podcast 'What's in it For Us' amongst many other shows.
The point is, Christina is out here in these streets trying to help us understand these crazy political times in which we live, and I've invited her to join me tonight because she spent so much time studying how Black people, in particular, have fought for political representation in this democracy and how we had to battle both major parties to get it.
Christina, just to help people understand where you're coming from, how long have you been doing this work? Where did you get started in this?
Christina: Without revealing my age, I've been at Fordham for over a decade and I got my PhD at Columbia, but I study race in cities primarily, and I'm fundamentally interested in how Black people can truly ever become citizens in this nation as someone who is descendants of US chattel slavery.
These questions to me don't seem as though they're easily answered and the complexities of what it means to be a person of color, but explicitly a Black person in this country, going from the presidency of Obama to the presidency of Donald Trump has made it very difficult these past few years to look at my fellow Americans and see just how many do not believe that people who look like me or you will ever, or should ever be full citizens in this nation.
Kai: It's where we're fundamentally talking about citizenship here, so that's where Christina's coming from. Let's talk about Wednesday, January 6th, and I want to begin first thing in the morning and talk our way through the evening because to me, it was like watching a hyper condensed version of the American story play out on TV in a single day. It began in the small hours not long after midnight, Raphael Warnock became the presumptive winner of his race in Georgia, making him just the 11th Black person ever elected to the US Senate.
Later that day, Jon Ossoff would also become the first Jewish American elected from Georgia and the first millennial, by the way, in the Senate from anywhere. If it's at all possible to set aside partisanship for just a moment, these are huge developments in American history and they've been overshadowed. In this first segment, I want to linger there and I want to hear from listeners in the South, in particular.
If you're in the South or maybe like me, your family has Southern roots, what do these races mean to you personally if anything? Georgia, I know we have you in the house. Georgians, what about you? What did this election mean to you? 844 745-8255. Let me play a bit of what Raphael Warnock said in a video he posted in the wee hours of that morning.
Raphael Warnock: My roots are planted deeply in Georgia soil, a child who grew up in the Katyn homes housing projects of Savannah, Georgia, number 11 out of 12 children.
Kai: Then this next part, this is the part that got a lot of people. He went on to reference his mom
Raphael: Used to pick somebody else's cotton, but the other day, because this is America, the 82-year-old hands that used to pick somebody else's cotton went to the polls and picked her youngest son to be a United States Senator. I come before you tonight as a man who knows that the improbable journey that led me to this place in this historic moment in America could only happen here.
Kai: Christina, listening to that, watching that election that night and particularly given what you've just said about how you came to this work, thinking about just the fact of Black citizenship even, what did this election mean to you in your mind? With everything you've studied, learning about Black political power and representation, what do you think it meant when you heard Warnock's speech?
Christina: The combination of so much work by so many different people, but let's be clear by Black women, in particular, and the US South, following a tradition of people like Fannie Lou Hamer organizing into not just grassroots organizing, but the translation into electoral politics.
Also, honestly, Kai, the fact that when soon Senator Reverend Dr. Warnock, I'm not chooser of the order, but when he talks about his mother's 82, we have to remember that Emmett Till from the city of Chicago who was murdered brutally, had he been alive today, he'd only be 80 years old.
Ruby Bridges who integrated the Louisiana school system, she's only 66 years old. The past is actually not that far in the past. My parents went to segregated schools and my father integrated his high school.
The history of anti-Black racism and white supremacy in this nation is not something from 400 years ago, this is something in many ways that's 40 or 50 years ago for so many Black people and so many communities across this country. To see the organizing efforts of so many people in Georgia to produce, not just Reverend Warnock, Senator-elect Warnock, but also Senator Ossoff, who's Jewish American, lets us know that yes, there has been great progress that has been made.
I will never deny that in this nation, but there's still so far we have to go because it's not like these were landslide victories. It's not like Georgia is permanently blue, it's still very tentatively purple. We also have to remember that as we celebrated the blue peach of Georgia in the morning of Wednesday, January 6th, just a few hours later, we see the storming and insurrection of our Capitol where people are desecrating one of the most hallow buildings in our nation.
Kai: Let me stop on that because we're going to stay in the morning right now. We're going to stay in this victory and this question and what it means, we'll move later into later in the day. Let's start with Anne in Atlanta, Georgia. Anne, welcome to the show.
Anne: Thanks for taking my call. I'm a millennial and I did vote for Ossoff and the Warnock in the runoff and in general. I'm really proud that my generation is finally having a voice in the Senate. That's a huge deal. Also having our first Black Georgia Senator with our Reverend Warnock. It can't be overshadowed by what happened later on this day. That's a huge deal to finally feel represented.
Kai: There in Atlanta, in general, what is the mood you think around this election? Are people still focused on it or have they moved into the terror around what happened at the Capitol?
Anne: It depends. I think I'm in Atlanta, it's really in the South suburbs and then, Griffin, Georgia and it's a lot more red, the farther you get out from the Metro and a lot of the community pages on Facebook, a lot of them face that and so on, and are just throwing huge big think about it, but mostly the farther out you get from Atlanta, the more the white are keeping to themselves, they aren't really feeling the anxiety that comes with this questioning of Blackness.
Kai: Thanks for that, Anne. Speaking of the-- You mentioned earlier, Christina, the organizing that went into this and thinking about those suburbs versus the city itself, what did this mean for the Democratic Party because the party is now patting itself on the back about this victory and everything that happened in Georgia, but that embraces a bit after the fact, isn't it? You and I have talked about this for a while about the way Black political organizers have really struggled to get the Democratic Party's attention. Can you explain that history?
Christina: I've been highly critical of Tom Perez and his lack of organization these past few years. The victories we have seen are, by and large, because grassroots organizers on the ground have been doing the work despite the fact that the Democratic Party is in the state.
There's so many states that the Democratic Party seceded to Republicans, where if they focused on really thinking critically about how they can talk to specifically Black voters about policy issues that are of great importance to them and help build the infrastructure to counteract voter suppression and voter disenfranchisement, then maybe they could see some wins.
We also have to recognize though that the win in Georgia is years in the making. This is Stacey Abrams and several other organizations in conjunction with verified action, moving forward to make this happen.
We also have to remember fair fight was in Nevada, Arizona, Michigan, and Wisconsin for the past few years, making sure that they worked with local grassroots organizers and activists something that, by and large, Tom Perez was not a leader of.
I think as we move forward, we need to make sure that whoever is looking at the DNC has an old school, 1984, Jesse Jackson, 50 state strategy to really utilize the big D Democratic votes that are in each and every one of these states to really start turning some of these states blue.
Kai: In 30 seconds, before I have to take a break, is this going to happen anywhere else in the South? Are you looking at anywhere else in the South where this might unfold?
Christina: Listen, Mississippi has the second-largest percentage-wise Black population in the entire United States. I don't understand why we would see Mississippi or a place like Alabama to be quite honest.
If we start thinking about the voter disenfranchisement, I think first things first, now that the Democrats have the Senate, we have to pass, the John Lewis Voting Rights Act. We have to make sure that the Voting Rights Act of 1965 has those preclearances put back in so that we can actually make sure that all voters, not just Democratic voters, but all voters are not disenfranchised.
Kai: So there is really a democracy issue in the end. This is a special national broadcast of the United States of Anxiety from WNYC in New York. I'm Kai Wright and I'm talking with Fordham University, Political Scientist, Christina Greer about the events of January 6th. We'll continue our conversation and take more of your calls after a short break. You can reach us at 844 745-talk, that's 844 745-8255 and we will be right back.
[music]
Kai: Welcome back. This is a special national broadcast of the United States of Anxiety from WNYC in New York. I'm Kai Wright and I'm talking with Fordham University, Political Scientist, Christina Greer about the events of January 6th.
The day in which I personally felt like I was watching this hyper condensed version of the whole American political story play out in front of you on television. So far, we focused on the morning, a time when Raphael Warnock made history as a Black man and faith leader elected to the US Senate from Georgia. Jon Ossoff would also make history later in that day as the first millennial elected in the Senate, not to mention as a Jewish American elected from Georgia.
We're taking your calls. I think we've got time to sneak in one more before we have to move on to the next subject. Christina, I'm going to go straight to Alissa in Decatur, Georgia Alissa. Welcome to the show.
Alissa: Hi, thanks for having me.
Kai: Thanks for calling. What did this election mean to you, Alissa when you were watching it?
Alissa: We were first off very, very excited to see Georgia vote blue because we mainly, we grew up as young millennials in Gwinnett, when it was very red, especially to see the gerrymandering that went on after the 2010 census.
It was really great for us and we're really happy to see Georgia turn blue, especially considering we live close to where Stacey Abrams, her stomping ground is and when we voted for her in 2018, we were very disappointed that she didn't win, but we saw her efforts in the following two years and we're very happy to see that her efforts paid off and Georgia voted on the right side of history this year.
Kai: I understand from our call center that you identify as a former conservative?
Alissa: Yes, I do.
Kai: Can you tell me about that? What is the former part?
Alissa: That really just came more from my perspective growing up in Gwinnett. Where I grew up, my family and my friends were also pretty conservative, but my partner and I both went to college in Atlanta and just due to the different perspectives we were able to see there, I also have a degree in religious studies. It helped me realize that there are many different ways to live life and that obviously my views probably weren't the only ones out there. I became more liberal when I started to focus my efforts more on humanitarian perspectives.
Kai: Got it. Thanks for calling in, Alissa. I appreciate that testimony.
Alissa: Thank you. I'm very excited. Thanks for broadcasting.
Kai: Christina, all of this is the morning, we're hearing from you, we're hearing from callers in Atlanta about the way in which this particular vote was so meaningful to people. That was the morning, and then we moved into the afternoon.
We had shaken up history and as has often happened in our history, when we have these big moments of forward progress, particularly on racial justice, there is often an immediate backlash. Before we talk about what happened at the Capitol, just to bring people into that moment, I want to play just some of the sounds of that scene that emerged from the rally and the mob outside the Capitol that afternoon.
Protester 1: Let's have trial by combat.
Protester 2: He just said, trial by combat. I'm ready. I'm ready.
[shouts]
Protester 3: The Supreme Court's not helping us. No one's helping us. Only us can help us, only we can do it. We broke down the barriers and we rushed them. We charged them, we got all the way to the steps. They made a line, so we stood there and we tried to push them back a little bit until finally, they started getting rough with us. We got push them back.
Protester 4: We're not here to cause violence but we're here to take our country back, get up there, feel some freedom, so you can go home and you can tell them, you sat on the steps of Congress.
Protester 5: Thank you.
Protester 6: Are you okay?
Protester 7: Get some milk in your eyes.
[crosstalk]
Protester 4: They maced me. They pushed me out and they maced me-- [crosstalk]
Protester 8: They are very cool. They're like, "Hey, guys, have a good night." With some of them, it's just crazy. It's really weird. You can see that some of them are on our side.
Protester 9: Hold the line, Patriots. Hold the line. National Guard is on their way.
Kai: Those are some of the sounds we've been hearing in the media from CNN, the New York Times coverage of that afternoon. As we talk about this part of the day, I want to ask you to help us think about the policing itself, which has really emerged as a flashpoint here.
It was shocking to many how easily the insurrectionists entered the Capitol and exited the Capitol, particularly given the war zone like response to Black Lives Matter protests outside of the Capitol this summer.
If you've been at a protest at the Capitol in particular, but really anywhere last summer, I'd love to hear your reflections on what you experienced versus what you saw on TV Wednesday, whatever that reflection is. We're at 844 745-8255.
We've also reached out to newly elected congressman, Jamaal Bowman. He was sworn in just three days before the breach at the Capitol. Much as with the Georgia elections we talked about earlier in the show, representative Bowman's campaign was very much a challenge to the Democratic Party establishment here in New York, because his campaign was talked about here as a sequel to that of Alexandria Ocasio Cortez in that he defeated a very well-established incumbent in the Democratic primary and now he represents parts of the Bronx and Westchester. Representative Bowman, thanks for calling in.
Rep. Jamaal Bowman: Of course, thank you so much for having me.
Kai: On this question of policing, you drafting legislation to create a commission to investigate the Capitol police response. Specifically, as I gather, you're asking whether the department has been infiltrated by white nationalists. I think some would hear that and say, "Wow, that's a big statement," but why do you feel like you have a reason to ask this question?
Bowman: For a few reasons, first of all, we have FBI data that shows very clearly that police departments across the country have in fact been infiltrated by white supremacists. That is data-driven, that is fact across this country. Why would Capitol police be exempt from that? It's important for us to look into that and get to the bottom of that.
More specifically as we look at the events of Wednesday, a few questions come to mind, a few very important questions. Number one, why was Capitol police so ill-prepared in terms of numbers for the protests that we knew were going to take place. We know how Trump's protests usually go. They're usually very well attended and they usually turn violent.
As a matter of fact, several weeks ago during our orientation, there was a pro-Trump rally that led to some violence. We know the rallies are well attended. We know they have a tendency to be violent, why didn't we have the personnel in place to provide the resistance and the protection of the Capitol? That's number one.
Number two, there are multiple pieces of evidence that shows-- First, let me just say, there are many Capitol police officers who were there who fought back hard against the terrorists who attacked the Capitol on Wednesday, many resisted as much as they could, many fought back and many protected us.
Then there were others who seem to just allow the terrorists to walk right in and invited them into the Capitol. There were some who were fraternizing with them, some who were taking pictures with them. It just leads to the question of, why was there such a friendly relationship with some members of Capitol police and the protestors?
Then finally, when you look at the Chief of Capitol Police and the Sergeant in arms who have both recently resigned since Wednesday, they both provided false or misleading information to members of Congress leading up to Wednesday's protests. They shared a briefing with members of Congress around the amount of police that were going to be there, how they were going to engage the protestors, how they were going to communicate, none of those things happened. Then a couple of days later they resigned.
A lot of unanswered questions. We need to investigate what the heck happened, but we need to specifically look at relationships to white supremacy groups, sympathizers towards white supremacy groups, and even participation in terms of white supremacy groups. There's a lot of things to look at there.
Kai: Can you tell us anything about how Congress has been briefed on this thus far in terms of why the police weren't prepared for this attack?
Bowman: Here's the other thing, Congress hasn't been briefed at all. I have yet to receive a security briefing from the Sergeant in Arms, from the Chief of Capitol Police, from the police board, from leadership in the Democratic Party. We have not received security briefings. We did not receive an explanation as to what the heck happened.
We do not, or have not received an explanation as to how we're preparing for inauguration, and then how we're going to prepare going forward because as we know, Trump has fanned the flames of white supremacy, but he did not create it. After we deal with Trump and after he's out of office, we're still going to have to deal with this issue of domestic terrorism and white nationalism.
Kai: Let's go to Nick in Atlanta, Georgia, Nick, welcome to the show.
Nick: Hi, how are you doing?
Kai: Very good. How are you? I gather you were at a protest the same day?
Nick: Yes, I was at a protest that evening in Atlanta and we were protesting the decision to not convict Jacob Blake's Killer or to not even send it to a trial. I mean, not killer, but the officer who shot him. When we started, we started after about five minutes of walking, they arrested all the MeToo protestors except for maybe two or three. It only took them five minutes and I thought that was funny given that it took five hours to not even arrest the protestors or the rioters at the Capitol, but just to let them walk off back to their homes and their hotels.
Kai: Thank you for that, Nick.
Bowman: That brings up another point and another reason why we introduced our bill because Capitol police there's a disproportionality issue and a disparity issue. They've had many complaints against them regarding their treatment of Black and brown protesters and protesters who are disabled. There's data that shows the killing of Black women. Again, the hyper aggression towards BLM protesters throughout the summer versus what we saw on Wednesday.
Again, limited man and woman power, limited person power, limited resistance, fraternizing and similar to what we see across the country in terms of how police engage with different communities depending upon their race and/or economic status.
Kai: Was there any discussion-- Go ahead. Go ahead, Christina.
Christina: I was just going to second what the newly elected congressman just said, but I also think that what was so frustrating is to hear so many of congressman Bowman's colleagues say, "This is not who we are," and so many people who have been protesting all summer due to the racial inequities that Black people face in this nation- We saw Dylann Roof get Burger King before he was taken in, not a scratch on him.
We saw the arrests after this insurrection, so many people were able to fly home before they were even peacefully arrested. When people over the summer with Black Lives Matter protests who are literally just asking police officers where they would like them to protest, what they would like them to do, they are physically roughed up. Many of them are suing various police departments across the country because of this abuse that they suffered.
It raises really large questions and New York City needs to get to the bottom of it as well, is how many retired and off-duty police officers from across the country were actually at these protests as well? Because many Black police officers who have started to speak out about what they experienced said that their colleagues were flashing badges, not in support, but as protestors and participants.
These are larger questions that so many Americans who do not believe in the theories of Donald Trump and his supporters want to have answered in an official way, and we cannot brush this under the rug for fear that it will linger in our Democratic Republic.
Kai: There was reports of officers flashing badges. There was, at least, one on Buzzfeed, Buzzfeed news reported that they talked to two officers there who saw the officers flash their badges.
Representative Bowman, on this question of whether this represents America, you posted a video to Twitter a couple of days ago, responding to this idea that people have said, what we saw at the Capitol was not America. You said this is absolutely who we are.
Do you want to explain what you meant by that and I guess also thinking about that in light of the fact of your own election, I mean, you have been elected to Congress, Raphael Warnock was elected, Kamala Harris is president-elect. What did you mean by that?
Bowman: We wouldn't be on this land if it weren't for indigenous genocide, facilitated by the colonialists, the original insurgents from Europe. We wouldn't even be here. We wouldn't have the wealth that we have if it wasn't for chattel enslavement. We have a history of terror, of lynching, of Jim Crow, of mass incarceration.
America's history is violent and bloody. Then to speak about recent events, we talked about the disparities. There were Black Lives Matter peaceful protestors being thrown in unmarked vans and we had no idea where they were being taken.
This is America and it's always been and that's why it's time for Congress to recognize. We have to recognize the truth of who we are and by Congress, I mean, my colleagues on the Hill, and you can't tell stories of American exceptionalism without telling stories of American genocide and enslavement and so on and so forth.
It's time for truth and healing and moving forward, but we have to look ourselves in the mirror as a congressional body to acknowledge who we are, and then hopefully move forward. I often ask, as I'm listening to these speeches on the house floor, I'm like, "Have you ever been to the Bronx? Have you ever been to East St. Louis? H ave you ever been to Watts? Have you been to the urban ghetto? What are you talking about?" This is who we are. Is exactly who we are.
Kai: Representative Jamaal Bowman is a newly elected member of Congress from New York 16th District. He upset a 16 term incumbent in the Democratic primary last year. Thanks for joining us, Congressman.
Bowman: Thank you, sir.
Kai: This is a special national broadcast of the United States of Anxiety from WNYC in New York. I'm Kai Wright and we're walking through the events of January 6, 2021, a day in which the whole of Americans' political story seem to just be playing itself out on TV. After a short break, we'll talk about what comes next and take more of your calls, 844 745-8255. That's 844 745-talk. We'll be right back.
[music]
Kai: Hey, this is Kai. Just a quick program note here. When we started making this show back in 2016, we were just trying to bring context to that wild campaign season and particularly the history that we all carried into it. Initially, we figured we'd stop after that election, but obviously, there was a lot more to chew on. Which is just to say, if you're new to the show, there are tons of episodes here that I hope you'll check out. We've taken snapshots of the political culture.
Snapshot 1: It's not right. I'm sorry. I feel bad for people that are oppressed and I mean oppressed, but if we got to take care of our own too.
Snapshot 2: We've asked how power is really built in a democracy.
Snapshot 3: I don't believe that demography is destiny. I think demography is a pathway, but it takes work, and we are the first campaign in the deep South to put in the work.
Kai: We've just mined all kinds of history in an effort to put America on the couch, to understand how we got here as a country and where we're going. I urge you to dig around in the archives. It is all still relevant. If you hear something that raises new questions for you and you want us to follow up on that, hit me up, email me at anxiety@wnyc.org, and maybe we'll take you up on it. Thanks so much.
[music]
Kai: Welcome back. This is a special national broadcast of the United States of Anxiety from WNYC in New York. I'm Kai Wright, and we are walking through the events of January 6th, 2021 with history in mind. It just felt like to me watching what was unfolding that day, that we started with this wonderful moment in the morning, setting partisanship aside. This evolution of the 11th Black person ever in history to the United States Senate, a political revolution in Georgia that shocked both political parties, both Republicans and Democrats led by Black political organizing.
Then by afternoon, an insurrection at the Capitol led by white nationalists, as it has been reported, which just feels like the American story back and forth for hundreds of years. I'm joined by Fordham University political scientist, Christina Greer, and Christina, on that point, on this back and forth, you studied Black political representation in the effort to get Black political representation over the years, help me understand that back and forth.
First off, do you agree with that as the American story that you see these big steps forward for multiracial democracy and they are always met by such violent response? Is that fair, and if so, why?
Christina: I think that's a fair assessment. I think that as I've said many times on this program and others, we are a country predicated on white supremacy, anti-Black racism, patriarchy, and a type of racialized capitalism, all perfectly encapsulated in the current president for the next 10 days.
Each time we've seen progress for Black people in this nation, there has been a swift and strong, and indeliberate backlash. When we think about the emancipation proclamation, which was an executive order, wasn't a bill. The backlash after the reconstruction periods followed by Jim Crow with some of the most cruel state sanction, we have to remember these were illegal ways that whites were able to subjugate Black people in almost every facet of their lives, whether it's education, housing, the military, GI bill benefits, the environment, public health, the list can go on and on.
When we think about the gains that we had in '64 from the Civil Rights Act and then the subsequent Voting Rights Act and Immigration Act of 1965, if we look at those three acts as a triumphant, the systemic dismantling of those three acts together over the last 55 years has been deliberate and explicit, primarily by members of the Republican Party with Nixon, with Reagan and most recently with Donald Trump and his administration, to make sure that the rights and protections for people of color, but more specifically Black people, because we say people of color quite a bit, but we have to remember that there is a very explicit anti-Black racism that is embedded into the soil of this nation.
As representative Bowman mentioned, the descendants of US chattel slavery, and it is very particular to Black people and how we are even in cities, what cities we are in, the movement of Black bodies has been a part of a larger backlash in many ways of a white democratic, small d democratic project.
Keeping that in mind, when we even think about going from a President Obama to a President Trump, that is not just a random coincidence. That is a way that many white Americans oftentimes punish their fellow Americans, Black Americans in particular because of the ways that we try and incorporate ourselves into civil society and try and capture the full breadth and depth of our citizenship.
Kai: I want to get to what we do with all of that as individuals and as a country here in a minute, but first, let me take another. Yacob in Manhattan. Yacob, welcome to the show.
Yacob: Hi, good evening to you both. I don't know how much time I have, so I will speak quickly. It's Yacob, Hebrew for Jacob. I am Jewish, obviously from the name. I am not white, I'm not a Republican, and yet I am a dissident in terms of the reigning sociopolitical system and narrative that is broadcast in general in the country lately, and in particular on this program.
I find that it is putting me and others like me in severe danger. What I mean specifically, again, limited for time, is while there were certainly those at the Capitol who could be, I guess, described as insurrectionists, the vast majority of the people were peaceful and we've seen almost a year now of insurrection from the other side. The federal courthouse in Portland has been under siege.
The white house was under siege, people have been killed, zones of cities have been taken over. There've been buildings burned, et cetera, et cetera. We all know what's going on, but you're ignoring it. I think that this is very, very dangerous. It's inciting a civil war and as a minority in this country, I feel that it's putting me, my family, and my community members in extreme danger, because we are going to be blamed and the double standard, the political operation, as opposed to news and intellectually honest dialogue is quite deranged.
Kai: Let me thank you for that Yacob. Christina, speaking to this piece of it that I think is important about whether or not what happened on Wednesday is the same as what happened in Portland or in Kenosha or other places. How do you differentiate the two? Why are they different things?
Christina: It's not the same, Kai. I think part of the reason why we're in this situation that we're in is because for far too long, people in the media and our elected officials try and play both sides of them. When Democrats don't get their way, they knit pink hats, and they march, but they don't kill police officers. They don't kill innocent civilians. That hasn't happened. When we talk about these deaths, I genuinely don't know what the previous caller was referencing.
When Democrats don't get their way, they don't actually threaten to kidnap and kill a sitting governor or members of the statehouse, that hasn't happened. When Joe Biden says we need to uphold our American values, he's not trying to whip Democrats into a frenzy so that we go and start chanting that we want to hang the opposition. That hasn't happened.
The fact that chanting Black Lives Matter, a simple statement is just asking for someone to recognize that my life should have value is absolutely not the same as chanting 'the Jews won't replace us. The Blacks won't replace us.' Camp Auschwitz, these are the t-shirts that we saw. We saw a Confederate flag in the hallowed halls of the Capitol. That is absolutely not the same.
When we look at when the left actually marches and protests, what we're actually marching toward is equality and incorporation, and acceptance. When the right seems to March, they are marching for the exact opposite. To say, "Take things away from these people, because it is not their country. It is 'my country'."
This is what the president has been chanting to these people for the past four years. This is the seed that he's been sewing. Sadly, Republicans are now scrambling because the dragon that they have created has now turned on them. It is coming after them. We saw what happened to Lindsay Graham at the airport. We saw what happened to Mitt Romney at the airport.
We know that Mike Pence is borderline in hiding and probably will be for quite some time because that is the type of insurrection that Donald Trump is sowing. We must stop with this equivocating of, "Well, both sides are angry." Both sides are possibly angry but for very different reasons and their behaviors are fundamentally different.
We have not seen anyone on the left actually try and go and assassinate people on the right. However, we have seen far too many members of the right walking around with AR-15s, AK-47s. Must we just look at Kenosha to see that that has happened? We still have judges upholding this type of behavior, saying, "Well, it's okay," especially as long as it's the Black person that it's happened to.
Kai: Then what now? All of that may be true but at the same time, there are millions of people, tens of millions of people who have looked at the Trump administration, who have looked at even the events on Wednesday and said, "Well, that was legitimate protest, and believe that the election has been stolen from Donald Trump.
If the cycle that we have seen throughout history has been that when there's a move toward multiracial democracy, we see this backlash, and then we often just move on after the backlash is over. What do we do now?
Christina: Kai, we have to start with being honest about who this country is. I mean, far too many people are still thinking of America as the brochure of this land of equality, but as representative Bowman has said, we are a bellicose nation. We are a bloodthirsty nation. Our history is quite grotesque. It's an embarrassment in a lot of ways.
Yes, we have these little shining glimmers of hope and beautiful diamonds of individuals and collective action, but let's not kid ourselves, we love staying at war with ourselves and with others and how we've treated not just native peoples on this land, Black people, immigrants, especially immigrants of color.
As LBJ said, if you can convince the poorest white man that he's better than the Negro, I'm paraphrasing, you can pick his pockets all day long. That's what Donald Trump has been doing and the Republican party for quite some time.
When we try and have conversations about how we move forward, it's very difficult for some people because they see equality as losing something. They see integration as them losing quite honestly a 400-year advantage that many of them have had. Then far too many allies fundamentally don't understand the depths to which members of their own families will go to uphold white supremacy and people don't like the word white supremacy, but if we take the definition apart, it's white people who have been told and been shown in many ways that they deserve more than any other person in this nation.
Until we can get to the root of that because right now it's the people of color who are working on these issues. Until we can get the other groups at the table to have this conversation. It's just the diversity super friends constantly having these same conversations in our schools and our offices and the people who need to be at the table and in these meetings somehow just never seem to make it.
Kai: Let's hear from Darcey in Manhattan. Darcey, welcome to the show.
Darcey: Good evening. I hate to report this. It pains me but I'm actually glad that it happened. After the past four years of one of my closest relatives supporting this monster who always told me if-- I live in New York City, if I was reporting about a Black Lives Matter protest or the fact that it was raining, this person would say, "Well, these are your people. You voted for them."
The reason I'm glad it's happened is- I hate to say I'm voting because the shoe has dropped off the other foot. It's just awful that- and I don't think I'm alone but it's splitting people and families and tearing people apart but I'm glad it happened.
Kai: Christina, what about that? The fact that- and I've heard several people say that kind of thing that they're glad it's happened. It's forced everything out into the open. The president-elect Biden spoke on Wednesday afternoon. The thrust of his comments were the same as what's been the center of his political message which has been quite popular which is like, "Hey, we can vote Donald Trump out of office and then move on."
That's the end of it. We can heal and move forward as a nation which seems to be the final step by the way in this cycle that I talked about at the beginning of the show of the sort of there's some advancement towards multiracial democracy. There's a violent backlash and then after all the dust has settled, we say okay, great, let's put that behind us. Has it in fact forced everything out in the open?
Christina: No, it's been a beginning step but the fact that we're still having a conversation about, "Well, if we impeach the president might make his supporters upset," that lets us know that we still do not fully understand all the things that George Washington warned us about in his farewell address of 1796. He warned us about Donald Trump. He warned us about this very moment that we're in, and I think that white America has not ever had to face the realities that are beginning to crack the surface.
These are the things that people are marching for in the streets and have all summer. We have allies who get it but not fully get it. Sadly as the previous caller said, it is, in many ways, like the civil war, ripping families apart brother against brother, daughter against mother because some people just do not understand why some folks are making such a ruckus. Can't they just be happy in this country?
I think a lot of folks in this country are tired of the breadcrumbs. What is equality? Why can't we have equal access to public health in schools and jobs and housing and all of the things that some people take for granted and privileges that they don't even know they have? We still don't have enough people who understand that conversation or are willing to have that conversation in a sustained manner.
Having Juneteenth at your job for one day for fear of protests isn't understanding what the history of this nation is. Having an extra Black history month speaker isn't fully understanding the 400-year history, especially when we even think about something like the 1619 project and the backlash against that project to even have a conversation about the history of Black people in this country and what it means.
Until we can be honest about the past, the distant past, and the recent past and how it affects our present and really does limit certain people in the future, then we're only scratching the surface.
Kai: We've got about a minute left here. What about actual system and our political system? Is there something in the system that encourages us to just keep going through things and moving on? Going through things and moving on and not pausing and dealing with it?
Christina: I think we still make it very difficult for people to participate. Obviously, there are lots of questions about the electoral college so I won't really broach that subject, but I'm talking about our local level politics. Take a place like New York, our participation is abysmal and embarrassing. These are people who control not just billions of dollars but so many facets of our lives, and so much of the civics process is still a mystery to folks.
They don't know who their elected officials are, and those elected officials in many ways aren't interested in getting to know many of their constituents. They want to know their base and that's pretty much it. We really do need a much more robust set of electors. We need a much more robust set of folks who run for office. They can't all be lawyers and businessmen from certain families with particular last names.
We need a lot more diversity, and by diversity I don't just mean racial and ethnic and religious, I mean class diversity. People with different occupations as we have more educators and in New York, we have more people who don't have college degrees getting elected office. I think that's also important to make sure that we have a full representative democracy in our state houses but also in Washington DC.
Kai: Christina Greer is a political scientist at Fordham University and author of Black Ethnics: Race, Immigration, and the Pursuit of the American Dream. She's also co-host of the politics podcast 'What's in it For Us?' Christina, thanks for joining us.
Christina: Thank you, Kai.
Kai: You remiss if I didn't point out that five people have died in relationship to what happened on Wednesday and 4,000 people died of COVID that day alone. This has been a special national broadcast of the United States of Anxiety. Thanks to everybody who joined us from around the country especially those who called in. Thank you so much for joining us tonight. I'm Kai Wright, thanks for spending this time with us.
United States of Anxiety is a production of WNYC Studios. Jared Paul mixed the podcast version. Matthew Marando and Juliana Fonda were at the boards for the live show. Our team also includes Carolyn Adams, Emily Botein, Jenny Casas, Marianne McCune, Christopher Werth, and Veralyn Williams. Our theme music was written by Hannis Brown and performed by the Outer Borough Brass Band. Karen Frillmann is our executive producer and I am Kai Wright.
You can keep in touch with me as always on Twitter @kai_wright and of course, I hope you'll join us for the live version of the show next Sunday 6:00 PM Eastern streaming@wnyc.org or tell your smart speaker to play WNYC. Till then, thanks for listening and take care of yourselves.
[music ends]
Copyright © 2020 New York Public Radio. All rights reserved. Visit our website terms of use at www.wnyc.org for further information.
New York Public Radio transcripts are created on a rush deadline, often by contractors. This text may not be in its final form and may be updated or revised in the future. Accuracy and availability may vary. The authoritative record of New York Public Radio's programming is the audio record.