The American Story, in Half a Year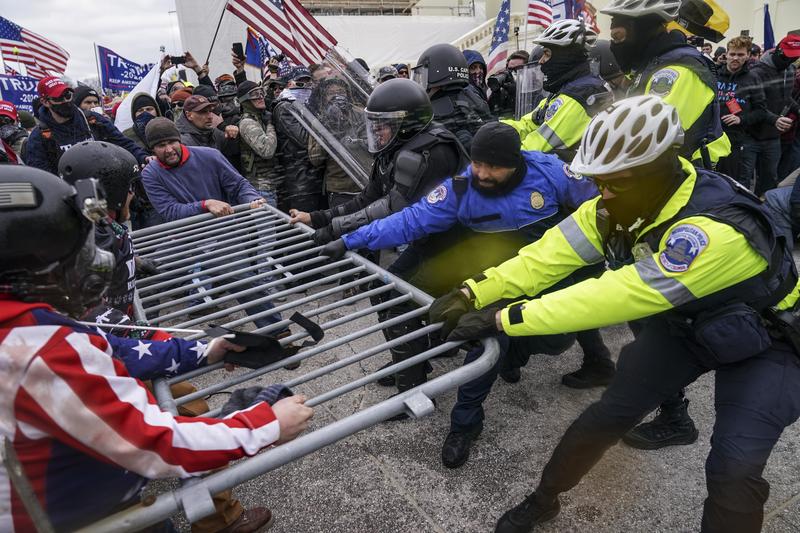 Transcript
Kai Wright: This is The United States of Anxiety, a show about the unfinished business of our history and its grip on our future.
Rep. Betty McCollum: I'm taking a moment now to commemorate the six months since the attack on our democracy. It happened right here at the United States Capitol.
Ayman Mohyeldin: According to the Associated Press, India Walton beat out four-term Democrat, Byron Brown in the democratic primaries for Buffalo mayor.
India Walton: When we organize, we win.
Whoopi Goldberg: New key research poll found that the majority of Black democratic voters considered themselves moderate or conservative rather than liberal, okay?
Eric Adams: I am the face of the new Democratic Party.
Reporter: The Cosby case was the first high-profile trial during the Me Too movement. Now his accusers are worried what it could do to progress.
Nikole Hannah-Jones: I deserve to be treated equally and have a vote on my tenure. I won that battle, but it's not my job to heal the University of North Carolina.
Kai: Welcome to the show, I'm Kai Wright. I got to confess I'm lost on understanding the current political moment. I spent my whole life following politics, particularly trying to suss out the political culture, the collective emotional reality and what might come from it. I really haven't been able to make sense of where we're at right now, about six months into the Biden era. It feels like this odd neither-nor space.
After the past four years, not to mention the last year, I think a lot of us were just ready for a break and have largely tuned out of the political conversation. Yet at the same time, the politics of 2021 and their consequences have really been no less intense than 2020. It seems like there are at least two big themes emerging in all this. One is democracy. We are openly debating for better and for worse, how broad we actually want our democracy to be, and what we are prepared to do to secure it. I think more so than any time since the civil rights movement really.
Another related theme is-- To put it simply, Black people in that democracy. Black voters have been truly definitive in establishing the post-Trump world, and they have challenged some people's expectations. First, the Joe Biden, and now here in New York City with Eric Adams' victory in the democratic primary for mayor. It's not at all clear to me, what comes out of either of these two big themes.
Today, we've invited back on the show, somebody who has studied both. We talked with the esteemed Professor Christina Greer back in January, right after the insurrection at the Capitol. Christina is a political scientist at Fordham University and author of the book, Black Ethnics: Race, Immigration, and the Pursuit of the American Dream. She's co-host of the podcast FAQNYC. I'm sorry FAQNYC, which is all about New York politics, and host of the podcast, What's In It For Us, which is from the griot and all about Black politics and culture. Plus, she's an awesome person who's my friend. Christina, hey, welcome back to the show.
Christina Greer: Hi, there.
Kai: First off, do you share my premise here? Do you share my overall sense of uncertainty about this moment, or do you feel like you've got a pretty clear idea of the political zeitgeist right now?
Christina: I'm oddly optimistic right now, but also the great thing about America and American democracy is that a lot of the actors are pretty consistent. I'm very rarely surprised. I wasn't surprised by January 6th, I wasn't surprised by the results of the New York city election. I'm not really surprised with some of the divisions we're seeing in the academic space. I think the more we read, it demystifies some of these events that we're experiencing.
Kai: We're going to talk all hour then about what you have learned, but just in this past year or in these past six months I guess, where are you personally in terms of staying in the grind of it? I think that's an important question here for me, because honestly I struggle to be honest and listeners have probably noticed that we've done a lot of shows since the insurrection that have just totally turned away from electoral politics. I wonder where you're at.
Christina: Well, I do a few things. One, I work really hard. As you know, I have a whole bunch of podcasts and I teach and all these other things, but when I break, I break. Some people will know that Bernie Mac joke that "When I'm off, I'm completely off." Two, my colleague Khalilah Brown-Dean, who's a professor at Quinnipiac University, she has the saying, "Protect your peace." That's picking and choosing. There's certain shows I don't do, because I don't need to debate with conservatives who were pontificating about the superiority of white Americans and wanting me to justify my existence. I don't do things like that.
I think the more you read is-- What is it? E. B. White says, "We read to know we're not alone." I read a lot to know that some of these thoughts and feelings I have about America are real and many people have had them. I wish I could travel internationally like Mark Twain, that's what I normally do pre-COVID because that helps me understand this Democratic Republic, because the distance away from this country helps me see certain things that I need to see as a political scientist. I've been taking it in stride.
I've been trying to use this lockdown as a moment to reset, because as so many people listen to your show know that we just can't go back to the way we were exactly. I know we want some sense of normalcy, but there are so many things that were broken in public policy. Really trying to sit with things and try and figure out, how can we make some real quick changes, but also long lasting changes as we emerge, hopefully knock on wood from the pandemic.
Kai: Do you worry about people like me though, people who are pulling back from political engagement. Those are all some great ways that you're describing to balance it, but a lot of us just aren't doing it, and when I do tune in, it does seem to me like the stakes remain quite high and the choices we're facing quite consequential. Do you even accept my premise? Do you think people are pulling back?
Christina: I believe that. I see it. I talked to a lot of non-academics, but I think a lot of Americans and international folks got a crash course in our political system with the previous president, because he was so egregious, because he did not respect the rule of law, because he did not respect separation of powers and checks and balances. I think that crash course, not everyone has chosen to study American politics like I have.
They paid attention, they learned a lot more about local state federal government, they learned a lot more about how the money is and is not working, they learned a lot more about corruption. It's been exhausting, it's been emotionally taxing for certain groups of people. Keep in mind, immigrants were on-- Many still are on pins and needles, but definitely during the Trump administration thinking he could wake up one morning and just decide to deport people, even with green cards. That's where we were.
A lot of folks also feel like, "Well, Joe Biden seems like a relatively decent man, so I can pull back even though I know that the Senate and the House aren't necessarily able to push forward legislation, we at least have people who are good faith actors in the white house." That turning off for a little bit is real. The great thing about my job is that I get to teach the youth of America, so I'm trying to get them either engaged for the first time or instill in them, the foundation as to why they should stay engaged, not just during election years and why they should care about local, state and federal politics.
Because if they plan on getting jobs and paying taxes, all of these things affect them. If they're on financial aid, all of these things affect them. If they clarify about climate change, which so many young people have such a better grasp of climate change and the necessity for us to make some substantive changes on a global scale. All of these things just relating real-world politics and policy to them, and hopefully we can have a whole new generation of people who are much more civically minded.
Kai: Christina, in all of your study, is there a good historical parallel that might help us make sense of this particular moment? Is there something that you look back and say, "That feels like where we're at now."?
Christina: I'm not a historian, even though I like to hang out with historians. Obviously, when we think about the great pandemic of 1917/1918, and really I've been trying to look at how did the '20s emerge? Obviously we have technology, so it's a slightly different, but they're not called the roaring '20s for nothing. What will this next few years look like?
Obviously I just finished a draft of a book on Barbara Jordan and Fannie Lou Hamer and Stacey Abrams, so I was looking at some of the organizational efforts of Black women, both elected and unelected in the 1960s and '70s and how they were able to deal with obstinate men primarily, but in an electoral space whether it's the president or members of Congress. I'm trying to just pull lessons from people, who have done this or done something similar before. This isn't the first time we've had a Congress that doesn't know how to work in concert with one another.
This isn't the first time we've had unified government and the clock is ticking. This isn't the first time that we're experiencing collective identity, but in very separate ways. We saw this a hundred years ago. Just trying to be mindful of the fact that even though we've all gone through the global pandemic together, we still are-- PS, we still are in a global pandemic. Some people became billionaires in the global pandemic, some people bought country homes because they could, and others are worried about their next meal and have been skipping meals for days on end just because of the global pandemic. This one singular event has unified us in some way, but also really shown some real chasms in how we are as a society.
Kai: Well, let's start reviewing the last six months. Let's pick up where we left off with you in January. As I said, you were on the show right after the insurrection on January 6th, and to remind everybody that day actually began with Jon Ossoff and Raphael Warnock winning their respective Senate races in Georgia. We all remember how it ended. I want to go back to something Mitch McConnell said immediately after the attack on the US Capitol. Listen to this.
Mitch McConnell: United States Senate will not be intimidated. We will not be kept out of this chamber by thugs, mobs, or threats. We will not bow to lawlessness or intimidation. We are back at our posts. They tried to disrupt our democracy, they failed.
Kai: Setting aside the incredible cynicism of Mitch McConnell's political maneuvering since he made that statement, I just wonder about his conclusion that the insurrectionists failed. Did they? Because six months later, I'm not totally sure I agree. What do you think about that?
Christina: Yes, I agree with you, Kai. I don't think they failed. I think that we saw a practice run, and the real test was actually how we handled it as a governing body after the fact. In 24 hours we had some, not all Republicans saying, "Oh, this is bad. It was bad for our democracy" but we know within a week, almost all of the Republicans in power were in line and saying, "Well, it was just expressing their freedoms," and "They were just tourists and visitors."
We've seen with many of the prosecutions that have failed to happen of people who have invaded Nancy Pelosi's office, some of the most egregious and deplorable acts of American citizens on our nation's Capitol, which is a majority Black city by the way. That shouldn't be lost on us either. The fact that the Republican Party refuses to recognize just how significant January 6th was and will be for the future of this Democratic Republic, lets us know that it could happen again under different circumstances. Under a different president, under a different set of circumstances, where they can organize themselves, because in many ways it's not about Donald Trump.
Yes, he's the hype man for them, but the atrocities that they feel they have incurred in their minds, by the way are so great that one January 6th doesn't mean that they just go back to their various cities and towns. They're not all from the sticks. They were from major cities from all 50 states, and they'll think about how to become more organized and take back what they view as their country, that has had an African-American president and now has an African-American and Indian-American vice president. We're looking at senators and representation all across the nation, and they're angry about it. Not just worried, they're angry about it.
Kai: Well, I'm also thinking about the narrative. We talked to Historian David Blight about this too. About so much of what's happened in creating narrative regardless of winning or losing power itself, and regardless of any of the facts on the ground, and the history of the Confederacy and the lost cause and just how successful that strategy can be. I wonder where we are in this narrative right now to you.
Christina: My biggest concern about the former president wasn't some of the stuff that he was doing. It's about the narrative that he created, because we know that if we can create a narrative, it can become reality even if it is completely false. The narrative that many of those supporters from January 6th follow and believe in, to the death as we have seen, is that they have been aggrieved. Their goods and their livelihood has been stolen by people who don't deserve it.
That also translates into now their elections have been stolen. People like Reverend Warnock, or African-American pastor, or Jewish Jon Ossoff have been elected in the State of Georgia, assisted by a woman named Stacey Abrams, who's brilliant in her own right. We add all these things together. We add in what I view as a positive, that we're becoming a lot more inclusive of our LGBTQ+ citizens and non-citizens in this country. We're having those conversations about what that means to have multiple identities and be an inclusive society. Many of those folks in January 6th cannot and will not take it.
Kai: We've got to take a break. Our phones are open though, and we just want to take the pulse of our listeners. Six months into this year, how are you feeling about the state of our politics? Are you feeling engaged? Are you feeling unplugged? Either way, why? Where's your heart? 646-435-7280. We'll be back with more from Christina Greer, Fordham University Political Scientist, and we're going to tell Christina about something you said the last time we spoke. You said that every time Black people capture the full breadth and depth of our citizenship, things get hot. We're going to pick that up where we left off. I'm Kai Wright, this is the United States of Anxiety. We'll be right back.
[music].
Welcome back. This is the United States of Anxiety, I'm Kai Wright. I am joined all hour by Political Scientist Christina Greer, Author of Black Ethnics: Race, Immigration, and the Pursuit of the American Dream, and a friend of the show. We last spoke with Christina right after the January 6th insurrection. Tonight we're checking in on the political culture six months later. We are taking your calls as well. How are you feeling six months later? Are you unplugged from politics? Are you still engaged? Has anything real changed in your own life that shapes how you feel about where we're headed? 646-435-7280. Let's start with Colleen in Mercer County, New Jersey. Colleen, welcome to the show.
Colleen: Hi. Yes, I am feeling very engaged and anxious and-- Not so much anxious but appalled because in my six-and-a-half decades on this planet, I have never seen such an outright attack on voting and the sacredness of the outcome of the vote being disregarded that "Only if the vote goes our direction, will we accept it, and if they vote for the candidates we don't want, if they vote for candidates that are 'those people' and not 'these people', we just want to declare the whole thing a fraud and throw it out."
Kai: Colleen, can I ask you? How do you feel about the response to that from either Congress or the Biden administration thus far? Is that calming you?
Colleen: To me, it won't be calming until there are laws at the federal level that prevent such things as overturning elections by local partisan officials.
Kai: I'm going to leave it there, Colleen but there's-- That's one feeling about democracy is still in danger and that there are things you can do. Let's go to Stephanie in Hicksville, New York. Stephanie, welcome to the show.
Stephanie: Hi, thanks for taking my call, Kai. I wanted to talk about how I'm feeling empowered even though I've taken, let's say, a step back and don't listen as feverishly as I was. I'm teaching art first through fifth-graders and having really incredible conversations about climate justice connected to social justice. My district actually for the first time this year took Juneteenth as a holiday. I really feel that was a step in the right direction. I was able to teach that as well. The kids are completely engaged and I wasn't surprised. I was just really hopeful.
Kai: You say the kids are completely engaged. This is one of the great questions people always have is, how engaged are young people, and how engaged they should be. In your experience, your class is sitting up in their chairs.
Stephanie: Yes. I teach almost a thousand students art. I have a wide range of students, but anywhere from third to fifth, you can have these kinds of conversations. They really knew what you were talking about. As long as your vocabulary is appropriate, you can have a conversation just about anything. I felt really hopeful that these young kids really understood what was happening.
Kai: Thank you for that, Stephanie. Christina, we're getting a range of emotions already, but I want to ask you-- I want to pivot a little bit here to the local election because certainly, one defining element of our political culture right now is the centrality of Black voters. More than that, it just seems like this moment has been about Black people asserting power across the political and cultural spectrum, and the big reaction to that. The latest chapter in that is the victory of Eric Adams in the Democratic primary here in New York City, making him almost certainly to become the second Black mayor in the city's history, and just to state the obvious, it's a big deal.
The mayor of Gotham plays a huge role not just locally, but nationally in our politics, in our economy, but Eric Adams did not run as a disrupter of mainstream democratic politics. Now, we're all trying to figure out what his victory means. For those who have not followed as closely, give us a very brief sketch of Eric Adams in your mind, and particularly, in the context of Black political figures which you've studied a lot. Where does he sit in that world?
Christina: Right and I would implore listeners to follow folks who live and study New York politics, not national reporters who are really great on national things, but don't understand the intricacies of race, class, and neighborhoods in New York City. There have been some horrible takes out there. Eric Adams, let's just zoom out 30,000 feet. Much of the ideological diversity of Black people is trapped in one party, which is the Democratic Party because Republicans by and large, have chosen to cast their lot with white nationalists.
We see across the country, when it comes to local elections, there's a little bit more wiggle room for Black Republicans, but by and large, the vast majority of Black people are Democrats. That means you also have hyper-hyper progressives, moderates, conservatives, all voting as Democrats. What Eric Adams did, besides have two-plus decades of public service, which he and the exception of Scott Stringer, were the only two who were currently holding office or held office ever before. If you look at the political map, Steven Romalewski of CUNY Grad Center does amazing maps of political elections.
You'll see that Maya Wiley, Kathryn Garcia, Ray McGuire, Shaun Donovan, Scott Stringer, they were all competing for relatively the same neighborhoods. Manhattan, below 125th Street and gentrified Brooklyn which we know, but if you look at Eric Adams, he went to the outer boroughs. He went to places where people, oftentimes have been ignored. Ignored not just by de Blasio, but definitely by Mayor Bloomberg for 12 years. He was able to articulate a vision that on the one hand says-- And if you listened to his acceptance speech-- It wasn't acceptance speech, but it felt like an acceptance speech on election night, long before we had any results, but he unequivocally says, "Black Lives Matter."
He also then talks about a very white and Black conservative talking point, which is "If Black lives matter, it can't just be about police and Black people, it has to be on Black-on-Black crime." That's a major talking point of Republicans, of white conservatives, of Black conservatives, of lots of people who are Black who are listening to this show right now, who have uncles and aunts who have said that at the dinner table or during the holiday season. We know that the ideological diversity that exists within the Black community is on display, and Eric Adams was able to tap into people's fears of rising crime, whether it's real or perceived.
There are lots of Black homeowners who fear crime. There are lots of Black renters who fear crime, to say nothing of white New Yorkers, immigrant New Yorkers who he spoke to about COVID and dissemination of information. He does have a pretty brisk personality that feels very old-school New York, that a lot of people appreciate. Because de Blasio chose to run for the presidency and it felt, for many New Yorkers for quite some time that he would prefer to be anywhere but New York City and the five boroughs. The fact that Eric Adams is very quintessentially New York, he feels very New York to a lot of people, all the way down to the accent.
The final stages of the campaign, where there's a question as to whether or not he lived in New Jersey, or actually in Brooklyn. When you talk to voters, they didn't really care. They said, "It seems like he gets the job done on a daily basis. I don't care where he rests his head, and it seems as though the media is picking on him." He has this underdog vibe and insider-outsider vibe as well.
Kai: You mentioned his speech on election night. Let me play a little bit of what he said, because it says something about his understanding of his base. Here's what he said on election night.
[recording]
Eric Adams: What some candidates misunderstood is that social media does not pick a candidate, people on social security picks a candidate.
Kai: I just want you to unpack that for me because it seems like he's poking at this thing, where people say, "Well, there's all this 'woke' activity particularly," and the subtext seems to be, particularly Black or people-of-color activists and commentators, who are saying one thing and that's different from what Black voters actually want and believe.
Christina: That's part of it.
Kai: Can you unpack what he's saying there and whether it's true?
Christina: That was part of it. In New York and many parts of the country-- And folks don't really want to dissect this, but the progressive wing is a very loud faction of the Democratic Party, but when it comes to elections, it's not the largest faction. We sometimes see wins. Obviously AOC, obviously Buffalo was an example. I'm curious to see how that checks out in the general election, when people actually go to the polls because the current mayor, who lost the primary had been in office for 28 years. We'll see if he can mobilize his base during the general elections, since he's still going to run against the progressive candidate.
The progressive wing of the Democratic Party isn't the largest wing. It just isn't, so that's what Eric Adams was saying. Especially in a Democratic primary, that's not the case. It was also a jab to someone like Andrew Yang, who had very weak roots in New York City, but had, obviously a very strong public, social media presence. There were articles written about attacks on journalists, because of his blue-hat gang, so that was a conversation during the election quite a bit. Female journalists, journalists-of-color, female-journalists-of-color or pundits, such as myself being attacked by his supporters and the Yang gang.
It was a dual jab, and that's the excitement that a lot of people feel covering Eric Adams for, possibly the next four years. Lots of double entendres, but he also-- He shoots from the hip literally and figuratively. I think that there are quite a few New Yorkers, especially when you look at the political map, who said that they were really looking forward to that after 12 years of Bloomberg and 8 years of de Blasio.
Kai: Yes, but what about this core question here I do want to get out of, if there's-- Let me put it this way. I've heard a lot of commentators say-- When looking at the definitive Black support of Joe Biden and now the definitive Black support of Eric Adams, both of whom are more conservative than the political conversation seemed like it was in the Democratic Party going into each of those elections say, "Well, there's a realpolitik here," and they pick the person who they knew would best represent them and best win, not necessarily who they most agreed with. That feels dishonest to me. Maybe the specific people who supported these candidates are, in fact more conservative than people think. I want to prompt you to talk about that.
Christina: Yes, because I think the Biden, Adams examples are actually two totally different examples. With Biden, there was this strategic choice, and we're talking about Biden in the primary. A, yes, more Black people are moderate, too conservative and Bernie Sanders is not attractive to the vast majority of Black people. Keep in mind, Black people are the most strategic voters because we have to go to the voting box, knowing how white people will behave. We actually are constantly doing a probability assessment of who we like. Our second choice can sometimes become the first, because we know the capacity and the limitations of the white electorate.
When it comes to Adams, it's slightly different because one, the numbers still aren't fully in but he also had two other Black challengers. It's not like all of Black New York went with Eric Adams at all. There are many vocal organizations, neighborhoods, and candidates who were saying, "He does not represent us. Actually, he is not the face of New York," and part of our new system of ranked-choice voting was to help alleviate that strategic choice that many Black voters have to make, where you're supposed to be able to just go in with your pure desires. Now, there were lots of strategies that people employed.
Some people only voted for one candidate. Some people voted for three instead of all five. You had up to five options. There were lots of social media campaigns, "Don't put Eric Adams or Andrew Yang anywhere on your ballot because they're too conservative." Those two examples, to me are not the same. Also, when we look at the entire universe of Black electeds in New York, we have Al Bragg, who's the presumptive winner of his race for Manhattan DA, who will become the first African-American District Attorney in the borough of Manhattan. He won with a completely different coalition than Eric Adams. I always joke, it's like, "Eric Adams got like 10 votes in Manhattan." I'm obviously being hyperbolic, but you see Al Bragg wins Manhattan.
Decisively, I would argue with Black voters and non-Black voters, and none of those voters are Eric Adams-type voters as we sift through the data. We can't look at the coalition that someone like Al Brag put together, because it doesn't look anything like a Eric Adams coalition which also looks pretty differently than a Jumaane Williams, who's our public advocate. Looks a little differently than his coalition, also Black. Then we have Tish James, Attorney General, her coalition looks different. We can go down the list of city council members, people in Albany.
The larger crux of the question I would argue is we have a lot of descriptive representation. Why substantively policy-wise are Black people not doing better in the city? That is something that we'll have to figure out, because I don't care if everybody on the top of the ticket looks like me, if nothing changes for people who look like me. Are we still going to have the most segregated schools in the country? Are we still going to have some of the most inequitable housing, whether it's nature or the rental market or people, Black homeowners being attacked when it comes to tax issues?
Are we going to have these public health discrepancies and disparities, not just with COVID, but with everything else whether it's Black female, maternal mortality or diabetes, or just even the air we breathe depending on the neighborhood we live in? Those are the issues where we still have Black people who are completely living a different world than white New Yorkers. The descriptive representation of someone like Eric Adams, needs to translate into substantive representation for Black New Yorkers who voted for him.
Obviously, he's going to be the mayor of everyone, all five boroughs, but when we think about all of-- There've been some horrible takes, "Black is black" and "Chocolate city." Yes, I'm subtweeting people, but those are bad takes because it's actually a much more nuanced understanding of how and why Black people get elected depending on the office, depending on their borough, depending on their neighborhood. Then also, what are they expected to deliver, not just for the citizens of New York, but for Black people specifically?
Kai: Let's go to Nantara in Jersey City, New Jersey. Nantara, welcome to the show.
Nantara: Hi, thank you so much for having me. I'm a woman-of-color living in what is one of the most diverse communities in America, 15 minutes from downtown New York. It's been so interesting because while I happened to be in the circle of folks who are extremely politically active, my husband has worked in politics. My sister has worked in politics. I've done door-to-door, myself for candidates. I'm tired, I'm exhausted. January 6th was exhausting.
Just all of that feels like, "Yes, while we've come to a conclusion--," Something I've just been thinking about is how this reflects on our society as a whole, and how we move forward from this. Like, "Will the next three years with the Biden administration be as restorative as we need it to be? Will there be a point in time where I'm like, 'yes, if I have Republican friends but at the same I identify as a Democrat," and I don't think that that will change based on how the national politics of today look. I think I'm worried and tired, and I want to stay politically active, but it's hard to be engaged. It feels like a drain. [chuckles]
Kai: I hear that. It feels like a drain to me as well. What do you do to stay engaged then?
Nantara: I think I'd have to really see something different from the politics at a national level to become re-engaged in the way that I was five years ago, simply because I don't feel that connection with politics and with certain politicians, and I don't know that I've seen- the politicians who speak most directly to me and what I value are not the ones who half the country would ever vote in. I think that is an exhausting thought that it feels like there's no middle ground.
Kai: Nantara we'll have to leave it there on that exhausting thought. We got to take a break. We'll be back with more of Political Scientist Christina Greer, and we will continue to take your calls, 646-435-7280. I'm Kai Wright, this is the United States of Anxiety. We'll be right back.
[music]
Carolyn Adams: Hey everyone. This is Carolyn Adams, a producer on The United States of Anxiety. We love including your voices on the show. And this week, we want to know how you're feeling about our political culture, six months into the Biden administration. After the brutal year that was 2020, did you unplug from politics or have you remained engaged? And why? Have you seen any real changes in your own life that have shaped how you feel about where we're headed? No matter your leanings, we want to hear from you. So record a voice note on your phone, or computer, and email it to us at anxiety@wnyc.org. And as always, thanks for listening.
[music]
Kai: Welcome back. This is the United States of Anxiety. I'm Kai Wright, and I am here with Fordham University Political Scientist Christina Greer. We're taking your calls about how we all feel six months into the Biden era, hopeful, frustrated, engaged, or disengaged. I started the hour saying I felt pretty disengaged and thinking most people do. I have to say we're getting a ton of calls. Maybe I'm alone on that, Christina. Let's try to try to burn through a few of them here. Let's start with Steven H in Queens. Steven, welcome to the show.
Steven: Thank you for taking my call. I'm feeling like we're in a very desperate situation that if we don't really take desperate action and this filibuster rule, the opposition is going to go ahead and do what they've been doing for Trump a long time now, and block every initiative. It's like the risk is, and the reason maybe they haven't moved is they're worried about us losing the House or Senate.
And then if there's no filibuster, will they eliminate welfare completely? That sort of thing, the other end of it, but if these initiatives that they're really trying to get through, and the only way that I see them getting through is if we are able to do that, what Biden wants to do and the administration. I was an early supporter of Biden. I sent money when everybody thought he was out of the race because in my opinion, he's the only one who could have taken that election. I think-- Because I was also a supporter of Bernie Sanders, but I realized he would have lost 40 states. I was a McGovern supporter. You remember McGovern in the history books?
Kai: I do remember Mc-- Let me ask you this, Steven. You feel like it's a make-or-break moment, you sound like you're leaning forward in this moment, does that mean, in terms of your level of-- Do you feel like it is a make-or-break moment and that it's going to be made, or are you feeling hopeful, or are you frightened?
Steven: I'm feeling like I'm going to have to work my butt off again, just like I did. I campaigned for Biden on the phone, and I feel like we're going to have to go all-- Everybody, we're going to have to get involved in such a way to try to stop this, because it's really-- We're headed towards a total authoritarian state one way or the other. These people want nothing but power. There's no policy being discussed. It's just about them retaining power, or getting it back in the instance of the reprobate who used to be president.
Kai: I'm going to leave it there, Steven. Thanks for your call. Christina, I also want to ask about that make-or-break thing. Do you agree with that? Do you think this is really that kind of moment or when people feel that, are they overstating the case?
Christina: No, I think people's concerns are real. I think we should be incredibly worried. I think that there though, lots of things we can do on the local and state level, and pay attention on the local and state level, and not just focus on the federal level. Yes, what is happening on the federal level is pretty disheartening and dangerous, and frightening on a whole host of levels. I do think that Joe Biden is an incrementalist, because he understands the exchange of power between presidencies and also what he's able to do, and united government versus divided government.
He doesn't want to set certain things, obviously that will hurt him, which inevitably he might find himself with divided government after the 2022 midterm elections as most presidents do, who have unified government. I think bridging this last caller with the previous caller, we have seen success with the more progressive candidates on local levels. They haven't necessarily made their way up to statewide and federal-level politics in substantive ways, but they are making inroads on the local level.
I think that for people who want progressive politics, who want more change, that should be encouraging. Obviously, there are just certain states where it's incredibly difficult, but I think the-- The last caller said something that's really important. I have this philosophy called political tithing, where the same way so many people invest in their religious institutions, whether it's church, mosque, synagogue, temple, throughout the year to sustain it, to make-- Sorry, I live in Brooklyn, so there's lots of sirens.
Kai: It's okay.
Christina: [chuckles] But political tithing means it's not just about presidential elections. If you see a candidate in a particular state, if you want to support someone in Buffalo, if you believe in progressive politics, send her money. Boston is having elections where there's not a white man on the ticket, the first time in the history of Boston. You have lots of options. If you want progressive candidates, if you want women-of-color, there are three women-of-color running.
I supported Stacey Abrams in 2017, just because I thought that she was brilliant and should be governor of Georgia since we've never had a Black female governor in the history of the United States. You can give money to other races that aren't even in your state. You may be in a city or a state that is moving along well, and you feel like your governor and your members of the state legislature work together and in conjunction, but if you're worried about what's going on in Texas, help protect some of those Texas Democrats.
That are fighting to make sure that we have reproductive rights, and that the dreamers can stay in schools and they're not getting rid of Martin Luther King. The list goes on and on. There are enough places that we can support. There are definitely enough individuals we can support. It just takes a little more research, sometimes to figure out who is where and how we can be most useful.
Kai: Let's go to Nora in Carroll Gardens, Brooklyn. Nora, welcome to the show.
Nora: Hi, my name is Nora. You're talking about the youth engagement earlier and I'm 19. I know a lot of young people, I am a young person. I think the general consensus is just that-- I think people are engaged, but they're not very hopeful. So many people I know are just very stressed with work and paying bills and paying off their loans, that it's hard to see the larger political fear. I consider myself a poorly pre-engaged person, but it's hard to-- Even the New York elections, with all these progressive candidates, I think people got really inspired by them, although you know, Eric Adams is fine, but like there's not a lot to hang on to and really to think of a brighter future. Yeah.
Kai: What would feel like a brighter future for you? What would be something that you could hang on to?
Nora: I don't know. Growing up in a postmodern Western world and all the looming specter of climate change and COVID, and just one disaster after another, it's really hard to focus on sustainability. Yes, just addressing people's basic needs, and getting people actual lives improved by politics would be something that people would believe in, but I don't really see that happening really anywhere.
Kai: Thanks for your call, Nora. Christina, we're getting down on time and I want to make sure to ask you about the Sutton controversy over critical race theory, because you are in academia and this seems to be a place where it's really playing out. I feel the need to offer an actual definition right off the bat. This is the idea put very simply that racial equity is about more than personal animus, it's about systems that are designed to foster racial inequity.
Everything about this setting up or around the idea feels really cynical to me, politicians and pundits who are performing their outrage. They're not even trying to describe the actual legal theory. Actually, let me just play a little clip here. This is Utah Republican Mike Lee, talking about it recently.
Mike: We certainly shouldn't be stepping in with critical race theory. Look, we should be celebrating diversity. Critical race theory doesn't celebrate diversity, it weaponizes it. That's bad for America, and it doesn't help heal the wounds that need to be healed.
Kai: It's a word salad first off, when you actually know what the thing is about. I ask this because this is the thing that leaves me feeling dispirited in the way that Nora was talking about it. It just feels like so futile to engage in a debate like this. I want to put that to you. Why do you think this particular thing has to become a meme in our politics right now, and how do you engage with it?
Christina: It's a distraction. It's a diversion. It's deliberate. It's the same way in 2004, instead of talking about our two wars in Iraq and Afghanistan, all of a sudden, everything was about marriage equity and how dangerous that was. This is part of the Republican playbook. Not a single Republican on any television show, whether it's conservative shows or left-leaning shows can give you a definition of critical race theory, and how it is going to affect your children in K-12 or college. Not a single one has been able to do it.
I don't engage in what I consider nonsensical conversations. What I do want to focus on is say, someone like the previous caller, where it's helping her link, why it is that she may have two or three jobs and isn't making ends meet, right? Why it is that certain people generationally can't ever seem to get out of those two or three jobs to make ends meet and some can? Does a fish know that they're in water?
Racism in this country is so a part of every single brick that we've ever used to build this beautiful nation. We don't even re-- Some, not all. Some people don't even recognize what it is to have these structures and systems that they either have benefited from, or continue to benefit from. For those who are interested in the pedagogical pursuit of learning, want to know, "Well, how do we get to the location where we are together?"
Many of us have taken several different routes. Some people have not joined us yet, because they are not even able because of the structures that have been put in place to join us in this conversation. Whether it's an academic setting, or a classroom that actually has teachers that have the space and the time to have some of these conversations. Mind you now, so many teachers just don't have the space and time to have these important conversations, because of all these other systems that are in place.
I don't see it as a genuine argument. I don't see it as a good-faith argument. There are people that are willing to learn and others who totally aren't. I'm working on those who are willing to learn. They can then proselytize to those who are obstinate.
Kai: Christina Greer is a Political Scientist at Fordham University and Author of the book, Black Ethnics: Race, Immigration, and the Pursuit of the American Dream. She's a friend of the show and I hope to have you back soon, Christina. Thanks for coming on.
Christina: Anytime. Great Sunday with you.
[music]
Kai: United States of Anxiety is a production of WNYC Studios, Jared Paul mixed the podcast version. Kevin Bristow and Milton Ruiz were at the boards for the live show. My team also includes Carolyn Adams, Carl Boisrond, Emily Botein, Karen Frillmann, Gigi Polizzi, and Christopher Werth. Our theme music was written by Hannis Brown and performed by the Outer Borough Brass Band. Veralyn Williams is our Executive Producer, and I am Kai Wright. You can keep in touch on Twitter @kai_wright, and of course, I hope you'll join us for the live version of the show next Sunday 6:00 PM Eastern. You can stream it at wnyc.org. Tell your smart speaker, "Play WNYC." Until then, take care of yourselves. Thanks for listening.
[music]
Copyright © 2021 New York Public Radio. All rights reserved. Visit our website terms of use at www.wnyc.org for further information.
New York Public Radio transcripts are created on a rush deadline, often by contractors. This text may not be in its final form and may be updated or revised in the future. Accuracy and availability may vary. The authoritative record of New York Public Radio's programming is the audio record.