American Political Myths Have Consequences For Us All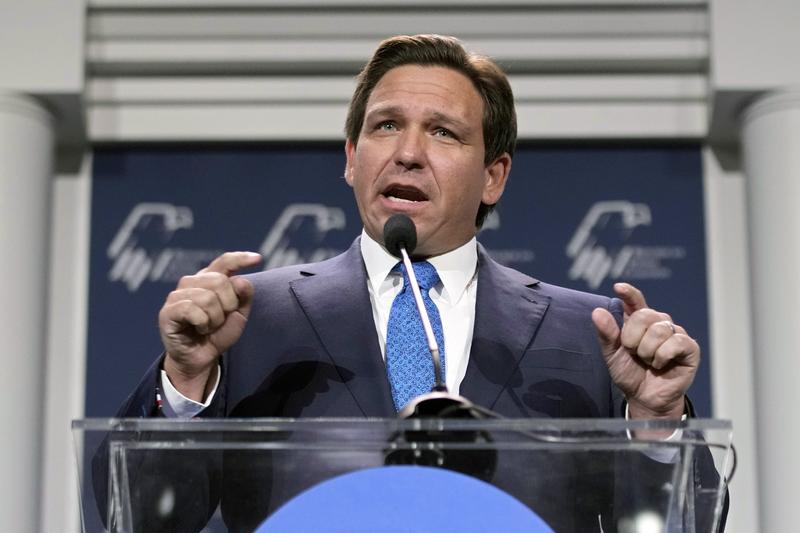 Transcript
Presenter: We're in front of the National Museum of American History. We're asking people, "What is one story or fact that you thought you knew about American history that turned out not to be true?"
Respondent 1: Growing up, I was always told that George Washington had wooden teeth.
Respondent 2: Everybody thought Thomas Edison invented the first light bulb. He actually did not.
Respondent 3: I, for some reason, as a little kid, thought that if you were elected president once, you just had to say, "Oh, I just want to do it again," and you could run again and again and again.
Respondent 4: I thought Betsy Ross was the first maker of the US flag and actually is not.
Respondent 5: I thought the American involvement in World War II is we're the heroes of the story, we're the saviors, and in reality, there's more to it. There was anti-Semitism at home, there's racism at home, there's a clouded political environment, and there's actually more to the story than just America saved the day.
[music]
Kai Wright: It's Notes from America, I'm Kai Wright. Welcome to the show. Ron DeSantis has once again succeeded at placing himself at the center of national political conversation. The as yet undeclared presidential contender has learned well from his nemesis Donald Trump. If you want to distinguish yourself in Republican primary circles, nothing works quite like picking a fight over race, gender, or history, and best if you can hit all three.
Schools emerged a few years ago as the preferred venue for these cultural provocations. I just feel like the rest of us are still reeling in the face of the onslaught. Certainly, I will say that as a host of a show that talks a tonne about race, gender, and history, I am preoccupied with the question of how we'll engage usefully and what will absolutely be an intensifying conversation as we head into a presidential election.
Which is why I'm excited this week to talk with Princeton University History Professor Kevin Kruse. Kevin's scholarship has focused on the evolution of modern conservative politics and its relationship to the civil rights movement, among other things. His most recent book is a collection he co-edited titled Myth America: Historians Take On the Biggest Legends and Lies About Our Past, which perhaps will find itself soon on a banned list in some state. Kevin, thanks for making time for us.
Professor Kevin Kruse: My absolute pleasure to be here. Thanks for having me.
Kai: We got to start with Ron DeSantis. For those who haven't kept up, here's the story in short. The DeSantis administration has refused to allow Florida students to get a new advanced placement course on Black Studies. The College Board which oversees AP studies subsequently announced changes to the curriculum, which the board says were already in progress well before the controversy in Florida. They merely reflect the evolution of the course from a pilot initiative to an official framework. The whole thing has been deeply disturbing to many. Kevin, what did you see as you watch the story unfold?
Professor Kruse: Well, I was struck by a Ron DeSantis appearing behind banners [unintelligible 00:03:19] about being against indoctrination as the governor is trying to tell people what I think was deeply ironic. Also, I thought he perfectly crystallized a real problem we have with the way in which people understand civil rights history in particular. He said, "We don't need to go into all this critical race theory stuff. We don't need to talk about structural inequalities and systematic racism. Instead, we just need to know that there were a few brave people who felt the need to stand up and did so." Period, full stop.
Okay. Some follow-up questions for that. Why did they feel the need to stand up? Why did they have to stand up? Why was it difficult? Why do we praise these people? In other words, he's got this vision of American history that is his words, cut and dry. It's not cut and dry. The Civil Rights Movement is a perfect example of this. We've got an essay in the book by Glenda Gilmore, Yale historian who leans right into this. Glenda's chapter is called The Myth of the Good Civil Rights Protest.
You might think, "Okay, why is it bad if we say civil rights protests were good?" Well, we've put them on a pedestal so far out of reach from today. We've sterilized and sanitized the civil rights struggle to the point where apparently the only phrase Martin Luther King Jr. ever spoke was that one line about judging his kids not by the color of their skin, but by the content of the character. Full stop. That was it. We've reduced King's message to that, we've cut off all the stuff he had to say about even in the March on Washington address. Even on the one speech [unintelligible 00:04:55] apparently no.
He talks about structural poverty, he talks about police brutality, he talks about all of these issues. He later on went on to deep denunciations of capitalism and militarism. This was King [unintelligible 00:05:08]. It was very radical. Again, we've reduced King to this very narrow vision. In doing so, we've said, "Well, who could be opposed to that?" There was no controversy, there was no scandal, there was no sense that this was, as many people called it at the time, socialism, Marxism, this was unAmerican, he was a radical. King, by the end of his life, is deeply unpopular. He's pulling in like the 30s right before he's assassinated. He is by the way assassinated.
Kai: And he's assassinated.
Professor Kruse: That's a data point in how controversial the man was and yet we've reduced it. People like DeSantis put up that image of Martin Luther King, why it's to say, "Oh, fine, this thing in the past, we now agree on and there's no connective tissue to the present. You hold up the good civil rights protest to say these protests today are bad. These protests today block traffic. They made the same complaint literally about the March on Washington. These protests today are disruptive. They're bad for the economy. They're divisive. They're driven by leftist.
All these claims were made about the civil rights struggle in the 60s and yet, if you've drawn this false dividing line between the past and the present, it's attempt to make that past sealed off and useless for us when it's really vibrant and important today.
Kai: Can you just say a little bit more about that DeSantis quote, that he said history should be, "just cut and dried history," and that Black history, he said, "You learn all the basics, you learn about the great figures and I view it as American history." I do feel like it connects to the larger thesis of the book that you have produced here. That sounds on its face, maybe to some, straightforward and reasonable. It's just basic history. Why is that a controversial idea? Can you just address that notion that there's basic history and some other kind of history?
Professor Kruse: Yes. This is remarkable. I think DeSantis was a history major so he should have learned this at some point. History isn't cut and dry. There was not some tome of facts that has been handed down in generations, generations and we all read of the same book. If history is cut and dry, someone's got to cut it, someone's got to dry it. Another essay in the book, I think speaks to this beautifully, Karen Cox's essay on Confederate monuments. We are told by people on the right that the effort to tear down Confederate monuments is destroying history.
Now, a newsflash for those who haven't been in a classroom in a long time, historians actually don't use statues and monuments in the classroom. They're much too large, they're really unwieldy. Instead, we use these things called books and primary sources. Well, the problem with this argument that tearing down the monuments to sort history is it ignores why those monuments went up and when they went up. These aren't monuments that were created right in the aftermath of the Civil War.
No, they were created largely in the 19 teens, 1920s. Again, 1950s and 1960s. Why were they created? Well, they were created during periods of massive mobilization of white supremacy across the south. We have the documents from the speeches people gave when they dedicated these. They tell us exactly why they were there. It was clearly to buttress white supremacy.
I went to the University of North Carolina in Chapel Hill, we had a monument called Silent Sam. You can read the dedication speech to this. In the speech, Julian Carr says, "This monument is going up as a reminder--" and he points. "As a reminder to that Negro who went over there to remember whose society this is." It's not very subtle. That in and of itself, these Confederate monuments were ever to rewrite the history of the past and so the effort to tear them down isn't tearing down real history. It's tearing down a fake history.
Someone else cut and dried that history for Ron DeSantis. He wanted to go and look at it and say, "Oh, that was history." No, we have to understand the process of this. It's a constant changing. People talk about revisionist history is bad. All good history is revisionist. We're constantly reviving understandings, reviving our interpretations, revising our conclusions about it. That's what we do.
Kai: The Confederate monuments is a really stark example. We're going to walk through a bunch of those that follow a very similar pattern that you [unintelligible 00:09:14] in your book. Listeners, we will have time for a couple of your calls in this too. I'd love to hear how any misconception about American political history has shown up in your own life. Maybe it's because you're a parent, and it came up with something with your kids have or have not learned in school or maybe it's something you learned recently that was really impactful to you. Kevin, why this book now? Why did you feel like you and your co-editor, Julian Zelizer, that this was the time for this book?
Professor Kruse: There's always been assault on history. There always has been myths and misunderstandings in American history. That's a constant and historians have always been pushing back against them, but in the last five to six years, that broad-Trump era, we really saw this reach a crescendo. The amount of things which people were saying at the state level from people like DeSantis and Governor Abbott in Texas, certainly the national level of the Trump administration was a nonstop set of claims about the history of politics of the presidency in which Trump was the best at this, the biggest of that, whatever, to the final days of the Trump administration was this effort to put out what he called this 1776 Commission.
That was [unintelligible 00:10:24] engaging in "patriotic education". Notably, a plan that had no American historians involved in the final report because it was so at odds with what American historians have done. Throughout all these years, historians have been active and pushing back on these things. One of the bright spots of this moment is that the very same venues like social media that let a lot of these lies and misinformation about the history spread, we can also use to pushback.
We've all been engaged on Twitter, Facebook, Substack, things like that, to push back on this, but we thought, "Well, that's fine that we do all that kind of stuff in the public media sphere, but what do historians do best? Well, we write." We decided to get some of these people together to write what we think are short, accessible chapters designed for general audience meant to be read by people who don't have a PhD, but want to know what the field is about these big issues.
Kai: One of the things, just to underline quickly before we go to our break, one of the things that's unique about this moment is the effort to rewrite history in real-time. It's something you say in the book.
Professor Kruse: Yes, exactly. It's happening constantly. Thinking about it a few years in the past, we saw this on January 6th. As soon as the first papers, the headlines were drying them, there was an effort to change the picture right away. We're seeing this unfold in an incredibly quick fashion.
Kai: Which is different than the lost cause kind of mythology that you just talked about before that took decades to unfold.
Professor Kruse: That's right, yes. The lost cause was 40, 50 decades in the making.
Kai: Now it's happened in a couple of days.
Professor Kruse: Exactly. A new cycle and we're done.
Kai: I'm talking with Kevin Kruse, co-editor of the new book, Myth America: Historians Take On the Biggest Lies and Legends About Our Past. Listeners, you're welcome to chime in as well. We'd love to hear from you if you have had any misconceptions about American political history show up in your own life. Stay with us.
[music]
Kai: It's Notes from America. I'm Kai Wright, and I'm joined by Kevin Kruse, co-editor of the new book, Myth America: Historians Take On the Biggest Legends and Lies About Our Past. We're talking about how those legends and lies are getting new life in real-time right now in our political life. Let's go straight to Martin in the Bronx here in New York. Martin, welcome to the show.
Martin: Yes. Good afternoon. Or good evening, rather. I did have a question, but first, I'm going to preface that question by recommending a great book on the subject of neoconservatism. It's called [beep] by Dr. [beep] [crosstalk]
Kai: Martin, let me ask you. You said you had a question.
Martin: Oh, yes. I just wanted to find out what the author's take is on basically neoconservative origins of American exceptionalism expanded by--
Kai: I'm going to let you go, Martin. First off, I just want to say that the [beep] I think the producer is looking it up, but I don't think you want to go check out that book. Kevin, you're shaking your head now. Can you help us fact-check that? Then I do want to talk about American exceptionalism and its history.
Professor Kruse: American exceptionalism does have a neoconservative origin, but our piece in that book is written by David Bell who's a colleague of mine at Princeton, a French historian actually, who writes about [unintelligible 00:14:18] from outside the field. What he notes is that neoconservatives certainly popularized this term in the '90s, but the origins of the term come with a very different person on the political spectrum. Certainly, Joseph Stalin, who popularized this in the 1930s, and the idea isn't that, as the caller said, America is not beholden to the laws of the world.
The original idea was that America wasn't really following the laws of history as Marxists understood them. There were certain lines of development in which a country would naturally progress towards communism, and America didn't have certain parts of that long history, didn't have a feudal past, didn't have other things. Therefore, it was the exception to the rule. This is why American communists started trotting this term out to explain to a very angry Stalin why they hadn't succeeded in rooting communism in America.
It was, for a long time, an academic term, and then it gets resurfaced again by the neoconservatives largely from Newt Gingrich, who himself had a PhD in American history, liked to think of himself as an academic and took this term that was largely still in seminar rooms and made it something in the stump speeches, and there it was not just that America is different, but America is better.
Kai: Which is one of the most ironic turns in our misconceptions. I also want to just really underline [beep] that book is an antisemitic book explicitly. I think that's the second time someone has called in to try to troll us with that book. I just want to take a minute on that, Kevin, because part of what we have in this moment in these debates about history is it feels like not everybody is engaging the conversation with goodwill.
Professor Kruse: Yes, and that's the problem. When you opened the show, I heard a bunch of things that people-- there were myths that they've heard about American past, about Betsy Ross, or George Washington and the cherry tree, and these are certainly myths, and historians have talked about that. That's not what we're talking about. Those are myths that don't have any malice behind them. Nobody's trying to-- or maybe some mom is trying to trick their child into not telling lies by telling them the George Washington story, but there's nothing more sinister than that.
What we have today are a set of lies about the American past that are consciously being spread by people who have a political agenda in mind. If you don't want the government to be involved in the economy, you spread lies that the New Deal was a failure, or the Great Society made poverty worse, or things like that. [unintelligible 00:16:45] the line about the old Civil Rights would have been nothing like Black Lives Matter. You spread that story to try to dry up support for Black Lives Matter. I think there really are some people, not everyone, but some people out there really do have some real partisan motives to spread these things, and that's what makes it really hard.
In the past, we've always argued about which facts are more important, but today, we've been reduced to arguing which facts are really facts because people are just inventing things and a whole cloth. It's not a spin on the past. It's, in some cases, complete denial of the actual reality of what happened.
Kai: Along those lines, one of the things I learned from reading your collection is I was surprised to learn there is an actual effort to argue that the Southern Strategy didn't exist. That the Southern Strategy being the strategy the Republican Party developed to exploit a white backlash to the civil rights movement and build a southern base. There is now a real effort to say that's not a fact anymore.
Professor Kruse: Yes. It's remarkable. If you told me, this is the essay I wrote, if you told me 10, 15 years ago I'd have to write that this thing really happened, I would have laughed at you because it was the most common conventional wisdom among historians, political scientists, and it's because this is not a hidden history. It is very obvious in plain sight.
Nixon talks about this in his memoirs, Goldwater does, Nixon's aide, Harry Dent, Strom Thurmond. Kevin Phillips, another Nixon architect, talks about this in the newspaper of the time. It's all over the archives, it's all over their memoirs, it's all of the newspapers and media of the day. It's right out in plain sight, and yet in recent years, even though there was a moment, again, 10 years ago, in which leaders of the Republican Party were not only acknowledging this, they were apologizing for this.
Ken Mehlman, the head of the RNC apologized to the NAACP, Michael Steele, an African-American head of the RNC also apologized for it, and there was a sense there in the Bush era, the George W. Bush era, that the Republican Party was reckoning with this past and turning the page. They were moving on to a much more racially diverse party, and they were making peace with the past and were going to turn the page.
In the era of Trump, that all got undone. I think the effort was here, the point was, "We're being accused of racism today, an easy way to deny that it's to deny that we'd ever done anything racist in the past." They went from simply apologizing for the Southern Strategy to pretending it never happened. This is people like Dinesh D'Souza or Carol Swain did a video for Prager University in which she said, "The Southern Strategy was a myth created by liberal elitists in the last decade or so. It's [unintelligible 00:19:30], but it was a recent invention and wholly created out of nothing." Yet, it's right there.
I wrote this piece on the Southern Strategy, which was actually good for me because I constantly was debating people online who were pushing this argument, and there was no good short text to recommend. A lot of--
Kai: Because it didn't need to exist before that. [unintelligible 00:19:52]
Professor Kruse: It didn't even exist before. You are having people refer to it in the past or they had these 900 page tomes, which I couldn't recommend to someone on Twitter, so I wrote the thing myself. It's what historians, it's what teachers often do. You want to assign a text, it's not there. Write it yourself.
Kai: We're getting short on time, but I want to sneak in another call. Patricia in Westfield, New Jersey. Patricia, welcome to the show.
Patricia: Hi. Thank you so much for this conversation. Can you hear me?
Kai: We can. You got about 30 seconds, Patricia.
Patricia: Great. I just wanted to say, you can't have American history without African American history. You cannot and Black history is not a footnote.
Professor Kruse: That's right. That's one level one where I think [unintelligible 00:20:34] was actually right. He said African American history is American history, that's true, but it's not subsumed on that. The whole point of African American studies, it came out of the Black Power Movement in the late '60s and early '70s. That's the reason we have colleges that teach this stuff. If you've got an AP course that's leading up to that thing, you've got to have the origins of this movement in mind, which would come out of a radical engagement with the moment of the late '60s and early '70s.
Kai: Kevin, we're starting to wrap up and I'm thinking about the consequences of this stuff, this fight over history. Do you worry about the well-meaning people who watch this stuff play out and decide, "I guess you can never know what's true or not. History, who was there?" How much do you hear that kind of thing nowadays?
Professor Kruse: I do hear a lot of that. We often hear this in the phrase of "maybe not", "who knows", but, "Oh, we can't judge those people. They were a person of their time." Yes, but there were other people of their time. Again, the Confederate monument piece, we often hear, "Oh, well, these were products of their time, we shouldn't judge them." No, African Americans at the time these things were going up we're screaming about how bad they were and how horrible they were, and how false the history was.
There are voices out there, we just got to listen to. I'd say rather than taking the experts versus experts, look at the source material. We point people in this book to a lot of primary sources they can look up themselves, really dig in and get the history yourself.
Kai: You refer in the book to bipartisan myths. I just want to get to this quickly because you've talked about partisan myths and say that they're actually some of the most enduring. What is a bipartisan myth? Can you give an example of that and why it's so enduring?
Professor Kruse: Yes. Bipartisan myths are ones that we kind of push with a partisan angle, like the Southern Strategy attack, but rather, again, the idea of American exceptionalism, America was never an empire. Native Americans have vanished from among us. These are held broadly across the political isle and so they don't seem to have a partisan motive and therefore we assume they must be true. It is the case that sometimes we've all been fooled across the partisan spectrum and so there are ones that don't have that political motive.
Kai: Have you in fact been banned yet? Has the book yet been banned somewhere?
Professor Kruse: Not yet, but fingers crossed, it's a sign of doing God's work.
Kai: [laughs] Indeed. Kevin Kruse is a professor of history at Princeton University and co-editor of the new book, Myth America: Historians Take on the Biggest Legends and Lies About Our Past. Kevin, thanks for making this time for us.
Professor Kruse: Hey, thanks for having me. This was great.
[music]
Kai: Notes from America is a production of WNYC studios. Keep up with the show by following us wherever you get your podcasts and on Instagram @noteswithkai. You can always talk to us by going to our website, notesfromamerica.org, where you can just click on a little record button and leave us a voicemail right there. We love to hear from you. Mixing and theme music by Jared Paul. Matthew Miranda is our live engineer. Recording, producing, and editing by Karen Frillman, Vanessa Handy, Regina de Heer, Rahima Nasa, Kousha Navidar, and Lindsay Foster Thomas. André Robert Lee is our executive producer and I am Kai Wright. Thanks for spending this time with us.
[music]
Copyright © 2023 New York Public Radio. All rights reserved. Visit our website terms of use at www.wnyc.org for further information.
New York Public Radio transcripts are created on a rush deadline, often by contractors. This text may not be in its final form and may be updated or revised in the future. Accuracy and availability may vary. The authoritative record of New York Public Radio's programming is the audio record.