Affirmative Action is About More Than Acceptance Letters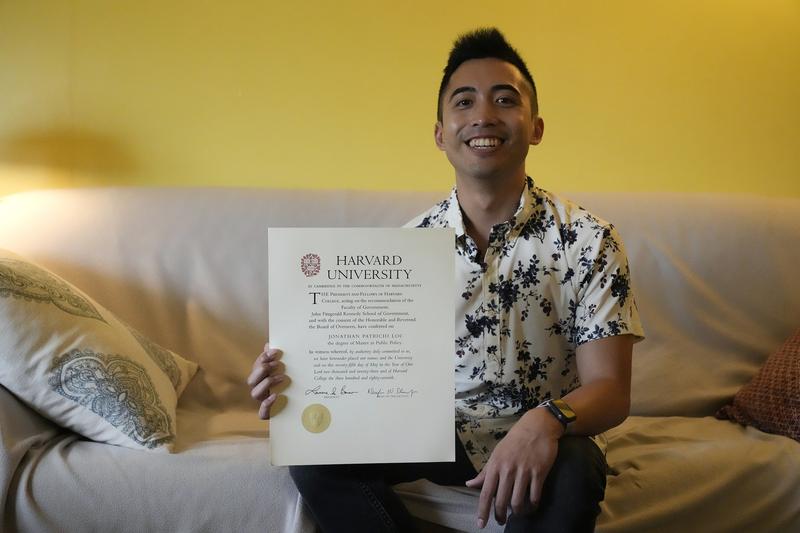 Transcript
[music]
Kai Wright: Hey, everybody. This is Kai. In our show this past Sunday, we devoted the whole hour to thinking about the Supreme Court's affirmative action ruling. In the first part of that show, we spoke with historian Ibram X. Kendi about the logic of the ruling and the history behind the idea of race-neutral or so-called colorblind public policy. That's the most recent episode in your feed. What you're about to hear now is the second part of our affirmative action show in which we talk more about the future of equity in higher education. Here you go.
Let's turn now to the question of what this ruling does or doesn't mean for equity in higher education moving forward. Listeners, I want to hear from you. If you're getting ready to apply for college or if you're helping someone with that process as a parent or guardian or school advisor, call us up. How do you think the ruling impacts your process? Joining me for this conversation is Dominique Baker, associate professor of education policy at Southern Methodist University. Her research focuses on equity in higher education. Dominique, welcome to the show.
Dominique Baker: Thank you for having me.
Kai Wright: I am also joined, again, by the National Book Award-winning professor Imani Perry who has just joined Harvard University as a professor of African and African American Studies, and studies of women, gender, and sexuality. Imani, welcome back to the show.
Imani Perry: Thanks for having me.
Kai Wright: Dominique, can you start off with some basics here? You have studied affirmative action and a host of other policies for equity in higher ed. How should we be thinking about the ruling and its impact? You said we should be careful not to overstate its power. What do you mean by that?
Dominique Baker: I think there are two pieces we can think about with this ruling. The first is that there will be a real decrease in the share of Black and brown and Indigenous students who are enrolling at a set of institutions across the country thinking about the institutions, in this case, Harvard, UNC, all those sorts of things. That those institutions are fairly small number of the institutions across the country and they enroll a very small portion of the college students in the United States. One of the things that I actually think about when I think about the broader impact of this ruling is actually thinking about the chilling effect that this will have on other colleges and universities across the country.
Kai Wright: What do you mean by that?
Dominique Baker: It's that we frequently see, we saw this in 2003 after the Michigan Supreme Court cases, that institutions often go above and beyond what the letter of the law requires of them. Even though the opinion may say this is only about admissions and there are still ways that you can consider and think about how individuals have experienced their race, what we can see, we saw this in 2003, we're already starting to see it now, is you'll see people say things like we can't consider race when it comes to scholarships, we can't consider race when it comes to hiring.
Those are not actually detailed in the opinion, but because institutions get really scared about litigation and things of that nature, they can go above and beyond what the law requires of them and wind up curtailing race-conscious practices far beyond the scope of what SCOTUS actually told them they had to do.
Kai Wright: I want to get into more of that a little bit more, but Imani, to bring you into the conversation, after the ruling dropped you tweeted a question that I think is also a useful baseline for our conversation. You asked, what is the function of American higher education? Is it merely a zone of capitalistic competition, or do we hope that it serves to create a competent and decent body of professionals to serve their societies and their communities? Why is that the question that was on your mind right after the ruling?
Imani Perry: It was really this simultaneous-- I think what Dominique said is absolutely true. There's these two dynamics at work here. One is the question of race-based affirmative action being narrowly tailored to such an extent that it may not actually be able to function any longer. Then the other is this case around student loan forgiveness. Simultaneously what the pressures are then become for roughly 120 schools that are selective in some form or another, that it will be dramatically more difficult for students of color, particularly Black and Indigenous students, to be admitted.
At the same time, we have a public sector which is failing students because of having this unbelievable debt that the Supreme Court also struck down the capacity to alleviate that. Now, there's some ways around that potentially. The question came to my mind because you're essentially saying these wealthy institutions that actually have the resources to fund students, those can no longer serve these groups.
These students that are public institutions, they have a responsibility to serve all of the nation's young people, those are also becoming cost prohibitive. For me, the question of what is the function of education comes to the fore. I just have to say I think it's really important to keep in mind that systematically Black people have been taxed for public education, including at the higher education level, all through history. It only begins to open up in the late '60s. Within 10 years, you have the Bakke decision.
The way I put it is I in my family I'm the only generation that was able to benefit from affirmative action and have access to public education fully, competitive public higher education. Now for my children, it's being suggested that there is too much remedy that has been offered. One generation in response to multiple generations of systematic exclusion and also systematic processes of limiting the capacity for Black people to accumulate the kind of wealth that might have made other ways of getting access possible.
Kai Wright: There's so much in there to unpack, but I hadn't thought about, I'm ashamed to say, the two rulings together, the student loan ruling and the affirmative action ruling together in the way that you've just outlined it. That is important food for thought. I actually want to broaden our call out with that in mind. I'm interested in both of those rulings and how they affect you.
If you are getting ready to apply for college or if you're helping someone in that process or a parent, a guardian, a school advisor, whoever you are, thinking about both the affirmative action ruling and the ruling that's limited the student loan forgiveness, how's that showing up in your process? Has it shown up in any way, shape, or form? Do you want to, Dominique, give us a quick reaction also to the student loan forgiveness ruling? This is also right in your wheelhouse. What's your top-line response when you saw that ruling?
Dominique Baker: Yes. It wasn't great. That was my top-line response.
[laughter]
Dominique Baker: I both study race-conscious admissions and I study student loans and debt cancellation, and so it's a one-two punch. I completely agree with everything that Imani is saying that these pieces work together, these decisions work together. I think that you have to read and think about the opinions for each case together and think about what it means for our future. What does it mean when we think about the fact that we've created a pathway to stability and prosperity in our country that runs through higher education, but we've also created the only way that most people can gain access now is through taking on a massive amount of student loan debt?
That where we ignore all of these larger systems that we've put into place previously for centuries that make it so that certain students are unable to attend the institutions that have the most money to provide for scholarships for institutional grants. They wind up taking out more debt and wind up more likely to default afterwards. To me, they work perfectly hand in glove with one another to create a world where we say that there's one pathway to prosperity and we are only going to open that up for certain students.
Kai Wright: We're going to take a break. I'm talking with Imani Perry, Harvard University professor of African and African American Studies and for the studies of women, gender, and sexuality. I'm also joined by Dominique Baker who's research on education policy at Southern Methodist University has focused specifically on equity in higher ed. After the break, we will also begin to take your calls if you are getting ready to apply for college or if you're helping someone in that process. How has the Supreme Court's rulings on either affirmative action or on student loan relief affected your process or your thinking? Stay with us.
[music]
Regina de Heer: Hi, my name's Regina and I'm a producer with the show. You may remember that last year we started the Notes from America Summer playlists. We collected submissions from you and curated a playlist that everyone could enjoy. Summer is here again, and I'm happy to announce we're launching our second summer playlist. A couple of weeks ago, I had a conversation with the guys from a band called Wake Island. They talked about how music has become such a powerful outlet for identity, filling a need as a search for their place in the Arab American diaspora. Now is your turn. What's a song that represents your personal diaspora story?
Here's how to send us your response. Go to notesfromamerica.org and look for the record button to leave us a message. Start with your name and where you're recording from. Then tell us the name of that song, the artist, and a short story that goes along with it. Feel free to include a little bit about your background as well. Make it your own, and please make sure that your recording is at least a minute long. We'll gather all the songs and your stories in Spotify playlists that will drop regularly all summer long. All right. I think that's everything. Thanks for coming to my TED Talk, and I can't wait to hear from you.
[music]
Kai Wright: Welcome back. It's Notes from America. I'm Kai Wright, and we are talking about the end of race-based affirmative action and the Supreme Court's ruling on student loan relief. What's the Supreme Court's ruling really mean, and who does it really impact? We can take your calls. If you're getting ready to apply for college or if you're helping someone with that process, how do these rulings affect your process? I'm joined by Imani Perry newly of Harvard University and Dominique Baker of Southern Methodist University. Let's go right to Harman in Fargo, North Dakota. Harman, welcome to the show.
Harman: Hi, thank you.
Kai Wright: How have either of these rulings affected you?
Harman: First of all, I was going to call on about the affirmative action ruling, but I believe this loan debt one is also extremely important. I'm a recent college graduate. I personally do not have a significant amount of student loan debt. The person in my family who does is my mother. Statistically, a lot of student loan debt is actually held by Gen Xers, and I believe that can also affect the next generation of college students.
Beyond that, as far as affirmative action is concerned, even back in my high school days, I remember as a white man a lot of comments from other white students, very nonchalant about applying to college, about the notion of like, "Oh, other people are more likely to get in than me, so why would I bother," of course, being on the race issue, which it always confused me because it seemed extremely defeatist.
I hear those same sentiments were echoed when I was helping my little brother apply to Texas A&M University, which is a university I believe particularly has a very interesting history with racism and barring Black students. I definitely agree with a comment earlier about the path to prosperity being gridlocked out because I feel like to a certain extent whenever white students don't make it into the universities, it provides a very convenient scapegoat to be able to just say, "Oh, probably a Black student got an affirmative action, so I shouldn't have even bothered trying."
Of course, as you were saying earlier and even Kendi was saying earlier, you have all these relatives of alumni, relatives of donors that are getting past that post first. I think definitely that racialized blame system gets ingrained very early into people's minds during the college admission process as a way of essentially blaming a third party that had nothing to do with it.
Kai Wright: It gets ingrained in people's minds early in the process. Dominique or Imani, do you want to talk about that, the way these ideas get ingrained in people's minds in the process of applying for college?
Imani Perry: Oh, absolutely. It's a very deliberate political strategy. There's abundant research that demonstrates that the impact of race-based affirmative action I think at most highly selective institutions is on the order of 1% so that there's a relatively infinitesimal impact of race-based affirmative action on the likelihood of a white student being admitted. Of course, all of those other factors mentioned earlier have a much greater impact. Then I think the larger question though is even what that idea means, easier to get in. You're not controlling for all of the other forces that shape how the student looks when they come to the application process.
All the other forces of inequality operate on every level, even at the level of the classroom. We have abundant evidence that in-classroom racial discrimination impacts grades. There's both district-wide discrimination, there's within-school discrimination, and there's even in-class discrimination. The idea that there's some kind of unfairness not only is it untrue, but the narrative is consistent with this long history of blaming Black people for any form of adversity, which is really about a possessive investment in whiteness and the advantages of whiteness, not just the abstract notion of fairness.
Kai Wright: Dominique, you want to chime in?
Dominique Baker: I was just going to throw in, I think this is actually a perfect example because you mentioned that you helped your brother with an application to Texas A&M and that this was ingrained. In the '90s, Texas actually through a court order stopped considering race in admissions. Because it was through a court order when the 2003 Michigan cases happened, it actually invalidated that. Institutions in Texas got to choose whether or not they wanted to consider race and admissions, and Texas A&M decided not to. It's funny that that's a piece that's talked about when it comes to your brother's application because Texas A&M is not an institution that considers race in their admissions process.
Kai Wright: There it is. Let me ask you this, Dominique. This is a comment from YouTube, and I think this is the question that a lot of people come to with affirmative actions. Someone asks if there should be more of a socioeconomic distinction between students from different ethnic backgrounds, and if more of the focus should be on the descendants of persons who were enslaved and Indigenous tribes. That's a very common reaction to this. What is your reaction to that question?
Dominique Baker: I think twofold. One, I always think it's important to keep in mind that when we say systemic racism, we mean systemic racism. We mean that there are things that happen to people that we have structured systems in our society to benefit white supremacy. That is true regardless of how much money the people who are not white have. That's important when thinking about the way that racism works in our country. Having said that, it's really interesting because I often hear people say, "Instead of thinking about race-conscious admissions, what we should do is really focus on socioeconomic status. We should really only focus on this income piece."
The part that's challenging there is all of the studies that look at simulations of socioeconomic status and looking at class-conscious admissions, they show a significant decrease in the racial diversity of incoming classes. Because exactly as Imani was saying earlier, what happens is you admit more white low-income students in particular. It is not the case that you can just automatically substitute out class for race and think that you're necessarily getting the same outcomes.
Kai Wright: You have to name the race in it. Let's go to Linda in Portland, Oregon. Linda, welcome to the show.
Linda: Hi.
Kai Wright: You want to share with us how either of these rulings have affected your journeys through school?
Linda: I want to give people hope and encourage them to consider working in getting either their first two years' education through community college, which is how I got through school and got two degrees, or working full-time in a job and just doing it in night studies for a number of years. I just discovered in old papers that my partner and I had stored from the family, her aunt had put herself through library science degree out here in Portland by going to night school.
Here were all these wonderful credits by credits that she had accumulated because she came from a family that was an immigrant family that didn't have money to just go to college all at once. She did it little by little and had no student debt. The same with me. I didn't have money to apply for college and go through university, so I went through community college first and then was able to get jobs that paid really quite well for my needs. If I wanted to go back and get a master's or a doctorate, I now could.
Kai Wright: Is it okay to ask you when this occurred? At what time period were these when both your aunt and you were able to do that?
Linda: Yes, of course. It's okay. I think we need to quit worrying about "offending people." We need to be able to talk with people and have different points of view. I went to school in the '60s. My partner's aunt would have gone to work in-- It would have been post-World War II when women didn't have any jobs to speak of, so it was really hard to get money together.
I would mention this too, when I was younger, my partner and I went to a hardware store since this is primarily a show directed towards young Black people. The guy that waited on us at the hardware store wanted to be a cartoonist. He happened to be Black, I don't think in those terms. My partner said, "You've got to go back to school and get a degree in arts." He did a part-time thing through the University of Washington and got his degree in fine arts from the four-year college, and then he was able to become a cartoonist.
Kai Wright: I'm going to stop you there, Linda. I thank you for that call. Just to clarify, this is a show for everybody, not just young Black people, but I really hope there's a lot of young Black people listening. Imani, you're trying to jump in.
Imani Perry: Yes. I think this is really important. The historical context, I'm so glad you asked, Kai, about the time period. In the 1960s-- My family as the vast majority of African Americans in this country was in the South. No one in my family could go to a state university, a majority-white state University. They were legally prohibited. When they desegregated, there was a violent retaliation. Even in that time period, that option was not available in the same way. Also, the job landscape was not comparable. Black women in Alabama where my family was either were hired as domestics, they worked in agricultural labor, and maybe sometimes they worked in education but in Black-segregated schools.
A small number had other kinds of professions, but those were very narrow access points. What we see today is that public education-- I think I agree, community college is a wonderful vehicle too for your education, but public higher education is being underfunded. The consequence of not having a robust public higher education system, many community colleges that don't have direct pathways to four-year institutions combined with labor market discrimination of the sort that economists estimate whiteness is worth three or four more years of education, literally, in terms of job markets.
There are studies that suggest that Black people with a high school diploma are less likely to be called back for a job than white people with criminal records who dropped out of high school, which is not to suggest that the pathway that Linda set forth isn't a meaningful one, but that actually does not address the problem of inequality.
Kai Wright: The other reason I asked about the time period, Dominique, is I wonder is that in today's time period possible for anybody in terms of the cost and the kinds of the cost of education, even public education? What is different, if anything, in the landscape today from the time that Linda has described?
Dominique Baker: That's exactly what I was thinking as well is that the price to attend college has risen astronomically. One of the issues that actually Imani was just touching on is that when public underfunding begins to happen, it accelerates and so the state is not providing as much money to public institutions, those institutions actually raise their tuition prices. We have very good economics research that shows this. What that means is community college does not cost the same in 2023 that it cost in the '60s, and part because we have underfunded our public institutions.
That means that it is more expensive to go to college in present day, which makes it really challenging for people to take the path that Linda did, but it's also the case that because there's less funding at community colleges, it means sometimes classes are oversubscribed. There's too many people signed up, they don't have enough money to hire people to teach. Students when they're trying to think about night school and things of that nature, instead of going to the public community college, they go to for-profit institutions.
We have very robust research on for-profit institutions, particularly from [unintelligible 00:23:28] that show the way that those students are charged an exceeding, just an exceptional amount of money, and are not as likely to complete a credential. Then they wind up taking out a significant amount of debt, but they don't get the boost from getting a credential so that they might get a job that has better earnings. It is a much more difficult road to travel in 2023 to find an affordable college education by doing a mixture of night courses and community college courses.
Kai Wright: Dominique, so the facts are, as I understand them, help me if this is right, the vast, vast, vast majority of students that go to college do not go to any of the selective schools that are involved in the affirmative action debate of any race. [chuckles] My question is when we think about the affirmative action ruling and the amount of political energy that's attached to it, and the feelings that we all have attached to it, does is matter [chuckles] for the vast majority of students? There's these financial things that we're talking about, but on the affirmative action question, how does it matter to the vast majority who will never go to these selective schools?
Dominique Baker: I think that's spot on. One of the things I always tell people is when we're thinking about this set of institutions that have really small acceptance rates, that on average, they're entering classes about 1,500 students, so they are not educating [chuckles] a large portion of people who are going to college and universities. I'll come back to the point I was talking about a little bit earlier, these ripple effects, these chilling effects that these cases can have matter a lot.
It took less than two days for state attorneys general to begin asking questions to public university systems about whether or not they should be using race when they are considering for financial aid, when they are looking at employment, and that is even though the opinion literally says this is only related to admissions decisions. It is a very real concern, I think.
When we look at the fabric across the country, we can see cases like this adding to like Florida Stop WOKE Act, adding to the DEI ban in Texas, that they all start to work together to try to, quite frankly, uphold the power and supremacy of white students within colleges and universities. Even though we're talking about a select group of institutions that admit a small number of students, that doesn't diminish the attacks that are happening on the tools to try to advocate for racial justice in this country.
Kai Wright: Imani, that minute or so we've got left, you are in one of the most elite institutions in the country, if not the world. Similar version of this question, why should a racial justice question such as access to university education, why should access to elite universities be part of that conversation in the first place?
Imani Perry: I think the reality is that we have a profoundly unequal society, and access to elite universities has consequences for who become the people who are actually in positions of power and authority. If people of color, significant numbers of Black and Indigenous people are not in that group, it does have significant impact on the rest of the society.
Now, were I to create the perfect world, I believe that we should invest in all institutions. I believe that every university can be made an excellent university, and it doesn't require a high degree of selectivity, but that's not the world that we live in. It's the idea. These elite universities say that their vision is to educate the world, to impact the world, and they have a responsibility to respond to the world as it is and to include everyone.
[music]
Kai Wright: Imani Perry is Harvard University professor of African and African American studies and for the study of women, gender, and sexuality. Dominique Baker is associate professor of education policy at Southern Methodist University. Thanks to you both for this time.
Imani Perry: Thank you.
Dominique Baker: Thank you.
[music]
Kai Wright: Notes from America is a production of WNYC Studios. Follow us wherever you get your podcasts and on Instagram @noteswithkai. A special thanks this week to Mike Kutchman for mixing the podcast and Sean Merchant for helping produce the second. Theme music by Jared Paul. Matthew Marando is our live engineer. Our team also includes Billie Estrine, Karen Frillmann, Regina de Heer, Rahima Nasa, Kousha Navidar, and Lindsay Foster Thomas. André Robert Lee is our executive producer and I am Kai Wright. Talk to you next week.
Copyright © 2023 New York Public Radio. All rights reserved. Visit our website terms of use at www.wnyc.org for further information.
New York Public Radio transcripts are created on a rush deadline, often by contractors. This text may not be in its final form and may be updated or revised in the future. Accuracy and availability may vary. The authoritative record of New York Public Radio's programming is the audio record.