A 9/12 Story: 'I Forgot I Was a Muslim Kid'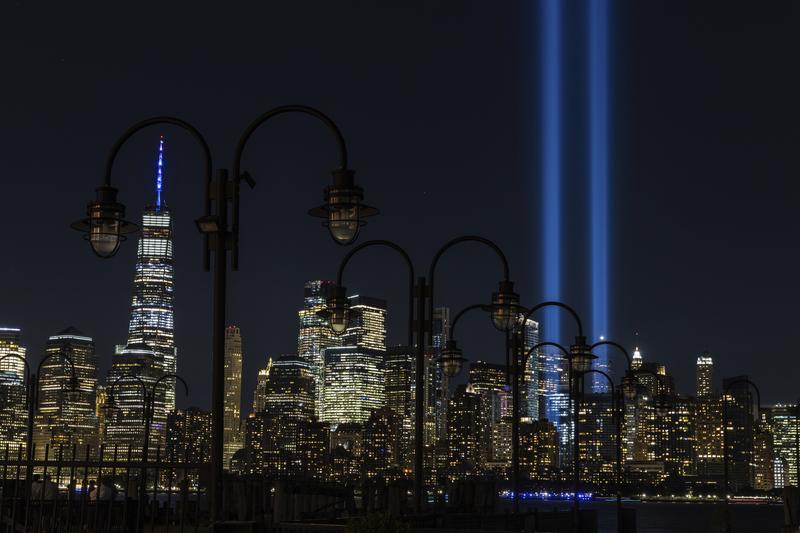 Transcript
Kai Wright: This is the United States of anxiety, a show about the unfinished business of our history and its grip on our future.
George Bush: 9/11 will become a date to remember.
AMBI: Who are you talking to? Oh, God.
Michael Morell: It was two realizations, the immediate death toll and then the fact that this was an attack on America.
George Bush: During a crisis, it's really important to set a tone and not to panic.
Reporter: You don't want a Mosque in Murfreesboro?
Woman: No, I don't.
Reporter: Why is that?
Woman: Because that's where they gather to take over America.
Protestor: I think that people who are protesting the Mosque are scared. I think they live in fear.
Dalia Mogahed: Muslim Americans are the model citizens on paper, and yet, many of them have said that they've spent the past 10 years telling people who they're not rather than telling people who they are.
Kai Wright: Welcome to the show, I'm Kai Wright. This weekend marks the 20th anniversary of 9/11, and that has, of course, prompted lots of reflection on how those attacks changed the world. Tonight though, we're going to reflect on how the response to those attacks changed many of us and how it changed the way some people in the United States even think about their own identities. We're going to take your calls on that question later in the show. First, I'm joined by someone who has spent much of his adult life reflecting on identity and religion in the United States and on what it means to be Muslim in post 9/11 America.
Aymann Ismail is a writer at Slate and was host of the magazine's video series, Who is Afraid of Aymann Ismail? in which he traveled the country meeting anti-Muslim activists and lawmakers among other people. He grew up in Northern New Jersey, just outside of Manhattan, and was 11 years old on the morning of 9/11. Aymann, thanks for coming on.
Aymann Ismail: Thank you so much for having me.
Kai Wright: It is standard practice in New York, as you know, to ask people where they were and what they were doing on 9/11. Your own story is actually quite harrowing as I hear it. You were in school at a private Muslim school. Tell us about what happened for you that morning.
Aymann Ismail: Sure. I'm still feeling the emotions from just passing 9/11. I missed the Twin Towers. I used to look to the Twin Towers in New Jersey where I was to know which way was east and where my dad worked. He used to work as a driver in that area. In the mornings, he would drop us off on his way to work. The school that I was going to was called Al-Ghazaly High School, and it was right in Teaneck, New Jersey, really just right across the water. When it happened, none of us knew. We were all sitting in class. We had heard on the Intercom that we were going to have an emergency assembly in the main prayer hall/cafeteria/gymnasium, whatever.
We go and we meet with the principal and the principal says, "Look, we've got to evacuate you guys." He doesn't tell us why. He just tells us to get into a single line and go out the back door and onto buses that were waiting for us. We had no idea why. It wasn't until we were on the buses leaving the premises that I saw that a small crowd had gathered right outside of the school, and they were throwing stones, and they were chanting. It happened so quick, we were out of there, and it wasn't until we were on the highway when we were stuck in traffic when it turned around and I saw the black cloud.
Kai Wright: Here we are. There's an attack happening and here you were, an 11-year-old, also being attacked. What about your dad? He's a driver in the city, what happened to him that day?
Aymann Ismail: All I know about my dad is that he drives in Lower Manhattan and that he takes people to the World Trade Center all the time. When we were driving together in the car in New Jersey, he would point to those Towers and say, "Hey, look, that's where I work." Those Towers meant a lot to me. That's how I knew where my dad was when I would miss him. When I saw the black cloud and I knew exactly where it was coming from and what had just happened, all I can think of was, "Is my dad okay? Will I ever see my dad again?" When we got evacuated, I was able to get home safely. Thank God.
My siblings were all there, they'd all left their schools too, and my mom was trying to comfort us because we all were so worried sick about our dad. There was no way to get in touch with him, this was way before iPhones, obviously. We were watching TV. We were watching the live broadcast. I think we were watching Diane Sawyer's ground zero coverage as it was unfolding. There was this moment when the tower suddenly collapsed, and a cloud of debris, this white fog, was turning corners really fast, and just swallowing whole streets with people on them. We're just glued to the screen, looking for our dad.
We were just praying that we would catch a glimpse of him so that we'd know that he was alive. It wasn't until the next day that he came home and he was covered in a little bit of dust. He told us that he walked home from New York and all he wanted to do was get to bed, and that was that.
Kai Wright: There are so many people with stories like that from that day. It's just hard to imagine. He walked home all the way to Northern New Jersey. He had to get back home.
Aymann Ismail: We knew people who were in a similar situation where their dads also worked in that area. I know at least two people whose dads never came home that night. I say it with a huge amount of gratitude that we were able to see him after that, but that night was terror.
Kai Wright: You were in the private Muslim school, why did your parents have you in that school in the first place? Why did they want you to have that education?
Aymann Ismail: It was really important for them, as Egyptian immigrants, that they raised kids who both spoke Arabic and understood their religion, Islam, the one that we were being raised on. They were so afraid of losing their kids to just the melting pot. On one hand, they were excited to be here and to participate in the American dream. On the other hand, they still wanted their kids to have that same connection and that same love for God. They spent money they didn't even have by the way. My dad is a driver with a pretty humble income, sending all four of their kids actually to private school so that we can learn Arabic and take a class about Islam in the same way that we would take the class about math and science.
At the time, I'm lamenting it. I'm not really that excited about having to go to a private school where we wore uniforms. I had friends from the local park and I knew how much fun they were having at the public school. I was annoyed. I was like, "I want to go to that school. It's next door. It's where all my friends go." Now that I'm older, I'm so thankful that they made that sacrifice so that we can speak Arabic because it was Islam. They spent so much time and so much effort during the seventh century and eighth century to preserve the oral tradition of the Quran.
It wasn't a book at the time, but they spent so much time trying to perfect it so that every generation that followed got the exact same message, totally clean of a human influence. Nobody could change. If you can speak Arabic, then you can understand it yourself. It was really important for them that we had a direct connection to the holy book, and that's why we went to that school.
Kai Wright: Then you talk about knowing that the kids in the park were having fun at the public school. You did move to that public school after 9/11, in Newark. Honestly, part of why I'm starting out with your story here is because part of what's most interesting to me about it is that despite all that your family faced, 9/11 didn't change you personally that much, at least as a kid. How did the kids in the public school when you got there react to you?
Aymann Ismail: My parents gave me the choice. They said, "What do you want to do? Do you want to wait and stay out of school and see whether or not the private school reopens?" Because after the protests, and there were several bomb threats that were made towards the school, they just decided that it was better off not to invite the kids back in. My parents gave me the choice.
Kai Wright: It must be hard for them, for your parents, I imagine.
Aymann Ismail: Yes, I don't think they got their tuition money back either, but that's beside the point. They basically said, "Hey man, what do you want to do? Do you want to go to the public school and maybe we can do some Sunday classes because we know you're not in a place yet where you are perfect and Arabic?" My other siblings were, I'm the youngest. They thought that those kids were fine. They had already been pulled out of the private school and put in the public school. In my case, they were thinking, "He might not be ready."
They gave me the choice. I chose the public school because I'm a kid at this point.
I want to go to where all my friends were going and I want to be able to walk to school and have that freedom to walk back. I don't have to need to get a ride to a totally different city. I created that independence, but I didn't even think of that until that first day when I was enrolled in the new school, that it was just days after this horrific terrorist attack, and they were, in many cases, going to meet a Muslim for the first time. Then all the paranoia set in. At this point, we had already faced a lot of Islamophobia. We were aware of all of the complaints. We knew people who were getting punched in the face in the street and people having things thrown at them.
My mother wore a headscarf. It was unavoidable when we'd go to the groceries together. I'd see the way people looked at her and the way they treated her. On one occasion, one kid made his hand into a gun and went pow-pow-pow. I was aware that life had just changed for Muslims forever, but at the same time, I started to embody it. I was worried about how people would treat me, how people would think of me, especially as this new kid. I guess it's a blessing that I was going to a public school in a very, very diverse area, in that in this corner of America, everybody was from somewhere. When people saw me, first of all, they thought I was Dominican or Brazilian, which was pretty funny, that gave me a huge relief, but on the other hand-- [crosstalk]
Kai Wright: That's New York life, right? Because everybody is from somewhere, and it's always like, "Wait, who are you?"
Aymann Ismail: It's a blessing. At the same time, when I told them I was Arabic and that my family came from Egypt, one of the first reactions I had was, "Oh, like Aladdin," and I was like, "Oh, thank God. That's the other stereotype. Thank God." No, I don't think it changed me in the sense where I became a whole new person. I was still just trying to make the most of life with the freedoms that I had. I was still excited about going to school and excited about making new friends, but at the same time, I was thrust into this new state of being where I needed to not only navigate the puberty, and learning to talk to girls, and having crushes on people.
I was navigating all of that through a context now, where when I said that I was Muslim, people would assign to me a whole identity. They would almost wonder if I deviated from that predestined identity. What was wrong with me? Why wasn't I like the Muslims that they had learned about on CNN or on ABC? What was different about me? Not that I was just individual with their own character and their own desires. You know what I'm saying?
Kai Wright: Yes. How did you then carry that? How did you respond to that?
Aymann Ismail: I embraced it, and I think a lot of Muslims can relate to this. I almost felt a certain amount of responsibility towards my community to argue on our behalf. When we're on the playground and kids are making jokes, and one kid, it might have been serious, I don't know, I like to think that he was being funny, he was asking me, because he had just seen my mom pick me up from school, asking me, "What does she keep under there? Why is she wearing a scarf over her head? What's under that scarf?" I joked, I was like, "We're from the desert, so it gets really hot, we need to carry air conditioners. They carry air conditioners under there."
I almost made fun of them for being so silly in the things that they would believe. I made fun of it and also I had a way of navigating these spaces where people trusted me to to set the course right.
Kai Wright: We're going to take a little break, and when we come back, we'll talk about the point in your adult life when it really did start to change for you. I'm talking with Slate writer Aymann Ismail, and we'll be right back.
[music]
Kai Wright: Welcome back, I'm Kai Wright, and I am with Aymann Ismail, a writer for Slate Magazine, who was also host of the 2018 video series Who's Afraid of Aymann Ismail, in which he traveled the country meeting, among other people, anti-Muslim activists, and lawmakers. Aymann, before the break, I mentioned that I know that it was really once you got to be an adult, once you got a little older, that you began to actually feel more like something had shifted for you as a Muslim man. What brought that about?
Aymann Ismail: I think this is something that a lot of people can relate to. The police in any urban area are in a way looking for crime and looking for a crime before it happens. As a little kid, you tend to be able to get away with a lot. We were jumping turnstiles to get from New Jersey to New York all the time just to have fun. We would also just be walking around in huge groups, again, just having fun, but then you start to notice a change in the way that you're perceived. When you hit a certain age and you start-- Maybe you have some facial hair, maybe your pants are getting baggier or something, where now all of a sudden, the police who might have let you slide are now asking you to stop so they can search your pockets and search your book bag.
For me, I always had a big beard, mostly because I didn't know how to groom it pretty well. It was just a big, chunky beard that I always had. I think a lot of law enforcement at the time saw that as a license to investigate me further. I had a lot of friends from West Africa, I had a lot of friends from Latin America. I would see this not only in my personal experience as a Muslim-American, but I saw this in lots of people's experiences. I wasn't able to get very far in a certain neighborhood in a car without getting pulled over and searched if the person driving the car looked a certain way, and that's just the reality that we learn to navigate.
We had to figure that out quickly because we don't necessarily know that we're changing. It happened slowly for us, but it's really fast when it hits you. It happened several times where I would go on the subway and I would be pulled aside for a random search, or if something were to happen, they would stop me and ask to see my ID just to make sure that I'm not the person they're looking for. On several occasions, I had cops follow me from one stop to the next when I'm just on my way to work or on my way to lunch break or something.
It didn't really hit hard until, I think, the AP did this investigation and the ACLU sued the NYPD to declassify this massive spying program and mapping program, where they instructed their officers to wear plain clothes and go into places where they knew Muslims frequented, whether that's restaurants or prayer halls or even student groups, to take notes and tell their employer so that they can survey who these Muslims are. The idea behind that was, "We were attacked by Muslims on 9/11, and the only way to prevent another 9/11 is to keep tabs on these Muslims." I really felt like a gravitational weight by just even passing by a cop because I could feel their eyes on me.
Kai Wright: Did that show up in your social circle? Did you start seeing that?
Aymann Ismail: Of course. There was one occasion where it really got difficult, man. I was a photographer, I might have even forgot that I was a Muslim kid, to put it plainly. I just saw myself as a photographer, always looking for the next best shot as a journalist trying to get the story that other people might miss. There was this moment the New York City was having where people were climbing bridges and going in tunnels to basically take pictures. It was urban exploring, is what it was called. I had learned about this one kid who was really great at climbing bridges. I asked him, "Can I shadow you for a night so I can write the story?" He was cool. I said, "Let's do it."
I go and I do the story, and it felt amazing, and New York Times linked to it. It was an event, it brought a lot of traffic to the magazine that I was working at at the time. It felt really good. Then months later, this happened, I think, in November in 2013. It wasn't until April of 2014 where I'm out on a different assignment, and my roommate calls me in a panic, saying, "Yo, Aymann, there's four detectives here. What do I tell them?" I'm like, "I don't know. Just tell them to leave if they don't have a warrant," and they said, "Okay." They left a card and I gave it to the lawyer at the magazine that I was working at. I was like, "I don't know what to make of this."
He calls me after he talks to them, and he says, "Look, there's no way around it. They want you to turn yourself in." I'm like, "Okay, this sounds serious. Let me not let this escalate. I'll be the good person and turn myself in." It was for trespassing because I had climbed the bridge for that story. Yes, trespassing is a misdemeanor, and it was my first time ever getting arrested for anything. It was my first-time offense. Typically, if the law was being applied for this kind of thing, they would give you a ticket. Had they even caught you in the act, and they would give you a summons and you would have to show up to court whenever that would happen, but in this case, they sent detectives to my house.
It almost felt like they had found a reason to go after this Muslim kid. The only reason I feel confident saying that is because the questions they asked me when I was in custody weren't about the bridges, it wasn't about the story or even the person that I was doing the story on, it was, "How Muslim are you? How often do you pray? Which Mosque do you pray at? Do you know such and such activist with the Muslim name?" One even so bluntly said, "If you knew about a terrorist attack, would you be comfortable letting us know?" My response was, "Of course I would. I live in this city.
When 9/11 happened, that was an attack on all of us. How could you not see us as on the same team against those terrorists?" It was dumbfounding. It turns out it didn't matter what I said to them because when it was my turn to see a judge after 36 hours of sitting in the tombs, which is this underground bunker underneath the central bookings where they keep people while they wait to see a judge. They held me for the maximum amount of time, 36 hours. Then when I did see a judge, the judge very quickly glanced at my file, glanced at me, and then what he said blew my mind. He said, "If you do something like this, again, we're going to have to look into deporting you. I'm like, "Oh my God, this guy thinks I'm not even here."
Kai: Like I grew up right here.
Aymann Ismail: "I was born one and a half miles away from where the jail was in Jersey City on a cliff facing the New York City skyline. I'm as American as they get, man, come on." It was so heartbreaking because all I can feel in that moment was how could I have, let myself become so naive that I would be seen as anything in this situation? Anything other than just a Muslim kid who's a potential terrorist? If I'm not a terrorist, maybe I can be useful in catching the next one. Like we're all just in like some big group chat talking about blowing stuff up, like it's insane. It's it was heartbreaking in so many ways.
Anybody in New York who'd been involved with the law in that way knows that once they have your name and once they have a reason to stop you, they will. That became the beginning of a series of escalating harassments, where there was slapped cuffs on me, just for checking my ID and seeing the name come up, and it was bad.
Kai: Listeners, I do want to get you in the conversation too. It does not have to have been as dramatic as a story has Aymann has faced, but a lot of people in this city have faced similar things. Did anything happen in the aftermath of 9/11 that changed the way you think about your identity in the US? It could be religious, it could be ethnic, it could be otherwise, 646-435-7280, that's 646-435-7280. We got a voice memo emailed to us before the show from Sheila in Brooklyn. Here's what she had to say.
Sheila: I'm Iranian and American. I was born here, but my parents emigrated from Iran. It did affect my identity and my sense of who I was for a long time. I couldn't relate to the jingoism. I felt less American for a really long time. I wasn't raised religious, but I started to feel really protective of Muslims in America and Muslims abroad. It made me question whether I wanted to have children, and if I did have them, will I raise them here? I think in the last 10 years, what's helped me feel more American again is really identifying with all the more recent immigrant populations in this country. Realizing that we all belong here and maybe we have to fight for that.
Kai Wright: That was Sheila in Brooklyn. David in Midtown, welcome to the show.
David: Thank you for having me. I'm a former prosecutor for 10 years, and I remember the day where you're literally walking over the ashes in the street from everyone who died. I remembered having to pick up my kids who were very, very young at the time and try to explain to them what happened, and what happened within a building that they had visited for school trips, et cetera. Also, I remember going to a religious service that night, a synagogue that was overflowing with more people than I'd ever seen, even on the highest holidays.
The only messages I heard, I didn't hear of messages of vengeance, I didn't get messages of wanting for bad things to come, just messages of hope and prayer, and the need to be together. I will tell you, the synagogue we attended is a very, very open one, non-denominational. There were people who just came in from the neighborhood, from all walks of life. They weren't necessarily Jewish. I will just say that hopefully, over 20 years, we can learn a lot about ourselves, we can learn a lot about the threats, we can learn a lot about how to treat each other.
For the 20th anniversary, it's a little bit off-topic, but one of the things that I decided to do was to drive down to Charlottesville, and we visited the places where the demonstrations and the encounters had occurred to try to understand that as well. If I were to give a message of 20 years past, it's we all have to continue to think and to understand what our responsibility is to each other.
Kai Wright: Thank you, David. I'm going to stop you there. I put this question to one of our colleagues here at WNYC earlier today, and I want to play what he said. Joseph Teddy, he's a reporter in our Race and Justice Unit who's been covering the 9/11 anniversary. He's actually out-reporting right now, so he can't join us live, but he's got a great piece up on Gothamist about exactly the NYPD spying on Muslim communities that you were talking about, so folks should check it out. He was nine years old in 2001, and he lived in Los Angeles. His mom and dad are immigrants, Egypt and Palestinian respectively.
They're devout Christians, not Muslims; yet what happened to them in the aftermath really changed things for Joseph as a child. Here's what he told me earlier today.
Joseph: At that point in my life, I had not thought of myself as different. I had thought of myself as nine years old, I liked to play sports. I had a pen pal in New York and we were taught. My dad is and always was a super-patriotic American. The thing about us is we spoke Arabic and we spoke Arabic at home. I lived in a pretty diverse area. We were speaking Arabic in our neighborhoods, somewhat with our cousins, with our families. I was under the impression growing up that everyone spoke Arabic. I thought everyone at that time was speaking Arabic, that was just my worldview.
Now, 9/11 happened and we're freaking out. We had just moved into this new neighborhood. A couple of weeks in, we had some neighbors, like a group of neighbors, maybe seven, eight neighbors come to our door and they told us, "You've got to hang an American flag in the front of your house. We want you to hang an American flag so you show us which side you're on." I didn't really understand why they would say that to us, why they would single us out. I had never really thought of my identity at that point really. Now, my dad was stateless, so his first passport was an American passport. He considers himself patriotic.
This is the country that gave him citizenship, his whole life, he didn't have one. Now, all of a sudden, we're being questioned about our Americaness. What did we end up doing? My dad bought the biggest American flag he could find, he hung it up right in the front. That's when I started to realize that I was different. I started to question-- I was nine years old. I wasn't really thinking about it before, but from there I started catching these little things. People staring at us on the bus. My mom, speaking Arabic on the phone, then when someone is close by, she'll whisper or she'll stop talking. It just escalated more and more into our adulthood really.
Kai Wright: We've got about a minute here, but I wanted to play that because of the point about his parents and their patriotism. How do you think this has shifted the way that Muslim Americans think about themselves politically?
Aymann Ismail: Wow. Both David and Joseph have incredibly powerful stories, and I'm just letting them absorb right now. I think politically speaking strictly, I think it gave Muslims the courage to speak for themselves in a very big way. I think a lot of that came from the aftermath specifically in how Muslims were talked about in media. A lot of times, people were having programming about who these Muslims were without actually inviting Muslims on. You had these pundits arguing over what they've heard about Islam and really scaring everybody, Muslims included.
I think in the long run, 20 years later, it's just undeniable that Muslims have come to the occasion and are starting to speak for themselves in a very loud and unavoidable way. We have representation in Congress like we've never seen. We have TV shows that are, on one hand, they are about Islam, but they are hilarious, and we're just killing it. We're in sports, we're in movies, we're in TV, we're here. I think in a lot of ways that is proof that the American experience and the American experiment is a success.
[music]
Kai Wright: Aymann Ismail is a writer for Slate and host of the series Who's Afraid of Aymann Ismail. Up next, a conversation with the creators of the hit Broadway show Come from Away about a true 9/11 story.
Kousha Navidar: Hey everyone, this is Kousha. I'm a producer on the show. For the past few weeks, I've been asking you to send us a message about where else you spend time online when you're not listening to The United States of Anxiety. Quick shout out to one listener, Brandon from Texas and going to school at Georgetown. He sends a thoughtful message and I want to read you some highlights. Brandon says, "When I'm not listening to this podcast, I'm usually on either YouTube or TikTok. In the past, I've listened to some podcasts on YouTube. TikTok three minute limitation doesn't really allow for great listening, but I'm loving the recent intersection between podcasts and TikTok. Love the gif."
Thanks, Brandon. I am happy you like the gif we sent you. We appreciate you listening and writing, and hey, that applies to all the rest of you listening too. If you agree with Brandon and you like YouTube and TikTok or you spend time in other places or hey, you just want to find out what gif we sent him, send us an email or voice message. The address is anxiety@wnyc.org. All right. Thanks again. Talk to you soon.
[music]
Kai Wright: Welcome back. I'm Kai right. There are many lasting scars from 9/11, but there are actually some inspiring memories too. One of them is the story of what happened that morning, and over the next several days in Gander, Newfoundland in Canada. If you're a Broadway fan like myself, then you know this story probably. It's been dramatized in the Tony Award-winning musical, Come From Away. The show's creators collaborated with Apple TV Plus to release a film version of it this weekend in conjunction with the 20th anniversary of 9/11.
The show tells the remarkable and true story of about 7,000 passengers who were on their way to different parts of the United States on the morning of September 11th. All of their flights, 38 large planes, were diverted to this tiny secluded town and park there for days. The show depicts how the town welcomed those lost travelers.
[crosstalk]
Speaker: September 11th, 2001, any available community buildings will be converted into shelters. With thousands of passengers arriving at any minute, the town is asking for help with, well, anything you can do.
Kai Wright: It arrived on Broadway in early 2017, a story about simple kindness, and it struck a chord. It ran until the pandemic shut all of Broadway down, but it will be back on the stage later this month. A lot of people on our team love this show. This week, we connected with its creators, a married writing team, Irene Sankoff and David Hein. We talked about how art can help us process tragedy and conflict. Irene and David, thank you so much for joining us.
David Hein: Our pleasure.
Irene Sankoff: It's great to be here.
Kai Wright: You guys have written, as many people have said, just an ode to decency, which landed on Broadway at a time when it felt like decency was a very rare thing. Many people have commented on that timing that, setting 9/11 aside entirely, audiences were in deep need of a story about people treating each other well. Obviously, you wrote it way before that, but I wonder what motivated that focus on decency? Was it pressions about the times we were going to be living in?
Irene Sankoff: I think it was all, honestly just being in Gander on the 10th anniversary, and talking with people who returned 10 years later to thank people for what they've done before, hearing all of the stories. Each one was more memorable than the last. Even then, we were so used to seeing horrible things on our TV screens that just being like, whoa, like, this is something completely different in that you're listening to this story and the other shoe never drops.
Kai Wright: I read once where Toni Morrison talked about creating tension through acts of cooperation, as opposed to through acts of conflict, and I thought about that a lot watching the show.
David Hein: Exactly. People have often said that there isn't really an antagonist in our show, and the antagonist really is the one that we all had, which was a horrible tragedy that so many people were dealing with, and the action of the show, the action of the story that we heard was how people overcame it and how they overcame it together. That's the story that we wanted to tell.
Kai Wright: It's also been widely noted that this is a story in which the course is the hero. I wonder about that to this decentering of the heroic leader and why that was, how you wanted to process what happened on 9/11?
Irene Sankoff: I think, although there were many leaders, obviously, a lot of the leaders also knew, and this is another thing about great leadership, a lot of the new leaders knew when to be like end you're best at that, so you've got that under control. You know what I mean? There wasn't one person who was like, "I've got this all," it was just everybody being like, "I got this and they've got that, and they'll tell me if they need anything." I think it's important.
David Hein: I love that there's something democratizing about doing small acts, random acts of kindness towards people. It feels small to just do one of them or to just help one person, but the fact is, the story of Gander, the story of Newfoundland helping in 9/11 is a story about thousands and thousands of small acts of kindness, that all together, came together to form this incredible outpouring of support for people.
It feels often like it's a drop in the bucket to do this one small thing but if you have faith that everyone else is working together, and that you're working together as part of a community, it turns into something much larger. I think that was important for us to reflect on the show. That every single person out there was doing something. Even the people on the planes, they had every right to be scared, and angry and confused, and mad, and instead, they worked with the people there. They were gentle with each other. They were patient and grateful.
It actually takes work to accept generosity sometimes when you're scared and angry. There was a whole community working together and it's become a model for us and something good for us to remember that we actually can do that in times of darkness.
Kai Wright: Now, of course, it also is-- Who you are determines whether you find the chorus and the collective, comforting or terrifying, and in reality, the chorus in America turned quite dark in the years after 9/11. In the show, we first see a sign of that with the Egyptian man-
Flight Crew: Citizenship.
Passenger: American
Ali: Egyptian.
Kai Wright: -who is greeted by security on the island quite differently from everybody else.
Passenger: Family
Ali: The business, just business.
Flight Crew: Destination.
Passenger: LA.
Ali: Dallas. Then Washington, DC.
Flight Crew: Thank you.
Flight Crew: Could you come with me, sir?
Kai Wright: How did you want people to think about that tension in this show between the good and the evil of the chorus as it were in our society?
David Hein: It's funny, we were looking through emails from our time in New York at the time, and what I remember in New York at the time, was the fact that we could overcome any differences. You could talk to anyone because everyone was going through the same thing together. You could reach out to someone just on the street and say, "How are you doing? Are you okay?: That's what I remember, it's that kindness. I also remember meeting a man who worked at Windows on the World and who lost a lot of his staff that day, and he was quite angry and Islamophobic in the time afterwards and we got into an argument.
There was this really, this dichotomy of the ability to reach out to anyone and to have conversations, and at the same time, the other side of the coin is this anger and this divisiveness in response to that. When we were writing the show, we felt like it was important to show that this was actually the beginning of Islamophobia. There was a lot of fear and concern about strangers at the time, and we now have kids with Muslim parents who come to see the show, and they're like, "Oh, that's when it all changed. That's why my parents are afraid, that's why."
It was important to illustrate that that was part of it, and at the same time, to have Allie, the character of Allie, make the choice at the end that he was going to remember the kindness that he was shown, and that was important for him and that was how he was going to teach his daughter.
Kai Wright: It's interesting. You mentioned the audience members, young people who come with their parents and say, "Oh, that's the time this turned." I wonder about other stories like that you've heard from audience members, or if you know if there are particular songs or moments in the show that helped people process their own experience with 9/11.
Irene Sankoff: I think, as people are watching the show, they start their own tape of their memory in their head. Our show doesn't bombard the audience with traumatic or jarring images, it relies on text and it relies on emotion and it relies on music, and the music guides you and it keeps you safe. Just as soon as things start to get really, really tense or dark, they bring you back up again. I think a lot of people respond to the prayer when it's channels of your peace, and then there are other prayers layered in.
[music]
Irene Sankoff: I think looking at everyone working together to pray as they did at that time in the library in the town of Gander is very inspiring. We've got that covers from Away album coming out where we've got once again that same prayer. This time, we reached out to an indigenous artist from Newfoundland to layer in a prayer and work with the elders to create something because that seems very current right now up in Canada. It is very current, it doesn't seem that way, it is, and it always has been very correct, just finally we're waking up.
Kai Wright: That song is an example of the way the show just deals with diversity in interesting ways that, to be honest, challenge me also. I confess to hating the word diversity. It so often evokes a kind of tolerance that doesn't ask anything of people, doesn't force you to actually think about power and privilege and how it's doled out, but then when I watch this show, I think about it in these much smaller ways, and that's when it gets really powerful. The moment in the show that gets me start crying is, I think the song is darkness and trees.
People are trying to figure out how to communicate, despite speaking different languages and having totally different social contexts. There's the family holding a Bible on the bus that don't speak English, and they see these people in uniform in the context of soldiers, shuffling you on and off buses is terrifying in their context. The bus driver sees their Bible, knows that they don't speak English, they can't communicate, and he finds a Bible verse, Philippians 4:6 to communicate through, "Be anxious for nothing."
Speaker: Said look, Philippians 4:6, "Be anxious for nothing," and that's how we started speaking the same language.
Kai Wright: I guess that's a long way for me to ask, I wonder about the ways in which we're searching for a common language, particularly around diversity and story, like the detail and smallness of story as a way to provide it for us now.
Irene Sankoff: We heard many stories about a grandmother who didn't speak English, and when the granddaughter explained to her on the bus, "Oh, they're taking us to a camp," thinking camp for me is when I went away to summer camp, and it was fine so this is where we're going, but the grandmother bursts into tears because she's thinking, "Oh, that's where I lost my family," it was in a holocaust camp. There were so many of these tiny details. Yes, we did try to get in as many of them as possible to show how we have to look past like a word that we know in our context that is suddenly very, very triggering to somebody else.
David Hein: It's been interesting now because, with Apple TV plus bringing the show to 100 different countries around the world, and with the show going around the world, we started to work on translations of the text that we did. Obviously, there's a lot of different languages in the show. As we go worldwide, we start to realize that the German translation, we had needed a little bit of tweaking and everything, but we're actually translating the concepts that we're talking about, whether they're tiny, little verbatim text, or whether it's a whole of how do we come together, or what does an Islander mean or things like that. It's been surprising, digging into the weeds on that, to find how different we really do communicate and how it is not a direct translation.
I think what that speaks to is just how much work it can take but, also the story tells us that it is actually possible to overcome these things, but we have to assume that it isn't easy, that we go into this with the assumption that this might take some work, but it will be so worth it. It's like the prayer that Irene mentioned, that piece was so hard to make all the prayers for the world religions harmonize together, and it took a lot of work by us on our incredible music team. At the end, I think it's something really beautiful, but wow, it was a lot more work than we expected. I think the same thing speaks to how do we communicate with one another and how do we find those commonalities?
Irene Sankoff: Well, I guess just because something's easy doesn't make it right. Just because something's hard doesn't make it wrong. In order to be good or kind or correct, it may actually take some work. I think we're fed a lot of the time like, "Oh, it's easy, it's easy, you can do this and you could do that, and you can clean your floor in two seconds, and everything is easy and then that means everything's good," and that just, I think, is not the case.
Kai Wright: Well, along those lines, I appreciate the way the story deals with healing also, and the reality is that some wounds don't fully heal. I'm thinking about the song, Something's Missing.
[music]
Kai Wright: Can you tell me about that number and what it's trying to say? Also, it feels almost like it has double meaning at this point, as we come out of this ongoing pandemic and try to get our lives back together. Can you just talk about that song?
David Hein: It originally came from the feeling of returning from one world to the other. So many of the people that we talked to, when they were in Newfoundland, really thought that they had found heaven on earth, and they were returning to a really broken world that had lost some innocence, that had lost because something-- Our experience, we were just talking about this, we were looking through photos from 20 years ago, and you could look down Eighth, right, Irene?
Irene Sankoff: Yes. You can look down Eighth Avenue. In 2001 when we lived there, 2000, 1999, I'd looked on Eighth Avenue and I'd be like, oh, there's the Towers, that means I'm going downtown because I'm directionally challenged. Now I look down Eighth and I see the Come From Away banner, and I'm like, "Oh that banner is there because those towers are not." Nothing's going to change that, nothing's going to make it better like really. There's something I saw somewhere on some psychological Facebook thing about grief is like a hole, and at first, it's like this, and it takes up everything in your little box here.
Then somehow it can get smaller, and you can live around it, but it can go to here again, and that's just the way it is. You can't closure and make it go away, it's always there.
David Hein: Today, more than ever, so much is missing that we're trying to claw back, that we're trying to open our theaters, that we're trying to reunite with each other. Every time we feel like the vaccines come out, and everything is okay, the Delta variant comes out. It's really hard right now. There's something missing I think in all of us, and we are trying to fill it and we fill it with shows on Apple TV Plus. We fill it with content. We fill it with zoom calls with each other, and it's not quite the same. Therefore, there's something a little bit lacking.
I think it's important to recognize that grief, to recognize that we are not back to normal yet and I hope we can be at some point, but we're always going to be changed by this right now in the same way that in 2001, we all changed.
Kai Wright: Before I let you go, I do have to ask though, you're going back to the theater. The show is coming back to Broadway, we're all going-- I have yet to go to my first show but I cannot wait to get back inside the theater. What's it like?
David Hein: It's amazing.
Irene Sankoff: It's exciting. It's amazing.
David Hein: When we recorded the live capture, that was the first time we had been back in the theater. It was a small audience because of the pandemic, but the noise that that audience made was amazing. It blew the roof off it. We all want it to be back. We all want it to be in a place where we could come together. There's that study that's out there that says our heartbeats start to synchronize with the people next to us, and in the room, we all start to synchronize together. I think we are hungry for that feeling of coming together. Broadway is back, shows are thriving right now, and we can't wait for our show to return on the 21st.
It reminds me of when, over 9/11, when our friends in this international resonance that we were in, came to get us, said come downstairs, they played music for us. We had a friend who was a pianist and we all gathered around and that music helped us come together as a community, that art helped us come together as a community and heal and make our path through this.
Irene Sankoff: Also, something is missing. I couldn't be there. The pandemic is a very real thing. Our daughter did not want to be left alone or left with anyone else, she wanted one of her parents, and one of us had to stay home. We couldn't both come to the live capture. It's a new different world. The people we were before this whole thing happened, we're not the same, and we have to keep the most essential parts of us and go forward.
[music]
Kai Wright: Irene and David, I really appreciate your time, and I really appreciate this show you made. Thanks for coming on to talk about it.
David Hein: Thank you.
Irene Sankoff: Thanks.
Kai Wright: David Hein and Irene sank off are the creators of the Tony Award-winning Broadway musical Come From Away. Apple TV Plus released a live version of the show this weekend, and it returns to the Broadway stage on September 21st. The United States of anxiety is a production of WNYC Studios. Mixing by Jared Paul. Kevin Bristow and Milt Morris were at the boards for the live show.
Our team also includes Emily Bo Teen, Regina De Heer, Karen Frillmann, and Kuosha Navidar. Our theme music was written by Hannah Brown and performed by the Attleboro Brass Band. Veralyn Williams is our executive, and I am Kai Wright. You can keep in touch with me on Twitter at Kai_Wright or shoot me an email at anxiety@wnyc.org. Of course, I hope you'll join us for the live show next Sunday at 6 PM Eastern, stream it at wnyc.org or tell your smart speaker to play WNYC. Till then, thanks for listening. Take care of yourselves.
---
Copyright © 2021 New York Public Radio. All rights reserved. Visit our website terms of use at www.wnyc.org for further information.
New York Public Radio transcripts are created on a rush deadline, often by contractors. This text may not be in its final form and may be updated or revised in the future. Accuracy and availability may vary. The authoritative record of New York Public Radio's programming is the audio record.