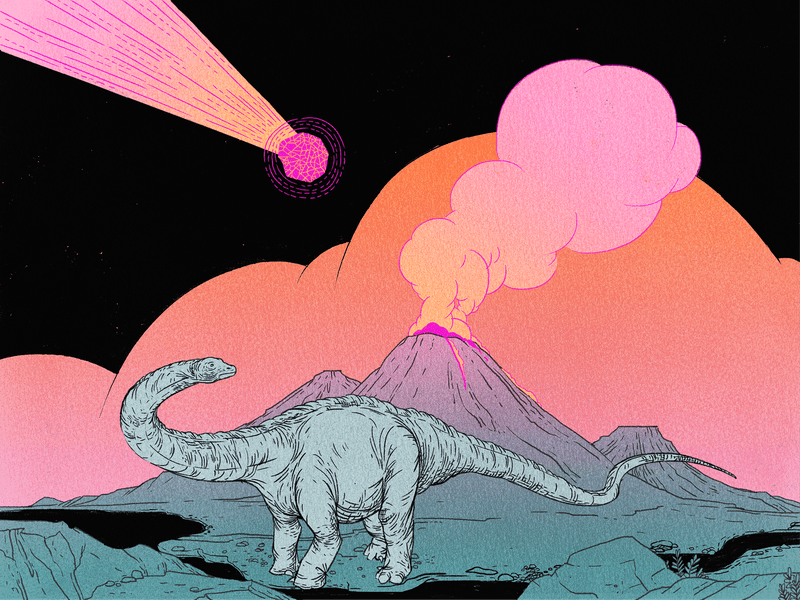 Transcript
Undiscovered is produced for your ears! Whenever possible, we recommend listening to—not reading—our episodes. Important things like emotion and emphasis are often lost in transcripts. Also, if you are quoting from an Undiscovered episode, please check your text against the original audio as some errors may have occurred during transcription.
ANNIE MINOFF: This is Undiscovered
ANNIE MINOFF: What killed the dinosaurs? It is one of the great mysteries, the great enduring questions, of science. They lived on this planet for 170 million years. Then abruptly, the reign ends.
ELAH FEDER: Dinosaurs doing great--where'd they go?
ANNIE MINOFF: And one of the first people to field an actual scientific explanation for this was a Transylvanian baron, Franz Nopcsa. It was 1917. Franz was obsessed with dinosaurs. Uh, got into it after his sister found some giant bones near their castle. 'Cause they lived in one.
ELAH FEDER: Right, baron.
ANNIE MINOFF: And even though Franz was self-taught, he actually came up with some really great ideas about dinosaurs. But when it came to this very pivotal question, like, what the heck happened to them? Not his best work. Franz thought dinosaurs--
ELAH FEDER: Mm-hmm
ANNIE MINOFF: -got too big.
ELAH FEDER: OK. [LAUGHS]
ANNIE MINOFF: Maybe, it was, like, a pituitary disorder. Very close runner up idea-- they stopped doing it.
ELAH FEDER: Doing sex?
ANNIE MINOFF: Doing- doing the sex. They suffered a quote, "reduction in sexual function."
ANNIE MINOFF: And to be honest, this is not the worst idea people have come up with. Over the last 100 years, it's just been open season on the dino question. There was an ophthalmologist who thought that dinosaurs got cataracts, and fell off cliffs.
ELAH FEDER: Sure. Good PSA to get your eyes checked.
ANNIE MINOFF: Yeah.
ELAH FEDER: --could mean the death of your species.
[LAUGHTER]
ANNIE MINOFF: There was an actual legit paleontologist whose theory was that dinosaurs' brains were just too tiny, and that, therefore, they were too stupid to live.
ELAH FEDER: The natural endpoint of evolution, right? Fatal stupidity.
ANNIE MINOFF: And, I mean, why not? Right? If no one has a better theory, like, if no one knows what killed the dinosaurs, go for it. But today, we think we finally nailed it. Like, if you ask a random person on the street what killed the dinosaurs, they'll tell you--
SPEAKER 1: Meteorite.
SPEAKER 2: Meteorite.
SPEAKER 3: Meteorite.
SPEAKER 4: An asteroid?
SPEAKER 5: Eh...meteorite [in French]
SPEAKER 6: [speaking other language]
SPEAKER 7: A meteorite.
SPEAKER 6: A meter--
SPEAKER 7: A rock, a big rock.
SPEAKER 6: From the sky.
ANNIE MINOFF: A meteorite roughly the size of Manhattan slams into the Earth 66 million years ago, kills the dinos. And most of us, feeling pretty good about this idea.
ELAH FEDER: But not Gerta Keller.
GERTA KELLER: There is no way. There is no way that they were killed by an asteroid, or meteorite, or whatever. No big rock from space caused their extinction by itself.
ELAH FEDER: I'm Elah.
ANNIE MINOFF: And I'm Annie.
ELAH FEDER: Today we've got the story of a holdout, Gerta Keller, a geologist and paleontologist at Princeton. Since the '80s, Gerta's been loudly telling her fellow scientists that they are wrong about something they're pretty sure they're right about.
ANNIE MINOFF: Gerta says she's been ostracized. Shouted down at conferences. And still, she has held out. But is she right? Did something else killed the dinosaurs? Or is she just too stubborn to admit she's been wrong for 30 years?
ELAH: That's coming up on Undiscovered.
ELAH FEDER: So for three decades, Gerta's has been telling other scientists that they are wrong about what killed the dinosaurs. And I think to understand what kind of person does that, it might help to understand how Gerta handled being nearly driven to extinction herself.
GERTA KELLER: What happened is I was shot.
ELAH FEDER: I'm with Gerta in her lab at Princeton. She's dressed all in black, the way she was the last two times I'd seen her. And she says pretty much everything in this very matter of fact voice. Except when she said something really morbid or cynical. Then she laughs.
GERTA KELLER: I always thought I would die when I was 23 because I thought anything after 23 was too old. And I didn't want to live. [LAUGHS]
ELAH FEDER: I mean, yeah.
[LAUGHTER]
ELAH FEDER: Gerta almost did die. It happened over 50 years ago. She hadn't quite made it to 23. But she's getting up there, she's 22. Close. Left her home country Switzerland a few years before, and at this point, she was living in Sydney, Australia.
And one day, she's driving her Volkswagen Bug. She has a friend in the passenger seat. They've just had lunch by the water. And as they're heading back into town, they get on a highway.
GERTA KELLER: And it was empty. And I thought that was very strange.
ELAH FEDER: She keeps driving on this weirdly empty highway. And suddenly, she hears shots. And then she sees a man in a blue trench coat.
[GUNSHOTS, RHYTHMIC FOOTSTEPS]
GERTA KELLER: And behind him a guy in a suit.
ELAH FEDER: And they're shooting at each other. And her first thought is maybe they're making a movie, except her friend points out, no cameras. How can this be a movie?
GERTA KELLER: Said how do I know? [LAUGHS]
In Switzerland, you don't see people shooting at each other on the street, unless it's a movie.
ELAH FEDER: Anyway, what she finds out later is that the man in the blue trench coat had just robbed a bank. And the man chasing him was the bank teller. The police had closed off the highway trying to contain the shoot out. But they'd forgotten this ramp, the one that Gerta got on.
ANNIE MINOFF: Oh my God.
ELAH FEDER: So anyway, she's on this highway. And the man in the blue trench coat actually runs up to her car, shoots her, and steals the car.
[CAR ACCELERATES, SCREECHING TIRES]
GERTA KELLER: Shot me from maybe two feet away. And he shot me right in here.
ELAH FEDER: She's pointing to her arm. The bullet goes through her arm, rips through her lungs, but, luckily, it misses her heart and her spine. After that, she's in and out of consciousness, but she clearly remembers waking up in the hospital, and that things are looking bad.
GERTA KELLER: I got the last rites, and the priest told me I had to confess. And all I could tell him, no. [LAUGHS]
ELAH FEDER: You told him no?
GERTA KELLER: Ah, this was funny.
ELAH FEDER: After this Gerta passes out. She comes to, and there is that priest again. Last chance, you're going to die, time to confess.
GERTA KELLER: And I say, no. And I pass out again. And they evidently, they removed him after that. [LAUGHS]
ELAH FEDER: So Gerta doesn't confess. She doesn't die, which is very Gerta. If she doesn't agree with something, there is no way in hell she's going to go along with it. Anyway, this shooting, it ends up being a turning point for Gerta, mainly in that she decides she does want to live past 23.
But also, growing up, Gerta's family was poor. She'd always been ambitious, but higher education hadn't been an option. And it's not too long after she recovers from getting shot that she really goes for it. She goes to university, gets a degree, actually keeps going until she has a PhD in Earth sciences from Stanford.
ANNIE MINOFF: Whew
ELAH FEDER: But she's not studying dinosaurs yet. She's studying almost the anti-dinosaur, what I would- I would describe as one of the least exciting organisms one can study. I'm sorry, Gerta. They're called foraminifera. At her lab at Princeton, Gerta showed me a picture of one of these that she thought was particularly fine looking.
GERTA KELLER: It's a really cute looking one.
ELAH FEDER: I mean, cute? I don't know.
GERTA KELLER: It's beautiful.
ELAH FEDER: I'm seeing a pretty nondescript blob with some points.
GERTA KELLER: OK, pointy blob. It's a very good pointy blob, very useful one.
ELAH FEDER: Don't worry, this does become relevant to dinosaurs.
ANNIE MINOFF: I'm trusting you.
ELAH FEDER: As you should. Because Gerta's blobs, they are very useful. She specifically studies ancient planktonic foraminifera. These are just single-celled organisms with tiny shells, float in oceans, come in different blobby shapes that you can see under the microscope.
ANNIE MINOFF: So like, not your charismatic megafauna.
ELAH FEDER: No, but very useful because they tell us what was happening to the planet in different points in its history. So if we scan down layers of ancient sea rock, look at the blobs that are embedded in those different layers, the number and kinds of blobs we see, the chemical makeup of their shells in a particular layer, it can tell you if it was warmer or colder, if it was a stressful time or a good time. It really helps us piece together what the Earth was up to in a particular moment in time.
And it's what Gerta saw looking at these ancient blobs--that's what got her doubting the big dino breakthrough of the century.
ANNIE MINOFF: Right, so it's 1980 when the news hits that someone might have actually cracked the case, figured out what killed the dinosaurs.
IRA FLATOW: The dinosaurs were among the most successful creatures on Earth.
ANNIE MINOFF: Baby Ira Flatow on NPR'S All Things Considered, January 8, 1980.
IRA FLATOW: But suddenly and unexplainedly, they vanished about 65 million years ago. All kinds of theories have been advanced why. Some say the Earth got too warm. Others say too cold. And now Dr. Luis Alvarez, a physicist at the University of California at Berkeley, has come up with a novel theory of his own.
ANNIE MINOFF: Luis Alvarez, the man with the theory. Imagine your classic '50s scientist, you know, horn-rimmed glasses, white dress shirt--that is Luis. He's a physicist. But he's not just any old physicist. Luis Alvarez is a Nobel laureate who'd worked on the atomic bomb. He was actually in the fleet of planes that dropped the bomb on Hiroshima. So he's a big deal.
Of course, none of this has anything to do with dinosaurs. But Luis's son Walter is a geologist. And one day, Alvarez junior shows his dad this hunk of rock that he picked up in Italy, and running through this rock is this thin red layer of clay.
And it dates around to the end of the Cretaceous. This is the geologic period when all of the dinosaurs kicked the bucket. And together with some chemists, Alvarez junior and senior discover something really interesting about that red line: iridium, a giant spike of iridium.
LUIS ALVAREZ: We found a- an increase of 30 times in iridium in Italy. And then we looked in Denmark, and there it goes up 160 times. It's an extraordinary thing.
ANNIE MINOFF: And it's extraordinary because iridium, this metal, you don't usually find it in Earth's crust. It's super rare here, but where it's not rare is in space rocks. And so Alvarez senior comes up with this idea.
LUIS ALVAREZ: And that is that an asteroid about six miles in diameter bumped into the Earth.
[IMPACT BOOMING]
ANNIE MINOFF: The asteroid pulverizes on impact--
[WIND BLOWING]
--sends up a massive dust cloud.
LUIS ALVAREZ: Cuts out the light. Cut out the light, then you stop the photosynthesis.
ANNIE MINOFF: Darkness. Plants die. The animals that eat the plants die. The animals that eat the animals that eat the plants die. At the end of the Cretaceous, the Earth is unrecognizable. About two thirds of all species just gone, and that includes the dinosaurs, except for the ones that live and become birds.
And pretty soon, scientists all over the world, they're turning up signs of a giant rock impact, signs that they'd missed before. Like, in Montana, they find shocked quartz, this type of quartz that only forms under extreme pressure--like when a giant rock hits the Earth. Or in Texas, signs of an ancient tsunami--like when a giant rock hits the Earth, and sends up massive tidal waves, and so on. And by the late 80s a lot of people are coming around to the impact hypothesis.
ELAH FEDER: But a lot of scientists aren't convinced, and that includes Gerta. Gerta at this point is already at Princeton, and she's looking at her foraminifera blobs, and she's thinking, what they're saying, what the Alvarezes are saying, it just can't be true. And here's why.
According to the Alvarezes, when the sunlight cuts out, there's a mass extinction all over the world. All kinds of species die, not just the dinosaurs, but big species, small species, microscopic things like the foraminifera, Gerta's blobs. And if the Alvarezes are right, the extinction of all these species is sudden. It's an apocalypse all over the world, happening, geologically speaking, pretty much all at once.
But when Gerta scans her layers of rock, she's not seeing a sudden apocalypse. Her blobs are dying out gradually, over an extended period. A gradual extinction, that in itself, is a contradiction of what the Alvarezes were saying. But that's not Gerta's only objection.
Gerta says that her blobs, she sees them starting to decline well before before the Alvarezes' magic, big rock from space hits. So from where Gerta's standing, it seems like, yes, there was something that was killing off a lot of species at the end of the Cretaceous. But could you really say this killer was a big rock from space if by the time it hits, they are already dying?
By 1988, Gerta is ready to unveil her findings. And she finds the opportunity. A bunch of planetary scientists have organized a conference in Snowbird, Utah. It's a lot of space people who, you know, really dig this threat from space idea. And Gerta decides, she's going to head over, and like, you know, show them that they're wrong.
GERTA KELLER: I thought they would look at the data and see maybe we have to rethink.
ELAH FEDER: Gerta admits in retrospect she was a little naive going into this.
ANNIE: Just a little, just a tad.
E: She remembers throwing up her first slide. It was something like gradual mass extinction, emphasis on gradual.
GERTA KELLER: There was a gasp. These were all impact folks. And people immediately started lining up, even before my introduction was given.
ELAH FEDER: And the line keeps growing. Gerta remembers that by the time her talk is over, there were about 30 people lined up. And they are all there to tell her that she's wrong. She doesn't know what she's talking about. She remembers shouting.
ANNIE MINOFF: So somewhere along the line, you probably had a very good science teacher tell you that disagreement is all part of the scientific process, right? She might not have mentioned the shouting. But in theory, dissent, even impolite dissent, can be part of that push and pull that moves science forward.
The philosopher Karl Popper, according to him, the mark of a true scientific theory is not that you can prove it, it's that you could disprove it with the right evidence. And so your job, if you are a scientist with a nifty theory, is to try to knock that theory down. Try to test it, and test it again, try to disprove it, and if it's still standing it might even be true.
But now time for some real talk.
JIM POWELL: Just generally speaking, that's not what scientists in a lab, or in the field, or something, we're not thinking, I'm here, I'm going to-- I'm here to falsify some theory. You're trying to explore your own area of research.
ELAH FEDER: Jim Powell is a retired geologist who wrote a book about the dino debates. And he says, look, scientists, they're human beings. They're going to get attached to some ideas. They're not really going to want to knock down their own theories. And that's normal.
But there is an antidote, which is working in communities. Collectively, scientists will compete with each other, tell each other they're wrong, knock down a weak idea to the quote, "great disappointment of its proponents and to the advancement of science overall."
JIM POWELL: That sounds pretty good, did I say that? [LAUGHS]
ELAH FEDER: You did.
JIM POWELL: You know what? I started saying later, more succinctly, is science is better than scientists.
ELAH FEDER: Hmm, do you want to elaborate?
JIM POWELL: No.
ELAH FEDER: Okay.
JIM POWELL: That's it.
ELAH FEDER: He does though.
JIM POWELL: Science overcomes the weaknesses, the foibles, the mistakes, the biases of individual scientists.
ANNIE MINOFF: Scientific disagreement really did some good work, actually, in the dino debates. After the Alvarezes came in with their flashy theory, people were trying to either knock it down if they didn't like it, or prop it up if they did like it. Hundreds of papers come out, and that flood of evidence is great for science.
ELAH FEDER: But at that conference in 1988, there was way more hostility than Gerta was expecting. And it wasn't just this conference. By all accounts these impact debates were among the ugliest chapters in science history.
GERTA KELLER: The tactics were not exactly scientific. They were bullying, and name calling, destroying careers, threats to destroy careers.
ANNIE MINOFF: And we kind of have to acknowledge this. Part of the problem was Luis Alvarez. This big shot physicist didn't exactly have a ton of respect for paleontologists, who up until this point had been the dinosaur experts. And Luis didn't exactly try to hide how he felt about them. Like, he told the New York Times quote, "I don't like to say bad things about paleontologists--"
ELAH FEDER: Oh, always a good start to a sentence.
ANNIE MINOFF: Yeah, real promising. "But they're really not very good scientists. They're more like stamp collectors." And one geologist who disagreed with Luis. Luis called him a quote, "weak sister, who no one invited to conferences anymore." This is, like, third grade stuff.
JIM POWELL: Luis Alvarez was a very strong personality. And he said and did some things, personal things, that he shouldn't have done.
ELAH FEDER: It went beyond Luis though. Um, opponents of the impact hypothesis said that some journals were biased against them, that it got really hard to publish anti-impact papers in some of these journals.
Gerta says that some people were even afraid to speak out against it. And so this wasn't just healthy scientific disagreement. Gerta says this was intimidation.
JIM POWELL: Certainly, Gerta Keller was not intimidated.
ELAH FEDER: True. For Gerta, being told that she's wrong, that is just fuel. It made her--
GERTA KELLER: In many ways, invigorated. I wasn't intimidated. It's not my nature. I was sure my data was right.
ANNIE MINOFF: Gerta was ready to keep fighting. Like, sure, team impact did have this iridium spike. They had that in their corner. But it wasn't a clincher. The anti-impact team, they were still in the game. What Gerta didn't know is the smoking gun that all those pro-impact scientists had been waiting for, it had already been found.
ELAH FEDER: That's coming up after the break.
ELAH FEDER: For a long time, if you were a scientist who didn't believe that a big impact killed the dinosaurs, you had one thing you could hold on to. Kind of a gotcha question, which is if a rock that big hit the Earth, where is the hole? And then in 1990, even that changes.
A group of scientists announce they've found a pretty big hole. It's a crater hugging the coast of the Yucatan Peninsula in Mexico. It's over 100 miles across, enormous, partly on land, partly under water, buried under deep layers of sediment. The geologists name it Chicxulub after a small village at the center.
And it turns out, this Chicxulub crater had been in front of us all along. Funny story, I actually vacationed inside the crater a few months ago--
ANNIE: [LAUGHS]
ELAH FEDER: --yeah, while working on this story, and failed to notice. It kind of clicked in the day before I left.
But there actually were geologists who noticed it long before 1990, message somehow got lost on its way to the impact folks. But anyway, in 1990, it all clicks together. And so Walter Alvarez and some others go down to Mexico and find a nice rocky outcrop that tells the very story they've been telling all along: big impact, big tsunami, spike in iridium. It is all there.
GERTA KELLER: That was actually the time I thought, OK, so they are probably right. I figured, OK, if they have they crater, and they have the iridium, fine. That was when I thought I would get out of it.
ELAH FEDER: Get out of?
GERTA KELLER: Out of the mass extinction business and go on to something else.
ELAH FEDER: Gerta, give up? That did not last long.
GERTA KELLER: So I called Walter.
ELAH FEDER: Alvarez, the son.
GERTA KELLER: And I said, congratulations. It's a very nice paper. And it looks like you nailed it.
ELAH FEDER: Basically, you did great. Congratulations. But maybe, she should take a look for herself. They describe a particular cross-section of rock. Could he give her the coordinates?
GERTA KELLER: And he said, no.
ELAH FEDER: Walter declined to talk to us for this story. But Gerta already had reputation at this point, depending on who you talk to, a reputation as stubbornly wrong. So if Walter refused to give her the coordinates, maybe that's why. Still, even without the coordinates, Gerta just goes. She actually heads out to Mexico. She takes a couple of collaborators with her. And they just go to the general area where they know this rock is supposed to be.
But this is a big area, so they're just wandering around all day. It's getting late. They're not finding this piece of rock. But they do keep seeing these men on horseback with guns. And they're kind of freaked out.
But eventually, they realize, like, they are not going to find this thing without help. So Gerta approaches one of the men. And she shows him this picture, and says, you know, have you seen this rock? And he says, yes.
GERTA KELLER: It's just down there. And it was just a few hundred yards away.
ELAH FEDER: Later, she finds out that the, um, men with guns were guarding a marijuana plantation just behind the hill.
[GERTA LAUGHS]
So Gerta has her rock samples. Later, she analyzes them in her lab back home. And she doesn't see what the other side is saying. Her interpretation is completely different. And it actually changes a lot over the years.
But today, she says, OK, there was an impact, but the timing is wrong. She says, this area in Mexico, it shows the impact happened almost 200,000 years before the end of the Cretaceous. So it can't be their smoking gun.
But in the '90s, it seems like the tide has already turned against Gerta. They are done with her naysaying. They have their crater. And in 1994, there's another big conference organized by space folks in Houston. And most people there seem to be fully on the impact side.
GERTA KELLER: Every time someone went up, they would say, I believe in the impact.
ELAH FEDER: They'd just go up and say, hello, I believe in the impact?
GERTA KELLER: Yes. And then people would wildly clap and stamp. It was just loud and hitting the table in front of them.
ELAH FEDER: Gerta had a few allies at this conference, but for the most part, she felt like a pariah.
GERTA KELLER: It was depressing.
ELAH FEDER: But she still does not give up. She does not get out of the extinction business. And I asked her, like, why? How do you keep going?
GERTA KELLER: I don't know. Honestly, I've thought about it myself many times. Why? And my husband has often told me, forget it. Go move on to something else. Why are you going through this? You can't change anybody's mind, which is all true. And I've thought about it many times. And then I still couldn't do it. I'm just driven to find out for myself what really happened.
ELAH FEDER: Which is admirable, and what scientists are supposed to do. But other people like Jim Powell who wrote about the book on the dino debates, they say, we already know what really happened. A meteor killed the dinosaurs. The evidence just kept coming after they found the Chicxulub crater. And it's still coming in today.
In 2013, a team of Berkeley scientists used improved methods to compare the age of the impact and the age of the mass extinction. The age of the Chicxulub impact, they found to be 66.038 million years. The age of the mass extinction was 66.043 million years.
JIM POWELL: And these are the same number within the error. And it- they are- this stretches coincidence to the realm-- out to the limit, out to impossibility.
ELAH FEDER: Maybe Luis Alvarez was a bully. But Jim says, it's ultimately the scientific evidence that won this debate. It wasn't intimidation. It was facts. So now we know what killed the dinosaurs-- a big rock from space.
JIM POWELL: Case closed.
ANNIE MINOFF: Or is it? So you might not know it from reading a headline like this one from 2010, quote, "a theory set in stone, an asteroid killed the dinosaurs after all," but over the decades, even as scientists were accumulating all this evidence in favor of the rock from space theory, another hypothesis has also been steadily gaining ground: volcanoes.
So in India, there's this volcanic region called the Deccan Traps. And near the end of the Cretaceous, it starts erupting. And these aren't your typical volcanic eruptions.
[LOW VOLCANO RUMBLING]
It's not a mountain blowing its top. It's more like the Earth cracked open across thousands of miles and began spewing lava and gases. And this goes on for hundreds of thousands of years.
[VOLCANO RUMBLING PEAKS]
Volcanoes killed the dinosaurs. That's the idea Gerta supports now. Volcanoes could actually do a ton of the same stuff that a big rock from space could do, like block out the sun? Check.
Erupting volcanoes create sulfate aerosols that can block out the light and cause global cooling. And when those aerosols settle, you're left with a lot of CO2, which could cause global warming, so climate change. That's something a lot of people say a meteorite would also cause.
Even the impact team's original clue, that big iridium spike--in 1983, the Kilauea volcano starts erupting. It's the same one that's active now. And what do scientists discover coming out of it? Iridium.
But here's the thing that really got me. Of the five big mass extinctions that have happened in Earth's history, three of those coincide with very intense volcanic activity. And there's evidence to suspect volcanism was involved in all of them.
[VOLCANO RUMBLING]
SPEAKER 8: So we're a couple of minutes ahead of schedule, so feel free to chat to your neighbour.
ELAH FEDER: Last fall, I went to the Geological Society of America's conference, where Gerta presented her latest data on the Deccan Traps. And after hearing about these conferences that she went to in the '80s and '90s, I was curious what kind of reception she'd get today.
SPEAKER 8: So the next presentation is Gerta Keller.
ELAH FEDER: When it's Gerta's turn to talk she looks super confident, strolls right up to the front of the room.
SPEAKER 8: And there where we are. Well, there's some steps around this side so--
ELAH FEDER: Instead of taking the stairs, one might say, the easy way for a 72-year-old to get onto a stage, Gerta jumps onto the stage, which I'd say was about two or three feet high. And she tells the audience about all the work they're doing with mercury--turns out that's a very good signature of volcanic activity--how they're really trying to map out the history of the Deccan Traps. As far as I can tell, sitting in the crowd, it's all pretty smooth sailing, no hostile lines, no booing, and it's over.
GERTA KELLER: Thank you.
[APPLAUSE]
SPEAKER 8: Thanks very much, Gerta. There are steps that side if you prefer.
ELAH FEDER: But she jumps off the stage instead.
SPEAKER 8: Ah, hope I can do that. [Laughs
ELAH FEDER: Gerta- Gerta isn't exactly popular these days. I was at this conference, and when I told other people about this story I was working on, mentioned Gerta's name, I got some pretty deep, exasperated sighs. Clearly she still has a reputation. At the same time, she's not exactly a pariah or an outsider either. Maybe people are just used to her now. Um. I think it has something to do with the fact that the idea that shes' backing now--volcanoes as dinosaur killers--it's gaining momentum. Not that the impact hypothesis is in any way, shape, or form out of the picture.
ANNIE MINOFF: No. And it's not like it has to be one or the other, necessarily. It's not volcanoes versus big rock. Some people think it was a one-two punch. A lot of volcanism weakened ecosystems, and then you have this meteorite delivering the knockout blow. In 2015, a team published a paper saying maybe the meteorite even accelerated volcanic activity.
ELAH FEDER: At the geology conference, I decided to poll people to see what they thought, you know, where are we at now? What do people believe?
SPEAKER 9: The meteor
SPEAKER 10: The meteor
SPEAKER 11: Maybe that is one of the causes.
SPEAKER 12: I don't think it was just the asteroid.
SPEAKER 13: Volcanoes, definitely volcanoes .
SPEAKER 14: I don't think that Deccan volcanism wasn't involved.
SPEAKER 12: I think it is the collusion of multiple effects.
SPEAKER 15: Combined effects.
SPEAKER 16: Multiple factors.
SPEAKER 17: Agreed.
SPEAKER 18: Is that good?
ELAH FEDER: They seemed to be in the mood for compromise. Most of them were like, yeah, meteor, obviously. But, yeah, volcanoes, they probably mattered too, so a little bit of this, little bit of that. But for Gerta, no deal. This whole one-two punch business, she told me, it's basically the last gasp of a dying theory--the impact hypothesis. Meteor, just not a big player.
And Jim Powell, even though he thinks Gerta is dead wrong on this, he spoke really highly of her and of all those paleontologists who fought this theory tooth and nail. He says even if they're wrong, they helped.
JIM POWELL: Their efforts wound up making the theory stronger. They made the Alvarezes and others go back, and look again, look for more evidence, until finally, the whole thing was stronger than it was at the time of the Alvarez theory, thanks in part to this resistance to the theory. And I think this may be something unusual about science is that criticism makes it stronger. If it doesn't kill it, it makes it stronger.
ELAH FEDER: Pretty sure Gerta would agree with that.
ELAH FEDER: Undiscovered is reported and produced by me, Elah Feder
ELAH FEDER: Undiscovered is produced by me, Elah Feder
ANNIE MINOFF: And me, Annie Minoff. Our senior editor is Christopher Intagliata, and our composer is Daniel Peterschmidt. Special thank you to Lucy Huang. And as always, I Am Robot and Proud wrote our theme.
ELAH FEDER: We had fact checking help from Robin Palmer. To learn more about this story and what killed the dinos, visit undiscoveredpodcast.org. And if you want to read Jim Powell's book, it's called Night Comes to the Cretaceous: Dinosaur Extinction and the Transformation of Modern Geology.
ANNIE MINOFF: And if you want to hear more episodes, subscribe to Undiscovered wherever you get your podcasts. Finally, thank you to everyone at Science Friday and WNYC Studios, and to micro_gal and everyone who left us really nice iTunes reviews welcoming us back. Thank you.
ELAH FEDER: Yes, thank you. It's really good to be back. See you next week!
GERTA KELLER: One of important things I came away with is I'm not afraid of dying. It was actually nice. All this floating around up there before I- [LAUGHS] There were weird things going on.
Copyright © 2018 Science Friday Initiative. All rights reserved. Science Friday transcripts are produced on a tight deadline by 3Play Media. Fidelity to the original aired/published audio or video file might vary, and text might be updated or amended in the future. For the authoritative record of Science Friday's programming, please visit the original aired/published recording. For terms of use and more information, visit our policies pages at http://www.sciencefriday.com/about/policies/