Elliott Broidy's All-Access Pass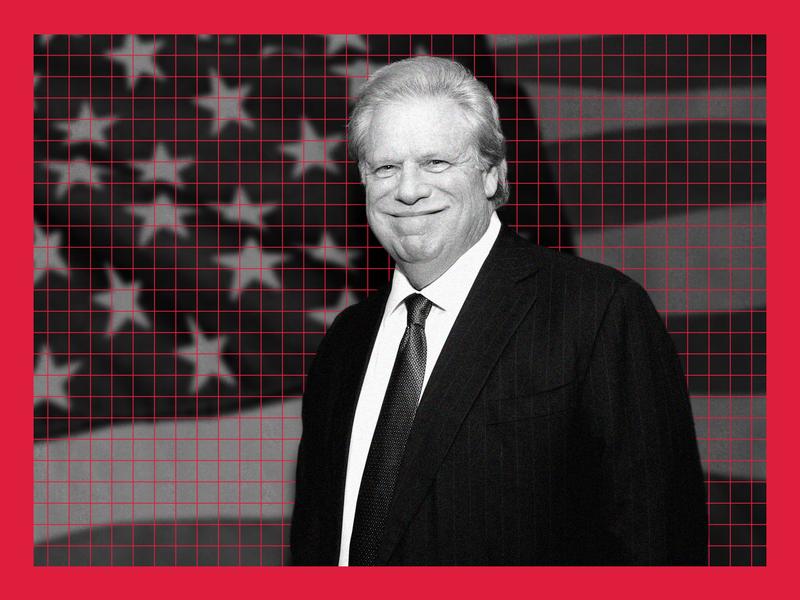 Transcript
[HEAVY MUSIC PLAYS]
ANDREA BERNSTEIN: Sometime in the blur of 2018, this happened:
REPORTER: Late today, top GOP fundraiser Elliott Broidy abruptly resigned from the Republican National Committee.
BERNSTEIN: Broidy is a portly man with a wide forehead, a thatch of straw-colored hair, and sometimes a blonde mustache. He's a California financier and the owner of a security firm.
He's been a player around governments in California, New York, and Washington — was at the top of Trump's fundraising apparatus. But, chances are, you've never heard of him. And if you did, you forgot.
REPORTER: The venture capitalist acknowledged paying $1.6 million to a former Playboy model who said that he'd gotten her pregnant. The lawyer who negotiated the payoff? Michael Cohen, President Trump's personal attorney.
BERNSTEIN: Broidy. Cohen. The story came and went so fast, the name "Elliott Broidy" barely registered in a cloud of scandal that follows President Trump like dirt around the Peanuts character Pigpen. Raids, indictments, guilty pleas, convictions, sex scandals, influence peddling.
NEWS ANCHOR: All the reports have said the fundraiser Broidy held out access to Trump as the prize for prospective customers for his private business.
BERNSTEIN: Broidy, the Associated Press reported, had pushed policies favored by princes from Saudi Arabia and the United Arab Emirates directly to President Trump. And his security company had signed a contract worth hundreds of millions of dollars with the UAE — The Emirates.
Broidy's title at the Republican National Committee was National Deputy Finance Co-Chair — the same title as this guy:
MICHAEL COHEN: Who better to make America great again?
BERNSTEIN: Michael Cohen.
COHEN: To make this company what it needs to be, than Donald Trump? We need great deals. We need … [FADES UNDER]
BERNSTEIN: When Elliott Broidy needed a lawyer for a hush money agreement, he hired Cohen, then the President's attorney. Both men raised money for Trump. They both had his ear. And they both made money from that connection. You only know about one of them.
[TRUMP, INC. THEME MUSIC PLAYS]
BERNSTEIN: Hello, and welcome to season two of Trump, Inc., a podcast from WNYC and ProPublica that digs deep into the intersection of business and politics in the Trump administration. I'm Andrea Bernstein.
[MUSIC OUT]
BERNSTEIN: This season, we're broadening our open investigation to look not only at the President and his family, but also the people around Trump and the ways they might be profiting from their proximity to the President.
[PLUNKY KEYBOARD MUSIC PLAYS]
BERNSTEIN: This is not a new phenomenon. There's been corruption in both Democratic and Republican administrations. But, this time around, something feels very different. Protocols and norms are being tossed aside. This chaotic environment creates fertile ground for people who want to influence the President, like Elliott Broidy. As history unfolds, you can see the dynamics at play.
But before we get to Elliott Broidy, we're bringing in ProPublica's Eric Umansky. Hey, Eric!
ERIC UMANSKY: Hey Andrea.
[MUSIC OUT]
BERNSTEIN: So Eric, you have been thinking about the ways that people around Trump are making money or potentially benefiting from the presidency. And you've come up with three categories?
UMANSKY: That's right. Three categories. So let's start with the basic stuff. The first one is using your government post to fund your lifestyle, or that of your friends or loved ones.
BERNSTEIN: So who is this?
UMANSKY: So, one of the clearest examples is former EPA chief Scott Pruitt.
JOURNALIST: It is about blatant corruption that reaches to the very top of the Trump administration, but also [PAUSE] lotion.
UMANSKY: Among the many, many things, he had a staff drive him around town, looking for his favorite fancy lotion.
BERNSTEIN: And then there's Chick-fil-A?
UMANSKY: Right. Pruitt used his job to try to get a Chick-fil-A franchise for his wife.
And then you have a whole lot of travel. Not just, uh, Scott Pruitt — you have, for example, Treasury Secretary Steve Mnuchin, who took military flights costing nearly a million bucks, including one with his wife where they happen to land at a great spot to view the solar eclipse.
TREASURY SECRETARY STEVEN MNUCHIN: 15 minutes ahead of time. I put on the glasses. They're like paper glasses. I'm like, "I'm worried. I'm getting — getting my eyes burned out." I put it on for like two seconds.
INTERVIEWER: Yeah.
SECRETARY MNUCHIN: That was the end of my interest in the eclipse.
INTERVIEWER: Uh-huh.
UMANSKY: After he was criticized, the Treasury Department said Mnuchin would reimburse the government for his wife's portion of the travel.
And then there was an investigation into the trips, which didn't find anything illegal, but it did note previous Treasury Secretaries typically flew commercial on their domestic flights.
BERNSTEIN: And so what's category two?
UMANSKY: Category two is possibly making money from your government position. Take Commerce Secretary Wilbur Ross, who basically got negative information about a company, and then essentially bet against the company stock. Ross says it was part of a complex trade to actually divest from the company, but there are just a lot of open questions there. So also in this category is President Trump and his family. Look, the list there is very long. You have President Trump spending a lot of time at his properties, and constantly using the presidential pulpit to talk up his various properties. And then there's Trump's hotel in D.C., which has become the "place to be" for lobbyists and foreign officials.
BERNSTEIN: So category one is using your government post to fund a lifestyle for yourself, your friends, your family. Category two is possibly using your government position to make money. What's three?
UMANSKY: So the third category is essentially selling and benefiting from access to power. And we've long seen that in Washington, but what's different now is the level of chutzpah is really remarkable. So, for example, we just heard Michael Cohen a minute ago, and he made deals with companies to — quite explicitly — sell them access to the presidency. One of those companies, by the way, happens to be connected to a Russian oligarch.
BERNSTEIN: And then there's Rick Gates.
UMANSKY: Right? Who pleaded guilty to money laundering and conspiracy against the United States. But before he did that, he reportedly sold his own access to the administration to [PAUSE] Elliott Broidy.
BERNSTEIN: ProPublica's Eric Umansky. So, Elliott Broidy.
[REPETITIVE MUSIC PLAYS]
BERNSTEIN: Broidy operates so far below the radar, we couldn't find any tape of him speaking. We asked to interview him for this story, but a spokesperson declined. We sent a long list of questions. In an emailed statement, the spokesman said, "Elliott Broidy has never agreed to work for, been retained by, nor been compensated by any foreign government for any interaction with United States government, ever. Any implication to the contrary is a lie."
There's a reason we know so much about Elliott Broidy. His emails were hacked and released to some reporters. Broidy sued over the hack.
He filed cases in New York and California, alleging that the state of Qatar orchestrated the hack, and that hundreds of thousands of stolen documents were distributed to the media to harm him. Qatar did this, Broidy's lawyer says, because he was an outspoken advocate of Israel, and thus a critic of Qatar. And he was making headway persuading President Trump that Qatar harbors terrorists. Qatar denies this. The White House did not comment for this story.
In a statement to the AP, a lawyer for Broidy also called some of the emails "fraudulent and fabricated." The AP and other news organizations check their contents with dozens of sources, and confirmed that tracked closely with real events.
It's because of the emails and this reporting that we have an unusually complete picture of influence peddling in the Trump era. We're pulling together the story of Elliott Broidy in this episode as a template for our open investigation this season. It's something we're trying to understand more about — how, not only Trump, but his associates may be benefiting financially from his presidency. Broidy's story starts a decade ago.
Ladies and gentlemen, thank you for standing by, and welcome to the attorney general's conference call.
[PLUCKY MUSICAL FLOURISH PLAYS]
BERNSTEIN: Back in 2009, then-New York attorney general Andrew Cuomo — he's now the governor — and his top assistant got on a conference call with New York reporters.
GOVERNMENT OFFICIAL: Today, we announced that this afternoon, Elliott Broidy, a founder and chairman of California-based private equity fund Markstone Capital Partners, plead guilty to a felony count of rewarding official misconduct.
BERNSTEIN: None of us had really heard of Elliott Broidy then, but as Cuomo laid it out, Broidy successfully steered a quarter of a billion dollars of New York state retirees' pension money into his investment fund, Markstone Capital Group.
[MUSIC OUT]
ANDREW CUOMO: This is an old-fashioned "pay-off of state officials" case. Uh, this is effectively bribery of state officials.
BERNSTEIN: Broidy had paid almost a million dollars in gifts and favors to the officials.
CUOMO: And not just one, but a number of state officials in the controller's office.
BERNSTEIN: Broidy took the controller's family on luxury tours to Israel, paid for hotels, flights, helicopter tours. The payoffs took more creative forms as well.
CUOMO: For example, $300,000 was paid to finance the Loglisci family movie, termed "Chooch."
BERNSTEIN: David Loglisci was a pension fund official. The movie was his brother Steve's production. David Loglisci also pleaded guilty in the pay-to-play scandal. Steve wasn't charged with any wrongdoing. We couldn't reach either Loglisci for this story.
If anyone remembers Broidy's pension fund bribery conviction, they remember "Chooch," a movie set in Queens. Vanity Fair called it "the worst movie ever made."
[A BRIEF CLIP OF A SONG PLAYS, PUNCTUATED BY THE EMPHATIC "CHOOCH!"]
BERNSTEIN: As for the New York pension fund investment, it had lost three fifths of its value as of its latest report in 2017. Broidy pleaded guilty to a felony charge that day in 2009. It was a sharp, steep fall.
Just a couple of years earlier, he'd been a so-called "super ranger" for George W. Bush, meaning one of his top, top bundlers of campaign donations. He and his wife threw a party for Bush and their newly-purchased Bel-Air mansion, but then came the New York investigation, a guilty plea, and a fine.
MICHAEL FINNEGAN: He had been fined $18 million. So they had to get rid of the mansion, for one.
BERNSTEIN: This is Michael Finnegan, the Los Angeles Times political reporter who's covered Broidy. He says Broidy did not start out rich.
FINNEGAN: Broidy was a tax accountant.
BERNSTEIN: One of his clients was Glen Bell.
FINNEGAN: Glen Bell, who was the founder of Taco Bell.
BERNSTEIN: Broidy ends up managing Bell's assets, becomes rich. After that, Broidy founds the investment from Markstone, cultivates connections with pension funds in California and New York. He becomes a major player in the Republican Jewish coalition, and in APAC, the Israel lobby. Under President Bush, he gets appointed to a Homeland Security panel.
Then comes the guilty plea. After that, Broidy's legal team convinces a judge to do something unusual: reduce his charge to a misdemeanor. He gets no jail time. Then, Broidy starts a new career. And he uses that security credential from Bush to stage a comeback.
FINNEGAN: He had to sort of very quietly build his way back into Republican politics. And he wound up investing in a global security company called Circinus — or buying the company, rather.
BERNSTEIN: It's a company founded by former military guys. What it sells? Essentially, intelligence gathering — which it calls "threat deterrence."
COMMERCIAL: [OVER DRAMATIC MUSIC] The Threat Deterrence Intelligence Aggregation system, or TDIA, is an advanced technology developed for the analysis of information from multiple data sources.
BERNSTEIN: In 2014, Circinus gets a Defense Department contract, though no payments go through until 2017.
FINNEGAN: And, um, by the time the 2016 presidential campaign came around, Broidy was ready to begin fundraising, uh, aggressively for Republican candidates for president, again.
BERNSTEIN: Broidy first backs Lindsey Graham, then Marco Rubio, then Ted Cruz. When the primaries are over, Broidy signs on and starts raising money in a big way for Trump, just a couple of months later.
DONALD TRUMP: Thank you. Thank you very much.
BERNSTEIN: The Republican National Convention in Cleveland. According to some lists that were posted by Bloomberg News, Broidy has the run of the high donor suites. This is a man who's been convicted of political payoffs who didn't even support Trump until he literally had no other choices, but who quickly began raising millions for Donald Trump.
TRUMP: [OVER CHEERING AND APPLAUSE] I humbly and gratefully accept your nomination for the presidency of the United States.
BERNSTEIN: Up above the crowd, in the most elite and spacious of sweets, high rollers ate and watched.
JOHN CATSIMATIDIS: [OVER DINNER AMBIENCE] We keep walking around and tasting all the food, and, uh, having a good time.
BERNSTEIN: John Catsimatidis owns a lot of supermarkets in New York, and has given Trump a lot of money. He described for us what it was like.
CATSIMATIDIS: A lot of people networking with each other. And all it was is networking, networking, networking.
BERNSTEIN: The Republican National Committee cordoned off a set of suites for what it called its highest-level donors. One was called the Presidential Trust. One was for so-called "vice-chairs." Another was the Mnuchin Suit, Steve Mnuchin, who is now the Treasury Secretary. They were all making a long bet. Nobody thought Trump could win.
CATSIMATIDIS: Nobody thought he could win, but they admired him and they — they hoped.
BERNSTEIN: The credentialed guests included friends of the President, like New York real estate man, Howard Lorber; and California financier, Tom Barrack; Trump's attorney, Michael Cohen. There were bankers, titans of steel and coal. There were billionaires, like Wilbur Ross and Betsy Devos.
TRUMP: Nobody knows the system better than me —
BERNSTEIN: Credential to walk from suite to suite was Elliott Broidy. Though he'd just joined the Trump team, he had access to the upper levels of the campaign as Trump became the nominee.
TRUMP: — which is why I alone can fix it. [APPLAUSE]
[PLUNKY MUSIC PLAYS]
BERNSTEIN: Against all odds, Trump wins the presidency. Broidy sets to work. We'll be right back.
[MIDROLL]
NEWS ANCHOR: As you can see, the plane ferrying the Trump family to Washington D.C. from New York has arrived.
BERNSTEIN: It's January 2017. Trump is about to be inaugurated. And Broidy? He's getting ready, too.
[REPETITIVE KEYBOARD MUSIC PLAYS]
BERNSTEIN: Before Trump was elected, the leadership page on his business Circinus' website was a list of former generals and military leaders. According to one of the documents released during the hacks, Broidy moves his name up to the top of the page.
Around this time, his company starts getting payments from the 2014 Defense Department contract. He's able to point to that work in pitching foreign governments. He becomes finance co-chair of the Inaugural Committee. Broidy is reaching out to foreign governments to pitch his company's security services, the documents and news reporting shows, bragging about his access to Trump, Mike Pence, Steve Mnuchin, Jeff Sessions. He even has Sessions' private email account, according to ProPublica, and suggests some names for U.S. attorney for Sessions to appoint.
Broidy gives some of his inauguration event tickets to his prospective clients. In one letter released in that email hack first reported by the New York Times, Broidy sends to top Angolan government officials an invitation to the 58th presidential inaugural. In the same email, he sends them a contract with his firm, Circinus. The records show the firm will get $6 million in payments from Angola.
Broidy pitches his access and his firm's counterterrorism surveillance work across the globe: Romania, the United Arab Emirates, Malaysia. We're going to look at each of these. First, Romania.
[MUSIC OUT]
[THE SOUND OF CHATTER, THEN CHEERING]
BERNSTEIN: Right before the inauguration, Broidy invites some senior Romanian officials to inaugural events. This was first reported by McClatchy. During the festivities, Broidy goes to a luncheon with Trump at Trump's hotel in Washington. Somebody uploaded a video of Trump arriving. There are some blurry pictures taken in the restaurant that appear to show Broidy sitting at a small table next to the President-elect, underneath the white iron grillwork in the Old Post Office.
[REPETITIVE MUSIC RESUMES]
BERNSTEIN: During the meal, Liviu Dragnea, a Romanian power broker, walks right up to Trump and shakes his hand. According to Dragnea's Facebook page, Trump tells him, "Romania is important to us."
One Romanian expert told me that Dragnea is the Romanian Darth Vader. He can't run for public office himself, because he's been convicted of vote rigging. According to two sources familiar with Dragnea, being seen with Trump is validation.
And for Broidy, being seen with Trump at this luncheon by Dragnea is a testament to his own importance. Broidy goes on to pitch business in Romania, and eventually lands a preliminary agreement for $200 million, though, as of now, the funding hasn't gone through.
According to the emails and reporting by McClatchy and the Romanian news site, Hotnews, Broidy has a business partner in Romania with a familiar name: Steve Loglisci. Maybe you remember that name? He used to be a movie producer.
[THE THEME FROM "CHOOCH" PLAYS AGAIN]
BERNSTEIN: Steve's brother, David, is the one Broidy pleaded guilty to paying off in that New York pension scandal back in 2009.
[A MILITARY MARCH PLAYS]
BERNSTEIN: In the swirl of events around the Inaugural, Broidy strikes up a relationship with a man named George Nader, who is about to become an important Broidy business contact. Nader's got connections with top leaders in the United Arab Emirates and the kingdom of Saudi Arabia. This part of the story was first reported by the New York Times and the Associated Press, based on the emails which we've seen. Broidy's teams says the emails were stolen, and assert some were forged.
They told the AP that Nader is a U.S. citizen, and he did not direct any of Broidy's actions.
[MUSICAL FLOURISH PLAYS AS MARCH MUSIC FADES OUT]
BERNSTEIN: Over the course of the next year, Nadir holds out the prospect to Broidy of hundreds of millions of dollars in security contracts with United Arab Emirates. For his part, Broidy offers Nader access to Trump, and the opportunity to press for major foreign policy changes on behalf of Nader's clients in the Middle East. One of their goals is to isolate Qatar, where there's a U.S. military base. Another of the hacked emails shows Broidy writing, "We must help them kill all the snakes." In the emails, "snake" is the code word for Qatar.
[DRAMATIC MUSIC PLAYS]
BERNSTEIN: In May of 2017, Trump makes his first foreign trip to Saudi Arabia. It's there where Trump and Saudi leaders rest their hands on a glowing orb. The crowded room is dark as the music swells. They're lit up by panels from below. [PAUSE] The next month, at an RNC event at Trump's hotel in Washington, Trump says, "Elliott Broidy is fantastic."
PRESIDENT TRUMP: And Elliott Broidy is fantastic! [APPLAUSE]
BERNSTEIN: The Intercept published this tape. Later in the speech, President Trump says:
PRESIDENT TRUMP: We're having a dispute now with Qatar.
BERNSTEIN: "We're having a dispute with [EMPHASIZING THE LAST SYLLABLE] Qatar. We're supposed to say [EMPHASIZING THE FIRST SYLLABLE] Qatar. It's Qatar they prefer. I prefer that they don't fund terrorists."
PRESIDENT TRUMP: I prefer that they don't fund terrorists. [LAUGHTER, APPLAUSE]
BERNSTEIN: Broidy and Nader see all of this as an opening. They discuss getting an in-person meeting with Trump at the White House.
[LIGHTLY JAZZY FANCY RESTAURANT MUSIC PLAYS]
BERNSTEIN: In late September, Broidy attends a fundraiser with Trump at an upper-crust restaurant in New York, Le Cirque. Broidy writes to Nader, "I met the chairman last night." (The chairman is their code for President Trump.) "Lots of people around. Nothing was discussed. I asked him for the meeting, he agreed."
[MUSIC OUT]
BERNSTEIN: A few days later, Broidy goes right to the Oval Office. He sends a detailed email telling Nader he has pitched his causes right to the President. Nadir is thrilled, but he wants one more thing. He wants to get his picture with Trump at a fundraiser in Dallas.
There is a problem, as first described by the AP: the Secret Service doesn't want to approve it. In 2002, Nader was convicted of sexually abusing minors in Prague. He served time in prison. It's not clear if the sex abuse charge is the reason why the Secret Service objects.
Broidy drafts an email to Trump's chief of staff vouching for Nader. Broidy also tells Nader he needs to make a minimum payment of $100,000 to the Republican National Committee.
[WESTERN-STYLE ELECTRICAL GUITAR MUSIC PLAYS UP]
BERNSTEIN: We don't know how this is resolved, and there's no record of opinion by Nader. But Nader does get his photo taken with Trump. The next month, Broidy gives his biggest donation ever to the RNC: $189,000.
In December, there is another big-dollar fundraiser Broidy refers to in his emails. This one's at Cipriani in New York, a restaurant in a vault-ceilinged old bank building across from Grand Central Terminal. Trump's in a good mood because he's just gotten his tax bill passed.
PRESIDENT TRUMP: Tell them, how have we done on the fundraising front?
ANNOUNCER: Because of him, and because of you, we have broken every record in the history of the RNC. Post-President … [FADES UNDER]
BERNSTEIN: Trump is standing on stage in front of a video of American flags overlaying a blue curtain. He's joking with the crowd.
PRESIDENT TRUMP: You guys, look at that table. That's a rough table I have there. That's my friends in that table. But I wanna thank you. Great job.
[PLODDING MUSIC PLAYS]
BERNSTEIN: In New York that weekend, Broidy and Trump meet again to discuss the Middle East. Broidy sends an email to George Nader outlining when he tells Trump. Days later, Broidy sends a contract Nader's way — it's for work in the Emirates.
Broidy starts getting payments through a shell company in Canada. The first wire is for $36 million, but that's just a down payment. Broidy's contract with the UAE is worth up to $600 million.
[MUSIC HALTS]
BERNSTEIN: A third country Broidy sought business with? Malaysia.
[A SORT OF SORTING SOUND PLAYS]
BERNSTEIN: Around the time Broidy and Nadir are working on the Emirati deal, Najib Razak — then the Prime Minister of Malaysia — meets Trump at the White House.
PRESIDENT TRUMP: Thank you very much.
BERNSTEIN: Trump's seated at the table with his cabinet, flanked by Mike Pence and John Kelly, his chief of staff.
PRESIDENT TRUMP: It's great to have the Prime Minister of Malaysia and his very distinguished delegation with us today.
BERNSTEIN: The meeting is a good look for Najib who, at the time, is under fire for corruption in Malaysia. He'll be charged in his own country a year later for money laundering and abuse of power. But, behind the scenes for this event, there's been a lot of hustling, as the Wall Street Journal first reported. Broidy wants to get security work in Malaysia.
To help get the deal, he's put together some talking points for the Prime Minister to tell Trump about how both countries are fighting ISIS and North Korea. We don't know whether Broidy discussed the talking points with the Prime Minister, or if the Prime Minister raised them with Trump. What we do know -- in the cabinet room, Trump says them out loud: "Together, they'll fight ISIS."
PRESIDENT TRUMP: … not allowing. ISIS, or as you say, "DASH," uh, and others to exist.
BERNSTEIN: At another point in his remarks that day, Trump invokes North Korea.
PRESIDENT TRUMP: … does not do business with North Korea any longer.
[MUSIC PLAYS UP]
BERNSTEIN: It's not clear if Broidy's business dealings with Malaysia bear fruit. Not too long after the meeting, Prime Minister Najib is voted out in an anti-corruption wave.
In early 2018, things begin to go badly for Broidy. He plans to meet the President at Mar-a-Lago, but the government shuts down and Trump cancels his trip south. George Nader is also on his way to Mar-a-Lago, but he's stopped at Dulles Airport by federal agents who questioned him about possible foreign interference in Trump's 2016 campaign. He had a meeting with Don Jr. at Trump Tower in August of 2016.
Not too long after all this, Broidy's hacked emails get released. The New York Times, the Associated Press, McClatchy, the Wall Street Journal: they each get some of the emails. Reports about Broidy's attempted influence peddling start to emerge.
In their letter to us, Broidy's lawyers say, "Qatar's modus operandi appears to be select group of emails on topics intended to generate negative publicity about Mr. Broidy, and to repeat this cycle with as many news outlets and stories as it can."
Broidy's financial story remains part of the background noise around Trump. Then news breaks about the $1.6 million payment to a former Playboy model.
MSNBC'S CHRIS HAYES: That the deputy finance chair of the Republican National Committee had an affair with a Playboy model, got her pregnant, and paid her to stay silent about it all — including the abortion.
BERNSTEIN: Less than 10 years after admitting to paying off New York state officials, Broidy again faces public shaming. He resigns from the RNC. Broidy cancels an appearance with Trump at a Los Angeles event. His superpower — to get close to Trump — is gone.
In August of this year, the Washington Post reports that Broidy is under scrutiny by federal prosecutors for trying to manipulate the U.S. president on behalf of foreign governments. Broidy denies this.
He still has his contracts: $7.5 million in contracts and subcontracts with the U.S. government, an agreement with Romania for the possibility of up to $200 million of work, and a contract worth up to $600 million with the United Arab Emirates.
[MUSIC CHANGES TONE TO BECOME MORE PERSISTENT, DRIVING]
BERNSTEIN: We have such a complete story to tell you because Broidy's emails got hacked, but Broidy's story is just one of many examples of attempted influence peddling in the Trump administration. It's important to note that Broidy has not been convicted or even accused of any crimes in relation to President Trump. But there's a pattern of behavior that's becoming all too familiar.
At WNYC and ProPublica, we've been asking ourselves if what we're seeing in the Trump administration is actually worse than what we've seen during past presidencies, right? I mean, Trump ran with the slogan, "Drain the swamp."
[PHONE RINGING SOUNDS]
BERNSTEIN: So to put this in context —
SARAH CHAYES: Hi, it's Sarah. Woops, wait a second. Let me get my earphones on.
BERNSTEIN: We caught up with an expert in international corruption.
[MUSIC OUT]
CHAYES: Um, so yeah. I'm Sarah Chayes. I encountered corruption living on the ground in Afghanistan, where it turned out to be the most important issue driving the conflict there.
BERNSTEIN: Chayes was an NPR reporter. She ended up in Afghanistan, working on economic development there, and wrote a book about her experience called Thieves of State. She studied corruption in Nigeria, Egypt, Tunisia. She's advised the military and the joint chiefs of staff.
In Afghanistan, Chayes saw corruption all the time. A bank officer once demanded she pay a bribe to make a bank deposit. That doesn't really happen in the U.S. — but …
CHAYES: What's going on currently in the United States, as far as I'm concerned, is an American version of a phenomenon that I've been seeing all over the world, which is to say, networks, made up of top government officials, captains of industry, out and out criminals, woven together, are hijacking government and economic function and bending it to serve the purposes of their personal enrichment, and not the public interest.
BERNSTEIN: She says, these networks are a key indicator of corruption. It's not an accident that, for example, we're seeing a group of people attempting to profit from Trump's presidency who are connected — not only to the president — but to each other. Like members of a club.
CHAYES: You've got, in the Trump administration, a much higher level of overlap between private and public sector members of the network than has typically been the case in the past.
[PLUCKING ELECTRIC GUITAR MUSIC PLAYS]
BERNSTEIN: But — and this is key —
CHAYES: President Trump is really taking the veil off of practices that have been moving in this direction anyway.
BERNSTEIN: Chayes says corruption in the U.S. is a bipartisan problem.
CHAYES: We've got half of the electorate that doesn't even vote in presidential elections and I've been asking people why. And I get answers like, "Well, they're going to put who they want in office anyway."
And I say, "Well, what's rigged about the system?" "Too much money." I mean, these are absolutely unanimous answers.
BERNSTEIN: You've made a convincing case that the American system has been a lot sicker than most people have thought for a long time. It looks, to me, like we're sort of sliding down a mountain, and then with Trump, we've fallen off a cliff.
CHAYES: I think that's exactly the right way to put it, is that we've been sliding down this mountain. And mountains are not, you know, just gently rolling things. Mountains include sudden and violent drop-offs.
[MUSIC PLAYS UP AND OUT]
[CREDITS MUSIC COMES IN]
BERNSTEIN: Coming up on Trump, Inc. —
UNIDENTIFIED VOICE OVER THE PHONE: I don't think they have the numbers, but we're talking about, like, $15k a month. Um, let me see what that adds up to. [COUNTING] Yeah, $180,000. Does that sound like a fair deal for you?
BERNSTEIN: — how Trump keeps those around him silent.
Trump, Inc. is an open investigation. Have you seen a Trump nondisclosure agreement? Have you perhaps even signed one yourself? Email us at tips@TrumpIncPodcast.org. Find out how to send secure documents at TrumpIncPodcast.org.
Trump, Inc. is produced by Meg Cramer. The associate producer is Alice Wilder. The technical director is Bill Moss. Original music by Hannis Brown. Charlie Herman and Eric Umansky are the editors.
We had help from Katherine Sullivan, Jake Pearson, and Jack Gillum at ProPublica. Robin Fields is ProPublica's Managing Editor. Jim Schachter is the Vice President for News at WNYC, and Steve Engelberg is the Editor-in-Chief at ProPublica.
[MUSIC OUT]
Copyright © 2018 ProPublica and New York Public Radio. All rights reserved. Visit our website terms of use at www.wnyc.org for further information.
New York Public Radio transcripts are created on a rush deadline, often by contractors. This text may not be in its final form and may be updated or revised in the future. Accuracy and availability may vary. The authoritative record of New York Public Radio's programming is the audio record.