Trump Jr. Invested in a Hydroponic Lettuce Company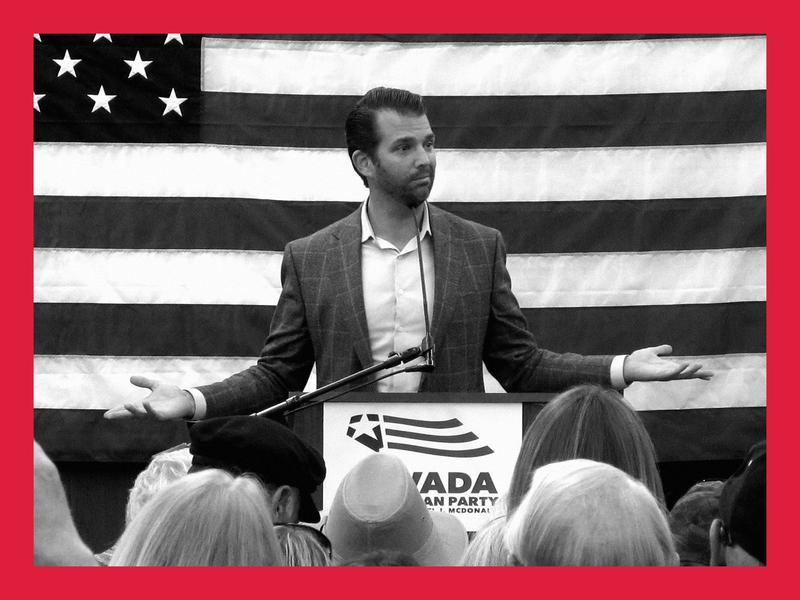 Transcript
[PLUCKY STRINGS MUSIC PLAYS]
ILYA MARRITZ: I want you to meet Jake Pearson. He's a reporter at ProPublica who recently learned something I bet you didn't know.
JAKE PEARSON: Donald Trump Jr. is in the lettuce business.
MARRITZ: Really? The lettuce business.
PEARSON: Yeah. So, since his father entered the White House, Don Jr. has quietly become the most notable shareholder in this hydroponic lettuce farming company that's growing leafy greens and lettuce in an industrial park near Fort Worth.
MARRITZ: It's true. This man —
DONALD TRUMP JR.: Good evening. I'm Donald Trump Jr. I'm the … [CHEERING AND APPLAUSE] Thank you!
MARRITZ: — is invested in this farm, which was recently featured on KDFW news.
KDFW HOST: … next-generation vertical farming. Produce is locally grown.
PEARSON: What we've uncovered here is really something that we haven't read a lot about. What we have here are one of the few post-election business ventures that a Trump has pursued while Donald Trump has occupied the White House.
KDFW HOST: This method of farming means there are no restrictions to where produce can be grown.
FARMER: We can tailor … [FADES UNDER]
PEARSON: So we now know that Don Jr. was indeed an investor in this lettuce start-up, but we've also learned a couple other things. We've learned that people running it have also invoked his name in the course of doing business. What's more, we've learned that the man running the company — a long-time friend of Don Jr.'s — was pitching the government for support on a separate project at the same time the President's son was investing in his lettuce business.
[TRUMP, INC. THEME MUSIC PLAYS UP]
MARRITZ: Hello, and welcome to a podcast extra from Trump, Inc. I'm Ilya Marritz. Trump, Inc. is an open investigation from ProPublica and WNYC into the unresolved business conflicts-of-interest around the Trump administration.
[MUSIC OUT]
MARRITZ: If you remember our very first episode, maybe you also recall this news conference. It was a few days before Inauguration Day — January 11th, 2017.
DONALD TRUMP: Because, as you know, I have a no-conflict situation because I'm president.
MARRITZ: Standing behind stacks of folders that reportedly contained nothing more than blank paper, Donald Trump said he was handing off his golf courses, his hotels, and his office buildings to be managed by his two adult sons.
DONALD TRUMP: Don and Eric are going to be running the company. They are going to be running it in a very professional manner. They're not going to discuss it with me again. Again, I don't have to do this.
MARRITZ: Since that day, Don Jr. has been a co-leader of the Trump Organization. But when we, the public, see him, it's usually as a surrogate for his dad.
DONALD TRUMP JR.: My father didn't need this job. Hey, he needed this job like a hole in the head. But he did it anyway, because he's disgusted with what was going on … [FADES UNDER]
MARRITZ: People say he's finding himself on the campaign trail.
DONALD TRUMP JR.: Thank you very much, Montana. [CHEERING AND CHANTS OF "USA! USA! USA!"]
MARRITZ: It's a strange position to be in. Here's a guy who shares a first name and a last name with the President. He's the manager of the President's company. And yet he's also a private businessman who recently invested in a lettuce company.
[SLOW, DRAMATIC PIANO MUSIC PLAYS]
PEARSON: We've talked to ethics experts, and they say that this arrangement does raise a whole host of questions. Are they leveraging the Trump name? Do they also have business before the administration? Is Don Jr. being offered an opportunity to invest based on the merits of the deal, or because, if he makes money, then his partners are going to have a better chance of getting what they want from the government?
MARRITZ: Today, we bring you the never-before-heard story of the lettuce farm, the President's son, and his college buddy, who got him to see the power of hydroponic agriculture.
[MUSIC PLAYS UP FOR A MOMENT, THEN OUT]
MARRITZ: We would know none of this if Jake had not first found a document.
PEARSON: Yeah. I'm a big documents guy. Uh, public records are great. I get very excited about them.
MARRITZ: So what is the document that led you to this lettuce farm?
PEARSON: It's called a vendor disclosure report, and, basically, any company that does over $250,000 a year in business with New York City has to share certain information about itself, including related businesses. The Trump Organization has the carousel in Central Park and the golf course in the Bronx, so it has to submit this form.
MARRITZ: It's a little bit like the financial disclosures that every president is required to make. So Jake had an idea, to compare Trump's presidential disclosures with the disclosures made by the Trump Organization in their vendor report to New York City.
PEARSON:— to see if there was overlap. And there was by and large, except for a couple of things. One of them was an LLC called "MSMDF Agriculture LLC."
[PLUCKY STRINGS PLAY]
PEARSON: To me, I mean, I had no idea that the Trump family business — anybody was involved in agriculture. So it piqued my interest.
MARRITZ: Records showed that the company was incorporated in Delaware in September 2017 by a Trump Organization employee. This was nine months into the Trump presidency. But Jake had a lot of questions. He still didn't know what MSMDF Agriculture LLC is, what those letters stand for — much less where it fits in with the Trump Organization.
PEARSON: There was nothing [LAUGHS] I could find on the internet, then nothing I could find in court cases.
MARRITZ: Then a database search turned up another name —
PEARSON: — this company I'd never heard of: Eden Green Holdings UK.
MARRITZ: British records showed MSMDF, which is owned by Donald Trump Jr., in turn owns thousands of shares of Eden Green.
PEARSON: Well, that got me curious about what in the world Eden Green is, and it turns out that Eden Green, which has sort of a couple different corporate entities, is a hydroponic, indoor, vertical lettuce-farming business,
EDEN GREEN PROMO VIDEO: Providing clean, fresh farm-to-fork food cheaply, and with almost zero carbon footprint.
MARRITZ: This is from an early Eden Green promotional video.
PEARSON: It started in 2013 by these two brothers — the van Buren brothers.
MARRITZ: They're from South Africa — Eugene and Jacques.
PEARSON: A pet project of his for years has been perfecting a technology that would yield more lettuce and leafy greens in an indoor vertical farming scenario than you would get in traditional, outdoor farming.
MARRITZ: So vertical farming, almost like a green wall that you sometimes see in, like, newer office buildings.
PEARSON: No, think more like really tall, 18-foot cylinders with places in them for each plant to sort of sit in such a way that it gets, you know, bespoke levels of sun and water and nutrients. And — and that's the idea.
[MUSIC OUT]
MARRITZ: So the van Buren brothers had this cool idea, and they enjoyed some success. Eden Green licensed its technology to buyers in Australia, the UK, and the Netherlands. And then, like a lot of startups, they ran into trouble. Jake got hold of an internal email that said the company was, quote, "bleeding money and resources." For almost two years in 2017, a group of American investors swooped in.
PEARSON: So it's looking like Don Jr. gets involved in this whole enterprise by virtue of his relationship with a Texas guy named Gentry Beach.
MARRITZ: [SPELLING IT OUT] G-E-N-T-R-Y. Like aristocracy. Gentry Beach assembled the American group that took over Eden Green last year.
PEARSON: Gentry Beach was a hedge fund manager and an investor. He worked in New York for a number of years before going back to Texas. And he became, during the campaign, a tremendous fundraiser for Team Trump. Don Jr. has actually credited Beach and two other friends with helping them raise $150 million in three months during a really critical stretch of the campaign.
[INTRIGUE MUSIC PLAYS]
MARRITZ: Beach and Trump go back two decades. They were undergrads together at the University of Pennsylvania. The two men are known to go hunting together. Each man is a godfather to the other man's son. And, according to a deposition Jake dug up, Don Jr. has invested in a number of Gentry Beach's business ventures: an oil well in Texas that turned out to be dry, an African mining stock which later tanked, and — a little more than a year ago — late 2017, they did business again, when Donald Trump Jr. purchased 7,500 shares in Eden Green through MSMDF Agriculture, LLC.
[MUSIC OUT]
MARRITZ: What did he pay?
PEARSON: We don't know. But if the shares were valued the same as another investors that we do know about, they could have been worth $650,000 at the end of last year.
[TWANGY MUSIC PLAYS]
PETER ELKIND: Just off the exit, right turn, and there is the Eden Green startup site of the greenhouse.
We asked another ProPublica reporter, Peter Elkind, to go to the greenhouse in Cleburne, Texas. It's about a half hour's drive south of Fort Worth. Peter lives not far away.
ELKIND: Um, there's a Texas flag, American flag, and Eden Green flag. And, uh, you can see the plants inside.
MARRITZ: Turns out, it's just walking distance from a Walmart distribution center. And Walmart is a part of Eden Green's business strategy. Around the time Don Jr. invested, Eden Green made a deal with the retailer to supply its shelves, starting in the Dallas-Fort Worth area. They're now in a hundred stores under the brand name "Crisply."
ELKIND: Walking right into the produce sections. "It's grown close to home" — it's a big sign.
MARRITZ: Next, Peter Elkind hit up the Walmart in Cleburne.
ELKIND: "Crisply Smart Greens, wholesome blend of nutritious leafy dark greens," selling for $3.48 a package. So there's Sweet Greens, Smart Greens, and Spicy Greens. And that's the story from Walmart.
[MUSIC OUT]
MARRITZ: So, Jake, what does it tell us that Eden Green is in business with Walmart?
PEARSON: Well, first of all, it's a huge endorsement of the growing technology, and it opens up the doors to some potentially pretty huge expansion opportunities.
MARRITZ: Kind of turns Eden Green from this experimental startup into a very real business.
PEARSON: There is also some politics here. Walmart contributed to Trump's inauguration, and Gentry Beach was a fundraiser for the inaugural.
MARRITZ: Is there any indication that Walmart did business with Eden Green because it knew Don Jr. was involved?
PEARSON: No, absolutely not. Eden Green says Beach never met with Walmart, and Walmart told us that they don't talk about their suppliers, and that they've given to past inaugurations.
MARRITZ: Walmart is the nation's largest private employer by far. They have regulatory matters before the government all the time — labor laws, land use. So, if the son of the President is in business with a company that has contracts with Walmart, this is a business relationship we're going to want to watch. Let's call it thorny area number one.
[MUSICAL FLOURISH]
MARRITZ: Thorny area number two is personal. When Gentry Beach's college friend's dad decided to run for president, Beach raised money for the campaign.
DONALD TRUMP JR.: Most importantly, the people I have to thank are really Tommy Hicks and Gentry Beach. [SCATTERED APPLAUSE]
MARRITZ: After Donald Trump was elected, Beach stayed in the picture.
PEARSON: And, you know, Gentry Beach is a Vice Chairman of the Finance Committee for the Inaugural. He gets into a little bit of hot water when he and Tom Hicks Jr. create a nonprofit that would basically sell access to Don Jr. and Eric to go on hunting trips and fishing trips in exchange for donations.
MARRITZ: They had to cancel that charity event. FIve current and former business associates say, since Don Jr. bought shares in Eden Green, Gentry Beach and others at the company have been dropping the Trump name in business meetings. And, while Beach is pursuing the Eden Green business and talking up his ties to the Trumps, he's also pitching some of his international business projects to the head of a government agency —
PEARSON: — called the Overseas Private Investment Corporation: OPIC.
MARRITZ: OPIC offers loans and other incentives to encourage U.S. companies to invest overseas.
PEARSON: Especially in the third world. And it's sort of an arm of foreign policy.
MARRITZ: The Trump administration's choice for the head of OPIC is another Dallas businessman who also supported the Trump campaign.
PEARSON: His name is Ray Washburn. He and Beach traveled in the same circles. They raise money for Trump together, and Beach has been sending him emails for months.
MARRITZ: Jake obtained these emails through a Freedom Of Information request. They showed Gentry Beach making what are, in essence, informal business pitches: a tin mine in the Dominican Republic, a liquid natural gas facility in the same country.
Beach offered to arrange an introduction to the head of Exxon-Mobil in Africa. He said he'd recently been shooting with him at Winston Churchill's ancestral estate in England.
PEARSON: Uh, you know, shooting guns.
MARRITZ: He also introduces one of Washburn's deputies to a South African mining executive, who Gentry Beach calls "one of his partners."
PEARSON: So these are multiple efforts to pitch the government on projects that he's got a financial stake in.
MARRITZ: Is the government interested?
PEARSON: OPIC says that Beech hasn't made any formal proposals. So we asked them, we said, "If Gentry Beach were to make a proposal, would OPIC consider, you know, giving out money, considering all these ties?"
And they answered sort of generally to say that, depending on the relationship, the people who make decisions at OPIC have to recuse themselves if there are certain business or legal ties between them and the person who's making the proposal.
[REPETITIVE KEYBOARD MUSIC PLAYS]
MARRITZ: So, Gentry Beach, friend of Donald Trump Jr., supports the Trump campaign. Donald Trump Sr. comes to office. Gentry Beach starts pitching his agencies — and doing business with his son.
PEARSON: Right. There's a personal business and political relationship there.
MARRITZ: Gentry Beach did not agree to an interview with Jake. He doesn't do much public speaking. But we did find this conversation with Croatian TV from October.
INTERVIEWER: So, Beach, where do you want to invest in, in Croatia?
GENTRY BEACH: Well, it's my first time to Croatia. It's an absolutely beautiful country.
MARRITZ: So picture a man in a contrast-collar shirt, his forehead shiny under the TV lights.
INTERVIEWER: You know Trump's family. And does it affect your business?
BEACH: Well, I — I don't need anything from the government, thankfully. Uh — uh, except normal police protection in my hometown. I've known the family for, uh — I originally met Don Jr. in college, but we've been better friends since post-college years. We went to …
MARRITZ: Gentry Beach says he's considering a hundred-million dollar investment in a resort on the Adriatic Coast. The conversation keeps coming back to the Trumps.
BEACH: And we've been good friends for a long time. Um, uh, I can't say enough good things about their family.
INTERVIEWER: So pleasure is pleasure, and business is business?
BEACH: That's it. Yeah. They're totally separate. Yes.
PEARSON: Well, remember, in the case of Eden Green, we were told by five different current and former business associates that Beach and other executives have been talking up their connections to the Trumps. And, you know, Don Jr. has invested in this company that Beach is the co-chairman of.
[SLINKY MUSIC PLAYS]
MARRITZ: Thorny area number three: this fall, Eden Green was sued by their biggest investor.
PEARSON: And the investor basically said that the business has run out of money, is on the verge of collapse, and probably won't make it through 2018.
MARRITZ: These investors — a wealthy oil and gas family from Texas — hired a professional to go through Eden Green's books. According to the lawsuit —
PEARSON: — they have about $600,000 on hand, and that they've only done $9,000 in revenue, and that they've somehow blown through $19 million in nine months. The lawsuit also alleges that they went over-budget on the greenhouse, and that executives paid themselves salaries between $200,000 and $300,000.
MARRITZ: In late November, Eden Green settled the suit. The terms are confidential.
[MUSIC OUT]
MARRITZ: So what's going on with Eden Green? Are they solvent?
PEARSON: The company says so. You know, we asked them. They haven't given us numbers, but they say they're well-capitalized. They say that the numbers referenced in the lawsuit are not accurate.
MARRITZ: Eden Green's spokesperson said it's categorically false that Trump's name was invoked by company officials. He also said Don Jr. bought in during Eden Green's friends-and-family fundraising efforts, and he's not involved in running the company. Donald Trump Jr. did not respond to messages seeking comment. Neither did the White House.
[MUSICAL FLOURISH PLAYS]
MARRITZ: I'm not even sure that this matters, but I am confused on this one point. You originally found out about this entire lettuce business thing through a Trump Organization disclosure, but it sounds like from your reporting that this is really Don Jr.'s investment, specifically. So which is it? Is it a Don Jr solo venture, or is this something the Trumps are doing?
PEARSON: On the disclosure form — which, you're right, was submitted by the Trump Organization — Don Jr. is listed as the president, secretary, and treasurer. On the other hand, you know, the incorporation records? Well, they were filed by a Trump Organization employee.
We asked Alan Garten, who's the top lawyer at the Trump Organization, and he said, "This doesn't have to do with us. This is a Don Jr. investment."
[LIGHT MUSIC PLAYS IN THE BACKGROUND]
MARRITZ: Right. And we've seen this kind of thing before: the line between Trump the man, Trump the company, the Trump kids, the Trump charity. It's always been hazy, even before there was Trump the president.
PEARSON: Trump, as president, named his son, Don Jr., as one of just two trustees in charge of the trust that holds all his assets, which — by the way — he can take money out of any time he wants. And, at the same time, Don Jr. is a chief executive at the family business, he's a campaigner, he's a private businessman. So, the deals he pursues, and who he pursues them with — and that's all of public interest.
In fact, ethics experts we've talked to say this arrangement basically just invites a whole host of concerns. You know, are the deals pursued based on their merits, or as opportunities to boost your chances of getting something from the government? Is the Trump name being used to court investors, to get favorable terms? You know, these are important ethical questions.
[CREDITS MUSIC PLAYS]
MARRITZ: Jake, thank you very much.
PEARSON: Thank you.
MARRITZ: Jake Pearson is a reporter at ProPublica. Last February, Donald Trump Jr. traveled to India. On this podcast, we reported that he was promoting apartments in a Trump-branded tower near the capital. There were newspaper ads that said things like, "Trump is here. Are you invited?"
DONALD TRUMP JR.: But that's the problem. [SPEAKING AS IF OUT THE SIDE OF HIS MOUTH] Because my father happens to be in politics, there's always a catch. "It must be because of this." [FADES OUT]
MARRITZ: Selling the Trump name is what Trumps do. Jake's reporting raises the prospect that friends, or business partners, of the Trumps might now do this as well. You can read his story at TrumpIncPodcast.org.
And, if you know something about Don Jr. and Eden Green or anything else about the Trumps' current business ventures, we want to hear from you. Head on over to the website to find out how to send us tips.
[A MOMENT OF MUSIC, THEN]
MARRITZ: Trump, Inc. is produced by Meg Cramer. The Technical Director is bill Moss. The editors are Charlie Herman, Eric Umansky, and Nick Varchaver. The Managing Editor of ProPublica is Robin Fields. Jim Schachter is the Vice President for News WNYC, and Steve Engelberg is the Editor-in-Chief of ProPublica. Original music by Hannis Brown.
[MUSIC OUT]
Copyright © 2018 ProPublica and New York Public Radio. All rights reserved. Visit our website terms of use at www.wnyc.org for further information.
New York Public Radio transcripts are created on a rush deadline, often by contractors. This text may not be in its final form and may be updated or revised in the future. Accuracy and availability may vary. The authoritative record of New York Public Radio's programming is the audio record.