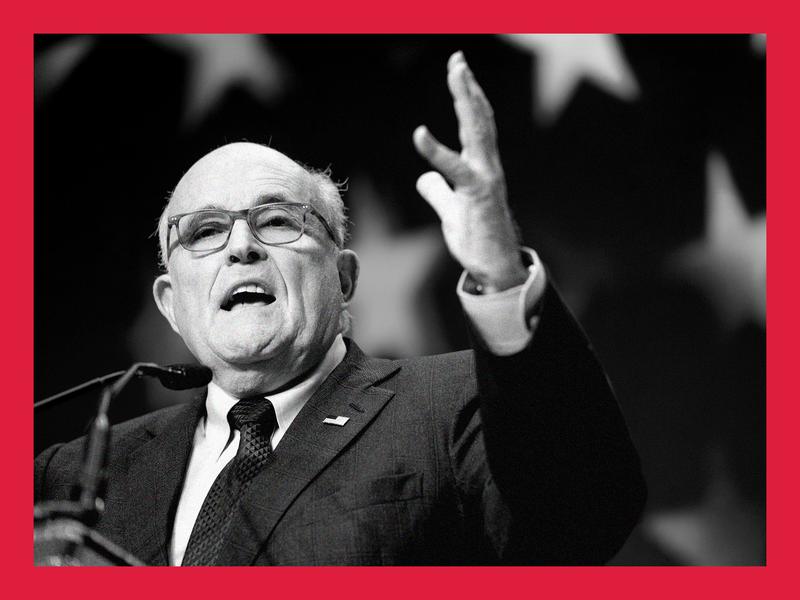 Transcript
[A NEWS ANCHOR CAN BE HEARD SPEAKING ARMENIAN, INTERSPERSING THE NAME "RUDY GIULIANI" OCCASIONALLY, FADING UNDER NARRATION]
ANDREA BERNSTEIN: In late October, Rudy Giuliani traveled to Yerevan, the capital of Armenia, to attend a conference.
ILYA MARRITZ: It was Rudy's first time in the former Soviet Republic, high in the Caucasus mountains, which hosts a Russian military base and has close trade ties to its humongous nearby neighbor: Russia.
[THE NEWS ANCHOR CAN BE HEARD AGAIN, THIS TIME SPEAKING THE NAME "DONALD TRUMP" AMONGST OTHER THINGS]
MARRITZ: Rudy visited a Memorial to the Armenian genocide, got a briefing from the Acting Defense Minister, and gave a speech about cybersecurity.
RUDY GIULIANI: In the interconnected world we live in, the whole world is communicating with — even with Armenia. So your phone … [FADES UNDER]
MARRITZ: This was the Rudy we have come to know: American flag pin, Yankees World Series ring, a face that seems to involuntarily grimace at irregular intervals.
GIULIANI: [FADES UP] Since these communications are taking place, in essence, through the air, and they're being stored … [FADES OUT]
BERNSTEIN: Rudy Giuliani was listed on the conference program as speaking at a feature panel on technological breakthrough. The other panelists included two advisers to Russian President Vladimir Putin. One of them was sanctioned by the U.S. after the Russian invasion of Crimea — he's still on the U.S. sanctions list.
On one part of the trip, Rudy was asked about U.S.-Armenia relations.
GIULIANI: But I'm not here in my capacity as a private lawyer for President Trump. I'm here as a private citizen.
MARRITZ: And the person who brought private citizen Rudy to Armenia? He's an Armenian businessman who lives in Russia and who received an award from Vladimir Putin at a ceremony last year.
[AN EMCEE CAN BE HEARD SPEAKING IN RUSSIAN. THE NAME "VLADIMIR PUTIN" CAN BE HEARD]
[PLUCKY STRING MUSIC PLAYS]
BERNSTEIN: So here is Rudy Giuliani, international businessman, who also happens to be President Trump's unpaid part-time attorney in Robert Mueller's probe of possible Russia collusion.
GIULIANI: You know how sometimes the — the cover-up is worse than the crime? In this case, the investigation was much worse than the no-crime.
BERNSTEIN: The same Rudy Giuliani who is appearing at a conference with a sanctioned Russian in a state with close ties to Russia just now. [PAUSE] We don't know if Rudy got paid on this trip. He didn't answer any of our questions about this, or about anything else.
[TRUMP, INC. THEME MUSIC PLAYS]
MARRITZ: Hello, and welcome to Trump, Inc., an open investigation from WNYC and ProPublica into the unresolved business conflicts surrounding the Trump administration. This fall, we're looking at how the people around Trump may be profiting from the presidency. I'm Ilya Marritz.
BERNSTEIN: And I'm Andrea Bernstein.
[MUSIC OUT]
BERNSTEIN: Rudy Giuliani has lived a life in parallel with Donald Trump.
[BACKSTORY MUSIC PLAYS]
BERNSTEIN: The two men were born in the outer boroughs of New York City, two years apart. Trump and Rudy Giuliani became famous in the 1980s — Trump as a builder, Rudy as a high-profile U.S. attorney. They both feel themselves to be outsiders. They're publicity-hungry showmen who turned themselves into global brands. Trump's brand? Gold and marble. Rudy's brand? Law and order.
A style note here — we're calling Rudy Giuliani "Rudy." Everyone does.
Rudy and Donald have known each other for decades. And they have chemistry.
[MUSIC OUT]
DONALD TRUMP: You know, you're really beautiful. And a woman that looks like that has to have her own special scent.
WOMAN: [IN A FALSETTO] Oh, thank you. Maybe …
BERNSTEIN: This clip is from a celebrity roast in the year 2000. Donald looks like Donald. Rudy is in a blonde wig, and an iridescent lavender dress. [TRUMP AND GIULIANI CAN BE HEARD UNDERNEATH EXPLANATION] The camera pulls in for a closeup as Donald lowers his face into Rudy's décolletage. Rudy returns a high camp slap.
GIULIANI: [IN A FALSETTO] Oh, you dirty boy, you! Ooh! Oh!
MARRITZ: Once, these men could laugh at themselves. Today, when defending the President on TV, Rudy sometimes strays into absurdity.
CHUCK TODD: Truth is truth. I don't mean to go — like, I —
GIULIANI: [ALMOST YELLING] No! It isn't truth. Truth isn't truth. The President of the United States says, "I didn't."
TODD: [INCREDULOUS] Truth isn't truth?! Mr. Mayor, do you realize what [OUT OF WORDS] — I — I —
[GIULIANI AND TODD ARGUE AS THEY FADE OUT]
BERNSTEIN: For this story, I reached out to about a dozen people who knew Rudy Giuliani from his days before joining Trump. Many of them say they're out of touch these days — don't know what he's doing. All of this adds to the mystery about Rudy's day job — what exactly he does, where he does it.
[MUSICAL FLOURISH PLAYS]
BERNSTEIN: After he became Trump's lawyer in the spring, Rudy left his big law firm. New Yorker journalist Jeffrey Toobin, who recently profiled Rudy, tells us he now prefers to do business from the Grand Havana Room.
JEFFREY TOOBIN: — which is this slightly seedy cigar bar on top of 666 Fifth Avenue, which, of course, is famously owned by the Kushner family. And I went there once and I got — sort of got a kick out of it. And I said — when — when there was a subsequent interview, I said, "Where do you want to meet?" He said, "Oh, let's go back." And then a third time, we said, we went back. So I think he really uses the Grand Havana Room as kind of his office for meetings with outsiders.
BERNSTEIN: Does he have an office?
TOOBIN: I think his office, for the most part, um, is his cell phone. I mean, I think he really just sort of rocks and rolls. He — he's got a bodyguard, but I think he just kinda goes from meeting to meeting, and television appearance to television appearance, when he was doing that.
[LIGHT MUSIC PLAYS, THEN BECOMES HEAVIER]
BERNSTEIN: Today on Trump, Inc., we're going to lay out what we've learned about what Rudy is doing — beyond appearing on TV — and who he's working with.
MARRITZ: Here's one thing that surprised us. Rudy has done a bunch of appearances in the former Soviet Union, going back to 2004. And since Trump was elected, he stepped up his activity there.
BERNSTEIN: Because he didn't answer our questions, and because he doesn't have a government job, so he's not required to file disclosures, our information is limited.
MARRITZ: Now we're going to piece together what we do now. And we'll start by going back to the moment when Rudy Giuliani became Rudy Giuliani.
[MUSIC CHANGES TONE, BECOMES EMOTIONAL AND SOMBER]
BERNSTEIN: Mr. Mayor —
MAYOR GIULIANI: Thank you.
BERNSTEIN: — can we ask you a question, Mr. Mayor? We have some — we have some, uh, recent reports.
BERNSTEIN: It's September 12th, 2001. I'm a political reporter for WNYC radio, and today, I am assigned to cover the mayor, Rudy Giuliani. Briefings started at 6:00 AM. No one has slept.
MAYOR GIULIANI: … the heart of the One Financial Center that was hanging out over — over the street.
BERNSTEIN: At some point, I'm loaded into a van with about a dozen other reporters. It's hard to overstate how our heads are spinning. Two days earlier, I was covering the mayoral primary races. Today, I'm asking Rudy about the number of dead.
[MUSIC OUT]
MAYOR GIULIANI: And we — and we recovered more — uh, we recovered more bodies a little while ago.
BERNSTEIN: How many bodies?
MAYORAL AIDE: Okay. One more, please.
MAYOR GIULIANI: I believe it was about 16 — about 16 more.
BERNSTEIN: When no one can really think clearly, Rudy seems to be able to.
MAYOR GIULIANI: Nobody should engage in group blame. It's the kind of sickness that we're suffering from with this attack: crazy, irrational prejudice, where people are blamed as a group for the activities of a few people.
BERNSTEIN: We got to the site of the former World Trade Center. Rudy looks at the devastation, and we look, too — and look at him looking.
BERNSTEIN: [OVER THE SOUNDS OF WALKING] Anybody have another mask?
BERNSTEIN: Being here with Rudy is making it easier.
MAYOR GIULIANI: Thank you, uh, very much, to the Governor, and to Senator Schumer, and Senator Clinton.
BERNSTEIN: He's at once calm, in control, and sad.
MAYOR GIULIANI: And we're somehow going to manage our tremendous grief and our loss. But then we're also going to have to rebuild a city and make it even stronger than it was before. And it's going to need everyone's helping. It's going to need the help with President Bush. [FADES OUT]
BERNSTEIN: In the days after 9/11, Rudy Giuliani becomes imprinted on the shattered hearts and minds of a nation, like a surgeon who saved America's life. Not too long after the attacks, he's introduced at a memorial service at Yankee Stadium by Oprah.
OPRAH WINFREY: … has led him to be called "America's mayor." He's the Mayor of New York City. Ladies and gentlemen, Rudy Giuliani! [LOUD AND LONG APPLAUSE AND CHEERING]
[ALMOST PLAINTIVE GUITAR MUSIC PLAYS]
BERNSTEIN: Before 9/11, New Yorkers were getting fed up with Rudy's peevishness, his aggression, his public attacks on victims of police violence, artists — even his wife. But when he leaves City Hall, his name is known all over the world, synonymous with calm command. His business and political opportunities seem limitless.
MARRITZ: Before he's even left City Hall, there's speculation Rudy will one day run for president. For now, he goes into business. He sets up a cluster of companies: Giuliani Partners, Giuliani Security & Safety, Giuliani Group, Giuliani Capital Advisors. Eventually he'll join a Texas law firm — the firm wants his name, and it becomes Bracewell and Giuliani.
BERNSTEIN: The Giuliani name is powerful. Rudy signs a wide range of clients: Merrill Lynch, Nextel, Aion the insurance company. He helps keep the executives of Purdue Pharma — the maker of the opioid Oxycontin — out of prison. A business group hires him to clean up Mexico City. The government of Qatar hires him, too.
[MUSIC OUT]
MARRITZ: Rudy positions himself, alternately, as a specialist in fighting street crime, fighting Islamic terrorism, and fighting computer hackers. He does a lot of meet and greets around the globe. It seems like everyone wants their photo with him.
BERNSTEIN: It's lucrative. We know from campaign disclosures that Rudy left City Hall with a bit over a million dollars in assets. Five years later, he was worth between $20 and $70 million, according to the Washington Post.
MARRITZ: Not a bad return for five year's work.
[LOW AND SLOW MUSIC PLAYS]
BERNSTEIN: We want to tell you about one part of Rudy's business during this time, which hasn't been reported much: his trips to the former Soviet Union. These came in three distinct bursts. Some of the trips look like photo ops. Some appear to be consulting gigs. Since Rudy didn't answer our questions, there's a lot we don't know.
Connecting all these trips is a Russian American business group called TriGlobal Strategic Ventures — more on them later.
MARRITZ: The first trip we know about is Moscow in September 2004. Vladimir Putin has already consolidated power in Russia, and the country is shaken by war and terrorism. Days earlier, a siege at a school in Southern Russia ended with more than 300 people killed — mostly children. "America's mayor" offers his condolences to Russia's newly installed Foreign Minister, Sergey Lavrov, who — incredibly — still has the same job.
Rudy's next stop is a place that's not on many traveler's itineraries — Magnitogorsk, an industrial city a thousand miles to the east.
[MUSIC OUT]
KEN KURSON: It was like this town in the middle of nowhere. I think it's in the — the middle of the Ural Mountains, and you have to be flown there. And I remember being a small private plane.
MARRITZ: Ken Kurson is Rudy's speech writer at the time, and travels with him.
KURSON: We got to Magnitogorsk, and it was this tiny city dominated by the — the most gigantic factory I'd ever seen of any kind, anywhere in the world. And they made these sheets of steel that were practically as tall as buildings.
MARRITZ: Kurson remembers the factory serving vodka at lunch. He and Rudy say two nights in town. The Moscow Times calls this "Giuliani's mystery tour," because it seems like such an unlikely place for Rudy to show up.
Kurson says he wasn't familiar with the business arrangements, and there was nothing strange about the trip. Rudy gave a speech and toured the sites, like you do any other place.
KURSON: You know, we went to Calgary, we looked at the rodeo. We went to York, Pennsylvania, we looked at the Harley Davidson plant.
BERNSTEIN: Around this time, Rudy Giuliani's run for U.S. president is gathering steam. You may not remember this, but Rudy was leading in all the polls — until people started casting votes. With an assist from his law firm, Bracewell and Giuliani, he was raking in political contributions. He even raised funds from American expats in Kazakhstan, an oil-rich former Soviet Republic, where Bracewell had an office at the time. On the campaign trail, he was greeted like a rock star.
GIULIANI: Oh, my! Woah!
[THE CROWD BEGINS CHANTING "RUDY, RUDY, RUDY!"]
BERNSTEIN: He makes a strategic bet — skips Iowa and New Hampshire. He goes all in on Florida.
GIULIANI: If we win here in Florida, we're going to win the Republican nomination, and then we're going to win the presidency. And once again, it'll be Florida that determines the President of the United States of America. [CHEERING] Thank you!
BERNSTEIN: But there's a problem for Rudy. It's hard to live up to his reputation. For a lot of voters, the day they meet him is the day they like him the most. I was in Florida as it all unraveled.
BERNSTEIN: People here don't believe he's a winner, and people do want to vote for the winner. Once you've lost four primaries and you've come in fourth, fifth, sixth, you have the stench of defeat about you, and that doesn't really help.
BERNSTEIN: Rudy comes in a distant third, doesn't want a single delegate. A few days later, he drops out.
[WESTERN-STYLE MUSIC PLAYS]
MARRITZ: After losing the Republican primary, Rudy goes back to work. In addition to his old A-list clients, he takes on some new jobs — does TV ads for an identity theft software company.
GIULIANI: I protect myself with LifeLock.
MARRITZ: He hosts a mob movie marathon on AMC.
GIULIANI: [CHUCKLING] Unfortunately, I enjoy films about organized crime.
MARRITZ: And he's back traveling around the world.
[A NEWS ANNOUNCER SPEAKS IN SPANISH]
MARRITZ: Making appearances with political candidates in places like Peru and Belgrade.
[A COMMERCIAL CAN BE HEARD IN A SLAVIC LANGUAGE]
MARRITZ: He gives paid speeches for MEK, an Iranian group that the U.S. State Department lists at the time as a "foreign terrorist organization." Rudy says MEK are friends of the United States. Also at this time, Rudy's back in the former Soviet Union. In 2008, he books some appearances in Ukraine — specifically in Kiev, the capital, where an outsider with tough-guy appeal is running for mayor.
EMCEE: Doctor Iron Fist, Vitaliiiiiiiiiiiii — [CONTINUES UNDER MARRITZ]
MARRITZ: Vitali Klitschko, three-time heavyweight world champion boxer.
EMCEE: Klitschko! [BOXING BELL SOUNDS]
KATIE ZAVADSKY: [LAUGHINGLY] So that's the guy who's running Kiev now.
MARRITZ: Katie Zavadsky is Director of Research at ProPublica. It also happens she was born in Kiev. There is a group that takes credit for bringing Rudy to Kiev, and for a lot of these trips to the former USSR. That group is called TriGlobal Strategic Ventures. Rudy Giuliani is all over their website. And there are a lot of unexplained things about TriGlobal and their relationship with a pretty important person in American politics. We're going to lay them out now.
ZAVADSKY: So their website is basically like any generic corporate website, except for it has these stock photos of the big onion domes on St. Basil's Cathedral in Moscow, and the Manhattan skyline, and the big words,
"Strategic Relations Management."
MARRITZ: Also on their website, they say they have offices in New York, Moscow, Kiev, Vienna, Zurich, and London.
ZAVADSKY: I called the Moscow office and the phone was disconnected. And I didn't get an answer in Kiev.
MARRITZ: I called the Zurich office and a guy picked up who sounded actually kind of surprised to hear from me, but he does know TriGlobal. Actually, his name is Jean-Luc Meier. And he said, "Yeah, I think I might be on their website." So we looked it up together, and he is indeed listed on the website as an advisor to the group.
ZAVADSKY: Did he tell you what they did?
MARRITZ: He did. He said he is in "corporate diplomacy," and that's basically what TriGlobal does as well. It's making alliances between companies, it can be communication with government and media. And he said, "Yeah, TriGlobal is active in the former Soviet Union." But he said he had not heard from them in a while.
ZAVADSKY: I mean, his number is listed as their office number.
MARRITZ: [CHUCKLES] Yes. So, uh, here are these international trips for a pretty significant figure in American politics, arranged by a company that we can't figure out.
ZAVADSKY: What makes TriGlobal even more intriguing is, we can see from their website that some of their advisory board members have high-level connections to the Russian government. One person on the advisory board was a former Russian government minister, and another runs a company that literally renovated the Kremlin.
[PLUNKY MUSIC PLAYS]
MARRITZ: In 2015, seven years after Rudy traveled to Ukraine —
MAYOR VITALI KLITSCHKO: Nice to see you!
MARRITZ: — he and Kiev Mayor Vitali Klitschko get back together in New York. Klitschko posted a video. Rudy is wearing a red bowtie and a lapel pin with the U.S. and Ukrainian flags. Next to the boxer-mayor, Rudy looks tiny.
GIULIANI: Take a picture? Okay, good.
MARRITZ: We don't know Rudy's financial relationship with TriGlobal. We do know this is one of his most enduring business connections. [PAUSE] We'll be right back.
[MIDROLL]
[PLUCKY STRING FLOURISH PLAYS]
GIULIANI: Okay, so I'll endorse him. I mean, you know — but I'm not part of the campaign.
BERNSTEIN: In April 2016, after traveling the world and endorsing candidates from Peru to the Dominican Republic, Rudy finds an American presidential candidate he's ready to support.
NEWS HOST: "I endorse Donald Trump."
GIULIANI: Okay. I'm Rudy Giuliani. I mean a lot in New York politics. I endorsed Donald Trump, [HOST SCOFFS] but I'm not part of the campaign.
BERNSTEIN: By the time of the Republican National Convention, Rudy's endorsement is full-throated. He underscores their shared history in New York City.
GIULIANI: [OVER WHISTLING AND CLAPPING] I have known Donald Trump for almost 30 years. This is a man with a big heart. Every time New York suffered a tragedy, Donald Trump was there to help. He's not gonna like my telling you this, but he did it anonymously — when police officers were shot, when firefighters were hurt … [FADES OUT]
BERNSTEIN: In the fall, Rudy becomes even more important to Trump's campaign. He's flying on the plane with Trump. Then, Rudy shows his loyalty at two key moments.
[MEANDERING MUSIC PLAYS]
BERNSTEIN: He's one of the only politicians who's willing to go out and support Trump after the release of that tape where Trump says, [OVER AUDIO OF THE TAPE WITH TRUMP SPEAKING IN UNISON] "When you're a star, they let you do it, and you can do anything. Grab them by the pussy." Two days later, he goes on all the Sunday morning talk shows — ABC, CBS, NBC, Fox, CNN. Even Trump's running mate, Mike Pence, isn't publicly defending it.
NEWS ANCHOR: … defending Donald Trump. Are you the only one in the campaign that was willing to publicly defend him?
GIULIANI: [LOUDLY] No! Absolutely not. I was with …
GIULIANI: [ANOTHER CLIP] I think he's embarrassed from the point of view of his wife and his — his two daughters …
GIULIANI: [STILL ANOTHER CLIP] … in my — in my time with him, he's always dealt with women with great respect.
GIULIANI: [YET ANOTHER CLIP] The fact is that men, at times, talk like that. Not all men, but men do.
NEWS ANCHOR: You've talked like that?
GIULIANI: He was wrong for doing it.
BERNSTEIN: In nearly every interview after the apologies and explanations, Giuliani plays offense.
GIULIANI: He is going to lower taxes, she's going to raise taxes. He's going to add to our military, she's going to decrease them. He's going to support the police at a time in which we've had the biggest increase in crime in the last 41 years.
BERNSTEIN: The next day, a few days before the election, Rudy drops a broad hint he's getting inside information about the FBI investigation into Hillary Clinton's email.
MARTHA MACCALLUM: Call us from the road, because we would love to hear from you how — how things are looking on the ground.
GIULIANI: And, uh — and then I think he's got a surprise or two that you're going to hear about the next few days.
MACCALLUM: Alright. Rudy Giuliani.
GIULIANI: I mean — I mean, I'm talking about some pretty big surprise.
MACCALLUM: I heard you say that this morning. What do you mean?
GIULIANI: You'll see. [LAUGHS]
MACCALLUM: Stay tuned.
BERNSTEIN: This is on October 26th. On October 28th, FBI Director James Comey reveals he's reopening the investigation of Hillary Clinton's emails.
We don't know if this is what Rudy was referring to.
Rudy has been invaluable to Trump. He thinks he can still be an asset.
GIULIANI: We go back — our friendship goes back a long ways. If you become Secretary of State, some people say … [FADES UNDER]
BERNSTEIN: A little after the election, he goes on Sean Hannity.
SEAN HANNITY: How many — how many countries have you been to?
GIULIANI: I don't think they realized. I — I left the country four times as mayor. So I was kind of, like, uh, trip deprived
HANNITY: Right.
GIULIANI: So I — since I left mayor — this is a rough estimate — I've been in 80 countries, 150 different foreign trips. Uh, so I've been all over the world.
HANNITY: Uh, I know you have very close friends in Israel.
GIULIANI: Honorary — honorary — honorary knighthood.
HANNITY: Yeah, I heard about that.
GIULIANI: — from Great Britain.
HANNITY: Yeah.
MARRITZ: Rudy does not become Secretary of State. But Trump does name him his Cybersecurity Advisor. Then, Rudy Giuliani, private citizen, travels to Turkey. There, he meets that country's strongman leader, Recep Tayyip Erdoğan. Unlike so many of Rudy's trips, this one is a secret. We only know it happened because Rudy's name surfaces several weeks later in a court filing.
ADAM KLASFELD: It was a form of legal advocacy I've never seen happened before in a federal case.
MARRITZ: This is Adam Klasfeld, a reporter for Courthouse News. At the time, he was covering the pretrial of Reza Zarrab, a Turkish gold trader accused of violating Iran sanctions. Now, prosecutors in the case were revealing that Rudy had just secretly tried to negotiate a deal to return Zarrab to his native Turkey.
KLASFELD: It was shocking, given a number of things. For one, Giuliani was an anti-Iran hardliner, and here he is representing the man accused of being the mastermind of the biggest money-laundering scheme to Iran in U.S. history.
MARRITZ: Rudy's brand is law and order.
KLASFELD: The way that Giuliani described it in the courtroom filings was that he was pursuing — it was very euphemistic — he was pursuing a goal that would benefit the national security interests of the United States, while "redounding to the benefit" — was the word that he used — of Zarrab.
MARRITZ: So he was doing something first in the interest of the United States, that also would help his client.
KLASFELD: That was his claim. Now, he was saying that while representing his client. He was his client's attorney. Uh, it was not a, uh, characterization of his advocacy that was perceived as credible.
[REPETITIVE MUSIC PLAYS]
MARRITZ: Zarrab eventually pleaded guilty. He's now a cooperating witness for the U.S. government. Rudy said he informed the U.S. Justice Department before his trip. He said both U.S. and Turkish officials remained receptive to a diplomatic solution.
The judge in the case later shared his thoughts for an article in Courthouse News. It's unusual for a judge to give a quote. Here it is: "I am still stunned by the fact that Rudy was hired to be — and he very actively pursued — being the go-between between President Trump and Turkey's President Erdoğan, in an unprecedented effort to terminate this federal criminal case in the middle of the case."
BERNSTEIN: The Turkey trip is in February 2017. Starting around this time, Rudy's back in Ukraine doing even more events with — guest who? — TriGlobal Strategic Ventures. Here's Katie from ProPublica.
ZAVADSKY: We're keeping a spreadsheet, and what we see is that between 2017 and 2018, Rudy — or his people — meet Ukrainian politicians on at least five separate trips. Sometimes it's in New York, sometimes it's in Kiev, sometimes elsewhere in Ukraine. Rudy is meeting the president, the prime minister. He's being interviewed onstage by one of Ukraine's wealthiest businessmen.
MARRITZ: A lot of these visits? We found them documented on YouTube. One night in November. Last year, Rudy arrived by plane in Kharkiv, Ukraine's second city. He reportedly has a contract with the city to consult on emergency management. This is while he's working as a White House advisor on cybersecurity, but not yet Donald Trump's lawyer.
[A UKRAINIAN REPORTER NARRATES IN UKRAINIAN]
MARRITZ: It's nighttime. Rudy uses a cane to disembark the plane, and he's greeted by three young women with ribbons in their hair, offering him festive, decorated breads.
[THE REPORTER SAYS RUDY'S FULL, FORMAL NAME AND CONTINUES NARRATING]
MARRITZ: Then the mayor of Kharkiv arrives on the tarmac in a wheelchair.
ZAVADSKY: Mayor Hennadiy Kernes is a complicated and colorful figure. He's in a wheelchair after an assassination attempt. Kernes was a member of a pro-Russia political party, and he had been accused by prosecutors of corruption and arranging kidnappings of political activists. He's always denied the allegations and the charges were dropped earlier this year.
MARRITZ: Mayor Kernes takes Rudy for a nighttime tour of the city, past an amusement park with a big blinking Ferris wheel.
TRANSLATOR: [AFTER MAYOR KERNES SPEAKS] Fifty — fifty-five meters. One of the biggest in Ukraine.
GIULIANI: Very, uh, impressive city. Very clean, very orderly. [THE TRANSLATOR TRANSLATES BACK INTO UKRAINIAN] And the mayor seems to be loved by everyone. That's always a very good sign.
MARRITZ: Rudy's visits with Ukrainians are playing out as the U.S. relationship with Ukraine and Russia enters a confusing, unstable, and very tense period. Special counsel Robert Mueller is investigating possible coordination between the Russians and the Trump campaign. Parts of Ukraine continue to be occupied by pro-Russian forces.
And, sometime in this period, according to the New York Times, Ukraine — which could be helping Mueller's probe — starts putting up roadblocks instead.
[WESTERN-STYLE MUSIC PLAYS]
BERNSTEIN: Ilya and I went to TriGlobal's New York office to see if we could get some answers. We went with our producer, Alice Wilder. Turns out, it's a WeWork off Times Square.
ALICE WILDER: Yep. There's the sign. It says "TriGlobal Partners."
MARRITZ: Oh yeah.
BERNSTEIN: It's just one office was some desk lamps, computers, desk chairs, a few posters on the floor.
WILDER: There's a box of business cards. Yeah. None of the photos are hung. They're all, like, leaning up against the wall. [MARRITZ LAUGHS]
BERNSTEIN: It's a glass fishbowl that can accommodate two people in a pinch. Nearby, there are fashion and real estate and finance startups.
MARRITZ: Do you ever see the guys next door?
BERNSTEIN: The neighbors tell us they haven't seen anyone in the office in months.
MARRITZ: We were looking for them.
NEIGHBOR 1: I've never seen them.
NEIGHBOR 2: Or maybe — because sometimes we were not here. Like Wednesday, we are not here. Maybe he or she come Wednesday. We are not sure.
[MUSIC OUT]
BERNSTEIN: Rudy Giuliani did not respond to our questions about his work with TriGlobal. TriGlobal — in addition to not being there when we visited their office — also didn't respond to emails and phone calls.
MARRITZ: Katie from ProPublica points out that one of the most interesting figures in this whole relationship is a member of TriGlobal's advisory board: Ara Abramyan, an Armenian businessman.
ZAVADSKY: He's the guy who renovated the Kremlin. Also, he's done various real estate ventures. He claims to be invested in tourism, food, and something called "holographic production."
MARRITZ: Last year, Vladimir Putin invested Abramyan with an award "For Merit to the Fatherland, Class IV."
ZAVADSKY: After the 2016 election, Abramyan made some comments at a press conference about how Trump's presidency was going to be really good for Armenia. More than that, he said, he's very tight with Rudy Giuliani, and Rudy sits on the board of one of his companies.
MARRITZ: We asked Rudy which board. He didn't tell us. Abramyan also didn't respond to our questions. When Rudy showed up in the capital of Armenia in October, the local press reported he was there as Abramyan's guest.
[AN ARMENIAN REPORTER SPEAKS, MENTIONING TRUMP AND GIULIANI]
MARRITZ: The two men appeared together on a local TV news show.
GIULIANI: [SPEAKING, THEN OVERLAID WITH ARMENIAN TRANSLATION] Well, the purpose to come here is …
MARRITZ: The rest of the answer is dubbed. Later in the interview, Abramyan makes a reference to the 1915 Armenian genocide. He says Rudy will convey the true facts to President Trump. Rudy doesn't respond. We're not sure if he understands what Abramyan is saying, because this part of the interview is in Armenia.
[TWANGY MUSIC PLAYS]
TOOBIN: He has an active, personal foreign policy that, you know, he is certainly entitled to have as a private citizen.
BERNSTEIN: This is Jeffrey Toobin, New Yorker staff writer and chief legal analyst for CNN.
[MUSIC OUT]
TOOBIN: But it certainly, you know, raises questions about whether he is representing the President — or perceived as representing the President — in these appearances.
BERNSTEIN: Did you discuss that with him? Like, did he think it was a problem — or could be a problem?
TOOBIN: We discussed it a little bit and — and he basically said, "Look, I'm a private citizen. I get to speak wherever I want. Speak out on whatever I want. People understand that, uh, I — I don't speak for the President on foreign policy." I think that's technically true as a legal matter, but I think his role there does raise questions.
BERNSTEIN: Do you think that the value of his global brand has gone up due to his association with Trump?
TOOBIN: Well, I — you know, that's an interesting question. Uh, I think, in certain authoritarian circles — particularly in Eastern Europe and parts of the Middle East — I think his brand has gone up, because in those cultures, Donald Trump is very — very popular, and any association with him is perceived as a good one.
I think, like so many people in the United States who've been associated with Donald Trump, his personal brand here has declined. You know, his, you know, repeated false statements, his embarrassing television appearances, his sort of slavish devotion to Trump I don't think has burnished his reputation here, but the trade seems worthwhile to him, at least so far.
BERNSTEIN: There's certainly been some peculiar moments since Rudy took on Trump as a client, like the day last summer when Michael Cohen pleaded guilty and Paul Manafort was convicted.
TOOBIN: Where was Rudy? Well, it turns out Rudy was in Scotland, and a British television station tracked him down at the golf course, and he gave his reaction from a golf cart.
BERNSTEIN: It's Trump's golf course.
TOOBIN: And Rudy just loves being on TV, and he didn't care how it looked.
[FROM THE AFOREMENTIONED INTERVIEW]
REPORTER: Is it inevitable now that President Trump will be impeached?
GIULIANI: Hardly. I think it's inevitable now that he won't. Uh, President Trump has been completely cleared. You have this Cohen guy, uh, he doesn't know anything about Russian collusion.
BERNSTEIN: Rudy gave this interview from a Trump golf course, wearing a plaid golf cap with the Trump crest on it. So in effect, he's defending the President in the Mueller probe, while also promoting the President's brand.
[MUSICAL FLOURISH]
BERNSTEIN: There's one more person we wanted to check in with — someone who once had a similar job to Rudy — to find out if the kind of lawyering he's doing for Trump is kosher.
BARBARA MCQUADE: My name is Barbara McQuade. I am a Professor from Practice at the University of Michigan Law School.
BERNSTEIN: And you were also a prosecutor, right?
MCQUADE: Yes. I was the U.S. Attorney for the Eastern District of Michigan during the Obama administration.
BERNSTEIN: We called to ask, "What are the rules here when it comes to conflicts of interest? And is the President's part-time lawyer breaking any rules or norms by taking on foreign clients?"
MCQUADE: You know, frequently, uh, presidents do hire high-profile lawyers. They sometimes leave their law firms to make it clear that there is no conflict of interest. And, uh, they're representing only the President in that scenario. But I don't know that there's a rule that says they have to.
BERNSTEIN: As with so many things in this administration, the structures we have aren't designed to confront the situation we're in.
MCQUADE: I don't recall seeing anything like this before, especially representing foreign entities that are intertwined in the very investigation that a President is under. And so I — I guess I'd go far enough to say that's never happened in a case like this, but so much about this presidency is — uh, is unprecedented, that I don't know that we would expect to find, um, similarities in the past.
BERNSTEIN: There's been some dismay in the community — people who used to work in the Southern District in New York — the way Rudy has gone after the FBI, called the FBI "Storm Troopers." Do you share that concern?
MCQUADE: I do. I think it's very disappointing that someone who is a former federal prosecutor — and U.S. attorney — would, uh, make those representations that are really baseless. The search of Michael Cohen's office was done subject to a search warrant with high-level DOJ approval, and he knows that, and he knows better. And so I do think that was inappropriate— really beyond in— inappropriate and outrageous, to try to stir up resentment about something that is perfectly lawful.
BERNSTEIN: McQuade says there are people who cash in on their affiliation with public officials and with government.
MCQUADE: You don't usually see them doing it simultaneously. So it does seem unusual, but I don't know that it's illegal or unethical to do it. This — the place where it could become problematic is if he becomes someone who is acting as an agent for those foreign governments without disclosing that to the United States government. And that's some of the problems that we've seen with Paul Manafort.
BERNSTEIN: You know, one of the things with Paul Manafort that just sort of raised red flags for me instantly was when he went to work for free for Trump. So I was like, "Who does that?" [MCQUADE LIGHTLY CHUCKLES] So I'm trying to sort of think about Rudy Giuliani in that context and, like, ask myself, "Is that something, really, that is a sort of invitation for something bad to happen?"
MCQUADE: Yeah. Um, yeah, no one's required to take a fee, I suppose, and I suppose a pragmatic lawyer might look at that situation and say, "This will give me an opportunity to, uh, expose my work at the highest levels. It's a great marketing opportunity for me. And after this many great opportunities will come my way."
BERNSTEIN: It is, in essence, Rudy, Inc.
[CREDITS MUSIC COMES IN]
BERNSTEIN: Next week on Trump, Inc., we'll have a post-election analysis of what the results could mean for the President and his family business. We'll be recording after the election, so we'll publish that episode a little late. MARRITZ: Trump, Inc. is produced by Meg Cramer, Megan Detrie, and Alice Wilder. The technical director is Bill Moss. We had engineering help this week from Wayne Schulmeister and Jared Paul. The editors are Charlie Herman, Eric Umansky, and Nick Varchaver.
BERNSTEIN: Special thanks to David Rohde from the New Yorker for help with this episode, to WNYC's Andy Lanset and Beth Fertig for archival tape, to Anna Kamay for help with research, and to Daniela Porat, Jake Pearson, Katherine Sullivan and Heather Vogell from ProPublica. The Managing Editor of ProPublica is Robin Fields. Jim Schachter is the Vice President for News at WNYC, and Steve Engelberg is the Editor-in-Chief of ProPublica.
MARRITZ: Original music by Hannis Brown.
[MUSIC OUT]
MARRITZ: And there's this. We couldn't find a reason to include this in our story, but we thought you had to hear it. It is a 1983 interview with Rudy from the time when he was U.S. Attorney for the Southern District of New York. Speaking to WNYC's now-sister station, WQXR.
HOST: He stated, "You go for the throat." [GIULIANI LAUGHS] What does that mean? You seem like such a gentle soul.
GIULIANI: Well, I think what that means is that I — I have a sense of relevancy and if I think I'm right, I, uh — I, uh — I'm pretty persistent. We established that it -- it was a false allegation, and then we collected legal fees against the people who had sued them. Uh, I think establishing a deterrent to bringing false — false cases. And I feel pretty strongly about that.
HOST: Yeah. Good. Good. You also feel pretty strongly about your music and, specifically, about opera, as you had said earlier, and, um, we're going to listen to a performance by Plácido Domingo and Sherrill Milnes. Do you know the work I'm referring to?
GIULIANI: Oh, I certainly do. It's — it's my favorite, uh, tenor-baritone duet. And, I think, one of the best at Verdi — Verdi composed.
HOST: Which is it? Do you want to tell us?
GIULIANI: "Solenne in quest'ora."
HOST: Yes, from La Forza del Destino.
["SOLENNE IN QUEST'ORA" PLAYS]
Copyright © 2018 ProPublica and New York Public Radio. All rights reserved. Visit our website terms of use at www.wnyc.org for further information.
New York Public Radio transcripts are created on a rush deadline, often by contractors. This text may not be in its final form and may be updated or revised in the future. Accuracy and availability may vary. The authoritative record of New York Public Radio's programming is the audio record.