The Hidden Hand of a Casino Company In Trump's Contact with Vietnam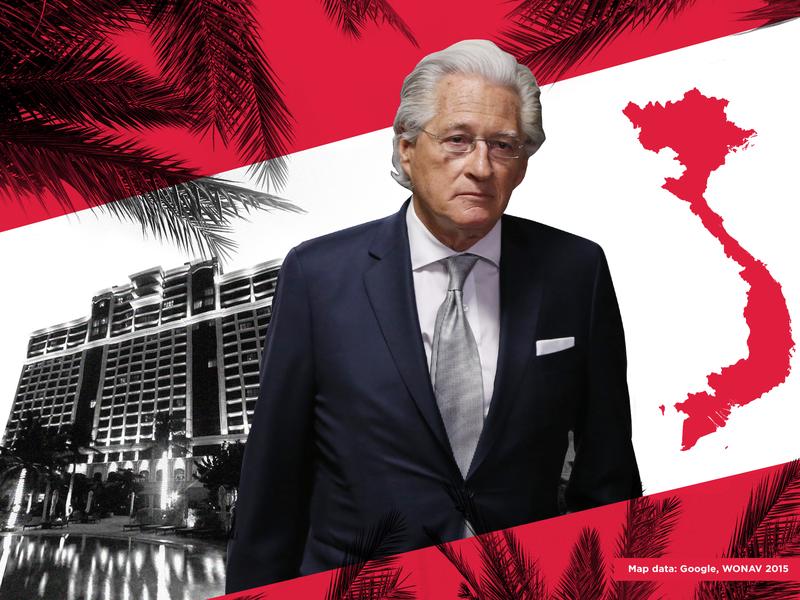 Transcript
ILYA MARRITZ: A few weeks ago, we got a tip from a listener. It has to do with Donald Trump, U.S. foreign policy, a disgraced hedge fund manager, and a casino on the other side of the globe: the Grand Ho Tram Strip. We hired a reporter based in Vietnam to help us follow up on it.
TRUMP, INC. REPORTER: Driving from Ho Chi Minh City to the Grand Ho Tram Strip casino takes about two hours — two hours and a half — depending on traffic conditions.
MARRITZ: We can't tell you this reporter's name because Vietnam is a one-party communist state, and the story we're about to tell is sensitive. Our reporter told us, once you leave Ho Chi Minh City behind, the landscape is all agricultural.
TRUMP, INC. REPORTER: You really can't tell you're heading towards a five-star resort. It's really a typical Vietnamese countryside scenery. You have women in straw hats, herding buffaloes in rice fields. You have watermelon farms, people selling watermelon and fruits on the side of the road.
[ELECTRONIC MUSIC À LA TRON PLAYS]
MARRITZ: So when you arrive and see these rather ungainly yellow towers overlooking the South China Sea, it just feels totally out of place.
TRUMP, INC. REPORTER: The first thing you see when you enter the Grand Ho Tram Strip is this huge fountain with a big dragon statue hanging over it. There's American pop music playing on the speakers. The floor is half carpet, half marble. You could really be anywhere. You could be in Las Vegas. You could be in Europe.
[SLOT MACHINE MUSIC PLAYS]
MARRITZ: Our reporter told us the amenities are definitely upscale. There's a movie theater, a nightclub, eight restaurants, a golf course that's apparently one of the best in the world. But what really struck him is the customers. There are so few of them.
TRUMP, INC. REPORTER: There's about 50 staff members in the casino room, but there's only 8 to 10 people actually playing. The room is completely empty.
MARRITZ: In the hotel, same deal.
[STRINGS MUSIC PLAYS]
TRUMP, INC. REPORTER: There's a few people walking around, Chinese tour groups arriving, but very little compared to the 500-plus rooms they have in the hotel.
MARRITZ: We did some reporting and found out. Yes, in fact, this almost deserted resort is connected to a rather mysterious phone call between Donald Trump when he was president-elect and the leader of Vietnam — their first conversation that we know of. And there are more intriguing connections here. There's a finance whiz who was barred from the securities industry, and this man:
MARK KASOWITZ: Ladies and gentlemen, I'm Mark Kasowitz, President Trump's personal lawyer.
MARRITZ: One important stakeholder who was not there when Trump and the Vietnamese Prime Minister first spoke? The U.S. State Department.
[TRUMP, INC. THEME MUSIC PLAYS]
MARRITZ: Hello, and welcome to Trump, Inc., from WNYC and ProPublica, a podcast about the business of the Trump administration. I'm Ilya Marritz.
ANDREA BERNSTEIN: And I'm Andrea Bernstein. For the last 12 weeks, we've been engaged in an intensive deep dive into the inner workings of the Trump family business and how we got to this place, where it's often hard to understand if the President and his family are working on behalf of the country, or his company. There have been times when Donald Trump himself can't seem to make the distinction.
[MUSIC OUT]
DONALD TRUMP: As a president, I could run the Trump Organization — great, great company — and I could run the company — [CORRECTING HIMSELF] the country. I'd do a very good job.
BERNSTEIN: A little later this episode, I'll be back with ProPublica's Eric Umansky and Jesse Eisinger. We're going to try to make sense of the ways the White House has become a portal for private business, just in the last 12 weeks when we launched the Trump, Inc. podcast. And we'll look at the questions we still have. But first, ProPublica has uncovered the hidden hand of a private casino company in Donald Trump's contact with the Prime Minister of Vietnam. It's an object lesson in the way his private businesspeople are gaining influence in the Trump administration by working personal connections.
[STRINGS FLOURISH]
BERNSTEIN: We're going to unpack that for you. Here we go.
MARRITZ: So, this call. One month after the 2016 election, President-elect Donald Trump spoke by phone with the Prime Minister of Vietnam, Nguyễn Xuân Phúc.
[A PERSON CAN BE HEARD SPEAKING VIETNAMESE, MENTIONING BOTH TRUMP AND THE VIETNAMESE PRIME MINISTER BY NAME]
MARRITZ: It barely made the papers here. Over there, it was big new. Vietnamese state television aired footage of the call. There's Nguyễn, the prime minister, holding the receiver of a white phone, a few inches from his left ear. On the table, a bouquet of flowers. Around the table, a bunch of men in suits. For the Vietnamese, this was a diplomatic win. Vietnam has grown to become a big U.S. trading partner. We import more stuff from there then from Brazil or Russia or Saudi Arabia.
JUSTIN ELLIOTT: You know, we do tens of billions of dollars of trade with them a year, and they're also an important regional player in our relationship with China and also North Korea.
MARRITZ: This is Justin Elliott.
ELLIOTT: I'm a reporter at ProPublica.
MARRITZ: Okay, Justin, before you tell me what happened in this call, explain how these kinds of calls are supposed to work.
[INTRIGUE MUSIC PLAYS]
ELLIOTT: So generally in the past, uh, once the election happens, foreign leaders start reaching out to the president-elect and, normally, it's all sort of orchestrated through the State Department.
MARRITZ: Protocol is key when power is about to change hands.
ELLIOTT: And there's a lot of thought that goes into who gets called back first. Uh, U.S. allies like Great Britain tend to be on the top of the list. And the president is typically briefed by the State Department and everything sort of goes through them.
MARRITZ: But not this time. The State Department had no role in setting up President-elect Trump's call with the Prime Minister of Vietnam.
ELLIOTT: It was set up with the help of President Trump's personal lawyer, Mark Kasowitz, who represented Donald Trump in a range of private business and personal matters for many years. We know that Kasowitz provided a telephone contact — in the words of his spokesman — to the Vietnamese so they could reach President-elect Trump.
MARRITZ: The U.S. Embassy in Vietnam, which, normally, would be a key player in planning a call like this — they were not invited to this shindig. In fact, they found out about it in the most unusual way — not from the Trump team, but from the Grand Ho Tram casino. [A SLOT MACHINE NOISE] As it happens, that casino is owned by Phil Falcone, a wealthy American investor. Important detail — Falcone has the same lawyer as Donald Trump: Mark Kasowitz.
ELLIOTT: Falcone made his fortune in the run-up to the housing crisis, with some very successful bets for his hedge fund. And then he had a fall from grace in more recent years. The hedge fund lost a bunch of money, and there was an SEC investigation.
[BASS-DRIVEN MUSIC PLAYS]
MARRITZ: There was a Securities and Exchange Commission investigation into financial wrongdoing. For example, Falcone borrowed money from the hedge fund he was managing to pay his own tax bill.
ELLIOTT: That ended with Falcone actually admitting to wrongdoing and being barred from the securities industry for five years. So he still actually is barred from doing the type of investing he used to do.
MARRITZ: Falcone still has some large projects. The biggest one is the Grand Ho Tram Strip casino. Bloomberg reports he sunk over $450 million into it. Right now, that looks like an expensive mistake.
[MUSIC OUT]
MARRITZ: There's something you need to understand about casinos in Vietnam — something Phil Falcone knew when he got involved. Vietnamese citizens, by law, cannot gamble there. So this casino depends on foreign tourists. And there aren't enough of them.
ELLIOTT: So for — for several years, predating the Trump administration, Phil Falcone and the owners of the casino have been, with sort of apparent, increasing desperation, have been trying to convince the Vietnamese government to issue them a license to allow Vietnamese people to gamble at the casino.
[PLUCKY STRING MUSIC PLAYS]
MARRITZ: As Falcone was pressing the Vietnamese government for this change, his lawyer's other client got elected President of the United States. A person familiar with the December 14th, 2016 phone call between Donald Trump and Prime Minister Phúc said Falcone asked Kasowitz to arrange the call, and Kasowitz did. Falcone denies making this request. You can see where this is going.
Justin says, "We don't know what Trump and Phúc discussed in that phone call. We don't have evidence that the casino came up at all."
MARRITZ: Did the Vietnamese government know, though, that Mark Kasowitz, who set up this call, was working for Falcone and for the Ho Tram casino, and that they wanted this change in the Vietnamese law to allow Vietnamese citizens to gamble?
ELLIOTT: They almost certainly did at the time. And — and if they didn't, they understood it shortly thereafter when Kasowitz actually traveled to Vietnam with Phil Falcone for meetings with Vietnamese officials about the casino issue.
[MUSIC OUT]
MARRITZ: So, the phone call happened, and the next month Donald Trump was sworn in as president. And 2017 turned out to be a busy year for U.S.-Vietnamese relations. Trump visited Vietnam, and Nguyễn Xuân Phúc came to the White House.
PRESIDENT TRUMP: [OVER CAMERAS AND A VIETNAMESE INTERPRETER] Prime Minister Phúc has done a spectacular job in Vietnam. We're going to be discussing trade. We're going to be discussing North Korea.
MARRITZ: This was in May of 2017.
PRIME MINISTER PHÚC: I have had the great pleasure of having a phone conversation with the President last December, and also in exchange of letters. I was very impressed by the openness and friendliness … [FADES UNDER]
MARRITZ: That's what the public saw. Justin found out something else happened that day that was perhaps significant, when there were no cameras around.
[INTRIGUE MUSIC PLAYS]
ELLIOTT: As Trump and the Vietnamese Prime Minister are leaving this meeting, who is there in the West Wing of the White House but Mark Kasowitz.
MARRITZ: Mark Kasowitz, the President's private attorney, who also is working for Phil Falcone, the private investor, who is seeking a special license from the Vietnamese government, so that he — Falcone — can make more money at his casino in Vietnam.
ELLIOTT: It appeared that Kasowitz was actually — seemed to be sort of waiting there. And then he greeted the Vietnamese Prime Minister, who he'd apparently already met, and he greeted President Trump. And so this was an example of — of Kasowitz literally being there in the corridor of power.
MARRITZ: Kasowitz's spokesperson says he was there that day on other business.
ELLIOTT: Yeah. According to Kasowitz's spokesman, Kasowitz was not waiting outside the meeting room for the Prime Minister. And it was a, quote, "total coincidence" that he ran into the Prime Minister with the President, and he had no substantive conversation with the Prime Minister.
MARRITZ: As for Phil Falcone, the owner of the casino?
ELLIOTT: He stressed something, which is completely true, which is that the casino firm has not gotten what they've wanted from the Vietnamese government. They have not gotten this local gambling license that they had been pushing for for so long.
[MUSIC OUT]
MARRITZ: Falcone has not gotten the change in Vietnamese law that he's seeking. But Mark Kasowitz, the lawyer to both the President and Falcone? He was able to go around established protocol for presidential transitions and cut the State Department out of the equation. That's significant.
Justin talked to Susan Rice about this. She was National Security Advisor under Obama, and also worked on the Obama transition.
ELLIOTT: She told me that you want the State Department to be setting up these calls. You want a normal process, for the State Department to be taking notes.
MARRITZ: One reason for this is to maintain a bright line between the incoming administration and any other private interests.
ELLIOTT: In fact, right after the election, in November of 2008, right after Obama had won the election, Susan Rice and another official from the campaign sent a mass email to the, uh, sort of foreign policy surrogates, explicitly warning them to not — under any circumstances — quote, "speak to any foreign officials or embassies on behalf of the transition or President-elect Obama."
[PIANO MUSIC PLAYS]
ELLIOTT: I think what this also shows is how the Trump administration has allowed people with connections to Donald Trump to play roles that, in the past, government agencies have played.
MARRITZ: One more thing. Two months before the 2016 election, when Phil Falcone was thinking hard about how to get Vietnamese law changed, and how to rescue his struggling casino, he added two people to the board of the Ho Tram. One was Tony Podesta, a lobbyist who is the brother of Hillary Clinton's campaign manager.
ELLIOTT: And the other person that was added to the board of the casino company is a woman who's less well-known named Loretta Pickus. She spent many years working for Donald Trump. Pickus was the Vice President of Legal Affairs at Trump Entertainment Resorts, which was Donald Trump's casino company.
[MUSIC OUT]
MARRITZ: For years, it was Pickus who oversaw anti-money-laundering programs at Trump casinos, including the Trump Taj Mahal. [TRUMP TAJ MAHAL COMMERCIAL MUSIC PLAYS] Not once, but twice, the Taj Mahal received record fines for poor anti-money-laundering controls. We talked about this in another episode of the podcast.
[COMMERCIAL MUSIC PLAYS OUT]
ELLIOTT: And, after the election, Falcone's casino company put out a second press release, reminding everyone that they brought Pickus onto the board. It said, in part, "With Ms. Pickus having substantial experience with Trump properties, she hopes the Ho Tram can continue to serve as a champion of U.S.-Vietnam ties for the incoming Trump administration."
And they also called her appointment an excellent opportunity to share best practices from the United States as Vietnam considers opportunities to reform the regulatory regime for its hospitality and gaming sector.
MARRITZ: Loretta Pickus told Justin she's known Trump for decades, but hasn't spoken to him since he became president.She also defended the anti-money-laundering record of the Trump Taj Mahal during her tenure there. She called the controls "sophisticated."
[PRE-MIDROLL MUSIC PLAYS]
MARRITZ: I want to remind people that the whole reason we went on this journey was an email that came from a Trump, Inc. listener.
ELLIOTT: One of our listeners heard something third-hand and emailed us. Then — I then spent several weeks running it down, and this story is the result.
MARRITZ: We still want to run down stories about the Trump administration and the casino industry. So, if you've heard anything, drop us a line, find out how at TrumpIncPodcast.org. [PAUSE] We'll be right back.
[MIDROLL]
BERNSTEIN: Hey, it's Andrea Bernstein. We're back. Remember back in episode one, when we told you about some of the things that have happened in the past year?
MARRITZ: Then, it's June — wedding season. A brochure appears at a Trump golf course in New Jersey. It says, if you book your vows there, the President might drop in. And in fact, he does.
PRESIDENT TRUMP: What a beautiful bride!
MARRITZ: Matrimony, meet patriotism.
[CHEERING, THEN CHANTS OF "USA! USA! USA!"]
[XYLOPHONE MUSIC PLAYS]
MARRITZ: He stops by another wedding in August.
PRESIDENT TRUMP: Everyone having a good time?
GUEST: Yes, sir!
BERNSTEIN: And now, just since we launched in late January, news has been breaking rapidly about President Trump's family business, and investigations into his business affairs, and investigations into his associates.
NEWS HOST 1: President's eldest son, Donald Trump Jr., is in India to promote his family's real estate projects.
REPORTER 1: Sales that the president would eventually profit from.
REPORTER 2: … and is an alleged pay-off by one of the President's most loyal allies to a porn star to keep her quiet about an alleged affair she had with President Trump, years ago.
NEWS HOST 2: Trump's inaugural committee raised $107 million and — and didn't provide a lot of information for how they spent that money.
REPORTER 3: Dozens of round, 12-inch replicas of the Presidential Seal to be placed next to the tee boxes at Trump golf course holes.
NEWS HOST 3: Dutch lawyer Alex van der Zwaan pleaded guilty to lying to investigators about his communications with former Trump campaign aide Rick Gates.
NEWS HOST 4: Gates has just pleaded guilty to two criminal charges.
NEWS HOST 3: Van der Zwaan is the son-in-law of a Putin-linked Russian oligarch named in the controversial Trump dossier.
BERNSTEIN: And then news of investigations into the Trump family's foreign businesses.
REPORTER: The FBI is zeroing in on Ivanka's role in securing a real estate deal for the Trump International Hotel and Tower in Vancouver, Canada.
REPORTER: Some sort of retaliation for business discussions with Jared Kushner that went South.
ANNOUNCER: In which Kushner's father unsuccessfully tried to make a deal with Qatar's finance minister to invest in the Kushner's debt-laden property at 666 Fifth Avenue.
BERNSTEIN: Then came news that Special Counsel Robert Mueller had subpoenaed the Trump Organization's business records — just one of the investigations into the business dealings of Trump and his associates that are going on right now.
NEWS ANNOUNCER: So, some breaking news. Minutes ago, you accepted the resignation of Elliot Broidy, the Deputy Finance Chair of the RNC after the Wall Street Journal broke the news that a different deputy to finance director of the RNC, Michael Cohen — also President Trump's personal lawyer — negotiated a $1.6 million payout to a Playboy model that Broidy impregnated while married.
[MUSIC FADES OUT]
BERNSTEIN: And here on the podcast, we've been doing our own investigations, starting with money-laundering at the Trump Taj Mahal. We've covered the inauguration fund, the Russian business connections, Trump's son-in-law Jared Kushner, Trump's personal attorney Michael Cohen. We followed up on your tips and turn them into stories, like the one you just heard from Justin about how it's not just the Trump businesses that may be benefiting from his presidency, but also the businesses of Trump's associates.
So we're going to take a moment now to process the lessons we've learned from that. I've got two of our friends from ProPublica: Eric Umansky and Jesse Eisinger.
ERIC UMANKSY: Hello.
JESSE EISINGER: Hi.
BERNSTEIN: So let's talk about this. What have we learned in the course of doing this podcast about Trump, his businesses, and the presence?
UMANSKY: Yeah, I think we've learned one fundamental lesson, which is: the closer you look, the more troubling his business is. Any deal you find, you can see dodgy partners and questionable activities.
BERNSTEIN: It's stunning how often this is the case. So when Anjali Kamat looked at the India construction — now, this is the Trump Organization's project in India, or the biggest set of projects anywhere in the world, outside of the U.S. And what she found was that many of the partners had some form of legal trouble or allegations of bribery.
This isn't something from the distant past. These are projects that are actively under construction, where Donald Jr. is actually selling condos right now that President Trump could profit from.
UMANSKY: And that brings us to the next point, which is the foundational thing that we started with and that we all learned of, you know, about a week before the President's inauguration, which is that the President has not divested of his properties — of his businesses. And what that means is that he can take money from his businesses any time he wants, for whatever reason, without immediately disclosing it. Everything flows from that.
EISINGER: Right. And so what that means is fundamentally we cannot tell in whose interest President Trump and his administration is working.
BERNSTEIN: Right. It's the old "The president saying company, when he meant to say country." [CHUCKLING] It's confusing even to him. So going back to the India story, we reported about these full-page newspaper ads that said, "Trump has arrived. Have you?" And it's referring to Donald Jr. who, everywhere, in all the media in India, is always identified as the son of the US. President. So he has held private dinners with condo-buyers in India. So people are paying to dine with a man named "Donald Trump," and we have no idea who these people are because of disclosure laws.
UMANSKY: And let me add the flip side of that, right, which is that then, okay, so that's what's happening on the business side. What's happening on the foreign policy side? Well, India is an enormously important country in the world. The U.S. has key foreign policy interests. And the President — as every president does — has a stance toward India and Pakistan, right? And then the question is, when he's done some things that have been more in the interest of India and less than the interest of Pakistan, well, that raises the fundamental question. I mean, that's just one example of what you're talking about, Jesse.
EISINGER: Right, and, of course, it's colored all of Russia policy, because Mueller's investigation centers on Russian collusion, and then it colors all of Middle Eastern policy, because they've had these interactions with the Saudi government and Kushner has had the interactions with Saudi government. And Kushner has sought loans all over the world.
So many foreign policy interactions are colored by the possibility that there are business dealings from the Trump Organization, from Trump administration officials, or cronies close to the —
UMANKSY: Right, and what we are seeing is all sorts of conflicts of interest in the administration, uh, more broadly. So it's Ryan Zinke at the Department of the Interior. It's Scott Pruitt, who may take the gold medal for this at the moment, in the EPA.
And I think it is reasonable to say, this is a new kind of normal in which, you know, those guys are still in office. And I don't think they would be in office in, uh, other administrations. And, you know, these things should be looked at holistically, and as part of a pattern.
EISINGER: And of course, Trump ran as a businessman on his business success. He said he was going to be greedy for the country. He was going to run the country like a business. And now we understand so much more about how his business was run, which was rife with fines, lawsuits, shady characters, everywhere, failure, bankruptcies — and, you know, that has a different kind of resonance.
BERNSTEIN: So this brings us to another point, which is that Trump's business and problems with his business have moved much closer to the center of the narrative of Trump's presidency. So, in the last couple of months, the Special Counsel Robert Mueller has subpoenaed the Trump Organization's records. Federal prosecutors in the Southern District of New York have raided Trump's attorney Michael Cohen's office. The business dealings look to be at the heart of what is making President Trump vulnerable.
[MUSICAL FLOURISH]
BERNSTEIN: So, a final point, Jesse. Now we're seeing the fruits of decades of not prosecuting white collar crimes. You — you wrote a book about this called The Chickenshit Club — which — it is a quote from Jim Comey —
EISINGER: — in different context.
BERNSTEIN: [LAUGHS] In a different context. But I think one of the things that we see in reaction to some of the criminal charges — for example, in the Paul Manafort case. So this is a guy who was Trump's campaign manager and who was in business and his explicit defense is "These things were never prosecuted before. Why are you going after me now?"
EISINGER: Right. [LAUGHS] Um, you know, now I think I underestimated the problem. I wrote a book about why we don't prosecute top corporate executives at the largest corporations 'cause I thought that that was a serious, um, problem for our democracy. And now we see whole swaths of the economy that are rife with problems like lobbying — especially lobbying for foreign governments — high-end real estate, where there's so much money-laundering.
UMANSKY: And it also seems to me that in, you know, with Paul Manafort and what he did or has allegedly done, and a number of the others, these were not the most well-executed, you know, hidden things, right? [EISINGER LAUGHS]
I mean, this reminds me of a journalism thing. So, you know, we've all, uh, uh, tried to decide what stories to cover or not. And sometimes you look at something and you're like, "That is so juicy, it can't possibly be nobody is looking at it! Right? It can't possibly be." And it turns out, yeah, you know what? Sometimes, nobody is. So I — I want to make a final point. At the end of the day, we still, still don't know fundamental things about the President's business.
I think you can say we still don't understand what the President's business really is, at the end of the day. And that is a remarkable, remarkable moment and accountability question.
EISINGER: Can we just summarize what we don't know?
UMANSKY: Sure.
EISINGER: I mean, we don't know the Trump Organization's finances, we don't know the Trump Organization's profits and its losses. We don't know who its lenders are. We don't know how much the President is worth.
UMANSKY: We still don't have his tax returns.
EISINGER: We don't have his tax returns on there. I mean, if it came to us in a brown manila envelope, we wouldn't object.
BERNSTEIN: But I want to say thank you to the listeners who have helped us understand more than we did 12 weeks ago! And thank you to all the journalists who have worked with us and who will be continuing to work with us. And thank you, Eric Umansky and Jesse Eisinger.
UMANSKY & EISINGER: Thank you.
MARRITZ: After today, we're going to take a break from our weekly episodes, but we will continue to report. And when we have good stories, if you subscribe to the podcast, you will hear them. So keep an ear on this space.
[MUSIC OUT]
BERNSTEIN: If you want to stay up-to-date with everything we're doing, you can sign up for our newsletter, go to TrumpIncPodcast.org to find out how. And, finally, keep sending us your tips. We really are reading them.
There's one story in particular, we're working on and hoping to learn more about. ProPublica's Heather Vogell has been reporting on early sales of units in Trump-branded development in the U.S. and around the world. That is, people buying condos before the building is complete. We've talked about this before on the podcast in our episode about Russian buyers and "alternative financing."
HEATHER VOGELL: But there's a lot more to it, I think. There's a lot of different types of buyers out there, and different types of arrangements that were being made in these deals.
BERNSTEIN: And who are you looking to hear from?
[CREDITS MUSIC BEGINS TO PLAY]
VOGELL: Well, I'm hoping to hear from real estate brokers or buyers of units in Trump developments or anyone else that was involved in this phase of the projects.
BERNSTEIN: Anywhere around the world?
VOGELL: Anywhere around the world.
BERNSTEIN: You can send your tips to tips@TrumpIncPodcast.org. We read everything we get. There are also ways to share something with us securely. Find out how TrumpIncPodcast.org.
Trump, Inc. is produced by Meg Cramer. The associate producer is Alice Wilder. The engineers are Wayne Schulmeister and Bill Moss. The editors are Charlie Herman, Eric Umansky, and Robin Fields. Jim Schachter is the Vice President for News at WNYC, and Steve Engelberg is the Editor-in-Chief of ProPublica. The original music is by Hannis Brown. Thanks for help this week to Alexander McGrath and Liz Webber. Additional support for WNYC was provided in part by the Park Foundation.
ANNOUNCER: [LAUGHING] You're offering a dinner date with yourself to all your new buyers?
DONALD TRUMP JR.: Well, but if I didn't, I'd be the first person in the history of real estate to not go meet with their buyers, right? So, but that's the problem — because my father [TALKING AS IF OUT THE SIDE OF HIS MOUTH] happens to be in politics, there's always a catch. It must be because of this. It's like, wait a minute. I'm functioning as a real estate developer. That's what we do.
[MUSIC OUT]
Copyright © 2018 ProPublica and New York Public Radio. All rights reserved. Visit our website terms of use at www.wnyc.org for further information.
New York Public Radio transcripts are created on a rush deadline, often by contractors. This text may not be in its final form and may be updated or revised in the future. Accuracy and availability may vary. The authoritative record of New York Public Radio's programming is the audio record.