Pay Day at the Trump Doral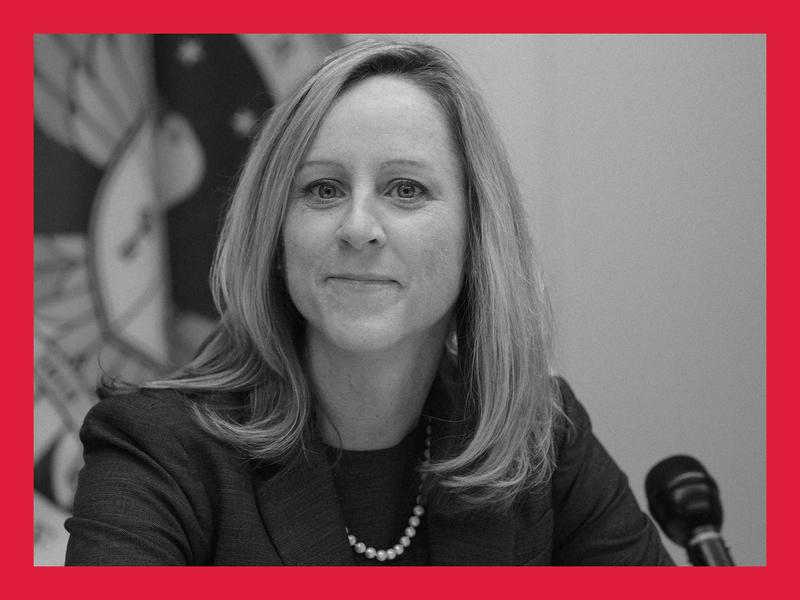 Transcript
[PIANO MUSIC PLAYS AS A PRELUDE]
MARIA DICHTER: I haven't seen my family in 15 years. I have a new grandson I haven't seen yet. We don't go out to dinner. We don't go to the movies. We live on cereal mostly. We buy boxes and boxes of cereal, and when we could, we might get a chicken. And that's the way we live.
ILYA MARRITZ: It's been almost a decade since Maria Dichter felt she had a measure of control of her own life. The problems began with $100 — money that she and her husband needed to cover medical expenses: knee replacements, a pacemaker.
DICHTER: And someone — and I don't remember who it was — says, "You know, if you go to this loan place and you have a bank account and you get a steady income, you could borrow a hundred dollars from them." And I went, and I was approved for a hundred dollars, and I said to myself, "Great. That'll pay the copay and any medication that he might need at that time."
MARRITZ: When Dichter went back in to repay the loan after 30 days, she was surprised to learn she owed $125 — that works out to an Annual Percentage Rate of 300%.
DICHTER: I says, "Well, I only borrowed a hundred dollars." They says, "Well, that's interest."
MARRITZ: Dichter paid. And not long after, she had some more medical expenses.
DICHTER: And I'm saying to myself, "Oh my god. What am I going to do now?"
MARRITZ: Before all this, Dichter had never set foot inside The Check Cashing Store on Southern Boulevard in Palm Beach County, Florida. She went back.
DICHTER: And I said, "Is there any way I could borrow just a little bit more?"
MARRITZ: Soon, she was there like clockwork — every month, for eight years.
DICHTER: They know me soon as I walked in. They — they have my check on that counter, 'cause they know, "Oh, she's going to pay it."
MARRITZ: Dichter is almost 74 and retired from the insurance industry. She has a Social Security check coming in every month. She feels like she should be able to get control of her finances, but control is always just out of reach.
DICHTER: So I finally said to them, "There must be a way that you could give me an extension so I could pay it." Then they said, "Well, do you have a car?"
MARRITZ: They were offering her more loans, with her car as collateral. Dichter didn't take that offer. She says she felt trapped. She still does.
DICHTER: And tomorrow I have to pay $554 to Payday Loan again … [FADES UNDER]
MARRITZ: For nearly eight years now, she has renewed her $500 loan every month.
DICHTER: … I'm $554 short every single month —
MARRITZ: Each time she is charged $54 in fees and interest.
DICHTER: — that cost me from one hundred dollars. Now, it's like I'm paying back hundreds of dollars.
That means Dichter has paid about $5,000 on top of what is effectively a single $500 loan.
[THE SOUND OF THE ROOM AT THE COMMUNITY FINANCIAL SERVICES ASSOCIATION GATHERING PLAYS]
MARRITZ: Recently, executives from the Community Financial Services Association — the same kind of short-term, high-interest lenders Maria Dichter hasn't been able to escape — they held their annual conference. It was in Florida, not much more than an hour's drive from Dichter's home.
ALICE WILDER: It's actually kind of in a suburb of Miami.
MARRITZ: Alice Wilder is an associate producer of Trump, Inc. and she was there.
WILDER: We did one interview in a conference meeting room — I noticed these place settings, like glasses of water and notepads and pens, and the notepads say "Trump," and the pens say "Trump." And what we learned is that the topic of the session that had just ended was government compliance.
[TRUMP, INC. THEME MUSIC BEGINS TO PLAY]
WILDER: Moments ago this room was full of payday lenders. These are companies that charge people really high interest rates to borrow money. They are learning how to work with government to keep doing this legally, and all over their notes is the name "Trump."
MARRITZ: Because they're meeting at the President's resort: the Trump Doral, near Miami. The money the payday industry is spending here — on rooms and drinks, rounds of golf — it goes into the pocket of the most powerful man on earth. And right now, the Trump administration is moving to roll back rules on how to regulate their industry. The same industry that is making Maria Dichter feel trapped.
Hello, and welcome to Trump, Inc. I'm Ilya Marritz.
WILDER: I'm Alice Wilder from WNYC
ANJALI TSUI: And I'm Anjali Tsui from ProPublica.
WILDER: Trump, Inc. is, of course, an open investigation into the business conflicts of interest around the Trump presidency.
TSUI: For years, if an industry wanted to influence policy, they had a few options. They could pay lobbyists, donate to political campaigns, or even fund shadowy third-party groups.
MARRITZ: The payday industry spent more than $50 million on lobbying over the past decade. Then, along comes President Trump, and he adds a new option: put money into his pocket.
PRESIDENT TRUMP: 'Cause, as you know, I have a no-conflict situation, because I'm President.
MARRITZ: When you book one of his clubs, it's direct deposit.
[DRIVING MUSIC PLAYS]
AW: So these are some of the companies and industries that have spent money at Trump properties: The firearms industry, oil and gas companies, the makers of TurboTax, Intuit, GEO Group — which runs private prisons — T-Mobile … The list goes on.
So, in this episode, we're looking at one industry's efforts to make itself heard. [A BEAT] Payday loans, or "small-dollar loans," as people in the industry prefer to call them, are a little different from auto loans or mortgages.
TSUI: The main difference is that these are short term loans and the interest rates are high — really high. Lenders get access to people's bank accounts and are the first in line to collect when their next paycheck comes in. Government studies show that most payday loans go to borrowers who take out ten or more loans in a year. In the end, many people pay more in fees than the amount they borrow.
One borrower, Wayne Wright, described his debt cycle.
WAYNE WRIGHT: So I wound up getting the payday loan. And then I wound up getting another payday loan, because the payday loan — in the way that it's required to pay, in that you borrowed 400 bucks — you got to pay back $475 but you've got to pay the $475 back out of your very next paycheck. And if you're having troubles this paycheck, it's highly doubtful you're going to have an extra $475 or whatever it is to pay the next one.
MARRITZ: Wright's sister eventually loaned him $2,600 to pay off the payday lender. He says it took about two years to pay her back.
WRIGHT: And everybody doesn't have a sister who can send them twenty-six hundred bucks.
TSUI: Payday loans used to be illegal, and they're still banned in 15 states and Washington D.C. Google and Facebook refuse to run ads for these kinds of loans.
[INTRIGUE-FILLED MUSIC PLAYS]
MARRITZ: The payday industry lends tens of billions of dollars every year. And it just so happens that, at the exact moment Trump is elected, the business model of payday is under threat. The federal government is about to implement new rules designed to protect people like Wayne Wright and Maria Dichter.
WILDER: There's a pretty new government agency called the Consumer Financial Protection Bureau, or CFPB, that's gonna do this.
MARRITZ: They spent five years researching and then writing new rules that would prevent lenders from making loans so expensive that most borrowers take out one on top of another to cover their basic living expenses. People refer to it as the "ability to repay" rule.
TSUI: What we see after Donald Trump is elected is that the industry swings into action. Small-dollar lenders donate more than a million dollars to the inauguration. And later that year, the CEO of one payday lending company scores a face-to-face meeting with President Trump with a small group of donors who gave to the governor's campaign in South Carolina.
WILDER: And, oh yeah —- they held their annual meeting at Trump Doral. Not one, but two years running. As far back as we could find, they had never before met at a Trump property.
MARRITZ: The payday lenders' continued ability to make attractive profits hangs on obscure regulations that are now in bureaucratic limbo.
[MUSIC OUT]
NICK CONFESSORE: People often don't understand that 50% — if not more of — policymaking in Washington happens after Congress passes the bill.
MARRITZ: This is The New York Times' Nick Confessore.
CONFESSORE: And in American media we tend to focus a lot on campaigns, a little on Congress and legislating, and very little on rule-making and regulation. But that's where the action happens.
MARRITZ: We'll talk with him more a little later.
[ROCK-Y MUSIC PLAYS]
MARRITZ: But we start at at the Trump Doral, where the people who are paying attention are gathered. It's a corporate get-together by the green fairways of the U.S. President's South Florida club, where the air is sweet and favorable policy changes and are seemingly just over the horizon.
WILDER: Everything at the Trump Doral is golf. There are four golf courses. They host tournaments. And even if, like me, you're not into golf, you are still the guest of a golfer. I slept in the Gary Player Villa. There was even a picture of him in the bathroom.
TSUI: And I was in the Jack Nicklaus Villa.
WILDER: Our plan was to mostly stay away from golf and get as close as we could to the payday lenders.
[SOUNDS FROM THE CFSA NETWORKING EVENT PLAY]
WILDER: Basically, as soon as I went and dropped my stuff, off I went down to the lobby, and there was a networking cocktail hour happening, so people were checking into the conference, going up to a desk, getting these big blue lanyards with a giant name tag, hugging, greeting each other — it seemed kind of like a family reunion.
WILDER: You know, there was an open bar. Waiters were coming around with trays: feta cheese and watermelon —
TSUI: — steak and yuca, coconut shrimp —
WILDER: — shredded chicken —
TSUI: — bacon and pork with applesauce —
WILDER: — tortilla chips —
TSUI: — fried plantain with chicken …
WILDER: A bunch of different little bites.
TSUI: There were people who flew in from South Carolina, Tennessee. I talked to someone who came from Canada. People came in from all over North America, really, to be at this gathering. It's a time to broker deals — be there and be seen by people in your industry and reconnect with old friends.
[MUSIC PLAYS UP]
MARRITZ: There were hundreds of lenders and vendors. Karl Rove was speaking. And if people were feeling good this year, it wasn't just seeing old friends. There was a sense of relief, even giddiness.
They were no longer under imminent threat of having to make sure customers can actually repay loans. The industry viewed that proposed rule as an existential threat because — studies have shown — most of their customers are regulars.
JEREMY ROSENBLUM: If it goes into effect, it will largely kill the industry.
TSUI: This is Jeremy Rosenblum. He's a partner with Ballard Spahr, which is a big law firm that represents the industry. Full disclosure: the firm has represented ProPublica in the past.
Rosenblum was one of the few people who agreed to actually sit down and talk to us during this conference. He told us that the Obama administration had been determined to bring sweeping new federal regulations to his clients, the payday lenders.
ROSENBLUM: And then, you know, the political situation changed. President Trump was elected. Director Cordray was gone. And, you know, there was a resurgence of hope in the industry.
TSUI: Richard Cordray was Obama's appointee to head the CFPB. Trump replaced Cordray with an acting director — a former South Carolina congressman named Mick Mulvaney.
WILDER: And it's not an exaggeration to say he was hostile to the agency he was leading. He requested a zero-dollar budget and said he would like to get rid of the agency altogether —
MARRITZ: — in a 2014 interview, before he led the Bureau.
MICK MULVANEY: It turns up being a joke, and that's what the CFPB really has been in a sick, sad kind of way, because you've got an institution that has tremendous authority over what you all do for a living.
TSUI: But this rule — the "payday rule" which lenders were so scared of — was still on the road to being adopted when Mick Mulvaney left the agency to become Trump's acting Chief of Staff. Then Trump appointed a new director of the CFPB named Kathy Kraninger, and she announced a proposal to rescind a major part of the rule. This was just a few weeks before I met Rosenblum at the Trump Doral. He was feeling good.
ROSENBLUM: I just got here and I haven't had a chance to speak to people but I have to believe that it's — we'll be pretty upbeat.
TSUI: The CFPB said there was, quote, "insufficient evidence and legal support" for the "payday rule." Now it's reconsidering the rule. Rosenblum doesn't know exactly what's coming. But whatever it is, it's probably going to be a lot better for his clients.
ROSENBLUM: Look, if you're faced with a rule that threatens to destroy your company — and that's what we had — and somebody proposes to, uh, revoke that rule, you feel pretty good about that development.
WILDER: This is about as close as Jeremy Roseblum gets to saying, "Boo-yah!"
TSUI: Rosenblum spoke slowly and carefully. He leaned away from the microphone. When it became clear that he was about to leave, I blurted out a final question, "Why did they decide to have the conference here?"
TSUI: My editor will kill me if I don't ask about the conference venue. So this is the Trump National Doral.
ROSENBLUM: I'm not going to talk about the conference venue. I mean, that's … No.
TSUI: Some people have raised their eyebrows. Do you think it's problematic, or … ?
ROSENBLUM: No, I don't think it's problematic. I think that, you know, they can have their conference wherever they want.
TSUI: The CFSA said the Trump Doral is, quote, "popular with our members and meets our needs." They would not tell us what they spent there. So, we looked at their tax records and spoke to a Miami event planner and someone at a competing hotel. Our best guess is that, for two conferences, they paid the Trump Organization at least $1 million.
But again, that — that's a question and answer. You know, as far as I'm concerned, this is not a part of our conversation. I'm not getting into political issues like that. It's — it's a nice place.
MARRITZ: We'll be right back.
[MIDROLL]
MARRITZ: We're back, and we're looking into the ways that one industry — payday lenders — has sought favorable treatment from the Trump administration. In one sense, this is nothing new. Many industries, from soybeans to drones to hospitals — they want things from the government, whoever is in power. The difference is, this is the Trump administration. President Trump set himself the goal of cutting two old regulations for every new rule adopted. And he's signaled again and again, if you want him on your side, you ought to get on his team. Here he is thanking campaign donors with a speech at his D.C. hotel in 2017.
PRESIDENT TRUMP: You can guarantee this: I will never forget — I know the people in this room, I love the people in this room. They are very, very special people. And I will not ever — I will not forget. And so thank you very much. [APPLAUSE]
MARRITZ: Mick Mulvaney, Trump's first CFPB director, was even more blunt. In 2018, he told a gathering of bankers that with him, doors open if you're a donor.
WILLIE GEIST: [INTERRUPTING SCARBOROUGH, INCREDULOUS] Can you believe this quote?!
MARRITZ: Joe Scarborough flipped out over this as quote was read on his morning show:
JOE "MORNING JOE" SCARBOROUGH: The Times says that he also revealed that, as a Congressman, he would meet only with lobbyists if they had contributed to his campaign, telling the crowd, quote [GEIST GROANS] — this is a quote: "If you were a lobbyist who never gave us money, I didn't talk to you. If you were a lobbyist who gave us money, I might talk to you."
WILDER: this quote flipped a lot of people out. Because even though Mulvaney was speaking specifically about his earlier life as a member of Congress, it seemed to describe a whole world-view.
[SPARSE MUSICAL FLOURISH PLAYS]
TSUI: At the Trump Doral, we tried to register for the payday industry sessions. But we were rejected. In fact, we were kicked out of a few places.
WILDER: One afternoon, we decided to duck out of the conference to get a look at the payday industry in action. We didn't have to go far.
WILDER: [COMING UP] Yeah, um, shopping center among a lot of shopping centers. [FADES UNDER NARRATION]
TSUI: So we walk into a branch of Advance America. It's the largest payday lender in the U.S. Their former CEO, Patrick O'Shaughnessy, was the chairman of the board of the trade group that was hosting their conference at the Trump resort.
WILDER: Meanwhile, we're talking to the guy behind the counter here. His name is Marco. And he likes playing with clicky pens.
MARCO: We have a lot of clients that come regularly to take the loans because they have to make their payments on that week that they don't get paid. So they take the funds and so they pay and they come back.
WILDER: When we talked to lenders at the conference they kept saying, "We get a bad rap, but we help people in times of crisis! We're often the only lender they can turn to when an emergency comes up." But for a lot of customers, coming here is actually a routine thing.
TSUI: How many loans, on average, do you think a typical customer might have in a year, for example?
MARCO: Okay. Depends. We have like customer that come two times every month. We have them consecutively for, like, three years. And then we have customers that come, like, every two months to get the loan, so you can, you know, predict that.
[PLUNCKY INVESTIGATE GUITAR MUSIC PLAYS]
WILDER: [CROSSING THE STREET] Let's cross now. Oh, going to record getting hit by a car!
WILDER: We went to another lender not far from the Trump Doral, Amscot. They call themselves "the Money Superstore" and they're open 24 hours.
TSUI: We run into this gentleman called Alfredo. He's a 22 year-old community college student who works in retail.
ALFREDO: Payday wasn't as much as I expected, so just went ahead and just went — took out a quick loan. I've just gotta make my car payment. [BOTH LAUGH]
WILDER: Are you still paying off the previous loans you've taken out, or are you finished on those?
ALFREDO: No, I don't have any loans. I try to be debt-free. If I don't have the cash, then you can't afford it. That's the way I see it. It's not something I do often, but I know that, like, if I need it — try not to be late on my car payment because it's going to affect my credit, so I'm like, "You know what? I'd rather just get the loan, get that payment out of the way then just pay this little fee that doesn't hurt my credit at all." So I'd rather do that then having that fee … [FADES UNDER]
[MUSIC PLAYS UP]
WILDER: at first, Alfredo struck me as almost like a poster-boy for the payday industry. Here he is — really responsible, borrowing infrequently, always paying back on time.
But if every borrower was like Alfredo, the industry would suffer. Because the real money in payday is when borrowers fall behind, and take on even more loans — like Wayne Wright and Maria Dichter, who we met at the beginning of the story.
ALFREDO: No, thank you, ladies! It was nice to meet you all!
WILDER: Alfredo went back to his car, with a check to pay his auto loan.
[A BEAT OF MUSIC]
TSUI: Advance America shared this comment with us by email. Quote, "Our customers borrow from Advance America as long as they need to — and only as long as they need to — before moving on." They said, quote, "Most typically, a customer comes in once or twice and we don't see them again."
MARRITZ: Amscot conceded its short term loans look expensive when expressed in annual terms. Quote, "It doesn't mean there's not a place for small-dollar credit, it just has to be offered under a strict regulatory framework."
Also, the Amscot CEO emailed to say that the Trump Doral is near a major airport and has golf and good weather in March. Quote, "Hard to beat! They also offered a very attractive pricing," end quote.
TSUI: We also shared questions with the Community Financial Services Association. They told us, quote, "The CFPB's original rule, as written by unelected Washington bureaucrats, was motivated by a deeply paternalistic view that small-dollar loan customers cannot be trusted with the freedom to make their own financial decisions."
MARRITZ: They did not tell us whether they'll book the Trump Doral again next year.
TSUI: We shared a detailed list of questions with the Trump Organization and the White House. We did not hear back from them.
[A MOMENT OF SILENCE, MUSIC OUT]
MARRITZ: As we were reporting this story, we kept coming back to another reporter's work. Nick Confessore did this New York Times Magazine cover story in April exploring how the Consumer Financial Protection Bureau has changed under Trump. And it has changed. He spoke to more than 60 current and former employees, and people who have dealings with the bureau. So we called him.
MARRITZ: Hey, Nick, it's Ilya. How are you doing?
CONFESSORE: Hey, Ilya. How are you?
MARRITZ: Nick said if you go back to the CFPB's beginnings, less than a decade ago, you'll see that it was conceived as a sort of indestructible financial guardian for the little guy.
CONFESSORE: So the Consumer Financial Protection Bureau was designed by liberals with the lessons they had learned from the financial crash when the regulators that Washington had had done a poor job, had allowed problems to slide, had been captured by the industries that they oversaw. And so they wanted an agency that couldn't be captured — as they considered it — by the industry it was gonna oversee. And that meant it would have a director who would be all-powerful, instead of a commission. The commissioner — in this case the Director of the Bureau — would serve for a fixed term and they couldn't be removed. And finally, this Bureau would be funded directly by the Federal Reserve, and not by Congress.
MARRITZ: So that's the situation when President Obama's man at the CFPB, Richard Cordray, quits to run for governor of Ohio. President Trump now can appoint his own boss for the CFPB, and he makes a really attention-getting choice: it's Mick Mulvaney. Am I right that if you wanted to test the resilience of this new agency, Mulvaney is your man?
CONFESSORE: I think there are few people in Washington who are more determined enemies of this Bureau than Mick Mulvaney. There are a couple, but not many. And what this was really an interesting test of was, "What happens if you take this Bureau that has been deliberately insulated from checks and balances and Congressional oversight, where the director has been made very powerful, and hand it over to a director who doesn't like the agency. What happens next?"
MARRITZ: So a few things that happen next: Mulvaney requests a zero-dollar budget. He embarks on a basically pointless name change, which is then canceled, but it's expensive. Those, though, are almost more like gestures for public consumption, I would think. So, at the same time, what is going on inside the agency? Was it fulfilling its mission to protect consumers?
CONFESSORE: The way I would describe it for listeners is that the founders of the agency — Elizabeth Warren and her colleagues in the Obama administration — were trying to design this intricate machine.
[TRUMP, INC. THEME-ESQUE MUSIC PLAYS]
CONFESSORE: And what my story is about is about watching Mulvaney essentially kind of pull apart that machinery. He didn't raze it. He didn't set it on fire. It was more like he kind of unscrewed a bolt here, and put a little sand in the gears over here, and stopped these two pieces of the machine from being connected so they couldn't talk to each other, and slowly making the whole thing less efficient.
MARRITZ: Which brings us to the payday rule, the rule that says lenders need to check their borrowers' ability to repay. The rule that lenders said might actually kill some in their industry.
Nick learned a lot about how the rule — which was this close to being adopted — instead got put on hold. There was a meeting with senior people from the CFPB and the payday lenders.
CONFESSORE: It was last April — April 2018. The members of the association, the — the payday lenders are champing at the bit. They want action immediately.
MARRITZ: The payday industry is planning a lawsuit to block the rule. And just to underline that point, they bring their lawyers with them to the meeting with a top aide to Mick Mulvaney, named Brian Johnson.
CONFESSORE: And so, according to my sources, uh, Johnson is really taken aback by this. This is the Mulvaney … [FADES UNDER]
MARRITZ: In this meeting, as Nick reports it, the payday lenders are basically asking the Bureau if the Bureau would welcome a lawsuit. And Johnson, Mulvaney's aide, says:
CONFESSORE: [FADES UP] "I can't talk to you about a lawsuit that we might be a party to." So they seem to have followed the book there. But the next thing that happens, Ilya, is really interesting. The association walks out of that meeting, and a couple of days later, they file their lawsuit.
MARRITZ: So now it's going to go before a judge.
CONFESSORE: And what I found was a bunch of email correspondence where, essentially, the Bureau's lawyers decided that the best thing for everybody was if they could get a judge to allow them to not implement the Obama rule.
MARRITZ: Huh.
CONFESSORE: And they seemed to have planned that strategy out as a legal strategy together. And the idea came from, actually, the Bureau. It was their idea. Like, "Wait, here's — here's a solution. Let's try and get a judge to let us off the hook from enforcing this rule that our new director doesn't like, and then you guys can stop suing us."
I think that once the lawsuit was filed and the agency under Mulvaney had to respond somehow, then they exercised their right to open discussions with the lawyers and then they started working on a strategy together, and kind of more or less in lockstep.
MARRITZ: The judge gives the bureau what it wants, which is time to revisit the rule. By the way, the Community Financial Services Association — that's the payday trade group — told us in an emailed statement that following a series of conversations, quote, "The parties agreed that asking the court to stay the litigation while the Bureau reconsiders the small-dollar rule would serve to conserve judicial resources, reduce expense to both parties, and, if the rule is repealed, avoid the need for future litigation."
In testimony before Congress in March, Mulvaney's successor, Kathy Kraninger, said this lawsuit was one reason to reconsider the proposed payday rule.
KATHY KRANINGER: That is the subject of litigation and ongoing litigation and the courts, in fact, have stayed our ability to move forward with the rule. And last year the Bureau told the courts that there would be reconsideration. So I look forward to the full evidence but that's — that's largely what this is about, it's that the basis of the rule-making itself … [FADES UNDER]
MARRITZ: Kraninger was confirmed in her job last December. In speeches, she likes to talk about using all of her agency's tools, not just enforcement and oversight — which are aimed at lenders — but also education — which is about the borrowers.
MARRITZ: Have you formed an impression of her and the way she's running the Bureau?
CONFESSORE: You know, in the months I was reporting the story, when — when her name first was being floated and when she was going through her nominating process, people inside the Bureau were very curious about her. They weren't sure if she was going to be a Mulvaney apparatchik, a stand-in for him, somebody who might take a different view. What's basically happened is that — with the exception of the name change idea that Mulvaney tried to push through which she put the kibosh on. You know, she's more or less kept up the policy shift at the bureau. Her approach is a little different. She's not as confrontational. She doesn't relish in kind of poking Congress in the eye as Mulvaney seemed to at times. But the policy is basically the same. She is putting into place the new payday rule — the gutting of the old rule that Mulvaney set in motion towards the end of his term there.
MARRITZ: Do you think what Trump has done with the Consumer Financial Protection Bureau is any different from what a President Rubio or maybe a President Jeb Bush would have done? Do you think that Trump's sort of distinctly transactional approach does actually make a difference here?
CONFESSORE: What I have observed in writing about the deconstruction of the administrative state in Washington under — under Trump is that the President has no strong beliefs about this stuff. I think that when you have a President who's very transactional, who doesn't have a lot of big ideas of his own, who's basically focused on immigration and trade and is willing to just outsource his policy to various pieces of industry, you actually do get more radical pro-industry policy, because there's no counterweight. There's no normal bureaucratic process. And you get more of what we have under Trump, which is, more and more, like, straight-up industry lobbyists who are running, you know, the big bureaucracies and the regulatory agencies.
And to me it shows, like, the contradictions of — of Trump-ism: that there is this notional populism, but there is so little discipline and the President is so easily convinced to hand over the levers of power to industry, that what you end up with is, like, radically pro-industry policy.
MARRITZ: What do you make of the fact that the Community Financial Services Association had their annual meeting at the Trump Doral — not once, but two years running? Do you think something like that could actually get a message to the most powerful man in the land?
CONFESSORE: Absolutely. I don't think you can overestimate how much these little blandishments mean to the President. When I started kind of reporting on the Trump administration, I kept thinking, "Well, I mean, he's not gonna, like, hand out a policy favor to somebody because they stay at his hotel and he got a couple of thousand bucks out of it. That's ridiculous. That's — that's peanuts."
But then I realized that Donald Trump is a hotel operator and a golf course operator — these are his businesses. And I realize more and more it's exactly the kind of thing that he responds to. And, even if he is not responding, everybody in Washington acts as if he is responding. That's why the Trump Hotel in Washington does pretty well, even though his golf courses in some other places haven't done as well.
It's why the foreign embassies and different associations have moved their parties to the Trump Hotel. It's why more and more stuff is happening at the Doral. Everybody understands that the President likes it when you go to one of his properties and hold your event there, and that's why they switched.
[MUSICAL FLOURISH]
MARRITZ: So, Elizabeth Warren, who first, I think, conceived of this agency, and then the Democrats in Congress who wrote it into the Dodd-Frank Law — they wanted to design a perfect machine something that would be impervious to — impervious to Republicans, frankly, because this was created by Democrats. How is it doing?
CONFESSORE: I think that when you look closely at the enforcement settlements and some of the agreements, when you look at the rule-making that Mulvaney and his successor have begun, when you look at the requests for information — the RFIs, as they're called — that they have put out to industry about how to change their practices, what they're really trying to do is turn the agency into a less aggressive cop. A cop that listens to the criminals as much as the victims. A cop that will hand out fewer tickets, that will be eating donuts more often, sitting in the squad car more often. What they want is just a less vital and active bureau that is more susceptible to the kind of pressure that industry has often found works with other with other agencies throughout the government.
MARRITZ: Nick Confessore, thank you so much.
CONFESSORE: It's my pleasure, Ilya.
TSUI: We sent the Bureau a detailed list of questions about the payday industry's efforts to stymie a rule that they didn't like and the optics of payday lenders booking the Trump Doral.
The CFPB, on email, did not answer those questions, but referred us to a Kathy Kraninger speech, a court filing, and the documents outlining the payday rule-making.
MARRITZ: As for the payday rule, the Bureau is now combing through thousands of comments and will make a decision in the coming months on whether to gut those regulations. Whatever happens, there's a good chance it will be challenged in court.
[CREDITS MUSIC PLAYS]
MARRITZ: Trump, Inc. is an open investigation into the Trump family business. Send us your tips! The email is tips@TrumpIncPodcast.org. We also have secure methods to communicate. Find out how at TrumpIncPodcast.org. And while you're there, sign up for our newsletter.
TSUI: And we're still taking tips on the Consumer Financial Protection Bureau. Go to propublica.org/CFPB.
MARRITZ: Meg Cramer is the Senior Producer of Trump, Inc. Associate Producer, Katherine Sullivan. Bill Moss is the Technical Director. The editors are Charlie Herman, Eric Umanksy, Nick Varchaver, and Robin Fields.
Jesse Eisinger and Paul Kiel from ProPublica contributed valuable brain power.
Jim Schachter is the Vice President for News at WNYC, and Steve Engelberg is the Editor-in-Chief of ProPublica.
Thanks this episode to Ann Fleming at Georgetown Law, Chris Peterson from the Consumer Federation of America, Alex Horowitz at Pew Charitable Trusts, and Diane Standaert from the Center for Responsible Lending.
Our original music is by Hannis Brown.
Copyright © 2019 ProPublica and New York Public Radio. All rights reserved. Visit our website terms of use at www.wnyc.org for further information.
New York Public Radio transcripts are created on a rush deadline, often by contractors. This text may not be in its final form and may be updated or revised in the future. Accuracy and availability may vary. The authoritative record of New York Public Radio's programming is the audio record.