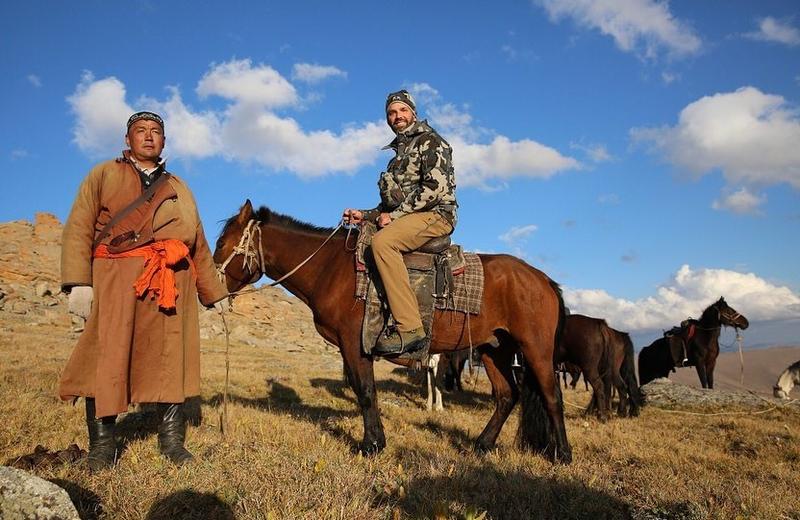 Transcript
[LUTE COMPOSITION PLAYS]
MARRITZ: Following the three eldest Trump kids — Don Jr., Ivanka, and Eric — will take you around the world: Florida, Indonesia, India, Panama, Moscow.
But I would not ever have guessed Donald Trump Jr. would lead us here — Bayan Olgii province, Western Mongolia.
ANAND TUMURTOGOO: Um, if you drive, it will take you at least three days to get there by car.
MARRITZ: Anand Tumurtogoo is a journalist based in Mongolia's capital, Ulaanbaatar.
MARRITZ: How did you go?
TUMURTOGOO: Uh, I flew. It was a four hour flight.
MARRITZ: After the flight, a land cruiser.
TUMURTOGOO: My guide — my driver, he was asking around. And we've found, a cottage where there was slaughtering, horses for the — for the winter.
MARRITZ: In Mongolia, horses are for riding. And they're for meat.
TUMURTOGOO: And I entered the shed and it was just one very, uh, statuesque man, and just, like, cutting through meat. I was a little terrified, but when I heard his voice, I was — I was calm.
MARRITZ: And when Anand arrived, three months after Don Jr., he found the first son's tracks were still clearly visible.
TUMURTOGOO: So I recorded in conversations with the scouts. So one of the scouts — I can't remember his name. Khuandyg? Yes. Khuandyg, I think he was the guy who was in the picture who's holding Donald Trump Jr.'s horse.
[MUSIC BECOMES MORE ECHO-Y AND DISTANT, PIANO ENTERS]
MARRITZ: It's public knowledge that Don Jr. took a trip here last summer. He Instagrammed it.
What's not public knowledge — what our reporters learned — is that he was hunting. And the Mongolian government treated Don Jr. differently from other big game hunters: it rolled out the red carpet for him. Gave him an entourage. A meeting with the President. And a thing of value — a hunting permit, one of only three available in this hunting region.
[MUSIC BECOMES MORE TENSE]
JAKE PEARSON: We want to know, were the rules both in Mongolia and in the United States followed? Did the taxpayer in Mongolia, or the United States, or in both places foot the bill for any portion of this trip? Did Don Trump Jr. get special treatment that another Western trophy hunter wouldn't get? Was everything done ethically, pursuant to the rules? And if not, why not? And who's responsible?
MARRITZ: And above all …
[RIFLE SOUND EFFECT, SOUND OUT FOR A MOMENTS]
PEARSON: And what happened to the sheep? Where is the trophy?
MARRITZ: While he was there, Don Jr. shot a sheep. It was not just any sheep. It was a special wild sheep — that's endangered.
PEARSON: Argali sheep. They're the biggest big-horn sheep in the world, bigger than rocky mountain sheep. Their horns can get, you know, this sort of curve. Beautiful, big horns can extend longer than six feet tall.
MARRITZ: The argali of the Mongolian Altai have muscular frames, and move on thin, graceful legs. They can leap crags and boulders, and move in herds of 100 animals or more.
TUMURTOGOO: Because of their horns, how big they are, and how, uh, the huge animal is. It just speaks to, like, how Mongolians want to be seen, as, like, very big, proud, bold people.
[TRUMP INC. THEME MUSIC PLAYS]
MARRITZ: So, here it is. Our final episode in the year 2019: argali sheep.
[SHEEP SOUNDS]
MARRITZ: Welcome to Trump Inc. I'm Ilya Marritz.
Today, the story of one dead woolly quadriped, and what it tells us about international relations, conservation laws, what it means to be the adult son of this U.S. President — a private citizen, whose name alone makes him impossible to ignore.
When Don Jr. turned up in Mongolia, he was there to cash in an expedition he'd won at an auction held by the National Rifle Association back in 2015. The world has changed a lot in four years. Don Jr.'s dad is now president.
And while Don Jr. does not represent the U.S. government, the Mongolians treated him as a visiting emissary, arranging meetings and chaperones, and issuing him a rare and valuable permit to hunt argali sheep. They did this in a way that seemed to bend their own rules. Mongolia's permitting system, according to specialists, is opaque, and mostly based on money, connections and politics.
The more we looked, the more troubling information we found.
And we would know nothing about this if it weren't for two reporters.
PEARSON: I'm Jake Pearson. I'm a reporter at ProPublica.
MARRITZ: — in New York. And in Ulanbaatar, Anand Tumurtogoo.
MARRITZ: So nice to meet you. What time is it in Mongolia?
TUMURTOGOO: It's, uh, 7:17 AM.
MARRITZ: They're 13 hours ahead of New York.
MARRITZ: And, uh, have you had your morning coffee yet?
TUMURTOGOO: Yes, I'm just drinking my coffee right now. [LAUGHS]
MARRITZ: Our show today: Don Jr and the argali sheep. Here we go.
[PERCUSSIVE MUSIC PLAYS]
Part one — The Tip.
It came in a few months ago, at ProPublica's offices, in New York.
PEARSON: So, a colleague who had worked with, uh, this reporter in Mongolia literally walked over to my desk and said, "Hey, man, I know that you're interested and have done work on Donald Trump Jr. and also trophy hunting before. I think you'd be interested in hearing what I just learned."
MARRITZ: The reporter who called in the tip was Anand. And his source was a man named William Taylor, a professor at the University of Colorado.
WILLIAM TAYLOR: I'm what you would call an archeo-zoologist. And a lot of my work, um, studies the origins of animal domestication.
MARRITZ: Taylor was on an expedition in western Mongolia at the time. While he was out there, he saw this short news item. It that said Don Jr. was in the neighborhood. Like, right nearby.
TAYLOR: I didn't believe it. Um, because of … it's the next in the line of Johnny Depp or Leo DiCaprio or some so-and-so is — is in Mongolia, or they've been spotted here.
MARRITZ: But, what the heck? Taylor shared what he read with his horse guides.
TAYLOR: You know, around the campfire, I just asked about it out of curiosity and they said, "Yeah, he's here. He's got his, uh, six year-old son with him, and they've, uh, they've essentially got a — a trip hired out for — for hunting argali sheep." And I did a double take. Um, I was — I was really, really surprised.
MARRITZ: Taylor told this to Anand, who shared it with Jake. (We'll come back to Taylor at the end of this episode).
Jake says trophy hunting is a rich person activity. The fees are supposed to support conservation, but the system can be abused.
PEARSON: For us, what's interesting is how this came together, whether or not public resources — either Mongolian or on from the U.S. — were used in the course of this trip, whether or not the Mongolians treated Donald Trump Jr. differently than they would any other Westerner, if any foreign policy or an effort to influence policy was conducted.
MARRITZ: Donald Trump Jr. is, of course, an avid hunter. There are photos of him with a dead leopard; with an elephant's tail in one hand, and a knife in the other. Jake learned that — like leopards and elephants — the particular animal Don Jr. was hunting in Mongolia is becoming rare.
PEARSON: We know that argali are, uh, threatened under the U.S. Endangered Species Act, and there are rules that apply there. We know that the Mongolians have a permitting system. Uh, there is an effort that's been made in the country to try and limit how many can be killed for sport, and under what conditions, because, you know, the argali contribute to local ecosystems.
MARRITZ: The Mongolian government allotted just 86 permits to hunt argali for the year 2019.
If you're lucky enough to get one, then you have to figure out how to pay to get close enough to kill it.
Outfitters typically charge $24,000 to $50,000 to go argali hunting.
PEARSON: And we want to know how much Donald Trump Jr. paid. We want to know to whom he paid it.
MARRITZ: Who paid for the trip? How Don Jr. got the permit? Whether any informal diplomacy happened there? Jake and Anand tried for weeks to get information. They kept hitting dead ends.
PEARSON: We'd run out of the options. I mean, we — you know, we had called and emailed and WhatsApped messaged all kinds of people, many times over. Folks had agreed to talk with us, and then ducked out or bailed on those interviews. And finally we decided that Anand had to go there.
[PAUSE, MUSIC OUT]
Part two — The Hunt.
[BAYAN OLGII ATMOSPHERIC SOUNDS PLAY]
Anand says even for a Mongolian, Bayan Olgii province is another world. People there speak a different language, Kazakh. They practice Islam, not Buddhism. The highest mountains in the country are there.
TUMURTOGOO: I remember seeing, um, like, a herd of camels just walking by and in the snow storm. I felt very, very serene.
MARRITZ: Anand rented a land cruiser. He hired an interpreter. And he went out looking for people who came into contact with Don Jr. Like scouts, the local herders who help hunters find animals — or, in some cases, get animals to a place where they can be hunted.
TUMURTOGOO: So, we went to the houses of the scouts and also to the government officials who were present at the hunt.
MARRITZ: And what did they tell you? What did you learn?
TUMURTOGOO: One of the things that I learned is that he came with a very lavish crew. All the people who were there, present, all talked about, he had like 50 people with him — uh, 40 people — like, somewhere … the range of there. And he had, like, three cooks. He had a huge tent, and he had five foreign bodyguards and three Mongolian bodyguards. And — and — and the Scouts were not allowed to get close to him, uh, that much, and they were not even allowed to take pictures with him.
MARRITZ: Don Jr.'s instagram feed shows him in camo on a stout Mongolian steed; holding a fishing rod next to a rocky stream; posing inside of a yurt, filled with colorful textiles, with his son, Donald Trump III.
[ESOTERIC MUSIC PLAYS]
Quote, "Guys I'm back after living the Yurt Life with my man Donnie for the past week exploring #Mongolia. We covered many miles on horseback and 4WD. More pics to come soon. Truly one of the most beautiful places I've ever seen and the scenery was actually outdone by the genuine warmth and kindness of the people. After such an amazing experience I'm actually disappointed to be back on the grid."
From the scouts, Anand learned that Don Jr. shot an argali sheep. The shoot was at night. He used a special rifle with night vision. That part of his trip he did not post to Instagram.
Afterwards, Don Jr. and the scouts carried the dead sheep downhill on an aluminum sheet, to a place where it was slaughtered. They were careful to preserve the head and horns.
We asked Donald Trump Jr. if he was seeking to bring his trophy back to the United States. The government regulates this, in part to fight poaching. He did not answer. We also have requested information on import permits from the U.S. Fish and Wildlife Service. It's not clear whether Mongolia issued an export permit.
The locals Anand spoke with liked Don Jr. They were proud to have worked with him.
TUMURTOGOO: People talked about how he was a very down-to-earth guy. Like, they never saw a foreigner who would help them out with, like, getting dirty and grubby with butchering the animal or, like, helping carry the animal meats to — to the scouts. You know? It's just, they — they seem to be in awestruck when they saw that.
MARRITZ: Anand also learned that Don Jr. had some noteworthy companions on this trip: Mongolian government officials from defense and security services. And the defense attaché from the US Embassy in Ulanbaatar.
[LTSI]
One more thing — when he was in Bayan Olgii, Anand tracked down a government official in an unlit, unheated, Soviet-style building.
TUMURTOGOO: He told me about when — when exactly the hunt happened, and he actually showed us, uh, the permits — the copies of the permits of the hunt.
MARRITZ: A piece of paper with images of wildlife, dates, and a name.
TUMURTOGOO: When I looked at the document, I was, um — I looked at it thoroughly and I was — and I saw his name, Donald John Trump, Jr.
MARRITZ: And the date stood out.
TUMURTOGOO: If you look at the permits, it's — it's, um, on the left side. It would say, like, September 2nd.
MARRITZ: September 2nd. Don Jr. left the region a few days before that.
TUMURTOGOO: So it seems it's definitely been issued afterwards when the hunt happened.
MARRITZ: Again, ProPublica's Jake Pearson.
PEARSON: Our understanding, based on experts in Mongolia and the rules, is that this is not how it's supposed to be.
MARRITZ: Jake has been looking into this. He learned it's unusual for permits to be issued after a hunter's visit. We asked Mongolian government officials about this. They haven't responded.
PEARSON: Well, look, I mean … One of the things we've learned about Mongolia, is that this permitting process and the rules governing, uh, sheep hunting are very much, um, still in progress. We talked to experts who told us that the permitting system in Mongolia for big game hunting — which is catered mainly to wealthy Westerners — is pretty loose. It is an insider's game. It is a game of political connections.
[LUTE MUSIC COMES BACK IN]
MARRITZ: In this district of Bayan Olgii province, just three permits were issued to hunt argali in 2019. Donald Trump Jr. got one of them.
[LUTE MUSIC IS REMIXED]
We'll be right back.
[MUSIC OUT]
[MIDROLL]
[TRUMP INC. THEME MUSIC FLOURISH]
MARRITZ: We're back.
Part three — American Prince.
Mongolia is a vast, sparsely populated country. Its only borders are with Russia and China. Mongolians sometimes call America their "third neighbor" because it's such an important ally.
Among the big issues for the Mongolians right now: they want America to lower tariffs on cashmere wool, so they can better compete with Chinese cashmere. It's a major export.
Less than a month before Don Jr. was in Mongolia, Mongolia's President, Khaltmaa Battulga, visited the White House.
REPORTER: Mr. President, have you thought of a name for the horse yet?
MARRITZ: President Battulga symbolically gifted a Mongolian horse to President Trump's youngest son, Barron. Trump named it Victory.
TRUMP: I did. Victory. Victory. Thank you very much for the horse. Did you see a picture of the horse?
REPORTER: Not yet.
TRUMP: Beautiful.
MARRITZ: While Trump riffed, Battulga stood silently and smiled. He's a former champion in sambo wrestling, a martial art that was developed in the Soviet Union. This seemed to impress Trump.
TRUMP: Mongolia, they're great fighters, you know? They are great fighters, great wrestlers, great champions. And we have the grand champion of sumo wrestling with us from a couple of years ago, and he's here from Mongolia.
MARRITZ: Sambo, not sumo. Battulga did not correct Trump.
[BEAT]
MARRITZ: Jake and Anand learned there was a follow-up to this meeting, a few weeks later. It happened in Mongolia. And it involved Don Jr.
PEARSON: A local government official in the province in Western Mongolia, where this hunt took place, told us when we were there reporting that Donald Trump Jr. was slated to have a private meeting with the president of Mongolia on his way back out of country — out of the capitol, Ulanbaatar, to the U.S., and —
MARRITZ: This is the first that you'd heard of it?
PEARSON: Yeah. We hadn't heard about that. And that peaked our interest, obviously. And a former government official who's in contact, and familiar with the meeting, informed us that yes, indeed, the meeting did occur.
MARRITZ: So that means that the Mongolian President met with Donald Trump Jr. This, too, did not appear on his Instagram. We have almost no details.
PEARSON: We have efforted, and are trying to understand more about what was discussed. Um, but, uh — so far we've come up empty on that front. But we confirmed that it did actually happen.
MARRITZ: What does the government of Mongolia say about all this?
PEARSON: They're not talking to us. We've made attempts, um, to talk to the President's office, to the Environmental Ministry that oversees permitting, and, um, they've not responded to our request for comment.
MARRITZ: And the White House?
PEARSON: Likewise. You know, I reached out to the White House, the State Department, the Department of Defense, the U.S. Embassy in Mongolia, with detailed lists of questions and have not received responses from them.
MARRITZ: But you did hear back from Don Jr.'s people. What did they tell you?
PEARSON: Right. So, a spokesperson for, um, Don Jr. says in a statement that this was a personal trip that he flew commercial in and out of Mongolia, that no government officials in either the U.S. or Mongolia helped organize the trip, and that the Secret Service, and not Don Jr., is the entity that determines security protocols and protection services, and that it's their call.
MARRITZ: They did not respond to our questions about meeting President Battulga.
[MYSTERY MUSIC PLAYS]
MARRITZ: When we at WNYC and ProPublica first started looking at the Trump kids, we were mainly concerned with what they could do for the family business, the Trump Organization, with their dad in the White House.
Three years in, a more basic conflict has come into focus. One that the Constitution does not anticipate. Don Jr. has power. He's the son of the most powerful man on earth. And that man listens to him.
The former U.S. ambassador in Kyiv, Marie Yovanovitch, told Congress she believes a Tweet by Don Jr. contributed to her abrupt removal.
YOVANOVITCH: I mean, it — it seemed to me that if the president's son is — is saying things like this, that it would be very hard to continue in my position and have authority in Ukraine unless the State Department came out pretty strongly behind me.
[MUSIC OUT]
MARRITZ: But Donald Trump Jr. does not work for the government. He doesn't have to follow any of the ethics rules that government officials do.
And the emoluments clause? It says the President cannot accept gifts from foreign powers. It says nothing about the President's children receiving things of value.
[WATER FLOWS IN THE BACKGROUND]
MARRITZ: Like everywhere else on earth, the snowpack in western Mongolia is in retreat. And as it retreats, it's revealing something. Animal bones. For thousands of years, hunters have been ambushing their next meal at these watering holes. That's what William Taylor, the archeo-zoologist, was examining last summer.
TAYLOR: The thing that I think is a really kind of striking counterpoint to the things that were happening in parallel with our project with the Trump visit, is that this mountaintop, uh, is absolutely littered with the bones of argali sheep.
And — and not just the bones, but we're pretty much talking about the skulls.
There are hundreds of skulls and kind of horn curls that — it's sort of the opposite of trophy hunting. What it appears that people were doing is, after they completed their hunt, right, they were — they were removing the head of the animal and placing it on top of the mountain. And we actually found several piles that are complete, intact piles. Um, and — and probably that was an act of, sort of, spirituality or respect, right?
But the really shocking thing about this essentially massive argali sheep graveyard up here that spans thousands of years of hunting and history here, is that local folks in this region have never seen an argali sheep on that mountain.
MARRITZ: Like the ice itself, the argali are disappearing.
Between 1985 and 2009, the estimated population of argali in Mongolia dropped from 50,000 to just 18,000. Scientists say over-grazing by domestic animals and over-hunting are the greatest threats.
TAYLOR: You know, we've gone from an area where this was an animal that was feeding, you know, centuries of different generations of folks in this region through hunting, to one that people haven't seen in this region in decades.
MARRITZ: The money raised from selling hunting permits is supposed to support conservation. But it's not at all clear that's what's happening in Mongolia.
When he learned Donald Trump Jr. was hunting argali in a nearby valley, Taylor's first feeling was surprise.
TAYLOR: But the next feeling that — that I felt, I guess, um, was pretty deep concern. You know, I — I'm a hunter. I — I teach hunter education. I go to Montana every year and hunt deer, um, sometimes elk, and I have nothing ethically against hunting. Um, I also research it, right? It's really important in my life. But I think it needs to be done in balance, right? And I have an issue with, um, the way that this seems to have played out.
[PENSIVE MUSIC]
TAYLOR: The beautiful big game animals of the Mongolian Altai, um — they have a history that goes back, um, you know, centuries and millennia, and they are one of the most iconic and beautiful natural resources that our world has to offer. And they're under a lot of strain right now, in the twenty-first century. And each individual animal has an incredible amount of value.
MARRITZ: The killing of even one argali sheep, he says, harms the whole species.
TAYLOR: And it makes me incredibly upset to sit there and to look [SIGHS] through the remains of centuries or millennia of sustainable hunting. Right alongside an extreme example of unsustainable hunting that I don't know if Mongolia is really going to ultimately recover from. It's really upsetting. And, um, yeah. It — it really bothers me.
[MUSIC SHIFTS TO CREDITS MUSIC]
MARRITZ: Do you know something about Donald Trump Jr.'s visit to Mongolia? Like, what he discussed with the President of Mongolia, or where they met? Or what happened to the remains of the sheep Don Jr. killed? We want to hear from you! Find out how to tip us securely at our website, TrumpIncPodcast.org.
While you're there, sign up for the Trump Inc. newsletter. That way you'll never miss an episode, and you'll get lots of fun little extras from our team. This week, we'll have photos that Anand took on his trip to Bayan Olgii.
This episode was produced by Alice Wilder. The executive producer is Meg Cramer. The sound designer is Jared Paul. With additional engineering by Cayce Means and Bill Moss. The editors were Eric Umansky and Jesse Eisinger.
Special thanks to Professor William Taylor and Peter Bittner. And to Asher Pearson, for his patience.
Stephen Engelberg is the Editor-in-Chief of ProPublica, and Emily Botein is the Vice President of Original Programming at WNYC. Original music this episode by Jared Paul and Hannis Brown.
[MUSIC OUT]
Copyright © 2019 ProPublica and New York Public Radio. All rights reserved. Visit our website terms of use at www.wnyc.org for further information.
New York Public Radio transcripts are created on a rush deadline, often by contractors. This text may not be in its final form and may be updated or revised in the future. Accuracy and availability may vary. The authoritative record of New York Public Radio's programming is the audio record.