Trump, Inc, Live: From 'The Art of the Deal' to the Dossier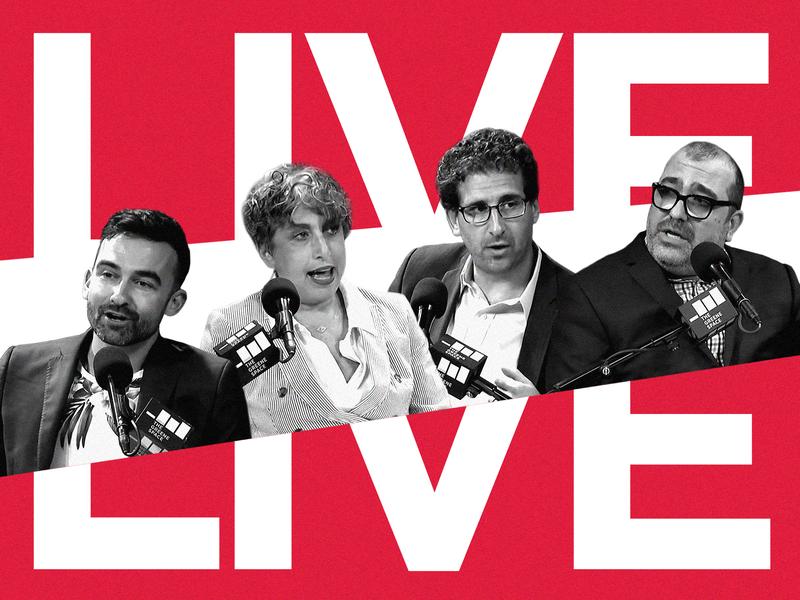 Transcript
[MUSIC PLAYS]
ANDREA BERNSTEIN: Hello, and welcome to a special episode of Trump, Inc., a podcast from WNYC and ProPublica that digs deep into the secrets of the Trump family business. I'm Andrea Bernstein. A few days ago, we held a taping at The Greene Space in New York City before a sold-out crowd.
We had a display of Trump-branded items like Success Cologne, Trump Vodka, and Trump cufflinks. There was a gold curtain, a Trump-themed cocktail — but, even more important, some really interesting conversations about Trump the businessman and Trump the president. Tony Schwartz, the coauthor with Donald Trump of The Art of the Deal talked with Ilya Marritz from WNYC and Jesse Eisinger from ProPublica about what Schwartz does and does not recognize in Donald Trump, the president. Then Eric Umansky from ProPublica and I speak with Mark Schoofs. He is the Investigations Editor at Buzzfeed, and he told us why he was the first to post the Russia dossier, what he's learned since about collusion, and whether he thinks the U.S. is drifting towards a Russian-style relationship between business and government. There was also a Trump, Inc. trivia contest. You can test your knowledge.
One note: Masha Gessen, the New Yorker staff writer and author of The Future Is History, was supposed to join us, but unfortunately she injured her jaw and couldn't speak. Don't worry, she's recuperating nicely. She did, however, email us answers to some of the questions we would have asked her. So those are coming up as well.
So, onto the show. The first voice you'll hear is WNYC's Ilya Marritz.
[THEME MUSIC FADES OUT AS APPLAUSE FADES IN]
ILYA MARRITZ: Today is day 479 of the Trump presidency. [A LONG PAUSE, SOME GROANS] I know. [LAUGHTER] It's hard to process all that we've lived through since Inauguration Day: the tweets, Russia, Stormy Daniels. To make sense of the Trump presidency, we at Trump, Inc. — we have a very particular take on things. Our guidepost is that moment in January, 2017, when Trump announced what he was going to do with his business, the Trump Organization. If you're here, you probably know that he didn't sell it. He didn't put it in a blind trust. He handed it over to his adult sons, Don Jr. and Eric.
Eric, this is where you come in, because your position, for a long time, has been, "We need to find a different way to cover this situation — this administration." Why did you think a serialized podcast where we keep saying, "We don't know! We don't know this. We don't know that." Why did you think that was a good idea? [LAUGHTER]
ERIC UMANKSY: You know, part of the story here is that there are such basic, important questions that are unanswered. And if we shine a light and focus on that very issue while trying to answer them, that itself has an aspect of public service to it.
BERNSTEIN: So one way that we tried to answer these questions is that we have been tracking a lot of the president's business partners and his associates. And one of the things that has been very striking to all of us as we've done Trump, Inc., is that just so often seem to be someone who was investigated, charged, or convicted of a crime. So we put some of the names, uh, up on a wall. [LAUGHTER] And here's an example of what that looks like.
For people that are listening to the podcast version of this, we are looking at a slide with some names. Uh, is — anybody here have any questions about any of these names? Yell one out. I'll try to explain to you their provenance.
[SOME IN THE AUDIENCE SAY "CHARLIE KUSHNER"]
BERNSTEIN: Charlie Kushner. So that's Jared Kushner's dad and he pleaded guilty in, uh, 2004, to tax evasion and witness tampering for taping his brother-in-law having sex with a prosecutor that he had set up —
UMANSKY AND OTHERS: [CORRECTING] Prostitute!
BERNSTEIN: A prostitute! [LAUGHTER]
UMANKSY: Although maybe — maybe she was moonlighting. [LAUGHTER]
BERNSTEIN: This is why Trump, Inc. sounds good, 'cause we all fact check each other. So he was — Charlie Cushner was convicted of witness tampering, for hiring a prostitute to have sex with his brother-in-law, in a motel room, which he delivered — the tape of it — to his brother-in-law's wife, AKA. his sister, before a family function. And, uh, he did this, he says, because the brother-in-law was cooperating with the prosecutor of New Jersey, whose name happened to be Chris Christie. [LAUGHS]
MARRITZ: So here's what's going to happen. Eric and Andrea will be back a little later in the show with Mark Schoofs from Buzzfeed. We are very excited to hear from him. Thanks, you guys.
Uh, first, when we were looking for guests for this live show, we asked ourselves, "Who can we talk to who really knows Donald Trump, really gets him, understands how he works, understands how he thinks? Maybe someone who's been in business with him?" So, we reached out to a man who collaborated with Trump on what is arguably his — his most enduring success. Please welcome the co-author of the bestselling 1987 book, The Art of the Deal, Tony Schwartz.
[APPLAUSE AND A MUSICAL FLOURISH]
MARRITZ: So, welcome, Tony Schwartz. Here's the book. It's a — it's a better read than it has any right to be. I really enjoyed it, actually. [LAUGHTER] Um, and I got a lot of notes here and —
TONY SCHWARTZ: When I sign it now — uh, I don't sign it anymore, but every once in a while somebody convinces me to sign it, and I write, "Don't read this book. Don't grow up to be like this man." [LAUGHTER]
JESSE EISINGER: Um, the most famous phrase from the book that — uh, at least for me was, uh, that Trump engaged in "truthful hyperbole," um, which, you know, is a kind of sort of roguish, charming phrase for puffery or, you know, bullshit. [LAUGHTER] Um, and — are we allowed to say that on the podcast? We are on the podcast, right?
MARRITZ: Oh, on podcast, you're good.
SCHWARTZ: Um, well, I no longer would call it truthful hyperbole, which, as you say, it's a — it's a ridiculous phrase, even though it was mine. [LAUGHTER]
EISINGER: Sorry to remind you!
SCHWARTZ: Um, because there is no such thing as truthful hyperbole. Um, it's a lie. I mean, what he actually does is untruthful hyperbole.
MARRITZ: You were with him pretty much every day for a year, a year and a half. Is that right?
SCHWARTZ: A year and a half, yeah.
MARRITZ: So … And you observed him up close, like, in his office, you were listening, you were there for his phone calls, there for his business meetings. I mean, you were — you were like a reality TV camera before there was one. Um, well, I want to ask you about the first chapter of the book, which is called, uh, "Dealing: A Week in the Life."
And, basically, you paint a picture of Trump as this guy who's constantly busy. He's — one minute he's buying stock in Holiday Inn and thinking about making a hostile takeover bid, then he's phoning a Senator to talk about taxes. He writes a letter to an architecture critic who — he doesn't like what the critic wrote, and you come away with this impression of this guy who's really, really busy.
And I wonder if he really was as busy as claimed. And do you recognize Trump's work habits today? And let me remind you that he has spent more than one day in five at a golf course since becoming president.
SCHWARTZ: Yeah. Uh, well, he, actually — I don't know if you'd call it "work hard," but he was on the phone all the time. That wasn't, uh — that wasn't made up. It was a — that chapter was a composite, obviously, of many weeks, squeezed down into one week of sort of the greatest hits. What I do remember about that first chapter is it begins, uh, "I don't do it for the money. I do it to do it. Deals are my art form." So those were three lies right there in the first three seconds. [LAUGHTER]
Um, you know, that was the way he evaluated himself. That was the way he assessed his own value, was how much did he have, or how much could he convince you he had. So it's very evident that he has moved to a very different work schedule. It puzzles me because, um, this is a guy who has to keep himself busy in one way or another every moment, in order not to have that black hole that is inside him, consume him.
I think what's happened — it's — it's so ironic — is that he actually is more desperate and more insecure today as President of the United States than he was in his other roles. And the reason is that he's now gotten everything that he can conceive of getting, and it still isn't doing the trick. And so what he actually is consumed by, instead of making calls or doing deals, is screaming at the TV when bad things are, you know — come on about him. And really, he's preoccupied with restoring what he thinks is his shattered sense of both self esteem and his — the impression or the sense he had of how people saw him up until he decided to run for president. Because he thought of himself as as popular a human being as you could have been.
EISINGER: This — this is an incredibly plausible portrait that you're painting, but what — what's incredible to me is that … So, in the '80s and '90s, your book is this massive bestseller. And then he has these biographies written about him. You know, he's a third-tier real estate developer, um, and a tabloid figure, but, you know, one of the premier investigative reporters of our era, Wayne Barrett, writes a biography of him. Um, there are a couple of others. Is there something that was marked for greatness about him? And, you know, I mean, greatness in the, like, the "Great War" sense of the word. [LAUGHTER]
SCHWARTZ: You know, I suspect people in this audience share with me the puzzlement over why he, uh, commands so much of our attention, even though we so desperately would prefer not to have to be thinking about him. But I do have a single explanation for why I think he's been so successful. And I think it's that he keeps coming at you with what it is he wants you to believe, even though it's usually not true and you know it's not true, over and over and over again.
And at a certain point, you say, "No mas." And for those of us who say "No mas," without saying, "I agree with you," there is still the fascination that a person who is doing and saying the things he's saying could get away with them over and over and over again. That is what captivating. And he — it is his relentlessness, I think, that actually sets them apart.
MARRITZ: Can he feel indebted to someone else? And the reason I ask, of course, is, there's the Russia investigation —
SCHWARTZ: [QUICKLY] No.
MARRITZ: — and a lot of the concerns that we've heard in this podcast. No?
SCHWARTZ: No.
EISINGER: But doesn't that necessarily undercut the notion — and maybe this is something you think about — the — the Russia investigation, which is that he feels beholden to something, or he's afraid of something coming out or, you know, he feels like he's indebted to them.
SCHWARTZ: Yeah. I mean, it's actually — I think it reinforces what I just said, which is, he is clearly preoccupied by it. But what he's preoccupied by — you never see him say, you know, "I'm afraid of this investigation," or, "I fear that I'm going to go down," or, uh, anything like that.
Uh, I think one of the reasons Trump was comfortable with me is that he thought I knew what he was doing and I — I understood it. And so there were many, many times when he either literally or metaphorically winked his eye at me, and he would say, you know — one of the things he would always say to me when he called is, "Can you believe it, Tony? Can you believe it?"
And it was always about something that he'd done that he thought made him look bigger and better, that the rest of us would have been somewhat horrified by. But he knew that he was a con man then. I mean, he thought it was amusing. He — he gave himself a lot of credit for being really good at it. That's gone. Uh, that's long gone. He doesn't think of himself as a con man. He thinks of himself as a smart guy, as a powerful guy.
MARRITZ: That's all the time we have. Tony Schwartz, it was so exciting [APPLAUSE} and interesting to meet you.
SCHWARTZ: Thank you.
[MIDROLL]
MARRITZ: [OVER APPLAUSE] So Jesse and I will be back at the end of the show. Let's have one more round of applause for Tony, and welcome back Andrea and Eric!
[APPLAUSE, THEN MUSIC, BRIEFLY]
BERNSTEIN: Hello. We're back. I want to introduce Mark Schoofs, uh, who is the Investigations and Projects Editor at Buzzfeed News. So he has won a Pulitzer Prize for his coverage of AIDS in Africa, and was part of the Wall Street Journal winning team that won a Pulitzer for their coverage of 9/11. But many of you may know him as the person who uploaded a file into his document — uh, cloud account in January of 2017. It's become known as "the dossier," uh, which I think is familiar to many of you who listen to Trump, Inc.
And since then, Mark has supervised a broad range of investigations. So he has supervised investigations of Russians, and Russian state-sponsored murders abroad. He has supervised investigations — some of the earliest ones — of Michael Cohen and, uh, also, looking at something we've also looked at a lot, which is Trump's dubious business partners in his foreign ventures. So please join me in welcoming Mark Schoofs.
[APPLAUSE, AND A MUSICAL FLOURISH]
MARK SCHOOFS: Thank you.
UMANSKY: So, I should say we, um — we used to work together.
SCHOOFS: It's true.
UMANSKY: It is true. Mark used to be an editor at ProPublica and, um, you know, I am thinking back to January 2017, where you were hanging out at our office. You seemed totally relaxed. You were laughing with us. You left, you had a bad coffee from our Keurig. And then, about an hour later, you publish the dossier. [LAUGHTER] And I —
SCHOOFS: We never discuss scoops in advance.
UMANSKY: He — it was very impressive. Yes. And we actually thought, "There's no way Mark could have known about anything, because he was just too — too chill." But —
BERNSTEIN: Some investigative reporters you are! [LAUGHTER]
UMANSKY: Yeah. Right. I could never keep a secret like that. I'll tell you that. [LAUGHTER] And I have to say, you know, looking at the dossier, I couldn't at the time quite get my head around, "What should I make of it?" And even now 16 months later — [PAUSE] or, roughly speaking — I still really can't get my head around it. You know, of — what of this sort of large set of assertions and, um, uh, you know, rumors and so forth — what had — it has added up to and what has been corroborated and not.
So what do you make of it, now that we're, you know, so far down?
SCHOOFS: Sure. Um, so. Let me just back up and say something, that I'm very proud that we published the dossier. At the time that we — [PAUSE FOR APPLAUSE] at the time that we published it, it was a quite controversial decision. Our Editor-in-Chief Ben Smith went on television and I can't remember which talking head told him that he had published fake news. And, of course, the President said —
UMANSKY: I believe that was the President, right? [LAUGHTER]
SCHOOFS: Well, the President also said that, uh —
BERNSTEIN: The President said it at the same press conference where he stood up with his lawyer with the pile of Manila folders to say that his business would be separate from the White House.
UMANSKY: The first instance we found of the President calling somebody fake news was you! Congratulations. Yes. [LAUGHTER]
SCHOOFS: And he also called us a failing pile of garbage. [LAUGHTER]
UMANSKY: Right.
SCHOOFS: Um, so, but I think today, whether you're Democrat or Republican, you're really glad that we published that. If you're a Democrat, you see it as kind of a roadmap to the Mueller investigation. And if you're a Republican, you see it as a piece of, you know, hack, partisan, um, dirt that somehow snuckered the "Deep State." So no matter which side of the political divide you're on, that document is news. It's real news. And it was important for everybody to be able to see. So I just thought I would put that out there.
I mean, if you look at the dossier, one of its central tenants is very simply that the Kremlin launched a coordinated and massive campaign to interfere in the U.S. presidential election with the goal, first and foremost, to simply destabilize the United States. And they came to believe, over the evolution of the campaign, that the best way to do that was to support Donald Trump. And both of those assertions — both of them — are in the dossier, and they're in the dossier long before they become part of this sort of accepted wisdom in the United States. Long before our intelligence community put forth the exact same analysis.
So I think that the overriding sort of corroborated fact of the dossier is the Russian interference with the goal of destabilizing the United States and — with its means to support Donald Trump over Hillary Clinton. And you see hundreds of corrobor— USA Today, just read every single Facebook ad that the Russians — all 3,500 of them — and found that they were geared toward exacerbating racial tensions in the United States, to destabilize our democracy. So that's number one.
And then I think there are a few other things. Um, a mere 11 days after the Trump Tower meeting, which virtually no one knew about at that time, the dossier says that, uh, the Kremlin was feeding valuable intelligence to the Trump campaign about Hillary Clinton. Whether they were referring to that meeting, I don't know.
UMANSKY: This is the meeting with Don Jr. in the Trump Tower.
SCHOOFS: Correct. In — in Trump Tower. And, of course, the dossier talks about Manafort hiding money and, uh, you know, receiving ill-gotten gains from Ukraine. You could argue that that is, uh —
BERNSTEIN: Someone who has pleaded guilty to the fact that that happened: Rick Gates, the deputy campaign manager.
SCHOOFS: Yeah. And, you know, so I think that those give you some sense, but to me, the major one is that there was interference in the United States election.
UMANSKY: So, this is a question that we asked Masha, who has her own particular perspective on it. Let me read the question that we asked and then I'll — I'll read her response, um, from text.
BERNSTEIN: And, by the way, I should say, Masha Gessen is, of course, the National Book Award-winning author of The Future Is History and The Man Without a Face, which is a book about Vladimir Putin, and is a staff writer for the New Yorker and writes about three articles a week and puts us all to shame. [LAUGHTER]
UMANSKY: Right. Is also Russian American, and has lived for decades and in — in Russia and has a — a deep knowledge of that country.
So. In the wake of the 2016 elections — this is our question to her, by the way — in the wake of the 2016 elections, you argued that Americans, in focusing on the Russian role in the elections, deny their own responsibility for creating and enabling Trump. Has what we've learned from the Mueller investigation — and the dossier — about interference in the 2016 elections changed your views at all? Why and why not?
This is her response. "A little bit. I find the possibility of collusion a bit more believable than I did at first. There's certainly a lot there, but my main two points stand. One, Americans elected Trump. We need to face this, no matter what Mueller finds. The Trump presidency is not a Russian creation. And two, I am very uncomfortable with a lot of the un-nuanced and reactive ways that this has all been covered." Mark, did you want to add to that?
SCHOOFS: I actually agree a lot with her contention that Donald Trump is not a Russian phenomenon. Donald Trump is as American a phenomenon as you could possibly ever dream of, you know, and we will never know the exact role that Russian interference played in swaying votes. I just don't think that's an answerable question. But the fact that Donald Trump is president — and even if he had lost, the fact that he could get so close — is very clearly because he tapped into something. And one of the things he tapped into was a very legitimate anger.
If you are middle class, lower-middle class, or poor in this country, as you have watched people through automation in many other ways, take jobs and then, while the people in Silicon Valley are getting massively wealthy, and where the elites are just simply not in any way addressing the things that are happening in your backyard, you better believe that that there's a lot of anger that's going to manifest itself somehow. And it manifested itself with the election of Donald Trump.
BERNSTEIN: So, Mark, one of the things that I think stuck with a lot of people about the dossier was, of course, the pee tape, but what we are very interested is some of the other stuff, which was about the sort of — what they were hints of, of money flowing through the Trump Organization or through Trump associates. 18 months later, what do you think we understand now about Trump and the — his business with the Russians that we didn't understand before, and what are we to make of that?
SCHOOFS: Well, so I don't actually think that we know a — a lot about his actual business empire in Russia. We know he tried to launch Trump Tower in Moscow and that that did not pan out.
We also know that there were many, uh, people from Russia or the former Soviet bloc who purchased condominiums or what have you in Trump buildings. And, you know, all of that is, has been well-documented. But if you're asking me whether we have found that Vladimir Putin has financial kompromat on Donald Trump, obviously, the answer is, "No, we have not found that."
BERNSTEIN: Um, Okay. So, one of the things that we had asked Masha Gessen — based on the fact that she'd covered business under Putin — was how — how business works in Russia. And I'm going to read what she wrote.
She wrote, "The Russian poet Lev Rubinstein once remarked that Russia has built capitalism exactly as Soviet newspapers used to portray it as existing in the West. By this he meant cutthroat, exploitive, unregulated, and corrupt. I think this is very insightful. Although, of course, you can't actually have corruption without regulation. You need rules to break in a corrupt way. So business in Russia is at once over-regulated and unbounded. To describe big business — really big business — it's most useful to think of things as a mafia clan with Putin at the center. He distributes both money and power and he can take it away."
So the question that I was really concerned — am concerned about, and am still preoccupied, is this different or similar to how things are working under Trump? And what Masha said is, "Well, I think it's important when you look at Trump that it is a clan with a patriarch in the — in the middle. The patriarch distributes money and power, and they become so intermingled as to be pretty much indistinguishable. One equals the other. There is no shame in this because shame is foreign to the mafia state. The only value that remains in the mafia state is the value of loyalty."
So, we've been having this conversation a little bit, um, about where, you know — sort of where we are in the scale, are we approaching what is happening in Russia? Are we no where near there? And I'm wondering, based on what we know, what we've uncovered — what is your assessment of where we are now in this country?
SCHOOFS: We are nowhere near what Russia is today. And I just think everybody should just take a deep breath. [LAUGHTER] Okay? If you are in Russia and you politically cross Vladimir Putin, you end up in jail, like, you know, Khodorkovsky. If you are opposing Donald Trump as Jeff Bezos, you still publish the Washington Post every single day.
So, yes, you can say that Trump is a patriarch in the center of a large organization, and you can note, as James Comey did, that he demands loyalty, and you can make all of those same analogies that various people have made to Donald Trump. But America is not Russia. [PAUSE] It's absolutely true. Our democracy might die. It might die soon. It might die many presidents, you know, in the future, but it's not dead yet. We have an incredibly wealthy country with many different centers of power: both, you know, financial — I think one of the things that's exactly the same with Trump as it has been for so long with our government is that wealthy corporations go and they buy influence.
You know, what Novartis did with Michael Cohen is exactly what Novartis did with every other president, except they didn't know who to go to, because this guy came out of nowhere. He didn't come up through the party ranks. So you knew that if you wanted to get this Republican president, you just tapped on that lobbyist's shoulder. They were scared. "Who are we going to go to?" And there's Michael Cohen raising his hand and say, [IN A MOCK EXCITED VOICE] "I know Donald! I'll help you out. Come here!" So that's what AT&T did, and that's what Novartis did. And that's exactly what American companies have been doing since time immemorial, which is lobbying, and actually controlling the discourse.
BERNSTEIN: But what about the — the threats to investigate Amazon, and all the attacks on the Judiciary, and his tweets about Time Warner and CNN? Those are things that are unusual that we have not seen presidents do prior to this.
SCHOOFS: Not in my lifetime. Look, all of those things are serious. I think that we have a president who has demonstrably said things that are not factually true, and, unlike most other presidents, when it is proven that they are not factually true, he just repeats the same untrue statement. And I think that it is also true that he has made these threats to go after businesses. And if those are enacted — if you see the president punishing a company for its statements, or its, you know, its founder's belief, or its CEO's tweets, or whatever might happen — that's a really serious thing. But that's not what we have seen. And in fact, the Judiciary has been quite independent.
BERNSTEIN: I think that that is all we have time for. So Mark, thank you so much. I learned so much! [APPLAUSE]
[MUSIC PLAYS]
BERNSTEIN: We're gonna bring back Ilya and Jesse. We have one more piece of business. There's more.
MARRITZ: Hey! Yes, there is. Um, we are back, and there's one last piece of business before we call this an evening. We're going to pick a winner from our Trump, Inc. trivia competition. How many of you participated? I hope you all did. Okay. That's a lot of people. Good. I want — I want a good competition here. Um, let's review some of the questions. I can tell you that only two people in the audience got all of the questions right.
BERNSTEIN: Woo-hoo! Yay!
MARRITZ: So I think it's a good time to review. [BERNSTEIN LAUGHS] Uh, let's have a look. Can we get that on the screen? The, uh — so, question number one: "The Trump Organization has partnered with developers M3M for projects in India. What does M3M stand for?" Andrea, do you remember?
BERNSTEIN: The answer is Magnificence in the Trinity of Men, Materials, and Money.
MARRITZ: True story. Alright. Question number two: "The largest contractor for the Trump inauguration was connected to the first family. How?" All of these answers are real Trump family connections in real jobs. Which one is correct?
BERNSTEIN: I'm going to tell you who it's not. It's not Eric Trump's former wedding planner, who runs HUD in New York. It's not Donald Trump's former caddy, who is his Social Media Director. It's not Ivanka Trump's former public relations advisor, who is hope Hicks. It is Melania Trump's friend.
MARRITZ: Stephanie Winston Wolkoff is her name.
AUDIENCE MEMBER: $26 million contract.
MARRITZ: That's right. $26 million contract. Uh, next question. [STUTTERING] These are so many words, I can't read them all. "One of the following was not real, which one? There are four somewhat preposterous scenarios, uh, but only one of them is so preposterous that it didn't happen."
BERNSTEIN: Okay, so this did happen. It did happen that, at a campaign event for Donald Trump, an Indian Michael Jackson warmed up for a crowd for a sketch about couples getting attacked by jihadists wielding green laser guns before the U.S. Navy seals came and rescued them and they all sang "Born in the USA."
AUDIENCE MEMBER: That's real.
MARRITZ: That's real.
BERNSTEIN: That happened. And there was a Russian-American film company that made a movie in the 1990s about a Trump Taj Mahal-like casino run by the KGB that featured dancers wearing hammer-and-sickle undergarments. But what did not happen? Donald Jr. did not host a sales event at the Trump Tower Baku with a hundred guests for a screening of the movie, The Godfather, introduced by Rudy Giuliani. That did not happen.
MARRITZ: Fake news. [LAUGHTER]
AUDIENCE MEMBER: That we know of!
MARRITZ: Alright. Question number four: "Which of the following was not a Michael Cohen business." This is very much in the news. So I hope a lot of you got this right.
BERNSTEIN: "C". He did not produce Chooch. Do you know who produced Chooch? Elliott Broidy. [LAUGHTER] Elliott Broidy has been in the news recently because he was the third Michael Cohen client who paid $1.6 million in hush money to a former Playboy playmate who said he had impregnated her. Also, he was the Vice Chairman of the RNC. [LAUGHTER]
MARRITZ: Final question: "The Center for Responsive Politics reports that two dark money groups, which did not disclose their donors, each gave a million dollars to Trump's inauguration. Just one of these names is correct. Which one gave money to Trump's inauguration?"
BERNSTEIN: Anyone? BH Group gave it, not ABIM Partners, which is —
MARRITZ: That's our LLC.
BERNSTEIN: That's Andre— me and Ilya's LLC. [LAUGHTER]
MARRITZ: And we are — we are taking donations. [MORE LAUGHTER]
BERNSTEIN: Secret ones.
MARRITZ: Um, so, uh, we have two people got the question right in this audience. We're going to do a drawing now. And the winner — I should say — the winner is going to get a 2004 edition of Trump: the Game. [LAUGHTER] It is a board game from Parker Brothers. The tagline is, "I'm back, and you're fired." [LAUGHTER] We've never opened it. It is fresh from eBay. You can see my home address crossed off the packaging. [LAUGHTER] I'm going to pick a winner right now. Shuffle that around real good. Okay. [THE SOUNDS OF SOMEONE PICKING A NAME] The winner is Deca McDonny. Do we have a Deca McDonny here? [LAUGHTER AND APPLAUSE]
MARRITZ: Did I say that right? How do you say it? Dekah Muldowney. Sorry. Dekah Muldowney, our winner. Thank you so much. I hope you have room under your bed.
BERNSTEIN: Thank you for listening so carefully to Trump, Inc. You definitely win a big prize.
[CREDITS MUSIC IN]
BERNSTEIN: So I want to thank, again, Tony Schwartz and Mark Schoofs for joining us this evening. And, before we conclude, I want to acknowledge some of the contributors to Trump, Inc.: Adam Davidson of the New Yorker. You can cheer! [APPLAUSE AND CHEERING] Justin Elliot, from ProPublica. [APPLAUSE AND CHEERING] Anjali Kamat of the Investigative Fund. Esther Kaplan of the Investigative Fund. [APPLAUSE AND CHEERING] Katherine Sullivan, from ProPublica. [APPLAUSE AND CHEERING] Heather Vogell from ProPublica. [APPLAUSE AND CHEERING] Derek Kravitz from ProPublica. And Dick Tofel, the President and CEO of ProPublica.
And a very, very, very big hand to Jennifer Sandro and The Greene Space team who put up this gold curtain and designed our orange-colored cocktails for this evening.
Trump, Inc. is produced by Meg Cramer. [APPLAUSE AND CHEERING] The associate producer is Alice Wilder. [APPLAUSE AND CHEERING] The engineers are Bill Moss and Wayne Schulmeister. [APPLAUSE AND CHEERING]
The editors are Charlie Herman, [APPLAUSE AND CHEERING] Eric Umansky, Nick Varchaver, and Robin Fields. Terry Parris, Jr. is ProPublica's Editor for Engagement. Jim Schachter is the Vice President for News at WNYC, and Steve Engelberg is the Editor-in-Chief at ProPublica. The original music — including new music heard here for the first time — is by Hannis Brown. [APPLAUSE AND CHEERING]
And thank you for being an incredible audience! Goodnight, and subscribe to Trump, Inc. Keep an eye on your podcast feed. We'll have more for you. [APPLAUSE AND CHEERING]
[MUSIC OUT]
Copyright © 2018 ProPublica and New York Public Radio. All rights reserved. Visit our website terms of use at www.wnyc.org for further information.
New York Public Radio transcripts are created on a rush deadline, often by contractors. This text may not be in its final form and may be updated or revised in the future. Accuracy and availability may vary. The authoritative record of New York Public Radio's programming is the audio record.