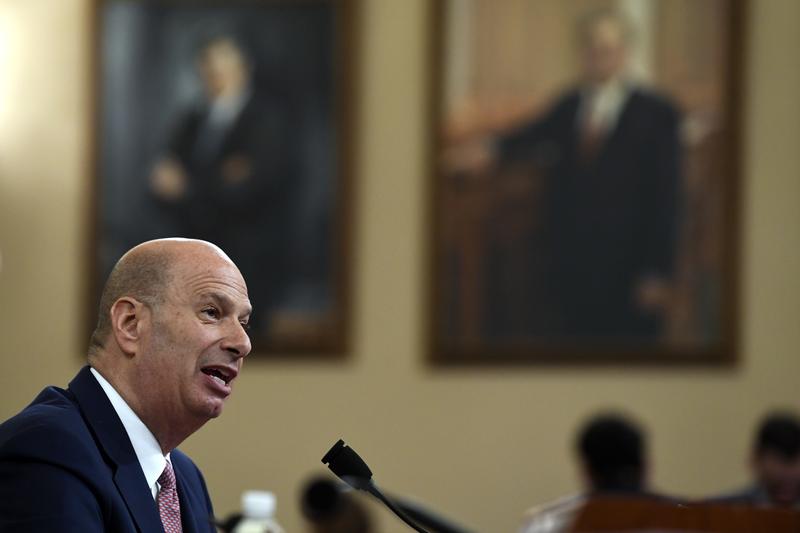 Transcript
MARRITZ: Hi. It's Ilya Marritz from Trump, Inc. And we're bringing you today an unscheduled episode I think you're really going to want to hear.
[QUICK MUSICAL FLOURISH]
SONDLAND: Unfortunately, President Trump was skeptical. He expressed concerns that the Ukrainian government was not serious about reform, and he even mentioned that Ukraine tried to take him down in the last election.
MARRITZ: Gordon Sondland: America's ambassador to the European Union, a Trump donor and Trump appointee, and a key witness in the impeachment inquiry.
SONDLAND: In response to our persistent efforts in that meeting to change his views, President Trump directed us to, quote, "talk with Rudy." We understood that "talk with Rudy" meant talk with Mr. Rudy Giuliani, the President's personal lawyer.
[ESOTERIC MUSIC PLAYS]
MARRITZ: In his first, closed-door testimony, Sondland said, again and again, he could not recall key details of his Ukraine diplomacy. Then he spoke publicly.
SONDLAND: I know that members of this Committee have frequently framed these complicated issues in the form of a simple question: "Was there a 'quid pro quo?'" As I testified previously, with regard to the requested White House call and White House meeting, the answer is yes.
MARRITZ: Sondland is a successful Oregon hotelier who gave a million dollars to Trump's inaugural committee. His colleagues in government have described him as an unconventional diplomat. Someone who might give your phone number to a foreign official without asking. Someone who bragged he could call the President. Someone who did call the President from his unsecured cell phone.
Recently, we at Trump Inc. learned some new information about Gordon Sondland, and we're going to share it with you now. Our colleagues at ProPublica, working with the Portland Monthly, have turned up a number of allegations of sexual misconduct or harassment by Gordon Sondland.
In this episode, we're bringing you the stories of three women, who gave us their names and discussed their experiences at length. They describe a pattern of behavior in which Sondland tried to kiss them, or did kiss them, in the context of a business meeting. All three women rebuffed him. And all three say, after that, Sondland retaliated.
Here's one of the women we'll be talking to, Nicole Vogel:
VOGEL: I did not know he was the ambassador to the E.U. until I was sitting in a tapas bar in Barcelona, Spain, and I got a news alert on my watch, "Gordon Sondland set to testify in impeachment inquiry," and I almost dropped my drink.
MARRITZ: You'll hear more from her shortly.
Sondland denies the allegations. Here is part of his statement: "These untrue claims of unwanted touching and kissing are concocted and, I believe, coordinated for political purposes. They have no basis in fact, and I categorically deny them."
Today's story is the result of a collaboration. Fiona McCann and Kelly Clarke at Portland Monthly and Maryam Jameel and Doris Burke from ProPublica all contributed. Our guide is Portland Monthly's news editor, Julia Silverman.
[SPARSE PERCUSSIVE MUSIC PLAYS]
MARRITZ: Can you fill me in on who is Gordon Sondland in the city of Portland? What does he mean in the city of Portland?
SILVERMAN: Well, he's an important business owner, a philanthropist, and political donor. His company, Provenance Hotels, owns five hotels and manages another. And included in that number are, you know, sort of like grand dame, old-school hotels that they have restored and a couple of snazzy new boutique options. He's well-known as a philanthropist, having chaired the Portland Art Museum's board and Oregon Health and Sciences University. He sat on boards and he's chaired the Oregon Film Commission, which tries to get location scouts from Hollywood films to film here instead of, say, in Vancouver, B.C.
And he's also a political donor on the short list of people who can be counted upon to contribute to political candidates, be they Democrat or Republican. Because if you're a businessman and a pragmatist here in Portland, you have to give to both sides.
MARRITZ: And is he seen around town as well? I mean, when you — when you are a patron of those kinds of arts organizations, I think you tend to go to a lot of galas and things like that, right?
SILVERMAN: Yes. He's somebody whose name comes up on the — you know, in the party pages, such as they are.
And, like, for example, I was just at the Portland Art Museum with my kids for the Portland Book Festival, and we walked out of the elevator and onto the Gordon Sondland and Katie Durant staircase, you know? Like, their name is literally on the staircase when you come into the Portland Art Museum.
MARRITZ: Katy Durant is Sondland's wife.
One note — the first story you'll hear from is from Nicole Vogel. She's the owner of Portland Monthly, the co-publisher of this story. Vogel neither sought to have her story published, nor did she try to stop it. The magazine's editorial team decided to partner with ProPublica to report her story independently.
In 2003, Vogel was a newcomer in Portland. 34 years old. Looking to start a magazine.
SILVERMAN: And Portland, at the time — and you know, still is — was a city that was really interested in food and design and culture. And she thought that it was a place that, uh, that deserved a magazine that would match the city's aesthetic. So she didn't really know that many people in town, but she's definitely a connector and a networker.
And one of the earliest people that she went to was Gordon Sondland. And he was pretty helpful to her in those early days.
She was looking for both investors in the magazine, and people who might want to advertise in the first issue, and she had approached him to ask him to invest in the magazine and he invited her to dinner at a place called El Gaucho, which is a hotel restaurant — but not one of his hotels — it's kind of a clubby, old-school steak house — to discuss her business plan and putting up some of his own money.
MARRITZ: Nicole Vogel tells her own story, from here.
VOGEL: You know, we had full mockups of the magazine, uh, and I had, you know, full projections of financials, and I showed him all of those.
And he seemed to be very interested. And, in fact, he said to me that he was interested in investing in the company, but that he was more interested in investing in me, because he felt as if Portland didn't keep people of high ambition and talent. And that he was very interested in helping Portland by helping people like me stay in Portland.
MARRITZ: An endorsement from Sondland could make Vogel's magazine more than a dream.
VOGEL: And so I was enthusiastic. "Wow, you know, this might happen! Uh, this is exciting! Um, and I finally have a champion."
And so at the end of the dinner, he says to me, "Have you seen my art collection at the hotel Lucia?", which is basically across the street from El Gaucho.
And I said, "I've heard of it, but no, I've not seen it." And he said, "Great, I'd love to show it to you. Let's walk over there." And so that's what we did.
MARRITZ: Vogel says he introduced her to the lobby staff, showed her the artwork.
VOGEL: And you know, "Wow, it's beautiful. Wow, that's interesting."
MARRITZ: They walked up to the hotel's front desk.
VOGEL: And he says, "I'd like to show her a room." And I — I will tell you that my breath kind of caught in my lungs, but I thought, you know, "I don't want to offend him — and wow, he's just introduced me to everybody in the lobby! He wouldn't be doing that! He's a married man."
I will say the first thing that made me pause just mentally was that it wasn't — it wasn't like it was their grand suite or something, you know, like, "Wow, I really want to show you this incredible room."
It was just kind of a small room. Um, and I quickly looked around and said, "Wow, this is really beautiful. It's great. It's wonderful." Um, and I turned around to go for the door and I — I have the door handle in my hand and it's probably open, in my mind, about 18 inches. And he says, "Oh, don't go yet."
Um, and I remember seeing my hand drop the door handle, and I am, uh — my heart is still racing thinking about it now. I turned around and, um, he's — he's tall, right? Um, I'm 5'10", but I would guess he's between 6'2" and 6'4". And he's standing right behind me and he says, "Can I just have a hug first?"
Um, and so I give him what I described as my "best girlfriend hug," which is patting somebody on the back, 'cause you're sort of lightly hugging him. And as I pulled back, he grabs my face and goes to kiss me. And I kind of wrench my head left, which had him just to the left of my lips, um — kissed my lip, this — the side of my lips.
Um, and now my heart is racing, and I'm trying to think of something that will salvage his ego and get me out of there safely.
And so the only thing I could think of to do both of those things was to say, "Oh, Gordon, you're a married man, and you'd just break my heart." And I whip around, open the door and leave.
[A LONG SILENCE]
VOGEL: I mean, I think the thing that always — um, uh, that I think, in particular, men don't understand — especially good men — is that by the time you're a teenager, as a woman, you pretty much understand that, um, any man of any size can actually hold you down because of your physical stature. And so you sort of go into that terror mode of, "Oh my God," um, "if someone wants to do something terrible, they can." Now, uh, Gordon did nothing terrible to me in terms of — I mean, he did nothing else physical than I described.
But you're sort of in that mode of, "Oh my goodness, um, I'm at a distinct disadvantage."
MARRITZ: Vogel recalls saying goodbye to all the people she'd just met in the lobby, loudly, so they would know she had only spent a few minutes upstairs with Sondland.
VOGEL: Well, uh, I actually went to my car and I started to cry. Um, and I thought to myself that, um — so I was co-founding the publication with my brother, um, and I thought that he would be so angry about the whole thing that he would not want to do it anymore.
And I also worried that if I told anyone in Portland, uh, that Gordon would find a way to make sure we never produced our first magazine.
MARRITZ: Vogel says she thought about what had happened, and she decided to contact Sondland again anyway.
VOGEL: So Gordon had said that night that he was going to invest. And, honestly, I figured I was going to hold him to that. And so I thought in my mind a couple things: uh, one, maybe he just did something stupid that he regrets. Let's hope so. Um, and two, he's relegated to lunch. [LAUGHS] And so I, uh, emailed with him, 'Thank you for dinner last night. I look forward to talking more about the investment …'"
MARRITZ: They emailed some more. Sondland requested a financial analysis. At one point, he wrote, "Sorry I was such a dud." They made plans to meet for lunch. They both worked in the same hip neighborhood.
VOGEL: So I'm thinking, "He's walking by and we're going to walk somewhere." Um, and I opened the front door to our offices, and he's sitting in a vintage convertible and says, "Hop in." And I kind of can't believe it. Why would we be getting in a car when we're in the neighborhood that has so many great restaurants?
MARRITZ: Sondland had other plans. He drove them across state lines, to a restaurant in Vancouver, Washington, overlooking the Columbia River.
VOGEL: At that lunch, he kind of says the same thing again. You know, I'm interested in your company, but I'm interested in investing in people like you to stay in Portland. And that's great. Wonderful. On the way back, uh, we get stuck in traffic and he takes a side route and, um, as we pull off, he puts his hand on my bare leg and I immediately put my hand on top of it, preemptively, to make sure his hand doesn't move. Um, and just — it's just sitting there and sitting there and we finally get back to the office and I jump out of the car and say goodbye.
MARRITZ: So his hand was on your leg for minutes.
VOGEL: Yeah, I would say probably 10 or more minutes.
MARRITZ: And what part of your leg, if I may ask?
VOGEL: My, um — my mid-thigh.
MARRITZ: And your — your hand is on top of his, basically saying, "Go no further"?
VOGEL: Right. And the — neither of the hands are moving.
MARRITZ: And you're not talking?
VOGEL: We're not talking.
MARRITZ: And he's driving the car —
VOGEL: Yeah.
MARRITZ: — and he's physically [A LONG PAUSE] imposing.
VOGEL: Yeah.
MARRITZ: And also somebody who has committed a substantial amount of money to backing your venture.
VOGEL: Yeah.
MARRITZ: A few weeks passed.
VOGEL: So now, um, it's actually pretty close, um, to the time when we're closing the round of financing. And so I — I don't know if you know how that works, but you sort of put a number out there that you're going to raise by a certain date, and so everybody sends in their paperwork and sends in their checks.
And if, on that day, you haven't raised the amount of money that you say it will take to start the company, you have to send all that money back. We were coming to that date. That was June 13th, and then I walk into my office on June 10th and there's an email from him, and so what he said is — at the time, I was raising $300,000 with a minimum investment of $25,000 — and he said, "I'll give you $10,000 if you can raise $400,000."
Which, to me, he knew that there was no way in three days I could come up with another hundred thousand, and it was $10,000, which was not even an allowable investment. So, to me, it was clear that it was him backing out and having some obscure paper trail around the idea of it being, um, above-board.
MARRITZ: Did you take this as retribution, basically, for not going along with him?
VOGEL: Yeah. I think I'd characterize it as retribution, you know — "See if you can do this without me."
MARRITZ: Uh, you did do it without him.
VOGEL: I did.
MARRITZ: Like, not only did you get the financing, but you made a success of the business.
VOGEL: I did. We did.
[A LONG PAUSE]
MARRITZ: Sixteen years later, Nicole Vogel now has magazines in six states.
Sondland's lawyer disputes that the decision to not invest with Vogel was motivated by anything other than business.
In response to Vogel's account of their interactions, Sondland's lawyer pointed out that Vogel owns Portland Monthly. Quote, "She and her publication stand to benefit directly from publishing these allegations, and Ms. Vogel's delay in bringing these forward — even as Ambassador Sondland was undergoing public scrutiny by Congress as part of his confirmation in 2Q18 — casts grave doubt on her credibility." Sondland's attorney added that Vogel is, quote, "a close associate of Representative Earl Blumenauer, who has maligned Ambassador Sondland and threatened his company." The lawyer noted that this is the subject of a Congressional Ethics Complaint. Vogel says she has no relationship with the Democratic Congressman.
[A BEAT OF SILENCE]
MARRITZ: The next story Portland Monthly and ProPublica uncovered is from an Oregon native named Natalie Sept who came home to Portland in 2008, shortly after finishing college. Sept didn't want to go on tape, but she spoke with Portland Monthly news editor Julia Silverman.
SILVERMAN: So Natalie Sept, she's from a pretty successful, well-connected family. She wanted to be an artist, but in her family, that — as she describes it — that didn't really cut it. So instead, through family connections, she got into politics.
MARRITZ: She got a job managing a city councilman's re-election campaign. And not long after he won, she and the councilman went to breakfast. The councilman spotted one of his donors across the room. It was Gordon Sondland.
SILVERMAN: And Fish introduced Natalie and said, uh, "This is Natalie. She's a rising star."
MARRITZ: In Sondland, Sept saw someone who could help her figure out her next career move. Some time later, they met for dinner — at El Gaucho. Sept was interested in a job with the Oregon Governor's Office of TV and Film, where Sondland had connections.
Sept described what happened next. She said Sondland suggested a drink down the street at a place called Saucebox. She said okay. They went over. And when she came back from visiting the bathroom, Sondland beckoned her to sit next to him, in a booth.
SILVERMAN: She just realized something — something's not right here. And so she made an excuse and she said, "Oh, I forgot. I have to get up early in the morning. I have to go home now."
MARRITZ: Sondland got the bill. He insisted on walking Sept to her car.
SILVERMAN: She tried to be demure, and he was like, "Nope, I'm going to walk you to your car," according to Sept. And they get to her car. And, um, just — just like what happened with Nicole Vogel, uh, he asked for a hug and, you know, they had had some quick physical contact before, just, like, a side hug or something.
So, she says she gave him a quick hug. And he held onto her shoulders and looked her in the eye and kind of pushed into her and tried to kiss her. And Natalie Sept, just, you know, lunged away and did kind of a quick defensive move and got into her car and sped off, leaving him kind of standing on the sidewalk by himself — in her telling.
MARRITZ: Sept says she emailed Sondland the next day, on behalf of the city councilman. She wanted to keep it professional.
SILVERMAN: She doesn't recall ever getting an email back and she never heard another word about the state Film Commission job.
MARRITZ: In response to Sept's account, Sondland's lawyer wrote, quote, "Ambassador Sondland did discuss Ms. Sept's job prospects with her, but he denies any unwanted touching. He specifically denies attempting to kiss her, along with her claim that she pushed him away."
Sept went on to work for Democratic politicians, and on Hillary Clinton's 2016 campaign.
[LIGHT MUSIC PLAYS]
MARRITZ: One more woman was willing to share her story, in detail. Her name is Jana Solis, and she recalls three in-person encounters with Sondland. A note — at the time this happened, she went by Janice Schnabel. Also, she met Sondland in 2008, though initially she recalled meeting him several years earlier.
Portland Monthly's Julia Silverman says Solis is a hospitality safety engineer by training.
SILVERMAN: Her job was to create risk management plans and evaluate the safety of restaurants and hotels. Um, she also was sometimes responsible for pitching clients on signing with the company, and that is how she got, uh, in touch with Gordon Sondland. There was a lead for her firm that Sondland's expanding hotel empire was looking for a new insurance firm.
MARRITZ: Solis said she got lunch with Sondland and that he was very flirtatious. At the end, Solis recalled, Sondland's words were, "Congratulations, you're hired. You're my new hotel chick." Solis described this in a phone interview with Portland Monthly.
SOLIS: [ON THE PHONE] But as we got up from the restaurant, as we were leaving, he, you know, sort of, you know, slapped me on the ass and said, you know, "I look forward to working with you."
SILVERMAN: Uh, she met him again not too long after that — um, when he had requested that she visit his homes so that she could evaluate his personal art collection. Um, and according to Solis, he asked her to see the extended collection, um, in his pool house. And when she met him there, she excused herself to go to the bathroom. And also, frankly, to make sure that she knew how she could find a way out if it was necessary. And she got out to the pool house and, um, she says he was naked from the waist down, and, she said to him, uh, "I can't have that conversation with you." And she remembers that she apologized and said she was sorry if she'd given the wrong impression. And he, according to her, pulled his pants up and said, "Well, I just thought we could have fun, but that's okay."
MARRITZ: Before dropping her off downtown, Solis says Sondland requested a hug. That was the second encounter.
And the third was, um, at his, uh, penthouse apartment at the Hotel Roosevelt in Seattle, which is now called the Hotel Theodore. Um, she had been there for, uh — for about a week, I believe, doing some inspections. And he said to her on the very last day, "I — I need you to come and see the penthouse," which she didn't realize was his private living quarters. When she got up there, he said, "Well, come and have a drink," you know, "Thanks for all you've done this week." And, and they were sitting together on the couch, and —
SOLIS: [ON THE PHONE] And next thing I know, he's all over me. I set my wine down and I'm trying to wiggle away from him, and the next thing you know, I'm sort of rising up to get away from him, and fall over the back of the couch. And at that point, I mean, he's on the couch, I'm behind the couch, and I'm like, "Gordon, I'm not sure what else to say. You know, I really, really want to do business with you, but I'm not sure we can do that. You know, I — I've never said anything because, you know, I don't know what's happening with you. I don't know what your issues are, but I'm telling you, they — I cannot make them mine."
MARRITZ: Solis says she made her excuses and left. A few days later, she recalls, Sondland called her on the phone, and screamed at her so loudly a colleague noticed and came to check on her.
The experience with Sondland affected Solis for years afterwards.
SILVERMAN: She also told us, um, later on that it has continued to affect her, her career, even though she no longer works for that same firm. She says that when she, um, is doing business with someone in the Portland area, she will always check and see, do they have any affiliation with Gordon Sondland? And if they do, then that's something that she does not like to be involved with.
SOLIS: [ON THE PHONE] I just can't risk his name coming up. He is absolutely poison. That's who he is.
MARRITZ: Sondland's lawyer rejected Solis' account. Quote, "Ambassador Sondland denies slapping Ms. Solis on the rear end. Ambassador Sondland also denies exposing himself to her or forcibly kissing her." Sondland's lawyers provided an email from a colleague that said the colleague had been referred to Sondland's company by Solis.
The Portland Monthly and ProPublica reporters checked all three women's accounts with people they told at the time. Solis' ex-husband said she was visibly upset when she got home from that Seattle business trip. She told him about Sondland's attempt to kiss on the couch, and the earlier incident in the pool house.
A friend of Natalie Sept said Sept told her about her experience with Gordon Sondland, not long after it happened.
Nicole Vogel's sister, and a friend, both confirmed she told them at the time about Sondland's attempt to get a kiss in the hotel room.
MARRITZ: Are people in Portland afraid to talk about Gordon Sondland?
SILVERMAN: Yes, absolutely. Particularly those who work in the real estate industry. We have found a lot of reluctance from people to say too much about his business dealings, um, because his influence is so great around town.
[A MOMENT]
MARRITZ: When a President nominates someone to be an ambassador, that sets two investigations in motion: a background check, to be shared with the Senators who must vote on whether to confirm the nominee, and a security clearance process, if they get the job.
I talked with a number of DC lawyers about this. They told me it isn't a morality test. What the government wants to know is whether the new ambassador is trustworthy — whether they have a problem, like gambling or drugs, that could be exploited by a foreign power.
Investigators go out, they interview neighbors, and former employees.
The women who spoke with us said they were not contacted as part of this process.
[MUSIC PLAYS FOR A BEAT]
MARRITZ: Before publication, Sondland's lawyer said this in a letter to ProPublica and Portland Monthly: "This is a shameful attempt to exploit what is going on in Washington, DC. Indeed, given the timing of your intended story, a reasonable conclusion to be drawn is that you are attempting to affect Ambassador Sondland's credibility as a fact witness in the pending impeachment inquiry. Given the politically charged climate in which current events are unfolding, some might consider this to be veiled witness tampering."
The letter goes on:
"Notably, what each of these three women share in common is that they pursued Ambassador Sondland for financial and personal gain — an investment, a job, and insurance brokerage work — and he declined their proposals." End quote.
Nicole Vogel says she cannot imagine a financial benefit to telling her story. It just feels like the right thing to do.
VOGEL: The morning of the inquiry — I believe it's the morning of the inquiry — when he was set to testify, I was driving my car. I just dropped off my daughter at school and an NPR story came on where they asked, "We wanted to find out who Gordon Sondland is." And in that — what I remember to be a pretty long segment for NPR —
NPR: [FROM AN ON-AIR BROADCAST] Would you describe him as someone who has a strong moral compass or a clear code of ethics?
VOGEL: — they asked the person what his moral character was —
GUEST: [FROM THE ON-AIR BROADCAST] Uh, you know what, I've been thinking about that, and I'm not sure I'm — I'm able to kind of answer that.
VOGEL: — and I burst into tears. Um, it still makes me emotional because I thought, "I know what his moral character is," and, you know, I kind of wanted to yell at the top of my lungs. It was important — in this inquiry, I have nothing to say about what he did or didn't do. I know nothing about that. But if people are asking what his moral character is, I have one more piece of evidence for them.
[QUIET FOR A LONG PAUSE, THEN SOLEMN CREDITS MUSIC PLAYS]]
MARRITZ: This episode was produced by Katherine Sullivan. The Executive Producer is Meg Cramer. The sound designer is Jared Paul. The editors this episode were Eric Umansky and Robin Fields.
The reporting for this episode was by Julia Silverman, Fiona McCann, Kelly Clarke, Maryam Jameel, and Doris Burke, with editing by Marty Patail, Eden Dawn, Conner Reed, Margaret Seiler.
Thanks also to Debra D'Agostino, Eilis O'Neill, Carlye Meisburger, and NPR's Morning Edition.
Stephen Engelberg is the Editor-in-Chief of ProPublica, and Emily Botein is the Vice President of Original Programming at WNYC. The original music is by Jared Paul and Hannis Brown.
[MUSIC BRINGS IN TWANGY GUITAR, WHICH PLAYS FOR A LONG TIME AND THEN FADES OUT]
Copyright © 2019 ProPublica and New York Public Radio. All rights reserved. Visit our website terms of use at www.wnyc.org for further information.
New York Public Radio transcripts are created on a rush deadline, often by contractors. This text may not be in its final form and may be updated or revised in the future. Accuracy and availability may vary. The authoritative record of New York Public Radio's programming is the audio record.