The Cost of the Office? Trump's Billion-Dollar Loss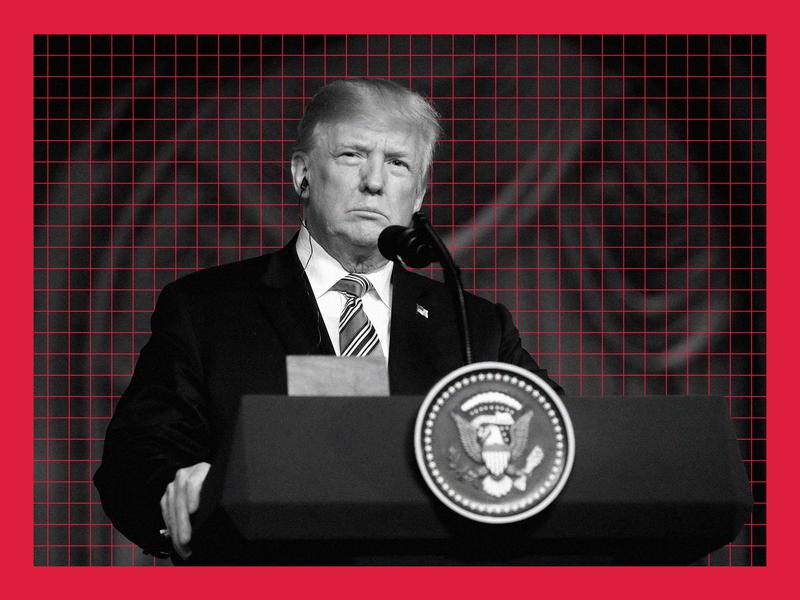 Transcript
[PLUCKY STRINGS MUSIC PLAYS]
ANDREA BERNSTEIN: Hello, and welcome to Trump, Inc., an open investigation from WNYC and ProPublica digging deep into the business side of the Trump presidency. I'm Andrea Bernstein with this Trump, Inc. podcast extra.
This season, we've been looking at the people around the President and how they might be profiting from their proximity to him, but at the center of our reporting is the President himself. And that's why we found a new story from our friend, Dan Alexander at Forbes, so fascinating. Dan's been tracking Trump's business, especially for the magazine's Billionaire List. And Dan reports that, since Trump became President, his net worth has actually dropped — more than a billion dollars. Dan's story is called "How Trump Is Trying—And Failing—To Get Rich Off His Presidency."
He spoke with one of Trump, Inc.'s editors, Charlie Herman.
[MUSIC OUT]
CHARLIE HERMAN: Dan, good morning!
ALEXANDER: Yeah. Thank you for having me.
HERMAN: So how long have you been tracking Trump's wealth?
ALEXANDER: Well, Forbes has been tracking it since 1982. And that was the first year that we did the Forbes 400. Donald Trump and his father, Fred Trump, were on it with a split fortune. So that's nice, because we have, you know, 30-some years of history. I personally started on it once he was elected, diving into the old files that we have, and then, you know, calling up a million additional people to make it stronger.
HERMAN: So what accounts for the majority of the drop in value? Is it at the condos you're talking about in New York City or the golf courses, you know, across the country and in other parts of the world?
ALEXANDER: So there are a couple of different factors here, some of which are market forces, some of which are reporting forces, and some of which are what's the presidential effect. And so if we look just at the presidential effect, you know, the biggest things are this golf property, Doral, which is a resort down in Florida. It had done as much in revenues as basically all of his other U.S. courses combined.
[MEANDERING MUSIC PLAYS]
ALEXANDER: So this is really the big one for him. And revenues down at Doral have dropped significantly. That means that if somebody were to buy the course tomorrow, they would probably pay a significantly lower price, and therefore Donald Trump is worth a lot less. So that's sort of one big factor.
The condos — there are so many of them, he owns almost 500 homes, basically, all over. And so if you aggregate that all into one — and particularly if you look, like I said, in the places where he's not popular — that's another big hit. You know, you're looking at about $50 million there.
And then the licensing stuff, we valued that at about $26 million in 2015. Now it's down to $3 million, so it's basically almost entirely evaporated.
[MUSIC OUT]
HERMAN: And when you say licensing, that's his brand — his name?
ALEXANDER: Well, you know, the brand plays in all different parts of it, which is kind of interesting. But when I say licensing, that's strictly branding business. So, for instance, when somebody pays him to make Trump steaks, or to make Trump ties, or even to put his name on a urine test, you know, you got paid for all of that stuff. And now companies are less willing to do that.
HERMAN: Is it that he's less wealthy since he got elected, or that we just have a better understanding of his finances?
ALEXANDER: Well, it's both. Part of that is because now he has to file a lot of financial information, and before, he would tell financial information, but [LAUGHS] the information that he told doesn't really line up with what now he's filing with the federal government.
So that's certainly part of it. But, look — when you spend as much time calling up, you know, a couple hundred people to figure out somebody's fortune, you can get a much more precise number.
HERMAN: So talk about that, how you actually were able to find what things were actually worth. You mentioned a lot of properties, obviously, are here in New York City. How did you go about figuring out what they were worth?
ALEXANDER: So it's a process that people are constantly going about if they want to buy a commercial or residential property and we follow the same thing that somebody would, who would be an investor looking to buy a place.
So, first of all, you look at, "Okay, what are the financials here? How much profitability is the building taking?" Then you're going to call up a bunch of brokers. So, you know, you might call up nine different people. And everybody's got a different opinion, and everybody's certain that their opinions are right. So, "Oh, if the profitability is this, then the value would be this and that." There's a ratio there. And so what you can do is you can average those numbers together, and if you have enough people that you're calling, then even if somebody is really high or really low, it's not going to throw the numbers by a very significant amount. So we gathered up a lot more people than we'd had before, and that allows us to feel like, "Alright, we're right on where we need to be."
[KEYBOARD MUSICAL FLOURISH]
HERMAN: Now, you traced his money in specific properties here in New York, like the Trump Tower in Midtown. Walk me through what you found out about that building.
ALEXANDER: So the Trump Tower — this is his most famous, iconic property. It was his home for years. It's plastered across television screens at — almost every single day.
[INTRIGUE MUSIC PLAYS]
ALEXANDER: You walk inside, and it's not what it once was. This was a place that, when it opened, was razzle-dazzle luxury, you know. There's a pianist sitting in the front lobby and there's beautiful trees inside. And there were, like, over 50 tenants. Real indoor mall where the richest of the rich would come to shop, and those who weren't the richest of the rich would come to gawk at them. Sort of an amazing place.
Now, you walk in, and most of all the retail tenants are gone, and what's left is, you've got a big Gucci store, you've got a small Starbucks upstairs. And then you've just got a bunch of little shops that are all Trump stores. So, Trump Ice Cream, and Trump Cafe, and Trump Bar, and Trump Grill. It doesn't seem like Trump pays himself rent for any of those.
And so, really, you have sort of almost an empty place — this empty cavernous monument to Donald Trump. And then up top, you know, he's sold most of the condos over the years, but he still owns the penthouse. And the penthouse now is a historical landmark. A couple of years ago, it was just a big gaudy apartment.
So that helps, but at the same time that you've got that presidential provenance playing in, you also have values of condos in the rest of the building dropping significantly. I mean, I'm talking about, like, 33% since 2015, so that has a dragged down effect on the building.
HERMAN: It's a historic landmark?
ALEXANDER: Absolutely. Are you kidding? I mean, look, you've got a place where Donald Trump built his fortune. And you walk inside, the thing is dripping Donald Trump. Trump Tower — whether you love it or hate it — that building is going to be there forever.
HERMAN: But is it an actual, registered, like, national historic landmark?
ALEXANDER: [BOTH LAUGH] Not yet, but I'm sure it will be before long.
[BASS MUSICAL FLOURISH]
HERMAN: Some of your reporting might come as a surprise to people, especially who are critical of the President, because what they see is him spending a lot of time in his properties, especially in Mar-a-Lago in Florida. He talks up his properties at press conferences and other events. So what is not working here? Why is he not making money?
ALEXANDER: Well, he's not getting poor for lack of trying, okay? He's showing up at all of his properties. You know, he's promoting Mar-a-Lago, turning it into the quote-unquote "winter White House." And in some of those properties, that works. Mar-a-Lago is an example of that.
Mar-a-Lago is now one of the most famous places in the world. If you had asked somebody on the street two years ago, nobody would've known what Mar-a-Lago is. That means that you potentially just expanded your pool of buyers, and what rich guy wouldn't want to say, "Hey, I own Mar-a-Lago now."? Whereas before, they would've said, "Well, what the heck is Mar-a-Lago?"
So it helps there, but then, if you look at the rest of the properties, he owns a lot of different assets, and many of them are not as prominent, not as famous. So I'm talking about garage space in New York City, random condos and buildings with his name on it. Those sorts of things aren't more famous now. And if you're a wealthy person in New York, there are a lot of buildings to pick from. Do you really want to pick a building where you're going to offend half the people that you invite over?
HERMAN: Where is he making money since he's become president?
ALEXANDER: So the two big places that it's having a positive effect are, one, at the Trump International Hotel in Washington, D.C., and two, at Mar-a-Lago. Now, there's a third component that's really interesting that highlights the fact that this is not for lack of trying, and that's that Donald Trump's campaign — which he had put money into when he first ran — he stopped putting money into it after he was elected, but he immediately took the unusual step of launching a reelection campaign, and he hasn't put any more money into that.
But at the same time, that campaign has continued paying his own properties. So the net effect is, you have a reelection campaign raising money from all these people all over the country, and then some of that money is going to the President of the United States who — by the way — is worth $3.1 billion, and probably doesn't need the extra million.
[MUSICAL FLOURISH]
HERMAN: Your report comes as the New York Times released this huge investigation on the origins of Trump's fortune and his father, Fred Trump. And we learned that Fred hid a lot of his wealth, uh, whether it was in cash equivalents, or in real estate. Does it suggest that perhaps his son has more money in ways that reporters like yourself aren't aware of?
ALEXANDER: I don't think that Donald Trump is shy about talking about how much money he has. And, uh, look — there are always places that we're searching, but before he became president, he would invite us into Trump Tower and let us look through an enormous amount of financial documents on his fortune. So it seems unlikely that he wouldn't have shown us everything to get those numbers as high as he could.
And now, of course, he has to declare all of his assets. So there are certainly still mysteries within that fortune, which is good 'cause that means that I still have a job. [LAUGHS] But no, I don't think that there's a significant amount of assets that we're missing.
HERMAN: The Times story has a lot of details from documents that we haven't seen before that indicate there is manipulation of the tax code or using financial sleight-of-hand. How difficult does that make it to get a complete picture of Trump and his business and his net worth? And I should add that one of Trump's attorneys said that the allegations in the story are false and defamatory.
[SLOW, LOW PIANO MUSIC PLAYS]
ALEXANDER: Every real estate developer plays this game where they say, as soon as the bank comes, "Oh, my stuff is worth so much money," because they want to make it look like they're — have really, really strong financial standing, and that the bank will lend them a lot of money.
And then as soon as the tax man comes, they say, "Oh, my stuff is worth no money," because they don't want to pay any taxes. That's not an unconventional thing. And, in fact, you know, regular people do that some, too. People appeal their evaluation on their house all the time. But what's unusual here is sort of the audacity of it, and the disparity between what he was claiming to the tax authorities, and what he was claiming to banks and others.
What we have to look at is — okay, let's say he sells this stuff. What is it worth in that case? Which is different from both of those other scenarios. And so it really hasn't changed the way that we go about our work at all.
HERMAN: In your reporting, how much of what you've found over the years matches up with what the New York Times reported?
[MUSIC OUT]
ALEXANDER: It's pretty consistent. You know, I mean, in that first rich list that we did in 1982, Donald Trump shared a fortune with his father, Fred Trump. And so this idea that Fred Trump, you know, just had a small business was never really credible. But, you know, like a lot of things Donald Trump, the more that you say it, the more that people believe it.
And even if people are really, really paying attention, or calling you out on it, that doesn't mean that you can't create this idea and this persona. So, you know, if you look back then, Fred Trump — we had him at $200 million in 1982. If you take $200 million and you say, "Okay, that all went to Donald Trump," and you appreciate that for inflation, that gets you to about $506 million or so. The Times is reporting that he inherited at least $413 million. So there's not a huge gap in there. It seems pretty consistent with what we have seen over the years.
HERMAN: From all of your reporting, his overall net worth might be down, but can you make any conclusions about whether or not he's profiting from being president?
ALEXANDER: Well, certainly in some cases he is. Uh, and in other cases he's not. [LAUGHS] So, you know, our question is, "What's the net effect?" And the other thing is, this is ongoing. You know, he's got at least another two — perhaps another six years — in the White House. And then, after that, the real opportunity comes to cash in. So … Barack Obama, while he was in Washington, he made $20 million, you know, selling books and that sort of stuff. That's a significant amount of money for — for him.
You know, the Clintons, right after they left — they did leave the White House with a net worth of virtually zero — and after they left, you know, their earnings were over $200 million, over the next 15 years. So this story is not done and we'll be continuing to follow it.
[MUSICAL FLOURISH PLAYS UP]
HERMAN: When Trump won the election, he announced that he wouldn't give up his company and that, instead, he'd turn over the day-to-day management to his two sons. If you put aside the conflict of interest question — and that's a really big one there — from a financial point of view, was that a good decision?
ALEXANDER: No. I mean, if he had just sold all of his stuff — even if he sold it at lower prices than he could have gotten, you know, if he waited some time out, and even if he had paid full capital gains taxes on the value of all of his assets — which you don't do, you know? … So even if you give him every benefit of the doubt, he would be worth $500 million more now, had he gotten rid of everything, than he is today. And he wouldn't have had to deal with all this nonsense over the last couple of years.
[MUSIC OUT]
[CREDITS MUSIC IN]
BERNSTEIN: Dan Alexander is a reporter for Forbes Magazine. Charlie Herman is one of the editors of this podcast.
In response to Forbes' reporting, Eric Trump, who co-manages the Trump Organization, said in a statement, "My father made a tremendous sacrifice when he left a company that he spent his entire life building to go into politics. Everything he does is for the good of the American people."
Trump, Inc. is an open investigation. We rely on your tips. You can send them to us tips@TrumpIncPodcast.org, or find out how to send secure documents at our website, TrumpIncPodcast.org.
Our producer is Meg Cramer. The associate producer for this podcast extra is Rachel Smith. The engineers are Jared Paul and Bill Moss. The editors are Charlie Herman and Eric Umansky. Jim Schachter is the Vice President for News at WNYC, and Steve Engelberg is the Editor-in-Chief of ProPublica. The music is by Hannis Brown.
[MUSIC OUT]
Copyright © 2018 ProPublica and New York Public Radio. All rights reserved. Visit our website terms of use at www.wnyc.org for further information.
New York Public Radio transcripts are created on a rush deadline, often by contractors. This text may not be in its final form and may be updated or revised in the future. Accuracy and availability may vary. The authoritative record of New York Public Radio's programming is the audio record.