All The President's Memes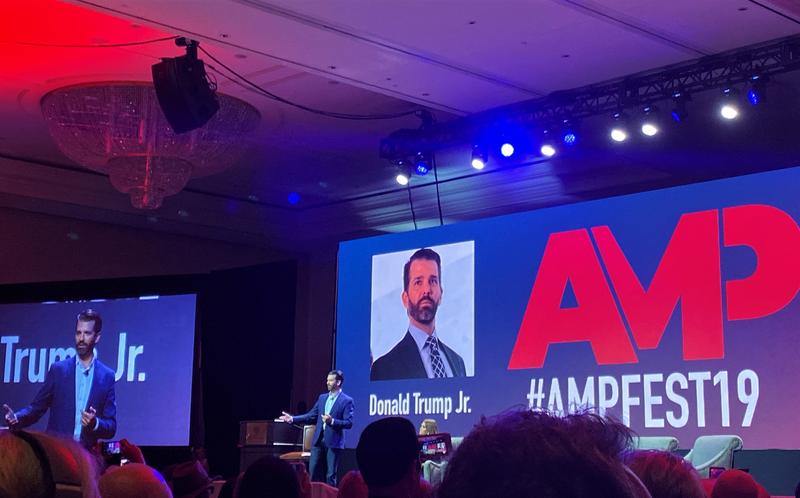 Transcript
ILYA MARRITZ: Before we get started — Andrea, you have an announcement!
ANDREA BERNSTEIN: I do, I do! And Trump, Inc. listeners are the first to hear it. I have a book coming out in January!
MARRITZ: Congratulations!
BERNSTEIN: Thank you. I have been working on this book for years, from the moment I realized the stakes of Trump's election. It is a multigenerational saga of the Kusgners and the Trumps. It takes so much of what we've been looking at on Trump, Inc. and bundles it up into a single narrative, and explains how we got to this moment where our very democracy seems threatened.
MARRITZ: Title, please?
BERNSTEIN: Can't believe I'm saying this out loud. The book is called American Oligarchs: The Kushners, The Trumps, and the Marriage of Money and Power. It's being published by Norton in January and you'll be able to get it wherever books are sold. But you can preorder American Oligarchs now by going to AndreaBernsteinBook.com.
MARRITZ: Alright, folks. You heard it here first. AndreaBernsteinBook.com. Go out and get it! And now, here's our show.
[A BEAT, THEN CHORAL MUSIC]
MARRITZ: Previously, on Trump, Inc.:
AUBREY BELFORD: We can say that these claims that have been pushed by Ukrainian prosecutors with Americans are incorrect, they mix truth and falsehood, they are disinformation. [FADES UNDER]
MARRITZ: I was reporting in Ukraine. And I talked with Aubrey Belford, a journalist there. He documented how powerful players pushed a baseless theory that Joe Biden pulled strings for his son in Ukraine. It exploded across the media.
AUBREY BELFORD: And you know, I mean, it worked. They wanted to create a splash with this and they have.
MARRITZ: I learned this Ukrainian phrase, "vse chto tui chooyesh, dyly navpil" — "what you're hearing, you can divide it in two." Meaning, it's probably half true. But who knows which half?
MARRITZ: What's it like living in a place where, like, nobody knows what's true?
BELFORD: You know, this is a part of the world where disinformation is really, like, part of life. And, you know, it's being exported to the United States. And, you know, I mean, you guys are going to know what it's like soon enough.
[A MOMENT OF CHORAL MUSIC, THEN QUIET]
[APPLAUSE]
COREY LEWANDOWSKI: So look. Let's take a couple of questions. I'd love to be very honest and candid. [FADES UNDER]
MARRITZ: Not long after that conversation, hundreds of people are gathered in a ballroom in south Florida. There's a man on stage and a line to ask him questions. Another man steps up to the mic. It's hard to hear, but he's asking why President Trump hasn't declassified a confidential report.
ATTENDEE: A secret memorandum called "Presidential Directive Eleven."
MARRITZ: A document, showing that former President Obama was planning to "turn over" North Africa to Al-Qaeda, and the Middle East to Iran.
ATTENDEE: Why is he not declassifying the Presidential Directive Eleven?
LEWANDOWSKI: It's a great question. Why hasn't the President declassified … ? [FADES UNDER]
MARRITZ: The man on stage has a military-style haircut and a lot of energy. You know him. It's Corey Lewandowski, Trump's former campaign manager, and a D.C. lobbyist. He's on cable TV news a lot — and he may also run for Senate.
LEWANDOWSKI: I think you're exactly right. Ultimately, that will get it done … [FADE UNDER]
MARRITZ: Lewandowski does not distance himself from this idea, which is not supported by any facts we could find. No — he embraces it.
LEWANDOWSKI: I'm with you one thousand percent.
MARRITZ: We have the recording of this exchange because we were there.
[APPLAUSE]
[TRUMP, INC. THEME MUSIC PLAYS]
MARRITZ: Hello and welcome to Trump, Inc., a podcast from ProPublica and WNYC about the business of the Trump administration. This week: the business of conspiracy.
That exchange with Corey Lewandowski happened at President Trump's Doral resort at the American Priority Festival and Conference, held there in October.
ALICE WILDER: It's 12:30 on Thursday and I'm walking to go register for the conference at the Donald J. Trump Ballroom.
MARRITZ: This is Alice Wilder, Trump, Inc. producer. She's been keeping a particular eye on Doral for the podcast: on the comings and goings, on who's booking conferences there. Earlier this year, she was at Doral for a meeting of payday lenders. We did an episode about it.
Doral has been in the news a lot lately. President Trump's Chief of Staff announced from the White House that America would host the next G7 summit there. Then, Trump backed off. Angrily.
PRESIDENT DONALD TRUMP: George Washington, they say, had two desks. He had a presidential desk and a business desk. I don't think you people with this phony emoluments clause — and, by the way, I would say that it's cost me anywhere from $2 to $5 billion to be president …
MARRITZ: This episode, we're looking at a conference that did happen at Doral. There were no world leaders. Instead, there was a gathering for conspiracy theorists, paying the President.
If you've heard anything about this conference, it's because it was the one where a video was shown of a fake Trump shooting and stabbing members of the media inside a church. The conference organizers say they "condemn political violence."
From this one event, the Trumps profited in two ways: they were paid for hosting it at their hotel, and Trump also profited, politically, by activating a dedicated fanbase, some of whom make his favorite memes.
To lay this all out, we're going to bring in one more guide.
MATT KATZ: I'm Matt Katz, a reporter at WNYC.
Matt covered Trump's election and the conservative media machine that helped him to win. Now he reports on immigration, and hate.
Alice and Matt take it from here.
KATZ: Donald Trump built his political profile on a the racist conspiracy theory that President Obama was not born in the US.
FOX NEWS HOST: Do you think he was born in this country?
DONALD TRUMP: I — I am really concerned. And I will tell you — when this all started a week ago, I assumed, "Hey, look. You have no doctors that remember. You have no nurses who remember." This is the President of the United States. [FADES DOWN]
KATZ: As president, Trump has suggested that the noise from windmills causes cancer. He repeated a theory that Hillary Clinton had something to do with the death of Jeffrey Epstein. Conspiracy theories drive his policies and his politics.
The conspiracy theory that Joe Biden used his power to help his son make money in Ukraine, and that Ukraine intervened in the 2016 election for Hillary — that may result in Trump being impeached.
WILDER: So, over the summer, when I heard that American Priority — a group whose supporters often traffic in conspiracies — was planning a conference at Trump Doral, I wanted to go. Here was an example of conspiracy mixing with business.
WILDER: Okay, so we're coming back up to the Trump Doral. The lawn is freshly mowed.
WILDER: You have to go down a really long driveway to get in, and past a security post, so there's this sense that you're entering a different world. There's very tall hedges surrounding the resort so you can't see the street, or anything else. It's like — you're suddenly in Doral.
CONFERENCE VOLUNTEER: Type your name and then let me see your state-issued photo I.D.
WILDER: I was registered as press. The conference organizers knew I was there.
KATZ: Alice spent the weekend visiting panels with names like "Stealing America: Voter Fraud in the USA" and "Unmasking the Russian Hoax."
[LIGHT MUSIC PLAYS]
WILDER: Here's how it's gonna go. First, we're gonna meet the men behind the memes that flatter the President — memes that are often conspiracy-minded.
KATZ: Then, we're gonna talk about all the money being made.
WILDER: Finally — finally, an appearance by the son of the US President. And we're gonna watch a meme being born.
KIMBERLY GUILFOYLE: Donald Trump Jr.! [FADES UNDER]
[SILENCE]
[ALICE WILDER AND MATT KATZ GET CONNECTED ON THE PHONE, SAY HELLOS]
KATZ: American Priority Festival and Conference, day one.
KATZ: So, talk to me. How's it going?
WILDER: Oh, god. It — it's wild. One of the first things I saw was this guy who has this blazer to look like the wall.
KATZ: Like Pink Floyd's "The Wall"?
[A FEW NOTES FROM PINK FLOYD'S "THE WALL PLAY]
WILDER: Like brick — like a brick wall, like, the wall.
KATZ: Oh, the wall — the wall at the southern border, of course.
WILDER: Yeah. Yeah, yeah, that wall.
KATZ: That makes more sense.
WILDER: Do you want me to just, like, run you through what happened today?
KATZ: Yeah! Tell me. Was it jam-packed, or did you have trouble getting … ?
WILDER: It's definitely not jam-packed. And then I went to the — sorry, I'm very congested right now, which is why I sound like this.
KATZ: So, what's next? Where you heading next? Pool party?
WILDER: Uh, pool party. I did not — I did not bring my swimsuit.
WILDER: Every conference has its own vibe, whether it's insurance or payday lenders. Here, the conference-goers are a mix of college Republican types, Bikers for Trump, and families with kids. I met KristopherDreww by the check-in desk.
WILDER: Hey, I'm Alice.
KRISTOPHERDREWW: I am literally just now reading your text.
WILDER: Oh my god. It's so nice to meet you!
WILDER: Dreww is a youtube personality who goes by "the Adorable Deplorable." He was carrying a MAGA hat with rainbow letters. They go for $35 on Trump's campaign website.
WILDER: Is this your first time at a Trump property?
KRISTOPHERDREWW: Yes!
WILDER: What do you think?
KRISTOPHERDREWW: It's — Honestly, I think that his properties are a big reflection of the way he's running this country right now. I think that his property is the way that I would love to see the rest of the world. Like, wouldn't it be nice if everywhere you went, you had mojito water?
WILDER: Mojito water is mint, lime, and a bunch of sugar. They serve it at the hotel.
KRISTOPHERDREWW: That would be amazing, wouldn't it? So, like, that's where I think that Trump's, like, being here right now is just making me feel so much better about him. And I think that the whole world should look like a Trump property, personally, but we'll get there one day, maybe.
[QUIET, THEN THE SOUND OF WALKING THROUGH THE HOTEL]
WILDER: From the check-in desk, I made my way past villas named for famous golfers — Bobby Jones and Gary Player — to two swimming pools and a restaurant-grill. That's where I spotted Alex Phillips, across the pool, wearing a plaid shirt and khaki pants with sneakers.
Phillips is the reason we're all here. He's the President of American Priority, the for-profit group behind the conference.
ALEX PHILLIPS: Let me just get this out — I hate politics.
WILDER: Well, this is a hell of a convention to organize if you hate politics. I mean … [FADES UNDER]
WILDER: This conference is the second one put on by Phillips, and he is pumped, because last year's event seemed like a failure.
PHILLIPS: So, the first one was well-intentioned. Had it in Washington D.C. It wasn't well attended for a variety of reasons.
WILDER: It was at a Marriott. Roger Stone spoke to a mostly empty ballroom.
This year is different. At the check-in desk, volunteers are handing out swag bags with American Priority frisbees. Phillips told me almost 1000 people registered. General admission: $250.
The point of American Priority, he says, is to promote free speech, to get around the mainstream media and provide a platform for people he calls "citizen journalists."
PHILLIPS: You know, we had Mike Cernovich interviewing, we had Tracy Beanz, we had Jack Posobiec from One America News.
They're not at the caliber or level of FOX or ABC or any of these large networks, so we've elevated them, so to speak, right? We've created the environment to elevate this citizen journalism by bringing the news to them.
[MUSIC PLAYS]
KATZ: Those bold-faced names he mentioned? These are extremely online people with major MAGA influence. Mike Cernovich is known for the Pizzagate conspiracy theory, which alleged that top Democrats are involved with child sex trafficking. Tracy Beanz helped spread the QAnon conspiracy theory, which posits that a ring of pedophiles controls the deep state and Hollywood and the media, and only Trump can stop it. Jack Posobiec shared the conspiracy theory that DNC staffer Seth Rich, who was shot and killed in 2017, was taken out by the Clintons. None of those theories have any basis in fact.
[MUSIC OUT]
KATZ: We don't know how much money Trump's company made from the conference. They did not respond to our request for information, and Alex Phillips did not tell us either.
[MUSIC BACK IN, BUT MORE INTRIGUE-LADEN]
KATZ: This is what we do know: The conference was booked for three days, and similar events at Trump's Doral resort have cost hundreds of thousands of dollars. For example, when the Republican Governors Association had a two-day conference at Doral in 2017, the bill was more than $400,000. Conference-goers also booked rooms at a special rate: $199 a night. And, this conference had sponsors. Here's Alex Phillips:
PHILLIPS: Um, some of them were, you know, finding us funds that we needed. You know, obviously you gotta pay bills, and pay that — pay for things. Some of our in-kind … But, um, you know, Geo was one of our large sponsors. [FADE DOWN]
WILDER: Geo. You may not know that name, but you probably heard something about this.
[MONTAGE STARTS]
NPR HOST SCOTT SIMON: Inspectors for the Department of Homeland Security examined an immigration facility in southern California, and they say they found serious violations of detention centers.
UNIDENTIFIED HOST: The forced-labor allegations are part of two class-action lawsuits in federal court. Geo strongly refutes these claims and plans to fight them.
[MONTAGE ENDS]
KATZ: ICE detention centers throughout the country are run by prison company GeoGroup, a publicly-traded company that owes much of its business to Trump. Trump reversed Obama's ban on private prisons. Geo has hundreds of millions in federal contracts.
The company and its subsidiary have made about a half-million dollars in contributions to a pro-Trump group and the inauguration. Also, Geo's CEO gave $100,000 to the Trump Victory Fund just this past June. The company has a PAC that contributes to Republican causes, and it spent almost $2 million on lobbying in 2017 alone.
Geo can also put money directly into Trump's pockets. Geo held an annual leadership conference at Trump Doral.
A spokesman for Geo told us that to be a sponsor of the American Priority conference, it donated $25,000 to a Trump-friendly nonprofit called the American King Foundation. That's one of the conference's official charities.
One of the company's representatives was on a criminal justice panel, to talk about its efforts to reduce recidivism. The Geo logo was displayed with other sponsors.
MARRITZ: Geo Group did not respond to a question about why it has contributed to Trump's causes, and his business.
[MUSIC OUT, A BEAT, THEN SOMEWHAT-HEAVY DANCE MUSIC PLAYS]
WILDER: In the weeks leading up to the conference, I checked the speaker list on American Priority's website constantly. Every time I clicked on the home page, a video autoplayed, set to this music.
[THE BEAT PLAYS FOR A BIT]
WILDER: And every time the speaker list was slightly different. Pretty much everyone who has gone viral in MAGA-world was on there at some point. A flat earther made a brief appearance. Later his name disappeared.
[MUSIC OUT]
WILDER: The final list included Mike Cernovich, who espouses racism and misogyny, and Alveda King, who likened homosexuality to genocide. There were also some standard grassroots organizers running sessions on recruiting volunteers and "minority outreach." But it wasn't until I got there on the first night that I got a real sense for what draws people here.
[THE SOUNDS OF THE CROWD PLAY]
WILDER: The opening was hosted in the Donald J. Trump Grand Ballroom. There were four massive chandeliers and the stage was bathed in red and blue light. Then, a man named Mark Burns took the stage.
EMCEE: [VERY ENTHUSIASTICALLY] Please welcome Pastor Mark Burns! [CHEERS FROM THE AUDIENCE OVER MUSIC]
WILDER: People around me got on their feet, put their hands in the air. It was part church revival, part campaign rally.
PASTOR MARK BURNS: [LEADING A CALL AND RESPONSE] Somebody say, "I'm fired up."
AUDIENCE: I'm fired up!
BURNS: Shout "I'm fired up!"
AUDIENCE: I'm fired up!
BURNS: I'm ready to go to war! I'm ready, I'm ready, I'm ready, I'm ready! C'mon, God willing, I'm ready! C'mon, give me [INDISTINCT]. I'm ready to go to war! [FADES UNDER]
WILDER: "Ready to go to war."
KATZ: Burns was a regular surrogate for Trump during the campaign, but he may be best known for fabricating large swaths of his biography, which he admitted to CNN. Fabrication is a theme here.
WILDER: After the conference, Burns told me he condemns violence and meant to encourage conservatives to be vocal in their support of the President. American Priority founder Alex Phillips said the conference was, quote, "successful, upbeat, positive, and constructive."
[A MOMENT OF SILENCE AND TRANSITION]
KATZ: Day two.
[FRANTIC MUSIC PLAYS, WITH CLIPS FROM EACH SESSION IN THE BACKGROUND AS WILDER TALKS]
KATZ: What's on tap for today?
WILDER: Today, nine o'clock, is Laura Loomer. Her kind of new branding is "the most banned woman in the world."
WILDER: The crowd loved her.
WILDER: And then I'm going to go see James O'Keefe.
WILDER: He's the guy behind Project Veritas, that group that secretly records and selectively edits interactions with journalists and political opponents.
WILDER: At 10 AM, going to probably "Memetics," which is a big meme session, and then, at 11 AM I'm going to go to "The Great Awakening: Breaking the Chains of the Democratic Party," with Brandon Straka.
WILDER: He did some stand-up and then talked about why minority groups should become Trump supporters.
WILDER: Yeah, and then probably "America in Peril: National Security in the Modern Era" at 11:30, and then "Voter Fraud."
WILDER: At that session, someone claimed that liberals are rallying undocumented people to vote — a theory that the President has also repeated, by the way. It's not true.
WILDER: And then there's Dinesh D'Souza, Amy Kremer.
KATZ: Those two names pre-date Trump and MAGA and memes. Kremer was a Tea Party leader and D'Souza has been a conservative agitator since the '80s. There's continuity in this right-wing movement. It didn't spring out of nowhere when Trump became president.
WILDER: I'll probably skip "Absentee Voting." "Unmasking the Russia Hoax" should be great, "The Myth of Global Warming," "How the Left Has Poisoned our Schools," "Reality Architecture," … [FADES UNDER]
WILDER: Throughout the day, the speakers on the schedule got more famous, and even more mainstream. It all leads up to the Friday night headliner — the President's son, Donald Trump Jr.
[AMBIENCE FROM THE MEME ROOM PLAYS]
WILDER: Almost all of these events happened in the main ballroom and in breakout rooms on either side.
The meme room was set up like an art exhibit. Mostly empty, except for small flat-screen TVs in each corner. The sound wasn't working. This is the room where that violent video was shown. I wasn't there when it happened.
When I walked in, there were a couple of meme makers clustered near a TV. One of them goes by the name "Mad Liberals." It was on his nametag. Underneath it said "Phillip."
He's a middle aged guy, greying hair. He was super caffeinated. He told me about the time his friend, a fellow meme maker, surprised him and his mother with a visit to the Oval Office.
PHILLIP: We walk up — we walk down the hallway, open that cool, rounded door, and the history there is just amazing. [CRYING OR GIGGLING, IT'S DIFFICULT TO TELL] I'm sorry, I'm a little emotional. [GIGGLE-CRYING] He was just the nicest guy you'll ever meet. He was busy — he had a lot of things to do — but he spent twenty-five minutes with us.
WILDER: Mad Liberals taught himself how to edit videos through YouTube tutorials. In a lot of them, he uses clips from movies and edits in politician's faces — putting Trump's face on Superman's body, for example. Another draws on the conspiracy theory that Ruth Bader Ginsburg is actually dead. It shows scientists working on her body — it's a clip from The Six Million Dollar Man.
PHILLIP: And he was saying that, uh, you know, he pays people lots and lots of money, you know, to do videos for them.
And he says, "But we get them back and they're crap, because they just make what we ask them to make. You guys — you — you — you — you — you love what you do, and, you know, you're not — you're just — you do what you wanna do, and they come out wonderful. They come out brilliant. I don't know how you'd do it, but we love all the stuff y'all make." So hopefully someday I'll be Tweeted.
WILDER: "Someday I'll be Tweeted." By Trump, he means. He says he's in a group chat with other top meme makers, where they trade tips and source material for their videos. Many of them have been retweeted by the President.
MARRITZ: They're spreading the President's political message for free. In return, Trump gives them the attention and validation they're looking for.
We'll be right back.
[MIDROLL]
MARRITZ: We're back and we're wandering the halls of a gathering of conspiracy theorists at a hotel owned by President Trump. Over here, Bikers for Trump are raffling off a motorcycle for charity. Over there, there's a selection of bedazzled rhinestone American flag clutches and purses available for purchase. Producer Alice Wilder.
WILDER: Just before dinner time, everyone converged on the ballroom like steel filings to a magnet.
[APPLAUSE PLAYS]
WILDER: Don Jr. was in the building. I have spent so much time with the 2D version of this man, reading stories, listening to interviews and speeches, and, finally, there he was.
DON TRUMP JR.: All of you guys on the front lines of what we are dealing with. I mean, I see so many familiar faces, social media … [FADES UNDER]
WILDER: We can't have all our best talent in one room, he jokes.
DON JR.: We can't have all of our best talent in one room. As a General in the Meme Wars, we've got to be a little bit more protective of our people, so … [LAUGHTER, THEN FADES UNDER]
WILDER: Of all the President's children, Don Jr. is the most online. He knows how to work this room. He plays up the notion that Silicon Valley is biased against conservative voices. It's a core belief for this movement, and a theme for the conference.
DON JR.: Instagram, I typed in my handle. Like, my full handle. "Donald J. Trump Jr." I came up on page six. [AUDIENCE LAUGHTER] I've got two million followers — and, by the way, I share the name with the President of the United States, with fourteen-something million followers It's not an error. [FRANTICALLY] If they can do that to the President of the United States, who can't they — and, more importantly — who aren't they doing it to?"
WILDER: Matt and I searched for him on Instagram. He's the first result.
[LTSI]
KATZ: Since his dad became president, Donald Trump Jr. has really found himself as a public speaker. We don't know how much he was paid for his speech. He wouldn't say, and neither would the conference. We do know that, the night before, he and his girlfriend Kimberly Guilfoyle did a paid gig at the University of Florida. They made $50,000.
WILDER: Kimberly Guilfoyle has been sitting on stage this whole time.
DON JR.: Thank you, Princess. Thank you. I appreciate you giving me my stump speech. I've never done this before.
[PLUNKY GUITAR MUSIC PLAYS]
WILDER: Don Jr. runs through all his usual material, the kinds of things anyone can see on his Twitter feed: [INTERSPERSED WITH CLIPS OF DON JR. CLIPS TIED TO EACH TOPIC] fake news, Adam Schiff, the Mueller Report. Then something happens.
CROWD: [CHANTING] "Where's Hunter?" "Where's Hunter?" "Where's Hunter?"
WILDER: The crowd starts calling out "Where's Hunter? Where's Hunter?" Like, Hunter Biden. I think, "Is this a thing?"
DON JR.: I'll get to that! Stop stealing my speech!
KATZ: So turns out there had been a suggestion circulating — in the form of a question, "Where's Hunter?" — in part because Hunter Biden hadn't yet done an interview about the whole Ukraine thing, and also because conservative talk radio had pushed a story about how he had supposedly dodged a DNA test over a paternity claim.
So, the first time the question "Where's Hunter?" appears on Twitter is September 20th, from an account called "Truth And Truth," with no clear real-person identity. That's the same day we learned that President Trump pressured Ukraine to investigate Hunter Biden.
"Where's Hunter?" is then used to defend the President. It pops up some more over the next couple of days, retweeted by both MAGA folks and what appear to be bots.
Four days later, Fox News host Laura Ingraham Tweets: "Where is Hunter? Why won't he give an interview?" Her Tweet really gets the memes going: Where's Waldo/"Where's Hunter?" type of stuff. One of the younger stars of the MAGA movement, Charlie Kirk, then he gets traction for his "Where's Hunter?" Tweet, and Charlie Kirk then introduces Donald Trump Jr. for his speech at the conference.
CROWD: "Where's Hunter?" "Where's Hunter?"
DON JR.: I'll get to that! Stop stealing my speech!
KATZ: "I'll get to that," Don Jr. says. Just like that, "Where's Hunter?" goes from the internet to the President's son's mouth.
[MUSIC OUT]
KATZ: And then, something even bigger. Alice and I got on the phone the next day.
KATZ: Something really illuminating happened today, or in the last 24 hours, which was that Trump himself tweeted, "WHERE'S HUNTER?" in all caps and —
WILDER: I know!
KATZ: — you could have predicted that because you saw them bring this up yesterday, and then it was sort of, uh, echoed by Donald Trump Jr., who sort of elevates them to the President. And then there you have the — the President's tweet, with, you know, 100,000 likes. Um, really interesting, I know.
WILDER: I know. If you were here, I know you could see me voraciously nodding.
KATZ: We don't know how the President gets onto these memes. Did his son text him his speech? Did he read the Tweets, or see something on Fox? But we do know that this is the alternate reality — the version of the truth — that he operates in. We know it bubbles up from all these interconnected worlds: from your old-guard conservatives, like Laura Ingraham, who has been a right-wing talker since the Reagan years, to the memers led by self-described General of the Meme Wars, Don Jr., giving a speech in a ballroom named for his father — and then they pop up in the President's Twitter feed and on phone calls with world leaders. These falsehoods, these propagandic lies, can, like, change the world.
"Where's Hunter?" T-shirts, now available on Trump's reelection site: $25 apiece.
[SILENCE]
WHITE HOUSE CHIEF OF STAFF MICK MULVANEY: So we're going to talk about the G7. We're going to talk about where we're going to do it.
MARRITZ: A few days after Alice got back from Doral, Acting White House Chief of Staff Mick Mulvaney announced the next summit of top world leaders would take place at Doral, the same resort where Pastor Burns had called for war.
MULVANEY: We're going to have it there and there's gonna be folks who will never get over the fact that it's a Trump property. We get that. But we're still gonna go there.
REPORTER: What role did the President play in selecting Doral, including getting it on the initial list of ten or twelve places in the first place?
MULVANEY: Yeah, I think — that's a fair question. We sat around one night and we were back in the dining room and going over it with a couple of our advance team, we had the list — and he goes, "What about Doral?" and it was like, "That's — that's not the craziest idea we ever heard. It makes perfect sense."
REPORTER: So he's the one who actually brought it up?
MULVANEY: I'm — we're all familiar with it so it's not like he said, "Oh, by — this is what Doral is, and I have to explain. [INDISTINCT] Like, you know what? That's not the craziest idea we ever heard, and we'll go look at it."
[PIANO MUSIC PLAYS]
MARRITZ: Mixed in with questions about one kind of conflict of interest — profiting and emoluments — Mulvaney was pummeled with questions about another conflict: the Ukraine thing and the dawning realization that the Department of State had been pressed into service for ideas that were bogus.
MULVANEY: Did he also mention to me, in passing, that — that — that — the corruption related to the DNC server? Absolutely. No question about that. But that's it. And that's why we held up the money.
REPORTER: So, to be clear, what you've just described is a quid pro quo — it is funding that will not flow unless an investigation into the Democratic server happens as well.
MULVANEY: We do — we do that all the time with foreign policy. [FADES UNDER]
MARRITZ: Ukraine, Doral. Doral, Ukraine. In both blossoming scandals, Trump treated his public office as a lever for private gain. To both questions, Mulvaney's answer was, "Yes, the President can do that."
[PIANO MUSIC BECOMES MORE ROBUST, PLAYS UP FOR A WHILE]
MARRITZ: This episode was produced by Alice Wilder. The Executive Producer is Meg Cramer. The sound designer is Jared Paul.
WILDER: Special thanks to Anna Merlan. Her book, Republic of Lies, is an excellent primer on the world of conspiracy theories. Thanks also to Zoe Chace —
MARRITZ: — and WNYC's Matt Katz.
The editors this episode were Eric Umansky and Andrea Bernstein. Steve Engelberg is the Editor-in-Chief of ProPublica, and Emily Botein is the Vice President of Original Programming at WNYC. Original music by Jared Paul and Hannis Brown.
[MUSIC OUT]
Copyright © 2019 ProPublica and New York Public Radio. All rights reserved. Visit our website terms of use at www.wnyc.org for further information.
New York Public Radio transcripts are created on a rush deadline, often by contractors. This text may not be in its final form and may be updated or revised in the future. Accuracy and availability may vary. The authoritative record of New York Public Radio's programming is the audio record.