Donald Trump's Legal Hangover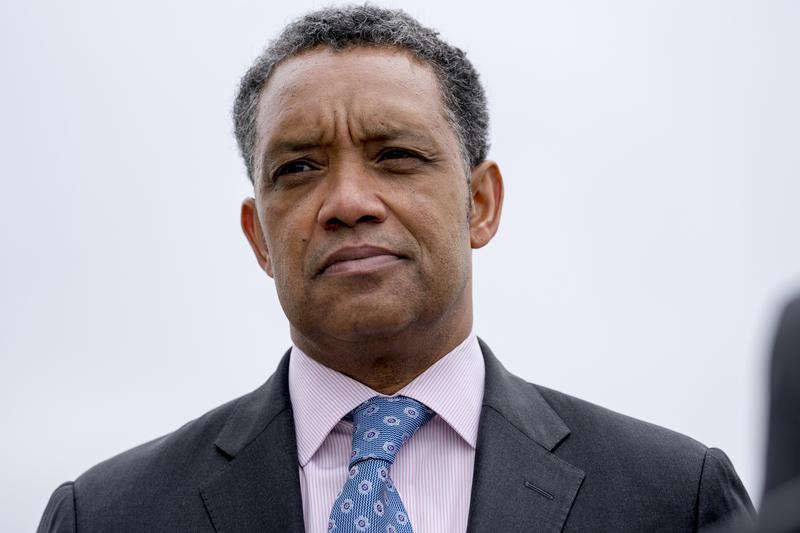 Transcript
[PLUCKY STRINGS MUSIC COMES IN]
ANDREA BERNSTEIN: It's Trump, Inc., from WNYC and ProPublica. I'm Andrea Bernstein.
Now that Donald Trump's bid for a second term has been rejected by voters — and by courts [BEAT] and by the electoral college — we are left to consider the future of Trump: his business, and his potential legal exposure.
There's been a lot of debate about holding Trump accountable for crimes he may have committed as president.
[MUSIC SWELLS, THEN CUTS OUT ENTIRELY]
BERNSTEIN: That's not what we're going to talk about today.
[MUSIC BACK IN, BUT DIFFERENT — MORE INSISTENT]
BERNSTEIN: Instead, we're going to examine the legal hangover stemming from possible wrongdoing by Trump and the Trump Organization — some of it from possibly illegal acts from even before he was elected president.
Donald Trump has been involved in thousands of civil suits. Not long ago -- the New York Attorney General found he'd violated New York charity law when he used Trump Foundation funds for political purposes. But though Trump has been repeatedly investigated, he has never been charged with a crime.
Now, he might be.
[MUSIC COMES TO A CLOSE]
BERNSTEIN: The Manhattan District Attorney is investigating Donald Trump, his associates, and his business. Because Donald Trump has gone to extraordinary lengths to prevent the D.A. from examining his tax returns, there's now a long and public paper trail. We even know some of the specific offenses the D.A. is considering, like Scheme to Defraud, and criminal tax fraud.
BERNSTEIN: So, I mean, are those serious crimes?
ADAM KAUFMANN: Well, are they serious crimes? I — I wouldn't want to be charged with one. You know, felonies are serious by definition.
BERNSTEIN: In this episode, I speak with Adam Kauffman. He used to be in charge of prosecuting these kinds of cases at the Manhattan D.A's office.
[A SPARSE, TECH-Y MUSIC TRACK PLAYS]
BERNSTEIN: But before we get to that, there's another investigation that's moving along at a rapid clip: a civil suit by the District of Columbia Attorney General, Karl Racine, charging the Trump Organization with breaking charities laws.
ATTORNEY GENERAL KARL RACINE: What this suit really is about is about the president's initial decisions, even before he was sworn in, to begin to profit from what would later be his presidency.
BERNSTEIN: Racine spoke with my co-host, Ilya Marritz.
[A BEAT]
ILYA MARRITZ: First, here's the backstory. Two weeks before election day in 2016, Donald Trump and his family brought a throng of reporters to their new hotel in Washington —
IVANKA TRUMP: Hello, everyone.
MARRITZ: — in the historic Old Post Office.
IVANKA TRUMP: It's an honor to stand before you today and officially welcome you to Trump International Hotel and Tower, Washington D.C. [FADES UNDER]
MARRITZ: Wearing a cream dress with an asymmetrical neck, Ivanka Trump said her family won a fierce competition to redevelop the building. Then she pivoted to the sales pitch.
IVANKA TRUMP: [FADES UP] Behind a backlit onyx facade is the city's largest luxury ballroom. And within the building itself, our guests will discover the most spacious suites in the district, complete with soaring 16- to 24-foot ceilings.
MARRITZ: A lot happened in the next few weeks:
[A SOUND PLAYS, INDICATING THREE THINGS]
MARRITZ: The hotel welcomed guests.
Donald Trump won the election, in an upset.
And Trump's new role in politics converged with his new hospitality business when the Trump inaugural committee booked space in the Trump hotel.
[THE SOUND OF TRAVELING THROUGH A PORTAL, THEN, AMBIENT NOISE FROM THE HOTEL]
MARRITZ: The hotel. Think of an elegant glass-topped atrium, with waiters and guests milling around.
[MUSIC PLAYS IN THE AMBIENCE]
MARRITZ: When the committee rented space in the ballrooms, the same man — the same family — stood on both sides of the transaction.
In 2018, I was spending a lot of time researching the money behind the Trump inauguration — the most expensive in history, by far. I was collecting documents, calling anyone who I thought could explain how the money was spent. And at some point, I was shown emails. Emails that demonstrate how very weird this arrangement between the Inaugural Committee and the Trump hotel really was. The initial price quote was more than $400 thousand a day.
[MUSIC GOES UNDERWATER, THEN OUT]
STEPHANIE WINSTON WOLKOFF: December 17th, 2016, 7:21 PM.
MARRITZ: This is Stephanie Winston Wolkoff, chief creative officer for the inaugural celebrations.
WINSTON WOLKOFF: I wanted to follow up on our conversation and express my concern. [FADES UNDER]
MARRITZ: Wolkoff addressed this email to Ivanka Trump, and a few other key people. She agreed to read the email for this podcast.
WINSTON WOLKOFF: Please take into consideration that when this is audited, it will become public knowledge that locations were also gifted, and costs underwritten to lower rental fees. I understand that compared to the original pricing, this is great, but we should look at the whole context. In my opinion, the max rental fees should be $85,000 per day.
MARRITZ: Wolkoff recently published a book, Melania and Me: The Rise and Fall of My Friendship With The First Lady.
WINSTON WOLKOFF: Thank you, Stephanie.
MARRITZ: Why did you feel that you had to write this email?
WINSTON WOLKOFF: I just felt it was my responsibility. Um, truly, as someone who has been doing events for nonprofits for over two decades, I was really concerned about the optics. I didn't think it was right for the Trump family or any of their businesses to be financially profiting from the inauguration. I mean, that is a problem. And it raised, uh, alarms.
MARRITZ: The committee and the hotel finally settled on a price of $175 thousand per day. Stephanie Winston Wolkoff was recently deposed by Karl Racine, the Attorney General of the District of Columbia.
[MUSICAL FLOURISH]
ATTORNEY GENERAL RACINE: That email is an extraordinarily important piece of evidence, because what it shows is that the people responsible for managing the Presidential Inaugural Committee were on notice that they were to not waste the not-for-profit's assets by overcharging it for hotel space, food, and other items. And so that email establishes knowledge and intent to waste, and intent to engage in self-dealing.
[MUSIC PLAYS UP]
MARRITZ: In January 2020, Racine sued the Trump Organization, the Trump Hotel, and the nonprofit Inaugural committee. They violated DC's charity laws, he said, by, quote, "grossly overpaying" for event space. The defendants deny this.
It turns out that during inauguration week, another charity — this one not in any way controlled or influenced by the Trumps — also reserved event space at the Trump hotel.
REVEREND MARY TURNER: Reverend Mary Turner and I, uh, am the hostess of the Presidential Inaugural Prayer Breakfast in Washington, DC.
[MUSIC OUT]
MARRITZ: While the Trump inaugural agreed to pay a day rate of $175 thousand, Reverend Turner told me her group contracted to pay a fraction of that.
REVEREND TURNER: We basically leased the ballroom for the cost of $5,000.
MARRITZ: $5,000. Reserving ballrooms, of course, is not like buying gas on a highway where, you know, where there's a big transparent market. There's not a standard, because the market isn't big enough or transparent enough.
[SLOW, PERSISTENT PLUCKING STRINGS AND BREATHY INSTRUMENTS PLAY]
ATTORNEY GENERAL RACINE: And that's what we expect them to say. But what we also know is that, in the industry, the more that you use a space, the more concessions and/or freebies or discounts one gets. And so it is not the norm that the price is much higher for greater use than it is for less use.
MARRITZ: I know you recently deposed Presidential Adviser and First Daughter Ivanka Trump. And that — I'd love to read that deposition, but it's not public. Can you tell me anything about how that went?
ATTORNEY GENERAL RACINE: I can tell you that she appeared virtually for the deposition, that she certainly was not combative, and was, you know, generally, professionally courteous. Unfortunately, that's not the standard for a deposition. One is under oath, and you're obliged to tell the truth. Unfortunately, Ms. Trump — after the deposition — Tweeted out information that was highly misleading.
MARRITZ: She wrote, "This week I spent 5+ hours in a deposition with the Democrat D.C. AG's office where they questioned the rates charged by the Trump Hotel at the inauguration. I shared with them an email from 4 years ago where I sent instructions to the hotel to charge 'a fair market rate' (see below) which the hotel then did. This 'inquiry' is another politically motivated demonstration of vindictiveness & waste of taxpayer dollars." End of Tweet.
ATTORNEY GENERAL RACINE: She suggested that she was the guardian of the gate, and she made sure that only the market rate was charged. We are confident that the evidence will show that that's not the truth.
MARRITZ: Alan Garten, the Trump Organization's chief legal officer, has also said in a statement that Ivanka Trump wanted a "fair market rate" — and, he said, "Her only involvement was connecting the parties."
MARRITZ: I think you're in a position that is kind of unique in history. You are a prosecutor leading a case against a sitting U.S. President's private business as he is about to leave office. Does it feel as unusual for you on the inside as it looks to us on the outside?
ATTORNEY GENERAL RACINE: Yes, it does. But it feels really strange, weird, it-should-never-happen-again, because what this suit really is about, is about the president's initial decisions — even before he was sworn in — to begin to profit from what would later be his presidency. Even before January 20, it was clear that the Trump family, including the President of the United States, sought to profit from monies that were to go to inaugural expenses or for not-for-profit purposes.
MARRITZ: Can you give me a sense of where this goes next?
ATTORNEY GENERAL RACINE: So, we're wrapping up discovery, and then we'll go to a phase where the Trump Inauguration Committee will — and the other defendants will ask the court to dismiss the case. We don't believe that that's warranted.
If you do the research — and if you stay strong and fight a legal case with him and strongly — the record is replete with lost cases, forced payment, and settlements. My hunch is that that's where we end up here.
MARRITZ: Where does this case — which is centered around, you know, in the end, not a huge amount of money, and not a huge sprawling complicated thing … It's actually pretty discreet. It's a pretty small bite that I think many people can understand. So where does this case fit in with the broader question of accountability in your mind?
ATTORNEY GENERAL RACINE: Well, I think it's a very important precedent to establish, that the President of the United States should never seek to profit from his or her office. Indeed, that's why the office of Attorney General for the District of Columbia also brought the emoluments case. And that's a case, of course, that involved foreign sovereigns plowing money into the Trump Hotel, allowing the President, thereby, to unlawfully profit against and contrary to the constitution.
[A MOMENT OF MUSIC]
MARRITZ: When I was doing my reporting around the inaugural — particularly, like, around 2018 — I started getting a lot of documents and looking at each of the events and the parties and when they happened, and where they happened, and trying to sort of line them up and compare. It didn't actually seem to me that very much happened at the Trump Hotel. At least, not that many public-facing events. Did you notice that, too?
ATTORNEY GENERAL RACINE: You know, I did. And, um, you know, we, of course, have, uh, certain, you know, investigative documents and other evidence that really suggest — and this is about as far as I can go — that monies were coming into the Trump Hotel regardless of whether people were staying there. No, we noticed that, too.
MARRITZ: Uh huh. Okay. So, stay tuned.
ATTORNEY GENERAL RACINE: Yes.
[BASS-HEAVY PERCUSSIVE MUSIC PLAYS]
MARRITZ: We requested comment from the Trump Inaugural Committee, the Trump hotel, the Trump Organization, the White House. We did not receive a response from any of them.
AG Racine is trying to recoup a little over a million dollars paid to the Trump hotel. If he wins the case, Racine says, his office will give the money to a worthy charitable cause.
After the break, there's another investigation with potential legal jeopardy for Donald Trump: a criminal matter. [BEAT] We'll be right back.
[MUSIC OUT]
[MIDROLL]
BERNSTEIN: We're back.
On a steamy August day in 2018, journalists were summoned to a courthouse in Lower Manhattan.
CNN ANCHOR 1: The process of the arrest of Michael Cohen is now underway.
BERNSTEIN: Michael Cohen, Donald Trump's former personal attorney —
CNN ANCHOR 2: FBI's got him.
CNN ANCHOR 3:They've got him.
BERNSTEIN: — was about to make a dramatic move.
CNN ANCHOR 1: … around four o'clock, for what we believe will be a plea deal.
[PLUNKY MUSIC PLAYS]
BERNSTEIN: In the courthouse, Cohen, his hair now noticeably greying, his shirt knotted with a gold tie, pleaded guilty to eight felonies, including making hush money payments, quote, "In coordination with and at the direction of a candidate for federal office … for the purposes of influencing an election."
The charging documents referred to the candidate as "Individual 1". Everyone knew it was Trump. In other circumstances, Cohen's plea might have led the prosecutors to Trump. But a Justice Department memo said the DOJ couldn't indict a sitting president. It seemed that Donald J. Trump, legal Houdini, had escaped a criminal reckoning again.
But.
That same summer, two blocks north, a different prosecutor's office — the Manhattan D.A.'s office — began its own investigation into possible crimes committed by Donald Trump, his associates, and his business.
CAREY DUNNE: It was prompted by public reports that certain business transactions in our jurisdiction were possibly illegal. Given those allegations, our office would have been remiss not to follow up.
BERNSTEIN: This is Carey Dunne, the general counsel for Manhattan District Attorney Cyrus Vance Jr., speaking to the U.S. Supreme Court in the spring of 2020.
There have been no charges filed in this case, and under normal circumstances, we'd know very little about it. But because Donald Trump has been fighting in the courts to keep his business records away from the D.A., there are now hours of court hearings and reams of documents that give us a roadmap to the D.A.'s investigation.
So, we're going to take that roadmap, and, with a guide, we're going to try to figure out where the investigation has gone, where it's going, and what it could mean for Trump. Here's our guide.
ADAM KAUFMANN: My name is Adam Kaufmann. I am an attorney in Manhattan. I'm at the law firm Lewis Bach Kaufmann Middlemiss.
BERNSTEIN: Before that, Kaufmann worked at the Manhattan D.A.'s office.
KAUFMANN: I did, for about 19 years. The title was "Chief of the Investigations Division."
BERNSTEIN: In charge of white-collar crimes, corruption, money laundering, fraud. He prosecuted a mortgage fraud ring, perpetrators of a pyramid scheme, international financial crimes.
He left the D.A.'s office years ago.
KAUFMANN: So I know absolutely nothing about this investigation.
BERNSTEIN: About this investigation. But he knows a great deal about how this kind of investigation works.
[LIGHT, CURIOUS MUSIC PLAYS]
BERNSTEIN: Here's the set-up: After the D.A. began his investigation into the Cohen payments, public reports on Trump's questionable business practices piled up. The New York Times got his family's old tax records, and called some Trump business maneuvers "outright fraud." The Washington Post reports the Trump Organization routinely sent lenders multipage "Statements of Financial Condition," purporting to describe his "properties, debts and multi-billion dollar net worth" that, in fact, "were deeply flawed"
MICHAEL COHEN: Mr. Trump is a cheat.
BERNSTEIN: And Michael Cohen testifies publicly, to Congress.
COHEN: As previously stated, I am giving to the committee today three years of Mr. Trump's personal financial statements … [FADES UNDER]
[CROSSFADES TO …]
CONGRESSMEMBER LACY CLAY: To your knowledge, did the President or his company ever inflate assets or revenues?
COHEN: Yes.
CONGRESSMEMBER CLAY: And was that done with the President's knowledge or direction?
COHEN: Everything was done with the knowledge, and at the direction, of Mr. Trump.
[CROSSFADES TO …]
CONGRESSMEMBER ALEXANDRIA OCASIO-CORTEZ: To your knowledge, did the President ever provide inflated assets to an insurance company?
COHEN: [BEAT] Yes.
CONGRESSMEMBER OCASIO-CORTEZ: Who else knows that the President did this?
COHEN: Allen Weisselberg, Ron Lieberman, and Matthew Calamari.
CONGRESSMEMBER OCASIO-CORTEZ: And where would the committee find more information on this? Do you think we need to review his financial statements and his tax returns in order to compare them?
COHEN: Yes, and you'd find it at the Trump Org.
BERNSTEIN: I asked Kauffman, "If you're inside the D.A.'s office, and you're doing an investigation, how does all of this public activity affect prosecutors behind-the-scenes activity?"
KAUFMANN: Yeah. You know, so as you're going through the litany, I'm thinking to myself, well, "How would that have happened? Um, how would this have unfolded?" And, you know, you — you — you could see … Look, I mean, you're talking about looking at the President of the United States. So every decision in this matter is going to cross, um, District Attorney Vance's desk. There's just no doubt about it.
[A BEAT]
They're probably getting leads from people. They're probably getting phone calls. They're talking to, uh, witnesses and, you know, it's like they're pursuing one thing and these leads start to open up. And — and it's almost like a — I dunno — it's almost like a gestalt. Like, at some point, there's, like, enough there there, that they're going to broaden and issue this broader subpoena, because now it looks like there's multiple reasons to suspect that the Trump Organization has engaged in criminal conduct.
And at a certain moment — Who knows when? — you hit a tipping point and you say, "You know what? There's enough here. We need to do this. We need to move forward with this investigation and see where it goes. Alright, go ahead and issue the subpoenas."
[HEAVY MUSIC PLAYS]
BERNSTEIN: This happens in August of 2019. First, the Trump Organization gets a subpoena asking for records about the Cohen business dealings. The D.A. wants records from June 1, 2015 — so that's right before Trump declared his candidacy — to 9/20/18, which is just after Cohen's guilty plea. They tell the Trump Organization that they are looking beyond just the Cohen payments.
Vance attorney Carey Dunne described the investigation in an appeals court hearing in September 2020.
DUNNE: We have represented that the appellant has been put on notice throughout this litigation that the grand jury investigation was not limited to Cohen's 2016 payments. The office has stated the grand jury's investigation: quote, "potential violations of state law, including issues beyond those involved in the Cohen matter."
BERNSTEIN: A few weeks after it subpoenas the Trump organization for the Cohen records, the D.A.'s office subpoenas Trump's accountants, Mazars USA. The subpoena asks, quote, "for the period of January 1, 2011, to the present, with respect to Donald J.Trump, the Donald J. Trump Revocable Trust, the Trump Organization, Inc." — and a whole bunch of limited liability companies — for tax returns, statements of financial condition, contracts, work papers, communications, et cetera, et cetera.
This is when Trump sues D.A. Vance in September 2019. He loses, and loses again, and again and again and again, and keeps appealing. All the while, Mazars doesn't have to turn over the records. The election comes and goes, and the case gets stuck at the U.S. Supreme Court — for the second time.
[A BEAT]
BERNSTEIN: Vance continues to get documents where he can, and to interview witnesses. And because his office keeps filing papers, we get a more and more specific view of what the D.A.'s office is considering.
BERNSTEIN: So the DA's office has very helpfully said [CHUCKLES] some crimes it might be looking at, uh, and I will list them: Scheme to Defraud, penal law … What is it, section 190.65? Is that how you say it?
KAUFMANN: Yep.
BERNSTEIN: Okay. So there's that one. Falsification of business records, penal law 170.10; insurance fraud, 176.15 through 176.30; and criminal tax fraud, 1803 to 1806, among others. So, I mean, are those serious crimes?
KAUFMANN: Well, are they serious crimes? I — I wouldn't want to be charged with one. Um, a B felony would be a minimum sentence of one to three years in state prison, with a potential maximum of, uh, eight-and-a-third to 25 years. So yeah, you'r — at a B felony, you're talking about a serious crime. At an E felony, you're talking about possibly going to state prison all the same. So, you know, felonies are serious by definition. Felonies are serious offenses.
BERNSTEIN: So, what do you need to make out a case? I mean, aside from the records, what — what else do you need to — to get to an indictment and, eventually, to a trial?
KAUFMANN: So, what separates a crime from a sharp business practice? You know, it gets down, of course, to intent. What is the person's intent? To be prosecuted for a crime, you have to be able to show that the defendant acted with criminal intent. So, I think a great example is this: Mr. Trump quite famously deducted [CHUCKLES] $70,000 for his hair treatment for, uh, getting hair hair blown out or — or whatever. [LAUGHS]
BERNSTEIN: It is really a lot of money for one's hair. But anyway.
KAUFMANN: It's — it's a lot of hair money! But, you know, you could see someone in good faith saying, "Well, I'm a TV personality and my hair has to look good and that's a business expense." Now, everyone has said, "No, that's wrong." You know, the tax experts I've listened to — and I'm not a tax expert — but they've said, "You can't take that as a deduction. It's an improper deduction." But that doesn't necessarily make it a crime.
[DRIVING MUSIC PLAYS]
KAUFMANN: That's different than, for example, setting up dummy companies and moving money to them and calling it a business expense, um, you know, taking in loans and then channeling it through shell companies to inflate a balance sheet.
In those instances, you're acting with an intent to really mislead, an intent to defraud. If you're talking about a criminal tax case, that's really what you're looking for as a prosecutor. And you want to be able to show that very clearly. You — you — you don't want something that's overly convoluted. You want it to boil down to something that you can get up in front of the jury and say, "Can you believe what this guy did?"
If you can show, you know — if you can stand up before a jury and say, "Look, you know, on January 1, they valued this building at $20 million because it was in their interest to have a low valuation. And on January 15th, they valued it at $200 million because they were trying to get a big bank loan." That's a nice, simple, straightforward case.
BERNSTEIN: At Trump, Inc., we've reported on a number of such schemes. Our ProPublica colleague Heather Vogell got ahold of Trump's property tax filings and found [A BEAT] that the income he'd reported to New York tax authorities didn't always match the numbers he'd reported to lenders. (The Trump Organization attributed the discrepancies to differences in reporting requirements.)
This was just one set of numbers deriving from Trump's property tax returns. The D.A.'s office could soon be looking at a whole lot more.
BERNSTEIN: So, if you're in that office and you get some big stack of Trump documents and you've been trying to get them now for a year and a half, and you don't want to dilly-dally because there's a statute of limitations issue, how do you handle that? Just, really, how do you do that?
KAUFMANN: So the District Attorney's office has a great group of, um, forensic accountants and financial crimes investigators: uh, people who can read a tax return, can read financial papers, can find the weaknesses in them can find the parts that don't look entirely kosher and focus in on them.
BERNSTEIN: I mean, okay, so now we've seen Donald Trump with a stack of tax documents. We don't know if those are his actual tax documents — Trump being Trump — but I assume it's a lot of documents. It seems like, I mean …
KAUFMANN: I assume it is too.
BERNSTEIN: [LAUGHS] So, um, are we talking months, years? I mean, what's the calculation.
KAUFMANN: No, I think we're talking, [A BEAT] um, you know, a month, two months. I mean, to understand, to find — you know, you don't have to know everything in them. You have to find, um, the places that look suspicious.
BERNSTEIN: If you were there, what would you be saying to people? You know, "Go find this thing. This is the thing we need to make out the case." What would the "this thing" be?
KAUFMANN: Um, you know, I — I mean, I thought that the tape recording … "Tape"! Listen to me! I sound — I sound my age. Um, the digital recording of, uh —
BERNSTEIN: No, we say "tape." It's okay.
KAUFMANN: You say "tape"? I thought, you know, Michael, Cohen's, uh, recording of the conversation about making a payment to, uh, one of the women.
[THE SOUND OF THAT RECORDING PLAYS SOFTLY UNDERNEATH]
KAUFMANN: Um, you know, that was, I thought, very damning evidence, right? It shows that, uh, Mr. Trump himself was involved in that decision-making and in that transaction.
[UP FROM UNDERNEATH, FROM THE AFOREMENTIONED TAPE]
COHEN: [FADES UP] When it comes time for the financing, which'll be —
TRUMP: Hey, listen. What financing?
COHEN: Well, I'll have to pay him something.
TRUMP: So we'll pay with cash.
COHEN: No, no, no, no, no. I got it.
[TAPE FADES OUT]
KAUFMANN: I think they're going to have to be sort of bare-knuckled. Um, they're going to have to look at who in the organization or who in the — the sphere of advisors … who has criminal exposure, and they're going to have to try to flip people.
BERNSTEIN: "Bare-knuckled" means that, like, they might [HALF-LAUGHING IN SHOCK] be going to some Trump Organization executives and saying, you know, "It's — you're going to go to prison and you're not a young person." I mean, is that what we're talking about?
KAUFMANN: Yeah, that's probably what they — yeah, I think that's what they're going to do.
[HEAVY, LOW MUSIC PLAYS]
BERNSTEIN: A lawyer for the Trump Organization did not provide a statement to us on a possible indictment by the Manhattan D.A., or on the charges he is considering.
In legal papers, Donald Trump's legal team has said Vance's inquiry is "bad faith," and an "overbroad fishing expedition." Trump's lawyers have stated in response to news reports there was "no fraud or tax evasion by anyone."
Ivanka Trump tweeted about Vance's investigation: "This is harassment, pure and simple. This 'inquiry' by NYC Democrats is 100% motivated by politics, publicity and rage. They know very well that there's nothing here and that there was no tax benefit whatsoever. These politicians are simply ruthless."
[MUSIC OUT]
BERNSTEIN: So, we've talked a lot about Michael Cohen. Michael Cohen is a convicted liar. [LAUGHS] So how do you deal with that — if he's, you know, your witness?
KAUFMANN: So, that's right. That's always, you know, the prosecutor's lament. And all the famous prosecutor's lines, you know, you — "We didn't choose Mr. Cohen. Mr. Trump chose Mr. Cohen." [BERNSTEIN LAUGHS] Um, now I'd like to have —
BERNSTEIN: That's a good one! We should use that. [BOTH LAUGH]
KAUFMANN: You know, "I'd like to have, uh, my witnesses be, you know, priests and nuns, but I don't have — you know, I'm not prosecuting a choir."
[A BEAT, A QUIET MUSICAL FLOURISH]
BERNSTEIN: For most people, the Manhattan DA's office is a TV office. It's made famous by Law and Order. I mean, could you actually envision, like, Donald Trump being a defendant in this courtroom?
KAUFMANN: I don't know. I really don't know. I mean, I — I — I tell you, I — I think, um — look, I think, uh … Cy brought the Weinstein case. You know, he's brought some tough cases [A BEAT] and won.
[LIGHT MUSIC PLAYS]
BERNSTEIN: As we're recording this, the U.S. Supreme Court had not decided what it would do about Trump's case to block Vance's subpoena. But because the case relies on Trump's status as president, many legal scholars expect the court to clear the way for Vance to ultimately get the documents.
MARRITZ: There are other Trump legal matters wending their way through the courts. The New York Attorney General, Letitia James, is examining whether Trump's businesses underpaid New York State taxes — a civil violation — by undervaluing assets.
This is another inquiry we know about because of Trump's oppositional legal strategy. Eric Trump, one of the people in charge of the Trump Organization during his father's presidency, refused to show up for a deposition. James went to court to force him to appear, and he did. Some details of her investigation became public.
ATTORNEY GENERAL LETITIA JAMES: Our investigation — for the most part — is civil. And so our investigation will continue, um, when Mr. Trump becomes a private citizen. Nothing will preclude our investigation going forward.
[A SOFT RINGING PLAYS]
MARRITZ: The investigations don't end there. As Donald Trump becomes a "former president," we're left with a tangle of civil suits and criminal probes of him and the people around him: a massive legal hangover.
[A TAPE MONTAGE OF TRUMP'S ENTANGLEMENTS PLAYS]
NEWS ANCHOR 1: Prosecutors in Manhattan are investigating whether Trump's personal lawyer, Rudy Giuliani broke lobbying laws in his dealings with Ukraine…
NEWS PANELIST 1: Tom, what in the world's going on?
NEWS PANELIST 2: [RESPONDING TO PANELIST 1] Uh, Stephanie, I've just learned that Steve Bannon is in federal custody in New York City at this time. He's been charged in an indictment with four other people, uh, alleging fraud…
REPORTER: FBI arrested Lev Parnas and Igor Fruman on campaign finance-related charges as they attempted to leave the United States.
PRESIDENT DONALD TRUMP: I don't know them. Uh, I don't know about them. I don't know what they do,
NEWS HOST: President Trump's niece, Mary Trump, is accusing him and two of his siblings of cheating her out of millions of dollars.
NEWS ANCHOR 2: Elliot Broidy is pleading guilty to a back-channel lobbying campaign on behalf of a foreign government.
NEWS ANCHOR 3: E. Jean Carroll and Summer Zervos also have their two defamation lawsuits that are currently against Donald Trump … [FADES UNDER]
[MONTAGE ENDS]
[OVER EXPLORATORY MUSIC]
MARRITZ: Donald Trump has said the civil suits against him have no merit. Elliott Broidy pleaded guilty to conspiring to violate foreign lobbying laws, but has not been sentenced. Steve Bannon has pleaded not guilty. Rudy Giuliani has not been charged with a crime, and has denied any wrongdoing.
[SILENCE, THEN THE CREDITS MUSIC COMES IN]
BERNSTEIN: This episode was produced by Katherine Sullivan, with sound design by Jared Paul. Nick Varchaver was the editor. Hannis Brown wrote our theme music and additional music.
Matt Collette is the Executive Producer of Trump, Inc. Emily Botein is the Vice President for Original Programming at WNYC, and Stephen Engelberg is the Editor-in-Chief of ProPublica.
BERNSTEIN: I'm Andrea Bernstein.
MARRITZ: I'm Ilya Marritz. Thank you for listening.
[MUSIC OUT]
Copyright © 2020 ProPublica and New York Public Radio. All rights reserved. Visit our website terms of use at www.wnyc.org for further information.
New York Public Radio transcripts are created on a rush deadline, often by contractors. This text may not be in its final form and may be updated or revised in the future. Accuracy and availability may vary. The authoritative record of New York Public Radio's programming is the audio record.