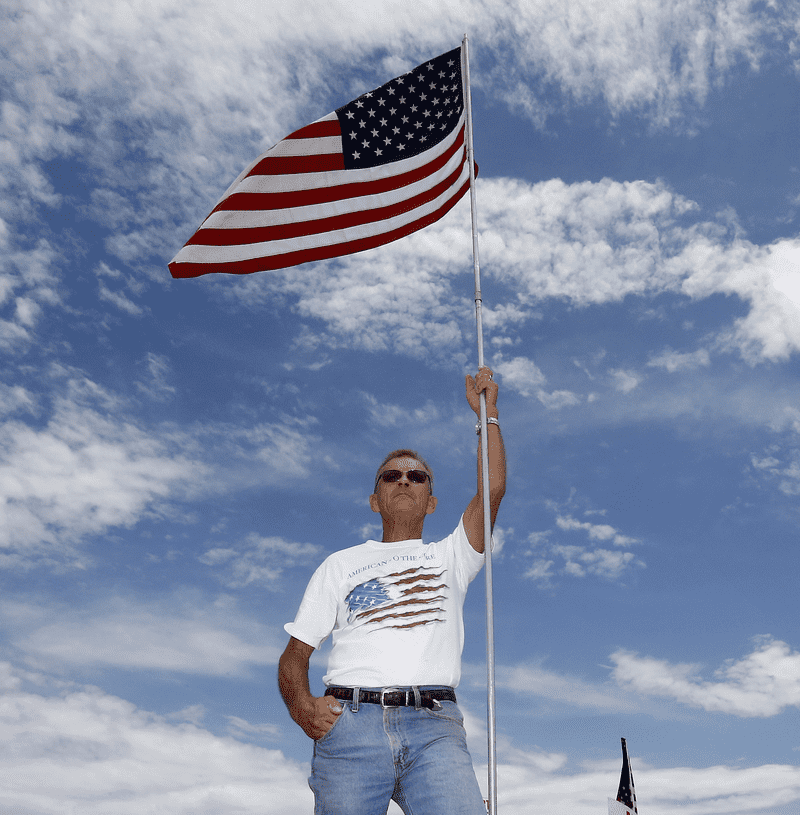 Transcript
KAI WRIGHT: A bunch of us who work on The Stakes spent the summer of 2016 reporting on the presidential campaign. That election revolved around race, and we spent a lot of time thinking about how Trump's campaign leveraged white identity politics... Well, it's three years later, and as we gradually turn our attention to the 2020 campaign, the ideas we explored and the stories we produced back then still feel -- sadly -- quite timely. So we're gonna revisit that reporting over the next couple of those episodes here, with a few updates. Check it out.
[theme music]
I'm Kai Wright, and these are The Stakes. In this episode: the in between people.
[end theme]
I wanna introduce you to a charming young man named Phil Tambarino.
PHIL TAMBARINO: I retired six years ago. I'm 66 and my wife just retired last June. So. She's a newbie. It took her about 30 seconds to get used to it.
KAI: If the American dream is dead somebody needs to tell Phil, because this guy is living the life! After four happy decades as a teacher on Long Island, he stepped aside of his own accord and is now laid up in his gorgeous home on five acres in Huntington Station.
PHIL: This is like, got a lot of memories built into this place. And every tree, every tree and every bush and every flower you see, every plant either I planted or my parents planted.
KAI: From this paradise, he presides over a life that's full of family and friends that he's had for decades.
PHIL: This my best friend Ted, from also from Corona.
KAI: How you doing, Ted?
JOSEPH CAPRIGLIONE: Hi. Joseph.
PHIL: And Barbara Pfundy.
BARBARA PFUNDY: From the Bronx.
PHIL: From the Bronx.
BARBARA: I'm the Jewish one who married…[laughs]
KAI: Oh yeah. That'll happen.
JOSEPH: Joseph.
PHIL: Joe and Kai...
KAI: Ted and Phil grew up together in Corona, Queens in the fifties and sixties, back when the neighborhood was exclusively Italian American.
TED: I grew up in a four family house. My grandparents were in one apartment, we were in another apartment, my aunt and uncle were in a different apartment and a good friend of the family was in the other apartment. And my aunts and uncles lived not too far away. Every Sunday my grandmother would cook dinner and there'd be 20 people in the house.
KAI: That was their whole life -- Italians doing Italian stuff inside the borders of Corona. Phil says they knew nothing of the world beyond that -- until he left the neighborhood for high school.
PHIL: So I left the cocoon and there I met predominantly Irish Catholics -- from Long Island and, you know, and I'll never forget this as long as I live, one of my friends, very seriously, I thought he was kidding at first, said to me: is it true that Italians throw their garbage out the window? He was dead serious. No, no, that was my reaction. I started laughing. That was his family story about Italians. Italians threw their garbage out the window.
KAI: Because the thing is, at the time, Italians -- they were still the "new immigrants." Along with Poles and Hungarians and others from Southern and Eastern Europe, they were still considered inferior to more northern white people.
PHIL: We never thought of ourselves as not white, but people treated us that way.
KAI: So how did this change? How'd Phil's family go from being seen as dirty ghetto dwellers, to enjoying his enviable life today? The answers at least partly explain the extreme politics of the Trump era. Whiteness, it turns out, is not as concrete and fixed of an idea as some believe -- not for Phil Tambarino's family, and not in American society... And at the moment, exactly who is "white" and what that even means, is up for debate.
NELL IRVIN PAINTER: In the discussions that are going on now about identity that includes the racial identity of white people -- and this is something I think is new -- discussions of white privilege for instance, they take a lot of white people quite by surprise.
KAI: Nell Irvin Painter's acclaimed book, "The History of White People," traced the way Western societies have defined and redefined whiteness, over the course of centuries.
PAINTER: It's always been really hard to pin down legal definitions of whiteness. Usually it has to do with not being black, or how much black can be in white. So white is kind of this vague floating concept. But certainly whiteness can be constricted and be enlarged as people feel the need.
KAI: And it has been. Over and over again throughout our history, what it means to be white has morphed and changed legally, culturally and politically. Maybe especially politically, because the political manipulation of racial identity has been a crucial part of our electoral politics from jump.
JOSHUA FREEMAN: The United States was one of the first countries in the world that had something close to universal white male suffrage.
KAI: This is Joshua Freeman, a history professor at Queens College and the Graduate Center of the City University of New York. In the early 19th century, one state after another got rid of rules that limited voting to property owners, and Freeman says this created a challenge for political parties that had until then been these exclusive, patrician organizations.
FREEMAN: You have a new problem: how do you mobilize these people? How do elites and political leaders relate to this new political nation, you know, which is being created for the first time?
KAI: The answer? You entertain them. You throw big, raucous parties at which people can break social rules and generally feel free, at a moment when industrialization was rapidly taking away actual free time.
FREEMAN: There is a long tradition in American life of elections as entertainment, as a kind of almost a festival or carnival like activity. And you go back to the 19th century, election day itself was a day full of parades, entertainment, drinking brawling, showing off. It was a lot of fun if you sort of like like that kind of thing. [laughs]
KAI: If you like to get in the street and be rowdy, you know, come vote!
FREEMAN: Absolutely.
KAI: But these parties were also about creating a certain kind of political identity for voters -- one organized around race.
FREEMAN: This is the same period where in many places, including New York, black voting is getting restricted. So you're having simultaneously the expansion of white voting to virtually all adult white men, and the restriction of black voting. And so maybe this puts in the very DNA of this kind of carnivalesque electioneering a racial element.
KAI: These events remained a mainstay of American politics for generations, and their racial DNA remained a part of it as well.
FREEMAN: I think the most recent precedent that I could think of was the George Wallace campaign in 1968. When his rallies were big events and tense events, there were often protesters and hecklers involved. They would start with a band, country western band that would play Dixie.
[Dixie plays]
FREEMAN: And this is true by the way in the north as well as in the south, it wasn't just in the south.
KAI: Up here in New York.
FREEMAN: Oh yeah. In Boston, in New York, they played Dixie and then Wallace would get up there and people would boo. And he would like this, because he played brilliantly off of hecklers, you know, and pointed to them and kind of denounced them and you know, those people with the sandals over there, and you know if they sat down in front of my car I'd run them over.
DONALD TRUMP: That guy's got a serious weight problem. Go home, start exercising.
KAI: You are, you could be narrating a Trump rally! I mean…
FREEMAN: This is very similar.
KAI: He loves the hecklers.
FREEMAN: Very similar. By the way, in a kind of slightly more restrained way, Richard Nixon did the same thing in 1968. His advance people made sure that there were protesters inside these big rallies.
KAI: Really?
FREEMAN: Oh yeah. Because they wanted to play off of it.
KAI: So there's very little that's new about Donald Trump's campaign style. It follows a script that has long been a staple of American politics -- that is, any time someone has wanted to rally voters around a white political identity. What's new, though, is the context -- we're in a time when, as Painter says, the existing definition of whiteness has begun to lose its meaning.
PAINTER: How do you define white? Well, there's -- you can look at people's skin color, but that doesn't work because there are a lot of people who are brown but who are white. And the attributes of whiteness in the 20th century -- power, wealth, beauty -- these are more shared now. So there are people who are brown, people who are black, who are powerful, who are wealthy, and who are beautiful. And actually with the rise of the drug crisis in the middle of America, rural America, whiteness of a certain class is being rendered ugly.
KAI: So what does all this mean in real life? And what's it mean for the 2020 election? I checked in with somebody we spoke to back in the summer of 2016.
KAI: Hey Chris, You there?
CHRIS ARNADE: Yeah I'm here. Can you hear me?
KAI: I can.
KAI: When we first met Chris Arnade three years ago, he was taking a tour. He was driving around the country talking to working class people, of all races, about their emotions.
ARNADE: You know there was this guy in Prestonburg, Kentucky who I'll never forget. I was there for a week and I spent most of my time in the Walmart Plaza. It's a small town so he saw me all my time, he knew what I was doing. And I asked him, you know, about his job. And he kept saying, "It's a paycheck." That was it. "I don't like it but it's a paycheck." And that's the attitude. It's, you know, "This isn't me. I'm more than this."
KAI: He was really trying to understand how people felt about their place in the modern economy. And we were doing the same thing in Long Island.
KAI: We just wanted to check back in with you three years later…
ARNADE: Okay.
KAI: ...on some of the things that we talked about. And one thing is, sort of following you from afar, I gather you're feeling a little battered since the election. That sort of a bit like the exploration you were on was taken the wrong way by people. Is that fair to say?
ARNADE: That's fair.
KAI: What was the reaction and how do you feel about it?
ARNADE: I think there is a sense out there that if you spent time with Trump voters -- if you interviewed them or listened to them or let other people interview them -- that somehow you're responsible for Trump. And I find that to be remarkably shallow, because one of the things I feel very much is that if you view Trump as being a grave danger to this country -- and I think that's a fair assessment -- you need to understand the opposition. You need to understand why these people are voting for him.
KAI: Sort of the central observation you made to us was that, at least amongst the Trump voters that you talked to, these were folks who were feeling both in their work and in the culture -- they were feeling disrespected.
ARNADE: I think a better word is humiliated. My book is called Dignity for a reason. I think people who are humiliated are looking for a way to obtain dignity. Once you recognize that people feel humiliated, that doesn't necessarily absolve their behavior but it explains a lot of behavior. The search for dignity is not always positive. There are negative outlets in the search for dignity. One of them is basically demanding to be respected. And that can take many ugly forms. And I think the turn towards kind of racist politics and nationalism is a search for dignity but it's not a good one.
KAI: One of the sort of questions that liberals like to ask each other is, you know, when are those Trump voters going to wake up and realize he's a con -- that they they've not gotten what they wanted from him. Do you feel like the people you spoke to who supported him have gotten what they were looking for from this presidency?
ARNADE: Wow that's a hard question. I think a segment of them have, which is they just want someone to break the system -- because you know the status quo wasn't working for them -- I'd rather just, you know, knock over the chessboard and Trump is clearly knocking off the chessboard.
KAI: Mhhm
ARNADE: Look I think he's been a con the whole time. Where I differ from a lot of people is I feel some sympathy for people who are conned. I think if somebody is playing the long odds it's usually because the short odds aren't available to them. People don't happily buy into cons, they buy into cons out of desperation.
KAI: Mhhm.
ARNADE: My original work was in addiction. And one of things I've always notice about addicts is there's a certain point at which you -- they call it owning the stigma -- you get accused of being a dirty addict and eventually you just say okay fine I'm a dirty addict. You know you call me this enough, I'm gonna own the stigma. I think what's happening with a lot of Trump supporters is they're owning the stigma. And that's not a good place to be.
KAI: On Arnade's tour of "uncredentialed" America, he encountered the same search for dignity in all races, all genders, across the country. But it only led some people to embrace the racism and misogyny that defines the Trump era. So why? Why does the search for dignity, for some, include the need to oppress others? As I spoke with Arnade and wrestled with this question, I thought about what historian Nell Irvin Painter explained earlier in this episode: a white identity has always been defined primarily by what it's not, by what it rejects. But also, by what comes with it--real, tangible stuff, that can be lost: jobs, wealth, status…. Coming up, we go back to Long Island and Phil Tambarino's Italian American dream.
+++
MIDROLL
+++
KAI: I pointed out at the top of the episode that Italian Americans weren't always considered on par with *other* white people. They got special classification on their immigration documents noting their dark skin; they were barred from a lot of jobs and industries; and they were confined to ghettos like Corona. In some ways, you could say they're the most recent group to be fully admitted into whiteness in America. Fred Gardaphe is a professor of English and Italian American Studies at Queens College, and he remembers the tail end of those days, when he was a kid in Chicago in the 60s -- and the shame that came with being at the bottom of the social ladder both here and back in Italy. So much so that, when he tried to get in touch with his Italian roots, his family really wasn't into it.
FRED GARDAPHE: I learned proper Italian. I come back to my grandmother and I started speaking to her in Italian. She answers me in English. And I said to my uncle, I said, "How come grandma always responds to me in English when I speak to her Italian?" He goes, "You really want to know?" I said, "Yeah." He said, "Well she doesn't want to tell you this but she says when you speak Italian you sound like a priest." And I said, "What does that mean?" He goes, "Well, you know, she didn't trust the priests in Italy. It's better you speak the dialect that you grew up with with her and don't worry about this Italian, because it reminds her that she didn't have that education."
KAI: And she really didn't want to talk about how she was received when she came to the United States.
GARDAPHE: 'Cause I would ask my grandmother, "Tell me what it was like coming here. She goes, "Muzeria." She would throw her hand out and she would say, "Muzeria." And that just means misery. And she didn't wanna talk about it. And so a lot of what the Italians didn't talk to their kids about didn't process that discrimination didn't get passed on.
KAI: He says they passed on something else instead: The warning that Italians were already entirely too close to black people -- not just in the racist imagination of other whites, but literally.
GARDAPHE: And if you look at the lines in the city that divide neighborhoods the Italians are always in this buffer zone between the blacks and the whites. So you know sometimes you know they're called in between people.
KAI: And if you're "in between" -- you can go up, or you can down. The way up was clear to anybody paying attention to how America works.
GARDAPHE: Italian Americans you know learned very quickly the sooner you become white the sooner you get to benefit by white privilege. And so they tried very hard. I remember my mother saying to me when I was outside playing, "Don't stay outside you're going to get dark as a..." and she would use the N-word. You know. We have to separate ourselves from them. Otherwise we'll end up like them. American means white for them-- they want to be American.
KAI: Which brings us back to Phil Tambarino, living the dream in his Huntington Station Garden of Eden. Phil and Ted are notably NOT Trump's kind of white guys. When manufacturing disappeared in Long Island, it didn't upset their lives, because their family stories had in fact followed the narrative of progress that was supposed to define the 20th century.
TED: In my family, I'm the first one to graduate from college.
PHIL: Yeah, I was the second.
TED: It was you know it was like unheard of. You know you went to high school, if you went to high school, you graduated and you went -- you got a most likely a blue collar job.
PHIL: Mmhm.
TED: And to go out, go to college and to become a white collar professional, it was unheard of back in the 60s and 70s.
KAI: Those blue collar jobs were the first step -- historians note that, for Italians, Phil and Ted's parents broke the economic barriers, and the next generation broke the cultural barriers. Phil explains how that worked for his family -- how his dad got his foot in the door of a job in the city sanitation department, setting them down the path to middle class.
PHIL: So this was 1939 -- the world's fair, which was in Corona. It's funny because when the Italians lived there they called it the Corona Dumps. After when they built the world's fair in 1939 it became Flushing Meadows.
[Phil and Kai laugh]
PHIL: So he applied for a job at the fair doing sanitation work and was getting nowhere. So he reapplied under the name -- instead of Tambarino -- he reapplied under the name Phil Tam. T-A-M-B. And they hired him instantly. You could do that with your name but you can't do it with your skin color unfortunately because you know they were not hiring black people for those jobs either. And his claim to fame was that at the World's Fair he actually cleaned up the horse manure behind Queen Elizabeth's carriage when she visited the World's Fair. It's a great story.
[Phil and Kai laugh]
KAI: So there you go...
PHIL: Picked up the... Exactly. Exactly.
KAI: Cleaning the Queen's crap -- that's how you get ahead in America. But hey, the Tambs thrived from there. And when they got enough money together, they bought a piece of land way out in Long Island, on what was then barely used farmland, and they built the house Phil lives in today. It was their escape from the cramped Italian ghetto of Corona. And when Phil graduated college, his dad gave him and his wife the house to start their own family. Phil wanted to be a teacher -- a public servant, just like his dad.
PHIL: I interviewed for the job in '72 and I later found out the story behind the job. So when I interviewed for the job the principal of the building was Swedish and he was not sure about hiring me for whatever reason, I don't know why. But his secretary was Italian. And years later she told me the story. Her name was Terry and she said, "You know after you walked out of that interview he came out of the office and said to me, "Well should I hire the little Italian?" The little Italian. And she said to him, "You better."
KAI: That's the last bit of anti-Italian bias Phil can recall -- because life was good for Italians in the suburbs. In fact, it felt like all of sudden, Italians were running things. You know, Mario Cuomo and all that.
PHIL: I remember thinking, "My God, an Italian governor." That was so foreign to me. You know Italians just didn't rise to that level you know. And then things changed. Then you know De Niro, Pacino -- became cool to be Italian.
[Clip from "Taxi Driver" -- "You talking to me?"]
KAI: But the legacy of being "in between" people remained. That fear of nearness to black people -- or, farness from full white status -- it still shaped life. Phil notes that he was 44 years old before he made friends with a black person.
PHIL: I felt so sad that it took me 44 years to actually break down that barrier and socialize with people of color. And it's just ignorance. It's just we are ignorant of each other. And it's sad. It really is. Integration is a wonderful thing. once you break down those barriers it's like, oh my God.
KAI: Phil is sickened by Donald Trump. To him, Trump's fear mongering of immigrants has reflected all the worst parts of the American story.
PHIL: There's a pecking order in this country. Every new immigrant that enters this country has to start at the bottom I guess. But in the end they're going to be very productive citizens and be very grateful, as Italians are. Very grateful that we came to this wonderful country of opportunity. Look at where we are here, right? It's paradise. I thank God every day that my family did what they did and and sent me to college and gave me a better life. It's all about a better life.
KAI: That is certainly America's promise -- a better life. But the question has always been: a better life for who? And at what cost to others? For a long time, whiteness -- as an idea and as an identity -- it offered a definitive answer. It determined who's in and who's out, even as its own boundaries shifted and morphed over the centuries. But for an increasing number of Americans, that answer no longer works.
CREDITS
The Stakes is production of WNYC Studios and the newsroom of WNYC.
This episode was reported by me and Jim O'Grady.
It was Produced by Joe Caprigilione.
It was edited by Karen Frillmann who is also our Executive Producer.
Cayce Means is our technical director.
The Stakes team also includes…Amanda Aronczyk, Jenny Casas, Marianne McCune, Jonna McKone, Jessica Miller, Kaari Pitkin, Christopher Werth, and Veralyn Williams…
With help from…
Hannis Brown, and Kim Nowacki.
Stay in touch: You can hit me up on twitter, @kai_wright. Thanks for listening.
Music Credits:
"Aynotechesh Yererfu" by The Budos Band
,
"The Summit" by Blue Dot Sessions
,
"Black Ballots" by Blue Dot Sessions
,
"Rhodes Meditation" by Hannis Brown
,
"Balti" by Blue Dot Sessions
,
"Conversation" by Hannis Brown
,
"Your Thing Is A Drag (Instrumental)" by Sharon Jones & The Dap-Kings