There Goes the Neighborhood: Miami, Part 3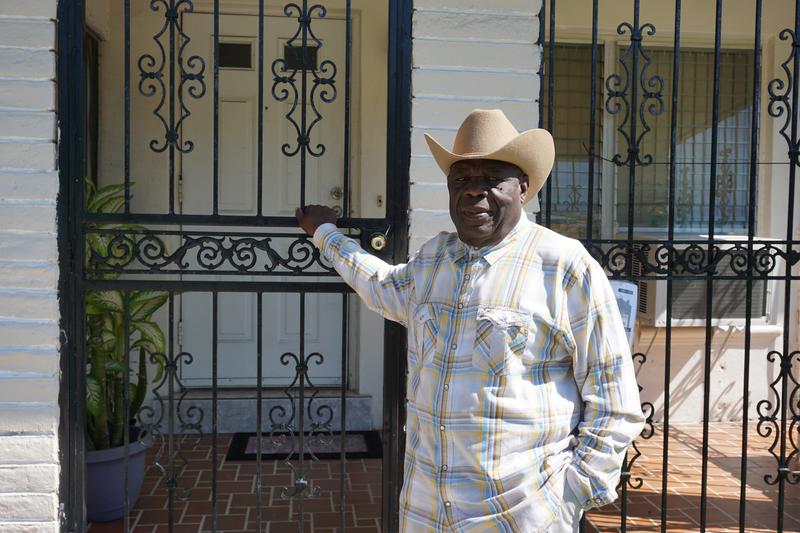 Transcript
PREROLL
KAI WRIGHT: Hey everybody. This is the final installment in our three-part series on the way climate change may intensify gentrification. We're making it in partnership with WLRN, which is Miami's public radio station. And in this installment, reporter Nadege Green takes us back to Miami's Little Haiti neighborhood.
[Theme music]
I'm Kai Wright, and these are The Stakes. In this episode: The land rush.
KAI: So Nadege, how'd this neighborhood come to be? Where did Little Haiti come from?
NADEGE: Little Haiti wasn't always known as Little Haiti. It was known as Lemon City which was a historic African-American community. Part of it was known as Little River. It became Little Haiti after the first large wave of Haitian migrants started coming to Miami in the 70s. At the time Haitians were leaving Haiti in droves because they were fleeing the violent and oppressive dictatorships of Francios Duvalier, better known as Papa Doc…
FRANCOIS DUVALIER: Democracy is a word. It's only a word; it's a philosophy -- it's a conception.
NADEGE: … and then his son took over, Jean Claude Duvalier, or Baby Doc. And, I can't say this enough, they were brutal, brutal dictators. They had a crew of militiamen known as the Tonton Macoutes who would carry out much of the violence in Haiti and many of the people were fleeing and they were coming to Miami because Miami was close. They ended up in this neighborhood -- what would be known as Little Haiti. Carl Juste, who is a photographer with The Miami Herald -- he knows the story very well he grew up in Little Haiti
CARL JUSTE: The Duvalier regime was notorious. They clamped down on any opposition. And my dad was part of the opposition. He was very politically active. So they picked him up. He did some jail time, they locked him up and then they gave him an option: you can either shut up or you can leave, but if you talk you're dead.
KAI: Mm.
NADEGE: So Carl's dad, his name is Viter Juste – he is considered an icon in Miami's Haitian community. And I don't like the word icon, but he really is. Everyone knew Viter Juste. If you saw him on the street, you know, you would greet him, "Hi, Pa Juste." I knew him. He went to my church. So he was just this very well known figure in Miami's Haitian community. And when he was released from the Haiti jail, he left the island, moved to New York. And after he left New York, he came to Miami, and so that's how he ended up here in Miami. At the time, Viter Juste was one of the most prominent activists and voices in the Haitian community. He was always fighting for fair treatment for the newly arrived Haitian migrants.
KAI: And these are the boat people, right? This is what was talked about in the sort of popular American conversation as the boat people.
NADEGE: Right. And that's because most Haitians came by sea. They made this dangerous journey to Miami from Haiti on boats and homemade rafts.
REPORTER: Over the past eight years many of the more than 12,000 Haitian boat people to reach Florida shores have been quietly absorbed into this area.
NADEGE: From 1977 to 1981 around 50 to 70,000 Haitians came by boat to Miami.
CARL: He felt that it was in the American spirit that the Haitians have a community which they can call their own. You have to understand many of these people were boat people who risked their lives and many of them lost loved ones at sea. It's not like catching the bus. This was something which was a dire decision. When you get on a boat most of them could not swim.
KAI: Mm. How were folks received there in Miami?
NADEGE: You know, it was a really rough time for Haitians, right? A lot of Haitians were detained for a very long time in, like, the Krome Detention Center.
KAI: Yeah.
NADEGE: Those who did come out and were in the community -- they were able to sort of create a safe space for themselves in Little Haiti even though all around them there were questions about these new arrivals. This is one of like, the first major waves of black immigrants, right? En mass.
KAI: Right. Right.
NADEGE: And so there were questions, you know? And this was also going on around the same time you also had like I believe large groups of Cuban immigrants coming to Miami and so the disparate treatment was always front and center. Cubans received special humanitarian provisions that allowed them to stay in the U.S. But for Haitians it didn't matter if you got to land, there was a good chance you could face deportation. So the issue of race was always front and center here in Miami where you saw a predominantly white immigrant group that got to stay and a predominantly black immigrant group being detained and deported.
KAI: And this policy still echoes in our political culture today, right? I mean immigration policy towards Cubans has long been uniquely generous, in part because of the Cold War history, but also there's this racial distinction you're talking about, right?
NADEGE: Yeah. And you know, for Hatians, even if you didn't come to Miami by boat, they were still regarded as boat people. And Carl's dad, Viter Juste, he was one of the go-to voices in the press to talk about Miami's new Haitian community and often to defend them. And Carl tells me, it's in one of those interviews, in the early 80s, his dad coined the term Little Haiti.
CARL: And he said, "Well, if the Cubans can have a little Havana, the Haitians can have a little Port au Prince." And the reporter said, "That's kind of long." He said, "Yeah I guess you're right. I guess they could have a little Haiti." And the Herald reporter I guess quoted him. And ever since afterwards that area was known as Little Haiti.
NADEGE: Haitians also call the neighborhood Ti Ayiti.
KAI: Ti Ayiti. Am I saying that right?
NADEGE: Yeah. Ayiti is how you say Haiti in Kreyol. And ti means little. It's the Kreyol translation of Little Haiti.
KAI: In the first episode, we introduced you to a massive, billion-dollar development in Little Haiti, a project that has become a focal point for anxieties about gentrification in black Miami.
NEWS HOST: strong show of opposition to a project that aims to transform a big chunk of Miami's little Haiti neighborhood.
KAI: So what does this mean for people, when capital comes rushing into an old neighborhood this way? This is a surprisingly unresolved question about gentrification: Does it actually push people out of their neighborhoods? And if so, what happens to those people? Where do they go? In this episode, Nadege asks that question of one man, who helped make Little Haiti the home it's become for Haitian migrants.
[Rara music]
NADEGE: You can hear Little Haiti from blocks away. It has its own rara band, Rara Lakay. Rara Lakay is made up of about a dozen men. All of them live in or around Little Haiti. And they play traditional Haitian handmade horns and drums. Every week they take their music to the streets of Little Haiti. Picture this...it's a Friday night, the men gather in the middle of the road on 59th street and they start this informal musical procession through the streets of Little Haiti. As neighbors hear the sounds, they join the procession, dancing in the streets to the sounds of rara well into the night just like in Haiti.
LOUIS ROSEMONT: Little Haiti se la nou gen vye band rara nou.
NADEGE: Louis Rosemont is . He's a visual artist. And at night, he used to be able to hear the rara band warming up from his apartment.
LOUIS: Mwen te di eske nou pa kapab bati youn seri de ti apatman ppu moun ki nan minimum wage senior citizen yo.
NADEGE: Louis is a fixture in the neighborhood. He's usually wearing his signature cowboy hat and always has on a freshly pressed button down shirt. During the day he spends most of his time inside the Caribbean Marketplace in Little Haiti. The architecture is built to resemble the beautiful gingerbread houses in Haiti. The marketplace is a bright yellow building with orange and turquoise trimming. When you walk inside you can't really miss him. He's the one working on a painting.
LOUIS: Se artist studio mwen gen la. Se l'am pwodi.
NADEGE: Louis shows me his studio. It's tucked in a corner of the marketplace. He has dozens of bright, colorful canvases in progress. Scenes from a Haiti market with women carrying straw baskets on their head. Haiti's country side with a man leading a donkey…
LOUIS: Si'm ta gen youn bagay negatif pou'm ta panse, vin pase pasyon mwen isi la, si tou le'm chita la map pen, donk tout sa yo yo konble…
NADEGE: He says painting his passion and it's his getaway. Louis is like a senior statesman at the marketplace. He sees value in Little Haiti and he's always encouraging other Haitian vendors to stick it out even as the neighborhood gentrifies.
GEORGE HERBERT LAGUERRE: Really he's truly concerned about developing this. Make this a success. Because this is a platform for Haiti, a platform for Haitians…
NADEGE: That's George Hebert Laguerre. He runs a small Haitian cafe in the marketplace called Ti Georges Cafe. He appreciates what Louis is doing.
GEORGE: It's a good feeling knowing that your neighbor, a man that you see everyday, watching out for you, showing he's truly concerned.
LOUIS: Ti George is doing the great thing. He represent the good image with the Haitian people outside Haiti.
NADEGE: He loves Little Haiti because for so long it was like a piece of his island country in Miami. Take Ti Georges Cafe, Louis says it's like you can taste Haiti when his friend brews a cup of black coffee because the beans are imported from Haiti.
LOUIS: Se Ayiti direkteman. Cafe Ti Georges sevi youn moun ou santi ou bwe youn tas cafe ki soti na te Ayiti.
NADEGE: He says everything in Ti Georges Cafe is authentically Haitian. And that's what makes this part of Miami special. The Kreyol that's spoken in the streets
[Sound of women speaking Kreyol]
NADEGE: The music, the food…
LOUIS: Se la si nou bezen ti lwil maskerti nou…
NADEGE: If he needs quality Haitian castor oil to make home remedies when he has a fever or catches a cold, he finds it here, in Little Haiti.
LOUIS: Si Nou bezwen tablet nou…
NADEGE: Or the Haitian homemade sweets: ginger infused peanut and coconut brittle.
KAI: But here's the thing, some of this stuff that makes Little Haiti home for Louis – it's slipping away.
[Traffic noises]
NADEGE: So, this is where the apartment building was. It was a small two-story structure. I want to say it had about five or six apartments?
KAI: Now it's just an empty lot -- grass, some trash, a fence; it's got a sign up that says for-sale-by-owner. This is where Louis's apartment was, when Nadege first met him.
NADEGE: And it was in really bad shape. Most of the people who live there -- I mean, they showed me the inside of their apartments, with gaping holes in the floor where raccoons come into their apartments. Rodent infestation. There was an elder, she was like in her 70s, and her bathtub didn't really work. So she had to shower from a bucket. But everyone in this apartment building was paying under $900 a month for rent, which is unheard of here in Miami.
KAI: There are a lotta ways to measure the health of a city's housing market. But one simple approach is to count how many households are "cost burdened" -- which is a technical term, it has an official definition in federal policy. It means you spend more than 30 percent of your income on housing. Nationally, about a third of all households are cost burdened. In Miami, it's almost twice that: 57 percent. That's way worse than Honolulu, San Francisco, Oakland. Some here argue Miami is actually the nation's least affordable housing market…. And one reason for that is, over the last several years, units like the one Louis called home have been literally disappearing.
NADEGE: I met them here. There was a tree. The tree is gone too. And they all had their eviction papers saying that the owner wanted them out because he wanted to sell the land.
NED MURRAY: That would not have happened you know, 12, 15 years ago.
NADEGE: Ned Murray is a housing researcher at Florida International University. He tagged along for our tour of Little Haiti.
NED: There's significant competition for land because of the scarcity of land and neighborhoods like Little Haiti and Liberty City are now really the last areas where you do have somewhat affordable land. It's these older neighborhoods, and a lot of the neighborhoods of color really, that that are now being looked at by developers, because really that's all that's left.
KAI: The land rush that Ned's talking about in Miami offers a case study in how the recession helped turn so many cities and neighborhoods into -- well, luxury commodities. For Miami residents like Louis, the housing market just turned itself inside out, thanks to a couple of things. First, as homes and buildings went into foreclosure or lost their value, speculators jumped.
NED: There was a surge of investor and LLC acquisitions right after the market crashed in 2007 and as we came out of the recovery because the market had bottomed out and they were gobbling up a lot of these properties.
KAI: This happened all over the country. But in Miami, Ned says it was accompanied by another trend: The working and middle class households that once owned property here disappeared, and huge numbers of higher income renters moved in. Overall, Miami's population has grown by more than 25 percent since 2007 -- and construction of luxury one-bedroom and studio apartments has surged to serve these newcomers, not to mention people buying vacation and investment homes. But they're running out of places to build--and Ned says that, more than rising sea levels, is why they're looking up at Little Haiti and Liberty City: It's got cheap land, owned by speculators and slumlords who have been waiting ever since the crash for their moment to knock down these old buildings and sell.
NED: They're looking at locations where you have trailers, where you have underperforming properties, where you have easier access to be able to purchase this land and then build at a much higher level.
KAI: Ned is sounding the alarm about this trend. He's leading a process with the city to first study the affordable housing crisis, and then create a plan for what to do about it. And basically, what he's found is, if the city is gonna build any more affordable housing, it's gonna have to beat luxury developers to this land. It's perfectly located. It's cheap. And it's all that's left. Coming up, we meet the people making the new Miami.
MIDROLL
NADEGE: You hear about places like Denver and Austin and Seattle where young, educated people are moving. Well, Miami is on that list too. It's one of the top 15 fastest growing cities of its size.
NIDIA CAVAZOS: Well I've always wanted to live in a big city. I don't like living in small towns where you don't have a lot of buildings so having the busy neighborhoods, the busy buildings -- that's something I was looking forward to, just a busy city at all times.
NADEGE: Nidia Cavazos got a job offer and moved to Miami six months ago from McAllen, Texas. She chose to live in Midtown, a neighborhood just south of Little Haiti. She and her boyfriend pay $2400 a month for their one bedroom apartment.
NIDIA: And it is pricey for a one bedroom but I'm sharing it, so it's affordable for me. I really enjoy it just because, you know, at any time during the day and even during the night you can just go out for a walk and everybody's walking. You have a lot of restaurants, so if I want to go grab something to eat quickly then it's right where I live.
NADEGE: Developers are taking note of people like Nidia who are willing to pay more for the convenience of a walkable urban area with all the amenities just steps away. And that's why Miami's luxury rental market is booming.
GREG WEST: We're building overall 2000 units across five projects. A couple of them finished and also a couple of them under construction.
NADEGE: In the city of Miami?
GREG: In the urban core of Miami.
NADEGE: Greg West gave me a tour of one of his luxury rental projects in downtown Miami. He's the CEO of Zom Living. His property manager was also with us.
NADEGE: How many floors is this building?
GREG: This building is 42 floors. This is a one bedroom apartment. It's 824 square feet. Got a kitchen island, Italian cabinets, caesarstone quartz countertops. We've got Hansgrohe plumbing fixtures and Whirlpool appliance package.
NADEGE: So how much would an apartment like this be? Rent?
GREG: I'm going to ask Tim to answer that question.
TIM: So these are starting at 22 on the low end and that's for a lower floor, but they go up to about $2600 as you go higher in the building.
NADEGE: The building is really nice. There's even a kind of spa room for dogs where owners can wash their pups in these nice tubs and sometimes there's a groomer on site for the dogs too. And Greg is also part of this organization that's all about sustainable building and smart real estate planning. It's called the Urban Land Institute's Southeast Florida and Caribbean District Council.
KAI: And so what does he think about the idea that climate change has an impact on gentrification?
NADEGE: Well he says a couple things. For one, he's not very worried about sea level rise.
GREG: It's a difficult question and we're starting to hear it more and more often. And it seems to be that south Florida's sort of the crucible of that discussion. You know when the topic of sea level rise historically come up everybody changes the subject and elected officials, private property owners -- no one wanted to talk about it. That's really not the case anymore people are talking about it.
NADEGE: Are you starting to see in your market or as a developer any sort of hesitance yet on funding or financing especially closer to the bay or coastal areas or at least more questions than there used to be on you know how are you going to make this sea level safe even?
GREG: Yes. I mean – well, yes. But when you have a rational conversation about it and you discuss what your municipal and county governments are doing to prepare, and also what you can do as a private developer to prepare, we don't find any resistance.
KAI: So it sounds like it's still profitable to build along the coast and in low lying areas.
NADEGE: It is. And Greg doesn't buy into the idea that the difference in neighborhood elevation— like higher elevation in Little Haiti and Liberty City is really influencing real estate trends here.
GREG: Some people say what's happening there is climate gentrification, everybody's running away from the from the waterfront. I just don't think that's accurate. The waterfront remains desirable but it's always people looking for the next best thing.
NADEGE: Jesse Keenan, the Harvard researcher we heard from the last episode, isn't saying that everyone is running away from the water. What his "climate gentrification" theory does say is that climate change will likely accelerate gentrification in neighborhoods that aren't prone to flooding. That renters and homebuyers are going to make the choice to not be inconvenienced by flooding at some point. And the City of Miami is taking climate change seriously enough that they're studying climate gentrification. Jane Gilbert is the Chief Resilience Officer here.
JANE: As we look at long term projections of sea level rise and flood risk challenges, certainly it's gonna make more sense to have -- ideally in a perfect world -- ideally more density in our higher ground areas near our transit lines.
KAI: So the city and Ned and Jesse are all looking at the maps and trying to find a solution. But in Little Haiti, for people who have been making a life for decades, getting by on four, five hundred dollars a month rent -- it's starting to feel too late.
NADEGE: When Louis Rosemont got his eviction notice he blamed it on this wave of development and investors in and around Little Haiti.
LOUIS: Chak jou develope ap avance tankou gangrif. Se pouvwa avek lajan pou'w genyen…
NADEGE: Everyday he says the developers are advancing. And there's not much that can be done. He says this is a country of power and money--and developers have both. I met up with Louis seven months after he was evicted from his Little Haiti apartment. He no longer lives in the neighborhood. He couldn't find an apartment he could afford.
[Sound of a door opening]
I went to visit him where he's living now in North Miami Beach.
NADEGE: So konbyen tan ou gen nan kay sa kounyan.
LOUIS: Depi an septanm mwen la.
NADEGE: He's renting a room inside of someone's house.
LOUIS: Little Haiti belong for Haitians. Now I'm in North Miami Beach, it's not easy for me. So my home is Little Haiti.
NADEGE: In Louis' room there's a bed, a dresser, he has a black mini fridge in a corner. And that's it. The owner of the home won't let him use the living room or the kitchen, so he had to get rid of a lot of his stuff before moving in. He eats out everyday. He's paying
LOUIS: I am not comfortable. It is the first time I am in that situation. I prefer my own apartment.
NADEGE: He never imagined he'd have to move out of Little Haiti.
LOUIS: We have some developers come in Little Haiti. Lot of programming there. We cannot afford nothing in there. The rent is so expensive.
NADEGE: Nearly every day, he takes a 40 minute bus ride to go back to Little Haiti. He still spends his day at the Caribbean marketplace...about a block away from where he was evicted. A few months ago he was putting the finishing touches on a painting.
LOUIS: This painting is boat people. He left Haiti, come to the US. Se youn vwayaj cante ki kite ayiti ki rive isit…
NADEGE: His painting is an image of Haitian boat people. The sky is a gradient of dark blues, purples, orange hues as the sun sets. Louis says he doesn't think he'll ever be able to call Little Haiti home again. But as long as he can, he'll try to find a way to spend time in the neighborhood. And if the day comes that he can't get on that bus anymore…
LOUIS: So is my body here in North Miami Beach. My spirit is still in Little Haiti everyday.
NADEGE: I ask him in Kreyol if he has any hope that he can one day return to Little Haiti.
NADEGE: So, ou pa gen espwa?
LOUIS: No. Nou menen tout gwo batay nou te dwe menen.
NADEGE: He says no. He fought as hard he as he could to stay. He doesn't think there's room for him to live there anymore.
CREDITS
KAI: The Stakes is a production of WNYC Studios and the newsroom of WNYC.
This episode was reported and produced by Nadege Green and myself.
It was edited by Karen Frillmann, who is also our executive producer, and Alicia Zuckerman, who is Editorial Director for WLRN.
Cayce Means is our technical director.
The Stakes team also includes… Jenny Casas, Marianne McCune, Jonna McKone, Jessica Miller, Kaari Pitkin, Christopher Werth, and Veralyn Williams…
With help from…
Hannis Brown, Michelle Harris, Bill Moss and Kim Nowacki.
Tape for this episode was provided by The Lynn and Louis Wolfson II Florida Moving Image Archives at Miami Dade College.
Stay in touch: You can hit me up on twitter, @kai_wright.
Thanks for listening.
Music Credits:
"Aynotechesh Yererfu" by The Budos Band
,
"The Progress Of Conscience - Drum & Bass No Pads" by Emlyn Ellis Addison
,
"Triad" by Hannis Brown
,
"Dutchess of Dork" by Izm
,
"Under Water" by Cayce Means
,
"Zeros" by Hannis Brown
,
"Slow Palate" by Cayce Means
,
"Your Thing Is A Drag (Instrumental)" by Sharon Jones & The Dap-Kings