A History of Persuasion: Part 2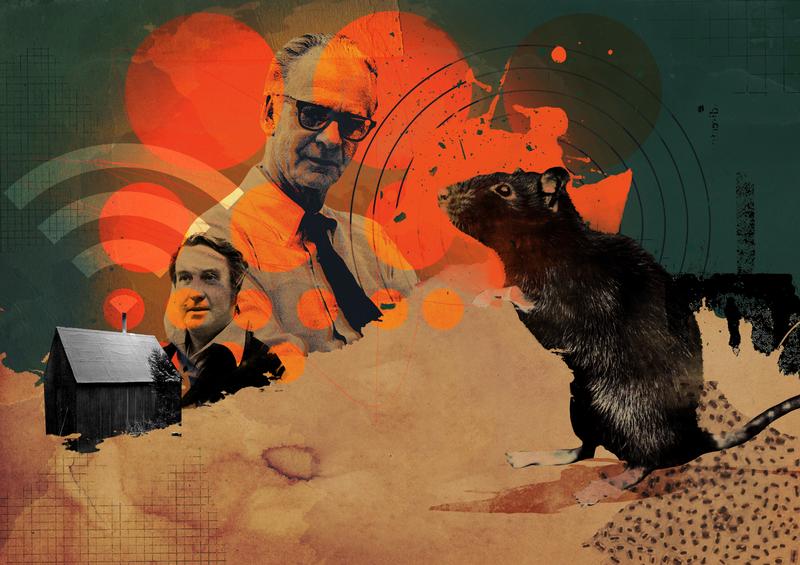 Transcript
[Theme music]
KAI WRIGHT: I'm Kai Wright and these are The Stakes. In this episode: pigeon ping pong.
[End theme]
KAI: Hey Stakes listeners, this is episode two of a three-part series. And it's not gonna make much sense if you haven't listened to part one, so just stop right now, back up and go back and listen to episode one… In this series, what we're trying to do is bring some historical context to the intense anxieties so many of us feel right now about digital culture, and the feeling that we're being manipulated by unaccountable powers. That feeling is actually not new; it's got a long history, and so do the techniques Silicon Valley uses to keep us tethered to these products. So reporter Amanda Aronczyk is walking us back through that history. In our last episode, James McConnell -- a psychologist whose ideas once sparked almost as much anxiety as Facebook does today -- he became a target of the Unabomber.
JAMES MCCONNELL: And I kept saying, who hates me? You know who can hate me this much to send me a bomb?
KAI: But Given Ted Kaczynski's explicit concerns about technology, why did he try to kill a psychologist? That's the question we're going to answer.
AMANDA ARONCZYK: In the summer of 1993, FBI agent Max Noel was assigned to a case that nobody wanted.
MAX NOEL: Oh. This... this case is just unlike any case anyone ever had.
AMANDA: You weren't thrilled to be put on this?
NOEL: No. I was over 50 years old, getting ready to retire and as they say in the FBI, I was postin' and coastin'. And I really wasn't up to going into what everyone had considered to be an unsolvable case.
AMANDA: The unsolvable case was known as UNABOM. Now, at that point in time, the FBI had been trying to solve it for 14 years. There were thousands of suspects. But it wasn't until a couple of years later that Noel was told to go check out some hermit living in the woods of Montana named Ted Kaczynski.
NOEL: First day I got to Lincoln, Montana that evening it was 33 below…. AMANDA: The ground was covered with snow. Now Noel knew that Kaczynski lived in a small cabin tucked into a canyon. But he needed more details if he was going to get a search warrant. So he asks a neighbor, a guy named Butch Gehring, for his help.
NOEL: He said well that's no problem. Come on! You want to go up there? I'll take you up there right now. I said sure. When we got right directly opposite Kaczynski's cabin on the skid road which was kind of a clearing, Butch's dog Curly Sue scared up a yearling deer and the deer went running right across in front of Kaczynski's cabin with Curly Sue hot on its tail barking and yapping. And we said, oh boy, we're stuck out here in the open. And all of a sudden we saw the door to the cabin open, and this weird, strange, wild-looking individual stick his head out and looked directly at us. And Butch waved and said "Hi Teddy!" and Kaczynski looked at him and waved back and then closed the door and disappeared. He wasn't upset at all. And I thought to myself at that time, my God is that what we've been looking for for well over 15 years?
AMANDA: A month later, the FBI still doesn't have enough evidence to arrest Kaczynski. So they just wait. Next thing that happens is word gets out that the FBI is there on a stakeout and a news team threatens to blow their cover. So Noel's boss calls him up and asks…
NOEL: Is there anyway we can get him out of that cabin NOW?
AMANDA: So on the morning of April 3rd, 1996 the FBI moves in. Cautiously.
NOEL: We knew he was the most successful booby trap bomber in the history of the country. I knew that he had at least two rifles in the cabin.
AMANDA: As they walk up... they don't hear anything. Noel wonders if maybe Kaczynski's gone.
NOEL: And when we finally got right up by the cabin we heard some movement in the cabin so we knew he was there.
AMANDA: They get right up front.
NOEL: The cabin door cracked open.
AMANDA: Kaczynski takes one step out... and Noel's partner Tom McDaniel, grabs him.
NOEL: Kaczynski started yelling and hollering and fighting around and Tom kind of wrapped him up with his big bear hug trying to bring him under control. And I got the privilege of walking around in front of him and taking my SIG Sauer P226 and sticking it in his nose and displaying my FBI credentials and saying, Mr. Kaczynski, Max Noel FBI. And at that point he wilted and was compliant with everything that we asked him to do.
AMANDA: Did did he seem surprised that you had finally caught him?
NOEL: Oh, I think so. I think he was. I can still remember watching his face intently as we drove out of the mountains and up over the continental divide and down into Helena. And he was looking at the scenery and looking at things, and you know I don't mean to sound melodramatic but he looked kind of wistful you know? Like he knew that he probably would never come back there again.
KAI: So in all the years since Kaczynski was caught, what did HE said about why he tried to kill McConnell?
AMANDA: Well, as far as I could find he has said very little. And there was never a trial.
NEWSREEL: The department of justice has just accepted a plea of guilty for life in prison without the possibility of parole….
AMANDA:So instead I went and looked through his life story and biography to see if I could find some clues.
20/20 TAPE: Despite his difficulties, at just 16, Ted Kaczynski won a National Merit Scholarship and was accepted at Harvard….
AMANDA: What surprised everyone at the time was that Kaczynski had been considered a boy genius. He went to an Ivy League college at an age when most kids were still in high school.
REPORTER: He earned a bachelor's degree from Harvard, a doctorate in math from the University of Michigan...
AMANDA: The University of Michigan. That's where McConnell taught. Which means both Kaczynski and McConnell were at the same place, for years! So you would think there must have been some moment where they met -- in class, on campus, at a lecture. The local FBI agent, Greg Stejskal said they did look into it.
GREG STEJSKAL: The fact that he was in Ann Arbor was a piece and you know we, we tried to make a connection, but there was no, well no indication that he had any direct contact with McConnell while he was in Ann Arbor in the 60s.
AMANDA: There's nothing.
STEJSKAL: No. Not that I'm aware of anyway.
AMANDA: Remember the Unabomber was a huge story. All of these people came up with theories about Ted Kaczynski. But there's one that's become the definitive explanation for what turned this boy genius into a killer. And it's from the author Alston Chase. He did an interview he did with Radiolab about a decade ago.
ALSTON CHASE: I was corresponding with Kaczynski, he was by this time already serving his life sentence at the Florence, Colorado maximum security penitentiary.
AMANDA: And in their letters, Kaczynski gives him a clue. He writes that when he was at Harvard, he signed up for a psychology experiment.
CHASE: And he referred to it as an unpleasant experience. And of course I was very curious and I wrote it back and asked Kaczynski to tell me a little bit more about it, and he said, I don't know if you want to go into that can of worms.
AMANDA: So Chase starts looking into this unpleasant experience and he finds that there's this one particular session. And the way Chase describes it? It sounds awful: The students are brought in one at a time. They think they're going to have a kind of casual discussion with another undergrad.
CHASE: But in fact they were duped. They were walked into this very brightly lit room. It was a one-way mirror in front of them. Behind the one-way mirror were these psychologists and then they were put in a chair, strapped in, electrodes were attached to their arms, their heart, their chest and so on to measure their respiration, heartbeat, blood pressure. Basically measuring stress.
AMANDA: Then a stranger walks into the room.
CHASE: He was a specially trained law school student, trained to do everything he could to anger and humiliate the undergraduate.
AMANDA: Now, when Kaczynski signed up for these experiments he didn't agree to anything like this. And the reason I'm telling you this story is because when we think of the most sinister side of psychology we tend to picture someone getting strapped into a chair and being forced to do something against their will. And that is what Chase thinks happened here -- that this experience was so bad that it led Kaczynski down a very dark road.
KAI: That it broke him
AMANDA: That it broke him. But I wanted to find out what actually happened that day in that room. And I managed to track down a recording of this actual interview with Kaczysnki.
MALE VOICE: This is Monday evening, March 14th, 1960. Dyad #12 is about to begin between Mr Sh- and Mr Kaczynski. K-A-C….
AMANDA: ... Only a handful of people have ever heard this before. This is the law student:
INTERROGATOR: I ought to warn you before I start this, I do not have a very favorable impression of you as a result of reading your philosophy but let me just tick off a few preliminaries and then we will get to what I really didn't like. First...
AMANDA: And this... is Kaczynski
TED KACZYNSKI: Yeah well all through this thing, uh, you've been saying well this and that, but you haven't given me any arguments or reasons, you say that…
INTERROGATOR: Well, Mr Kaczynski I have just formed an opinion of you and it's not particularly favorable...
AMANDA: You can hear, Kaczynski sounds annoyed.
KACZYNSKI: I think the reason, one of the reasons you attack my philosophy so vigorously is because you don't want to believe it.
INTERROGATOR: (laughs)
KACZYNSKI: And, in your, you uh… I think the way you laugh is an indication of that too.
INTERROGATOR: Do you really?
KACZYNSKI 1960: Yeah I do. But of course I'm no psychologist.
INTERROGATOR: I'm trying to keep this -- hold on, I'm no psychologist Mr Kaczynski …
AMANDA: To me, it sounds like a very uncomfortable college debate class.
KAI: Right, I mean it's hard to imagine that would break somebody.
AMANDA: Right. I also managed to find someone who was there. Another undergrad who took part in the experiment at Harvard. Philip Bradley says yes, this was a pretty uncomfortable. But the idea it was damaging...?
PHILIP BRADLEY: Bullshit. Or I should say, that's ridiculous.
AMANDA: And you're sure because... you were, you were there, it sounds like....
BRADLEY: Yeah. I mean how, how could you think that something like that would be permanently psychologically damaging to someone that would push somebody into becoming a psychopath. I mean I just... that idea is just to me so far fetched and I don't know how it's become part of popular lore.
AMANDA: It's clear that this theory just isn't true. This is not what broke Ted Kaczysnki. It's not the reason he tried to kill James McConnell. And yet it's totally taken off. It's been in all of these books, there's these articles, it was in the TV show "Manhunt," about the Unabomber.
KAI: Mm hm.
AMANDA: And I think it's because that idea of the "evil psychologist" is really so compelling. But in reality, you don't have to be strapped to a chair to be manipulated. In fact, as we're about to hear, psychological manipulation... can actually be much more powerful when it's subtle, when you hardly know it's happening at all.
KAI: That's coming up on The Stakes.
+++
KAI: Hey Stakes listeners, we'll get back to Ted Kaczynski in a minute. But we've been asking you for stories about your smartphones -- and your compulsive behavior with them. You guys have been great, you've been sending in some really good ones. Here's a bit of what we've been hearing.
ROSEMARY MISDARY: What is the most ridiculous situation where you've used your cell phone?
LISTENER 1: I was holding our archbishop's scepter during a service and I reached into my pocket, so I had a scepter in my left hand and I had my phone in my right hand. And I was just like, looking down and texting while I had like, the highest person in our Greek Orthodox church standing next to me. I thought I was so cool for texting during church.
LISTENER 2: At one point I tried to make an effort to not look at my phone within like, an hour before bed because some millennial blog told me it would give me better sleep patterns. And for a little while it did work, but then I just craved looking at my phone, checking Instagram before bed, and before I knew it, I was just scrolling mindlessly. And I had to just tell myself like, no. Stop.
KAI: Keep these stories coming! Just record a voice memo and email it to me at TheStakes@wnyc.org. Thanks.
+++
AMANDA: When Max Noel helped capture Ted Kaczynski, the FBI seized his cabin. They went in and they found a ton of evidence, all of these clues, about Kaczynski's life. And why did what he did.
NOEL WRITINGS: We took, I don't know 30,000 pages of writings out of that cabin including a detailed autobiography which is replete with his motivation and why he did what he did and how he became what he became.
KAI: 30,000 pages.
AMANDA: Yeah. He was writing what he was eating, what time the sun came up, what time the sun went down. Lists of all the experiments, lists of everything in the cabin.
KAI: Wow
AMANDA: The FBI found this one little scrap of information that Kaczynski had written in code and it said: "EXPERIMENT 100. MID NOVEMBER 1985. I SENT BOMB IN MAIL TO JAMES V. MCCONNELL, BEHAVIOR MODIFICATION RESEARCHER." He didn't refer to him as a psychologist. He didn't mention the worms, he didn't mention the textbook, he's referring to a very specific period in McConnell's career.
KAI: Behavior modification.
AMANDA: Behavior modification.
NOEL: One of the things that just set Ted Kaczynski off completely were psychologists and psychiatrists who tried to change people's behavior. That just upset him tremendously.
AMANDA: This is the clue that matters. So then I went back to professor Larry Stern, who's an expert on James McConnell's work.
AMANDA: Larry, how would you define behavior modification?
STERN: Well it sounds, you know, like a no-brainer if you think about it. A person is behaving in a particular way and you would like to modify, you'd like to change it. Behavioral change. And basically these are done through rewards and punishments. In a sense this is what McConnell was doing when he was training worms!
[Music from "Heads or Tails"]
MCCONNELL: This little water worm runs back and forth in a nice straight line on the bottom of the trough.
AMANDA: You might remember this from our last episode.
STERN: After he did the simple conditioning which paired light with a shock, he then would put them in a maze. And the worms would slither along and they had to go to either left or right and you would basically use rewards and punishments to try to get the animal to behave one way rather than another.
AMANDA: This is different than pairing a shock with a light and then watching to see how the animal reacts. The key here is how the behavior changes when you give the animal a punishment or a reward. Now, this was a big field of research in the 1970s. And as we'll hear in our next episode, it continues to shape our lives today. These psychological techniques are being employed at a vast scale in Silicon Valley. But McConnell, he didn't come up with this. Behavior modification refers to the ideas of B.F. Skinner.
B.F. SKINNER: We are all controlled all the time, that's a fundamental principle of a science of behavior…
AMANDA: Some background here: B.F. Skinner was a very famous American psychologist. And he had all these rats and these pigeons and he would train them to do various things. Let me give you an example. He would take a pigeon and he built this box and he put the pigeon in the box and there'd be a little disk on the wall. And if the pigeon pecked the disc it would get a little pellet of food, like a little reward.
NARRATOR: The pigeon learned that pecking the disc produced a reward then the behavior of pecking could be studied in relation to how often that reward was offered.
AMANDA: Skinner is learning from this that you can make behavior very predictable based on when you hand out a reward. So then one of the things that Skinner starts to do is he gets like the pigeons to do more complicated things
SKINNER: The two pigeons are at either end of a small ping pong table.
AMANDA: He trains pigeons to play ping pong.
KAI: (laughs) Okay.
SKINNER: One pigeon pecks the ball as it comes toward him and knocks it toward the other pigeon. The other pigeon pecks the ball back across the table.
AMANDA: So it's not ping pong like it's in the air, like the birds basically have a little table and a ping pong ball and they peck it back and forth.
KAI: Peck it back and forth. They don't pick up paddles.
AMANDA: They don't pick up paddles
KAI: I'm glad to hear that I'd be terrified.
AMANDA: Is that what you pictured?
KAI: I did
AMANDA: (laughs)
SKINNER: And so if it goes past one pigeon the other pigeon can eat. And if it goes the other way the other pigeon eats.
AMANDA: And so if you break down the act of playing ping pong into little steps
KAI: Uh-huh
AMANDA: And you reward each step, you can train a pigeon to play ping pong
KAI: Right.
SKINNER: It's a real game uh, the pigeon, uh, is reinforced for a cross court shot if that's what gets the ball past his opponent.
AMANDA: And Skinner infers from this that if he can train a pigeon he can use same techniques to train… people.
KAI: Really? To do what?
AMANDA: Well, in his mind, the idea becomes if you want better behavior, don't worry about people's inner lives, or their feelings or you know all the stuff you talk about in therapy -- just deal with the behavior itself.You can train people, using punishments and rewards to be better versions of themselves.
KAI: So it's about outcomes -- it matters what you do.
AMANDA: Right. And BF Skinner, he sees enormous potential in this idea. And he thinks it can be scaled up to be a kind of social engineering. And James McConnell, he becomes a foot soldier for these ideas. And in 1969, he sets up a class to teach behavior modification.
STERN: And it's a two-part class. One is all on the history, the theory of what behavior modification is.
AMANDA: Hundreds of students sign up for it. And then he takes it a step further.
STERN: The second one is basically a lab where he sends students out to the community to use behavior modification to try to go and to help people.
AMANDA: McConnell sends his undergrad students to hospitals, to prisons, to mental health institutions.
CHUCK SEIGERMAN: Well, I'll put it to you like this. It was the type of class where you wanted to go to class...
AMANDA: Chuck Seigerman was a student who took those classes.
SEIGERMAN: So I can tell you one story. In 1976…
AMANDA: For his lab work, he was sent to the Veteran's hospital in Ann Arbor.
SEIGERMAN: And they had a severely head injured patient there and the clinical social worker at the time was tearing out her hair because she couldn't do anything to help this kid.
AMANDA: Hmm. What had happened to him?
SEIGERMAN: He was in a car accident. It affected his speech. It affected his movement and affected his behavior because he couldn't express himself so he would scream out which is why they got us involved originally. They couldn't do anything with him. He was totally dependent. It would take multiple staff just to give this guy a bath. It was not good. So one of the major techniques for behavior modification is modeling -- modeling the appropriate behavior. People don't know how to behave.
AMANDA: Here's what they did: the nurse would wash Seigerman's arm, and give him some applesauce as a reward. And the patient would watch this. And then the nurse would wash the patient's arm and give HIM some applesauce.
SEIGERMAN: And we were able to progress that to the point where we were able to put him in a lift, Put him in a tub, bathe him without him screaming.
AMANDA: Right.
SEIGERMAN: All by using modelling, by using positive reinforcement. And it was a very, very successful intervention. Directly from the class.
KAI: This all sounds great, honestly, I mean it sounds like a wonderful use for this therapy, and it's making the world a better place.
AMANDA: Yeah, and I think it was considered very effective and pretty benign.
KAI: Uh-huh
AMANDA: But at the very same time that McConnell is sending his students out to do all of this behavior modification work in institutions he also writes this really shocking article. One that would create a lot of controversy.
AMANDA: Can you explain to me what's in that "Criminals Can Be Brainwashed - Now" article?
STERN: He's really on this kind of crusade. He says: "I believe the day has come. When we can combine sensory deprivation with drugs, hypnosis and astute manipulation of reward and punishment to gain almost absolute control over an individual's behavior."
AMANDA: He calls it "positive brainwashing."
STERN: "I foresee the day when we could convert the worst criminal into a decent respectable citizen in a matter of a few months or perhaps even less time than that."
AMANDA: This article was published in 1970. And here you have this well-known psychologist -- a man who some people thought could win the Nobel Prize -- and he's describing his solution for criminal behavior, and it's so extreme. He wants to deprive prisoners of sight and sound and retrain them to behave well. The ideas in this article -- they get a ton of attention. So in 1974, the political activist Angela Davis...
KAI: Oh, wow.
AMANDA: … shows up on campus at the University of Michigan. She gets up on stage to make a speech and who does she call out? James McConnell.
STERN: and she reamed him, you know for talking about these things. You know, is this what you're going to do our brothers and sisters who are in prison? Are you going to use all of these punishments?
AMANDA: Angela Davis sees what he's written as an attempt to control black radicals and other social and political activists.
STERN: (laughs) It really created a stir. I mean McConnell wound up now becoming, you know, the poster child for everything that's wrong with behavior modification.
AMANDA: Back then these techniques for behavior modification became a technology in and of themselves. And what was becoming clearer is that they could be used for right or for wrong. And I think that's why people freaked out. There was a sense of alarm. Kaczynski was of course preoccupied with the dangers of physical technology, but my sense is that he understood just how powerful a tool this behavioral technology could be. And I think that's why he tried to kill James McConnell. Kaczynski wanted to literally destroy this poster child for behavior modification because he feared where it could lead. Now of course the merger between technology and this behavior modification is what we are seeing in smartphones. We are all now part of this massive behavioral psychology experiment with the devices that we carry with us everywhere.
KAI: Up next on The Stakes: Silicon Valley, where the decades long search for ways to manipulate human behavior began to consume all of us...
TRISTAN HARRIS: We're running this vast psychological experiment that humanity has never been through before of what happens when two billion people are jacked into an infrastructure.
KAI: … and where we may finally figure out how to do more than just freak out about it.
CREDITS
The Stakes is production of WNYC Studios and the newsroom of WNYC.
This episode was reported by Amanda Aronczyk.
It was edited by Christopher Werth.
Cayce Means is our technical director.
Karen Frillmann is our Executive Producer.
The Stakes team also includes…Jonna McKone, Jessica Miller, Kaari Pitkin, and Veralyn Williams…
With help from…
Hannis Brown, Cheyann Harris, Michelle Harris, Rosemary Misdary and Kim Nowacki.
And hit me up on Twitter, @kai_wright. Thanks for listening.
Music Credits:
"Aynotechesh Yererfu" by The Budos Band
,
"Jupiter" by Johnny Fiasco
,
"Ted's Cabin" by Cayce Means
,
"Sacrificial Lamb" by Russell L. Howard III
,
"What Lies Ahead (Stripped)" by Johnny Fiasco
,
"Dead Fish Tell No Tales" by Hannah Parrott
,
"Slow Pulse" by Henrik Andersson
,
"Tyeboe" by Million Soundz
,
"Tension Suspense Mystery 4" by Paul Avgerinos
,
"Pigeon Ping Pong" by Cayce Means
,
"Great Lake Currents" by Matthew Raetzel
,
"A Dark Vision" by Erik Haddad
,
"Your Thing Is A Drag (Instrumental)" by Sharon Jones & The Dap-Kings