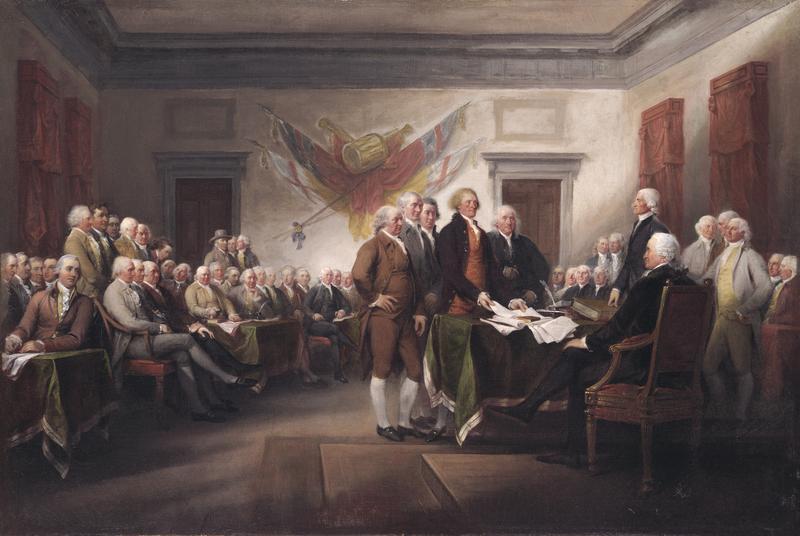 Transcript
KAI WRIGHT: Before we start, do me a favor: if you've got a favorite episode of The Stakes, share it with at least one person today. It's a holiday week—July 4th–which is a great time for binging new podcasts while you're traveling. So pick a gateway episode and send it to somebody this week. It's the best possible way for other people to find us.
Ok, now since it's a holiday week, we're taking a little break. But I'm gonna share a special July 4th episode we made for a previous podcast. Our mission here at The Stakes is to look at the society we've built, and then think about how we might design it better, to work for more people. So I wanna share this episode, because it explores the very first act of social design in American history.
I'm Kai Wright, and these are The Stakes... In this episode, we bake.
+++
KAREN FRILLMANN: Ok, so...
KAI: You bake a pie.
KAREN: Cherry pie.
KAI: Sour cherry pie.
KAREN: Sour cherry pie. Have to have sour cherries.
KAI: What's the difference between a sour cherry and a cherry.
KAREN: It's a different variety. So the sour cherries if you see them at the market they'll be at the green market today. They're coming in just about now in the Hudson Valley. So Fourth of July you can have sour cherry pie and the skin is...
KAI: This is our executive producer Karen Frillmann. And in addition to being our fearless leader she's a baker and she's making us a sour cherry pie. Cause it's the fourth.
KAREN: And I'm going to add about a half a cup of sugar to it. Now, I learned to bake from my mother. My mother would put a cup and a half of sugar in this pie.
KAI: But you're only doing a cup full.
KAREN: As culture evolves, I'm only doing half a cup. Now which means that my cherry pies are very tart. But, people seem to like it.
KAI: Because you've got a little more bite than your mom.
KAREN: I think so.
KAI: So, it's summer… and we're slowing down a bit, and thinking about the work we're doing on this show. When we launched The Stakes, we knew our primary questions: How'd we get here? What choices created the society we've got? And can we make different choices? And right away, that led us to The Declaration of Independence. It's our founding document, and the story of that document -- it just really illustrates how, from jump, America designed a society full of contradictions.
I'm here with our resident history buff Jim O'Grady.
JIM O'GRADY: Hi, Kai.
KAI: Ok so Jim you like history which makes you kind of an annoying person because you're a stickler for things, but for example you were telling us that the Fourth of July isn't even the day we're supposed to celebrate American independence.
JIM: Yes. Annoyingly I'm going to say July 2nd for example is another candidate. That's the day the Continental Congress voted to approve a resolution of independence. That's when the action was actually taken. And as a matter of fact John Adams writes to his wife Abigail saying July 2nd, that's the day, that's the day of our deliverance and we're going to remember it with, he writes, pomp and parade, with shows, games, sports, guns, bells, bonfires and illuminations from one end of the continent to another. And, some would be glad to hear, solemn acts of devotion to God almighty.
Kai: Well John Adams was wrong about this.
JIM: About July 2nd, it's true. But it could have been August 2nd, that's the day the declaration was signed, right? That's a very important day.
KAI: Okay. But something obviously must have happened on July Fourth itself right? Like what happened on July 4th?
JIM: So on that day Congress approves the final version of the Declaration of Independence and they go to their guy in Philly, John Dunlop. He's their printer they have on retainer and they say John, turn this handwritten thing into a set type broadside. And he produces 200 of these things called the Dunlop broadsides. And on July 5th, the next day, maybe that should be the day, they start to get circulated throughout the eastern seaboard up and down.
KAI: So actually what we're talking about first off is that July 4th is a publishing holiday. Really a media holiday.
JIM: Yes I would argue not being any sort of historian that what we celebrate on the 4th of July is the American publishing industry.
KAI: All right. Well anyway so they read the thing aloud. Why did they do that? Why was that important?
JIM: It's first read aloud on July 8th. So why not July 8th? Anyway. In the in the yard behind Independence Hall in Philadelphia. And that is such a key moment in our history. But I'll tell this story about July 9th when it gets read aloud in New York City. George Washington is in New York City with the Continental Army. The British are in the harbor with dozens of ships and thousands of men. And you know we think of George Washington now as a sort of serene evenhanded father for our country. On July 9, 1776 the guy is a warrior and he understands we need to read this out for the troops to psych them up, to get them unified and to get them riled up. So he gathers them in the Commons, what is now Manhattan near the ramp of the Brooklyn Bridge. And the declaration is read out loud and as soon as the troops and various citizens hear it they riot.
KAI: This is the scene from Hamilton, right?
[music up: "Right Hand Man" from the musical "Hamilton"]
Rise up
Understand, it's the only way to
Rise up, rise up
Here he comes
Here comes the general!
Ladies and gentlemen!
Here comes the general!
The moment you've been waiting for!
Here comes the general!
The Pride of Mount Vernon!
Here comes the general!
George Washington!
JIM: Yeah. This is the dark song of the American Revolution. They marched 10 blocks to the south to this area called Bowling Green where there's this giant statue made of lead of King George III on a horse 4000 pounds atop a very large pedestal. They climb up, put ropes around it, pull it down. So right there, symbolic regicide. And they cut off the nose, and then they cut off the head, hey put the head on a pike and they put it outside a saloon.
KAI: [Laughs] This is American history. We are violent from jump.
JIM: Exactly. Well as a matter of fact, so they take the rest of the statue, they send it to Connecticut and they melt it down for bullets which are later fired at Redcoats.
KAI: Wow.
JIM: And then a British officer steals back in the night, gets the head of King George, the noseless head, and mails it back to Parliament in London with a note saying: check this out. These guys are serious.
KAI: Things have gone a little awry in Manhattan.
JIM: This is what you get when you read things out loud and George Washington knew it.
KAI: Ok, so back to my opening question. If the Declaration of Independence is sort of America's first act of social design -- the first time we said, hey, this is the society we wanna have -- does anything about it explain the world we live in today? How's it inform the present?
JIM: Yeah I've asked that question of historians and they all say we don't answer questions like that. They say we don't draw lines from A to B. But for example Rutgers history professor Andrew Shankman who's an expert on the revolutionary period, he says that as a general principle in times of like really roiling economic inequality that's when you have political tumult and that's at least a similarity between then and now. Here's Shenkman.
ANDREW SHENKMAN: As the 18th century economy becomes much, much more robust and much wealthier it also becomes more concentrated and you have all sorts of people who are working low skilled, low wage jobs in and around ports who are observing great wealth being created but not necessarily getting much of it themselves.
KAI: Right. So you've got what is a really, really economically divided society. You've got the wealthy planters and merchants at the top, basically slave owners and the people who sell their stuff. You've got the artisans and the journey men in the middle. And then you've got slaves and indentured servants at the bottom and it's just really stratified. So how does that then affect the Revolution itself?
JIM: Because as the colonists are fighting the Revolution they're thinking ahead a little bit. They're thinking: if we win how is this country going to be organized? And Shankman cites a famous American historian Carl Becker who said this about this early divide in America.
SHANKMAN: The American Revolution was really two conflicts. You know, it was a conflict over home rule wresting control over the North American continent from Britain but also a battle over who would rule at home. So it's which sorts of Americans would actually gain political power as a result of the American Revolution.
KAI: Well we know how that ended, right? I mean it was largely the wealthy white men, the slave owners who gained power of America.
JIM: Slave owners, merchants, men, white men with property -- that is largely the case. But what you have with the Declaration of Independence is it sows the seeds that are going to enormously complicate and errode that fact for the next two centuries and more
KAI: And how so?
JIM: Because Thomas Jefferson could have written something like, listen Great Britain, we have this political arrangement, it's just not working out. We need to change things. But instead he writes something totally different. He bases the declaration on universal values. He makes the case for American independence because it's right that there should be liberty and equality for all. And it's an equality based on what he calls -- this is a very important phrase -- the laws of nature and nature's God
READER: The laws of nature and of Nature's God entitle them a decent respect to the opinions of mankind requires that they should declare the causes which impel them to the separation. We hold these truths to be self-evident that all men are created equal. That they are endowed by their Creator with certain unalienable Rights that among these are Life, Liberty and the pursuit of happiness.
JIM: You almost can't argue with that. That's almost like sending out word bombs and once they're out there and available for people to hear that there is a universal right to liberty and equality. You can't completely control those anymore
SHANKMAN: That's causing colonists to choose to put these words at the heart of the new culture they're going to be creating. Especially in the kind of context in which they actually live which is the context of all sorts of examples of inequality all over the place. And so those words are not you know you can't draw boundaries around them you can't prevent certain people from hearing them and using them.
JIM: Certain people like women who believe they should have the right to vote, African-Americans who spend hundreds of years agitating for their own civil rights, gays who say we need to be able to legally marry just like everyone else and all of these groups and other groups, they all ground their cause in the ideals of the Declaration of Independence and appeal to those words when they say okay, America this is your sacred document. Do you mean it? Do these words mean anything?
KAI: Well of course it has taken and continues to take a great many years to turn those words into something that means equality. But it started right from the beginning it's worth pointing out. I mean even abolitionists were using this document, and the Constitution after it, and it divided them. Frederick Douglass was one of the first people that said, hey what we have to do is not say the Constitution is a Godforsaken document but say listen okay you spelled out those rights let's fight for them. That's what we deserve.
JIM: That's exactly what's going on with Jefferson's Declaration of Independence and what is at the heart of the Fourth of July holiday. There was economic desperation in America at this time, among certain social classes. If something went scarce merchants would jack up the price. There are poorhouse records of people who are so indigent they can't even take care of themselves. And Washington himself, every now and then, would just order officials to take the people in these poor houses and send them out of the city, just send them to the country.
KAI: So we had a lot of inequality both socially and economically, despite the ideals of this document at the time. But let's look at the document itself again because I gather you just walked into the New York Public Library to read it handwritten version of it?
JIM: Yeah they have a handwritten version by Jefferson himself that they put out for display once in a great while because they don't want to expose it to light very often. This is the original draft that Jefferson -- he was annoyed until the end of his life that Congress edited his original draft and it really, it's every writer's nightmare. He toils over this thing. It's his masterpiece. And for two days in Philadelphia, July 2nd and 3rd, he had to watch it be edited by a committee. And he at the end of his life was so adamant that the original be known to Americans he sat down in his own hand, he wrote out five or six copies. Two of these survive one at the Public Library.
KAI: And how did it end up there? Why did the New York Public Library get it?
JIM: OK. So it starts with a hanging in 1803. This Irish rebel named Robert Emmett is hanged by the British after an uprising in Ireland and a couple of decades later his grandson Thomas Emmett is living in America and he reveres both his grandfather and the Declaration as this revolutionary document. So he acquires an original draft in Jefferson's hand. He just goes out and buys it from a guy.
KAI: Wait, just buys it from some dude off the street? You've got copies of the Declaration of Independence just roaming the streets?
JIM: Because it was explained to me back-- this is around the 1830s -- the Founding Fathers hadn't become the Founding Fathers yet. They didn't have this veneer of immortality. They were men who were there at the beginning. And then in 1893 a trustee of a library, one of three libraries that will be merged into what is now the New York Public Library, he buys that copy from the family. And so I saw that at the library in this ornate echoey room with Bill Kelly the director of research libraries.
BILL KELLY: I'm an old man but I still get butterflies when I see this.
KAI: He's a fan.
JIM: He is and he talked about this language like Shankman did, the language of freedom in this document and how it just started to echo around the world.
KELLY: There's another wave that this unleashes. And the history of this document speaks not just to what Jefferson is trying to do but its consequence for people like Emmett and for other revolutionary peoples and movements across the world, even to the present.
KAI: Okay so Congress edited the thing. And let's talk about what Congress edited out, which as I understand it was a condemnation of the slave trade.
JIM: Yes so when I looked at the document, I'm standing there and there's two pages that you see. And on the right hand page there's a lot of script, tight script, and there's one word that stands out that Jefferson purposely wrote in capitals and the word is men and it refers to enslaved Africans. And he's making a serious point with that word. And Kelly pointed it out to me as well and explained
KELLY: You see where he's got men capitalized? He's speaking of slaves there, and the fact that he's calling -- referring to these enslaved people as men rather than as chattel or as slaves is itself an indication of Jefferson's own complex situation. I mean he is a slave holder, his mistress is a slave, he has slave children. And at the same time what he's talking about here is...
KAI: Is what? What is it he's talking about?
JIM: This is not entirely clear. Historians are still arguing about this. Was Jefferson actually criticizing slavery as an institution or was he bringing it up to score points against King George III which there's a lot of that in the declaration. What is clear is that Congress cannot deal with this passage about slavery and when it comes to the essence of this issue Congress decides to put it off and put it off and put it off.
KELLY: None of these politicians, statesmen, whatever we want to call them, could figure their way around this question and that's why the civil war happens. That's why we still live with this long legacy of racism in this country. The original sin of American democracy is here for display and you watch Jefferson twist and turn.
JIM: Kelly says what he appreciates about seeing the original documents other than like a printed version of the declaration is you can almost see in Jefferson's hand he is struggling with these issues and their importance and what it will mean to Americans and what it will mean to be an American.
[music]
KAI: Frederick Douglass had an answer to that question, actually, about 70 years later. Douglas, who was himself an escaped slave and later became the leading voice of the abolitionist movement, he was enormously popular as an orator in the years leading up to the Civil War. He traveled the world talking about America's failure to live up to the words in that founding document. But he was a New Yorker. He lived in Rochester and in 1852 the Rochester Ladies Antislavery Society invited him to speak at an event commemorating the signing of the Declaration of Independence. The address, which he delivered on July 5th of that year, is still considered one of the greatest in the history of American oratory. And ever since I learned about it back when I was a teenager it's been a part of my own July 4th ritual. I sit down and I read it and I remind myself of just how many generations of black people have fought for my place in this nation. So in this episode I'm gonna play it for you. And, hey this is 1852, so remember people had an attention span back then and we're going to let Mr. Douglass speak for a bit. Of course he's not around. So here's actor James Earl Jones standing in for him reading the speech at an event broadcast by Democracy Now.
JAMES EARL JONES: Fellow-citizens, pardon me, and allow me to ask, why am I called upon to speak here to-day? What have I, or those I represent, to do with your national independence? Are the great principles of political freedom and of natural justice, embodied in that Declaration of Independence, extended to us? And am I, therefore, called upon to bring our humble offering to the national altar, and to confess their benefits and express devout gratitude for the blessings resulting from your independence to us?
I am not included within the pale of this glorious anniversary. Your high independence only reveals the immeasurable distance between us. The blessings in which you, this day, rejoice, are not enjoyed in common. The rich inheritance of justice, liberty, prosperity and independence bequeathed by your fathers, is shared by you, not by me. The sunlight that brought life and healing to you, has brought stripes and death to me. This Fourth of July is yours, not mine. You may rejoice, I must mourn. To drag a man in fetters into the grand illuminated temple of liberty, and call upon him to join you in joyous anthems, were inhuman mockery and sacrilegious irony. Do you mean, citizens, to mock me, by asking me to speak today?
What, to the American slave, is your 4th of July? I answer: a day that reveals to him, more than all other days in the year, the gross injustice and cruelty to which he is a constant victim. To him, your celebration is a sham. Your boasted liberty, an unholy license, your national greatness, swelling vanity, your sounds of rejoicing are empty and heartless, your denunciations of tyrants, brass fronted impudence, your shouts of liberty and equality, hollow mockery, your prayers and hymns, your sermons and thanksgivings, with all your religious parade, and solemnity, are, to him mere bombast, fraud, deception, impiety, and hypocrisy—a thin veil to cover up crimes that would disgrace a nation of savages. There is not a nation of the earth guilty of practices more shocking and bloody than are the people of these United States, at this very hour.
At a time like this, scorching irony, not convincing argument, is needed. O! had I the ability, and could reach the nation's ear, I would, today, pour out a stream, a fiery stream of biting ridicule, blasting reproach, withering sarcasm, and stern rebuke. For it is not light that is needed, but fire. It is not the gentle shower, but thunder. We need the storm, the whirlwind, the earthquake. The feeling of the nation must be quickened, the conscience of the nation must be roused, the propriety of the nation must be startled, the hypocrisy of the nation must be exposed, and the crimes against God and man must be proclaimed and denounced.
[music]
KAI: That was actor James Earl Jones reading from Frederick Douglass' July 5th 1852 speech before the Rochester Ladies Antislavery Society.
KAREN: ...425 to get the crust to brown and then you turn it down.
KAI: To then bake through.
KAREN: I guess.
KAI: What else do you bake besides cherry pies? What other pies do you like?
KAREN: Oh every kind. I mean in the Hudson Valley -- the Hudson Valley still has a lot of fruit trees, so peach trees, peaches are going to come in soon and I just go right through the season. I mean I'll make whatever kind of pie somebody wants.
KAI: Well maybe you can make a peach cobbler for me. My grandmother's big dish was not pies but cobbler and my grandmother -- my father's side, Bernice -- and she made peach cobbler. We would gather around -- in the winter it's a banana pudding. But in the summer…
KAREN: Yeah.
KAI: ...it was peach cobbler. And she let me learn how to make her banana pudding. But she went to her grave…
KAREN: Really?
KAI: ...not teaching anybody how to make that peach cobbler.
KAREN: No there is a power -- you know it is funny, the power struggles that go on with everything. You do get a lot of -- you do get a lot of attention for certain you baked things or, I mean any kind of dishes. People are known for their tomato sauce or they're known for their meatballs and I guess it is a way to hold on to your power if you don't give those recipes up.
KAI: Well and your usefulness. That's what I took for it from her was like this was what -- this was her role, this was what made her essential, you know, was that she fed you and she fed everybody and she held on to that. I guess you could call it power. I mean there is power but it's also just you know this is my role this is what I can provide. And if you can provide it for yourself what then what's she -- what's her point?
KAREN: Right. Right... Alright. That's it. OK. So now I'm going to put it in a 425 oven for about ten minutes so that the crust gets brown.
[sound of pan going into the oven]
KAREN: Alright. And I'll put the timer on… [sound of timer ticking] And in 10 minutes I'll turn it down to 375. We should have a pie in about probably in about 40 minutes. Alright. Now the cleanup. [sound of faucet]
KAREN: But you know it's just about to get dark and people are sitting out on their blankets in fields. That's the way I love to see fireworks. And you just finished whatever you're eating and have a fresh piece of pie. I don't know. It's kind of a nice American tradition. Yeah and I do think about my mom and my grandmother and all the women who have kept their families fed. You think about these women out on the frontier doing everything. I just always am in awe of how hard people worked and still work.
[music up]
KAI: Up next, the stories we tell ourselves, even about pie. Plus, we hear a bit from you.
MIDROLL
KAI: Ok, so now we are just about to pull our July 4th cherry pie out of the oven.
We thought we'd get a specialist to tell us a little bit more about pie as the American tradition we think of it as. We called Maine to talk to Kathy Gunst who is the resident chef for NPR's Here and Now and a James Beard Award winning writer. Hi Kathy.
KATHY GUNST: Hi Kai.
KAI: Happy July 4th.
KATHY: And to you.
KAI: Karen is here with us as well.
KATHY: Hi Karen.
KAREN: Hi Kathy. Thanks for joining us.
KATHY: Thrilled to be here.
KAI: So Kathy, maybe can you help us understand why we think so much about pie as this American tradition in the first place or did we even make -- just make that up?
KATHYl Well we kind of made it up. I mean as is true for most things it did not begin here. I did a little bit of research and it's really interesting. 6000 B.C. ancient Egyptians made something that is referred to as a pie. It was more of what we would call now a galette, like a rustic freeform pie. And it was baked over hot coals which is a trend that I think maybe could come back right now.
KAI: [laughs]
KAREN: Artisanal.
KATHY: So that was really interesting. And the Romans and the Greeks also made pies and when it came to the U.S. of course what do we do to everything? We pour white sugar on it. So we made it much sweeter. We added much more sugar and it became a sweet pie. We are talking fruit and specifically summer fruit and these all make incredibly juicy sweet satisfying quote American pies.
KAI: Do you have any sense of why for us it was all about fruit and sugar instead of savory-ness?
KATHY: The pilgrims made pies out of wild fruit and wild berries. And it was what was available. So it makes sense that that's what our first pies were about. aAnd the pie crust became a pastry or something more familiar that we know and that we associate with a pie much later. It was often really not the important part. They just used a vessel to hold whatever the filling was and it might explain why so many people have so much anxiety about pie crust. The other element about pie is that it's a competitive sport. Pies primarily are baked by women, still to this day. If you go to a church supper or a county fair there will be a table of fabulous looking pies. And I guarantee you that 90 percent of them will have been baked by women. And the competitive aspect of it you know all these state fairs and county fairs it's an American tradition. You judge the pie.
KAREN: And do you think the competition comes because the crusts are tough to get that perfect combination? Is that -- I mean why not cakes? Why not you know biscuits? I mean what is it about pie that…
KATHY: Well I think biscuits do have their competitive side as well. But there's something about a pie that is the very essence of home cooking and possibly because it is just these two elements and possibly because it has a great women culinary tradition. Pies are very much about a sense of place and time but also family history. Grandmothers teach daughters who teach daughters who teach daughters about the tradition of a pie and the oral history that comes with the making of that pie.
[music up]
KAREN: ...There was intimacy to be able to be with her and with my paternal grandmother, Laura. I liked following her around too just to you know to be with the women because I had brothers and my father was pretty much the dominant figure in the house so I grew up in a more masculine environment really. And my mother was quiet. I think it was time spent that was the nicest thing about it. It was how we were connected in a way.
KAI: Cause you can't make it go any faster than it goes the clock is going to tick.
KAREN: You know it's real time. It's real time. That's what I like about baking and cooking in general. There's no digitizing it.
[DING]
KAREN. Oh, gotta check the pie.
KAI: The pie is ready for us.
KAREN: Let's see. I can smell it.
KAI: I was gonna say it's starting to smell really good.
KAREN: And that is a good sign too. Get this...
KAI: Want me to reach in there? Don't burn yourself. Oh look at that.
KAREN: Well I can assure you I think this pie is going to be good.
KAI: It looks delicious.
KAREN: Alright so we'll have to let it cool then I guess we can bring it in and we'll all have to dive in.
KAREN: The star of this pie is the cherries.
KAI: Yeah.
KAREN: And those sour cherries are -- they really are a delicacy. You can't get em everywhere. And this is the time of year. Mmm. That's pretty good.
KAI: It's pretty good.
KAREN: It is really. You know cherries just make the world a better place.
CREDITS
KAI: The Stakes is production of WNYC Studios and the newsroom of WNYC.
This episode was written by me and Jim O'Grady.
It was edited by Karen Frillmann. She is also our Executive Producer.
Cayce Means is our technical director.
Jim Schachter is vice president for news at WNYC.
The Stakes team also includes…Amanda Aronczyk, Christopher Johnson, Jonna McKone, Jessica Miller, Kaari Pitkin, Christopher Werth, and Veralyn Williams…
With help from...Hannis Brown, Cheyann Harris, Rosie Misdary and Jared Paul.
You can join the team, by signing up for our newsletter at TheStakesPodcast.org. Sign up. And hit me up on twitter, @kai_wright.
Thanks for listening.
Music Credits:
"Aynotechesh Yererfu" by The Budos Band
,
"Bouyant" by Hannis Brown
,
"Bill Evans Meets Bill Frissell" by Hannis Brown
,
"Trumpet Ballad with Strings" by The Outer Borough Brass Band
,
"Drum and Bass Walk" by The Outer Borough Brass Band
,
"Strut" by The Outer Borough Brass Band
,
"Your Thing Is A Drag (Instrumental)" by Sharon Jones & The Dap-Kings