Denial at the Trump Hotel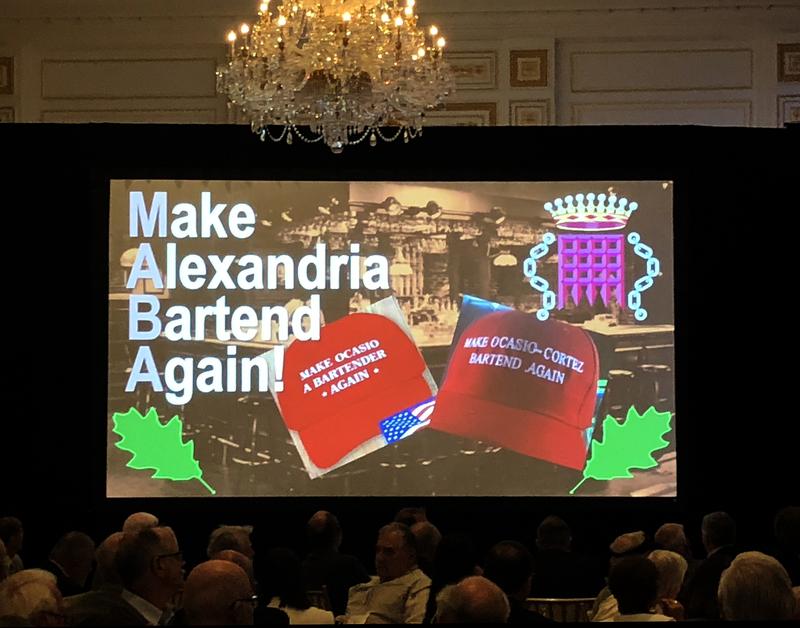 Transcript
KAI: I'm Kai Wright, and these are The Stakes. In this episode, the Climate Hustle.
THEME MUSIC
ARONCZYK: So Kai, a few weeks ago I went to DC and I visited the Trump International Hotel. Have you been there before?
KAI: I have not
ARONCZYK: So it's kind of… like a really nice hotel. You walk into the lobby and the entire ceiling is made out of glass. It actually kind of looks like a European train station, it's very open. And there's steel beams, and the furniture is gorgeous.
KAI: Much more classy and tasteful than I would have imagined
ARONCZYK: And it is very expensive, right, rooms there cost about a thousand dollars a night. It is a very nice hotel.
KAI: Operated by the President of the United States and his family, we should say.
ARONCZYK: That's right. And the lobby kind of acts as this place where people go who want to get the President's attention,
KAI: Hm
ARONCZYK: It's kind of a hub of power in DC. So while I was walking though I actually saw Anthony Scaramucci ...
KAI: The self-proclaimed Mooch! The former Communications Director.
ARONCZYK: Right. And access to power might also be why what's probably the country's largest gathering of climate change deniers...
KAI: Hm
ARONCZYK: ...picked this hotel.
AMBI
ARONCZYK: So this is Heartland Institute's 13th International Conference on Climate Change. And more accurately: it is ground zero for climate change denial and skepticism
ARONCZYK: Hi good morning how are you?
MAN: You're welcome to take anything…
ARONCZYK: Thank you!
ARONCZYK: Do you want to see what I got there?
KAI: Yeah, (laughs) this will be good
ARONCZYK: So like any good conference it came with lots of stuff
KAI: Nice big bag of schwag
ARONCZYK: Yes. Okay here we go, let me show you (rustling in bag)
KAI: Oh good grief
ARONCZYK: I know I got a lot of stuff (Kai laughs) Okay so there's a book, "Nothing to Fear: A Bright Future for Fossil Fuels"
KAI: (laughs) Oh my god
ARONCZYK: "Dumb Energy: A Critique of Wind and Solar Energy" and then there is like a lot about the Green New Deal. I even got this pin, so basically this is a no New Green Deal pin.
AMBI OF LOBBY
ARONCZYK: So you know one of the first things that I noticed when I was walking around was that … I was really in the minority.
ARONCZYK (in tape): There's not a lot of women here!
RANDOM WOMAN: Oh yeah! (laughs)
ARONCZYK: And I did the thing that you do when you see like one of your kind
KAI: Yeah right, you're like, hey girl!
ARONCZYK: And she's like- whatever
KAI: I'm not your girlfriend
ARONCZYK: Exactly. That is 100 percent what happened.
MILLOY: if you look around here you see it's mostly old white men. Okay. You know so it's not planned that way, so we need to develop you know some interest among young people now. (laughs)
ARONCZYK: So this is Steve Milloy, and he's a long-time climate change sceptic and he claims to have ties to the Trump White House.
ARONCZYK (in tape): why is it only white men by the way?
MILLOY: Well because um... first off we've been doing this for 30-40 years right (ahem) now if you're in university and trying to get a PhD, you can't be a climate sceptic, you're finished. Okay, and it's been that for about 20 years. So it's mostly old white men.
ARONCZYK: So think about when this conference took place: This conference took place on July 25th of this year. It was 109 degrees in Paris
NEWS CLIP
...which was the hottest day on record for that city. The arctic was on fire.
NEWS CLIP: Siberia's wildfires have gotten worse as our planet warms up…
The ice in Greenland was melting into slush.
NEWS CLIP: The depth of melting is growing, he says, the point of no return is here...
And yet to the people inside the Trump Hotel, the world is cool and comfortable.
MILLOY: We never had an ally in the White House before. Uh, so yeah Trump is fantastic. I love Trump.
TRUMP: Well, first of all I'm not a believer in global warming, I'm not a believer in man-made global warming. It could be warming and it's going to start to cool at some point…
KAI: A room full of climate skeptics have the ear of the most powerful person on the planet. And they have a plan: A plan for continuing to sow confusion and doubt… and for undermining one of the most important environmental protections we have for fighting this problem. So, how did we get here? How did we get to where people still want to argue the realities of this issue? Amanda Aronczyk has the story of the origin of climate change skepticism.
ARONCZYK: OKAY, I want to go back June 23rd 1988 was a big day in the history of climate change. Because that afternoon, a NASA climatologist by the name of James Hansen sat before members of a Senate Committee for a hearing on something called the "greenhouse effect".
MODERATOR: Gentlemen, thank you very much for being here, Dr Hansen if you'd start us off we'd appreciate it…
ARONCZYK: This wasn't the first time he'd presented his findings to Congress, but this time was different
HANSEN: Mr Chairman and Committee Members...
MODERATOR: You're going to have to talk right into the microphone…..
ARONCZYK: As Hansen adjusts his microphone, he looks uncomfortable. That's because at the moment he's speaking, the temperature in Washington DC is close to 100 degrees
NEWS MUSIC
NEWS: Forecasters are predicting no relief from the haze or the heat this weekend… (FADES UNDER)
ARONCZYK: It was one of the hottest days of one of the hottest years.
NEWS: Two things we know we probably won't be doing this weekend, one of them is watering the lawn. And the other one could be breathing. At least health officials are advising…. (FADES UNDER)
ARONCZYK: The room is hot. So when Hansen makes his case, his forehead is shiny with sweat
HANSEN CLIP: The global warming is now large enough that we can ascribe with a high degree of confidence, a cause and effect relationship to the greenhouse effect…
ARONCZYK: In short: Hansen declares - global warming... has begun.
HANSEN: Altogether, this evidence represents a very strong case in my opinion that the greenhouse effect has been detected, and it is changing our climate now.
KAI: And this time, did anybody pay attention?
ARONCZYK: Yes-- the heat works. So this is like climate change's big coming out moment. It's front page news and Hansen gets invited on all of these TV shows. And at this point in time, many Americans are learning about climate change for the first time, and they get the message: it's bad. Everybody believes the sweaty scientist from NASA. Because why wouldn't you?
KAI: Why would-- I believe him.
ARONCZYK: And the important thing to note here, is that climate change is not a political issue yet. It's not up for debate.
GHWB: To say that this issue has sides, is about as productive as saying that the earth is flat.
ARONCZYK: The same year as the Hansen hearing George H. W. Bush - Bush Senior - campaigns to become the "environmental President."
GHWB: 1988 in a sense, is the year that the earth spoke back. Our land, water and soil support a remarkable range of human activities. But they can only take so much.
ARONCZYK: Bush is standing with Lake Erie over his shoulder.
GHWB: I'm an environmentalist.
ARONCZYK: He's a Republican environmentalist!?
GHWB: that is not inconsistent with being a businessman. Nor is it with being a conservative.
ARONCZYK: But in just a few years, by the end of Bush senior's administration, the politics around climate change shift. And this time, it plays out with this President in front of... kind of the entire world.
NEWS CLIP ABOUT RIO: Turning now to the global environment, as the Earth Summit in Rio de Janeiro today, (FADES UNDER) the United States….
ARONCZYK: So now It's 1992 and more than 170 countries are preparing for the United Nations Conference on Environment and Development. Which is better known as the Earth Summit in Rio.
MUSIC/AMBI
ARONCZYK: This is one of the first times countries from all over the world have gotten together to talk about reducing greenhouse gas emissions.
But at the moment, the US isn't worrying about climate change or a heat wave. They're worrying about the economy. Which has just tanked and become a big campaign issue just as Bush Senior is running against this young upstart, Bill Clinton. Regulating industry? Potentially losing jobs? Not good in an election year.
GHWB: I know Americans have many questions about our economy about our country's future even questions about me.
ARONCZYK: Let me tell you what's happening behind the scenes here, Bush Senior's staff are arguing with each other. Some say, look this going to be totally humiliating, and others say he has to go. ((HELICOPTER AMBI)) It is NOT clear what he's going to do. But in the end Bush ignores his naysaying advisors, and others in the Republican Party, and he goes…
CSPAN: (HELICOPTER AMBI) President Bush left Andrews Air Force Base near Washington DC today bound for South America…
ARONCZYK: And it is this massive event... (AMBI) Along with all the UN people, there are 10,000 journalists, 17,000 world leaders and representatives…
Like all these celebrities turn up -- there's Jane Fonda, and the Dalai Lama, and Sting, and John Denver performs at the opening ceremony…
MUSIC: The wind is the whisper of our mother the earth...
ARONCZYK: By the end of the Earth Summit, 154 countries - including the United States - sign the first climate treaty: the UN Framework Convention on Climate Change. And this becomes the framework for Kyoto, Paris - and all the climate change treaties ever since.
JOHN DENVER APPLAUSE & OUT: Eeeeeeee, Ooooooooooo………..
KAI: So Amanda, it seems like this is really a moment, this is a moment for consensus.
ARONCZYK: It was. Even though the United States along with a few developing countries prevented it from having it teeth -- it didn't force countries to reduce emissions. But it's important because it did acknowledge, yes, there is a problem, and yes, the countries of the world -- including the United States -- agree, we're going to have to work together to solve this.
KAI: And is the science of climate change up for debate at this point?
ARONCZYK: No. But the oil and gas and coal industries have been paying attention to Rio. And it's right at this time, around 1992, that they start to invest real money in questioning the science. I found some seeds of it in news clips. And I'm going to walk you through one of them. This one is from NBC --
NEWS CLIP ABOUT RIO: Turning now to the global environment, as the Earth Summit in Rio de Janeiro today, the United States….
ARONCZYK: Tom Brokaw sets up the story, and then he turns to his chief science correspondent, who explains the science behind climate change.
NEWS CLIP ABOUT RIO: Every time we drive a car, turn on a light, manufacture a product. We use energy…. And most of our energy comes from coal, oil, or natural gas....
ARONCZYK: Then there's an animation and it shows little bubbles of CO2 floating around the earth's atmosphere...
NEWS CLIP ABOUT RIO: Some scientists believe it can act like the windows of a greenhouse, trapping more and more of the sun's heat
ARONCZYK: Next there's a scientist...
OPPENHEIMER IN NEWS CLIP: The world is facing the potential for record heat, record drought, forests going up in flames…
ARONCZYK: And here's the pivot…. This next interview is with the owner of a coal mine:
COAL REP ROBERT MURRAY: If there's anything this country needs now, it's jobs. And precipitous action, in form of legislation or international commitments will eliminate jobs in this country. And thousands of them!
KAI: Okay so we're watching a story, that is like a science report. Talking to a scientist, hearing about science. And then all of sudden there's... coal miners.
ARONCZYK: Yeah, and the coal miners and they're set up like, here's the other side of the debate.
KAI: But it's not the other side of the debate…Because we were talking about science, and then like, here comes a political conversation.
ARONCZYK: Right, because, of course, this is really about money and regulation. The coal, oil and gas industries understand the implications. People will lose jobs. These industries will lose money.
So industry starts to bankroll think tanks (like the Heartland Institute) and conferences and scientists - all who spread the same message: that the science behind climate change is wrong. And economics start to appear in science stories. And even weirder still: scientists appear in stories about economics.
FRED SINGER: Greenhouse warming is essentially a non-problem for all practical purposes.
REPORTER: S. Fred Singer is a scientist who often defends industries like coal and oil. Which are less concerned about the climate than about drastic economic measures being proposed to protect it.
FRED SINGER: Any time you try to limit the use of energy, you're really limiting economic growth.
ARONCZYK: This guy, S. Fred Singer is a scientist, who has been used for more than one issue before. This is not his first time at the rodeo. I found old newspaper clips from S. Fred Singer, quotes from him, letters that he had written to the editor, where he's questioning all sorts of things. He calls into question acid rain, he calls into question ozone depletion, he calls into question the Clean Air Act.
He's basically a hired scientist contrarian who now works for the Heartland Institute. And over the years he gets called on to disagree with an issue, that usually has like a little to do with science and a lot to do with government regulation.
KAI: Really just to heckle the media, heckle the debate.
ARONCZYK: Or to call into question the debate. And some of these scientists, worked for the tobacco industry, back when the big companies were still claiming that secondhand smoke wasn't bad for you.
KAI: Wow, so they got the same people.
ARONCZYK: The same people return for the climate change debate. So this biochemist, his name is Tom Borelli (PRON TK), was paid to run "Scientific Affairs" for Philip Morris, back in 1992:
TOM BORELLI (1992): Based on a careful review of the science, we believe that environmental tobacco smoke has not been shown to be a risk factor in the development of lung cancer, respiratory disease in children or heart disease.
ARONCZYK: And in 2010, this is what the SAME man has to say about climate change:
TOM BORELLI (2010): ...What happens when it becomes more popularly known that the a lot of the science of climate change was faked.
ARONCZYK: So these early climate change deniers they learn their tricks from the tobacco industry. You don't have to refute all the science. You just have to plant a little seed of doubt....
KAI: Right, and that will sow a little confusion, and that will take root and it'll just grow like weeds.
ARONCZYK: And that is exactly what happened.
ARONCZYK (in tape): So tell me, where were you back in 1992? What were you doing?...
MORANO: Huh, very good question, in 1992, I was actually working for Rush Limbaugh, the television show, I was his Washington DC correspondent, that was the first year of Rush Limbaugh's TV show.
ARONCZYK: This is Marc Morano aka King of the Skeptics, aka Climate Killer. Which are actually names he kind of revels in. And he is a paid climate change skeptic. And he learned a lot working with Rush Limbaugh in the early days of conservative media.
MORANO REFUTING EVERYTHING
ARONCZYK: He likes to be the "I cry BS" guy. What he lacks in actually understanding science, he makes up for by being relentlessly outraged. And in 2006 he was deeply outraged by this film :
INCONVENIENT TRUTH : You look at that river... gently flowing by. You notice the leaves... rustling with the wind.
KAI: An Inconvenient Truth.
ARONCZYK: Right, and it's at this moment that climate change embodies all these things that Republicans hate: government regulation, globalism, … And perhaps worst of all?: Al Gore.
KAI: Yep, I mean they hate some Al Gore.
INCONVENIENT TRUTH: ...A new scientific study shows that for the first time they're finding polar bears that… have actually drowned. Swimming long distances, up to 60 miles to find the ice.
ARONCZYK: And not to be outdone, Marc Morano releases his own documentary in 2016, called Climate Hustle….
CLIMATE HUSTLE MUSIC
ARONCZYK: It also has a scene about polar bears and sea ice...
CLIMATE HUSTLE: Are polar bears disappearing? In 1960, as few of 5000 polar bears roamed the earth. Fast forward 5 decades, their population has only grown… CLIMATE HUSTLE MUSIC OUT
ARONCZYK: Why does everybody bring up the polar bears? Like where did this come from?
MORANO: Well, that's a good question. In my film we talk about how it's the poster child because they're just they're an iconic animal and it appeals to kids, it appeals to everyone and you sort of get the ooo, ahhh… especially a mother polar bear with you know their cubs.
ARONCZYK: Polar bears are a good example of how climate change skepticism works. Yes, they are iconic animals, and both sides use their story for political gain.
MORANO: The global activists, you know, they all talk about the future. They won't talk about the fact that there are now more polar bears ever counted in the history of polar bear counting -- U.S. Geological Survey said that they are at or near historic population high. We're now over thirty thousand with the latest estimate. They just keep going up and up as people worry about them fifty to seventy five years from now.
ARONCZYK: Now what Morano just said, seems plausible, right?
KAI: I guess, but how does anybody know how many polar bears there are?
ARONCZYK: That is a good question, Kai. I called up the chief scientist at Polar Bears International and he basically said the same thing. That 5000 number, nobody really knows where it comes from, they figure it might be a WAG. Which is a scientific term for A Wild Ass Guess.
KAI LAUGHS
ARONCZYK: Because decades ago, it was really hard to count how many polar bears there were. And the media has done a terrible job on the story of climate change. Although something has started to shift in the last couple of years. Lots of younger Republicans believe that climate change is happening.
LUNTZ: I'll tell you as someone who challenged climate change 19 years ago, I've changed.
ARONCZYK: And even Frank Luntz, the Republican strategist who figured out that the term "climate change" was less alarming to the public than "global warming." Even he has changed his mind.
FRANK LUNTZ: Rising sea levels, melting ice caps, tornadoes and hurricanes more ferocious than ever. It is happening.
ARONCZYK: But despite all of this -- there's still this hardcore group of sceptics that I told you about earlier, they turn up at the Heartland Institute's conference to talk strategy. And Kai -- their plans are terrifying. Because they could work.
KAI: That's next.
MIDROLL
KAI: So Amanda tell me more about your time at the Trump Hotel.
LUNCH AMBI
ARONCZYK: Well, at lunch,everyone gathers in the Presidential ballroom under the chandeliers. And there's a screen up behind the podium with the image of two red MAGA hats. But instead of "Make America Great Again" these hats read: "Make Ocasio-Cortez Bartend Again." (AMBI)
KAI: Oh my god.
ARONCZYK: So there are a couple of keynote speakers for lunch and one of them caught my attention.
HEARTLAND HOST: ...Congressman McClintock is the ranking member of the Natural Resources Committee's Water, Ocean and Wildlife subcommittee... It's my pleasure to introduce to you Congressman Tom McClintock. (APPLAUSE + MUSIC)
ARONCZYK: McClintock is a Republican Congressman from California and he's gotten over 200k in donations from oil and gas industries over the years
REP MCCLINTOCK: You know, the left loves to call us climate change deniers. The fact is they deny the science of climate change, the science that documents dramatic changes in climate throughout the epochs that long predate the appearance of mankind. (APPLAUSE)
ARONCZYK: This is a standard skeptic claim these days, right? They never denied climate change. It's changing… over millions and millions years! So sure, it's warming a little. And yes, the oceans are rising a little. But there's no need for alarm.
REP MCCLINTOCK: If the mass extinction of all life on this planet is now just 18 months away or a hundred months or 12 years or thirty five years take your choice.
ARONCZYK: So… after McClintock's speech, I follow him out the ballroom, with a half-dozen other journalists.
BBC REPORTER: There have been major research papers released time and again…
ARONCZYK: Everyone's trying to get their question in... Challenge him with what the science actually says about rising global temperatures.
CONT'D. BBC REPORTER: ...and there have been three this week talking about the rate of change being more than it has been any time in the last 2000 years.
ARONCZYK: And McClintock basically says, look I know what I'm talking about. Congress has held hearings about this...
REP MCCLINTOCK: Well, I can point you to the testimony that we received in the water subcommittee just this past year that the rate is steady, stable and unrelated to changes in carbon dioxide concentrations…
ARONCZYK: So, I went digging into what the congressman is referring to here… I can't be 100 percent sure. But earlier this year, back in May, a House subcommittee held a hearing on how human activity and industry are destroying biodiversity.
HEARING AMBI
ARONCZYK: Picture a table lined with what are mostly scientists. And squeezed in between them is… guess who ?
HUFFMAN: Thank you the chair now recognizes Mr Morano for 5 minutes.
MORANO: Thank you, I'm going to thank the House Resources Committee for this opportunity. My background is in political science...
ARONCZYK: Marc Morano! This is the polar bear guy.
KAI: Ah yes, the "King of the Skeptics"
MORANO:(FADE UP): … he says it's our last chance to save the planet. These are the words of a salesman, a science bureaucrat… (FADES UNDER)
ARONCZYK: Let me unpack this a bit. The Republican members of this committee invite Marc Morano to a hearing on biodiversity. So Morano insists that even though his background is in political science, he's sure that climate change is NOT a problem for the species of the world. Like the polar bears -- everything's totally fine.
MORANO: ...One point on the polar bears, Al Gore mentioned them and featured them as an icon in his first movie, his sequel in 2017 didn't mention polar bears once. They are at or near historic population highs!
MUSIC
ARONCZYK: Now, these climate change skeptics have more access to political power than they have since they first appeared 30 years ago. Since they started doing this.
AMBI OF EBELL'S SPEECH
ARONCZYK: And perhaps the best example of that is a man named Myron Ebell. He ran the EPA transition team for Trump. And he was also introduced as a speaker at this conference at the Trump Hotel...
TOM HARRIS: Myron Ebell may be enemy number one to the current climate change community. (laughs) Good for you. (Applause)
ARONCZYK: Ebell's focus was on strategy -- what this group of skeptics should do going forward. I'm going to list these out -- first - Target the Democrat's Green New Deal.
EBELL: For us the Green New Deal is a winning public policy option, and it is going to be the gift that keeps on giving. And I encourage everyone not to take it seriously but to make fun of it. Because it is hilarious when you look at it.
ORESKES: I mean one thing I've learned about these folks, whenever they talk about something a lot. It means they're worried about it.
ARONCZYK: I spoke with Naomi Oreskes about this. She's a science historian at Harvard, and she reviewed thousands of papers on the subject. She's the one who figured out that there is consensus among scientists: Climate change is happening. 97% of researchers agree.
ORESKES: The Green New Deal I think has been extremely effective in shifting the conversation away from "is it real or is it happening" to what the heck are we going to do about it? And of course that's what the Heartland Institute hates because their whole strategy has always been if you can keep people arguing about the science then you prevent them from moving on to the policy solution.
ARONCZYK: So that's one tactic. The second? Go after the consensus.
EBELL: The second petition is asking NASA to withdraw their statement which they have on their Web site and in numerous places that 97 percent of scientists agree with the global warming consensus. (APPLAUSE & CHEERS)
ORESKES: They try to pressure and intimidate scientific organizations to back off the truth, their own market research shows very clearly that if the American people think there's a consensus on an issue, and this was first proven in the case of tobacco, then they will support government regulation.
ARONCZYK: And the third piece of Ebell's plan is really scary -- is to go after what's known as the "endangerment finding." Do you know what that is?
KAI: I certainly don't.
ARONCZYK: This is the rule that requires the EPA to treat "greenhouse gases" - like carbon dioxide - as a pollutant. And basically say, these are a danger to humans. They're bad for people's health. So the EPA can regulate it.
EBELL: We filed a petition in May to reopen the endangerment finding on the grounds that the endangerment finding had all kinds of process violations and therefore it had to be reopened or it had to be withdrawn.
ARONCZYK: The endangerment finding exists because of the Supreme Court, it told the EPA it had to regulate CO2 as well as the other pollutants. But it was a close decision, 5-4. So it could be overturned.
ARONCZYK (in tape): Do you think that could happen.
ORESKES: Yeah. Because of what's happened at the Supreme Court. Yeah absolutely. It could be overturned for sure.
ARONCZYK: The newest Justice, Brett Kavanaugh hasn't addressed this directly, but has hinted that he'd be open to overturning it..
KAI: So it's hard to hear all of this Amanda, because The Stakes are so high. And I'm left wondering what we do? You know, what's the road forward? What's Oreskes think that scientists and all of these other people who are trying to actually do something … how does she think they should respond to this maddening strategy?
ARONCZYK: She says that her entire scientific career, that she and her colleagues all thought that science would be enough. But that it's not. And this was her parting thought.
ORESKES: I wanted to believe like most of my scientific colleagues that if we got the science right and explained it clearly that we get the message across and that our political leaders would not be so venal as to deny clear and compelling scientific evidence and not just of the fact of climate change, but of the harms that it is producing. But that aspiration, that hope has been soundly refuted. So since we're scientific about this, we have to say that our hypothesis, that politicians would listen to evidence that hypothesis has failed the test of empirical evidence and that tells us we have to do something different and that something different as far as I can tell is political action.
CREDITS
KAI: The Stakes is production of WNYC Studios and the newsroom of WNYC. This episode was reported by Amanda Aronczyk with help from Jillian Weinberger and Elaine Chen. It was edited by Christopher Werth. Cayce Means is our technical director. Karen Frillmann is our executive producer.
The Stakes team also includes Jenny Casas, Marianne McCune, Jonna McKone, Jessica Miller, Kaari Pitkin, and Veralyn Williams. With help froM Hannis Brown, and Kim Nowacki.
Stay in touch: You can hit me up on twitter, at kai_wright. Thanks for listening
Music Credits:
"Aynotechesh Yererfu" by The Budos Band
,
"Triad" by Hannis Brown
,
"Plink Plunk Digi" by Cayce Means
,
"The Progress Of Conscience - Drum & Bass No Pads" by Emlyn Ellis Addison
,
"Great Lake Currents" by Matthew Raetzel
,
"Gasoline" by Cayce Means
,
"Slow Pulse" by Henrik Andersson
,
"Slow Palate" by Cayce Means
,
"Paulette" by Cayce Means
,
"Creeper" by Hannis Brown
,
"Your Thing Is A Drag (Instrumental)" by Sharon Jones & The Dap-Kings