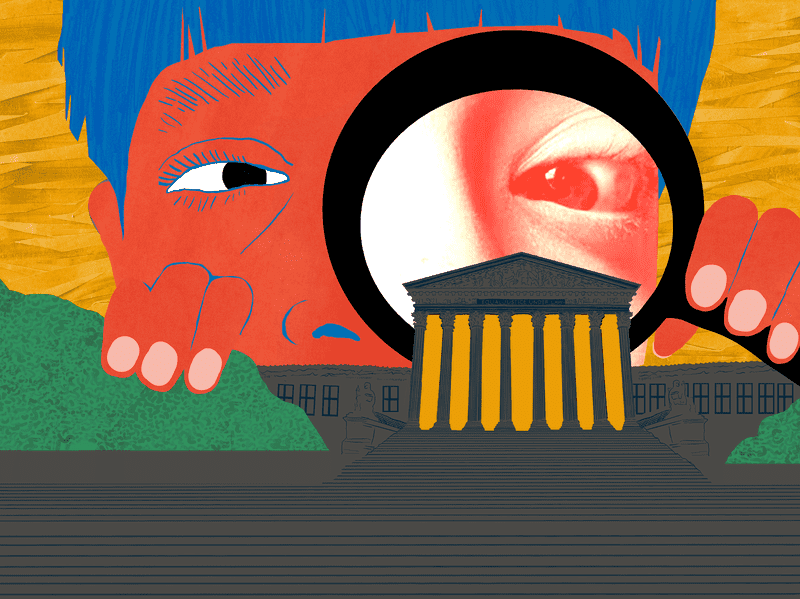 Transcript
Julia Longoria: I'm Julia Longoria. This is More Perfect.
This week we've got something a little bit different for you. Our last episode was all about Justice Clarence Thomas. We dug into his writings, his speeches to try to understand his past — how he became who he is — and more importantly, how that informs his opinions on the bench. And as we were working on that story, there was a little news.
[News Clip]: Clarence Thomas is under media fire for not disclosing luxury vacations and real estate transactions with his billionaire pal. Big time Republican donor, Harlan Crow.
[News Clip]: According to ProPublica, Thomas joined Crow on swanky trips for over two decades.
[News Clip]: Thomas says he violated no disclosure laws by not reporting luxury vacations.
[News Clip]: Paid for his mama's house, this billionaire. Paid for Clarence Thomas' mama's house.
[News Clip]: And then there is Thomas's wife, Ginny.
[News Clip]: She encouraged former President Donald Trump to continue challenging the 2020 election results in her interview.
[News Clip]: All nine justices signed a rare joint statement making it clear they believe that it should be up to them to police their ethics, not Congress or anyone else.
[News Clip]: The reputation of the Supreme Court is at stake here.
Julia Longoria: We saw headline after headline about Thomas' activities off the bench. Investigations made all the more wild given the fact that the Supreme Court and its inner workings are notoriously secret. Records are incredibly hard to get. Which makes the relationship between the Court and journalists a particularly tricky one.
A couple weeks ago, I got to talk with two reporters who broke some of those big stories — Jo Becker from The New York Times and Justin Elliott from ProPublica — live, in person, at the UC Berkeley Graduate School of Journalism.
[OYEZ. OYEZ. OYEZ.]
Julia Longoria: This week on More Perfect: at this moment when we're questioning what checks exist on the Supreme Court's power, we're sharing this conversation with journalists, who are trying to hold them to account. What did they uncover? And how did they do it?
[OYEZ THEME: The Honorable, the Chief Justice and the associate justices of the Supreme Court of the United States. Oyez. Oyez. Oyez.]
Julia Longoria: From WNYC Studios, this is More Perfect, I'm Julia Longoria. Here's my conversation with two investigative journalists who've broken big Supreme Court stories recently.
Justin Elliott, who uncovered new aspects of Clarence Thomas' relationship with Harlan Crow, the billionaire and Republican mega donor.
And Jo Becker, who shed new light on the scope of Ginni Thomas' political career. And the role she played in January 6th.
Announcer: This young lady would like you to please settle down, get in your seats.
Julia Longoria: We talked in front of a room filled with other journalists as part of the Logan Symposium at the Berkeley Graduate School of Journalism.
Julia Longoria: Thank you. So we are gathered here today to discuss the highest court in our land, and I want to, um, really get into the nuts and bolts of the stories that these two impressive journalists have broken.
But first I wanted to talk about what brought the three of us to the beat of the Supreme Court. I think the Supreme Court has a bit of a special place in the American imagination. I personally first became obsessed with the Supreme Court in high school. I, like a lot of us, I was very cool in high school, I'm sure. I was on my high school's Constitution team. Um, and so, um, yeah, I wanted to start with Jo, who's been fascinated with the Court for a long time, has done quite a few investigations. Jo, how did you get interested in the Court? When did you start covering it?
Jo Becker: So I was a reporter in Florida, and I had left Florida at the St. Pete Times, to go to the Washington Post in August of 2000, which turned out to be quite the lucky break for me because in November of 2000, of course, we had the deadlocked presidential election between Bush and Gore.
So I got on a plane and went back to Florida and spent the next couple months following every ripple in the Bush v. Gore case. And at that point, you know, I was hooked and I just, you know, I was, I loved the topic, I loved the subjects. Um, and in truth, um, um, kind of a geek too, although I was Model UN. I love the law.
You know, and I do have this vision of the court as something that should be a model, which I don't think means we should not cover it. Or in our reverence for what it should be, not hold it to account. Because I think in doing that we can make it better.
Julia Longoria: Yeah. How about you Justin?
Justin Elliott: First of all, let me just say I was a mathlete in high school, so I didn't get into the legal stuff until later. But it sort of first came on my radar maybe a year ago before I actually was reporting on it because our editor in chief of ProPublica sent around one of Jo's stories, the profile of Ginni Thomas, the wife of Clarence Thomas, that was in The New York Times Magazine and was sort of like, this is what we want.
And we were like, oh God, we're not gonna be able to do anything like this. But back in, I think December, my reporting partner Josh Kaplan and I were sort of casting around for stories and I think the dam kind of broke last year with the leak of the Dobbs opinion, all of the Times work on the court. So we sort of just started reading and we got interested in the travel issue. And I can talk a lot more about how we got into it, but that's kind of, yeah.
Julia Longoria: Justin. I mean, you came to the Court pretty recently as a journalist. What do you think is the challenge of covering the Supreme Court as an investigative journalist?
Justin Elliott: So over the years I've done a fair amount of stories about Congress and sort of influence lobbying, covering the executive branch and kind of bread and butter of that work are, you know, are records, like calendars and public officials lobbying disclosures, which you get with Congress campaign finance disclosures, visitor logs, that sort of thing.
And I think when we sort of started to get our feet wet, trying to understand the kind of records terrain with the Court, what you realize pretty quickly is that there really isn't one. So the judiciary, including the Supreme Court, is not covered by FOIA. One thing that sort of is still striking to me is, you know, unlike the president or, you know, Cabinet secretaries, there's no public calendars for the justices.
The Supreme Court puts out a calendar of like when they're in session and when they're meeting, which is not actually that often. And so if you want to know where Justice Thomas was or Justice Sotomayor on a particular day, there's really no way to do it unless they happen to give a speech that was covered by some local news outlet.
So the reporting that we sort of ended up embarking on, in many ways, was just kind of trying to create a calendar for Justice Thomas. I think the main challenge is like, it turns out all, all these sort of transparency measures that we have, as flawed as they are sometimes for other parts of the federal government, don't exist for the Supreme Court, and those turn out to really matter, I think.
Julia Longoria: Totally. Yeah. It's like unlike the other political branches — you have sort of a place to start, FOIA, public disclosure.
Jo Becker: There's no records, but it's also really difficult to get people to talk. And partly, I sort of compare it to national security reporting where, you know, but for a different reason. There you have people who are gonna go to jail if they give you classified information, but here it's much more about the culture of the Court. So the justices themselves feel that it harms the Court to talk about one another. So there's really no open debate between them. We don't know how various players feel about the ethics debate that's currently going on because they just simply don't say. And there's this kind of culture of, I would say like, you know, omerta almost, you know, even among the clerks. Long, long gone, they've gone on to great careers, to talk about what a justice thought, said, did, is just simply not done. So you've gotta find workarounds to that.
Julia Longoria: It's been fascinating to read the stories you both have written. I wanna start, Jo, with the story you did about Ginni Thomas and Clarence Thomas' relationship. It's sort of this sweeping account over many, many years. Where did you start with that story?
Jo Becker: Yeah, so on this story, we started with a pretty basic question, which was that we wanted to understand better the relationship that Clarence Thomas and Ginni Thomas had with one another. And how, if at all, their work overlapped. They have always said, Hey, you know, she's a working woman in her own right. Our lanes don't cross. And so the animating question was, is that true? And if not, could we show exactly how these lanes crossed?
And in our case, we were lucky on a couple of fronts. I mean, Ginni Thomas got an award. She, on Twitter, you know, they put it out from a place called the Eagle Forum, which for those of you not aware, was run for a long time by Phyllis Schlafly, was a vehemently anti-abortion group.
And you go, hmm. So the wife of a Supreme Court Justice who sits on abortion cases is getting an award from a very anti-abortion group. What's that about? And then you sort of dig deeper and you realize, well, wait a second. Hang on. Uh, Clarence Thomas also got an award from this group. So I started looking around and in that case, there was a Eagle Forum. I found this library of material, which they keep. And it turns out, like, they keep all this material in the tiny chapter located in Alabama. So I picked up the phone and I call this lady and, and whoever answers sounds like about an 80 year old librarian.
And I said, oh, you know, I'm super interested. And I didn't misrepresent myself, but she didn't ask and I didn't tell. So I said, I'm super interested in, you know, your, you know, Clarence Thomas and blah, blah, blah, and I see that you've got this thing, and I would love to come and listen to it.
And she said, oh, honey, you don't have to come down here and listen to it. I'll just put that in the mail for you. I said, okay, what do I need? You know, so I gave her my address and she sends this tape. And I'm like thinking this is like, oh, thank God. Finally I get to hear something in his own voice.
So it arrives and it's a cassette tape. And that then sets off this, like, nobody I know has a cassette tape player, so we're trying to figure out how to get this thing. So we finally get it like digitalized and whatever. And it's hilarious because it's like Phyllis Schlafly like talking about what a champion he's been on abortion and blah, blah, blah, blah, blah. And literally reading like the worst poem. She wrote a poem about it, about him, which is just the worst poem ever. But it was like this, like you really got this moment of like reality there. And then, you know, you dig some more and you realize, well wait a second. When Ginni got this award from this group. You know, they raise money every year with these awards. They invite people to come and they pay for tables. And this is like their main fundraiser. And she is out there saying, please come listen to a conversation with my husband, Clarence, and buy a table essentially. Which is against the judicial ethics code, which says that justices shouldn't be headliners for fundraising events.
Julia Longoria: And I have to say, like, the story is just full of these like, delicious details. These morsels. Like the cassette tape. I was like, I've gotta listen to that cassette tape. I wonder if she has it digitized?
Jo Becker: That sort of was a great break in that story. Another really good break in that story came from just being able to talk to a lot of people in the Trump White House who, you know, you might think wouldn't necessarily be willing to talk to us. But she so pissed people off there that there was a lot of resentment because, it turns out Trump was pretty fascinated by Clarence Thomas during the campaign. And he went to Leonard Leo, who has, if many of you don't know, but Leonard Leo is credited with basically drawing up all the lists for Trump's judicial nominees. And Trump turned to Leonard Leo and said, you know what, like, this guy gets more applause on the campaign trail than me. So Leonard tells me this, right. Which was sort of foundational because he then invites Thomas into the White House and Thomas shows up, like with his wife. Okay. So she's running a political consulting business at this point, and her husband, who operates in quote-unquote separate lanes, is bringing her in with him.
And then she uses his courtship of Clarence Thomas to her own ends. And she starts bringing in her political consulting friends and bringing in all these people to the Trump White House, including she brings in a bunch of people, who are extremely angry at what in this White House meeting is called the transgender agenda. And they go into this unhinged diatribe about trans people. And it was so memorable and so ugly that like people talked about it. And you know, she was also constantly telling people to fire and hire people. So of course this then leads us to the ultimate question, which is, well, if she's doing this, what did she do when it came to the actual disputed election? Because by this time she's Trump cheerleader number one. And we were able through these council of national policy documents to find that she was sending out action memos for people to send their state legislators in the disputed states. Basically the talking points that you don't have to certify this election.
And then we were able to also talk to organizers, who I had first talked to actually for a January 6th story that we did, who said, yes, Ginni was involved. And she was, like, partly sort of involved in organizing the January 6th rally.
Julia Longoria: And just to ask a follow up. Is that unusual for a spouse of a Supreme Court Justice?
Jo Becker: Well, so yeah. So no spouse of a Supreme Court justice has ever been as openly, politically active as Ginni Thomas. I mean, that's just a statement of fact. And the reason is that most, you know, for the most part, spouses have kept a low profile so that there wouldn't be any kind of conflict. Here what you had was, you know, Ginni being active on the very topics that the Court was or would be considering. It's hugely problematic. I mean, the, again, like what you kind of come up against again and again when it's, when you talk about Supreme Court reporting is that you think that there are rules, but they're really just norms and there's a recusal statute that says they should recuse in certain instances. And the one that's sort of most pertinent is Clarence Thomas during all of this, ruled on a case where the issue was should documents have to be turned over from the National Archives about January 6th? And communications that were going on within the White House, it would turn out, would show that Ginni was in constant communication with the White House chief of staff advocating all sorts of things. And he said that they shouldn't have to be turned over. And this has, you know, all been raised and basically they just kind of go, eh.
Julia Longoria: We're gonna take a quick break and when we come back I'll talk with Justin about the recent stories he's broken about Thomas' relationship with Harlan Crow. That's after the break.
Julia Longoria: From WNYC Studios,this is More Perfect. I'm Julia Longoria. And we're back to the conversation.
Julia Longoria: But Justin going to you, I wanna sort of tell the story of your reporting. My impression is that if we were doing the movie version of your reporting, it might begin with the death of Justice Antonin Scalia.
Justin Elliott: Yeah. So as, as some people, you know, as many people probably remember, Justice Scalia sort of famously died on this unusual, like, hunting, back in 2016 on this hunting trip at a private lodge in Texas. It was, like, owned by a member of like a secret society, a European secret society. That trip got us interested in this question of like, Supreme Court Justices travel. You know, as we were just talking about, there's no records at the Court, but there's sort of one records avenue, which is the justices sometimes, not always, get security when they travel. The kind of analog to the Secret Service for the president is the U.S. Marshals. So you can FOIA the U.S. Marshals. And I think we actually have a slide of this, of a document. But, so we started reading some documents that we didn't get via FOIA, but that looked like this.
And these are U.S. Marshals' kind of like write-ups of Supreme Court justices traveling. So what they tell you essentially is that a Supreme Court justice made a trip. They don't tell you which justice, but it does tell you a date and a location, and sometimes importantly, like a method of travel.
So sometimes it'll say like D.C. to New York, like Amtrak. Um, and then, you know, because a kind of subplot of the Scalia death trip was that he had taken a private jet on one leg of it. And so we decided to sort of, we started noticing some of these U.S. Marshals records talked about private plane travel, and sort of raises the obvious question, like, what's going on with this? You know, there's, the justices don't have like air — they actually sometimes fly commercial, it turns out, fairly often actually. And so this kind of first big break, and by the way, we didn't set out to write about Justice Thomas, but the early break that sort of led us to these stories was we had sort of assembled a list of all these trips that involved private planes. Then were trying to figure out how, can we figure out anything about these? And another colleague who's been working on these stories, Alex Mierjeski who's on our research team, on this trip, which was a 2016 flight from Washington, D.C. to New Haven has a really small airport called Tweed.
Turns out there's this like community of like plane spotters that will post stuff online of like, pictures of planes, basically. And the lucky break was that they had posted a video actually, of a plane on this day from Tweed. And they said, oh, Tweed was honored to get a visit from Justice Thomas on this day. So that's sort of why we originally started to look at Justice Thomas and then we quickly realized that it was Harlan Crow's plane. And actually, like over the past 25 years, there have actually periodically been quite good stories about Harlan Crow and Justice Thomas. The kind of the last round of this was around 12 or 13 years ago.
And so at a certain point we just sort of decided that we should dive into this. So, you know, like Jo was saying, with Supreme Court you have to kind of go from the outside. I mean, hopefully at some point we'll all have great sources on the inside, or you, you probably already do.
But the other sort of lucky break in terms of the reporting was the realization that when you're like traveling at the level of luxury that Crow and Thomas are traveling. Like private jets, these yachts, there's a lot of workers involved. Ao there's like service workers, who are not part of the omertà code. And so at a certain point we just sort of decided to dig into that world.
Julia Longoria: Didn't you call this "The White Lotus Effect"?
Justin Elliott: Yeah, the White Lotus Principle, you could call it. Um, you know, if your yacht has like 20 staff and they turn over every year or two, it's a lot of people.
Jo Becker: How do you figure out the yachts?
Justin Elliott: There's actually like an equivalent — you can get something like yacht location data. There's a company that tracks that. But also, there's just a lot of yacht workers that you can find on various, like, not like on LinkedIn, but there's like yacht worker job boards and stuff where people post their resumes. And then it, you know, just like normal reporting, once you get a few people, it gets much easier.
Julia Longoria: Interesting. And how do you get these service workers to start talking? Like, do you, are you cold calling them? Like how do you start to build those relationships?
Justin Elliott: Yeah, basically just cold, like a very long list of people cold calling them and saying that we're, you know, transparently saying we're interested in sort of Supreme Court justice travel. We heard that Clarence Thomas used to be on this boat sometimes. And like with a lot of these things, the kind of percentage hit rate is not very high. But there's a lot of 'em, so.
Julia Longoria: Hmm. And I'm curious for the two of you, like, did you learn from each other's reporting along the way? Like you're kind of looking into the same person, so I wonder, how much, um, if you were surprised by anything you saw, or…?
Jo Becker: I'll jump in. I was like, they were great stories. I loved the stories and I really enjoyed the detail that you guys had. I was actually, fortunately, I was in the Arctic Circle for the two weeks that your story ran, and so I did not have to have a front seat view of the editors at The New York Times going nuts over it, but they did.
Julia Longoria: And Justin, I want to go to you and the, and the fallout from the first story you published about these trips — which had Justice Thomas done anything illegal in that first story?
Justin Elliott: Well, the sort of ethics law experts that we talked to said yes. I mean, one of the few laws that actually applies to the justices is this Post-Watergate disclosure law that applies to many federal officials that requires them to disclose certain gifts. And there's been a shocking amount of ink spilled about that at this point. If you're curious about reading about the ins and outs of it. But, um, yeah, Justice Thomas didn't respond before the story, after the story, you know, after it sort of blew up, he did release a statement that kind of didn't address much of what we reported and acknowledged that there were like, I think he used the phrase family trips. And then we got a number of tips. I mean, we got a tip. The second story we did was that Harlan Crow had bought this real estate that was part-owned by Justice Thomas down in Savannah, Georgia. And so, Josh and I went down there and got the records, which were just at the Chatham County Courthouse, and Justice Thomas still hasn't addressed this. But I think it clearly showed there were, this was not a normal friendship where you sometimes travel together. There's this strange situation where Harlan Crow now owns the house that Thomas' mother still lives in and poured a bunch of money into improving it and may or may not be charging her rent.
Julia Longoria: Right. Because initially the response was, well, we're just friends, right? We go on trips together.
Justin Elliott: Right. So they, yeah, they both had statements saying they were friends. And to explain what's on the screen, the painting is something that Harlan Crow commissioned at this resort he owns in the Adirondacks with Thomas and several other people including, Leonard Leo's second, second from left, I guess…
Jo Becker: That's an incredible picture. It really speaks so much.
Justin Elliott: So kind of strange thing about, so I actually talked to the painter of this, which helped. And originally we were like, oh, is this a photo? And he was like, oh, no, I went, I, you know, Harlan brought me in and I took a bunch of photos and then painted it. And it's actually, it looks like a photo, but actually the statue of the Native American in real life is two to three times bigger. And he said it looked so large, I had to shrink it or else it, like the whole proportions looked out of... We're still not quite sure why that's there, what it's supposed to mean.
I think, you know, this was an interesting piece of evidence on something that's still sort of an open question, which is like, what is like the nature of this friendship? Which I think is a real friendship and there really are family trips. But when you look at this, I mean like everyone in this picture — the only thing that I know of that connects the five people in this picture is being like very involved in the kind of conservative legal movement. And obviously Supreme Court justices are allowed to have friends, but when there's money enters the picture and you're being hosted at great expense by your friend, then you know, it starts to raise much more interesting questions I think.
Julia Longoria: And can you talk a little bit about the reporting behind the story about, you know, how Harlan Crow now owns the home that Clarence Thomas' mother lives in. How did you go about reporting that, you got a tip? What did you do next?
Justin Elliott: Yeah. After the first store was published, we got a tip from somebody who had heard this. I think two days after the first story was published, Josh and I flew down to Savannah where Justice Thomas grew up, where his mom still lives. He has a bunch of family there. And you know, this was a situation where like these were, these actually were public records. They weren't on the internet, but they were pretty easy to get. We got them like the following Monday morning and then we went, knocked on some doors and …
Julia Longoria: And when you knocked on the door, what were you asking folks?
Justin Elliott: So Justice Thomas's mother is quite elderly. And we knew that she had lived in this house that Harlan Crow bought. And by the way, he bought this house, but he, where he says he's gonna put a museum someday about Justice Thomas. But the part of that has never really been addressed directly is that he also bought two vacant lots from them, like down the street and kind of like spruce up the neighborhood. And so one question was like, is Harlan Crow Clarence Thomas' mother's landlord? Um, like, is she still living there? So we were asking people like what they'd heard about, whether she still lived there and, yeah.
Julia Longoria: Hmm. And just taking a step back from the reporting for a second, I guess for me, reading your stories, my experience was, wait a second. Like is this kind of thing, is this kind of undue influence happening with more justices? Has this been happening longer? Like have we as journalists been doing a good enough job covering this institution over the years? And Jo, I wonder what do you think having watched it for a while?
Jo Becker: I think that clearly, you know, there's been a long and really storied history of great Supreme Court reporters who cover the day in and day out, which is an enormously difficult and taxing job of covering the opinions on super complicated issues and the oral arguments. And so I wanna just sort of start there. But clearly as the investigative reporters out there, I think, you know, look, this is a ripe target, and I think to some extent we gave them a pass maybe because of what you were talking about, you know, this like vision of the Court as the bestower of justice and equality. But also I do think that we have reached this inflection point where ProPublica and The New York Times, and you, and many others are focused on this because the Supreme Court for a pretty long time had a fairly, there was a consensus that they would operate in certain ways because they were cognizant that their power doesn't come from the sword. It doesn't have a military to enforce its rulings. It doesn't come from the purse. It doesn't have money that it can hold or withhold, but it only had the belief in its own legitimacy by the American public. And what has changed, I think, in recent years is that this consensus of how to keep that legitimacy has shifted and you have justices like Justice Thomas, and I think to some extent, Justice Alito, who simply say that the norms by which the court has done that, for instance, giving great deference to opinions of the past, something called stare decisis. That they don't just sort of willy-nilly upend precedents. Because otherwise, they just look like a legislative body that, you know, is like every time there's a new justice, the law changes. Justice Thomas has been pretty clear he doesn't believe in that. And some of these other norms, I think, you know, are where you don't sort of have a spouse and you're sort of pursuing this common agenda, one from the bench and one from the grassroots trenches. That's all started to change and I think the scrutiny is changing because of that.
Julia Longoria: Yeah.
Julia Longoria: All right. I guess we will go to questions. There in the back.
Audience member: Hi, my hat's off to both of you. The conduct here is so outrageous, so thank you both for shedding light to it. My question is, it seems from where I sit that Senator Durbin from the Senate Judiciary Committee and Chief Justice John Roberts, who's the only person who, or one of the people who could reign this in, are on a kind of collision course. And that Durbin is demanding some kind of change, and Roberts is saying we don't answer to anyone. I'm hoping both of you could lay out some scenarios, if you agree with that premise, for how this might end. If neither one of them backs down.
Jo Becker: So, yeah, I think you are correct. I think that, I mean obviously for you that don't know, in the wake of some of Justin's reporting and all of these cascade of revelations, you have the democratically controlled Senate judiciary committee starting to ask real questions and they ask John Roberts to come in, or designate another justice to come in, to kind of answer to some of this. And they are asking that the justices enact a code of conduct that is in fact actually binding on them. And basically the answer that they got last week in a letter from John Roberts was, we don't need no stinking badges and we're not gonna answer your questions. But that's where we're at. And I don't really see the justices doing anything. I mean, do you?
Julia Longoria: I mean, no. I mean, I guess it's interesting that Justice Alito and Justice Thomas came out with statements at least. I mean, I can't stress enough how rare that is. Um, question over here.
Audience member: I remember Clarence Thomas saying that he loves — his idea of a great vacation is taking his RV and going to like a Walmart parking lot and hanging out with regular folks. And so I know that like the Thomas and the Crows are like great family friends and they go on vacations together. And I just wanted to know whether or not there's any sign of the Crows and the Thomas together in the RV in a Walmart parking lot?
Justin Elliott: We haven't. We have not seen that. You know? Yeah. That quote was found by my colleague, Alex, the researcher on these stories. And the kind of funny thing about that was it's actually from a documentary that was made. A kind of very hagiographic documentary made about Clarence Thomas' life that was funded by Harlan Crow, among other people.
But, no, it actually, you know, just briefly, one of the interesting things about Justice Thomas' career is, you know, he very rarely gives interviews, to, you know, in like, to like the mainstream media. But one of the only TV interviews he ever gave was to "60 Minutes," about 10 or 15 years ago. And the entire sort of concede of it was that the "60 Minutes" correspondent was with him in the RV driving around the country. And so I find it interesting, like there, there clearly has been like a kind of deliberate attempt at branding him, by him and his sort of close allies that clearly diverges from at least how he sometimes travels.
Conference person: Thank you. Thank you so much. Thank you Jo and Justin and Julia.
Julia Longoria: That was Justin Elliott of ProPublica and Jo Becker of The New York Times. We've got links to their investigative work in our show notes. And big thanks to the Berkeley Graduate School of Journalism for hosting us.
If you have any questions or leads about the Supreme Court, we really want to hear from you. Send us a note or a voice memo at moreperfect@wnyc.org. Or go to our website, moreperfectpodcast.org
Whitney Jones: More Perfect is a production of WNYC Studios.
Whitney Jones: This episode was produced by me, Whitney Jones, with help from Salman Ahad Khan. It was edited by Jenny Lawton. And fact-checked by Tasha A. F. Lemley.
Elana Pereira recorded the event, with support from Izzy Bloom.
The More Perfect team also includes Julia Longoria, Emily Siner, Emily Botein, Alyssa Edes and Gabrielle Berbey. This episode was sound designed by Joe Plourde and mixed by Mike Kutchman.
Our theme is by Alex Overington. The episode art by Candice Evers.
If you want more stories about the Supreme Court, go to your podcast app, subscribe to More Perfect and scroll back for more than two dozen episodes.
Supreme Court audio is from Oyez, a free law project by Justia, and the Legal Information Institute of Cornell Law School.
Support for More Perfect is provided in part by The Smart Family Fund. And by listeners like you.
So thanks for listening and supporting.
Copyright © 2023 New York Public Radio. All rights reserved. Visit our website terms of use at www.wnyc.org for further information.
‌Transcripts are created on a rush deadline, often by contractors. This text may not be in its final form and may be updated or revised in the future. Accuracy and availability may vary. The authoritative record of New York Public Radio's programming is the audio record.