How the President's Coronavirus Diagnosis Alters the Race for the White House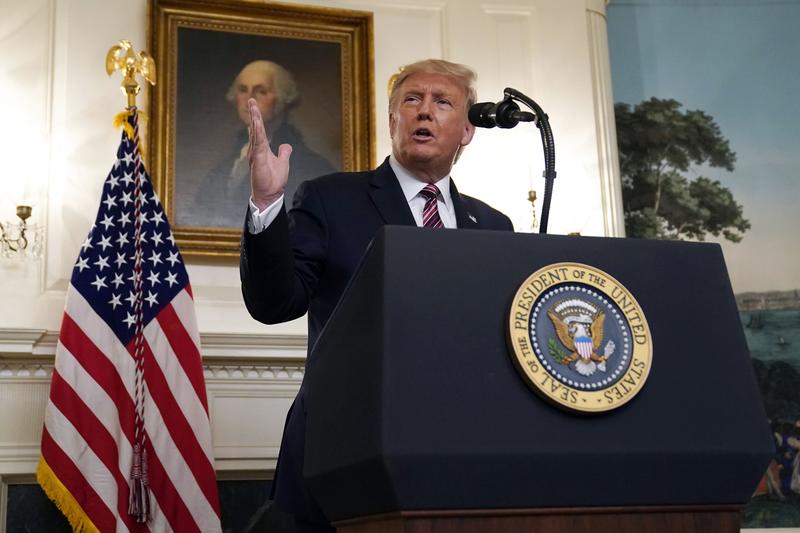 Transcript
Announcer: Listener-supported WNYC Studios.
[music]
Amy Walter: Its politics with Amy Walter on The Takeaway. We begin today with news that the President Donald Trump and First Lady Melania Trump say they have tested positive for the coronavirus. With only about a month to go before the election, this news could upend an election that has already been buffeted by major events on an almost weekly basis. Toluse Olorunnipa is a White House reporter for The Washington Post. Hey, Toluse.
Toluse Olorunnipa: Hey, how are you?
Amy: I'm good Toluse. Look, I want to be upfront with our audience here for both of our sake. We're recording this Friday morning so we don't know exactly what will unfold in the next 72 hours. Just wanted to make sure our audience understands that. This is the President of United States, he has tested positive for COVID. What does this mean for his ability to govern the nation right now?
Toluse: This is a huge development. We're just about a month out from Election Day, and the President is quarantined, which means he cannot effectively run a campaign the way you would expect a sitting president to run a campaign. He has to cancel a number of events that he had planned for the ramp-up of his campaign to try to go into the homestretch and the time of debates and talk to as many voters as possible.
He can't do that in-person anymore. He's going to have to wait maybe for a week, maybe for two weeks. We're not really sure. It'll depend on how his symptoms develop whether or not he is sick or incapacitated, and he's going to have to get several negative tests before he can go back out and campaign. This is really upending the logistics of campaigning and when it comes to the messaging of campaigning, the President does not want to be talking about coronavirus, but this is the top story in the world right now because he has coronavirus.
He would much rather be talking about the economy or contrasting his view and his policy prescriptions for the country's challenges against Joe Biden. Right now, the focus is going to be on Coronavirus on the fact that the President's handling of the virus not only did not keep the 205,000 plus Americans who died safe, but he couldn't even keep himself safe from contracting this disease. That is a devastating attack line that he's going to have to face not only this week, but also for the final four or five weeks before election day.
Amy: Yes, Toluse, that was exactly where I was going to go there, which is whether it was at the debate or throughout the campaign he has been urging governors, "Open your state, open your schools, everything's going to be fine." Do you think that he changes that message at all as we head into these, as you said these last 30 days?
Toluse: I doubt that the President himself will change his message. He may depend on how much the virus impacts him personally and whether or not he is asymptomatic or whether or not he suffers from any major symptoms. I think he would like to do as much as possible to not change his measures to focus on keeping things the same, keeping things the way they have been over the past several weeks, where he's saying everything's going to be fine. No one should panic. Everyone should just take a step back and try not to take the virus as a major threat.
Amy: What we're going to find out is that it has spread pretty significantly within his orbit in the White House.
Toluse: Yes, the White House has to do massive contact tracing effort right now, in part because so many people have been in touch with the president, so many people have been in touch with the number of people who have already tested positive, the First Lady, the President's communication advisor, Hope Hicks. They have not been wearing masks. They've been attending large events indoors and outdoors. There's a high likelihood several other people have contracted the virus or at least are at risk of contacting the virus and a massive outbreak within the West Wing is just the kind of major global development that almost should be expected in 2020 just because the year has been so wild, but having this happen just a few weeks before the election could be a massive challenge for maintaining government as well as for the political calendar and the political campaign that the country is dealing with right now.
It's going to be very difficult for the White House to contain this as a political message, just because we've already seen top officials within the White House impacted and testing positive and they're going to need to be as transparent as possible with the public, because they do have a credibility gap. I think it will be incumbent upon them to let the public know how many people have tested positive who's at risk and how many people among the number of elected officials who regularly spend time with the President may have been at risk of contracting this disease and how many may have tested positive?
Amy: Toluse, you use the term very politely credibility challenge, which I think we could agree that, yes, getting information in a timely way, getting information at all, from this White House has been challenging. I'm wondering how confident you feel and the American public should feel about the White House, updating the media on what is actually happening with the president, with people around the president, and how that's going to work?
Toluse: I'm not confident at all that the White House will be upfront and transparent with the public, with the media about what's happening, or the White House did not originally announce the fact that his top aide was infected and had tested positive for the virus. This was something that was broken by the media and then the White House eventually confirmed it once it was out there in the public.
This happened after, the presidency and the White House continue to behave as normal after this positive test for Hope Hicks. They held press briefings, the president continued to hold fundraisers. There was no sign that anything was amiss within the White House. I do fear that this White House will not allow any bad news to get out there. I think if there's good news for them to share they will quickly share it. I think it'll be highly politicized the way this is handled. I think it'll be our responsibility as journalists to try to get the story to the public and try to make sure that the public knows what's happening within their government.
We can't necessarily rely on the White House helping in that are being truthful but we have to do the best that we can to make sure people know what's happening. This is an important thing, even if it was not an election year but as people are making their decision over who will govern the country for the next four years, knowing as much as possible about the President's health and about the public health guidelines that are operating within the White House is critical.
I think as reporters, we're going to be doing as much as we can to make sure that the public has as much information as they need about this state of the President's health, the state of whatever potential outbreak there may be in the West Wing and the state of the government with just a few weeks ago before the election.
Amy: Is there any other entity that could give those updates on the President's health, Walter Reed or another institution or this does need to come from the White House itself, like they have full control over what access reporters have to updates on the President's health and the health of other people within the White House or other leaders that he's come in contact with?
Toluse: Well, if the White House were to realize that they do lack credibility with the public, and they would want to put more credibility into this process, they could cede their authority and give the process over to Walter Reed and to some of the scientists and some of the apolitical members who may have access to the President's health and allow them to brief the press, allow them to report things from the public.
We've already seen the President's Personal doctors shade the truth or change their own medical opinion in order to put the president in a positive light, whether it's over his weight or over the issue of hydroxychloroquine. They don't have a lot of credibility, the White House doctors. I think the military doctors at Walter Reed and some of the scientists within the government, who are tied to the president in any way, if they were to come out and saying the president symptoms are fine, I think that might help with the credibility and the believability of whatever's coming out about the President's health and about the health of the West Wing.
I actually would encourage that, I think if we're going to have a credible process here. Otherwise, I would expect a large number of leaks, a large number of people who are outside of the process to tell reporters what's actually going on and a lot of unsourced information coming out over the course of the coming weeks about what's actually happening behind the scenes not just the official line from the White House, which we know we can always trust.
Amy: Yes, totally. That's so important because I think we're going to see a lot in social media and other that we won't know where it's being sourced from, it could be conspiracy, it could be the truth that's going to be a big challenge. Finally, do you have any idea what this means for the president to do his day-to-day job as President of the United States? Obviously, he doesn't need to be in physical contact with people to do many of the things he needs to do as president, but do you have a sense of what this means? Just a big picture on being physically quarantined from his entire White House team while trying to run the country?
Toluse: For any normal president, there would be a way for them to work behind the scenes. We have seen other world leaders who have either contracted the coronavirus or been exposed and been at risk of the coronavirus saying, "I'm going to quarantine for a couple of weeks and I'm going to continue to work behind the scenes", and they've done video messages. They've been on the phone and they've tried to show good public health guidelines and set an example for the rest of the country who are going through these annoying quarantines but showing that you can continue to do them to keep the rest of the public safe.
I fear that President Trump is not the kind of president who easily can take himself out of commission for two weeks and just do virtual events. He has been pining to do these big rallies for quite a while and that's part of the reason why he has defied his own public health guidelines and done the major rallies, just because he needs to have that in-person adoration and affection from his supporters. For his role as president, as long as he remains asymptomatic, there's nothing that would stop him from negotiating over the phone with lawmakers, signing legislation, doing things remotely while he's in quarantine for the next several days, but for him as a person, as a showman who likes to be in-person, likes to have a crowd around him, it may be very difficult for him to follow the guidelines.
I think he'll be itching to get back out on the campaign trail and out in big crowds as soon as it's possible and even possibly before it's recommended from his health advisors. Just knowing this president from covering him for quite a while, I do think that he is unlikely to just continue doing his job as normal from behind the scenes. I think he's going to be trying to figure out how to break out of quarantine as quickly as possible.
Amy: Toluse Olorunnipa, thank you so much for joining us this morning on this very fast moving story. Really appreciate it.
Toluse: Sure thing, thank you.
[music]
Amy: COVID-19 threw a wrench into everyone's 2020 plans and voting is no exception, but President Trump has made no attempt to hide his disdain for one way to ensure safe voting.
President Trump: I think mail-in voting is going to rig the election.
I am urging my people. I hope it's going to be a fair election. If it's a fair election-
Chris Wallace: You're urging them what?
President Trump: -I am 100% on board, but if I see tens of thousands of ballots being manipulated, I can't go along with that. And I'll tell you what, from a common-sense-
Chris: What does that mean, you can't go along? Does that mean you're going to tell your people to take to the streets?
President Trump: -I'll tell you what it means. It means you have a fraudulent election.
Amy: This is all happening parallel to a number of election-related lawsuits brought by Republicans and Democrats in states across the country. There are fights over everything from signature match rules to who can and can't collect absentee ballots to where those ballots can be physically dropped off. Both the Biden and Trump campaigns have put together legal teams to deal with pre-election issues and prepare for what's likely to be significant post-election litigation. To get perspective from the GOP, I spoke with Justin Riemer, chief counsel at the Republican National Committee.
Justin Riemer: Well, this is by far the most robust litigation effort that the Republican National Committee has engaged in on these types of issues. It is a significantly more comprehensive effort than we've ever had and so we are spending millions of dollars on litigation and on what we view as protecting the integrity of the election.
Amy: You said you're spending more this year, what makes this year feel like it's more at risk than any previous election?
Justin: The answer to every question in 2020 it's COVID. COVID has led to an absolute explosion in litigation surrounding voting issues and it started actually back in the spring when states began conducting their primaries. Democrats began suing states and trying to strike down various rules related to their absentee voting processes and we mobilized very quickly to be able to join those lawsuits to be able to defend those laws.
Amy: Can you give us some examples because I think for a lot of folks, I would say, of course, COVID changed everything as people, we're going to change the way they voted and the nervousness, especially in the primaries about voting in-person, but why wouldn't both Democrats and Republicans want people to be able to vote in a safe manner and if that's getting a ballot at your house versus going in person, what's the difference?
Justin: Absolutely. Well, first we do not have a problem with voters voting absentee. If a voter needs to vote absentee, or if a state allows a voter to be able to vote absentee for any reason or no reason at all, we have absolutely no problem with that. As a practical matter, I just don't think we're necessarily against absentee voting at all, but what we do view as very important, is that with more people voting absentee that the existing safeguards that are in place in the law are upheld and they have unfortunately been under attack. With more people voting absentee, it seems like it is more important now than ever to have those existing procedures in place.
From our standpoint, I think the Democrat attorneys have used COVID as an excuse to attack these laws that are on the books. Many of these lawsuits that are brought are challenging policies that have been in place for years and years, and that the Democrats have actually been challenging for years and years, but they view COVID as having giving them better justification to be able to strike down these laws.
Amy: I know that one other rule that is getting a lot of litigation, and I want you to talk about is the question about how long after election day state election officials can receive a ballot and if you can talk about that and where you and the RNC are on this issue.
Justin: This has been a key issue in the litigation battles that have been going on around the country election day delivery deadlines for absentee ballots have been challenged nationwide and the courts thus far, it's been pretty much a split decision as far as whether or not those deadlines for delivering an absentee ballot on election day will stand and from our perspective, it's an important thing while COVID is certainly an emergency at this point, it is not unforeseeable. Everyone knows that the virus is happening and that more absentee voting is happening. From our perspective, we do not view it as a burden for individuals to have to return their ballots by election day and many courts have agreed with us on that.
Amy: I want to go back to something else you said when you talked about Republicans overall are not opposed to absentee voting, but the president sounds like he does, especially when it comes to certain states, can you help us square those two things?
Justin: Our main qualm with all of this is the difference between when a voter requests an absentee ballot and submits that application with the identifying information that is required and that the election officials is able to process that ballot and know that the individual actually wants the ballot to be mailed to them. They can verify the identity as well as the address to where the ballot is supposed to be mailed and that's fine. The president has said, "That is perfectly fine. I do not have a problem with a solicited absentee ballot." Where the problem lies is in several states which have decided to move to an all vote by mail election which entails mailing ballots without a request.
To us, that's a big problem. States like Nevada and New Jersey and Montana have decided to do that. There's a couple of issues there. One is that the states are unfortunately not maintaining their voter rolls. Voters remain on the roles at addresses where they no longer reside and voters die. When the election officials go to mail out those ballots, there's ballots being delivered to those folks, there's ballots being delivered to address is where the voter no longer resides. With an application, you eliminate that problem because the election officials get to know the person actually wants a ballot to be mailed to them. That is the main difference there as far as having a problem with all vote by mail versus a solicited absentee ballot.
Amy: You don't trust that the states, what they tell us is look, all of these ballots they have, you have signature matches, you have codes, basically QR codes that matches a voter with a ballot that if a ballot comes to my house, address to somebody else, and I try to fill it out and send it in, it's going to get thrown out. You don't believe that to be the case?
Justin: Well, I think certainly in many instances there, it will be detected, but I will say if the democrats get their way on the litigation that they filed, those safeguards will no longer be there.
Amy: How so?
Justin: Things like witness requirements-- because they're suing to strike all of these laws down. Not all of them. I don't mean to overstate it, but they're suing to strike many of them down. They're attacking signature matching provisions, they're attacking witness requirements, they're attacking ID requirements.
Amy: I want to key in on one state, we're going to be talking to folks there this week too and that's Pennsylvania, which seems to have a lot of litigation and there's also stuff making its way through the legislature. It's also a place, the president famously said a lot of bad things happen in Philadelphia at the debate the other night. Can you talk to us a little bit about what you all are seeing there, doing there and what your expectations are for early vote, and then post election?
Justin: Well, I think Pennsylvania, rightfully so, has taken center stage in a lot of these voting debates and what's happening. They've had a lot of litigation, they've had a lot of problems in administering their primary elections earlier this year, they are rolling out new voting equipment. They for the first time have gone to no excuse absentee voting, which actually predates the COVID pandemic so this was already going to happen. The state is making a lot of changes and we're concerned about how they're going to implement these.
Some of the early indicators from the primary, were unfortunately a little distressing for us. The Democrats have also filed several lawsuits there trying to strike down some of these provisions, these safeguards that I mentioned earlier. We are quite concerned about what's happening in Pennsylvania and we're placing a lot of emphasis on it. We have concerns about how the election will be administered. We want to be able to have a line of sight into what's happening just to make sure the election is run the right way.
Amy: I know there's a lot of debate too and again, the president brought it up at the debate about poll watchers, what people are able to do and not do. Each state, each jurisdiction has different rules about who can be watching or like physically in place at each polling place, and how far they have to be from voters, et cetera even before COVID. Talk to us a little bit though about what's happening with this early vote where the president saying, "Our poll watchers got kicked out. That's not fair." You talk to Philadelphia administrators and they say, "Well, we've had these rules for a while now, you can't come to a satellite office, and do poll watching." Can you help us understand where you guys are drawing the line on poll watching and what your expectations are for how this is going to look?
Justin: Sure, absolutely. Our position is that wherever voting is taking place, there should be observation permitted. That does not seem to me to be a controversial proposition that where people are voting, and just like on Election Day, they're just doing it ahead of Election Day, we're poll watchers are certainly allowed, that they should also be allowed during the early voting process. Like I said, Philadelphia, there's a lot of warning signs there about how this election is going to be administered. A tried and true component of voting in elections in America is being able to have observers observing the process. They are not there to disrupt the process. They are there simply to observe and to document and to make sure the election is being run smoothly.
Amy: Well, I'm going to let you go. I really appreciate you taking the time Justin, thanks so much.
Justin: Absolutely. Thank you, Amy.
Amy: Justin Remier is the chief counsel at the Republican National Committee. We reached out to the Biden campaign for an interview, but they declined.
[music]
Amy: It's politics with Amy Walter. As of today, more than 72 million Americans have requested absentee ballots, and more than 2 million Americans have cast their vote. This despite the fact the president has tried to de-legitimize this very legal process of voting, and continues to hint that he will not accept results of an election that does not go in his favor.
Chris: Can you give a direct answer you will accept the election?
President Trump: I have to see. Look, you-- I have to see. No, I'm not going to just say 'yes.' I'm not going to say 'no,' and I didn't last time either.
Amy: Meanwhile, election officials across the country are scrambling to update voters as lawsuits continue to make their way through the courts. It's a confusing and very fast moving process. To help us sort through it all, I reached out to Grace Panetta, who writes about elections and voting for Business Insider.
Grace Panetta: The big picture right now is we have early voting beginning in many states. Over half of states have now sent out mail ballots to those who have requested them. Already so far, as of today, October 1st, we have about 2 million people who have either submitted their mail ballots, or who have voted early. This is definitely a big change from earlier years. Obviously, in the primaries, states had varying levels of difficulty with scaling up mail voting, it's something that a lot of states didn't have much experience with, but a lot of lessons have been learned from those primaries that states have, and so far things are going pretty smoothly.
There are always going to be some bumps along the way, with any process that's run by humans, including elections but so far we're seeing mostly success with early voting in Virginia, North Carolina, which was the first state to send out everyone, their mail ballots. For those who have requested them so far is having a pretty smooth experience with ballots getting delivered on time and voters being notified when there are issues with their ballots.
Amy: Which states are the ones-- You pointed out the ones that seem to be doing pretty well and then there are others and I know New York is a particular focus of yours, that things are still look like a mess when it comes to the mail ballot.
Grace: New York's election administration has been extremely problematic for a long time. It's really a national stain on the city of New York, though, and this has been an issue for years and years. Unfortunately, there were a lot of problems with the primary, two with people not getting their ballots, and now they're having problems that they're blaming on the vendor for sending ballots to the wrong people, having things that are printed backwards, but fortunately, when we look at the bigger picture, New York is not reflective of the rest of the nation. We obviously hear most about the things that go wrong.
In the States, the swing states especially that are scaling up mail voting for the first time, we're seeing a lot of litigation and still dispute over the rules. As we approach November 3rd, in places like Michigan, Wisconsin and Pennsylvania, where there have been lawsuits that have involved with Democrats and Republicans over when ballots can be received by when if they have to be postmarked by a certainty around the use of drop boxes. This is all still ongoing and it does put a lot of strain on election official, but it's also something that states have been able to prepare for since the summer.
Amy: Speaking of those lawsuits, tick tock, we're getting really close to the election. Do you have any sense of when these are going to get resolved and if, these could end up being litigated post election potentially all the way to Supreme Court.
Grace: We're seeing a record amount of pre election litigation over the rules this year. This is a continuation of a trend that began after the 2000 election debacle after Bush v. Gore, with parties and campaigns starting to use it as a political strategy. Now with the pandemic, I think in nearly every state but a few exceptions have made some changes to their election rules either legislatively or with executive orders. Then there are outside groups too hobbling on the judges and judiciaries in the States or at the federal level to make changes in response to the pandemic to preserve the right to equal protection to vote.
You're right, we are getting, down to the wire here and courts sometimes abide by a thing called the Purcell principle, which essentially stipulates that courts should try not to make major changes to the rules of elections close to the day itself, but there are still so many cases pending. We're really seeing a record number of cases and it does lead to a lot of confusion. For example, in South Carolina, there have been so many back and forth rulings and injunctions and stays on whether a witness signature is required, which is also a problem in the primary Wisconsin. You could have situations where people see the news that a court rule that a signature isn't required, so they don't get it for their ballot, but then that decision gets stayed and their vote might be cast into doubt.
In Wisconsin, we're seeing this over when ballots can be received by an over the voter registration deadline. It really can cause a lot of strain for election officials to have to communicate the rules out to people and make sure they get counted. As for when we can expect these suits to be resolved, it really, really depends on the situation. Hopefully, officials just really want clarity around the rules so they can properly educate voters. Then when it comes to the post-election side of things, absolutely, we can see immediately lawsuits to be filed over the counting of mail ballots and the rules around that in such an unprecedented situation. No side is going to want to give up an inch.
Amy: What's your sense about whether one side or the other is better prepared Democrat, Republican Biden, Trump for this?
Grace: Both campaigns just have massive litigation teams that are focused 100% on these issues all the time now. It's really a mammoth effort, like we've never seen before. The Democrats have won a lot of victories in the swing states, notably with extending the deadlines by which ballots must be received by. We've seen judges in Wisconsin, Michigan, Pennsylvania, Georgia and then in North Carolina, the state elections board settled to extend that deadline by which ballots must be received, which is a big win for Democrats, because late arrival of ballots is a top reason why ballots are disqualified. As Democrats, you're more likely to vote by mail that could prevent a lot of votes being thrown out. Some of these cases are being appealed and those rulings still could change. That is a big, big theme we've seen so far in litigation.
The other thing, too, and The Washington Post did a really great analysis about this recently is that in many of the cases that have been fought in federal court, really no judges have cited with Trump's view that voter fraud is extremely pervasive and rampant or that voter fraud with mail ballots is rampant. There hasn't been any cases where a judge has sided with that and agree that that's what the evidence shows.
Trump by making the statements that he's made to put himself in a bit of a tough position, because there's a big gulf between what he says and what his campaign can prove in court. The Republicans have won some victories, especially around third party ballot collection, other cases around when ballots can be received, and what conditions ballots have to follow to be accepted. Like in Pennsylvania, a really big one was this issue of ballots that lack a secrecy envelope which is another really niche arcane thing that's all of [unintelligible 00:32:17].
Amy: Everybody knows what a naked ballot is, which sounds dirty, actually.
Grace: We need a better term for it. I would say looking at, particularly the swing states, the Democrats have succeeded in getting a lot of these really, really big changes that they were asking for, whereas Republicans have been unable to substantiate the President's assertions of widespread fraud.
Amy: Well, help us understand this, too, because, let's say now, a couple of days after the election, one candidate wins a state by a pretty big margin. Let's say it's three, four or five points. Would a legal action automatically be thrown out if the losing side brought it up? Is there a cutoff by which a judge or the state law would say, "Look, this has to be within a certain number of votes or a certain percentage of votes." You can't just sue anywhere you want to anytime you want to just because you lost.
Grace: Most states allow a losing campaign to petition for a recount. There are some that require the vote margin to be within a certain percentage for a campaign to file for that recount. In terms of challenging the validity of ballots in certain areas there's something experts referred to as the margin of litigation, at which point it's advantageous or not to be filing such challenges, because these court cases are expensive financially, they take up time, they are just a big undertaking for a campaign.
Usually a campaign will, for example, only file for recount or statewide will asks for recounts if they think there's a good chance they can pick up a lot of votes. Just thinking on a cost-benefit analysis, even considering the fact that many states we won't have all the ballots in by Election Day, or the days after, and if a campaign is already three to five points behind by then or after more ballots have been counted, it just may not make sense for them to file those challenges.
Amy: To your point, a campaign can say, let's just pick Pennsylvania, for example, and say, we're just going to go to Philadelphia. We're not going to file a statewide lawsuit, but we think there were problems in Philadelphia. The President has said bad things happen in Philadelphia. You could see something like that, perhaps that regardless of what the margin is, the argument from the Trump campaign would be the entire process was so rife with problems that even though we lost by x huge percent, we want the ballots to be, I don't know, thrown out?
Grace: Yes, definitely. This is another purpose that post-election litigation can serve is undermining the legitimacy of the rightful winner. This is something we've seen over and over again, throughout election disputes in history, whether it was Bush v. Gore, the contested 2008 Senate election in Minnesota. We know now that Trump has for years been sowing doubt and distrust overconfidence in our elections, and is claiming that it's rigged and fraudulent, especially in Democratic areas.
Especially with his obsession with Philadelphia, it may be likely that his campaign file some legal action, they're claiming immense irregularities or try to undermine the vote count there or call for a recount. This was also part of our core strategy in the 2000 dispute is he specifically targeted very Democratic heavy counties for recounts, at that point, it was all really county-based, because that's where he thought he could gain the most votes. In a Trump campaign situation, they may go really hard on these Democratic counties to undermine trust in the outcome and just seek to cause more chaos and confusion because as Trump has admitted he doesn't like to lose.
Amy: Grace Panetta, thank you so much. This has been really informative.
Grace: Thank you for having me.
[music]
Amy: As most of you already know, Pennsylvania is a critical battleground state in this election. In 2016 President Trump won the state and its 20 electoral votes, by less than 1% but it's also a state that political insiders worry could experience massive challenges in administering this election.
Jonathan Lai: Basically, every element of voting is different from 2016.
Amy: That's-
Jonathan: Jonathan Lai, and I'm a voting rights reporter with The Philadelphia Inquirer.
Amy: I started by asking Jonathan to walk me through the changes to voting in Pennsylvania, and what that could mean for voters and election officials.
Jonathan: When it comes to in-person voting, every single voting machine across the entire state has been replaced. When it comes to voting by mail, Pennsylvania last year enacted a new law that now allows any Pennsylvania voter to vote by mail, without requiring an excuse. That plus the pandemic has really shifted the attention on to voting by mail. About half of the voters in the presidential primary in June, voted by mail, and maybe close to half or even half of voters this year will be voting by mail. That's really significant because in the past, only about 5% of the votes were by mail.
Amy: In the primary. Can you walk us through some of the challenges or some of the good things that happened? Basically help us understand if what you saw in the primary gives us any insight into what we could expect for November?
Jonathan: Yes. I think basically, we take all the challenges that we saw in the primary when it comes to staffing, when it comes to being able to handle an absolute surge in mail ballot requests, when it comes to being able to open polling places and safely soulful distance people. We take all those challenges from the primary, and we basically double them because turnout is going to be about double. Everything that was difficult, including counting the ballots afterward, all of that is just so much higher now.
Amy: It took a long time, especially in Philadelphia and the Philadelphia suburbs to get those ballots counted. Were there also problems with that? I know a lot of ballots had been deemed invalid. Can you walk through some of that?
Jonathan: Yes. The reality is, voting by mail does have higher rejection rates than voting in person. That's just part of voting by mail across the country. That's because usually things like people miss the deadlines. People have problems with the signatures, or now what we're seeing in Pennsylvania is if you forget to use your inner secrecy envelope and you return what we're calling a naked ballot, those will be rejected as well. It also takes a long time to count these ballots. The reality is counting a paper ballot that is cast by mail takes longer than counting just tallying up electronically all the ballots or all the votes that were cast on voting machines on Election Day.
Amy: Plus Pennsylvania law is that you can't start tabulating or even processing these ballots. Is that right before election day?
Jonathan: That's right. In Pennsylvania, you can't do anything with the mail ballots until 7:00 AM on election day. That's when polls open. That's when you're allowed to start checking the envelopes, comparing signatures, opening the envelopes taking out the ballot. You can even start scanning them. You just can't release the numbers or anything like that.
Amy: I'm going to go to the quote that has now become infamous the president made at the debate the other night where he said bad things happen in Philadelphia and he specifically focused on the issue of poll watchers and a poll watcher for the Republicans being kicked out of an early vote precinct in the city of Philadelphia. Can you help us understand what's going on there and whether this was actually done illegally or not?
Jonathan: As far as we can tell, the president is wrong, it does not appear like these under law count as polling places. Here's what's happening, you're allowed to go to your county elections office and apply for a mail-in ballot in person. You're also allowed to request that that ballot be given to you on the spot, you're allowed to fill it out, and you're allowed to return it, you can do that in one visit.
What's happened is that's being described as early voting. It's not technically a polling place early voting center the way other states do it, you're not using a voting machine, you're requesting and filling out and submitting a mail ballot in one visit at the election office. That's what these are. Philadelphia is opening 17 of these elections offices where people can go, they can also register to vote there. It's very much an election office.
However, because people are voting there, these supposedly poll watchers, which I should know, we don't really know that they are poll watchers, because in Pennsylvania, you have to be certified as a poll watcher. We can't have random people arbitrarily entering polling places. There are reasons why you have to be certified as a poll watcher. The Trump campaign does not have certified poll watchers in Philadelphia right now. These were not poll watchers. As far as we can tell, under state law, these are not polling places.
Amy: Talk to us about the other issue. This is not Philadelphia itself, but northeast Pennsylvania, where there is the case of ballots being tossed out. President Trump again addressed this saying, these ballots, they were thrown in the trash, they had my name on them, just another sign that Democrats are trying to rig this election. Can you tell us what that's really about what happened there?
Jonathan: This is in Luzerne County, which is a Republican-led county that is actually a swing county that voted for Obama and then voted for Donald Trump in 2016. This is not what the President is describing. There's no evidence of fraud or a conspiracy to rig the election. The county has said that there was a temporary worker who in this worker's first few days on the job, got confused about the envelopes and the ballots, thought that perhaps it was not a valid but it was an application, got confused and threw the ballot out.
To be clear, it is not good that election materials including ballots be thrown out even if by mistake, that is not the same thing as having some grand conspiracy to rig an election. There were nine ballots. I will note, former DOJ officials and experts say we should not know whom those ballots were cast for. We should not know that seven of those votes were cast for Donald Trump. There is no legitimate investigative reason for us to know that. Instead, they say that that suggests partisan reasons.
Amy: Jonathan, I really appreciate you taking all this time with us today to walk through all of this. Thank you for all the great reporting you're doing up there and stay safe.
Jonathan: Thank you.
Amy: Jonathan Lai is a voting rights reporter with the Philadelphia Inquirer.
Investigative journalists, the Manhattan district attorney, two out of three Americans, according to a Reuters Ipsos poll, what do they all have in common? Well, they want to see Donald Trump's taxes. People have spent years requesting, searching, and otherwise trying to force those documents to light with the same fervor that propelled King Arthur to search for the Holy Grail.
Bridgekeeper: Stop! What is you name?
Arthur: It is Arthur, King of the Britons!
Bridgekeeper: What is your quest?
Arthur: To seek the Holy Grail!
Amy: Well, last weekend, we found out that the New York Times has them, or at least some of them. By now, you've certainly heard some of the big takeaways. Andrea Bernstein is co-host of the Trump Inc podcast from WNYC and ProPublica. She's also author of American Oligarchs: The Kushners, the Trumps, and the Marriage of Money and Power. That's out in paperback on Tuesday.
Andrea Bernstein: The thing that really stood out the most to me was what the New York Times described as the vies that Trump is under. He owes hundreds of millions of dollars of debt, which we understood, but we didn't understand the backdrop that he is really hemorrhaging money from his businesses. Here you have a president who has almost direct financial interest in winning reelection. It's not just about holding on to power or prestige as it is for most presidents running for reelection or being able to enact a certain ideological program.
In his case, his family company's bottom line directly depends on the outcome. That's because if he's president in the next few years when this debt is due, it puts the banks in this really difficult situation of having to decide perhaps, are they going to default a sitting president? Or are they going to not? Either choice is bad, and so long as he's president, he has the ability to drum up profits in his hotels and his golf courses by what we see every day, which is that people who seek favor from him can patronize his establishments, and will typically get something from it or will often get something from it. He has this money machine possibility, while he's president, but not so much if he loses. That is a really unique historical situation that we're in.
Amy: It seems as if and the New York Times pointed this out too that even with all the benefits, as you pointed out of being president and having all these properties and potentially using them to help pump up his profits, they've still continued to lose money. If this, indeed is a gambit to try to make as much money as possible to shore these holdings up, it hasn't really worked out, has it?
Andrea: Well, it has and it hasn't. It's certainly clear from the Times reporting and from reporting that we've done that he's been able to make more money than he would have, that is lose less money, because he's president. There's that. The other thing that if you look at the broad historical sweep that this reporting and other reporting brings out, what you see is a man who has always been able to start with a big pile of money, and then find some other infusion.
First, it was his father's real estate empire that he was able to use to invest in businesses and enterprises that were mostly losing money. The Apprentice gave him a big infusion of money and all the licensing deals that came off of that. He spent it on golf courses, which it's been clear for quite some time are money losing businesses. Now he's in a situation where his next mechanism for propping up his empire is the presidency. That is extraordinary.
Amy: Andrea, these stories, as you know and you've reported on, have been out here for a while. There's new reporting here in the New York Times because they have access to his tax records. It seems like these stories come out, they make this big splash, and then there's this collective shrug it seems from the American public, either. We knew this about him, and this is why we don't like him or I'd like him, I don't think this is true, or he's just a good businessman, and he's writing off losses like any good business would. He's still a really rich dude, I don't understand it. Is there a reason you think that these don't get the kind of traction that again, in any other era with any other person, as president would seem to be a big, big campaign altering deal?
Andrea: Yes, well, these stories exist in the same truth ecosystem that every other story exists in. We have the Trump base, roughly 40% of the American public who believe and have been encouraged to believe by him and by supportive news forces, that every time a story like this comes out, it's just to tarnish Trump.
One of the things I like about Trump is that he stands up to what they see as attempts to tear him down. That's one of the things that appeal to them. It's this perfect cycle of a story comes out which would fill anybody else but for Trump, it somehow solidifies the support among his base. The question is, does it mean anything to anyone, to that tiny sliver of swing voters, to this corporate permission structure, which was very happy in the early days of Trump to go along because people were making money, their taxes are getting lowered? You see a situation where his own financial enterprise looks shakier and shakier and shakier, it can raise questions.
I think that there is certainly that, there's certainly the idea that while people are really suffering in this country, the President is paying so little taxes. This is from a man whose family company was started with help from the taxpayers. There never would have been a Trump real estate empire, had not US taxpayers guaranteed loans in the early days and really helped get it off the ground. That is the irony here, that the Trump company, the Trump Organization and all its affiliated companies succeeded because of we the taxpayers, and Donald Trump's father, Fred Trump, and now Donald Trump and one of the things that the Times pointed to also his children appear to be doing everything they can to not pay anything back to the well of taxpayers that made them what they are.
Even the idea at the time was that this is good for everybody. It's good for the private developers and the private business people, but also good for the country to have these people succeed. There was a sense of everybody marching together in the same direction that has really, really frayed and particularly under this president. It's something that is the both the general direction that the country has been moving in to have very wealthy people pay fewer and fewer taxes, but it's something that the Trump family has almost stands alone in the way that they have avoided paying taxes. This is something that the times documented in one year, it was of Trump who claimed the biggest losses and the biggest deductions. It's an actual not just a figurative superlative.
Amy: Andrew Bernstein, thank you so much for joining me, walking us through this.
Andrea: Thank you so much, Amy. Great talking to you as always.
Amy: Andrea Bernstein is co-host of the Trump Inc podcast from WNYC and ProPublica. She's also the author of American Oligarchs: The Kushners, the Trumps and the Marriage of Money and Power.
That's all for us today. I think we can all agree it's time for everyone to take a deep breath. As we process a lot of news happening very fast. We'll be watching it with you. Let's give some props to the team who helped make this happen. Our senior producer, Amber Hall, Patricia Yacob, who's our associate producer, Polly Irungu our digital editor. David Gebel is our executive assistant. Jay Cowit is our director and sound designer. Debbie Daughtry is our board up. Vince Fairchild is our board up and engineer. Our executive producer is Lee Hill. Of course you can call us anytime at 877-8-MY-TAKE or send us a tweet, I'm @amyewalter. The show is at The Takeaway. Tanzina Vega is back with you on Monday. Thanks so much for listening. It's politics with Amy Walter on The Takeaway.
Copyright © 2020 New York Public Radio. All rights reserved. Visit our website terms of use at www.wnyc.org for further information.
New York Public Radio transcripts are created on a rush deadline, often by contractors. This text may not be in its final form and may be updated or revised in the future. Accuracy and availability may vary. The authoritative record of New York Public Radio's programming is the audio record.