Processing a New Kind of Election Night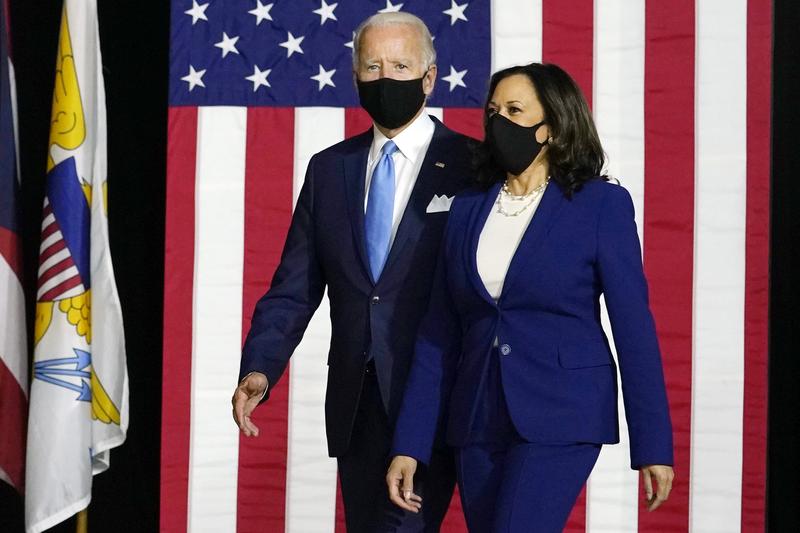 Transcript
Announcer: Listener-supported WNYC Studios
[theme music]
Amy Walter: It's politics with Amy Walter on The Takeaway. Over the last few months, while watching the Primary process play out and candidates adapt to virtual campaigning, little alarms have been going off. In April, it was Wisconsin where partisan fights forced voters to choose between risking their health and their civic duty.
Interviewee 1: I believe they should have cancelled the vote today. Many people won't be able to vote.
Interviewee 2: Or they should extend it. Instead of one, at least give us two or three days and give everybody an ample amount of time to vote.
Amy: In Pennsylvania, after a delayed Primary and a surging absentee ballots, it took more than a week to get the results.
Journalist 1: Police are actually currently collecting ballots from drop boxes and delivering them to election officials. More than 1.6 million voters applied for mail-in ballots in Pennsylvania.
Amy: A week later in Georgia, shuttered polling locations led to long lines and confusion.
Journalist 2: In Georgia, there are reports of equipment problems, a lack of training for poll workers, and people having to wait several hours to cast a vote.
Amy: Election 2020 will not look like anything we've experienced before and that's sinking in for many Americans. In fact, according to a Pew Research poll released earlier this week, only about half of voters expect it will be easy to vote. Back in October of 2018, 85% of registered voters felt the same way. Confidence in the integrity of this year's election is of the utmost importance for our democracy, but the President is doing all he can to undercut it.
President Donald Trump: They need that money in order to have the Post Office work so we can take all of these millions and millions of ballots. Now, in the meantime, they aren't getting there-- By the way, those are just two items, but if they don't get those two items that means you can't have universal mail-in voting.
Amy: The truth is counting mail-in ballots is much more time consuming than it is when people vote in-person, and regulations around when and how mail-in ballots can be tabulated lead to delays. What it boils down to is this; we may not know all the results on election night. On top of that, there'll be stories throughout the day and night of the election about long lines at polling places or overburdened poll workers, much of it normal stuff. But in this hyper-partisan and highly-charged moment, many will see proof of an election that is fraudulent.
It's a precarious situation for everyone involved. From voters, to candidates, election officials and the news media, everyone wants to know who will be the next President of the United States, but the rush to be first can not outweigh the need to get it right. We've been here before, just four years ago, when President Trump was elected. What many expected to be a slam dunk for Hillary Clinton ended up to be a much closer battle. News did not come until the very wee hours of the morning. There was a lot of soul searching and reflection among the media about what was missed in covering the Trump campaign.
Then of course, there was Bush v. Gore in 2000.
Journalist 3: The Vice President has recalled the Governor and retracted his concession, saying that Florida is to close right now.
Spokesperson 1: Circuit Court of the Second Judicial Circuit here in Tallahassee shall immediately begin a manual recount.
Spokesperson 2: Attempting to vote would instead end up leaving a dimple instead of punching a chad through.
Journalist 3: The nation and the world still wait and watch for a decision by the US Supreme Court.
[chanting]
President George W. Bush: And we agreed to do our best to heal our country after this hard-fought contest.
Amy: With the electoral votes of Florida undecided, there was a drawn out battle that ended up at the Supreme Court where the recount was halted and George W. Bush was declared the winner. Of course, none of this was official until December. But way back in 2000, we didn't have social media, or Russian meddling, or a President stoking conspiracy theories. What worries me this year is the deluge of misinformation that will fill the vacuum of time between election night and the final outcome.
This week, I sat down with Caitlin Conant, the Political Director of CBS News; and her counterpart at ABC News, Rick Klein, to learn about how they are planning to cover this election and what they're doing to prepare their audiences for what might be an uncertain outcome on election night.
Rick Klein: I have been telling my team from the beginning, we have to embrace the uncertainty. We have to be transparent, honest with ourselves and honest with the audience, that we don't have all the answers and that we're trying, first and foremost to get it right. That the most important thing we can do for people is conditioning them to the changes in the reality with regard to their lives and with regards to the voting process and the very systems of the election. And just tell people along the way, what we know, how we know it, what we don't know and how that impacts our decision-making.
We have to just prepare to be surprised, prepare to say we don't know the answer to things, and as much as possible, just remind people that this is different and it's different for a whole range of reasons, not necessarily nefarious reasons, but a whole range of reasons that are connected to how society has been disrupted.
Amy: What about you Caitlin?
Caitlin Conant: I would just add to that. I, myself, don't have a lot of patience, and so I think that we need to prepare the American people that they might need to have some patience as we lead into election day, whether that's election week, month, season, but there are a lot of changes here. I think that the more we can cover the story of this strange time that people are voting in, and potentially, different ways that people are voting. Whether it's their precincts all merged into an arena or they're voting by mail for the first time, they're volunteering to be a poll worker for the first time because we're expecting shortages, I think we just need to cover the story and be there and be prepared to tell the ways that this is evolving, just as we're all evolving during this pandemic, and having to adjust and be flexible.
So, I think for us, we just need to be there to cover all of these changes, and I think that the more we can do as the networks to prepare people, and I think there's a certain civics and education responsibility here.
Amy: Caitlin, do you think that you all have been effective at letting people know at this point what things could look like on election day?
Caitlin: I think we can all do better and that there's more to do. I'll say, we have done a ton to cover the problems as they existed during the primaries, but I think coronavirus took precedent over the campaign in a lot of ways thus far. But I think as we head into the Conventions and then the fall and now that we know Joe Biden's running mate, Kamala Harris, everything is going to refocus on how the pandemic is going to shape the election. That includes coverage of all of these voting challenges that potentially could arise.
So, I think we should continue to do more on the broadcast, on Dotcom, on telling what the challenges we saw during the primaries, and what that can mean for election day and how we should take those lessons. Just yesterday, we sent actually one of my campaign reporters to Wisconsin to see what had changed since the primary where we saw long lines. It actually went off better than April. We had him there, he went on CBSN, he's writing for Dotcom. I think the more of that we can do to show-- It might be the same story in different states, but I think we should cover that story time and time again.
Amy: Rick, Ben Smith over at the New York Times, who's the media critic wrote, a piece last week, which got me thinking about you all and what your job is. The headline of his story was how the media could get the election story wrong. He said- and I'm quoting him- "I spoke to executives, TV hosts and election analysts across leading American newsrooms, and I was struck by the blithe confidence among some top managers and hosts who generally said they've handled complicated elections before and can do so again. And I was alarmed by the near-panic amongst some of the people paying the closest attention; the analysts and producers trying and often failing to get answers from state election officials about how and when they'll count the ballots and report the results."
What do you say to Ben Smith's criticism here?
Rick: I think any confidence that he picked up that we're going to get it, quote-unquote, "right" and that we're going to be totally prepared is because we're preparing now, not because the way we've always done it has worked. I think any suggestion that networks, news organizations, aren't thinking deeply about these changes and what it means for our coverage, my experience is it's just wrong. That's not the case. We have been actively preparing for all sorts of nightmare scenarios since COVID started and it became clear that elections were going to be disrupted. More broadly, I think there's a lot of changes that have happened in the last couple of decades about how Americans vote and also how media organizations cover that voting.
So, we are confident we're going to get it right, but it's not a function of us assuming it's going to be a smooth night. That's because we're preparing and spending a lot of resources, putting people and data in the places that it needs to be to reflect these new realities.
Amy: One of the big criticisms of news organizations in 2016, not just TV but print as well, was that they sort of missed the story. They missed these Trump voters, they didn't get out to the right places, talk to the right people. Now, we're in the middle of a pandemic. It's harder than ever to put your reporters on the ground. There, obviously, aren't Conventions or rallies or events. So how are you making sure that you're not missing something this time around?
Caitlin: Well, as you said, there are a lot of challenges when it comes to travel and hotspots, especially in a lot of these battleground states and where we're seeing rising cases. One thing that we've done with the political unit at CBS News is pretty early on in April, we assigned everybody to cover battleground states remotely with the hope they will get to live there someday. As part of that responsibility, on top of just sourcing and figuring out what the campaigns were doing in those states, was also to talk to voters specifically for that reason.
We created a series for Dotcom called the CBS News COVID Chronicles, where twice a week, our campaign reporters focus on one industry that's been affected across two different battleground states. For example, this week it was sports, which was nicely-timed because we had a college football story yesterday that we had planned a while ago on how all the ripple down effects affect voters lives. We're going to circle back with all of them ahead of election day, and hopefully, be able to incorporate them into our coverage on just how their lives have changed, do they think things will get better or worse, and what their thoughts are not necessarily about the candidates, but just on federal government and what they are hoping for to turn things around.
So, I'm still hopeful that we'll be able to get people living in these states full-time, but for now, that was a way where we were designed to not miss what's actually resonating outside of the bubble.
Amy: All right. What about you, Rick? How are you approaching this?
Rick: We also have reporters who are actively reporting on states, and like Caitlin, I hope they can get to the state sooner rather than later. The way that I've thought about this is that we've had this series of sometimes overlapping, sometimes related but sometimes unrelated crises that have ripped the nation. COVID, the economic collapse and the reckoning around race; that changed everything. It changed all of our understandings about what we thought this election would be about. It changed the mechanics of voting in ways that we've been talking about. It also just changed the priorities of people's lives. It's almost impossible to think about issues that aren't connected to at least one of those three buckets being decisive ones in this election. Everything else seems frivolous.
Now, obviously, we have three months, other things can happen, but the way that we have to cover the campaign has to reflect the way that people's lives have changed and their priorities have changed. It's put more of an emphasis, to my mind, on that sort of reporting that yes, particularly in battleground states that we think will be determinative for the Presidential election or for control of the Senate, what are the stories that are drawing out of these once-in-a-century crises that have hit us all at once, that inform how voters are thinking about things? That's a lot more than just who's going to win and who's going to lose and who's up in the polls.
I think not letting ourselves get lulled into the rhythm of a horse-race campaign is very important because these things are so complicated. Even seeing the announcement of Senator Harris as Vice President Biden's running mate, that is an American story with all sorts of layers to it and it's not the kind of thing that is conducive to flip quick analysis about blocs of voters. I think anything that we can assume around that we have to throw out the window as well because this is different.
So it means we need to be talking to people. Yes, we need to continue to do polling as well, we need to be reporting on campaigns as they actually matter to people, and recognizing that the way that campaigns matter to people is likely to be very different than it has been in the past.
Amy: Well, so let's go then to election night. Because the expectations for election night broadcasts are you turn on the television, you watch and by the end of the night, whatever time that is, we know who the President is, and we know who was elected to Congress and the Senate. All of us here know that it's more likely than not that we're still going to be counting ballots after election night. We may not know the answers on election night.
So how do you both put on a program that has to be interesting and informative, while also recognizing that it's not necessarily going to give viewers the answers that they want? And how do you do that without allowing some of the charges that we're already seeing being thrown about- about fraud, illegal votes, those sort of things- dominating the conversation?
Caitlin: One thing we're still going to be able to bring to our audience is the voice of voters because we will have exit poll data on those who do decide to vote in-person, and there will still be people who vote in-person. So, we will have that. Then we'll be able to tell you the story of how many voters to expect, but not how many precincts.
To Rick's point earlier, which I absolutely agree with, we also have to be there to have voices from America and our correspondents and anchors who will be involved in election night coverage, focusing on the big themes. That is healthcare, it's economy, it's racial inequality that's been exposed and exacerbated during this whole process. Then also just having reporters who are covering these states and being on top of what issues they are seeing, and being able to feed in information on whether there's long lines or absentee ballots not going to be expected for a week.
I just think we have to be able to tell that story, and we're going to be relying not only on our experts in the studio on election night, but also from our reporters who have been covering this for months on the nitty gritty of what's happening on the ground so that we can inform our viewers. Because we don't have results that night doesn't mean it's for a bad reason. It means because people want your vote to count and they are making sure that they're being methodical about it.
Rick: Election nights, to my mind, have a narrative and the narrative is kind of a miniaturized version of the campaign. It starts with a lot of anticipation. You get those early results. Amy, Caitlin, we always obsess over the early bellwethers. What does it tell us? Handicapping every step of the way, what it means. I think we need to craft that narrative along the lines of saying, "You know what? We're not going to know how the story ends necessarily tonight." We have to be prepared for the possibilities, not the probability, that we're not going to be able to say, at some point in the wee hours, this person has been elected President of the United States.
If we start with that assumption, maybe we'll be surprised. Maybe we'll be surprised at how normal the election seems and how early we get to go to bed that night. But if we're preparing for overtime in multiple directions, then I think it can be an exciting reporting opportunity. Our job, every step of the way, is to be providing facts and providing details and data and pictures and reporting that show exactly what is happening. We know that the campaigns will spin it, we know that lawyers will get involved, we know that if there's a close election, we could be into very much uncharted territory- Florida times five or six. We don't know that that's going to happen. We need to be prepared for that to happen and if it does happen, we'll cover that story. We'll be on the air until forever on election night, and then we'll be back when there's news to report. We'll be back continually.
The people that are making the decisions of the network, quote-unquote, "calls" that are saying, yes, a candidate has won a certain state; they're looking at math, they're looking at data. They're looking at complicated mathematical formulas that I can't begin to understand. They're not thinking, first and foremost or at all, about the TV audience. They're thinking about what the facts are. The more that we can rely on those facts and let that shape and say, "Look, this is what we know and this is what we don't know. This is what we see. This is what we're expecting. This is what's going on," that's the story.
We can't get into any kind of trap- and I know we won't, and I think all the networks are going to be thinking like this- we can't get into the trap of telling the story that we're telling people is it's going to end at 11:00 o'clock Eastern and you're going to know who won. That, I think, would be a huge mistake.
Amy: Right, or even-- I mean, y'all, I'm thinking back to the 2018 election and I was not on either one of your networks, sorry, so I did not follow the coverage that you were putting forward. But a lot of folks were- especially for the cables- a lot of folks were noticing that as those first bellwether states came in, as Rick pointed out, the narrative started building among the folks who were there to fill time on these panels; that, well, maybe this isn't a Blue wave. Maybe Democrats aren't going to do as well as the expectations. It took a good week before all of the results were in, and sure enough, Democrats ended up taking up 40 seats.
So how do you guard against that, Rick, as you're talking about this narrative, this desire to use these early states or early returns or exit polls, to draw conclusions? We just are- I don't know about you all, but for me, I just am desperate. It's finally election day, we get to open up all the presents that have been under the tree this entire year; and to not be able to draw any conclusions about it seems like asking folks a lot.
Rick: Yes. I don't think it's appropriate to say that you're drawing no conclusions from early returns. You learn something, you don't learn nothing. I think our coverage probably fell into the same rhythm that you were talking about when Kentucky comes back and Amy McGrath didn't win, that it was, "Whoa, okay. Maybe this is a long night for Democrats. Maybe it isn't what they expected." Then as more information comes in, that's part of the story.
I think we need to avoid over-reading anything. Even if the first results come in and a candidate is up 10 points in Florida, there's still a lot we don't know about what votes are still out there. I know there was another point that Ben Smith made in his column about avoiding the idea of precincts reporting. We've avoided that for the last election cycles. We've not done that. We've been using a percentage of expected vote. It's complicated by the fact that we don't really know what the expected vote is going to be in states that are drastically shifting to vote by mail. That's hard but again, we're going to talk to the secretaries of state, we're going to talk to the election officials in all those places and try to be able to describe, "Okay. Yes, we've got a 10-point lead for a candidate in a key early closing battleground state, but this is what we think we can tell about that. This is what we don't think we can tell about that."
More often than not, these elections are- they do fall into national themes. I think in the last election cycle, the fact that Wisconsin, Michigan, Pennsylvania went in the same direction kind of confirms that. We're going to see false flags. We're going to see misinformation, which we haven't even begun to address. We're going to see oddities. But if any past is prologue, we're going to see national storylines emerge. I'm not saying we need to wait for them as much as just when we see early indications, we just can't over-read them.
[theme music]
Amy: Rick Klein is the Political Director for ABC News, and Caitlin Conant is Political Director for CBS News. We've been talking about expectations for election night and as always, we wanted to hear from you. We ask; what's your most memorable election night memory and what are your expectations for election night 2020? Here's what you told us.
Interviewee 3: I remember the night when John F. Kennedy won for President. I haven't calculated, somebody else can do the math, but I think I was around 10 or 11 and I still remember the thrill.
Interviewee 4: When I was in sixth grade, our teacher required us to memorize the names of world and local leaders, and so I knew exactly who Richard Nixon was. I remember watching the television and rooting for him and feeling invested in his winning his second term.
Interviewee 5: I remember being riveted to the coverage in 2000. When the major networks called Florida for Al Gore, I ordered filet mignon from room service. Then as I started to enjoy that, I watched it slowly unravel. This time around in 2020, I don't expect to have any sort of clarity on the night of because of all the mail-in ballots.
Interviewee 6: Hey, this is [unintelligible 00:22:35] from Dallas. My most memorable election night memory would be when Obama was elected and watching my mom's face. Me being a Black female and her face was just worth- there's no money price I could put on it. It was absolutely amazing. Expectations for election night 2020? Man, I'm a little afraid. It could be up in the air. I have no idea what to expect.
Interviewee 7: 2008, I was 19, Black woman. When Obama won, I was at work. I couldn't get the night off, but I just cried. I was so excited. I lived in New Orleans at the time going to a university, and I remember the more conservative kids freaking out and breaking bottles and stuff. It was really bad. This election night in 2020, I don't know what to expect. I feel like it could go either way and I'm really scared for the future of our country. Especially now that USPS is being dismantled to try to impede voter turnout.
Interviewee 8: My most memorable election night was my most traumatizing night, which would be 2016 election with Donald Trump. What I'm looking forward to in the 2020 is a lot of apprehension, not a clear winner, and I'm dreading the aftermath. So, I'm hoping and praying that they get the Postal Service [unintelligible 00:24:10] so that voting by mail will be allowing for a clear election winner.
[theme music]
Amy: After weeks of anticipation, Joe Biden made his pick official this week with the selection of Senator Kamala Harris as his running mate. Historic moment.
Vice President Joe Biden: This morning, all across the nation, little girls woke up- especially little Black and Brown girls- who so often feel overlooked and undervalued in their communities. But today, today just maybe, they're seeing themselves for the first time in a new way as the stuff of Presidents and Vice Presidents.
Senator Kamala Harris: Joe, I'm so proud to stand with you. I do so mindful of all the heroic and ambitious women before me whose sacrifice, determination and resilience makes my presence here today even possible.
Amy: I connected with Valerie Jarrett, Former Senior Advisor to President Barack Obama, to get her reaction to this moment.
Valerie Jarrett: When I heard that Vice President Biden had selected Kamala Harris, was just elation. I've known the Senator since she was Attorney General, and I watched her impressive record there, negotiating with the banks who were foreclosing on homes of millions of Americans and her tenacious, determination to protect those folks who were in jeopardy. Then I worked with her closely since she's been in the Senate and watched her throughout her Presidential campaign. I just have always thought that she would emerge successful from a very, very competitive field.
I was happy for the historic moment, but I was also happy because I think that the combination of Vice President Biden and Senator Harris will be formidable in terms of their ability to win, but more importantly, I think that they will lead this country in a very positive direction that I sense we are hungry to have.
Amy: You and a number of prominent women signed onto a letter addressing sexist and racist stereotypes in the coverage of that VP pick. Not much later, just a couple of days later, Fox News host, Tucker Carlson, mispronounced Kamala Harris's name and then grew very angry when he was corrected on that. Is this the sort of thing that you were talking about? And if so, you said you were going to hold media organizations accountable. Do you plan on doing that?
Valerie: Yes. I think what my observation would be is that historically, women are treated by a different standard. The focus isn't on substance, the focus is on everything but substance. Either it's name calling or it's pejorative descriptions of their appearance, whether it's their clothes or their makeup or their hair, words are used to describe women in positions of power, seeking political office, it's a very different tone and meaning than when they describe men.
What we are asking for is an even playing field. I am absolutely confident that she can compete on an even playing field. What is unacceptable is to have the deck stacked against her. What also has traditionally happened is that women have not felt that they were in a position to defend themselves. You don't want to complain, you want to just kind of tough it out. That's fine for Senator Harris, but we want to be the voices that speak up and hold, not just the media accountable, but anyone accountable who's using a double standard.
We can do it by putting a spotlight on it. We can do it by pushing back, both in the press and directly. I think what I have observed over the last few days as I have done numerous interviews is that the media is paying attention. They're asking, quite directly, "Tell us how to get it right." That's a conversation we've just never had in our country before. I've never had media say to me, "What is the way that we should be covering what is a historic election, but because it's new to have a woman of color in this kind of a position, people are searching?" Now, I would like to think by 2020, we wouldn't be in this position and they would have figured it out by now, but they clearly haven't.
Amy: Have you reached out then to Tucker Carlson, you or the group of women who signed this letter?
Valerie: Well, we were quite direct over social media, but I don't think it's going to be Tucker Carlson who listens to us. I think it's going to be Tucker Carlson's advertisers who listen to us.
Amy: It seems as if the Vice President is also taking this tact. He in the announcement the other day, said-
Vice President Joe Biden: Kamala Harris has had your back and now we have to have her back. She's going to stand with me and this campaign and all of us are going to stand up for her.
Amy: What do you think he meant by that and what do you expect from him? What should he be doing as [crosstalk]--
Valerie: He will be in a position to call out examples of racism and sexism in a way that she cannot. I know that he will defend her, but I think his appeal was that he shouldn't be the only one defending her. This shouldn't be about politics, this shouldn't be only women, this shouldn't be only Democrats. I think as a country, we have to recognize that our discourse is divisive and polarizing. That it is a time where I think the American people are tiring of that and they are looking to figure out ways of listening to one another more closely.
We've seen that in the context of so many people of all colors and races and ages who have taken to the streets in the midst of a pandemic to protest about the tensions between police and communities of color. So, I think there are allies out there who recognize that we have to do better. That women- looking at the midterm elections, for example, we have more women now in Congress than ever before in our history- we are becoming a force to be reckoned with. So, I think the political reality, as well as what I hope will be the cultural change, is moving in a positive direction and we want to nudge it hard.
Amy: I want to talk about that role that women have, especially here's a woman on the ticket with a man and especially a man in Mr. Biden, who has faced criticism for his record; including his treatment of Anita Hill, he's faced allegations of inappropriate sexual behavior, his previous stances on the [crosstalk]--
Valerie: Not sexual-- Well, actually, you're right. I stand corrected. You're right.
Amy: Last week, he had to walk back the statement about diversity and African American and Latino communities. Just wondering how do these questions get asked? You know they're going to get asked of the Vice Presidential nominee, Kamala Harris. Is it fair to ask them, and how should she answer them?
Valerie: Absolutely, it's fair to ask her anything you want about his character, his integrity, his conduct, and he has answered those questions directly himself. He is the one that wanted to do the interview with Mika Brzezinski to say, "Let's talk about this openly, women should be heard. I'm the person who wrote the Violence Against Women Act. I believe that we should fight for women's rights." But he said, "But I am telling you my truth that it didn't happen."
Then we have to all make a determination on own on the issue of when people were mentioning the fact that he was a close-talker, for example, he said, "But that's not what matters. What matters is how the person perceived it, and I hear you, I will do better." I wish that everyone would be as acutely empathetic and willing to listen as Vice President Biden. I think Senator Harris wouldn't have joined his ticket if she did not feel that he was a person of the highest integrity and character, and whose core values were consistent with her own. She will be more than willing to answer any questions coming in to that end.
Amy: I want to talk to you about something you also know very well and that's transitioning between Presidents and should Joe Biden win, what that might look like. We always know, when you're going from one President to the next, there's probably a little bit of awkwardness, but what was it like for you to come in? Obviously, you didn't defeat, but were replacing a Republican administration. What are your worries of what it could look like now, given how high the intensity is by the President around this idea that this election could be rigged or stolen from him?
Valerie: It's a really fair question. Let me begin by saying that President Bush and President Obama disagreed on virtually every possible public policy issue, but after the election, President Bush directed his team to be as cooperative as possible with our transition team. That began with President Bush and Laura Bush being welcoming to the Obamas, and it trickled down throughout the White House and all of the agencies. President Obama said after the election, I expect for us to behave the same way President Bush's team did with us.
So, we prepared all kinds of transition memos and offered meetings, and basically it fell on deaf ears and far as I can tell, any document we prepared went into the trash bin without even being read. The most concrete example I can give you of that is the report we prepared on how you would be ready for a pandemic. There was no indication over the last several months that they paid attention to any of the recommendations that we put in that document, or we would have been far better positioned to handle this because we anticipated this would happen.
Going forward, I think that if past is prologue, Vice President Biden's team should not count on any cooperation from the Trump administration. Fortunately, because Vice President Biden was in office just four years ago and many of the career public servants are still there, they will have to just make do without any efforts coming from the Trump team.
Amy: That seems really dangerous, given that we are likely to still be in the middle of a pandemic and an economic recession. I mean, you all came into office in the middle of a financial crisis. Explain how dangerous that would be to have a non-seamless transition in a time of upheaval.
Valerie: It would be very dangerous. I still recall the meeting that President Bush convened, where he invited Senator McCain and Senator Obama to participate in a briefing with the Treasury Secretary, Hank Paulson, because he wanted to make sure that there would be continuity. So this is very dangerous, and I think it's one of the reasons that Vice President Biden said that one of the first things he would do is ask Dr. Fauci to stay on because of the need for that continuity. I think, frankly, it would be empowering to all of the scientists who work in the administration to know that they finally have someone who believes in science and would listen to their wise counsel.
So, we would lose a great deal by not having the cooperation of the senior people, but I think we could rely on many of the career people who are true professionals, who would be totally cooperative with the new team and who have been with every team before.
Amy: Thank you so much for taking this time. I really appreciate it.
Valerie: You're welcome. I'm glad we had a chance to chat.
Amy: Me too.
Valerie: I look forward [crosstalk]--
Amy: Thanks a lot.
Valerie: Bye-bye.
[theme music]
Amy: Something I've been paying close attention to is how much campaigning has changed since the beginning of this pandemic. It wasn't that long ago that we were making our way through the Democratic Primary, packed into Town Halls, followed campaign buses across frozen highways, and watched candidates meet and greet voters in restaurants and state fairs. While some of these events can seem a little superficial, they also serve as a way to demonstrate momentum and excitement. Zoom rallies just don't have that same feel.
Today, we're just two and a half months away from the election and it doesn't feel like there's going to be a way for campaigns and candidates to return to business as usual. That's especially true when it comes to the time-honored tradition of door-to-door campaigning. Campaigns rely on these efforts to hear directly from voters, but COVID-19 seems to have made that impossible.
Well, not for everyone. Americans for Prosperity, a Conservative organization funded by David Koch, is knocking on doors in swing states and supportive Republicans running in Senate and Congressional races. I spoke with AFP President, Tim Phillips, about their efforts.
Tim Phillips: There are dozens of groups out there doing TV ads, digital ads, radio ads. There's almost no grassroots involvement, person-to-person. Americans for Prosperity Action, that's what we focus on; door-to-door, individualized texting efforts as well. Telephone efforts from local people- not some phone bank at a 800-center of thousand miles away, but local folks- and our goal is to reach swing voters. The folks who we believe, based on our data analysis, are genuinely up for grabs in this election, on these individual Senate candidates that we're supporting, or at the House level- the Congressional level.
Amy: You think, at a moment where we're in a pandemic, where person-to-person contact now can be seen as so dangerous, you're saying that your volunteers are being-- That people are opening their doors and not saying, "Hey, this is too dangerous. I don't feel comfortable doing this." [crosstalk]--
Tim: Yes, we wondered what the response would be. We began carefully testing back in early June, and now we're at full all-in with both activists and staff at the doors. I've probably knocked on, I bet over the last nine weeks, probably 3,400, 3,500 doors, I'm guessing, of swing voters. I may have had, I don't know, maybe three to five or six refusals based on feeling uncomfortable.
We follow all social distancing guidelines. Frankly, that's very easy to do on door-to-door. It's easier than almost any other-- It's easier than going to Walmart because it's easier to ring the doorbell, step back six feet to eight feet onto the sidewalk, and we train our people that. So when someone comes and looks through the peephole or through the glass, they see us standing back. It depends on the state. Sometimes we have a mask on, sometimes we have it in our hand in case they would rather feel comfortable with that.
Amy: As you also mentioned, you're one of the rare groups that's out there doing this. I was just reading something from Reuters about a Liberal group called Progressive Turnout Project that suspended it's canvassing effort, citing a rise in coronavirus cases, and that there were also complaints from their field staffers saying they felt unsafe. Talk to us a little bit about the people that you employ to go door-to-door and their concerns about safety.
Tim: We ask them upfront if they have any concerns or issues, and we offer for them to be able to do telephones because we have- either from home or from a field office, they can choose where they would want to make the call. So, we gave them options to still be able to make a difference. Because people, typically, are in our line of work because they want to make a difference, and so we offer them the ability to make calls or to write out individualized postcards to swing voters with notes that are handwritten notes about why we're supporting our particular candidate.
I can tell you at the doors, the vast majority- I mean, literally, 99%- do feel comfortable. I think Americans are looking for practical, safe ways to do what is the number one issue. When people ask me, "You've been in to a lot of doors. What's the number one issue politically this year?" It's this; how do I get my normal life back, but still being safe and defeating this pandemic, while also realizing that shutdowns have enormous consequences with the increases in deaths of despair that every state is showing at this point, from suicides, drug overdoses; recognizing there are, frankly, tough consequences as well to shutdowns.
Amy: Do you think other groups that are like yours, political groups who are out there trying to get their message out to voters, are making a mistake by doing it virtually by just doing this through text and phone and Zoom?
Tim: I think every group should do what they think is best, so I would never feel the ability to give someone else advice. I know what's best for us.
Amy: [chuckles] Right [crosstalk]--
Tim: No, I'm serious. I know what's [crosstalk]--
Amy: There's something clearly that you see as-- Look, you could be doing this right now through text and Zoom and all, but you all choose to go door-to-door so there must be something.
Tim: Even before the pandemic, our polling and focus groups showed us that Americans were feeling more isolated. Now that we're in the pandemic, deep into- those numbers, they're higher, and so I do think there is significant benefit to being able having conversations that are a bit more intimate while still being socially-distanced, obviously, we do see value in that.
Amy: Are voters now- do they want to talk more than they did, say, in 2018 or 2016? Like engage longer in conversations?
Tim: We do find elevated levels of what we call completions; people who open the door and actually talk through the questions and answer the questions and have a conversation. Here's what's happening, at least from what I'm seeing. These swing voters, they feel profoundly impacted in a deeply personal way by the pandemic, the resultant economic crisis, and also by the racial justice and kind of civil of upheaval that we're seeing across the country.
People in the middle are different. They are not viewing those three happenings through an ideological lens. Now, though, they've got to find out, "Wait are my kids going to school next week or not? Can I go visit my elderly mom who is living in an assisted care center?" Amy, they're more fluid than I've ever seen them, and I've been [crosstalk]--
Amy: You mean more fluid on who they could vote for?
Tim: Yes. There's a view out there that this is a base election. That everybody has an opinion of Trump or the Republicans or the Democrats. By the way, I think that's true. I think almost everyone does have an opinion. But now, more than I have seen it in my career, these folks- these voters in the middle- they're fluid. That they feel profoundly impacted by all that's happening, they're paying more attention for a sustained period of time more than they ever have, at least in my lifetime, and they do not yet know how we're doing. They haven't decided yet who's doing a good job, who's doing a bad job, are we through this, are things looking better? They haven't decided that yet.
So for that reason, they're fluid because the issue in this election, what I believe, is not any one issue. Instead, it's a broader, macro-level question; and it's how do I get my normal life back? And which of these candidates out there, whether it's for President or down-ballot, gives me the best chance to get my normal life back?
Amy: Well, Tim Phillips, I really appreciate you taking the time out of door knocking to come and chat with me.
Tim: Absolutely. Amy, I hope you'll come see this at some point for yourself.
Amy: Tim Phillips is the President of Americans for Prosperity. Here's one more thing from me. I'm hoping that with all the attention being paid by the media so early in this process, that voters are going to be well-aware of and well-prepared for the unique uncertainties of this election. But I also live in the real world, and I know that the President's constant stoking of conspiracy theories and baseless claims of fraud have an impact. No matter the outcome on election night, a considerable chunk of Americans are going to see the election as illegitimate and outside agitators, like the Russians, are going to be throwing fuel on the fire, seeding our social media with misleading information.
It can feel super hopeless, but it doesn't have to be. When you see stuff online that looks fishy, don't forward it along. Make sure to understand the rules around voting in your state. Voting by mail is easy, but lots of ballots get thrown out because voters don't follow all the instructions or they mail them in too late to be counted. Never before has the phrase the election is in your hands as much as it does now. It's up to you to own your power.
That's all for us today. Tanzina Vega is off next week. Bridget Bergin from WNYC is in, and I'm back on the weekend with you. Let me tell you a little bit about our team who makes this show every week. Debbie Daughtry is our Board Operator and she's in studio with our Director and Sound Designer, Vince Fairchild, with help from our Editor and Director, Jay Cowit, remotely. Polly Irungu is our Digital Editor, David Gebel is our Executive Assistant, Lee Hill is our Executive Producer. Our amazing Producers are Amber Hall and Patricia Yacob.
Get subscribe to the podcast and leave us a rating while you're there, and of course, call us anytime 877-8-MY-TAKE, or send us a tweet on @amyewalter. The show is @TheTakeaway. Thanks so much for being with us. This is politics with Amy Walter on The Takeaway. See you next week.
[theme music]
Copyright © 2020 New York Public Radio. All rights reserved. Visit our website terms of use at www.wnyc.org for further information.

New York Public Radio transcripts are created on a rush deadline, often by contractors. This text may not be in its final form and may be updated or revised in the future. Accuracy and availability may vary. The authoritative record of New York Public Radio's programming is the audio record.