What A Year This Week Has Been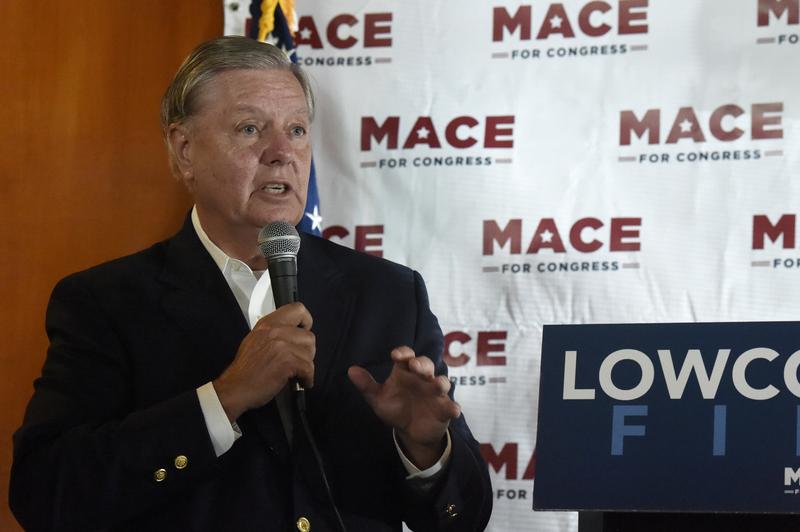 Transcript
Amy Walter: It's bright and early, but on whatever day it is and I still don't know. It's like March 432.
[music]
It's Politics with Amy Walter on The Takeaway. Good to have you with us. I try not to say this too much because it is such a cliche but, man, what a year this week has been.
Trump: Hi, perhaps you recognize me, it's your favorite president. [00:00:33] I just left Walter Reed Medical Center and it's really something very special. The doctors, the nurses, the first responders, and I learned so much about coronavirus.
Female Speaker 2: We will not let anyone subvert our democracy.
Male Speaker 1: Senator, your party has spent the last three and a half years trying to overturn the results of the last election.
Trump: Don't let it dominate you. Don't be afraid of it.
Male Speaker 2: There's no quit in America. We have never ever, ever, ever, ever quit.
Trump: I think this was a blessing from God that I caught it. This was a blessing in disguise.
Male Speaker 3: President Trump announced on Tuesday that he was calling off talks with the Democrats over new stimulus plan, talks that were underway for months.
Female Speaker 2: Trump appeared to backtrack calling on Congress to approve some additional assistance for airlines and a small business aid program.
Trump: We need you to stand up at any time in our history. We need you now.
Male Speaker 4: No, I'm not going to waste my time in a virtual debate. That's not what debating is all about. You sit behind a computer and do a debate, it's ridiculous.
Female Speaker 3: Come here tomorrow. We're going to be talking about the 25th amendment.
Amy: Breaking news out of Michigan as a state and federal investigators say they've broken up this elaborate domestic terror plot designed to overthrow Michigan's government and kidnap or kill governor Gretchen Whitmer.
Trump: California is going to have to ration water. You know why? Because they sent millions of gallons of water out to sea, out to the Pacific because they want to take care of certain little tiny fish.
Amy: With just over three weeks until Election Day and trailing and national polls by double digits, the President seems to understand the dire political situation he's in. Sidelined with COVID and unable to participate in his favorite political pastime this week, the big airplane hangar rally. The president has taken to Twitter, Cable TV, and even homemade video to pitch voters on promises to deliver everything from a free coronavirus drug cocktail to stimulus checks. Of course, to lash out at his political enemies, including those in his own administration who he sees as insufficient in punishing his political opponents.
Meanwhile, Trump's window for turning around his political fortune narrows every day. Already, more than six million voters have cast their ballots, according to the United States election project. To help us make sense of the latest twists and turns, I am joined by Laura Barrón-López, national political reporter at POLITICO, and Clare Malone, senior political writer at FiveThirtyEight. I started out by asking Laura, if she thinks Trump could deliver on any of this week's promises.
Laura Barrón-López: In terms of stimulus and actually checks being sent out to Americans before election day, I'm skeptical that there's much time for that to get done because this week alone, Trump went from still being in negotiations with Pelosi and House Democrats to get a COVID stimulus relief bill, to then tweeting out earlier this week that negotiations were dead, and that he was walking away and that they weren't going to happen. In that tweet, also, pretty much setting it up so democrats could blame him for those negotiations tanking.
Then he start saying, well, [unintelligible 00:04:08] can we do individual packages, and trying to come back to the table. We've still seen not much movement by the end of the week, in terms of actually reaching agreements. What's stunning about that too is that according to some recent polling, the $2 trillion package that Democrats were proposing is supported by a majority of Americans.
It was frankly, stunning that the president not so much that the negotiations would work but that he would tweet that out and essentially take blame for negotiations ending. Whether or not the other things that he talks about this week about the amount of money that he spent on the military. His attacks on Hillary Clinton, will that impact the election? I don't think so. Only because so far this has been a city election where coronavirus has dominated what voters are thinking about.
Amy: It's like he's going back to the 2016 playbook trying to figure out anything that will work. Well, it worked in 2016, but this year, of course, there's no Hillary Clinton, and there's coronavirus. Clare there's something else that feels very much like 2016, which is a little less than a month before the election poll showing Donald Trump down big, Republicans worried that the president's problems are going to bring the entire Republican party down.
It was access Hollywood back then and it was like-- I'm sure you remember too talking to Republicans who were thinking, "Oh, my God, we're going to lose the House. We're going to lose the Senate. This is going to be the biggest landslide in American history." Of course, we know what happened. We're hearing those same things now from Republicans worried that it's all collapsing around them. I have two questions for you. One, the possibility of that is it more likely this year than it was in 2016? Two, what do you think Republicans could do to try to help themselves if the president is not helping them?
Clare Malone: I think we should point out here that Trump is losing to Biden now by an average of about 10 points nationally, and in big swing states, like Michigan and Pennsylvania, he's down by an average of seven or eight points. It's certainly a problem for Republicans. I think it is certainly a huge risk that the Republicans could lose both the White House and the Senate.
I say that and I also say that it's three weeks till the election, that things can happen. The President has COVID. There's lots of stuff going on.
I hesitate to say this is all in the back because even though the polls are really good, and I think that those should also lead our analysis, there's lots of fluidity and things that can happen. I do think that Republicans in some of these tough Senate races do have to make this choice about, "Okay, who do I really need to speak to?" Donald Trump insists on speaking to his base, even when it is to his political detriment.
A couple years ago, white college-educated suburban women were swinger voters. Now, they're pretty solidly Democratic. Maybe some of these Senate Republicans should start thinking about, "Okay, these independent leaning white men, they seem to be losing the thread with us. What can I do to appeal to them?" Probably it has a lot to do with-- It's a bit late at this point, people have certainly tied themselves to Trump and Trump's strategy hasn't gone particularly well.
I guess, perhaps speaking frankly about the state of the pandemic, about the state of the public health response. Honestly, in some of these cases, the cake has already baked and so I think a lot of Republicans are really, really struggling with this last push to November.
Amy: We've seen in previous elections where the party that's losing or their presidential candidates losing the down-ballot candidates do a whole like don't send a blank check. Don't let the new president have a blank check with an all one party, Washington. That seems harder to do at a time when Trump just dominates everything to say, suddenly, like, I'm going to distance myself from Trump and make this a race about don't let Biden come in and run.
Clare: You're exactly right. People will say divided government is good for America. It's healthy. We need it. The thing that I think none of us maybe could have predicted four years ago, is how closely Republicans would hold Trump, how tightly they would hug him. Again, in many cases, to the candidate's detriment. You look at someone like Martha McSally in Arizona, who at this point is on track to be famous for losing elections in that state.
She really leaned into Trumpian stuff, even though I don't think that's her natural, political persuasion, but that was the conventional wisdom that she was given. It does make things very strange right now, where there aren't a lot of independent seeming Republicans or Republicans, who might say, "Oh, this is a guy in the mold of a John McCain or Mitt Romney, who at this point, seemed more like anomalies in the party than anything else over the past four years."
Amy: Laura, we've talked about some of the challenges for Republicans, but let's talk about the Democrats right now. There still seems to be worries among some Democrats, some hand wringing about the fact that especially with younger voters of color. There's not an enthusiasm for Joe Biden that in states like Nevada, there's still a lack of turnout potentially among Latino voters. What are you hearing and seeing that suggests that Democrats really still have to be very wary about assuming that everything's good to go?
Laura: A lot of focus has been devoted to Arizona because it is potentially-- This really new a battleground state, but while that's been happening, Democrats have been warning, look, we have to watch our back in Nevada because Hillary Clinton only lost-- She actually lost Arizona by less than she won in Nevada. Biden was there this week. Pence was there this week.
I was talking to Democrats this week as well, especially Latino Democrats about, are you still concerned because there's been this somewhat palpable concern over the last month about whether or not Nevada could become the Michigan of 2020. They're starting to feel a little bit better than they were a few weeks ago. They're putting more money into the state Somos, which is a Latino run outside group just dropped 1 million this week on Spanish language ad buys.
They're very focused on trying to turn out Latinos. Biden's numbers have been slightly ticking up among Latinos there. Their marker, what they're watching as more polls come out which again, the problem with Nevada is that there's less polling there. As more polls come out, what they're watching is can Trump get over 30% of Latinos? If he can't, then they're going to feel pretty good. If he looks like he's nearing 30 going to get over 30, then that's a warning sign for them.
In terms of younger voters, what I would say is that there was a Harvard [unintelligible 00:12:03] this past month that showed that Biden could potentially reach Obama 08 level numbers of young voters this cycle. Despite that enthusiasm gaps that very much exists. There are young voters that are saying they're still going to vote for him anyways. He is in consistently across polls when you look at the 18 to 29 year old bracket, which is gen Z plus millennial, he's beating Trump they're by double digit.
Amy: Clare, I want to bring up one other story that, again, of all the stories that I definitely did not predict of 2020. White supremacists trying to kidnap the governor of Michigan was not definitely not on my list of things. Obviously, the FBI thwarted this plan, but what do you think this event tells us about our politics going forward? I know a lot of people are very worried in the lead up to the election and even post election about the potential for violence. What do you think?
Clare: The news yesterday that there was a credible kidnapping plot to kidnap the governor of Michigan who is a woman who I feel like I should note here is a survivor of rape, which makes this threat of violence all the more palpable was pretty incredible to me, I have to say. I've been jaded by a lot of the the pace of the news events over the past four years. Whitmer directly tied Trump's rhetoric to this plot.
Obviously, Michigan was in the news in the beginning of the pandemic because- or towards the beginning of the pandemic because of all these groups coming to protest the lockdown with weapons out at the Capitol. You're allowed to carry in Michigan. I think it speaks to a lot of fears that people have about what happens after the vote comes in, in November because we obviously have a very partisan, very divided country right now. I'm not breaking news to anyone on that point, but what I do think is really new. Even in the polling questions that we're seeing, pollsters are now regularly asking people, do you think this will be a fair election?
Are you worried about post-November? Those are not questions that pollsters used to ask, at least in America. We have seen now in two debates, President Trump and then Vice President Pence, not clearly answer or not answer questions about, will you accept the results of the election? Will you make sure that there's a peaceful transition of power in the case that you lose? Again, I'm pointing out here that the president is down nationally by quite a few points and in swing states by quite a few points. That's a worry. We've seen time and again, Trump is not a person who is prone to calming rhetoric.
There are some people, obviously, not the majority of the president's supporters, but there are certainly some people in America who thinks that our divided politics means that it is a call to arms. There was a certain flashback to Ruby Ridge in Oklahoma City and Waco. Those 1990s white terrorist, the Unabomber, that kind of psychology rearing up again, which I found just an interesting historical comparison in addition to being extremely disturbing having it happen to the executive of the state three weeks before an election. It's not good, Amy. That's what I will say.
Amy: Right. In conclusion, it is not good. Let's hope that it works out well. Clare, Laura, we could on and on and on. Unfortunately, we have to end our conversation here, but I want to thank you both so much for joining me and helping us walk through this crazy week.
Laura: Thanks for having me.
Amy: Laura Barrón-López is a national political reporter at POLITICO. Clare Malone is a senior politics writer at FiveThirtyEight. We spoke on Friday morning.
[music]
Part of this week's avalanche of news was the first and only vice presidential debate between Senator Kamala Harris and Vice President, Mike Pence. On a Wednesday evening, the two shared a stage in Utah with a pair of plexiglass barriers, separating them. While there were a number of issues that landed both candidates in the hot seat, there was one question from moderator Susan Page that stood out to me.
Susan Page: One of you will make history on January 20th. You will be the vice president to the oldest president of the United States has ever had. Donald Trump will be 74 years old on inauguration day. Joe Biden will be 78 years old. That already has raised concerns among some voters, concerns that have been sharpened by President Trump's hospitalization in recent days.
Amy: Now, this is an obvious and important question to ask a vice-presidential candidate, given the advanced age of President Donald Trump and Joe Biden and against the backdrop of a highly contagious pandemic, but both candidates dodged answering it directly. To give us a broader understanding of the role that Harris and Pence will play between now and election day and what their debate performances indicated about the rest of the election cycle, I spoke with Maya King from POLITICO and Annie Karni from the New York Times.
Annie Karni: The campaign had thought that if the president was quiet and recovering, Mike Pence could carry the news cycle for him, but that wasn't the case. The coronavirus task force is the perfect example. This was thrust on Mike Pence as a really difficult, thankless task to chair this thing at the big end back in March. The vice-president started doing these briefings. They were somewhat successful in getting a message out in the early days, and he got some good reviews for those.
The president saw that and stepped in and took it over himself and did not get good reviews. His poll numbers dropped. The president's daily news conference on the coronavirus briefings were a disaster. This often happens to Mike Pence. If something he's doing is working well, the president will overshadow it. The other thing we saw last night from the vice-president was that despite the calmer tone, the nodding, the public expression of empathy that Trump does not do that Mike Pence is capable of doing, there is no daylight between them.
One of the most shocking answers to me was when he was asked, what will your role be if there isn't a peaceful transition of power? He didn't answer. Then he brought up that the FBI spied on the Trump campaign in 2016, which is one of the president's favorite talking points and going into Obama gate, which is a conspiracy theory. It's a different tone, but this was all of Trump's talking points last night.
Amy: Maya, I want to talk about how Senator Kamala Harris did and what you saw the other night at that vice-presidential debate. Here we have the first woman of color on a major party ticket. Especially after watching 2016, we know there are different standards that men and women are held to certainly different standards that women of color are held to than white men. How do you think that played out in this debate, and what do you think this tells us about how the media and voters are going to react to a woman if the Biden-Harris ticket does succeed a woman in that job of vice president?
Maya King: The playbook that the Trump campaign and the Trump ticket employs during debates of interruption and of cutting off the people that they share the stage with, was still very much in play last night. Vice President Pence cut off Senator Harris on several occasions. A number of the folks that I talked to after the debate were very quick to point that out.
I think getting to your second question about how voters and other folks watching this might respond to that, with a woman of color on top of the ticket, I don't think these conversations are going anywhere. If we do see a Biden-Harris administration, this is likely something to come up more often, not just in conversations with Senator Harris, but members of her cabinet, or the folks who are actually working with her, and those members of organizations that have supported her from the beginning.
All of them have said, these conversations about women of color appearing aggressive, or angry instead of direct, or well-practiced, are things that have always been issues, these are things that have always come up. They've really been brought to the fore and really given women of color across the spectrum, a chance to really voice those concerns and say, look, now you can see this at the very top.
Amy: I want to start with you Annie, but go into a couple of these issues that were brought up at the debate that weren't really answered by either candidate. One of those, a question from the moderator Susan Page about whether the vice presidential candidates had had conversations with their bosses about health precautions and health plan, should something happen to them. Do you think that they missed an opportunity to perhaps help voters who are worried about oh, my gosh, are we electing these super old people? What's going to happen about making them feel better about that?
Annie: For Kamala Harris, it's just this sense that she's an ambitious person, and she actually just wants to be president and thinks of it as a Harris-Biden ticket and makes- and it's running the show. It's like a Republican talking point that he's old and out of it, and she is really going to be controlling things. I think she's very eager not to plan to that. On the Pence side, they're such an audience of one factor and everything that goes on in Trump world, and the idea that the President is in his mid-70s that has the strength and stamina of a man half his age and will never be tired and never be weak is like the whole thing. For Pence to challenge that anyway, would be a no go.
Amy: That is so important that you point out this audience of one because the other issue that has been brought up is the fact that, again, when asked by the moderator, to Mike Pence, whether or not the Trump administration would accept defeat, these questions I keep swirling around about, what's going to happen? Is Trump going to leave office if he loses? Will he contest this up until the last minute? Again, it was an opportunity for Vice President Pence to tamp this down, Oh, you guys are getting hysterical. We're never going to do that. It's okay. Of course, we would never contest an election that is rightly determined. He went into talking points that you would hear from President Trump.
Annie: I think he shocked a lot of people during impeachment when he was asked about hunter Biden and he said his business dealings with Ukraine is something that should be looked into. He goes with the administration's most controversial talking points. This is not the first time he's done that. He just does it in a nicer tone after thanking the moderator, after being polite.
Amy: Maya, I want to bring up or go back to something that Annie said about the territory being front for Kamala Harris to talk about being on the ticket with somebody who's 77 years old, this idea that she's too ambitious, that she's just biding her time until she gets to be president. At the same time, she used this opportunity last night to try to introduce herself. I just wonder if you could talk a little bit about that balancing act that she has, which is, she is, and if she wins, would be the first woman of color to be sitting at the White House. Yet we hear very little from her or about her.
Maya: The Biden campaign has been really strategic in the way that they've crafted the narrative around the Biden-Harris ticket. We've gotten a lot of information, of course, around Harris's identity, that she's very proud of both her Jamaican and Indian heritage, that she's a graduate of historically Black college, that she's a member of a historically Black sorority. These are all things that play well, of course, with the Democratic base and with Black voters and shoring up Black enthusiasm.
Yet on the other side, of course, there's this critique that we really haven't seen much of her and that we haven't heard a lot from her outside of these sit down interviews. The debate really gave her an opportunity to, again, like you and like Annie said, to introduce herself to the electorate a bit more broadly. Though, the reason why we haven't seen that much of her, of course, the Biden campaign maintains that they're taking every safety precaution for the virus.
I believe that they're likely understanding that that was probably a safe bet, especially now, in comparison to the White House becoming, in many ways a super spreader spot, honestly.
Amy: Maya, Annie, thank you both so much for taking the time and walking us through all this. Really appreciate it.
Annie: Thank you.
Maya: Thanks for having me.
Amy: Maya King is a politics reporter for Politico. Annie Karni is a White House correspondent for The New York Times.
[music]
Amy: Lindsey Graham, United States Senator from South Carolina, Chairman of the Judiciary Committee, fierce defender of President Donald Trump is fighting for his political career.
Lindsey Graham: Help me, they're killing me money wise, help me, you did last week, help me again.
Amy: That's Lindsey Graham, making a fundraising pitch on Fox News last month. Now at this point in 2020, I certainly did not expect to be talking about the senate race in South Carolina as a possible pickup for Democrats, but, well, here we are. Up is down, left is right, South Carolina's turning blue. It's not that simple. Danielle Vinson is a professor of Politics and International Affairs at Furman University in South Carolina. She describes what's happening there as a perfect storm.
Danielle Vinson: It is a confluence of several factors. I think it starts with the fact that the Democrats recruited Jamie Harrison to run, and they really cleared the field for him early on, so that he avoided a primary. He is the perfectly designed Democratic candidate for South Carolina. He's not too extreme. He grew up in the state, he has a very compelling personal story. As an African-American man, he can speak very clearly to the issues that are relevant to a lot of voters right now.
His background as the state party chair gave him a really strong working knowledge of all parts of the state. He was used to helping run the Democratic Party's campaigns across the state. He wasn't just familiar with one particular region of the state. That's important in South Carolina because it really is quite a bit of variance from the northwest corner all the way down to the coast.
I think the other things that have mattered Lindsey Graham's high national profile and his decision over the last four years to embrace Trump completely after being very anti-Trump, prior to the election in 2016. The strong defense of Kavanaugh during those confirmation hearings raised a lot of attention nationally to Graham, but also generated a lot of backlash nationally against Graham. That allowed Jamie Harrison to go well beyond what would have been his normal network for fundraising.
He found himself very early on flush with cash. Because he didn't have a primary, he could start spending that money and he went up on the air really early in the spring, and inexplicably, the Graham campaign let him dominate the airwaves for several months before they really weighed in with any advertising to counter what Harrison was saying about himself.
For several months, especially right at the beginning of the pandemic, when people are locked inside and not sure what to do, they were starting to get hit with Jamie Harrison ads that were talking about what a wonderful person he was and his personal story and what he wanted to do for the voters of South Carolina. By the time Graham finally got up on the air and really started taking the campaign seriously, people already had a pretty strong impression of Jamie Harrison. It's been really hard for the Graham campaign to undo that.
Amy: [00:30:20] The one way he's certainly that Graham is trying to attack Jamie Harrison, of course, by tying him to Washington, but specifically to Nancy Pelosi. Not making direct attacks that Jamie Harrison is a liberal, but if he is friends with Nancy Pelosi, then, of course, he is going to pursue that agenda. Do you think that's working?
Danielle: It's hard to tell right now because Harrison's been pretty effective in trying to position himself especially on key issues. He came out this week and suggested court-packing might not be a good idea. He's taken some very high profile positions that were much more to the center than the democrats and Pelosi have been espousing. I think that makes it a little bit harder to tie him to that group. It certainly is something that conservatives may believe readily, but I'm not sure that it's playing all that well with independence and some of those more disaffected republicans that Harrison is hoping to pull in his direction.
Amy: Professor Vinson, if you had told me that Lindsey Graham lost a race, my assumption would have been, oh, he lost a primary to a more conservative candidate. For years, he was pilloried by conservatives for his positions on immigration, and obviously, his friendship with John McCain meant that on many issues that traditional conservatives or Trump conservatives disliked. Lindsey Graham was on that side. He's on the opposite side from where a lot of Trump conservatives were. Is that what's going on too? Is that he has alienated some traditional conservatives, while now also alienating the more independent-minded voters who don't like what they saw from Kavanaugh and his newfound friendship with the President?
Danielle: That's one of the things we're going to all really be studying those exit polls to find out about that because Graham's done an awful lot in the last four years to regain the trust of those conservatives that were always suspicious of him before, and that full-throated support for Trump. The absolutely passionate defense of Brett Kavanaugh, I think smoothed over a lot of the differences.
I've heard a lot more folks who used to pillory Graham as a republican the name only who are now defending him. I'm not sure that may be mattering at the margins, and I think the one place that could potentially show up in the election this time around is there is a third party constitutional candidate who's still on the ballot, even though he has now endorsed Graham.
If you see that person getting many votes, that would strike me as those disaffected conservatives who have never really trusted Graham to begin with. Where I'm seeing more of the movement are in those there's more mainstream Republicans who actually appreciated that Graham would occasionally work across the aisle, and now they feel he's turned his back on that, and so they're wondering how much they can trust what he says.
Amy: Can you talk to us a little bit about the African American vote and how you think that group of voters is going to influence this election?
Danielle: This is a group they've traditionally voted democratic in South Carolina, but the problem is we don't really have competitive races in general elections. A lot of times, that turnout level is low in the general election. This year, they're enthused. They actually see a viable candidate, and he's speaking to the issues that they're concerned about healthcare, the economy, and he understands them. They are ready to go out and vote for Jamie Harrison. I am expecting really high turnout among minority voters, particularly African American voters in the state this time because we've actually got a race, and that's true, actually, of Democrats across the state. They usually don't have much to look forward to in a general election.
Amy: What does this say about South Carolina? The potential, again, when people have this image of what South Carolina is only recently took the Confederate flag down, off-state Capitol, and yet, there's a potential that it will be a state that sends two African Americans, one Democrat, one Republican to United States Senate had a woman as governor, who's Indian American. What kind of message do you think South Carolina is sending if any by that?
Danielle: I'm a native South Carolinian, and we do like to surprise. It's a strange state because those things sound very contradictory, and yet, I think it speaks very much to the individual candidates that they've been able to break through the historical barriers, to communicate to voters across the state in ways that really speak to the issues those voters are concerned about.
Amy: One other issue in this say, South Carolina, like so many other states, is absentee voting. We know that we're going to have an early voting just began. I know this from my own mother who lives there, and the challenges of figuring out, "Well, what are the rules?" because they seem to have changed. You need a witness signature, no, you don't. Yes, you do. Is there concern there that because the rules have changed, and maybe people are not aware of that, that a lot of folks are going to vote there and find out that their votes were actually tossed out because they were invalid?
Danielle: I do think it's been a concern. Most of the voters I know who had already gotten their absentee ballots, even when the first ruling was that you would not need witness signatures. They knew that it was under appeal, and they didn't trust that it would go the same way, and so they went on and got signatures. I know that votes that were mailed in before that final decision was made will be accepted without signatures, but you're right. The confusion just adds one more potential hurdle for voters to jump through and does create confusion about what's acceptable or not.
I think one of the responses to that is you're seeing an awful lot of in-person early voting. [unintelligible 00:36:58] and Charleston and Greenville have been long in the first few days of early voting. I expect that that's going to continue.
Amy: Professor Vinson, thank you so much for coming in and talking us through this. Hopefully, we can talk a lot more about South Carolina politics in the future. It's fascinating.
Danielle: Sounds good. Thanks for having me.
Amy: Danielle Vinson is a professor of Politics and International Affairs at Furman University.
[music]
President Donald Trump was elected four years ago after the most unconventional and divisive campaign in recent history. That four years later in what feels like a million presidency ending moments, he's in the White House fighting for a second term. This is a president who's been impeached, embolden far-right groups, refused to release his tax returns, and attempted to use his status to influence the Department of Justice. It's safe to say that President Trump has bucked the norms and expectations that most presidents accept as part of the job, but it's not a job he'll have forever.
Whether he leaves office in four months or four years, American institutions will have to grapple with what to do in his shadow. To better understand how President Trump has taken advantage of his office and how the presidency could be reformed to prevent similar abuse, I spoke with the authors of After Trump: Reconstructing The Presidency. Bob Bauer was Barack Obama's White House counsel, and Jack Goldsmith was George W. Bush's Assistant Attorney General and the Office of Legal Counsel.
Jack Goldsmith: The thing that stands out the most to me and it was a large impetus for us to write this book is Trump's just utter indifference to the norms of Justice Department independence, and the sensitivity to the idea that the President is not supposed to interfere in law enforcement actions, especially ones that implicate him. This is such a big issue that we devoted a whole, and basically, part two of the book is devoted to the various aspects of this.
It's a very complicated problem when you have a president who's basically weighing in to say, "Prosecute my political enemies. I think that this investigation against me is corrupt." Who's firing the FBI director, who's trying to fire the special counsel. He just did a whole array of things to violate these norms, and really to jeopardize the court appearance and reality and even-handed rule of law.
I think there are a lot of reforms in the book, and there are a lot of problems presented by Trump, but if I had to say that there was one thing that was really especially concerning, and this is evidence and the fact that we spent so much time on it in the book, I would say it's that.
Amy: Bob, what about you?
Bob Bauer: We have a significant part of the book devoted to restoring the rule of law both finding statutory controls that can be imposed on the president, but also reinvigorating norms through internal regulation. I think it is an urgent task that the next president after Trump is going to have to address, the Department of Justice reputation has been badly damaged. I think confidence and the controls that people thought were in place, or many assumed were in place, competence in the norms has just dramatically deteriorated.
Amy: There are folks, some of whom are Trump supporters, others who just maybe don't like the way that the media is portraying the president. They say, "Look, this guy, he says a lot of things, but really, he's all bark." You all are taking this too far because you don't like the fact that he's just not polite and he's not following the elite opinion. You all even note in your book that, "Look, he's not been as aggressive even though he speaks aggressively, as his predecessors in expanding unilateral presidential war powers or follow through on a lot of the things he said he was going to do, like throw his opponents into jail." Where has the norm busting that we talk about really tread into real challenges?
Jack: The place where it's had the biggest impact, I think, again, is on the appearance and reality of whether the rule of law is being abided by in the country. I would say that it's not just his bark. When he pressures the Justice Department to give his friends a break, and then the Justice Department does that, that's not. For example, with Roger Stone and Michael Flynn, the efforts of in the bars investigation, of the Trump investigation itself. This is more than just bark. It's actual action taken that it looks like the president is using the law enforcement arm of the government to basically to serve his personal ends.
There are a whole bunch of other examples. Bob maybe can talk about some others. Just for example, the pardon power. The pardon power is an example where Trump has actually exercised the pardon power in a very unusual way to serve his personal interests to a much greater extent, especially during this part of the presidency than any prior president. There's a danger that Trump has presented that past presidents really haven't presented, that he will use this power in a way that will actually corrupt justice.
We actually have some what I think are imaginative proposals to try to get at the worst abuses of the pardon power. That's not bark, that's bite. We can probably expect more of that after the election.
Bob: I would add that there was a period of time when it was widely thought that Trump would do some barking, but the people below him, the people in the position to implement the orders would not follow, and there was some evidence of that. Consider the tenure of Don McGann as White House Counsel, and his resistance to Trump's efforts to get him to fire Bob Muller.
However, as you can see, as time has gone by, Trump has done what one might have thought he would do. He's starting to clean the place out of the people who will resist and replace them with the people who will comply. We see that most recently in what he's done with the ODNI and the relationship he clearly has that he's delighted with John Ratcliffe. He's, on the other hand, very unhappy now with Chris Ray and said that he was very disappointed in Ray, because Ray is not pursuing the investigation of his political enemies that he had wanted.
Amy: There were norms here about everything from giving to the public and to the media your tax returns, being upfront about your business interests. What reforms do you all think are needed post-Trump presidency on issues like this?
Jack: Those reforms, I think fall into two categories. The ones that should be easy to execute, although we do address the details, and I think details do matter. One of our objectives in the book is to be pretty specific about the design of some of these reforms so that they'll work correctly and they'll strike the right balance. Certainly one is mandatory disclosure of tax returns. That includes within that proposal, various methods that we recommend for enforcing that, and also for additional information that we believe ought to be made available to the public. That includes the audits of presidential tax returns of the Internal Revenue Service is currently required to perform of every president.
That's one broad category, the disclosure of tax returns. The second is other ways in which presidential financial conflict of interest has to be addressed. Trump has made no bones about not wishing to both divest himself of his business interests, but also not to lose control of them. There are all sorts of evidence of his attempting really, for the first time in our history, certainly modern history that I'm aware of to run concurrently, a president in a vast business interest that pose significant conflicts of interest. We have a range of reforms that we recommend to address presidential conflicts of interest beyond simply having the disclosure required of tax returns.
Amy: Bob, I want to go to this feels similar to a point in recent memory or maybe modern memory, modern history, which is the era after Watergate where there were calls for reforms. Many of those course did end up making it into law and there was bipartisan consensus there. Is your expectation that should Joe Biden win, that we will see some of the things that you all layout here? Or do you think we're to a place now we're so much more polarized than we were even back at that moment, that getting reforms through is just so much more challenging?
Bob: On some of these issues once Trump is off the scene, we think there is the basis not on all of these issues, to be sure there'll be certainly political divisions around some of these issues. On other issues, there ought to be and we think there's glimmers of the basis for some bipartisan agreement. I, for one, just to take a simple one that we just discussed, don't think that the tax return issue is one that will elude bipartisan agreement.
Jack: Can I just add something to that, please?
Amy: Sure. Yes, of course.
Jack: Another thing worth emphasizing is about half the reforms in the book are ones that we believe the president and the attorney-general can implement unilaterally, not only in laying down those rules but also in the way that the next president and next attorney-general comport themselves on this whole range of issues. You need bipartisan support for assuming that the Democrats don't control the Congress, you might need bipartisan support, and you would hope you would get it on many of these issues, which weren't controversial before Trump.
Amy: Jack, I'll start with you. How worried are you and how realistic do you think it is that this president is going to spend if he loses a lot of his efforts, post-election, trying to avoid leaving office?
Jack: I have every confidence that Trump will try to do whatever he can to discombobulate the results of the election, especially if they don't look good for him. The first consideration is if assuming that Vice President Biden wins is how big is the victory. If the victory is very large and decisive and early, clear early on, that makes it more difficult for Trump to do these things.
This may seem naive, and I'm not suggesting that anyone should assume that what I'm going to say is true, because I think you need to prepare for the worst with Trump. I think it's pretty clear that he lost and that whatever allegations of electoral shenanigans there are, it's pretty clear that they wouldn't have made a difference to the outcome of the election. I predict that the senior republicans in the Congress, and I think even in this administration, would not support trying to, in effect invalidate a legitimate transfer of authority in our democracy. That's my belief, and it's my hope.
Amy: Bob, what about you? What do you think's going to happen?
Bob: I agree with Jack. I think that he's not going to unilaterally decide, you cannot successfully unilaterally decide that he's not leaving office that I don't think is going to happen. That is an example of bark. It's, of course, very damaging to have the president say that. I think that here, I think there are norms, and I think you can see them and expectations that are very live across, frankly, both parties. Frankly, in my day job now, I see that across state and local levels, where for all of his shouting election officials, Republicans and Democrats are going about trying to put an election on and that's what they intend to do.
Amy: If Trump were to lose reelection, what legal actions could be taken against him? Jack, do you want to start there?
Jack: Bob, and I had come to this book with different experiences and different administrations. Bob was the White House Counsel for Barrack Obama. I was an assistant attorney-general in charge of the Office of Legal Counsel for President Bush. We came to this book about reforming the presidency, not necessarily agreeing on political things, but we reached remarkable consensus on everything in the book.
This is the one issue that we had some disagreement about. I think it's a disagreement and emphasis because I think we both think the other's position has validity. My basic view is that it is not good for the country and ultimately won't serve the rule of law to have a full-blown investigation of Trump for his alleged criminal actions while in office. There are already investigations going on in New York state and in the New York Federal US Attorney's Office for Trump's actions prior to entering office.
I think those should continue. I think it sets an extremely bad precedent for one administration to pour over the actions of the prior one for criminal actions. I think we're already in a downward cycle of tip using criminal law for tit for tat investigating prior administrations. That's what the Republicans think that the Obama administration did during the 2016 campaign investigation. That's what the Democrats think that Barr is doing now with his Durham investigation of the investigators of the 2015 investigation, also through the lens of criminal law.
I think it would be enormously disruptive for the next administration in terms of what they're able to accomplish. At the end of the day, it's not clear what crimes Trump is committed. It's not at all clear that he could ever be convicted of anything. It seems to me the worst of all possible worlds is to have this continually divisive action against the President that results in him not being convicted, it would be like the same thing that happened in the impeachment where we tried this tool, and it failed. Some people think now it's not much of a tool. If Trump committed crimes, not prosecuting him after he leaves office that does pose a cost to the rule of law.
My basic view is, and this is not typical and when prosecutors think about these issues, that the cost of going forward are much greater, and both to the next administration and to the country.
Amy: Bob, that's what I was going to point do too, is we did have impeach- this President has been impeached. Which is supposed to be the way in which a president is held accountable during his time in office, but you're arguing that that isn't even enough.
Bob: We have executive branch law that the President cannot be prosecuted while in office, can be investigated but not prosecuted. We have a norm that suggests that in the interest of national unity, he shouldn't be prosecuted after he or she leaves office. It seems to me we can't have rule of law in this country, if the President's protected by law while in office protected by a norm out of office, and therefore is not accountable by law for any actions that he or she undertook in office.
I think that's just an untenable position. I recognize all of the risks that Jack have identified, which is why and I think here, as you know, in my part of the book, I note the problems with the Ford pardon of Nixon, that I think just have to be addressed head on. There has to be transparency of process and articulated standards. This has to be rigorous and fair and non-partisan.
Again, much of this relates back to the importance of having restored confidence in the Attorney General of the Department of Justice and apolitical law enforcement process. It cannot be that the President I say is presumptively out of the woods. Jack is not saying that, by the way, as he pointed out, is sort of out of the woods at all times for whatever he or she has done. That simply to say to me, is so corrosive of any concept to the rule of law that we really cannot abide it.
Amy: Well, Jack Goldsmith, Bob Bauer, thank you both so much for coming in and helping walk us through what we know is going to be a very complicated time, post-presidency. Appreciate it.
Jack: Thank you very much.
Bob: Thank you.
[music]
Amy: Here's one more thing for me. All the talk of Trump's plummet in the polls and the potential for a blue wave on election day, that's given me deja vu. It was almost exactly the same week, four years ago, when the access Hollywood tape was supposed to be the end for Trump and his party. Even the most optimistic Republicans I spoke with then we're preparing for a landslide loss for the GOP.
Of course, that didn't happen. Doesn't this prove that Trump still has time to turn things around? With the all-important caveat that yes, there's still plenty of time for things to happen, there is a lot different about now versus 2016 that makes it harder for Trump to get things back on track. Most important, he's the President, not the candidate. He can't put all the blame on someone else for the things that are going badly now.
Biden also comes into these last three weeks more popular than Hillary Clinton was at this point. Of course, it wasn't just access Hollywood that dominated press coverage in the final days of 2016 hacked Clinton campaign emails that were published by WikiLeaks. Of course, the last-minute decision by FBI Director James Comey to reopen investigation into Clinton's emails. Well, that dominated media coverage in the final days too. I know the words message discipline and Trump don't normally fit together, but back in late October 2016, Trump was pretty disciplined. He allowed Clinton shortcomings to dominate the media narrative.
Today, he's unwilling to see the spotlight even when it would help him. This ensures that voters are going to see more and more of Trump and, more important more of what so many say they are exhausted by his lashing and bashing an undisciplined style. Plus, as COVID cases continue to rise across the country, try as he made to change the topic, Trump can't drown out a pandemic.
That's all for us today. Quick shout out to the crew. Our directors and sound designers are Vince Fairchild and Jay Cowit. Our board operator is Debbie Daughtry. Polly Irungu is our digital editor, David Gebel is our executive assistant. Our executive producer is Lee Hill, and our politics producers are Amber Hall and Patricia Yacob. Call us anytime at 1-877-8-MY-TAKE, or send us a Tweet. I'm @AmyEWalter. The show is @TheTakeaway. Thanks so much for listening. It's Politics with Amy Walter on The Takeaway.
Copyright © 2020 New York Public Radio. All rights reserved. Visit our website terms of use at www.wnyc.org for further information.
New York Public Radio transcripts are created on a rush deadline, often by contractors. This text may not be in its final form and may be updated or revised in the future. Accuracy and availability may vary. The authoritative record of New York Public Radio's programming is the audio record.