The Tipping Point for the End of Systemic Racism in Policing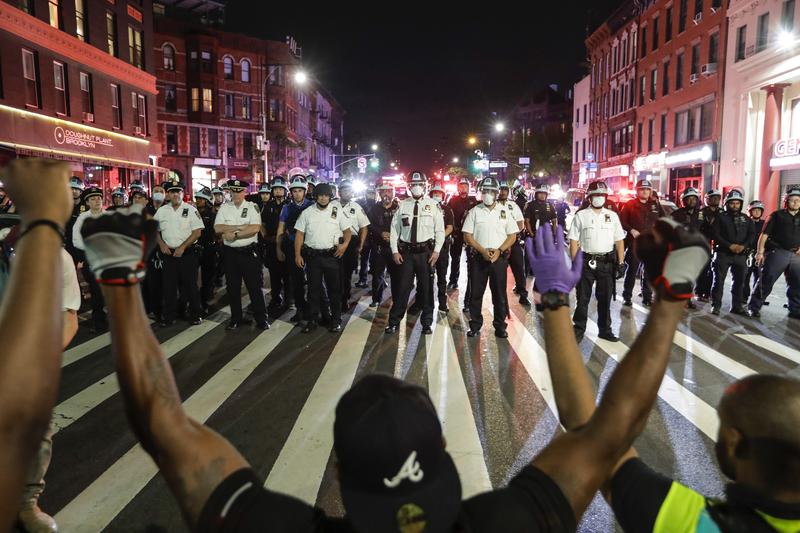 Transcript
Listener supported WNYC Studios.
Amy Walter:
It's politics with Amy Walter from The Takeaway.
Protesters:
He can't breathe. He can't breathe. He can't breathe.
Amy Walter:
When we're in the middle of a crisis, it's hard to know if this moment represents a tipping point, a change from which there's no return to where we were before, or if it's just temporary and once the immediate tumult subsides, we go back to our former ways. The killing of George Floyd at the hands of police officers in Minneapolis feels like that inflection point. Watching Floyd's body go limp as a result of excessive police force has raised questions about who's perceived as dangerous in the US, where footage of African-Americans interacting with police turns fatal far too often.
Speaker 4:
My brother's gone. But the Floyd name still lives on.
Speaker 5:
He did not die of common health conditions. He died of a common American criminal justice malfunction.
Protesters:
Black lives matter. Black lives matter. Black lives matter. Black lives matter.
Amy Walter:
It has sparked protests and marches by thousands around the country and the world. And for the first time, polling suggests it's actually changed how white Americans see the issue of systemic racism in policing. In 2016, just a quarter of white Americans agreed that police officers are more likely to use excessive force on African-Americans. Today, according to a Monmouth University poll, it is almost doubled to 49%. Floyd's death comes at the same time a once in a generation global pandemic and economic crisis has disproportionately affected African-Americans. Meanwhile, President Trump has failed to use this moment of chaos and tension to call for unity. And in a Rose Garden speech on Monday, even threatened to use military force on US citizens.
President Trump:
If a city or state refuses to take the actions that are necessary to defend the life and property of their residents, then I will deploy the United States military and quickly solve the problem for them.
Amy Walter:
That suggestion, as well as the President's decision to disperse peaceful protestors around the White House with smoke canisters and pepper balls, in order to stage a photo outside St. John's Church, has brought widespread condemnation. Even from military and retired military officers, such as former Trump Secretary of Defense General James Mattis and former chairman of the Joint Chiefs of Staff, Mike Mullen.
Amy Walter:
So, will we look back at this week as the moment where there was no longer a debate in this country about whether policing unfairly targets people of color? And if so, just how uncomfortable are politicians and white Americans willing to get to address systemic inequities and racism? Joining me to discuss as Adam Serwer staff writer at the Atlantic, Elizabeth Hinton, incoming professor of history, law and African-American studies at Yale, and Carol Anderson, Charles Howard Candler, professor of African-American studies at Emory University and the author of White Rage. So professor Hinton, I'm going to start with you. We have seen Freddie Gray in Baltimore, Michael Brown in Ferguson, Eric Garner in New York. Can you talk to us about how the demonstrations taking place today are different than those of the recent past?
Elizabeth Hinton:
Well, I think that we can't separate what's going on in the streets of American cities today from the larger context of COVID that is really unmasked and made really clear the deep dimensions of racial and social inequality in the United States. I think that in this context, when we know that African-Americans and people of color are disproportionately dying from this virus, this is a virus on top of the virus of racism, which we've been experiencing for centuries yet another deaths of an African-American person at the hands of state forces. I think after years of nonviolent demonstrations and raising awareness from really in recent years, the death of Michael Brown in Ferguson in 2014 has brought many young people, older people, and this nation to a breaking point.
Amy Walter:
Well, professor Anderson, I want to go to you. You've written that for every action of African-American advancement, there's a reaction, a backlash. To professor Hinton's point, we are seeing this incredible outpouring on the streets. We're seeing more diversity in the kinds of people who are coming out and protesting. We're seeing polling that suggests that white Americans are acknowledging the disparity in the way African-Americans are treated by the police in a way they haven't been before. So do you think that we're in for some sort of lasting change or as you wrote, do you think that whatever changes may come from this moment will ultimately provoke a backlash in the near future?
Carol Anderson:
Thank you for that question. I think that we're in a crisis moment. I think that part of what we're seeing is the reality of what African-Americans have been saying all along. It's like the recent video that came out where police in Buffalo pushed an elderly man down, cracked his head and they just walked on by. It is the power of that image to recognize that this isn't just about black people. It's similar to freedom summer where whites came down to Mississippi and felt the power of what was happening, the horror of what was happening. I think that the change there is going to require what they talk about thin ripping the structure out root and branch. The white supremacy out root and branch. That is the key to stopping the recurring cycle of white rage. Those policies like eliminating the sale of military grade weaponry to police forces, to stop monitoring the consent decrees, those sorts of things. That's what this Trump regime did in response to what the Obama administration had done.
Amy Walter:
Adam Serwer I want to get to you on that exact point, because it's something you wrote about this week. You wrote a piece in the Atlantic called Trump Gave Police Permission to Be Brutal. The president threatened this week to engage US troops. Significant military presence has been brought to DC by the president, especially in front of the White House. So what does the presidency as the role of the police?
Adam Serwer:
The president's vision of the role of the police is very old and I think it was on display decades ago when he took out that newspaper ad calling for the death penalty for The Central Park Five and saying, bring back the police, bring back the death penalty. Since that time, of course The Central Park Five have been exonerated, but he hasn't retracted that statement or that sentiment, because he has an idea that the police are there to impose control on people like The Central Park Five. So even if they were not actually guilty of the crime they were convicted of, they're guilty of being the kind of people he wants the police to crack down on. The problems with American policing are really structural and they will depend on policy changes both on the federal and local level.
Adam Serwer:
If president Trump doesn't get re-elected there's a strong possibility that Joe Biden will have a civil rights division that is at least close to as aggressive as the Obama administration in overseeing local police departments with federal authority, but there's still a lot of issues that can really only be addressed at the local level and that's a place where even if you look at New York City, for example, it's actually difficult because even liberal politicians are very afraid of angering the police unions. There's a number of areas in which policy would need to change, and a lot of different people who would have to be responsible for doing that.
Amy Walter:
What do you think of the fact that you do have an in some cases for the very first time members of the military coming out and saying absolutely inappropriate to use the military force the way the president has been doing it? Is this like a breaking point, do you think?
Adam Serwer:
I think people need to understand that the police and the military have very different political and institutional incentives. The American military has a culture of wanting to be and appear nonpartisan. They're under civilian control. So it's really important to understand that not only does the military have a different institutional culture, but it's very unusual for retired generals to speak out in this way against a sitting president. On the other hand, the president has put all these former military officials in a very difficult position by suggesting that he wants to order the military to go out and violently quell protests against police misconduct.
Amy Walter:
Professor Hinton, I want to go back to a moment a lot of folks are referencing, 1968. You've written a lot about this and decisions made by then President Lyndon Johnson that have really set the foundation for codifying racism and trapping black Americans in a cycle of poverty and unemployment. I'm wondering if you can help us understand the decision that Lyndon Johnson and then the people who came after him made in setting us up for this point.
Elizabeth Hinton:
Well, I think that in many ways, even though as we pointed out the character of the protests and the kind of violence that we're seeing in cities today is very different. We're at a similar point and it's rooted in the same unanswered grievances that is calls for socioeconomic inclusion and an end to racial inequality. When Johnson was faced with similar uprisings during every summer of his presidency, he immediately labeled them criminal. He distanced the actions of those who participated in so-called riots from civil rights protests, even though, especially by that point within the civil rights movement, the demands for a political and economic power coming from civil rights and were militant black power activists were very much the same instead of responding to the root causes of poverty and inequality in the form of job creation programs, not merely the job training programs of the war on poverty a real investment into urban public schools and an overhaul of public housing programs, the federal government instead invested into a creation program for police officers in the form of the war on crime.
Elizabeth Hinton:
This began at the height of progressive social change in the United States, in the mid 1960s. Not later in the '70s and '80s as many people thought, and eventually this choice that is to manage the problems of poverty and inequality through policing and surveillance and incarceration won out over the social welfare goals of the war on poverty. So as policymakers invested into police and prisons, they divested from welfare, public schools, social programs. This is why today in many, if not most American cities, police departments assume the majority of municipal budgets. These new conversations that we're having about police and about racism prove that this approach has not worked for some 50 years and it's time now to try a different way to combat some of the fundamental social inequalities in our society.
Amy Walter:
Dr. Anderson, I want to go to you. In 2016, President Trump encouraged African-Americans to vote for him and he said, "What have you got to lose?" This is what he tweeted on Thursday night. "Sleepy, Joe Biden was a total disaster. It was mass incarceration for black people. Many of them innocent. I did criminal justice reform something Obama and Biden didn't even try to do and couldn't even if they tried. Biden can never escape his crime bill." What's he really trying to do here?
Carol Anderson:
What he's trying to do is to find a way to try to bring black voters to him but that won't work. We all know that Biden was knee deep in that 1994 crime bill. But what Trump cannot escape is that death penalty ad for The Central Park Five and the US Supreme Court has struck down the death penalty for rape because it had been consistently and overwhelmingly used against black men. So that there were some years when only black men were executed for rape. The racial bias in that death penalty law was so clear, so profound and so devastating that the court struck it down. So when Donald Trump is trying to resurrect that and then cannot fix his mouth to say, "Oh, I made a mistake." But instead he was angry that The Central Park Five were exonerated. There is nothing that Donald Trump can say that can supposedly woo the black voter. We saw that in 2016 where you can't even figure out the percentage point for black women who voted for Trump, it was so low.
Amy Walter:
It seems to me that what he's trying to do as well is just to feed into the cynicism, right? Not necessarily to get African-Americans to vote for him, but to say, "Look, you know the system is terrible and you know Democrats don't care about you and Joe Biden's not going to help you. So just stay home. Don't bother."
Carol Anderson:
But stay home was part of the whole mantra of 2016 as well. But what we saw for instance, in 2018 was that folks didn't stay home. The voter turnout rate was the highest it had been since 1914 for a midterm election and folks aren't staying home now. The fact that you had a Supreme Court that looked at the coronavirus in Wisconsin, for instance, and said, "Well, if you didn't get your absentee ballot, then you're just going to have to stand out there and vote. So you're going to have to choose whether you're going to vote or whether you're going to die." And folks decided that they were going to stand out there and vote.
Amy Walter:
Adam, I want you to address that point about how you think Joe Biden is doing at this moment and whether you think he's met it at the place where many African-Americans would like him to be.
Adam Serwer:
Well look, I can't speak to that. I think Joe Biden's polling is obviously very good, but it's very hard when everybody's sitting at home to really go out and engage a sediment. I think that the president got a lot of mileage out of Hillary Clinton's comments in the '90s about young black men being super predators and I think he's trying to run the same play this time. There is some evidence that polling for Democrats among black men, not black women, but among black men is a little softer. But I think the basic idea that what Trump wants to do is muddy the distinction between him and Biden to make it seem like the stakes aren't as high as they are.
Adam Serwer:
I think that, that will be difficult given both his vocal encouragement of police brutality, his policy decision to pull back from the Obama era federal supervision of police departments, which was very aggressive. And simply the fact that, both the economic and health devastation of the COVID pandemic is disproportionately harming black people and the president has done a terrible job handling it. I think it's very difficult to fix when people are suffering both for health reasons and for economic reasons and the president hasn't really done much to change that. I think it's really difficult to fix that with a bunch of cynical tweets about how Joe Biden did the 1994 crime bill.
Amy Walter:
Professor Hinton, I want to get to where we go from here. As you've talked about, we've had 50 years to enact these policies and they never seem to go anywhere. Policies to address this systemic structural racism. Well, what is it going to take, not just from politicians, but really, especially from white Americans to make some real structural change?
Elizabeth Hinton:
White Americans are beginning to have new conversations about racism and it's very clear that we can't move forward as a nation unless these systemic issues are addressed, unless the intersections between racial and class oppression are addressed. I think more essentially our policing and our crisis within the criminal justice system. Instead of going towards the strategy that policymakers have embraced for some time, which is investing in police officers, investing in prisons, throwing money at the problem, I think it's really time to think about imaginative new alternatives to keeping communities safe.
Elizabeth Hinton:
That is giving money to and investing in grassroots organizations, such as victim rights groups at the local level, committing to job creation programs and thinking about how we can now begin to do the very difficult and in much cases harder work of transforming our institutions and thinking about how we can allocate resources so that they begin to go to the people instead of elite policymakers and corporations, as they have been. I want to see the kind of corporate welfare program that we have actually going to the people in American society who need it most and I think that's really what at heart, many of these protests are about.
Amy Walter:
Dr. Anderson, you write about white rage and backlash, and I'm wondering what you think about this. How uncomfortable are white Americans willing to get to fix this?
Carol Anderson:
That really is the root of the question. They're going to have to get very uncomfortable because part of the thing that has happened is that being in the kind of segregated spaces where we are, and dealing with the kinds of narratives that have dominated so much of our discourse such as unqualified minorities, taking our jobs, such as the police are here to protect and serve. So what did this person do so the automatic default is rooted in anti-blackness? It's going to take the kind of conversations, the kind of reading, the kind of learning and the understanding that coming through this process does not mean you're going to lose.
Carol Anderson:
In fact, it means we all gain, and that's going to be a different framework to be able to understand what's going on. I mean, so for instance, when we've spent a trillion dollars on the war on drugs, think about what that could have meant for a healthcare system for everybody. Think about what that could've meant for affordable college for everybody. It is rethinking how we see everything as a zero sum game, and to understand it's not zero sum.
Amy Walter:
Adam, I'll leave you with that question too. You've spent a lot of time covering Washington and politics. How likely is it that even if there is a Democratic president, and Joe Biden and a Democratic Congress, maybe even the Senate, how likely is it that real reform you think could make it through the political process?
Carol Anderson:
Well, I think probably there's a couple of things that could be done. I think there's a chance that Congress could address qualified immunity in a circumstance like that in part, because there are some Republicans who don't like qualified immunity. And just to explain that for your listeners, it's a legal precedent that says that police cannot be sued except for the most egregious abuses and in practice, it usually means they can't be sued at all for anything that they do. I think that again, the most effective changes aside from federal supervision of police that violate American's constitutional rights, the most effective changes are going to have to be on a local level, and that's going to be a real problem because, again, as you see in New York the police unions are extremely powerful. Politicians do not want to antagonize them, but there is a chance that, when people are looking at misbehavior by police in response to these protests that there could be some creation of political will for changes to the way that police use force to the way that they deal with racial discrimination. That could be significant.
Amy Walter:
Well, Adam Serwer, Professor Hinton, Professor Anderson, thank you all so much for joining me.
Elizabeth Hinton:
Thank you.
Carol Anderson:
Thank you.
Adam Serwer:
Thank you.
Amy Walter:
Over the last week, we've seen hundreds of protests take place in cities across the country, putting a spotlight on local leadership and the relationship between those leaders, the community and the police. Leadership in these moments is challenging and requires a delicate balance of empathy and maintaining order and it's an especially difficult time for African-American mayors.
Michael Tubbs:
My name is Michael Tubbs, and I'm the Mayor of Stockton, California. It's an ultimate balancing act. Not only am I African-American, but I'm 29 years old. I'm the same age as many of the folks protesting and my start before politics was in community organizing and protest. So the protest politics is one that I'm familiar with and the tradition that I come from. But now as the mayor my job is to be in the room and in the building and pushing and working with our police department to make the reforms that people are asking for. And also to explain to the public how protests and politics have to go together.
Michael Tubbs:
It's also has been a tough week as a black man, as you mentioned, with a black wife, with a black father who's still in prison, with a seventh month old black son, just to think about all the work and time and sacrifices put in to make this city and this democracy better and still being confronted with the fact that racism and white supremacy are alive and well. And that now I have to work within the system to try to change it which is different than protesting. Then also being looked at as someone who because of my age and my race that has all the answers, and she'd be able to lift my hands and say, "Everything's perfect." When we're actually talking about something that we haven't figured out in 400 years. So it's been a tough week, but I'm proud of the way that my community and my police department has responded peacefully and also just being very vocal and clear about what we stand for in Stockton, which is liberty and justice for all and what we don't, which is racism.
Amy Walter:
You've talked about reinventing Stockton since you were sworn in as mayor. I'm wondering if you can help us understand that and the link between reinvent Stockton and how it has perhaps helped leading up to this moment that we're in right now in terms of the relationship between the police and the community protestors and the community, and how Stockton has been able to avoid some of the more violent looting and other destruction we've seen in other cities.
Michael Tubbs:
Actually the Reinvent Stockton platform even started before I was mayor. It started when I was on city council and on city council, I represented the south part of the city, which was highly diverse, 86% of people of color, some of the highest rates of poverty in the city, and a lot of distrust of institutions of government, police, et cetera. We came up with his moniker Reinvent South Stockton, because we just wanted to change how government worked with people. So then when I decided to run for mayor, part of the rationale was that we wanted to take this ethos of government working with and for people, and then addressing actually real structural challenges citywide.
Michael Tubbs:
We piloted a basic income that we've been able to extend for six more months to show people that we care and we see their struggles and we value and honor that. We started a program called Stockton Scholars, where for the next 10 years, every single kid from our largest school district is guaranteed a 2-year, 4-year and trade schools scholarship. We've been working very hard and our police chief deserves a lot of credit with community on rebuilding trust.
Amy Walter:
So do you draw something of a direct link between basic income that you're providing some of the residents there of Stockton, the Stockton Scholars, the work that the place have done within the community directly to peaceful protesting?
Michael Tubbs:
Absolutely. I think it's helped set the climate of trust and a climate that our government, although perfect, does see the needs of the people. I think part of that work has been working and having tough conversations with community members, with leaders and so they trust us, even when we disagree.
Amy Walter:
Talk to us a little bit about where you see things going in these next few months here. It seems as if we go through these moments that we think are tipping points socially and culturally, and then a few months later, we see that we've kind of come back to the way things always were. What do you see about this?
Michael Tubbs:
I hope it's very clear to everyone that this is an inflection point where we can't go back to where we were. I was reading Where Do We Go from Here by Dr. King again, and then I was interested in just the context in which he wrote these words and that it happened again at a time of an uprising with folks and communities throughout this country were just fed up with the status quo. He talked about then at that time, that was time to really do a guaranteed income to provide an income floor. I think in this moment, this country has to reckon with a question that we've been trying to answer for the last 400 years and that question is, are all the rights inherent in the constitution, and our human rights, are they really given to everyone in this country? Particularly, do we really see black people as equally human to white people in 2020 America?
Michael Tubbs:
And that answer has to be yes and with that, yes has to come a slew of policy proposals that won't solve a 400 year problem overnight, but will move us closer. So things like adequate housing, healthcare, good education, basic income, economic development, real job program. We have to be ambitious. It has to be at a new deal type scale, just given the economic recession and depression we're currently in coupled with just the crippling impacts of racism and white supremacy. There was just a New York Times article that called our racism, a national security risk. That foreign hostile powers like Russia are using that to undermine our democracy.
Michael Tubbs:
So I absolutely think the path forward is one of hard work and hard conversations. And also one of hope that really gets to extending the protections of American democracy to everyone. In terms of how or what, I think those models we have. We know that in the history of this country, there's been granting given the people, there has been benefits afforded to people to G.I. Bill, et cetera. And oftentimes those benefits have excluded black people and people of color. So it's kind of going back to the drawing board, looking at all the ways in which black people and people of color were excluded in our democracy, and make sure that it's inclusive and it reflects a 21st century social safety net, and a more humane and civilized understanding of what it means to be a country, what it means to be a community and what it means to be a neighbor.
Amy Walter:
We had been calling up mayors across the country a few weeks back talking about the coronavirus and its impact on the communities and also on the finances of the cities. So I wanted to ask you about that as well. What the pandemic has meant for Stockton and especially for all these programs that you have implemented and that you want to see, keep going. Can you continue to afford to do that given the economic hit that the city, I'm sure has taken as well as the state?
Michael Tubbs:
Yeah, well, I think to your point what this crisis has illustrated for me is that these programs have to be policy that piloting and starting is good. Luckily we've been very fortunate to have philanthropic partners who believe in the mission, but to really reach the scale and the intensity of this moment, they have to be codified in policy and oftentimes those policies are at the purview of state and national governments. In terms of the city budget as of today, because of the hard cuts we may do bankruptcy and just being very, very fiscally proved in the past several years, our budget has no layoffs, no service deductions, no furloughs and no pay cuts as of today, which is something we're proud of.
Michael Tubbs:
But understanding that in this moment, it's not going to be enough to do what we were doing, that we're going to have to figure out a way to do more. So we're definitely looking at kind of ways to increase revenue, and ways to make sure where we are just giving everyone the opportunity. But yes, this crisis has created first and foremost, that government can't do everything and government shouldn't do everything, but government absolutely has a role to play and just ensuring that there's opportunity, ensuring that human rights are protected and ensuring that all folks in communities are treated and afforded basic human dignity.
Amy Walter:
Well, Mayor Tubbs, thank you so much for taking this time with me. I really appreciate it.
Michael Tubbs:
Thank you.
Amy Walter:
When he was running for president, Julián Castro put police reform at the center of his campaign.
Julián Castro:
Don't tell me that Michael Brown, and Tamir Rice, and Aiyana Jones, and Eric Garner, and Jason Carroll, and Stephon Clark, and Sandra Bland shouldn't still be alive today.
Amy Walter:
Secretary Castro ended his campaign back in January saying it's simply isn't our time. But this week, Joe Biden, the presumptive Democratic nominee tapped him for help in tackling the issue of police reform. With the presidential election just six months away, we're seeing familiar lines drawn. President Trump is stressing law and order and hoping to paint Democrats as soft on crime and the lawlessness of rioters. In the past, this argument has been effective, but secretary Castro sees a path forward.
Julián Castro:
What folks are calling for is more accountability and more effectiveness. I think that we can make sure that neighborhoods are safe, communities are safe, but also do it in a way that assures that every citizen, no matter the color of your skin or what neighborhood you're coming from, that you are going to be treated the same and that you can feel safe when you interact with police. I've been watching the last couple of nights the protests in New York and other cities, but New York caught my eye yesterday for a video of four police officers using their buttons to beat on a guy that was on his bicycle and then getting off his bicycle. People's eyes are being opened to the fact that you have a rotten culture in too many of these organizations and that you can improve that, change that, fundamentally reform the system, fix it and not sacrifice keeping neighborhoods safe. Those two are not mutually exclusive.
Amy Walter:
Let's go to the national picture for a moment. Recently Vice President Biden has asked you to help on his campaign to tackle police reform. During your presidential campaign, you often criticized Joe Biden's record on things like the support for the 1994 Crime Bill. How confident are you that he will adopt the kinds of recommendations that you may be making to him?
Julián Castro:
I have no formal role there, but I've offered to be helpful and I will help in any way that I can. Joe Biden gets it. People heard his speech the other day in Philadelphia and to me, the most important part of that when it comes to criminal justice and police reform was that he wasn't vague. He was specific. What you want to do when you're listening to politicians talk is you want to listen to whether they actually get specific about what they're going to push their colleagues to achieve. He talked about banning choke holds. He talked about a national use of force standard. He talked about greater police accountability measures. He talked about ending the program that has militarized police departments across this country unnecessarily and I think to the harm of many citizens.
Julián Castro:
So he was specific, he has goals that he wants to achieve. These goals will make our community safer and address this issue of police reform in a positive way. That impressed me a lot and it tells me that, it's not just lip service, that he actually has a vision for how to improve this.
Amy Walter:
Do you see a difference between talk of criminal justice reform versus talk of police reform? Are those two different things? Are they the same?
Julián Castro:
Well, of course they're two different things, but I think they all go together, right? I mean the criminal justice system is larger than policing but I used to say on the campaign trail that in many ways, the criminal justice system that we need to fix starts with fixing what the police on the street is doing. An integral part of improving our criminal justice system is to deeply reform policing in this country. You really can't have one without the other, because that pipeline that's being created, is being created in part because police over stop, over arrest, especially young men of color and you need to reform that or else you're going to have that same problem going forward.
Amy Walter:
I wanted to end this by just asking you to reflect on this moment and other moments we've seen in history where it feels like maybe we're at a tipping point and then a few months go by or a few weeks go by and then things go back to the way that they've always been. Do you think this is a real tipping point, inflection point? Or is this a moment that is that, a moment?
Julián Castro:
It feels like a real inflection point. I say that because there's an intensity to the demonstrations out there, both in numbers and in passion and that's matched by specific reforms that have been proposed by Vice President Biden, by mayors across this country, by state leaders across the country. There's a great representative, Representative Herod in Colorado who just introduced a comprehensive police reform bill in Colorado. So there is already action out there among policy makers that can lead to real reform. You're right that this, oftentimes it feels like it's episodic, like the gun reform issue. Something happens, there's a lot of attention on it, a lot of passion, and then it fades away.
Julián Castro:
I think this is different because number one, you're not facing the same kind of very well funded, very entrenched interests that we did with the gun lobby. Secondly, the solutions have already been implemented in a number of local communities across the United States to varying degrees, but they're there. So there's much more progress already than there was on common sense gun reform. And then third, you already see more action in Congress on this in just a few days than you did on common sense gun reform even after what happened in Sandy Hook. All of those things tell me that this can become a real movement and that we can make real change. And if you add in the fact that so many of those people demonstrating out, there are young people, people in high school, college, just working young folks. That gives me a lot of hope for the future because we're raising a generation of young people that understand that it's time to do something and they're going to keep pressing elected officials to do something about it.
Amy Walter:
Well, Secretary Castro, thanks so much for taking this time to speak with me. I've really, really appreciate it.
Julián Castro:
Absolutely good to be with you.
Amy Walter:
Joe Biden has said he would announce his running mate by August, but the protests over the killing of George Floyd have shifted the conversation surrounding that vice presidential pick. For example, Senator Amy Klobuchar, once a top prospect for the job has come under scrutiny for her role as a Hennepin County prosecutor in a case involving the officer charged in George Floyd's death. Meanwhile, Congresswoman Val Demings, an African-American woman and former police chief in Orlando has seen her stock rise considerably. Joining me to discuss the latest in Veepstakes is David Siders, a national political correspondent at Politico. He told me that there are a few candidates that stand out to him.
David Siders:
The conventional wisdom, which sounds reasonable is that Carla Harris, Val Demings are in a good spot right now, but that there are five or six other people that nobody would be surprised if Biden went that way.
Amy Walter:
With six weeks to go, a lot of unknown events yet to happen and the list of potential prospects still long, the fortunes of these candidates will surely change.
David Siders:
What's happening now is that if you didn't have any external events in the world, that VP selection process might go along on its own path. But there have been a lot of things happening that I think have helped to shape the selection process. At first it was coronavirus obviously, and it got people talking about the value of executives like governors of states, and then more recently the George Floyd's death and the resulting protests, which I think have led a lot of people to think that selecting an African-American woman might be the way to meet this moment. And so those kinds of conversations, along with some very minor things like Gretchen Whitmer's husband trying to get his boat in the water in Michigan and the governor of New Mexico for jewelry. Those are much more minor issues, but those things all kind of contribute I think, to this public vetting of potential vice presidents.
Amy Walter:
This does seem a little different than normal because you're right, most vice-presidential selection processes, they do play out somewhat publicly. Do you think that the Biden campaign sees it that way, that they are also looking for somebody to meet this exact moment? Or they're looking for somebody who, regardless of what we're talking about in October would be a good fit?
David Siders:
I mean, they always talk about leadership and wanting somebody who has the experience to be the president. They talk about it in very traditional terms. But there's no question that they are affected by the shape of the times, I guess. I think part of the benefits of the Biden campaign to be having the speculation and this talk, because we're talking about people who two different segments of the Democratic electorate are very popular. And so I don't think it hurts them to have week after week of, could it be Cortez Masto, or could it be Val Demings? Those are not bad stories for Biden to have out there.
Amy Walter:
Meaning that they get tested by folks that way? It's a trial balloon that can be tested long before he has to make his pick?
David Siders:
Yeah. I think that's a political calculation that definitely is beneficial to them. But also in the more broad sense, if you're picking up the paper and you're going to read something about Joe Biden today, I mean, that's been a problem for him with the coronavirus, keeping him in a basement until very recently. I think that it allows there to be coverage that is interesting to political reporters and probably overall fairly favorable for the Biden campaign.
Amy Walter:
So let's walk through some of these again, as you pointed out trauma gaps, other things that are impacting potentially the Biden VP selection. The first is this moment we're in right now with the killing of George Floyd and the focus on policing and on prosecutors. There are a number of former prosecutors in the mix, Senator Amy Klobuchar, Senator Kamala Harris being two of those. What do you think that means for the two of them as a potential pick?
David Siders:
Well, I think it clearly has damaged Amy Klobuchar for a few reasons. Unlike Kamala Harris or Val Demings, who's a former police chief, Amy Klobuchar is white, she's from Minnesota and just the other day that she was on TV talking about decisions to prosecute or not prosecute police officers involved in shootings in Minnesota. And she will tell you that those decisions were made by grand juries, which was a common practice but now looking back at it, she says she regrets that she didn't make the decision herself. That's not a good place for her to be, I think if you're talking about a candidate meeting the moment. Kamala Harris, I don't think is a hurt as badly as Amy Klobuchar and the same thing for Val Demings.
Amy Walter:
Is your sense that what the Biden campaign is looking for more about generating enthusiasm from the base? There's been obviously a lot of consternation in Democratic circles about the lack of enthusiasm among younger voters, among voters of color or do you think they're looking for somebody who can win over those swing voters, especially say those swing voters in the Midwest and be more of a safety pick?
David Siders:
Well, I think it's very much about exciting some element of the base. At least the people around Biden at the periphery. I should just be really upfront here that I don't think this decision ends up getting made by committee. I think that Biden will have a gut and a feel for somebody who he's comfortable with, and that will be the choice. This is not going to be put through a lab and determined. That being said around him, especially before George Floyd's killing, there was a lot of discussion about, is it more important to have a progressive woman to energize those young progressive people or is it more important, not necessarily mutually exclusive, but more important to have somebody who resonates with African-Americans?
David Siders:
I think that the protests right now have added a lot of oomph to the second part of that equation, which is why I think African-American women are probably in a better standing right now than they would have been a month ago. But Biden's not going to make this decision for what? A month, six weeks, maybe announce in July or end of July early August. A lot can change in six weeks.
Amy Walter:
David Siders is a national political correspondent at Politico and many of you have been telling us who you think Joe Biden should pick.
Leslie:
Hi, my name is Leslie and I live in Seminole, Florida in Pinellas County. Elizabeth Warren was my pick for precedent and I think she would be a great Vice President. I also really like representative Demings.
John:
Hi, this is John from Hopewell, New Jersey. Mr. Biden should keep his promise to invite a woman and a woman of color to the platform. Susan Rice could be an excellent choice.
Fay:
This is Fay from La Paloma and I believe that Joe Biden should pick a Republican from the Midwest.
Joanne:
Hi, this is Joanne in Denver. I think that Joe Biden should select Kamala Harris.
Amy Walter:
Keep the calls coming 877-8-MY-TAKE is the number, or you can tweet us @TheTakeaway. Here's one more thing from me. The term tipping point is a very passive one. Something that just happens on its own, like a rock that just tumbles from the side of the mountain, but instead it requires commitment and follow through and as we all know, our political system is wired to protect the status quo. The only way that changes is when pressure from voters and society is placed on it. And when politicians see that not changing is more dangerous than making change. Are we there yet? I don't know, but that's what this election is all about. And of course an election is only a start, not an end.
Amy Walter:
That's all for us today. Big props to the people who make this show. Debbie Daughtry was at the studio on the dials all week at the board, along with Jay Cowit our director and sound designer. Polly Irungu is our digital editor, and David Gebel is our executive assistant. Our executive producer is Lee Hill. The show was produced by Patricia Yacob, Katerina Barton, and our senior producer, Amber Hall. All of what you hear is at thetakeaway.org and usually there's a little more content. Go check it out and subscribe to our podcast. Tanzina Vega is back with you on Monday. As usual, I'll see you next week. Thanks so much for listening. This is Politics with Amy Walter on The Takeaway.
Copyright © 2020 New York Public Radio. All rights reserved. Visit our website terms of use at www.wnyc.org for further information.
New York Public Radio transcripts are created on a rush deadline, often by contractors. This text may not be in its final form and may be updated or revised in the future. Accuracy and availability may vary. The authoritative record of New York Public Radio's programming is the audio record.