From Statehood to Self-Determination: The Political Future of Puerto Rico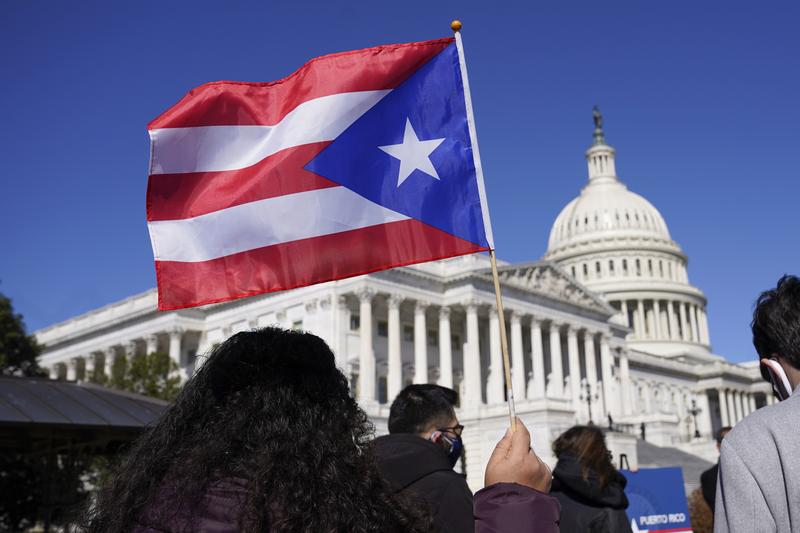 Transcript
[music]
Tanzina Vega: This is The Takeaway. I'm Tanzina Vega, and it's so great to be back with you in the host here today talking all things politics.
[music]
We begin with two dueling bills making their way through Congress that focus on the political future of Puerto Rico. The island is a US Commonwealth whose colonial status has been in the spotlight following the economic, political, and structural crises the island has faced over the past few years, including Hurricane Maria in 2017, and the ouster of Governor Ricardo Rosselló in 2019.
For decades, residents on the island have voted for their political preference and non-binding referendums, but Puerto Ricans on the islands still remain in political limbo, not exactly a state, but also not an independent nation. On Thursday, Representative Nydia Velazquez along with Representative Alexandria Ocasio Cortez and Senator Bob Menendez officially announced the Puerto Rico Self-determination Act of 2021.
Congresswoman Nydia Velazquez: This legislation recognizes the inherent rights of the people of Puerto Rico to determine their own political future.
Tanzina: Earlier this month, a competing bill was introduced by representatives Darren Soto and Jennifer Gonzalez, Puerto Rico's non-voting member of Congress. Their alternative The Puerto Rico Statehood Admission Act would set up a framework to make the island a state.
[music]
On Friday morning, we called up.
Congresswoman Nydia: Nydia Velazquez, representing the seventh congressional district in New York City.
Tanzina: She's the first Puerto Rican woman to serve in the US House of Representatives. And since Puerto Rico's political advancement has been in the national conversation so much recently, I asked the Congresswoman how she expects to keep that momentum going.
Congresswoman Nydia: Well, I hope that we can all come together, Puerto Rico leaders and members of Congress to really work in a path forward that will put an end to 123 years of colonialism where the people of Puerto Rico have been divided, where they do not have legal tools to deal with their own challenges. We saw that during the financial crisis, Puerto Rico's right to declare bankruptcy was taken away by the US Congress.
Puerto Rico's opportunity to continue to promote economic development in Puerto Rico was taken away by Congress when they ended the IRS code 936 that promoted foreign investment from the United States companies to Puerto Rico. What it shows is that the many issues and the many challenges that Puerto Rican people are facing today are rooted in the colonial status condition.
Tanzina: Congresswoman, your Puerto Rico Self-determination Act of 2021, which you are co-sponsoring and officially announced this week, can you define what you mean by self-determination?
Congresswoman Nydia: : Is to recognize the inherent rights of the people of Puerto Rico to come together and decide what is their best political path forward, is for them to come and define in a convention, in a status convention, the different formulas, the different options and put that to the peoples to decide through a direct vote what is it that they want to do. Many people are saying that statehood was voted by 52% in the last election. Well, wait, this is a serious issue. It requires the participation of the US Congress and the US government.
That plebiscite was basically a political tool for the party in power to entice voters to come to the polls. It wasn't binded. It will not require any action or certification by the US Congress nor was it defined for the people of Puerto Rico. They didn't know what does it mean, what type of responsibility if Puerto Rico become a state. The statehood was not defined in the plebiscite bill, there was no education campaign about the implications of becoming a US state. Then, you have a minority almost 57% of the people of Puerto Rico, who do not support statehood. They too have the right to be heard and to participate.
Tanzina: Congresswoman, you've mentioned the plebiscite. This is something that residents of Puerto Rico for decades have essentially voted on these non-binding referendums about the status of their own island. Why not just offer the residents of Puerto Rico a referendum that does have teeth that is binding rather than creating an additional step here?
Congresswoman Nydia: Well, no, that is exactly what my legislation does. It provides for the people of Puerto-- This is not any election, this is an important step forward to put an end to the colonial status of Puerto Rico. It requires a consultation with the different formulas that will be outside the territorial clause. We got to treat this with the seriousness that it requires. This will define the political future of the people of Puerto Rico.
What my legislation does, it empowers the Puerto Rican legislature to create a status convention, and whose delegates will be elected by Puerto Rican voters. That body will develop a long-term solution. It will define each of the solution, and it will have a transition plan for each of those solution, so when people go out to vote, they will know what exactly they're voting for. This is not any regular election. This is the most important election in the political life and association with the United States for the last 123 years.
Tanzina: Congresswoman, what do we know about whether or not there's congressional support for this self-determination bill that you are proposing, and if there is, is it bipartisan?
Congresswoman Nydia: Yes, we introduced legislation yesterday. We had close to 80 members co-sponsoring the bill. It's bicameral, Senator Bob Menendez, Senator Bernie Sanders, Senator Elizabeth Warren, Senator Booker, Senator Wicker who is a Republican, and many more. Eight senators are supporting this bill, and in the house close to 77, I think the last count is 77 members.
That shows broad support, and not only that, it has the support of 10 chairman of 10 different committees, including committees that have the responsibility on this on this bill or any other bill. Jim McGovern from Massachusetts, who is the chairman of the Rules Committee, Richard Neal, who is the chairman of Ways and Means. I'm proud of the support that we were able to get from members of Congress, from my colleagues, and I'm very grateful for that.
Tanzina: Congresswoman, you mentioned the colonial status of Puerto Rico which hurts the island essentially, especially at an economic and fiscal level. However, there is a body that you voted for that you said it was one of the toughest votes of your career, which was to support PROMESA, which was the fiscal oversight board that was appointed to manage and essentially restructure the debt on the island. That board has since become the target of a lot of criticism, particularly as its debt restructuring, and lots of questions are being raised about whether that restructuring is fair to Puerto Ricans on the island, or whether it favors investors and people who are not residents of Puerto Rico. How do you respond to that?
Congresswoman Nydia: Well, we need to look at this in the context of the fact that Puerto Rico didn't have any framework, any legal framework to declare bankruptcy. If you look at the history of Argentina, with Hedge funds and vultures, they took Argentina to court for so many years, I think 10 years. Finally, there was an agreement in federal court in New York. Puerto Rico didn't have any tool to deal with bankruptcy. In fact, they borrowed money with the good faith of the Commonwealth and the Constitution of the Puerto Rican government.
That meant that in any federal court, the judge who have ruled against Puerto Rico, telling them, "You must pay it. There's not remedy here. We have to abide by the law and if you don't have the money, then you will have to sell public assets, or seize any liquidity that Puerto Rico had at that moment." Knowing all that, I knew that the only way forward was to create this body because the republicans here will not support any order, a remedy coming from the US Congress.
You have the Puerto Rico government borrow money. It was private money so they will be in a position to have to pay what they borrowed. At that time, I supported PROMESA with the understanding, that PROMESA provided an orderly restructure of the public debt. Plus also said that it will be the responsibility of the PROMESA board to use the power to promote economic development in Puerto Rico.
Tanzina: Are you satisfied, Congresswoman, we have one minute left, that that's what they've done so far?
Congresswoman Velázquez: No, they have not. Even though the latest plan has been much better, but I believe that the intent of the law was not to create a collection agency for the hedge funds and vultures. In fact, what they have done is implement sturdy measures that will never work if we take into account the history and experience of Europe.
Tanzina: When it comes to the question of Puerto Rico's political status there seem to be the folks, at least in my experience as a member of the diaspora here in New York, there seem to be those who want statehood, those that could keep with the status quo, and those who want independence. The independence call seems to be growing, even though it's still small. Is an independent Puerto Rico even possible when you look at the island of Puerto Rico right now?
Congresswoman Velázquez: Well, look, we don't know. What I can say is this, that there is so much skepticism and cynicism toward the government. What happened in the summer of 2019 was quite revealing. A sitting governor was ousted, without a bullet, without any type of fights. People took it to the streets because they were fed up with the corruption that was happening in Puerto Rico. What we have seen is a transformation. I think that the summer of 2019, marked a beginning of the political transformation in Puerto Rico, that generated into a multi-party system for the first time in its history.
Puerto Rico was dominated. The politics in the island was always dominated by a two-party system. Today, we have five political parties who has representatives in the legislature. A lot of the young people really are more engaged demanding accountability and transparency. It just really sad that young people fight so hard to get educated, they graduate and with one Diploma in one hand, and then a ticket to leave the island and that shouldn't happen. I believe that kind of engagement by young people by the youth we don't know what consequences going forward will have. I also believe that it marked the transformation of the political system in Puerto Rico for the good, for the better.
Tanzina: Puerto Rico since has elected a new governor, Governor Pedro Pierluisi, who is a proponent of statehood. Have you had any conversations with Governor Pierluisi about self-determination versus statehood for the island?
Congresswoman Velázquez: Well, he knows very well what my position is. We had a meeting, it was a virtual meeting. We didn't have much time to discuss this, but he knows that I would like to get a conversation going so that we treat this issue with the seriousness that it require because it's in the interest of the people of Puerto Rico. Let me just also mention to you that the governor of Puerto Rico was elected with only 37% of support. Two-thirds of the people of Puerto Rico voted against the current governor.
That is why I always say that putting the plebiscite as part of the November election was a way to entice people to the polls and save themselves because there was so much hostility and anger toward the party in power. He represents the new Progressive Party. He is a member of the new Progressive Party. Ricardo Rosselló who was the governor of Puerto Rico was the one ousted and also come from the same party.
Tanzina: Congresswoman, I have two questions for you as we wind down that are not related to Puerto Rico but are still critical in the conversation regarding politics. You have been for decades a leading voice on immigration reform. You've co-authored several pieces of legislation over the years on immigration reform. I'd love to get your take on what's happening right now at the southern border, particularly with unaccompanied migrant children who are coming to the United States. I'm wondering if you've spoken to President Joe Biden about this and what your thoughts are and what needs to happen?
Congresswoman Velázquez: Well, look, what is happening in the border basically represents the failed policies of the previous administration. If you think that by punishing parents and children, you're going to end undocumented people trying to cross the border, it's not going to happen. I went to Central America with Speaker Pelosi, we saw firsthand the conditions, the violence, the corruption. I think that we have a responsibility to make investment in those countries so that people believe that there is hope if they stay home. Just by punishing and trying to give a lesson is not the way forward. We are better than that.
Now, the administration is pulling together not only immigration reform, but also an investment package that will help people be able to stay home by helping those governments to promote economic development. It cannot be a blank check. We have to have oversight. We have to send a strong message to those leaders that we're going to be watching. That's where we are today. Let me also add that we passed the American rescue plan, a great plan that has been supported by almost 75% of the American people, Republicans and Democrats alike.
For those Republicans, all of them who voted against it, they need to create a distraction and the distraction is going to the border. They are not willing to sit down and come to the table and look at how can we put an end to what is happening at the border. We need to assume responsibility for what is happening and the fact that we fail in seeking solutions to the immigration issue.
Tanzina: Finally, Congresswoman Velázquez you are a member of the New York delegation. Of course, as we know here in New York and across the country. The governor of New York Andrew Cuomo is involved in a scandal involving several sexual harassment allegations. On March 12, you called for the governor to resign, saying that he had lost public confidence but a recent poll of New York voters found that Cuomo still has support. What do you make of that and do you stand by asking the governor to step down?
Congresswoman Velázquez: Well, publicly I did and I believe that the investigation is going with the AG. If he decided that he still have the confidence of the people, and he could remain in office, then the choice is to wait for the conclusion of that investigation.
If the investigation shows wrongdoing, and the nursing home issue also is part of that investigation by the legislature, the governor needs to look to everything that is happening and ask himself, "Can I govern given the pandemic, given the challenges that New York is facing, given the fact that now is not the time to be spending most of your time defending yourself, but executing a plan to get us out of this pandemic and to deal with the issue of the state of the economy and the fiscal health of the state of New York?" Can he have the energy, can he have everything that he takes to deal with those challenges? That's the question that he needs to answer himself.
Tanzina: We will be paying close attention. Congresswoman Velázquez, thank you so very much for taking the time to talk to us today.
Congresswoman Velázquez: Thank you for having me.
[music]
Tanzina: For decades, the residents of Puerto Rico who are granted US citizenship at birth, have voted on the future of the island's political status in non-binding referendums and the results have often split into two major camps. Those wanting to keep the status quo and those wanting statehood who have genuinely eked out a small majority. A much smaller percentage of Puerto Ricans say they want full independence. The conversation about admitting Puerto Rico to the union has gained more attention in recent years and even President Joe Biden signaled his support for statehood on the campaign trail. To talk about all this, we called up--
Christina: Christina Ponsa-Kraus, and I'm a law professor at Columbia Law School. Puerto Rico has been US territory since 1898 when the United States annexed the island after the Spanish-American War and Puerto Ricans have been US citizens since 1917. This entire time, for the past 123 years, Puerto Rico has been US soil and federal laws have applied there at Congress's sole discretion. Congress has made a few exceptions, but it is Congress and Congress alone that decides what federal laws apply in Puerto Rico and which ones don't.
Puerto Ricans have no representation in Congress at all, except for a non-voting resident commissioner, a person who serves in the House of Representatives. Puerto Ricans also can't vote for the President. Puerto Ricans have zero voting representation in the federal government, and yet they're subject to US sovereignty and federal laws. Puerto Rico ought to be a state and it really should have been a state a long time ago,
Tanzina: We should be clear that Puerto Ricans can't vote for president, those who are living on the island, but Puerto Ricans who are here in the continental United States are able to vote for president.
Christina: That's correct.
Tanzina: Let's talk about how it would happen. There has been legislation introduced that would get the process started of Puerto Rico becoming a state. What needs to happen?
Christina: The Constitution gives Congress the power to admit states. It doesn't really spell anything else out. The bill that's been introduced in Congress, the Puerto Rico Statehood Admission Act, responds to the referendum in November by making an offer of statehood to Puerto Rico, depending on a second vote.
The Puerto Rico Statehood Admission Act actually proceeds quite cautiously. It recognizes the majority vote for statehood in November, and appropriately makes an offer of statehood, but then it asks Puerto Ricans to vote a second time and confirm their desire for statehood. Upon that second vote, the President would have a year to issue a proclamation declaring Puerto Rico a state.
Tanzina: Christina, one of the things that we hear and my family is from the island of Puerto Rico. I personally was born in New York, but I've been privy to this debate my entire life. There are as you know two large camps and then one smaller camp that is sort of politically. The two large camps are one is pro-statehood, one is pro-status quo, which is keeping the commonwealth status and the smaller camp is independence. Given the events of the past couple of years with Hurricane Maria, and the economic devastation on the island, and the crumbling of the infrastructure in many ways, there are people who say that statehood is the only way to remedy that.
Then, there are people who say that it's because of this relationship with the United States that Puerto Rico is in the situation that it's in and that becoming a state would only further I guess, reduce the cultural importance that Puerto Ricans have, the language, this issue of Puerto Rican culture, of identity that it was stripped that away, what are your thoughts on that?
Christina: I was raised on the island and my family is there so I grew up with the debate that you described. You're absolutely right. The debate in Puerto Rico is really a debate between people who favor statehood, and people who favor some version of the status quo and independence has for many decades have very little support. I feel like it's important to clarify that even the people who support the status quo support an improved version of it. No one across the board supports the actual status quo, which is colonial.
Puerto Ricans have for decades shared an overwhelming consensus really on two things. Number one, they are opposed to continuing to be a US territory. Nobody wants territorial status. Number two, almost all of them, overwhelming majorities, support remaining US citizens. Puerto Ricans value their US citizenship and want to keep it that way. In my view, statehood is what absolutely should follow because statehood is the only way to cease being a territory while continuing to have guaranteed US citizenship and continue to have a union with the United States.
I believe that Puerto Rico's economic crisis is very much related to its colonial status. It's also the case that because Puerto Rico has no voice in Washington, it receives fewer federal benefits, federal assistance in the wake of crises is less than it should be. It's slow. Puerto Ricans simply don't have the leverage that all US citizens should have in Washington to get what they need. As for the cultural question, you are absolutely right to point to it.
Those Puerto Ricans who want to remain US citizens, but feel skeptical of or resistant to statehood are worried that statehood would have a detrimental effect on Puerto Rico's culture that we would no longer be different and unique that we would be assimilated into American culture. My view is that Puerto Rico has already been part of the United States for 123 years, and we have sustained our vibrant and beautiful culture and we can do that as a state. What statehood would bring is not the loss of culture, but political empowerment.
Tanzina: I want to ask you two questions to follow-up on that. One is the financial effects here, one of the things that we're seeing right now, Puerto Rico is being, I guess, fiscally governed by a fiscal oversight review board, the PROMESA board that has made-- For many people, they've been a controversial figure. We know that what's happening on the island to a large effect is the privatization of the island of many of the public lands, including beaches. Of course, we did a report recently about wealthy Americans who are running to Puerto Rico because of its tax shelter and tax haven status.
My question to you, Christina, is how would statehood curb that because the big concern is that Puerto Rico's natural resources, in particular, are being raided and destroyed by Western investors, but also that, again, the cultural fabric of the island could be affected by these folks who were going down there just because of the tax breaks. What financial effect would becoming a state? Would it curb some of this wayward investment that we're seeing?
Christina: You put it better than I could. Puerto Rico is undergoing all of these effects right now, as a territory. Greater equality in the tax treatment of Puerto Rico might make it somewhat less attractive to certain people who want to go down there for loopholes that wouldn't be possible under statehood, states themselves under their state tax systems can have varying benefits that they provide their residents, so Puerto Rico could potentially remain attractive to certain people.
Long story short, the problem of people going down to Puerto Rico extracting its natural resources availing themselves of tax advantages, those problems would only be more effectively addressed by statehood because Puerto Rico would have political power. Those problems are not prevented by the current status in which Puerto Rico is still part of the United States for these purposes. People can move back and forth. And there are particular loopholes that might prove attractive to people that wouldn't apply under statehood.
Tanzina: Finally, what has the Biden administration signaled about statehood so far, Christina?
Christina: President Biden, when he was a candidate last fall before he became president made clear that he supports statehood, that Puerto Ricans must choose it for it to become a reality, and that if they choose it, the federal government must respond. Those three points are exactly right. He is an American who favors statehood wide because he favors equality and representation for US citizens as he should but he agrees that Puerto Ricans have to make that choice, which they did in November and the Admission Act would provide for them to confirm.
He stated clearly that the federal government must respond to their choice, as it does with the Admission Act. Since President Biden was elected, the administration has confirmed that it supports a referendum in Puerto Rico, which is part of what the Admission Act provides for but the key is that expression of support for statehood from President Biden, that's exactly the position he should have and that's exactly the position he made clear he had.
Tanzina: Christina Ponsa-Kraus is a professor of law at Columbia University. Christina, thanks for joining us.
Christina: Thank you.
[music]
Tanzina: We've been talking about the political future of Puerto Rico in light of two competing bills being proposed in congress and what each would mean for the island's three million residents. As we've already heard, the divide in Washington mirrors what we see among Puerto Ricans both on and off the island. Some of you are calling for statehood.
JP: My name is JP, Jesus Perez. I'm from Bayamón, Puerto Rico. I support statehood like thousands and hundreds of thousands of Puerto Ricans. We in Puerto Rico value our citizenship, and we call it unión permanente or permanent union with the United States. Puerto Rico has been part of this fabric of this country for over 100 years. I want everybody to be able to vote and have full civil rights.
Speaker 1: When Puerto Rico engages in the democratic process in a free and fair election and votes for statehood, they are determining for themselves their preferred status option at the ballot box that [Spanish language] in the November election, was a vote of self-determination and a vote for statehood.
Tanzina: Others are opting for independence.
Alberto Medina: My name is Alberto Medina, and I'm from San Juan, Puerto Rico, but I now live in Denver. I support independence for Puerto Rico because it is a nation. A nation should govern themselves not be absorbed by the country that invaded them in an imperialist frenzy 120 years ago. Throughout most of our history, a majority of Puerto Ricans have wanted the colonial status quo. That didn't make it any more right or just. We have to go deeper than that and we have to look at the history.
Anyone who rejects Puerto Rican independence because the island is so poor and vulnerable that they think it wouldn't be able to stand on its own two feet should ask themselves how it got that way when the US has been in charge all this time. That history also includes suppression and persecution of the Puerto Rican independence movement. It can't be just about heeding the will of the people on one vote last year. We have to also care about how the will of the Puerto Rican people has been ignored and subverted by the United States for decades.
Tanzina: Many of you are instead reflecting on the process of figuring out the path forward, and the idea of self-determination that's being pushed for by Congresswoman Nydia Velázquez and others.
Speaker 2: My name is [unintelligible 00:34:21] I am Puerto Rican living in the Washington, D.C. area, and I am the co-founder of [Spanish language] We Puerto Ricans, we need self-determination now. We are colonial subjects in an occupied land and we deserve a real, a serious, a democratic, and transparent self-determination process which we haven't had before. That's why we all have to support these Puerto Rico self-determination act. We all have to unite together Puerto Ricans and Americans and end 123 years of colonialism once and for all.
Christian Vasquez: Hi, my name is Christian Vasquez. I'm originally from Bayamón, in Puerto Rico, currently residing in North Carolina. I am supportive of the self-determination process and the bill submitted by Congresswoman Velázquez. We need a process that is inclusive, that is just, that is democratic and that will represent all the different viewpoints and communities within and outside of the island.
Reggie: Hi, this is Reggie. I'm a Puerto Rican who currently resides on the island. I actually take issue with a premise that is either statehood or self-determination, they are not mutually exclusive. We are the people, our elected representatives organized that plebiscite. Then, 53% of voters voted for statehood. I think the question right now that people have to answer or the question that needs to be asked is, "Do you support what the people support? Do you support democracy?"
Tanzina: If you have something to add, record a voice memo and email it to takeawaycallers@gmail.com or go to thetakeaway.org and click on "contact us" to record your answer straight into your computer or phone? This is The Takeaway.
[music]
Back now on The Takeaway, I'm Tanzina Vega. Earlier this week, Avril Haines, the Director of National Intelligence released a declassified report on foreign interference threats in the 2020 election. While there's no evidence that any interference altered votes in the election, the report outlines efforts authorized by foreign leaders including Russian President Vladimir Putin, to influence public opinion about the presidential race between Joe Biden and Donald Trump. Much of the information contained in the report brings to mind a warning that former special counsel Robert Mueller delivered in May 2019, after concluding his own investigation into the 2016 election.
Robert Mueller: I will close by reiterating the central allegation of our indictments that there were multiple systematic efforts to interfere in our election. That allegation deserves the attention of every American.
Tanzina: Andrea Bernstein is a WNYC editor most recently with the Trump Inc Podcast and the author of AMERICAN OLIGARCHS: The Kushners, the Trumps, and the Marriage of Money and Power. Andrea, welcome back.
Andrea Bernstein: Hey, great to talk with you.
Tanzina: I also have Suzanne Spaulding Senior Adviser for Homeland Security at the International Security Program at the Center for Strategic and International Studies. Suzanne, I almost didn't get through that title but Welcome to the show.
Suzanne Spaulding: Thank you. It's great to be here.
Tanzina: Thank you. Andrea, we heard Robert Muller there saying, "Hey, you guys should pay attention. There's some interference in your election happening." Did this report confirm that?
Andrea: Oh, yes. It absolutely did. I think what's interesting about this report is that it tells a story about messages that the Russians consistently pushed from 2014, almost up until the present moment. It was a anti-Biden, pro-Trump, and also a message to undermine confidence in the American electoral system. Well, I don't think anybody would be shocked to learn this information. I think what is striking is the longevity and the consistency of the message and the way the Russians message dovetailed with what came from the White House from 2017 to the beginning of 2021.
Tanzina: Suzanne, you having been a senior adviser for homeland security, what stood out to you most about this report?
Suzanne: I agree with Andrea, I think it was very important that the intelligence community confirmed that, in fact, we did see Russia particularly, predominantly, and other countries as well, trying to influence the political discourse in this country and that it did not end on Election Day. That they continue to push the big lie that the election was rigged. This is consistent with the narratives that Russia has been pushing. We know this is not just about elections, but about undermining public trust in democracy, and about our institutions across the board. I've been looking at the ways in which Russia has been undermining public trust in our justice system, for example. I think it was really important both those messages.
Tanzina: It feels like folks aren't as excited about these type of news right now, Andrea, but are you feeling that as well? Like this is sort of, "Why are we even talking about this now?"
Andrea: Oh, no. I think because we see the Republican Party building both its policy and its political messaging on these messages of no confidence in the electoral system. I think it is still very much present and we need to analyze how to handle it going forward.
Tanzina: Andre, Russia, no surprise, showed up in this report. How did their meddling efforts, if you will differ in 2020 compared to what we saw in 2016?
Andrea: The intelligence community report pointed out that Russia, unlike in 2016, did not attempt to interfere with the election apparatus so that is one big difference, but in a lot of ways it was quite similar. I think what jumps out to me about this report is that the Russians were very, very focused on discrediting, now President Biden for a time. During this report, he was vice president, and then he was out of office and his family with respect to his son Hunter's business dealings in Ukraine.
I think that what it doesn't say in this report is obviously the entire first impeachment inquiry about then President Trump was over Rudy Giuliani, his personal attorney seeking to get this information from the Russians. This report, if you will, shows the other side, it shows how President Putin directed the interaction that Rudy Giuliani had with Russian intelligence assets who were promoting an anti-Biden narrative and while a lot of this was warned, former intelligence officials said during the election, there were some 50 of them that signed a letter that said these Biden family narrative smack of Russian propaganda, it was striking to see this written in a report that this was the Russian strategy.
The Russian strategy was to undermine confidence in the election and taint now President Joe Biden with these narratives and they got so close to President Trump. News officials and spread this narrative out. Now, having said that, I think one huge difference is that President Trump had many, many, many tens of millions of Twitter followers, and he was putting out these same messages to undermine confidence in the election and to taint the Biden family. It's hard to untangle how much Russian interference efforts may have affected those US beliefs and this report doesn't actually address that.
Tanzina: Suzanne, initially, there were many concerns about not just Russia, but also whether or not Iran and China would also have any significant meddling, if you will, in our election, the report mentions that Chinese officials chose not to attempt to interfere in the 2020 election. Why would they make that choice, Suzanne?
Suzanne: It's really very interesting and important to note what they say is that they assess that China values a stable relationship with the United States. They understood that they were going to have challenges, whether it was Trump or whether it was Biden, the challenges may have been different, but they were going to be challenged in either instance and that if they were caught trying to interfere in the election, that would further destabilize that relationship.
It's important to understand that notion of getting caught, that valuing a stable relationship, those are points of leverage that we can use and have used in the past to affect China's behavior. Russia on the other hand as clarified in this assessment assesses that its relationship has already so bad that it has little to lose and where China can go around the world trying to offer up its system of governments as a model that contrasts with Western democracy, Putin knows he has no model to hold up. His objective is simply to pull us down to portray us as corrupt and hypocritical and broken as the Russian system and that tells us what leverage we have with Russia as well.
Tanzina: Do we have any leverage? Suzanne, that would be the question.
Suzanne: I think that demonstrates the Putin understands that his public is not particularly happy with the governance or at least a segment of his population enough that he cares about. Certainly, he is sensitive to protests that have happened in Russia around corruption allegations. That's an important thing for us to know, Putin and Xi Jinping, both place at the top of their list of priorities, staying in power. Understanding what they think they need to stay in power is how we're going to be able to determine where we might have some leverage.
Tanzina: Suzanne, what about Iran? What role did they play if any in their own attempts at election interference here in 2020?
Suzanne: That was interesting as well although much of this we knew because the Iranian attempts were a little more clumsy and were found and taken at the time by the platforms, but interesting that Iran has taken a page from the Kremlin Playbook and did things like send intimidating emails posing as Proud Boys to potentially Democratic voters saying you better not vote for the Democrat. You better change your thinking. Rather clumsy but interesting that they wanted to get involved. Again, were trying to stir up trouble and in this instance anti-Trump.
Tanzina: Andrea, I'm just curious, how effective do you think these messaging campaigns were?
Andrea: I think we have to ask ourselves that question. I think one of the things that is interesting and that the report pointed out was that these Russian messages, the anti-US election apparatus messages, which coincided with Trump's were coming after the election. We know what happened on January 6th. Now, how much did Russian information contribute to that versus what Trump was already putting out? It's hard to say, but it's alarming that those two messages dovetailed so much the Russian governments and the message that Trump was putting out to his supporters in the days before the insurrection on January 6.
Tanzina: Suzanne was the intelligence community, this is a question I'm asking now that we have this report in hand, but how prepared was the intelligence community for these attempts ahead of the 2020 election? Because we know that under the Trump administration, there was tension between the Trump administration and many of the national security personnel who were supposed to be in charge of this. Tell us how that affected what we know now.
Suzanne: I think the good news is that what we see is the intelligence professionals continued to do their work and their mission. We were much better prepared for the information operations even in 2018. Certainly, by 2020 than we were in 2016. For example, in the report, we see that what appears the government intelligence community presumably, shared information on a more timely basis with the social media platforms that facilitated their ability to detect these disinformation campaigns and were appropriate to take them down.
That's a step forward, I think. When we see how the election officials were in conversations with my old shop at The Department of Homeland security, which is now called CISA the Cybersecurity and Infrastructure Security Agency for four years getting ready for this national election, that a big part of what they were training for and preparing for were efforts to undermine public confidence and legitimacy of the process and therefore the outcome.
That was a big part of what was behind the push for paper ballots so that there would be an audit trail and you could go back and reassure the public about what happened in the election. I think everyone was better prepared for those information operations this time around.
Tanzina: Andrea, I'm curious in terms of how much attention has been paid to the 2020 election before it actually happened and election security overall, and then this report emerges and it doesn't seem to make a big splash, were you surprised by that?
Andrea: No. The reason is because a lot of different parties have reasons for looking ahead, President Biden has made quite clear that he wants to focus on his agenda, not the Trump administration. The Republicans in Congress, some of whom may have pushed similar messages to the Russians undermining confidence in absentee voting and in the American election system also don't have an incentive and for those of us who were journalists who covered Trump, I'm certain that there is a feeling on the part of some people that Trump occupied everyone's brains for four years, it's time to move on and deal with other issues.
That said, I think that what is striking as Suzanne said is that the Biden administration is issuing this information. This information directly contradicts what some Trump officials who were putting out during the election. For example, President Trump and his allies were downplaying the role of the Russians while up playing, if you will, the role of Chinese, even though this report clearly says that China wasn't a major actor in the 2020 elections in the United States.
I think that there are certainly going to be clarification, there has been a clarification of the historical record. I think that there are still open questions about president Trump's attorney, Rudy Giuliani, who has been reported to still be under investigation for some of his activities in Ukraine. We will see where that turns up, but I am pleased to see that clear information about the historical record is now being put out and I hope that this continues to be the case.
Tanzina: One of the things that has stood out to me as we talk about misinformation and disinformation is essentially how successful some of these campaigns have been and we see the rise of conspiracy theories particularly thinking about things like QAnon, and how really they've influenced a lot of the thinking of average Americans. Suzanne, I'm wondering why is the general public in the United States today so susceptible to foreign disinformation campaigns? I know that part of the thinking was to tap into, at least on the part of Russia, was to tap into the racial tensions that have always existed in the United States. Is that partly why they were so successful?
Suzanne: That's a great question Tanzina and yes, systemic racism is certainly one of the vulnerabilities that the Kremlin seeks to exploit. As this assessment points out, they are exploiting divisions much broader than that in our society as well. I think they're also taking advantage of the isolation. I think it's exacerbated by COVID and our inability to interact on a personal basis.
It's much easier to demonize people when you're only interacting online. There's been a fear of change for quite some time now that they tap into and exploit. All of these things, I think are channeled into a sense that democracy has failed and cannot be fixed. That's the narrative ultimately, the metanarrative, if you will, that Russia is pushing. We've seen a decline in support for democracy. Again, based on weaknesses and vulnerabilities of our own making, but it's definitely exploited and exacerbated by these narratives that the system is rigged and that it is irrevocably rigged.
Tanzina: I wonder how much of this is also a lack of our own understanding in this country about how our government works and how democracy works and the civic education that we might be lacking and even maybe some critical thinking or media literacy, all of those things have to play into this. It's a big question and I'm only giving you a minute-and-a-half to respond.
Suzanne: It's exactly the right question then and I could not agree with you more. I think ultimately the way to counter these information operations is to build public resilience against the pernicious messaging that our system is irrevocably broken. Civics education is a way to remind people that the beauty of democracy is not that it's perfect, but that it can be changed, that it is susceptible to change unlike totalitarian and authoritarian regimes. We need to teach Americans how to hold our institutions accountable and how to be more effective agents of change.
Tanzina: Suzanne Spaulding is the senior advisor for Homeland security at the International Security Program at the Center for Strategic and International Studies. Andrea Bernstein is our WNYC editor and the author of American Oligarchs. Andrea, Suzanne, thanks so much for being with us today.
Andrea: Great speaking with you.
Suzanne: Thank you.
[music]
Tanzina: All right folks, that's our show. Thank you to the team who helps put this thing together every day, Jacklyn Martin is our line producer. Our producers were José Olivares, Ethan Oberman, Meg Dalton, Patricia Yacob, Lydia McMullen-Laird. Our senior producer is Amber Hall. Polly Irungu is our digital editor. Vince Fairchild is our broadcast engineer. Jay Cowit is our director and sound designer. David Gebel is our executive assistant and Lee Hill is our executive producer. Thanks so much for listening. I'm Tanzina Vega. This is The Takeaway.
[music]
Copyright © 2021 New York Public Radio. All rights reserved. Visit our website terms of use at www.wnyc.org for further information.
New York Public Radio transcripts are created on a rush deadline, often by contractors. This text may not be in its final form and may be updated or revised in the future. Accuracy and availability may vary. The authoritative record of New York Public Radio's programming is the audio record.