How Ruth Bader Ginsburg's Death will Affect the Battle for the White House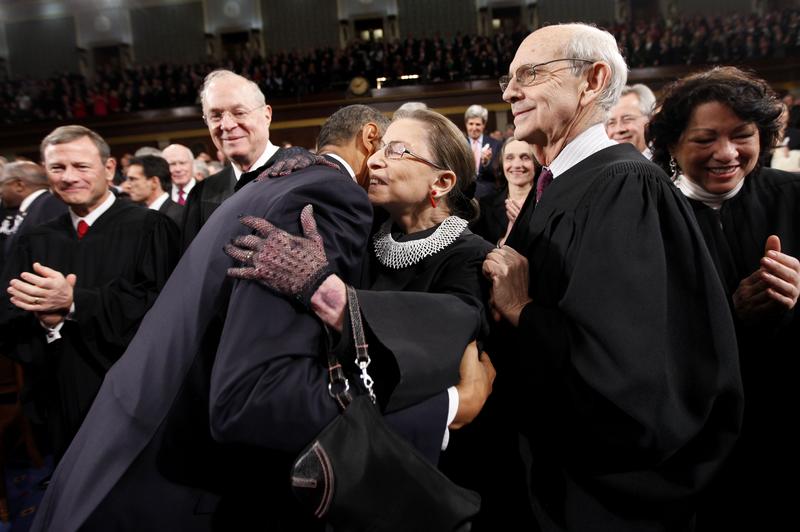 Transcript
[music]
Ruth Bader Ginsburg: I am grateful beyond measure for the confidence you have placed in me and I will strive with all that I have to live up to your expectations in making this appointment.
[music]
I am an optimistic long run. There was a great man who once said that the true symbol of the United States is not the bald eagle, it is the pendulum, and when the pendulum swings too far in one direction, it will go back. I, Ruth Bader Ginsburg, to solemnly swear that I will support and defend the constitution of the United States against all enemies. If we just look at the numbers, when I became a Supreme Court justice, there were six women in the Senate, now there are 20. That I take this obligation freely without any reservation or purpose of evasion. I was the second woman on the Supreme Court, now I have Justice Sonia Sotomayor, Justice Elena Kagan.
People ask me, "When do you think there will be enough?" I say, "When they're nine." This is the most wonderful and the most difficult job for a lawyer. I have been surprised and pleased by the extent of collegiality that exists on that court. I hadn't appreciated until I got there. It is my great privilege to welcome you to citizenship in the democracy that is the USA. You're number 31 and came here from 26 countries. Today, you join more than 20 million current citizens born in other lands who chose, as you have, to make the United States of America their home.
We are a nation made strong by people like you. Yes, we are not experiencing the best of times, but there's reason to hope that we will see a better day.
Amy Walter: It's politics with Amy Walter on The Takeaway. Ruth Bader Ginsburg served on the United States Supreme Court from June 1993 to September 2020. Members of the Supreme Court are usually shrouded in mystery with cameras banned from the court, few can identify their faces, justices don't show up on cable TV panels, but in recent years, Justice Ginsburg became a full-on pop culture icon. A 2018 documentary in a Hollywood movie that same year highlighted her pioneering work for gender equity. She's even been the subject of several children's books.
Speaker: Before she Rose to the Supreme Court, Justice Ruth Bader Ginsburg was--
Kid: A baby.
Amy: Her battle with cancer had been well-documented. Even with multiple hospitalizations over the last year, she persisted, seemingly, tirelessly. Her death comes at a time of deep partisanship in the United States and, of course, less than two months out from the election. On Saturday morning, President Trump tweeted, "We were put in this position of power and importance to make decisions for the people who so proudly elected us, the most important of which has long been considered to be the selection of the United States Supreme Court justices.
We have this obligation without delay." To talk about this and more, I'm joined by Professor Barbara Perry, presidential studies director at the University of Virginia's Miller Center, and Sahil Kapur, national political reporter for NBC News. Sahil, Barbara welcome.
Barbara Perry: Sure. Hi, Amy.
Sahil Kapur: Good to be with you.
Amy: Professor Perry, I want to start with you because, not only are you a scholar of the Supreme Court but you have spent some time there as a fellow, can you tell us a couple of things? One, what it was like for Ruth Bader Ginsburg, how she fit into that institution, and if you have any personal stories about her that you'd like to share.
Barbara: Sure, well, it was my honor to be a Supreme Court fellow from 1994-'95 for that term right in the middle of the 1990s and not too long after Justice Ginsburg arrived at the court. First of all, for her to arrive there as only the second woman after Justice O'Connor, famously the first woman. Justice O'Connor had been there by herself as the only woman since 1981. I think that there was both fitting into the institution. First of all, fitting in with Justice O'Connor, two different parties, one Republican, one Democrat. Justice O'Connor was a politician. She had served in the Senate of Arizona, had been the first majority leader.
The first woman majority leader in the United States of a State Senate. They had two different personalities. Women's rights, yes, but one more conservative, one more liberal. One very outgoing as you would expect a politician to be. They used to say about Justice O'Connor, we would take teachers there to meet with her and the people at the court would say, "Now you just stand where you want to stand in this big, beautiful, ornate room and she will come up to you one by one. She will circulate throughout the room, she will use your name in a sentence to make you feel at home."
When we would have the same group for Justice Ginsburg who was famously introverted, they would say, "Now she will stand in the middle of the room and you come up to her." So very two different personalities in terms of their personas, but on the bench, both of them just went for it in terms of the oral argument. They were always prepared, they were always ready with their questions and even would sometimes talk over each other. Justice Ginsburg said, "No one would say anything if two men were talking over each other, but here are two women."
The other was that, this always used to tickle me, that particularly, males arguing before the court, if a woman would speak and there were only two of them and there were only ever been two of them, but they would sometimes misspeak and call one the other's name, which I found really bizarre, but again, they seemed to get a laugh out of it. As far as a personal story, just let me say that the lovely Justice Ginsburg for all her introversion in 2005 in April that year, I gave a speech at the court, a lecture on Supreme Court appointments. Actually, no that one was on religion. It was on religion in the court and it was on a Monday evening.
I was just so honored Justice Ginsburg was selected by the Supreme Court historical society to introduce me, and I tried to make conversation, but it was not easy as we stood off in the green room. Later that week, I received a lovely typed letter from her saying how much she enjoyed my lecture, but it also happened to be the day that I had discovered my mother had passed away from cancer. I was devastated, I was so close to my mother.
A few days after that, I received a handwritten note from Justice Ginsburg and it says the following, "Dear, Barbara, even when one is all grown up, the death of a parent is a loss like no other, but you have a store of memories to hold dear, may you continue to thrive in your work and life just as your mother would have willed. With sympathy, RBG."
Amy: Oh, I'm tearing up right now. One more thing, if you can help us understand what happens, we have currently then, a four-four court, and the court is still in session. There are big cases still to be heard, so how does this work?
Barbara: The procedure is that they will carry on with their oral arguments. I had just seen that when they start, as they always do now, the first Monday in October that they were going, because of the pandemic, to continue doing virtual oral arguments. So they will not be gathered at the beautiful marble palace on Capitol Hill on the bench, but virtually, at least for the first several weeks of oral argument, they will hear it.
Should they have someone join them at whatever time before those initial cases are decided, that person can listen to the oral arguments and even participate in the vote, but let us say that we have a time, as we did after Justice Scalia died, where that seat was held open for over 400 days over one year. If you do have a vote and it's four to four, if it splits four to four, then whatever the lower court ruling is below, so if it's coming from a state court, if it's a state Supreme Court, or if it's a Court of Appeals in the US system, then that decision will stand, and it will not, however, create any kind of national precedent because it will have only come from a state or a circuit of the national system.
Amy: Sahil, I want to move to you and to the politics of this. Unfortunately, we are spending as much time talking about the politics as we are the life of Justice Ginsburg in part because we are 45 days away from an election. We saw yesterday that Senator McConnell put out a statement saying there will be a vote on the Senate floor, so can you help us understand, is this going to happen before the election?
Sahil: Yes, it certainly seems strange to talk about the politics when the country's honoring such a monumental figure, but this has cataclysmic implications for, not only the presidential election but also Congress and the Senate and what comes next, both from a confirmation standpoint and a politics standpoint of who will win control of the Senate. Now, Senator McConnell has said, yes, he intends to give a full vote on the floor of the Senate to President Trump's nominee. Trump has not gotten close to making a nominee yet. The White House said this morning that they're still honoring her and they haven't gotten to that place yet.
We are 45 days away from an election and typically the confirmation time in the Senate for justices has been 60 or more days for all eight sitting justices on the court right now have taken more than 60 days to be confirmed in the Senate. Now, there is also a lame duck session, of course, after the election, but this raises massively thorny political implications of does the Senate vote on a Supreme Court nominee and the lame duck session? Do they do that if President Trump has just lost the election? Do they do that if Republicans have just lost the Senate? What will the response be? Will Democrats retaliate? Some of them are already talking about that. Buckle up, everyone, this is about to get very, very ugly.
Amy: If indeed there is a vote before the election, obviously, a lot of questions are going to be thrown at senators between now and then, are you hearing anything, Sahil, from many of those senators who are up for reelection this year, including famously Susan Collins swing vote, as well as folks in Colorado, North Carolina, et cetera?
Sahil: I should be clear about this. Since the news of Justice Ginsburg death broke last night, I've only seen one senator up for reelection weigh in on this explicitly, and that's Martha McSally in Arizona, faces a very challenging race there and she has said the Senate should vote on a Supreme Court nominee this year. Now, as for the other, Susan Collins has not said anything about this since the news broke, but she did indicate to the New York Times some months ago that if there were to be a Supreme Court vacancy around this stage of the year, that it would be too soon, so she's certainly one to watch. Lisa Murkowski has expressed discomfort with this, the Republican from Alaska.
She's another one to watch. The math of the Senate is simple; Republicans have 53 votes, let's presume for a minute they won't get Democratic support, which I think is a fair assumption at this moment given the precedent, they can afford to lose three votes from within their ranks and still confirm President Trump's nominee before January.
Amy: One other person I want to focus on, Sahil, before we talk about other stuff is Senator Lindsey Graham, who, of course, is the chairman of the Senate Judiciary Committee. Normally, South Carolina's considered a pretty safe Republican seat. He's up for reelection this year, but he's now in a very competitive race. A poll came out last week showing the race actually tied. What does he do in all of this?
Sahil: Lindsey Graham certainly has an unexpectedly competitive race in South Carolina. Not only one poll but several polls that have come out over the last two months have showed the race essentially in a dead heat. Now, he is the chairman of the judiciary committee, which has jurisdiction over the Supreme Court. In other words, he would hold the hearing for any nominee of President Trump. He has said very explicitly in the past multiple times over the last four years or so that if we were in this stage, the primaries were underway, the presidential election were well underway, and there were to be a vacancy on the Supreme Court that he would not support holding a vote.
This was recalled the Merrick Garland standard that Republicans impose for President Obama's nominee in the year 2016 when Justice Scalia died in February of that year. They held the seat open for the remainder of that. This is much closer to the election. Now, Lindsey Graham is going to be in a position where he is facing enormous pressure, not only from Mitch McConnell, the Senate majority leader to move forward with this but will be facing pressure from conservatives around the country and at home to move forward with this.
It's going to be a tough decision and whatever he does, if he does decide to move forward, it's certain to ignite a backlash in his state where he's already in a competitive race against the Democrat, Jaime Harrison.
Amy: Professor Perry, I want you to weigh in on the role you think that this fight could have for the election and for Senate majority leader, Mitch McConnell, who has, over the course of these last four years, made the fact that the judiciary has been stocked now with many of the Trump nominees. He takes that as a point of pride that the Senate has been able to confirm a record number of appointees. What happens? What impact do you think all of this has on his legacy, maybe his reelection, and also the campaign that's just right around the corner?
Barbara: It's fascinating, isn't it, Amy, that we really have all three branches up in the air, all three branches of the federal government at issue and at stake here, but the one that Senator McConnell cares most about is the Senate. What he cares most about in his professional life is to remain the majority leader of the Senate, so he goes big we know. He's a gambler, but he's a careful gambler and he is going to be following all of these issues that Sahil has just now put out for us in such a way as to, in his mind, maximize keeping the Senate, second, getting another conservative on the Supreme Court, and third, keeping Trump in office.
Not only for his wife who was in the cabinet, Elaine Chao, but also to continue to put conservatives, including acolytes of Senator McConnell on the lower federal judicial positions.
Amy: Is there any precedent for something like this happening? [crosstalk]
Barbara: There is, Amy, but you have to go back always to find it. When Justice Scalia passed in 2016, I wrote a column for the Monkey Cage in Washington Post that had the title "One-third of Presidents have Appointed Justices in Election Years." You have to go all the way back to the 1890s to find a president who was a literal lame duck, that is, one who had lost. Benjamin Harrison had lost, but he actually appointed someone to the Supreme Court, but he appointed someone from the opposite party interestingly enough. Remember, in those days, presidents between the election and the inauguration was a lot longer period.
They were not inaugurated until March, so if someone had left the court, you still had this longer period, this longer runway. Even back as recently as 1972, Nixon was appointing during an election, but it's rare that it's been this close to the election itself. I was making the case at the time that this was the history. I would make the case now not to be inconsistent. I would just say that people need to be consistent about what they're saying, "Should there be these?" It's has happened in history, but we know McConnell had a different approach after Scalia died, so I'm just asking for consistency.
The other point is, remember that Senator McConnell was saying in 2016 that the reason he was holding off was that the people should decide. That is not what the Founding Fathers wanted. They didn't even want the people to decide the presidency, that's why we have an electoral college. They sure didn't want the people directly choosing members of the Supreme Court.
Amy: You're asking this crazy thing for political people to be consistent even when it doesn't benefit them.
Barbara: I know, shocking.
Amy: When it does not benefit them, I don't know.
Barbara: I know, patriotism, put the country first.
Amy: Sahil, can you just walk us through the lame duck situation? Because I think that seems to be getting so much attention right now. You brought this up earlier, but the idea that, let's say, we get to November 3rd, election's over, let's even say that Democrats, hypothetically, win control of the Senate, Joe Biden wins the presidency, but there is that window of time between November and when the new Congress comes in that's pretty a significant amount of time. What are the realities of how that could work to have the hearings and then a vote?
Sahil: The simple procedural reality is that the Senate has that time to do what it wants. The members who are currently elected will serve out through the end of this year. It will be early in January of 2021 when they cycle out and the newly elected members come in. Technically, there's nothing prohibiting them from holding a vote of anything they want, including a Supreme Court nomination during that lame duck session between November 3rd and January of 2021.
Now, the scenario you laid out, these would be extremely choppy waters for a Senate majority leader who just lost control of the chamber, hypothetically, to hold a vote on a lifetime of appointment to the Supreme Court of a nomination of a president who just lost the presidency. That is certain to ignite a backlash from Democrats. The only thing they can really do, what some of them are talking about, Democrats will have no power in the lame duck to prevent this nomination. The only thing they can do is if they do gain full power is to change the shape of the Supreme Court is to pass a legislation.
Certainly, will require abolishing the filibuster in the Senate, but they can pass legislation to expand the size of the court, essentially pack the court, if you will, and add justices. There are some Democrats who are already talking about doing this before Justice Ginsburg died, they were angry about Merrick Garland and the way Republicans handled that situation, they said it's a stolen seat. I'm not going to say this is certain to make that happen, but this is certain to raise the pressure on Democrats to do something like that.
Amy: Sahil, also to have maybe the debate over the filibuster, correct? Getting rid of the filibuster, for example, would this certain be almost certain to push Democrats to say, "We now will take our majority and do what we want with it"?
Sahil: That debate over the filibuster was already inevitable. There's going to be a massive showdown over whether the 60 vote rule should stay of Democrats gainful control and try to pass things like a higher minimum wage and restore the voting rights act, which, of course, has a Supreme Court implication as well, but that was always going to be an issue in the next presidency if Democrats gain control. I think the prospect of this Supreme Court vacancy being filled will elevate that even more and raise the pressure on someone like Senator Schumer, who would, if Democrats win, become the majority leader to abolish the 60 vote threshold.
Amy: Sahil, Barbara, thank you both so much for joining me and helping us to go through all of this. Really appreciate it.
Sahil: Good to be with you.
Barbara: Thank you, Amy.
[music]
Amy: It's hard to believe that in a year of so much loss, we are mourning yet another groundbreaking leader. It feels inappropriate to be spending more time talking about the politics of her replacement than the life of this pioneering woman, but we also know that RBG was well aware that her death was going to ignite a political firestorm. According to reporting from NPR, in the days before her death, she dictated a message to her granddaughter saying, "My most fervent wish is that I will not be replaced until a new president is installed."
We don't know that she'll get her wish, but we do know that with less than two months until election day and many voters already casting early ballots, this is going to be a consequential issue in an already polarizing election. For years, including 2016, conventional wisdom dictated that it was conservative voters who cared more about the highest court than liberals, but it's hard to see that hold true this year. The prospect of conservative hold on the Supreme Court is no longer a theory that Democrats have to convince their voters to care about.
Of course, it's also true that the prospect of a conservative court could help motivate GOP voters who are currently ambivalent about the current president, but it's also just the latest, once in a generation event that has come to define 2020. The president was impeached, a pandemic has killed more than 190,000 Americans, the economy collapsed under the weight of pandemic related shutdowns, thousands of people have taken to the streets to protest racial inequality and police violence, many tell-all books about the president have been released, and yet, opinions about the president and this presidential contest have been remarkably stable.
Back in early January, President Trump's job approval rating was right around 42%. Today, it's at 43%. Joe Biden has held a consistent four to nine-point lead over Trump since the beginning of the year. Look, there's no doubt that the fight over the court is going to be a big one and that it will ratchet up already sky high intensity surrounding this election, but will it upend the race completely? I doubt it. That's all for us today. Let me tell you a little bit about our team who makes this show every week. Debbie Daughtry is our board operator and she's in studio with our editor and director, Jay Cowit.
Polly Irungu is our digital editor, David Gable is our executive assistant, Lee Hill is our executive producer. Our amazing producers are Amber Hall and Patricia Yakob. Get subscribed to the podcast and leave us a rating while you're there and of course, call us anytime 8778-my take, or send us a tweet on @AmyWalter. The show is @TheTakeaway. Thanks so much for being with us. This is politics with Amy Walter on The Takeaway. See you next week.
[music]
Copyright © 2020 New York Public Radio. All rights reserved. Visit our website terms of use at www.wnyc.org for further information.

New York Public Radio transcripts are created on a rush deadline, often by contractors. This text may not be in its final form and may be updated or revised in the future. Accuracy and availability may vary. The authoritative record of New York Public Radio's programming is the audio record.