Raising (Votes in) Arizona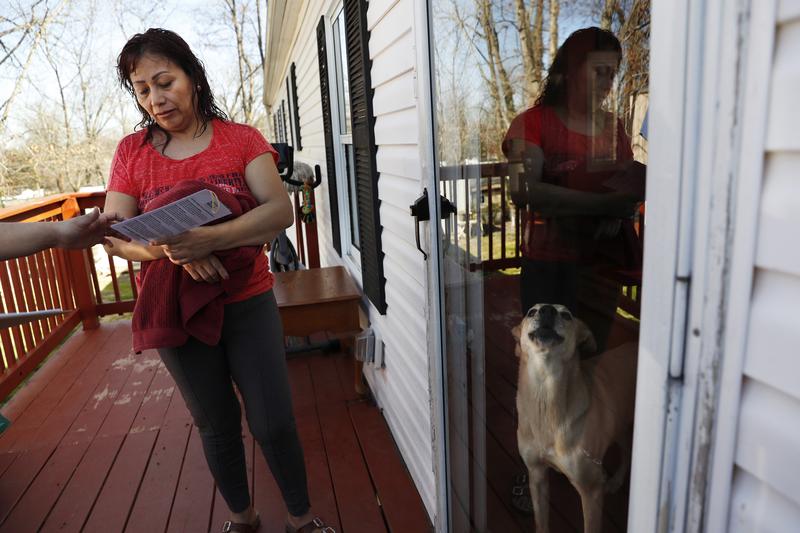 Transcript
[music]
Amy Walter: It's politics with Amy Walter on the Takeaway. Last week's show started like this. The bedrock of our democracy is free and fair elections. Last week, Amy had a pretty good point and ended up being pretty timely, pretty pressured. On Saturday, Attorney General, William Barr, said this.
William Barr: Now stop and think about what universal mail-out ballots do. They eliminate every single one of those protections. There's no more secret vote. Your name is associated with a particular ballot. The government and the people involved can find out and know how you voted and it opens up the door to coercion.
Amy: That of course is completely false. On Thursday, President Donald Trump tweeted, "The November 3rd election result may never be accurately determined, which is what some want. Stop ballot madness." Here we are again. It's why it's more important than ever for those of us in the news media to give voters the facts about casting a ballot to push back on this disinformation and to hold to account the local officials in charge of making sure that our votes are counting.
In that vein, earlier this week, I sat down with Arizona Secretary of State Katie Hobbs. Our conversation is part of a special election series we're calling, "Every Vote Counts." I started out by asking Secretary Hobbs what role she plays in election administration.
Katie Hobbs: I'm the chief election officer for the state of Arizona. We oversee elections. We ensure that federal voting laws are complied with across the state. We also oversee election security. We administer the statewide voter registration database. We conduct logic and accuracy testing on voting equipment. We are also the filing office for federal state elections. We certify the official results, which is important to us.
Amy: In other words, secretary Hobbs is the authority on voting in the state. Since the early 1990s, voters in Arizona have been able to request a no-excuse absentee or early ballot. The state even has a permanent early voting list. Voters who opt into that are automatically mailed ballots before each election. The numbers are on the rise. According to the secretary of state's office, 79% of Arizona voters cast an early ballot in 2018.
Now, as we know, COVID-19 has altered the way our voting process works. Many States are expecting vote by mail participation to reach new records, and are hard at work making sure they can meet that demand. With such a robust early vote by mail program already being utilized in Arizona, I asked Secretary Hobbs what else is happening in the state to make voting safe and secure?
Katie: We have really ramped up focusing on those voters that are already signed up for our permanent early voting list, getting on there, providing as much information as we can for how they do that. We worked with the counties to get a mailer to every non-permanent early voter on how they can apply for that list and be on that list or to receive a one-time early ballot. Then we're also focused on expanding in-person early voting options, particularly in areas where voting by mail is more challenging.
Expanding the early voting locations, as well as the secure ballot drop boxes where voters can drop their ballots if they don't have access to the mail or if they're returning it late and so the mail isn't an option. Then also in terms of in-person voting focused on all of the health precautions that need to be in place, supporting counties in recruiting enough poll workers, making sure that they have the masks and gloves and things like that that are needed for poll workers and voters as well as helping to secure larger facilities so that voting can be more spaced out.
Amy: You pointed out that almost 80% of voters voted by mail in the last election. I read somewhere that about 75% of registered voters in the state are ready permanent absentee voters, meaning they automatically get a ballot in the mail. It's already likely to be a-- when you think about voting, many States have 75% of their voters coming into polls. Your expectation will be what? That because this is going to be likely a very high turnout, do you expect perhaps more people showing up at the polls this year because they have only now just registered?
Katie: We do expect increased turnout. We saw record turnout in our presidential preference election in March, record turnout in the primary that we just had on August, but we also saw a great increase in early voters in that election, the primary saw 88% of voters voting early. When voters register in Arizona, there is a box right there on their registration form or right there on the website if they're registering online to sign up for that permanent early voting list, and so voters are getting that message really early on in the process.
Amy: Let's talk a little bit about what some folks are saying about vote by mail. The attorney general was in the state a little while ago, Will Barr, and he said that the vote by mail is a problem because it eliminates protections of secret ballot. He said, "Your name is associated with a particular ballot. The government and people involved can find how you voted and it opens the door--"
William: The door to coercion.
Amy: Can you respond to that?
Katie: That is just absolutely not true. I think just the Attorney General's comments in general, either indicate that he doesn't understand how the system works or he's deliberately misleading the American people about how the system works. The first thing that happens when the County recorders receive your ballot back in the mail is they have that affidavit on the envelope and they have to verify your signature, that's how they verify the voter's identity.
As soon as that happens, that ballot is separated from that envelope and it can never be tied back to that voter again. Those ballots go into the process ready to be tabulated and there's no way for any election official to go back into that pile of ballots and find somebody's specific ballot.
Amy: When you hear the Attorney General saying this, of course, the President has also argued that vote by mail is full of potential fraud and that the election could be stolen from him based on the results of these ballots that are sent in absentee. Tell me what you think this says to voters and what it says about the process and do you think that it's potentially turning off voters from participating in voting?
Katie: The fact is that that is just disinformation about the process. Disinformation is already a challenge that election officials across the country have to face. This is another layer of that, but I think in Arizona we've been successful. We saw record turnout in our primary, which was in August. After a lot of this conversation has been already happening nationally, we saw record turnout and record early vote by mail turnout. I think we're successfully overcoming that message. Voters in Arizona have put their confidence in vote by mail for a long time and they're continuing to do so.
Amy: You've had vote by mail there for more than 20 years, right?
Katie: Yes. No-excuse absentee ballot was authorized in 1996.
Amy: Let's talk about counting those ballots in Arizona. In the last election, some of us remember quite well waiting for, it felt like a long time. It was something close to two weeks for the final outcome of your race and for the Senate race for all the ballots to be counted. It was funny when I was researching this, I also went back and was reading stories from as far back as 2012, where they were still counting votes two weeks after Election Day. What is your expectation for what the tallying will look like on Election Day?
Katie: I first want to say it's important for folks to note that the election isn't over when the polls close at 7:00 PM on election day, that there's a lot that goes on after that including tabulating the ballot. Then the first other thing I will say is, we don't know how many people are going to drop off early ballots on election day. One of the things that contributes to longer tabulation times is processing those early ballots because those still have to be signature verified. In Arizona, we can start doing that immediately.
As soon as early voting starts and early ballots start coming back in, the counties are already processing those. We can start tabulating 14 days before the election. That is not the case in a lot of other states that are starting early voting to larger degrees this year. I think that Arizona won't be the last one counting. I think what we want to assure voters is everyone who has cast a valid ballot is going to have that ballot counted.
We're focused on getting it right and that doesn't always mean fast. Election results are never final on election night. There's always votes left to be tabulated. I think that it's important to normalize that and not think that there's anything going on wrong if election results are not final on election night, that there's still a lot of ballots to be processed.
Amy: That's a question I've been asking a lot of election officials is the transparency in the process. As a voter there, how confident should I feel about putting something in a dropbox, knowing that it's definitely getting to you? How will I know that you, not you personally, but that the election office has gotten it, has tabulated that vote and I should feel confident that it's sitting there, and it's secure?
Katie: Every early voter, every voter who has a mail-in ballot is able to track their ballot when it gets back to the County, and so if you drop your ballot in a dropbox on a Monday morning, by Monday afternoon, that ballot should be in the hands of the County and you should be able to check and verify at least by the next day that they have it.
In Maricopa County, which is obviously one of the largest voting jurisdictions in the country, you can actually opt-in to a text message option where it will actually send you a text message when your ballot's received and so it takes all of the checking off of you and you'll automatically get that notification.
It's a very secure process and there's a lot of regulations both in statute and in the election procedures manual of how those early ballots are secured and transported from the ballot dropbox back to the headquarters to ensure security around all of that.
Amy: If you vote early like if you're voting in early October, your ballot is already being tabulated, but if it's the day of the election and you go in and you drop off your ballot in a dropbox, that's okay, you can do that, but it's going to take a lot longer then to process all of those last-minute ballots.
Katie: It doesn't necessarily take longer. There are a lot of folks working on that from election day until the end of the period of time where counties have to certify their results and you will get immediate note. It just might add to the time that it takes to tabulate all of the final votes.
Amy: In looking back at your race, for example, this is what I'm wondering about. You're concerned about, as you said, this is normal, it takes a while to count votes, you want to get it right, but in many cases, news organizations want to call these races and say, "So and so has won the Senate race, this candidate has won at this level," and that the Associated Press called your race for the Republican and it wasn't until a couple of weeks later that it was clear that, well, that person didn't win and you did.
How worried are you that there's going to be some jumping off the gun by news organizations? Then that sets the tone, right? People are going to say, "Well, wait a minute, if AP said that this person won, how can you come back and say that's not true?"
Katie: Yes, that is a concern and when we're talking to reporters, we're asking them to refrain from that urgent desire to call the race because it does help contribute to that perception that things maybe are not above board, but I also can assure folks that they are in the ballot, tabulation process is extremely transparent. In Arizona, every tabulation room across the state is on video and so anyone can go through a County elections website and watch that tabulation as it's happening, so we provide a lot of transparency.
I think it's also really important for voters to know that whether they turned in their ballot the day after they got it or they dropped it off on election day because they wanted to be a part of election day and that's like meaningful to them, that vote is counted.
Amy: Let's talk a little bit about some of the legal challenges that are still working their way through the courts. It seems like there are a number of issues. I don't want to get too much in the weeds for people, but it seems like there's concerns that fall into different categories. One is for the Navajo Nation, and this is obviously folks who, many of them, these are rural areas.
Their argument is they should be able to have their ballots counted after election day because it takes so long for their ballots in a rural area to get from where they are to the main sorting place where they count the ballots. Then there are also questions too about the legality of somebody going-- so the other bucket is somebody going and picking up absentee ballots from different voters, and then combining them and turning them all in at one time. Can you talk to us about those things?
Katie: The first thing you mentioned is the ballot receipt deadline and there is a current lawsuit that challenges this deadline which currently is 7:00 PM on election day. I think it's important to note that our office recently settled a very similar lawsuit dealing with the exact same issue and in that settlement put a lot of things into place that would help address some of the inequities. Increasing the number of early ballot drop boxes in these rural areas, remote areas, increasing the outreach we're doing to voters so that they understand those options, and increasing other early voting options that they have.
Our focus really is on making sure that we are minimizing the amount of confusion for voters and I think changing the deadline at this point in the game where we've already been doing outreach for this election, emphasizing that deadline would be problematic, to say the least, but that there was a hearing in that case this morning and so we're waiting to find out the outcome of that.
The other lawsuit is pretty old. It's from 2016 and it's currently pending the Supreme Court, and so this is challenging the practice of so-called ballot harvesting. I hate using that word, it sounds like you're doing something nefarious, like harvesting organs, but really it's helping your neighbors vote. Again, these areas were voting by mail and there are lots of them in the state, is very, very challenging. This law serves to disenfranchise large communities of voters. It is pending at the Supreme Court and I don't anticipate any resolution on that prior to this election, as I mentioned, it's a pretty old lawsuit.
Amy: What's the rule now about taking mail and ballot from people who aren't directly related to you and going and dropping them off at a polling place or a Dropbox.
Katie: That is currently a felony in Arizona, the 9th Circuit overturns that, but there's a stay on that ruling and so that current law, the felony ballot collection is in effect, and we should anticipate that it will be in effect for this election.
Amy: Do you expect to see folks, especially campaign folks and attorneys trying to raise this issue during the campaign? Do you expect to see that becoming a significant issue?
Katie: The issue of ballot collection?
Amy: Yes, that there'll be groups that are going to go and look for instances of this or if they find instances of this to alert-- I assume they have to alert you, is that how it works?
Katie: We normally encourage them to send those complaints to their County election officials at their County attorneys, but certainly, they can also be filed with our office as well. We haven't seen- and that's one of the things about this law. We hadn't seen a lot of issues around this practice prior to the lobbying implemented and since the law has been implemented, there hasn't been really any reports or instances of people doing this.
Amy: Of organized efforts to bring in a large number of ballots and drop them off at one time. As we end this today, I'm just curious for your thoughts, we talked about the disinformation that's being spread about voting and we know a lot of people in your position are doing all they can to put accurate information out there. Some are doing it through Twitter or through YouTube. Can you talk about the ways in which your office is combating this disinformation and the kind of help that you still need to make sure that voters know what is real and what isn't as they go to vote?
Katie: I think one of the most critical tools that we have is relationships directly with the various social media platforms, which really is the channel where a lot of this misinformation is spread so rapidly and so with those channels, we're able to report things and have it acted on more quickly than just if a general public member was reporting it. Also may be taken with a little more weight coming from our office versus somebody just in the public, because I'm sure that they have to deal with misreports and misinformation all the time. That's a really important tool.
Then we are also very active on social media and we are also working with-- Our office, if you notice our social media platforms are verified and we're working with all of the different County and local election offices to get that same verification because one of the things- the campaign that we're participating in with the National Association of Secretaries of State is trusted info 2020, and so those verified social media accounts or official websites are really the place we're trying to drive voters to to get the accurate information.
If they see something that they're not sure they can check it with those trusted sources of information. Those are all really important tools that we have. As I had mentioned earlier, I think we are being effective. We saw record turnout in our primary election both early and overall and so I think that we're doing something right.
Amy: Secretary Hobbs, thank you so much for coming on and joining us. Good luck in this next sprint.
Katie: Thank you. Thanks so much for having me.
[music]
Amy: Arizona has been a reliably Republican state at the presidential level and every election since 1952, except when Bill Clinton won it in 1996.
Man 1: President Clinton is going to win the eight electoral votes in Arizona. Arizona has not voted for a Democrat since 1948. Arizona, of course, one of the fastest-growing states in the nation all with the blessings and curses that go with it.
Amy: A rapidly growing population has chipped away at the Republican advantage. In 2016, Hillary Clinton improved slightly on President Obama's 2012 showing and in 2018 Democrat, Kyrsten Sinema, became the first Democrat in 30 years to win a US Senate seat in Arizona. Polling in the state has showed Biden opening up a small, but steady lead over President Trump. To help us understand how this one solidly red state has morphed into a purple one. I spoke to Lisa Sanchez, a professor in the school of government and public policy at the University of Arizona, and Steve Goldstein, a host at KJZZ in Phoenix.
Steve Goldstein: For many years it was Pima County, which encompasses Tucson and some other areas as well that was reliably left. In fact, a lot of the people who won statewide office in Arizona, who were Democrats came from Southern Arizona because of that support like Senator Dennis DeConcini, for example. It was often the Democrats from Maricopa County that didn't do so well.
What we've seen as the demographic shifts, certainly we've seen more activism when it comes to Latino voters. We've certainly seen that. We've also seen that people talked about Californians who have decided that maybe it's too expensive in California or for whatever reason, maybe it's natural disaster, whatever it may be. They have come to Arizona as well and have moderated our politics.
We saw that-- I reached out with Secretary Hobbs about 2018, and one of the races we were waiting for was the Sinema/McSally race and that was one where Kyrsten Sinema did incredibly well in Maricopa County, which you never would have seen before from a Democratic US Senator candidate. Again, a demographic shift and also just we're seeing people who are even some moderate Republicans, a lot of independents are thinking K-12 education, that funding. We're seeing a moderation overall, I think.
Amy: Yes. Lisa, talk to us about that because I don't know if a lot of people appreciate that Maricopa County makes up- more than 60% of the vote is coming from Phoenix and its surrounding suburbs. I think for many of us, for a long time, the image was of deserts and retirees. Now, these are booming population centers and especially they are behaving like so many other suburban areas, especially in the era of Trump where they've moved from maybe being traditionally a little more conservative into the Democratic camp.
Lisa Sanchez: Definitely. Rightly you say that Maricopa County makes up a sizeable portion of the votes in Arizona, add that to Pima County and you basically have most of the votes. Most of the polling data I see breaks it up by, "What's Maricopa County doing, what's Pima County doing, and then rural everything else?" Yes. Everything else is coupled together.
Definitely we've seen unprecedented population growth in Maricopa County. At one point, I think it was 2017-2018 it was the fastest-growing county in the entire nation. When you see this type of change, really what you're looking for is, "Okay, where are the changes, who's coming in, and what do they believe?" One of the things that has occurred, as Steve pointed out rightly is, you're getting some people from California, you're getting some more liberal urbanites moving to Maricopa County.
I think where I would focus a lot of my attention as well is on the Latino population. It has been sizable for many years and growing and now it's becoming more active. We see, 31-32% of Arizona is Latino or Hispanic. What the big question is, who are they going to vote for? Some recent polling data has really suggested that they are very much supporting Biden in this next election, and I think that's a bellwether for other candidates who are down-ballot from the presidential race.
Amy: Well, Lisa, there's also a lot of talk of the Latino vote, sorry, as the sleeping giant, that they make up a significant population, but punch below their weight. I don't know if that's the right saying, but they don't turn out at the level that anglo voters, African-American voters are turning out and that if they turned out at their population-level, at their voting-age population level, that would be a total game-changer. Are you seeing that there's some movement on that front in this election?
Lisa: Absolutely. Actually in the last several election cycles. The midterms and then the 2016 election, we've seen steady increases in voter turnout overall in the state of Arizona, but we've also seen that in regards to Latino Hispanics in this area. I think just about every decade refers to, since probably since about the 1980s has referred to Latinos as the sleeping giant.
This is nothing new in terms of politics and referring to them in such a manner. A lot of Latinos have suggested in polling data from Latino decisions that they're really enthusiastic to vote this time. Despite all these concerns with the pandemic, Arizona Latinos want to vote, they want to register an opinion and that opinion, according to polling is decidedly Democratic this time.
Amy: Steve, let's talk about that, because the President was down this week in Phoenix doing a round table with Latinos. The expectation from the Trump campaign is that they can make serious inroads in this community. Is that realistic, do you think?
Steve: Amy, people have short memories, I guess it is. I think if we contrast how then-candidate Trump dealt with Latinos generally, obviously we know how he started the campaign using offensive terms like rapists, and he thinks there might be some good people to paraphrase. Now he decides to go in a completely different way. Again, emphasizing one of the few strengths a lot of people see the president having among voters is, does he have an economic appeal? Are there folks who like the idea of what he can do financially and that's what he was appealing. Having some small business owners come in to talk about this.
A couple of analysts that I read made an interesting point, which is, is he actually trying to appeal to some moderate to independent white voters on this saying, "Hey, the last time I ran, I did not say nice things about Hispanics and Latinos, but this time, hey, look, we're all getting along." It almost feels like a recalculation, but to act as though people will be convinced by it, I would be surprised if too many-- As Lisa pointed out, the numbers are still showing Joe Biden with huge advantage in Arizona, especially, among Latinos.
Amy: Lisa, to that point, what we hear over and over again is that Latino voters are registering more and more, and this isn't just in Arizona, but nationally as non-affiliated that Democrats shouldn't think of them as a group of voters that's going to always be with them. Tell me what you're seeing in Arizona with their commitment to the Democratic party. Is this about Democrats and their policies, or is this just where things are in this election?
Lisa: I think it's a little of both. Where the theory about Latinos being a little bit more moderate is really what's at stake here, an issue here. Is that they tend to, when we ask them about their partisan affiliation, either as you say in high numbers, increasing numbers put themselves as independents. There's still a really sizable portion that are traditional Democrats.
Now, when you ask about ideology in polls of Latinos, they are more likely to say they're moderates and many actually can say that they're conservatives. They're not partisan aligned in the same way that many other populations might be, African-Americans coming to mind most easily. There tend to be liberal Democrats. This is where this idea that they're in-play comes from. Now, in-play means that you have to be able to hit on the issues that they care about.
Latinos in previous elections have cared about immigration at some level, but that's a little bit of a misnomer, that that's the only thing they care about. I think a lot of parties try and shoehorn Latinos into being these single-issue immigration voters, but Latino issues are nothing more than American issues. They care about the economy. They care about healthcare, these things are not unique to Latinos. If you're talking about the issues they care about in the way they care about, then that's where you're getting your vote, obviously. Currently, it seems like Democrats are aligning better with those issues.
Amy: To be clear, for Republicans, they don't need to win Latino voters to win the state, but obviously the more voters that vote Republican, Latino voters that vote Republican, the harder it is for a Democrat to win the state. Steve, let's talk about another really high profile statewide contest, and that's the Senate race Martha McSally running again. She ran and lost in 2018. She was appointed to fill the seat of the late John McCain. Now she's in for another really tough race against Mark Kelly, the Democrat. What's going on here in that race and how much is it tracking with what you're seeing at the presidential level?
Steve: Amy, what's fascinating to me, first of all, about this race is that after 2018, when Kyrsten Sinema defeated Martha McSally then, there was something that was never official, of course, but phrases we love, 'the Sinema playbook,' because she had these incredible ads, ran a great campaign. Few of the ads, as you mentioned, she was a Democrat. We saw independent, independent, independent, appealing to Arizona in that way.
Mark Kelly, it's a different playbook because he was never a member of Congress obviously, never run for office before, but it's the same thing. I'm a problem solver. I'm pragmatic. I'm going to get things done and by virtue of comparing to Martha McSally, is she tied to President Trump? Has she gotten anything done? She voted against your healthcare, that sort of thing. That's really an interesting aspect of it. Every poll we've seen consistently has had Mark Kelly with a significant lead.
The smallest I've seen was slightly outside the margin of error. We've seen as much as 12 and 13 points. I don't think anyone believes it's there, but people think he has a comfortable lead. Question I keep asking people is, can Mark Kelly win Arizona and Donald Trump win Arizona? There are some who actually believe that's possible, that Donald Trump could hic out a victory and Mark Kelly could still win by five points.
One thing that has struck me about the parallels between Kelly and Biden is that independence, yes, but even some Republicans, these are two Democrats who, especially those who are disaffected by President Trump. They don't feel uncomfortable voting for these two. They may not jump for joy, but they see them as, okay, not ideologues and two people who might actually be able to get things done and that seems like that's the parallel I think you're taught.
Amy: Yes, that's a really good point. To that, Lisa, I want to talk about the Republican party in the state. This is a state of the late Senator John McCain and the other Republican Senator there was Jeff Flake who retired instead of trying to run for re-election. They both obviously were not fans of Donald Trump and Donald Trump is not fans of theirs. What does this say about the Republican party in Arizona that the two senators there or former Republican senators there were both unwilling and then ultimately chose not to seek, for Jeff Fake's sake, seek re-election in a state that Donald Trump carried?
Lisa: I think it says actually nationally that there's something going on in the Republican party at large, between elite Republicans and Republicans in the masses. Republicans in the masses have been very receptive to the off the cuff style of Donald Trump. In fact, they love it. They look for it because it shows a very different way of being a politician, and a very different style of a president, the sort of unapologetic.
Now, those who are long longtime elite in the Republican party, you're starting to see them come out in large part against Donald Trump. They don't really want to see this type of style and be associated with that. This is not the Republican party that they came up with. I think it talks a lot about kind of the schism at the elite level. Maybe not so much at the mass level.
Amy: Yes. That's a really good point and to that, Steve, do you think that anything changes should, let's say, Biden wins Arizona and Mark Kelly wins the Senate race and Arizona now has two Democratic senators and a Democrat that won President, does that give the Republican party in Arizona pause to say, "Maybe we should think about doing things differently or have different kinds of candidates that we put forward the next election?"
Steve: Amy, you've been covering politics so well for so long, I think about Mitt Romney after he lost in 2012. The idea was, "Okay, what do we do to get the Latino vote? We need to calm these things down," and the Republicans went the opposite way. I think there are enough defiant, and we think about the primary voters and those who are precinct committee people of a Republican party-- I will say this as a citizen, I suspect you're not going to be able to queue on a direction, but to think that they're going to try to go more moderate. The big ted Republicans for a lot of people, and Lisa pointed this out, it doesn't seem like it's really there anymore.
I talked to Jeff Flake recently, and the things he was saying a couple of years ago, yes, now we're seeing more Republicans for Biden. We're seeing that, but they're being really shot down by many of those who are passionate about President Trump. The President Trump aspect of things is going to linger and I think there are going to be enough practical Republicans who say, 'yes', but they may also just decide to register as independence and feel like they can't change the party around.
Just based on the direction we've seen, I think it would need to be more than that. Again, you'd have to see, I come back to the pragmatism thing. If Mark Kelly were a flaming liberal, then maybe you'd see a change, but they're going to say, okay, he ran as an independent. He basically agrees with us on 30 to 50% of things, whether that's accurate or not. I wouldn't bet on it, but I work in public radio, so I don't bet on much these days.
[laughter]
Amy: I think it's a very, very fair assessment. Lisa, I want to end here with you in talking about the worries about election day, but of course in Arizona, so many people vote early, that the election is over the course of weeks, not just on one day. Are there concerns and do you think there should be concerns about the ways in which disinformation is being spread about the way that people are voting early?
The president obviously spreading a lot of this suggesting that somehow if you vote by mail, there is something potentially fraudulent that could happen. Do you worry that ultimately this state, if it goes for Joe Biden, that there is something of a- the trust that voters have in the voting process in the state will be questioned and that people will, and the President himself may do this, but direct a lot of vitriol at the way that Arizona votes?
Lisa: I would say, again, Arizona is probably not unique in this regard. I think a lot of people still assume that Arizona is very much a red state and it is. If we're thinking about registration levels, there are a sizable number of Republicans in the state. Certainly, when you see a mismatch between registration and assumptions, these long-held assumptions, then there's always a question mark, why?
I think as the media shines a light on Arizona's battleground state, it's helpful to mitigate whichever way the election goes in Arizona, that maybe there was more electorally at stake here than we necessarily thought there was. Now the other part of that question is, will there be a response? Well, if history is any indicator, in the last several presidential elections, there's always been recounts and talks of recounts. There's been in some cases, riots, and this is across the country, this is nationally.
I wouldn't expect this election to be any different. It's a very similar political divisive political environment and therefore anybody who doesn't see the outcome that they're hoping for is always going to put a question mark on there. Then especially if you add in the pandemic and all of the uncertainty that we're living with these days, it's definitely going to cause a lot of people to feel uncomfortable about anything that may seem unique or untoward.
I haven't seen a lot in terms of PSAs about voter information in the state of Arizona. Certainly, I use my students always as a bellwether. They're a unique population, but they are very media savvy. To a man, none of them has really seen a lot coming out of the state of Arizona suggesting there's this big push to make sure that everything is done the way it should be despite the uncertainty baked into this pie.
There's room still for the State of Arizona to do a little more in terms of educating voters and telling them, "Look, we've been voting like this in large numbers via mail and ballot and permanent early voting list for decades now. Things are going to be okay. We know the system, we understand how the system works." I think if more of that occurs, I think we should be able to hic out okay, but will there be people who don't like the outcome, win or lose regardless of who it is? Yes. There always will be.
Amy: Steve, that leaves you then
as the PSA person, [laughs] as part of the media, what role do you see yourself and others who do what you do in the state in helping to educate voters and to point out disinformation as much as you can?
Steve: Yes, Amy, there's the fact-check, the how many Pinocchio sort of thing. That is a responsibility to figure out what's going on, but a basic information-- I want to go back to something you talked with Secretary Hobbs about, if I may.
The idea of the impatience of what election night really is. In talking with county recorders and other people who are involved in these things, we have to send out the message, and this is not a partisan message, send out the message that accuracy is the most important thing, which sometimes people in media, yes, you want to get things first but in elections, and this is the biggest election of all time as every election seems to be, but to a lot of people, this one certainly is.
The concept is to say, "Listen, it's worth waiting five days. It's worth waiting however long it takes to get this right," because, yes, as Lisa points out, people are going to be upset with the outcome, but it comes down to the media presenting the facts and letting people know what's out there. Also, I love working election night. Sure. Do I want to know who won by 11 o'clock that night? I sure do, but if it doesn't happen, I'm also living this democracy, and I think we just want things to come out accurate, and then, when things are decided, they're decided.
Amy: Yes. Steve and Lisa, you really raise very good points. The question of being disappointed in whoever wins the state is one thing that we're used to but questioning the integrity of the voting process, that feels very new to me, at least. We will see. We've still got a ways to go before the election. Steve Goldstein, Lisa Sanchez, thank you both so much for joining me. I appreciate it.
Steve: Thank you, Amy.
Lisa: Thanks.
Amy: Latino voters are a growing share of the population in states like Florida, Texas, and Nevada. In Arizona, they account for about a quarter of voters in the state. Like 2016, the race for the white house could come down to a few thousand voters in these key states. While national polling shows that Joe Biden is ahead of President Trump among Latino voters, it's still is below Hillary Clinton's margins from 2016. Reporting from The Washington Post describes the Biden campaign's attempts to build out an infrastructure to connect with these voters, but some worry, it feels like an eleventh-hour play.
Joe Biden: I just have one thing to say. Hang on here.
[music]
Amy: Of course, Latino voters are not monolithic, and with less than 50 days until the election, I wanted to better understand how the Biden campaign was working on making inroads between now and November 3rd. I spoke with-
Carlos Odio: Carlos Odio, I am the co-founder of Equis Research, a Latino research hub.
Amy: Equis has put out a number of polls aimed at better understanding the nuances of the Latino electorate. I started off by asking him if Democrats should be worried about Biden's flagging support from Latinos.
Carlos: We have been flagging these kinds of numbers for over a year. They weren't so much of a surprise as that now that the rest of the electorate, that numbers among white voters might be returning back to earth for Joe Biden in some places, but now, the Latino vote and its preferences are of greater importance.
Amy: Carlos, if we focus in on Arizona, for a minute, what is it about Latino voters in Arizona or the political environment in that state that seems to be helping Joe Biden do better?
Carlos: Arizona is a fascinating Latino electorate in that it is almost a combination of demographics in a state like Nevada and those in a state like Texas. A more progressive, younger, heavily Latina, and urban electorate in a place like a place in Nevada, and then, also, the more rural multigenerational vote that you see in a place like Texas, what has now improved margins for Biden and Clinton and Sinema beforehand is the prolonged fight over the last 10 years.
10 years ago, we had SB 1070, at the time, the most anti-immigrant legislation in the country, what came out of that is an incredible infrastructure. Some of the leading organizers in the state of Arizona came out of that fight. The growth in the electorate is from folks aging into the electorate. You had a lot of young Latinos who are now coming of age, and that has transformed the electorate in a place like Arizona. It is a much more progressive set of voters at this point.
Amy: So younger, more progressive than, say, Florida, where we think about Florida, we think the Cuban vote, specifically, which could be older, more conservative. What else is it about Florida that makes Republicans feel a little bit better about their successes there?
Carlos: If you take out the Cuban vote, the kind of numbers that Biden is doing among non-Cuban Hispanics in Florida are equivalent to what he's doing in a state like Arizona. You take two voters with the exact same demographic profile, both are Latino, one is Cuban, one is not, the Cuban is much more likely to be a Republican, to be a Trump supporter.
What happened in 2016 is that some generally Republican Cubans held back from Donald Trump. They were skeptical of Donald Trump, and after 2016, after his election, found a way home. That's where you get tighter margins. Now, the Hispanic vote in Florida looks less like 2016 but still equivalent to what you might've seen in 2008 or 2012, the Obama elections.
Amy: In 2018, Republicans were successful in statewide elections in the state of Florida. A lot of credit was given to the Republican's success, specifically, Republican Rick Scott, who was then the governor and now is the senator of Florida, his success with Puerto Rican voters, that he did incredible outreach there, especially in the wake of the hurricane that hit Puerto Rico. I'm wondering if we're seeing some of that same support from the Puerto Rican community transfer to Donald Trump.
Carlos: What Rick Scott did so well is understand that the Hispanic vote in Florida is a margins game. The Republicans generally these days are not going to win the Hispanic vote, but the goal is, can you go to any of the constellation of 20 different national origin groups and pull off a hundred thousand votes here or there? Rick Scott famously showed up seven times at this one arepa place in Doral, which is heavily Venezuelan area, courting the Venezuelan vote.
He was making aggressive outreach to the Puerto Rican electorate and understanding that you could piece all of those votes together, it helps you get, as he did, a 10,033 vote-winning margin in a place like Florida. It appears that Trump has replicated some aspect of that. With the Puerto Ricans, in particular, we see that he has some appeal with younger men.
Amy: That's interesting. You think younger-- This is across different groups of Latinos. Is it just younger men to Donald Trump or is there going to be a big difference between Latinas' vote for president and their male counterparts?
Carlos: The gender divide within the Latino electorate right now is stark, and in states where it really matters like Arizona, it is starkest with voters under 50. It is especially true among the young. The real story is the extent to which the women have fled the Republican parties. The share of Latinas who were supporting a McCain or Romney, many of those fled in the Trump era. The most anti-Trump voter within the Latino electorate is a young Latina.
Amy: What do you think this is about this gender divide?
Carlos: I think a great part of it is what communities, what networks are these voters occupying, especially what we see with young Latinas is that young Latinas generally work and live within similar networks, similar communities that are, by the way, bear the brunt of all of the Trump decisions. They bear the brunt of Trump's decisions on immigration or economy on the healthcare.
You have younger men, in particular, who both from a work perspective, are working in predominantly white spaces, and from a media consumption perspective, are in social media spaces like Reddit and YouTube with other young men and are getting the same kind of radicalizing messages we hear about so much. So much of it is anti-Me Too, is about anti-political correctness. It is a dynamic that we've talked about a lot when it comes to non-college white men, is a little less studied when it comes to non-college Black and Latino men.
Amy: I want to talk to you too about some of this that we're seeing. There's a piece in The Washington Post about the Biden campaign building this aggressive outreach program, micro-targeting. We know that Michael Bloomberg now announcing he's going to spend $100 million in Florida alone. Is it too late to only now be focusing on Latino community, trying to get them organized and out to vote?
Carlos: I think part of the freak out is a product of the fact that you are seeing so much of this happened late in the cycle. A big part of this is COVID. Barack Obama loses the Latino vote in the 2008 primary, but is able to come out of the gate and make very aggressive outreach. So much of it is physical presence of himself, of his surrogates, of his organizers, and during the COVID era, obviously, Democrats were much more cautious and were not able to do that, and only now are they getting on the road.
Biden is in a good position, where he is underperforming, is less about people liking Trump and more about the fact that they just don't know as much about Joe Biden. We found this consistently in polling and focus groups. They knew he was vice president. They didn't know much more beyond that. The moment you introduce any information, bio, policy, you see the numbers start to move.
I also know that with Latinos, in particular, in the polling, you tend to see a larger number of undecideds. Part of this, there are theories that this is Latinos understating how firm their vote might be at this point, but that it also-- There's some evidence that Latinos decide on their vote late in the cycle. Again, that it isn't so much a decision between Donald Trump and Joe Biden as it is a decision between voting and not voting. Is it too late? I don't think it's too late, but I do think we will see and we can see growth for Biden in the next few weeks if the outreach continues as it's been in the last couple.
Amy: The one last thing I wanted to get you to weigh in on is there've been some stories recently in Miami, POLITICO also reported on this, about the disinformation that's going on throughout the Spanish language media, and then, we know about this information that's out there on English media, and as you pointed out, there are all these websites that people are flocking to. How worried are you that it's more challenging for Democrats, for the Biden campaign to challenge some of the misinformation that's coming through Spanish language media and that it's having a real impact?
Carlos: People ask me all the time, "How could any Latino vote for Donald Trump when they know X or Y?" Part of the answer is, you're assuming they've heard X or Y. That's where this media environment in a place like Miami comes into play. If what you are doing is watching Fox News, you're getting news additionally from Facebook, from YouTube, you're watching local Univision, you're reading El Nuevo Herald at the Miami Herald in Spanish, you're listening to Miami radio in Spanish, you have a very different picture of the Trump administration. The challenge is it's not just any one channel or any one player.
There is this network, this funneling of information and disinformation that the Trump campaign is part of. They also push some of these narratives. You see it, again, not just in fringe players on YouTube but in mainstream news. You're seeing it in mainstream papers, mainstream radio stations that are pushing narratives around law and order and Black Lives Matter, that are pushing active conspiracy theories with heavily anti-Semitic tropes, that are even pushing, not necessarily QAnon theories but QAnon-adjacent narratives as well.
Amy: Carlos, we can talk about this forever. This has been fascinating. I really appreciate you coming on and talking with me.
Carlos: Thank you for having me.
Amy: Carlos Odio, co-founder of Equis Research, a Democratic Latino research firm. For years, conservatives have argued that Latino voters are gettable for Republicans. They argue that many Latinos are socially conservative and are more willing to side with the GOP on issues like taxes and support for small businesses. The Trump campaign is appealing to Latinos with a message centered on crime and the economy. In Nevada, the president said this-
President Trump: Joe Biden would be a disaster for all committees, not just the Hispanic community. Hispanics like tough people. They like people that are going to produce jobs.
Amy: For the last nine years, The LIBRE Initiative, a conservative organization funded in part by the Koch brothers, has been trying to build a foothold for the GOP with Latino voters with grassroots organizing. The organization is hosting a town hall event with the Vice President, Mike Pence, on Friday in Phoenix. I spoke this week with the president of LIBRE Initiative, Daniel Garza, about the work his group is doing to reach out to Latino voters, especially at a time when COVID has made traditional grassroots campaigning a challenge.
Daniel Garza: Millions of Latinos believe in restraining government in a lesser, more efficient, smarter government. To do that, what we do is talk to them about the benefits of less taxation, of diminishing so many needless regulations and mandates that come from the state or from the federal government. School choice is a very important issue to many Latino parents across the country.
Educational freedom has empowered parents, and we feel that it also improves the quality of education for the children. Healthcare that also preserves private insurance is important to Latinos. Principled judges who honor original intent and uphold the constitution, and yes, law and order is very important issue. Then, on the opposite side, Latinos also are very concerned about higher taxes, more regulations, expensive green energy deals, the minimum wage that would result in the termination of many Latinos across the country or part-time them or close their businesses. This radical idea of defunding law enforcement is a big issue.
Amy: Now, you all are doing an event with Vice President Pence this week in Phoenix, correct?
Daniel: Yes, that's correct.
Amy: What kind of conversation are you hoping to have with the vice president?
Daniel: We're going to be talking to the vice president about our priority issues, our concerns. I just think it's so important that Latinos stop getting these priorities projected onto us. A lot of Latinos right now are scraping their knees trying to get by in this economy, this artificial recession that we're experiencing that has been imposed through these restrictions and this quarantine. It's been tough. We're going to have faith leaders, business leaders, educators who are going to be talking to the vice president about the things that are impacting them and what we need to do to get a bounce back.
Amy: Talk to me about-- You said that issues are being projected on them or concerns that are being projected on them, who's projecting things onto Latino voters, you think, and what sorts of things are they projecting?
Daniel: The national media would have you believe that the only thing we care about is immigration. There is no question that's an important issue, but the economy has always been a number one concern for Latinos and a lot of these issues I just discussed are impacting Latinos.
Amy: What I also hear and see in some of the polling data though is that the issue of the coronavirus, and specifically the health concerns, it's disproportionately impacted people of color. I'm wondering how that fits into this conversation.
Daniel: Yes, obviously, education of our children is being impacted by these restrictions. The congregations in our churches have been limited, and the expression of faith and that spiritual connection that you get in a church has also been hindered. Across the country, also, with small businesses, they're being decimated.
We need to have a national conversation about what are those smart things that we can do to open up the economy, at the same time, safeguard people. Like you said, disproportionately, Latinos are being impacted by COVID, but we know what to do, the separation, the mask, these things that are going to be so critical if we do open up a bit more. What we are going through right now is unsustainable for our children, for families, and for our churches.
Amy: The Trump campaign is hoping to make and is expecting to make inroads with Latino voters, and in fact, we've seen some hand-wringing these last couple of weeks from Democrats, who say that Joe Biden is not doing as well as they think he should be doing with Latino voters, whether it's in South Florida or in Nevada, for example. Do you agree with that? Do you think that the Trump campaign can do better with Latino voters?
Daniel: Look, is Donald Trump uncouth sometimes when he speaks? Does he think out loud? Clearly. This isn't some new revelation to folks that may vote for him, but it's the economic policies, preserving private healthcare insurance, expanding school choice, nominating principled judges who will uphold the constitution. All these things are not insignificant to Latinos, and if he keeps driving this in a way that connects with Latinos, I think he can score a lot of points.
Now, look, he also needs to be relatable. I really liked what he's done with the Latinos for Trump. What he's done is actually mobilize Latinos to recruit Latinos and also to persuade them to his point of view because it's so important that you relate to the Latino community and that they relate to you. Latinos prefer to hear from someone who has this shared language, shared culture, and shared experience. Keep in mind that Biden has given him Trump an advantage by not door knocking.
You have Latinos who are out there going door to door, talking to their fellow Latinos about Donald Trump's policy. That's been really important. That's been very effective for the Trump campaign, and I think it's going to result in higher percentages of the Latino vote.
Amy: I know you talked about the national conventional wisdom getting put upon voters. I appreciate that, but at the same time, how can the way that the president talks about immigration, the way that he uses racist language not impact the way that Latino voters think about him and should be processing the possibility of their vote?
Daniel: Keep in mind, Amy, that just because you disagree with the president on one issue, that doesn't mean you're willing to forsake all the other issues that you agree with him on. You may have a disagreement with the way President Trump addresses the issue of immigrants, but you still want less taxes, you still want less regulations, you still want school choice, health care that preserves private insurance, principled judges, increased energy, and all these other things. Are you willing to forsake those, where maybe if you work with the administration, maybe you can arrive at consensus on the issue of immigration?
Amy: Daniel Garza, thank you so much for taking this time to speak with me. I really appreciate it.
Daniel: It's an absolute pleasure, Amy.
Amy: Daniel Garza is president of The LIBRE Initiative. One more thing from me today. Earlier this week, President Trump announced plans for the 1776 Commission, which he said is designed to encourage educators to teach children about, "The miracle of American history." This commission, discussed just weeks before Election Day, isn't really about schools or teaching, instead, it's the latest attempt by the president to gin up a culture war, to accuse those who want to explore the complexities and contradictions of our history of being anti-American. You either love America or you don't.
President Trump: Critical race theory, the 1619 Project, and the crusade against American history is toxic propaganda, ideological poison that, if not removed, will dissolve the civic bonds that tie us together.
Amy: As a short term political strategy, this divisiveness can be effective. A recent Pew Research poll found that nearly half of white people but only a quarter of Hispanic people and 18% of Black people say a majority-minority country would weaken America's customs and values, but in the long term, this rhetoric is dangerous. It suggests that there's only one way to be a good American or to be patriotic.
Unlike so many other countries that are held back by attachments to age-old rules and expectations, we are constantly evolving and constantly challenging the status quo. It's what makes this country the envy of the world and the optimistic, dynamic place it is. Those are American values. No one has more of a right than anyone else to claim them. That's all for us today.
Our senior producer is Amber Hall. Patricia Yacob is our associate producer. Polly Irungu is our digital editor. David Gebel is our executive assistant. Jay Cowit is our director and sound designer. Debbie Daughtry is our board op. Vince Fairchild is our board op and engineer. Our executive producer is Lee Hill. If you missed anything or want to listen back again, check out our podcast on iTunes, Pocket Casts, Spotify, or anywhere you get your podcast and leave us a rating while you're there. Of course, call us anytime 877-8-MY-TAKE or send us a tweet on @amyewalter, the show is at The Takeaway. Thanks so much for listening. It's Politics with Amy Walter on The Takeaway.
Copyright © 2020 New York Public Radio. All rights reserved. Visit our website terms of use at www.wnyc.org for further information.

New York Public Radio transcripts are created on a rush deadline, often by contractors. This text may not be in its final form and may be updated or revised in the future. Accuracy and availability may vary. The authoritative record of New York Public Radio's programming is the audio record.