What Happens to President Trump's Grip on the GOP Following Two Impeachments?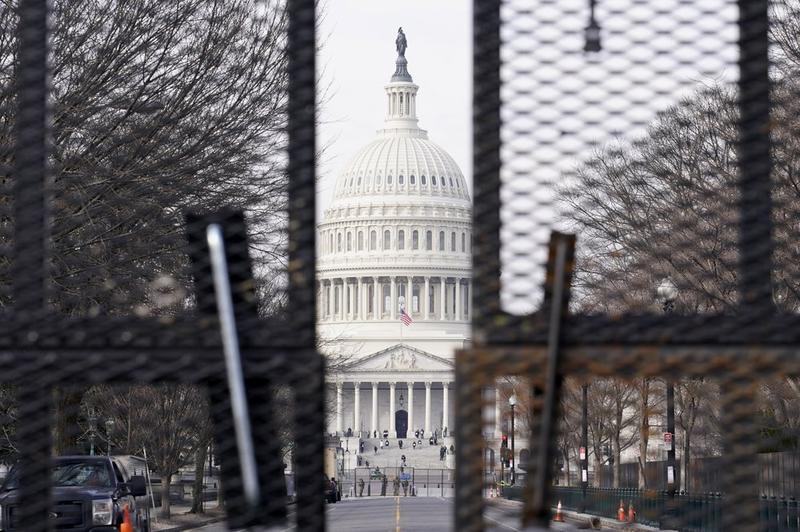 Transcript
Nancy Pelosi: On this vote, the eyes are 232. The nays are 197. The resolution is adopted. Without objection. the motion to reconsider is laid upon the table.
Amy: It's politics with Amy Walter on The Takeaway.
Nancy Pelosi: I sadly with a heartbroken for what this means to our country to have a president who incites insurrection, we sign for the engrossment of the article of impeachment.
Amy: Just one week after he encouraged his supporters to attack the US Capitol and disrupt Congress as they tallied Joe Biden's electoral win, President Donald Trump was impeached by the house, but if we thought that horrific attack on our Capitol and our democracy would lead to more thoughtful and reflective debate on the house floor well, we were mistaken.
Speaker 3: Not just about impeachment anymore, it's about canceling. As I've said, canceling the president and anyone that disagrees with them.
Speaker 4: The criminals who storm the Capitol that day acted on their own volition. They're responsible for their actions.
Speaker 5: So what, that's called politics. If we impeached every politician who gave a fiery speech to a crowd of partisans, this Capitol would be deserted. That's what the president did. That is all he did.
Amy: Some Republicans acknowledged the role Trump played in encouraging the attack, but argued that impeachment would divide rather than heal the country.
Speaker 6: After the traumatic events of last week, the majority should be taking steps to unite us. Instead, they're only dividing us further.
Speaker 2: Emotions are still high. We need to be focused on toning down the rhetoric.
Amy: Privately many Republican members said that while they supported impeachment, they were worried about their physical safety, as well as political fallout from going up against a president who remains popular with the base. In the end, only 10 Republicans joined every house Democrat in voting to impeach Donald Trump, making him the first president in history to be impeached twice. Not surprisingly president Trump has downplayed his role in the insurrection.
Trump: The impeachment hoax is a continuation of the greatest and most vicious witch hunt in the history of our country and is causing tremendous anger and division and pain far greater than most people will ever understand, which is very dangerous for the USA, especially at this very tender time.
Amy: Barred from his favorite form of communication Twitter, President Trump has been uncharacteristically quiet. This is what those of us in Washington for the first time in four years, unaware of his mood or his priorities. All this as a timetable for the impeachment trial in the Senate remains unclear. Meanwhile, we're just days away from the inauguration of Joe Biden, but Washington doesn't feel particularly festive. Most of downtown Washington has been boarded up, streets are shut down. The National Mall will be closed to the public for the event.
Airbnb canceled all reservations in the Nation's Capitol during what is normally a very busy week. The Capitol building has been militarized to protect members of Congress from ongoing threats. Security has been tightened up as well within the building. This includes members of Congress who are now subject to security screenings when they enter the house chamber, something that some Republican house members refused to do. Joining me to discuss all of this and more is Annie Linskey, a national political reporter at the Washington Post; Anita Kumar, White House correspondent for Politico and Sarah Wire, congressional reporter at the LA Times.
Thank you all for joining me. Sarah, I want to start with you and the fallout from the attack on the Capitol. This week we saw additional security measures installed outside the house floor, some Republican members of the house refusing to walk through metal detectors. Talk to us about what's going on here and what this means really for this ability for Congress to "unify" as we go into a new session of Congress.
Sarah: For those who have been on the Hill before, they're used to seeing lawmakers just walk around metal detectors when they walk into the building, they don't go through metal detectors normally when they enter the chamber and that changed this week. Now every person who enters the chamber is supposed to go through a metal detector and it's really caused some divisions, Republicans feel like they weren't consulted before it went into place.
There was some yelling, some standoffs the day that they went into place with members just trying to push by or refusing to go through them. Nancy Pelosi has announced that there will be a rule change starting next week that lawmakers can actually be fined $5,000 for refusing to go through the metal detectors.
Amy: What does this tell us though about members fearing their own safety from within? People had to always go through metal detectors, visitors to the Capitol to get into buildings, but this seems to be suggesting that many folks are worried that their own colleagues are a threat to them.
Sarah: There does seem to be some mistrust at this point. A lot of the Democratic members have talked publicly about the day of the attack and fear that the Republican members might have been speaking with some of the rioters and giving away location. I know AOC specifically brought that up. This is feels like an overflow of that. The members don't seem to trust each other right now.
Amy: Anita, I want to go now to you and go to the White House and it has felt very odd these last few days here to not have President Trump's Twitter feed constantly pinging at us. The last four years, our politics has been dictated by that stream of his Twitter and it drove our news cycle, gave us insights to his mindset. What does your reporting tell you about how the president is processing this moment, and what do you know about how he plans to spend his final days in the White House? I know we've heard reports about more pardons coming, seeking to give a final interview, final address to the country.
Anita: Amy, you're so right, he has been so incredibly quiet. He has not been the Donald Trump he was for the previous four years. He's given three statements really in the last week since the riots and all have been very much prepared in advance, written down, he's reading a teleprompter, he's on camera. These are video statements. We just haven't seen the old Donald Trump. From what I'm hearing from people, he is at the White House really just communicating with a small circle of aids that have been around him since the beginning.
That's Dan Scavino who people may know as the head of his social media, John McEntee, the head of his personnel office, his chief of staff Mark Meadows is with him and then, of course, his son-in-law, Jared Kushner, who's always been his top aid and his daughter is also there, Ivanka Trump, but he's really just surrounded himself with that small group. He is reading the New York Times every morning. He is watching television all day and he's really trying to process what people are saying.
You mentioned that he has downplayed his role and he is as someone's told me not really believing what the reaction has been in terms of, we've seen four years of controversy after controversy and he survived them all. This is the one that he appears to not be surviving. People have turned on him that have supported him that entire time. He is processing that and trying to understand how that came about. What we're hearing about for the next few days. We have not heard that he's traveling anywhere, even though some of his Republican allies have encouraged him to do a little bit of a victory lap on some of his accomplishments.
You saw him go out to Texas to the border wall. Some people wanted him to go to talk about the vaccine, talk about the economy a little bit. We think he's going to stay there. He's probably going to leave town on Wednesday morning before the inauguration and go to Florida to his resort there at Mar-a-Lago.
Amy: It is pretty amazing, Anita, that we're in the middle of the deadliest moment here in the pandemic. We have yet to hear from the president about this. Annie, I want to go to you talking about the incoming Biden administration, we've got a lot to talk about, but the first thing I want you to address is this impeachment issue and the fact that the Senate trial is not going to start until Joe Biden will be officially installed as president of the United States.
How is the president's team reacting to this? What are their expectations for balancing this trial, along with all the things that the Biden administration needs to get done, especially in the Senate with hearings and confirmations over these next couple of weeks.
Anita: Amy, that's a great question. The President-elect Joe Biden has, for the last year, conducted his campaign. This is how he's conducted his transition as well as a very steady force that just does not get too exercised over what is happening in Washington. That can be to the great frustration of people covering him, to the frustration of Democrats, the party that he leads. I think in this moment, in particular, he really took a step to the side and said "Look, Congress, you're going to do what you want but I want to hit the ground running." He made it very clear that his priority is coming into office are first of all improving the vaccine rollout which he ran on, improving the economy.
He has unveiled a $1.9 trillion plan to be the first step towards his recovery proposal. He is going to be starting his first day in office, he is not on the path to have any of his cabinet secretaries nominated. He has been trying to focus on the future while giving Congress space to focus on impeachment but has not been a leader at all in that effort.
Amy: How long can that last though, Annie? At some point the reality that the senate is going to try to do both a trial and also these hearings, that just may not work.
Anita: That's been the quandary with Biden for as long as I've covered him. How long can he stay outside of these partisan fights? So far he has managed. You've seen some signs. There was news this week that Anita Dunn, one of his top advisors is going to be going into the White House.
She had initially not been doing that. She's one of the people who helped guide him on this path towards really focusing, not on Trump and going forward, not on Trump's legacy, not relitigating that but on forward-facing issues that he's perceived Americans care deeply about. It's a very difficult thing to do.
Amy: When you're president, not candidate.
Anita: It may not be possible.
Amy: The issue you brought up about a speech that Joe Biden gave on Thursday where he outlined his plans for an economic stimulus, we're going to take a quick listen to a clip from that.
Biden: It's not hard to see that we're in the middle of the once in several generations economic crisis, with a once in several generations public health crisis. A growing chorus of top economists agree that the moment of crisis in this moment of crisis, with interest rates at historic lows we can not afford inaction. It's not just that smart fiscal investments including deficit spending are more urgent than ever, it's that the return on these investments in jobs, racial equity will prevent long-term economic damage. The benefits will far far surpass the cost.
Amy: Annie, as you pointed out, this is a big package, $1.9 trillion. I'd like for you to help us to walk through really how much Biden and the team around him has been influenced by the other crisis that defined their political careers. That was the 2009 financial crisis in which, of course, Joe Biden was the vice-president. Compare this to where Democrats were and the Obama administration was in trying to dig out from that crisis.
Anita: It's such a stunning difference. It's just night and day. Democrats in 2009 came in with this enormous crisis on their hands but also self-limiting that they could not have a package that went beyond had the T-word in it and that is trillions. The package that Obama supported was less than a trillion dollars and that was on purpose. This one is just shy of $2 trillion and this is just the first part of it. There has been a sea change around Biden.
What's interesting is Biden has many of the same economic advisors around him that Obama did in 2009. It's not identical but a lot of the same folks, people who were maybe one level down, and many of these people have really radically changed their thinking about deficit spending and about what the power of the federal government can do. Now I will also say that circumstances have changed. The interest rates are so low that there is a different dynamic when you're thinking about deficit spending, but this is entirely different, much bolder action than the 2009 solution. It is fascinating.
Amy: It is and it'll be fascinating to watch going forward, especially since so many Democrats now saying look you had in president Trump a president who had no problems running up deficits, it's going to be hard for Republicans to tag us as these folks who are just driving up the deficit for no good reason. Sarah, I want to go to you then about how likely it is.
This bill actually makes it through Congress, especially the Senate where you need 60 votes Democrats have 50-plus one more with the vice-president to break a tie. Do you think that nine or 10 Republicans are going to support $1.9 trillion?
Sarah: The political calculation definitely changes with a Democrat in the White House. There are some moderate Republicans who might be willing to move that way. You also have some people further on the right who have expressed an interest in specific aspects of this bill, most notably the $2,000 for Americans. It could be possible. I think having Democrats working directly with the presidents and having a president who's more engaged in policy changes the calculation erratically.
Amy: That's what I was wondering too if you're going to see this is the first attempt for Biden on this issue of his bipartisan bona fides. Sarah, we're already hearing some calls from folks on the left that if Republicans don't go along, Democrats need to pull out their secret weapon, which is getting rid of the filibuster. Is that likely to happen?
Sarah: I don't think it is because it takes the votes of 60 senators to change the filibuster rules and getting that many Republicans on board just doesn't seem very likely at this point.
Amy: Anita, I want to talk to you then about what the expectations are for how the president's going to handle this trial coming up. He will be an ex-president coming up for trial. There are still questions about the constitutionality of all of this, but is he expected to put a defense forward? We've heard some rumors about lawyers maybe even Rudy Giuliani going in and defending him. Is he lobbying members of his party on this? What is this going to look like?
Anita: One of the things that's been so striking this past week is we haven't seen a real defense from the president or many of his allies. On Capitol Hill, some of the Republicans they talked about this isn't the right time to do it. We didn't see as much of a pushback as I would have expected or certainly then what we saw a year ago on his first impeachment. At the first impeachment they went all out. There was a team of lawyers, there was a war room. The president had all these Republican allies all over the place. They were doing hundreds of media interviews. We really haven't seen that.
I think partly that's because the president realizes he's going to finish out the term, he's got one week left. There's no trial that's going to start before then and finished before then. He knows that's not an issue, but sure he is talking to people. He does need to put on somewhat of a defense if they have this trial, he will have some attorneys. You saw him this week starting to call Republican members of the senate to talk to them about impeachment. Lindsey Graham the Senator his friend who sometimes comes out against him but generally an ally in the Senate flew with him to Texas the other day.
He talked to him about talking to other senators, and you've seen Senator Graham do that, talk to other Republican senators. You've seen the president call some of those Republican senators. I do think he's going to put on something but it certainly won't be last time.
Amy: We got to wrap it up here. Thanks to you all for joining me. Annie Linskey is a national political reporter at the Washington Post. Sarah Wire is the congressional reporter at the LA times and Anita Kumar is a White House correspondent for Politico. [music] Every president changes the presidency. After all in our nation's history, only 44 men have had this job. Maybe this is just because we're in the middle of this moment. Donald Trump seems to have cast a bigger shadow than most.
It's hard to remember a time when this president wasn't the center of attention. We've also never had a new president inaugurated with the outgoing one newly impeached and facing a Senate trial, post-presidency. America's proud tradition of a peaceful transfer of power has been tarnished by a violent insurrection at our Capitol and the heavy military presence surrounding inaugural activities. To try to put this moment into context, I called up one of our favorite presidential scholars.
Barbara: Barbara Perry presidential studies director at UVA's Miller Center.
Amy: We started by talking about the balancing act faced by politicians at the end of the civil war, holding traders that fought against the country accountable while also trying to heal the country.
Barbara: I think it's fair to point to Lincoln's second inaugural it with his famous line, the "malice toward none, charity for all," as he looked to reunify the country, as he saw the civil war, he hoped certainly by that time coming to an end and it would be over within a month virtually of his second inauguration. Sadly, he would be assassinated, just after, but he was obviously already looking down the road and he had made that plea and this first inaugural address that we should be friends and not enemies. We must find those mystic chords of memory that tie us together and relate to the better angels of our nature.
I think because we're still in the very midst of this, that is the Donald Trump presidency, even though it is coming to an end, that I don't think we're yet looking for that peaceful ending that Lincoln could foresee and hope for that actually didn't come about because he had been assassinated. I think it's an aspiration. I find that if the aspiration would be coming from the Democrats, it would make more sense than the crocodile tears of the very people who contributed to this disunion, that is the Republicans and starting with Donald Trump and the birther movement. If we put it right to that.
Then Donald Trump is a demagogue in the campaign of 2015, 2016. What do demagogues do, they divide? We're still too close to that. I think for us legitimately to think that we could find union, but we're immediately close to what's causing us not to be unified, which is the violence incited by Donald Trump. I think that the accountability in this instance has to come first and then let's try to unite.
Amy: Barbara, I don't know if you think about this, maybe you do. I do sometimes too think about the PhD student who's being born today. 25 years from now, they're putting their thesis together. Do you think that their thesis will start with a Donald Trump was this one aberration in time as this president and from then on, we saw X, Y, and Z happened the return to normalcy that Biden has been talking about, the parties regaining their hold on American politics or do you think those thesis will start, "Donald Trump was the beginning of this trend that we're still in here 25 years later."
Barbara: I pray every day, literally for the former, that this is an aberration that Donald Trump and those most violently supportive of him are aberrational or at least they're coming to the fore is an aberration and that we will get back to some semblance of having a normal democratic republic. The reason I can't predict if that will come true, is that two-fold I would say. We don't know the lasting damage he has wrought upon our democratic republic, our constitutional system, our system of elections, our institutions of government.
The second unknown is, even if that damage is not as bad as it might appear with our noses pressed right up to it right now and after the events of last week in particular, at the very least, I fear that he has set a pattern for future candidates rising to the fore, because when I think pre-Donald Trump, I did worry about him, especially after the dear departed Jim Lehrer said to us at a lunch in 2015 that he thought that Donald Trump- this was in the summer of 2015, right after Trump announced, he said, "I think he could get the nomination," and my ears really perked up because I really trusted Jim.
I kept thinking, "Oh no," that, "He'll be like Herman Cain. He is someone who's completely unqualified. He's a bit of a demagogue, he's outrageous. He's criticizing John McCain. He will quickly fall by the wayside. When he didn't, I knew that this was a different animal. That's the second unknown. We don't know whether this different animal will produce other animals who will relate to people and that there will always be people out there who will relate to this different and damaging animal I think, or whether we are on a pendulum where people say, as they did about Nixon, "We don't want another person like that. Let's have Jimmy Carter."
Amy: If you also think about-- trying to put this question and I'm sure you get this question a lot about, how did Donald Trump change the presidency itself? The ways in which he used Twitter as a bully pulpit, the ways in which he broke norms and things that all presidents are supposed to do, he did not follow through on those things.
Barbara: This direct relationship with the people is what the founders feared the most, which is why we have an electoral college, for example, because they didn't want the people directly to be swayed by a demagogue running for president and soliciting their votes. We had step-by-step up to starting with TR, Teddy Roosevelt at the turn of the 20th century, Woodrow Wilson, these presidents who thought, "Oh, here's a good way to lead the people." They thought for the good, and you could say in most instances, they did try for the good, although we can name instances when they didn't, particularly for Woodrow Wilson.
The founders didn't anticipate that I would have this direct connection with the people, but I'll use my speeches and my rhetoric and my travels to convince the people. I will lead them that way. It starts with that. You then have obviously FDR and radio, direct communication with the people in their homes and their cars and their bars. Then you have John F. Kennedy starting live news conferences, prime time on television, but even so they always knew that at least publicly, they should uphold the dignity of the office. They shouldn't overuse that connection with the people. Except for occasional instances of political expediency, which all politicians engage in, they didn't lie all the time.
For Donald Trump to come along with this direct connection to the people via social media, particularly Twitter, which 24/7 links to the people and had no limits whatsoever on lies, half-truths exaggerations. prevarications, it's hard to see where we're going to go back from that. The good news is I think Joe Biden is exactly the person to try to do that. He's the Jimmy Carter following the Richard Nixon. I know people will say, "Oh boy, great. Now we'll have another failed president." If you believe Jimmy Carter was a failed president. The fact of the matter is he doesn't have to be a failed president. In fact, he can be a positive force for good.
Amy: Thank you so much for helping to once again, give us some really great perspective.
Barbara: You are so welcome. Always my privilege and honor to speak with you, Amy.
Amy: Last week, insurrectionist fueled by lies, misinformation, and conspiracy theories allowed to spread on social media platforms and encouraged by President Donald Trump himself were the catalyst for a deadly attack on the US Capitol. Stop the steal, the chant you just heard from rioters in DC became a far-right rallying cry after amassing hundreds of thousands of followers on Facebook. How does a person go from scrolling through Twitter and Facebook or watching videos on YouTube to violently storming the seat of government. To understand the role social media plays and radicalizing people. I spoke to--
Kevin: Kevin Roose, I'm a tech columnist for the New York Times. Social media platforms played a role in radicalizing many of these people, but it also gave them a chance to coordinate and organize themselves offline. We saw that on the big networks, Facebook, Twitter, YouTube, we saw that on smaller, more niche networks, things like Telegram messaging apps, live streaming platforms. On the day of the riots, we actually saw many of the people participating in it livestreaming themselves and posting photos, performing rioting for their online audiences, as well as the people around them in Washington.
Amy: How did this happen? How did it come to be that as you have done so much work on the that, people that we talk to every day in our lives have now come to believe a lot of this stuff that is full of lies and misinformation.
Kevin: That's something I really think is an important point for every QAnon influencer dressed up in costume at the Capitol, there are thousands of people sitting at their computers at home believing many of the same things. They are not as visible, but they're out there. They're the realtors and car dealership owners and elementary school teachers of your and my and everyone else's towns, who have spent the past few years being fed a diet of garbage on the internet.
It's not an accident that this is all coming to a head as Donald Trump leaves office QAnon, one of the conspiracy theories that these people believe, tells that there will be a storm, that there will be a moment where patriots will rise up against the corrupt elite who they believe are also leading a child sex trafficking ring and will take back the country. This has been building to this point for a long time and it's not the end. This is going to continue long after Trump leaves office.
These people are not going to be magically convinced to come back to reality, they are going to latch on to other conspiracy theories and keep promoting these outlandish and frankly dangerous conspiracy theories.
Amy: Many times, Kevin, in these last four years, it feels like we hit this tipping point where now things are going to change. Certainly, after what we've seen means X is going to happen. Could it be that we're at that place after the events at the Capitol that Congress, that legislators are going to really truly dig in to getting regulation of these social platforms?
Kevin: I think there's a lot of energy right now on both sides of the aisle frankly, for reforming social media. I think Republicans and Democrats have very different ideas about that. Republicans want to repeal legal protections under section 230 and bend the platforms to their will. Democrats have other ideas for how to regulate them. I think something will happen as a result of this. It seems to be a catalyzing moment for a lot of people, but these platforms will still be around and it may take several years for them to get regulation through Congress. In the meantime, we will be living with the effects of these platforms and the people who have organized their beliefs around them.
Amy: One other thing I wanted you to talk about was a tweet you sent out recently where you said, "I used to keep stories like this sent to me by listeners about their friends and relatives getting lost in a YouTube radicalization spiral in a separate Gmail folder, thinking I'd follow up on them someday, but they're just too many now. I feel like everyone has a story about someone in their life like this, and yet it's still somewhat surprising to hear." I can probably add one to your folder too. Again, people that I did not think would be believing and posting things on Facebook are doing it. Can you get into that a little bit too, about what you've, as you've talked to some of these folks and tried to figure them figure out maybe people in your own life?
Kevin: I've talked to hundreds of people whose friends, family members, spouses have been sucked into these conspiracy theories on the internet. It's devastating. It's really hard to listen to. It almost always starts with, they watched this one YouTube video and then the algorithm suggested a bunch more, or they joined this Facebook group thinking they were going to get parenting advice and it turned into a thing about child sex trafficking. It's happening all over the place. I think probably at this point, everyone knows at least one person who has traveled this route and it's really hard to know what to do.
I think that fact-checking is important and I do a lot of it, but we're not going to fact check our way out of this. Just presenting people with better information doesn't necessarily lead them to make different choices. I think we really have to start with understanding what's bringing them into these conspiracy theory communities. Is it loneliness and social isolation? Is it a desire for status and standing within a community, and then we need to find other ways to meet those needs that are less dangerous
Amy: This cuts across all kinds of demographics. These are men and women. These are older people. This is not just one group of people that seem to be pulled into this. It is an incredibly diverse demographic.
Kevin: I have talked to millionaires who believe in these things. I have talked to people on food assistance who believe in these things. It is not limited to people from one race or age bracket or tax bracket. Everyone in every community in America is dealing with this right now. I think it's a real mistake to pigeonhole this as a bunch of internet-addicted losers in their mom's basement. This is happening to successful people, people with educations. I really think that in the next few years, we're going to see the effects of it. It's going to be too big to contain and we're going to start seeing it everywhere.
Amy: We should really tackle this perhaps as a health issue more than just a regulatory issue.
Bruce: It is dramatically affecting the health, not just of our democracy, but of our families and communities. It's really making an impact in these people's lives, which is not to say that they're passive victims. They're choosing these sources and these conspiracy theories. I think that we have to separate the people who are the violent insurrectionists who do break the laws, who storm the Capitol, who obviously deserve to be brought to justice with the people sitting at home who are not storming the Capitol with guns and weapons. They are just inhaling this toxic conspiracy garbage all day. I think that that group is a much bigger group and it's one that frankly, we don't really have a plan for them yet.
Amy: Kevin Roose, thank you so much for joining me. Appreciate it.
Bruce: Thank you. Thanks for having me.
Amy: We asked you how you're dealing with relatives or friends who are sharing misinformation on social media.
Speaker 8: I'm constantly getting calls from my mom about crazy QAnon conspiracies my younger brother shares. I get questions like were Nancy Pelosi and President Obama really arrested for rigging the election. I recently got a call from her when she was pretty scared because he was convinced that there was going to be martial law enacted due to some Facebook post he saw. Seeing him go down and be sucked into this death cold is really hard. It's gotten to the point where we're beginning to plan to have an intervention with him.
Terry: Hello, my name is Terry Zdral and I'm from the Denver, Colorado area. When I would see this dis or misinformation appearing on my feed, I fact-checked everyone and everything, and I would respond sending them back the fact check or even articles from credible right-wing sometimes organization or right-center. They got very angry and they started clipping even more dis and misinformation and began calling me "a fact-checker," like as if it was a dirty word.
Alex: Hi, this is Alex and South Liberty, Utah. I have a cousin that kept posting things that were casting doubt on COVID and the death rate, but they were mostly just memes. I tried asking him exactly why he doesn't believe the death rate. After some back and forth, he said that he knew some funeral homeowners in the city and they said that they were operating normally, asking me, "Where are the thousands of bodies I keep hearing about?" I then shared the link for the official death tracker for the city. He then blocked me.
Speaker 9: I have a friend that is a mom, and she is an amazing person in every way. She's a vegetarian, she's pretty liberal, women's rights and all that stuff, except for the conspiracy theories that she absolutely believes in. She's constantly talking about fake media. We try to be open with her and tell her that it's very confusing, that it doesn't resonate with us. We don't want to disconnect from her because she's already disconnected.
Tim: Hello. This is Tim Fogarty from Jacksonville, Florida. I'm 56 years old and I have a friend that's about 1300 miles away that I went to college with and met him there. In the end, we have to make a phone call because I am not on social media. It's about every three or four years we reach out. It's amazing how people change over time, but it's not surprising. That's the issue I'm making today is this friend got into the Coronavirus.
He predicted it was fake news and that there would be a maximum of 60,000 people before herd immunity, subsequently that conversation morphed into the Trumpism side of things and the conspiracy theories. I'm not going to rehash them, but this person believed in every one of them. I tried to dispute it from the beginning of the conversation. I had to just stop. I would not interact anymore because there was no hope. Some people have to be a part of something and have a mystical reason why it's going to take place. I don't know, maybe someday we'll reconnect but it sure as heck isn't going to be me making the call.
Speaker 10: Hi, when my friends come up with these strange theories about President Trump and paraphilia and all of that stuff, I just can't believe that I'm talking to the same person that I spoke to two months ago or yesterday. It's just amazing. I listen, I try not to get upset about it. I love them because they're my friend but it's like they've been taken over by aliens. I haven't really navigated very well.
Speaker 11: In recent days, we've seen social media networks take swift action to combat the conspiracy theories that led to the attack on our nation's Capitol. Twitter has permanently suspended President Donald Trump's account and Parler, a Twitter-like platform which has attracted many right-wing conspiracy theorists has been dropped from both Google and Apple app stores and Amazon suspended its web services causing the network to go dark.
I sat down with Darryl West, a senior fellow in the Center for Technology Innovation at the Brookings Institution to discuss what responsibility social media networks have here and what the appetite might be for Congress to take action.
Darryl: I think they have a big responsibility, because even though they claim they are technology as opposed to media platforms, they actually have become media platforms and people are getting a lot of news information from those platforms. I think both Twitter and Facebook, in particular, have major responsibilities. There's been a lot of criticism of them and I think it's deserved criticism. Twitter has now banned Trump from his account. I think that's the type of social responsibility that we need to start thinking about.
Now obviously freedom of speech is still important, it's part of the bill of rights. It's in the US constitution. We definitely have to respect that but freedom of speech does not include the freedom to incite violence, which is what I believe President Trump did last week.
Although it's a contentious decision on their part to deplatform him, I think they were perfectly within their rights. If Trump feels that that was incorrect, and he released a video making that very point, I would say we'll sue them. Let's have a lawsuit where you explain why you think you have a freedom of speech rights here and they can explain why they deplatformed you and we'll see what a judge says.
Amy: Parler that conservative version of Twitter after the Amazon Web Service suspended their account, Parler announced that they are going to sue Amazon because Amazon was "motivated by a political enemy." Do you think soon enough we're going to see just how far the freedom of speech or quelling political thought argument is going to playout legally?
Darryl: I think the Parler case is going to be fascinating because it really raises all of these issues. Amazon basically said that Parler has become a site that incites violence. That was their justification for kicking it off of its hosting services. Parler has responded with a lawsuit saying this is an antitrust violation that Amazon is getting rid of Parler because it doesn't want competition.
I think it'll be a very interesting case. I think it's a more complicated case than Twitter getting rid of Trump, because it's different if you basically deplatform an individual and can point to specific things that that person said as opposed to an entire social media site, there may be some individuals who were using that site to incite violence. There certainly were many others who were not. It's a question can you deplatform an entire social media site when a small number might be inciting violence and others are not.
Amy: Let's talk about Congress and the role that it could play. Can there be some sort of consensus on something like getting rid of this so-called liability shield section 230? Is that enough and do you think it could actually come to pass?
Darryl: I posted a piece on the Brookings thinktank blog this week arguing for section 230 reform. In 1996 when Congress passed the communications act, it shielded internet platforms from any legal liability because technology was in its infancy then. We just wanted to see how it played out before we started to regulate it. That was almost 25 years ago. These companies now are very powerful. These are not companies that are operating in somebody's basement or a garage anymore.
It's clear that these companies should have some liability for the more egregious things that we're seeing online. Certainly in using the platform to incite violence, to me, there is a justification for removing the legal liability shield. In that way, you might make the same argument in terms of hate speech.
Congress already has passed a bill a couple of years ago on human trafficking, where they basically remove the legal liability shield when the platforms are used for human trafficking. There's a precedent for that, that legislation was passed on a bipartisan basis. Even though you're right that Republicans and Democrats have different complaints about social media these days, there actually is a tech lash out there.
There's a big backlash against the technology sector that I think it's going to be possible for Congress to start to carve out some additional niches, some additional areas where they think the behavior is so egregious and so important for our society and our political system, that there has to be greater accountability on the part of the social media companies.
Amy: Then talk about the next piece of this. Now Democrats are in control of Congress. We know that folks like Senator Elizabeth Warren had been talking about breaking up big tech. We know that the FTC last year accused Facebook of beating their competitors by buying them up. Sense of being a monopoly. How is this idea of an antitrust argument against big tech going to play out do you think?
Darryl: I think that's going to be an area that gets a lot of attention this year because as you mentioned the Department of Justice has an ongoing lawsuit against Google on antitrust grounds. The Federal Trade Commission has sued Facebook, many state attorney generals around the country are suing these companies as well. The two issues are one, should we break them up, which basically means mergers and acquisitions that already were approved by the federal government have to be reversed.
The second option is future mergers and acquisitions. Basically say we allowed you to do this five or six or seven years ago but we're not going to allow you to have large mergers going forward. I'm not sure which of those routes will become the dominant one. I do think there is growing concern about the size and power of these companies. They're just so powerful over so many different aspects of life that I could easily envision limits on future mergers and acquisitions. The government either through congressional legislation or through these department or agency actions may start to impose conditions. They may say you can buy this company but then you become subject to tougher privacy laws. You have to limit data sharing. There are a variety of conditions federal agencies can attach to merger approvals. That could be another way that we see things developing.
Amy: Do you think a democratic administration and a democratic controlled Washington looks dramatically different for movement on some of these big tech issues than it did with Trump and with Republicans in charge?
Darryl: Absolutely. I expect 2021 and 2022 to see action on a lot of fronts regarding the tech sector, just because there are so many controversies in terms of the loss of privacy, cybersecurity hacks, antitrust issues, extremism on social media platforms. Like they're big concerns. If you look at public opinion data, there are substantial public concerns about this and then legislators of themselves. Many top leaders in both parties are being critical of the large companies.
I think there's going to be a lot of action on this front in the next couple of years. America has basically had a libertarian stance on the tech sector for the last 30 years. That era is over. We're going to move into a new era where there's more public oversight, public engagement, and public regulation. There are questions over how much regulation there will be and should be. People disagree on how far we should go in that direction. I think everybody recognizes there are lots of problems here. As we have done with past technologies, when we start to see problems, the policy is always behind the technology, but eventually, the policy starts to catch up. I think that this year and the next few years, we're going to see that in DC.
Amy: Darryl West, thank you so much for coming on and helping us to untangle this very complex issue.
Darryl: Thank you very much, Amy.
Amy: One more thing for me today, in the past a party tried to quickly move on from their presidential losers. Democrats spent years trying to rebrand themselves after President Jimmy Carter's one-term tenure. There's a reason Republicans host primary debates at the Ronald Reagan presidential library in Simi Valley, California, and not the Richard M. Nixon library, two hours down the road in Yorba Linda.
However, at this point, a significant number of Republican members are happy to remain tied at the hip with Trump while the rest of the party is seemingly resigned to this fact. Now there are lots of Republicans who think that in a few weeks, it'll be back to business as usual here in Washington, after all that's been the experience of the last four years. Nothing it seems, not life-altering events like a global pandemic or economic collapse or the norm-busting behaviors of president Trump have made any significant dent in our countries polarization.
Sure, Trump lost reelection, but it wasn't the landside reckoning that many had expected or maybe hoped. Meanwhile, proclamations of a Republican split remain premature. The party coalesced around Trump in 2016. They did so again in 2020, it's hard to believe that Donald Trump will just fade away in 2021. Trump leaves the White House with tremendous legal and financial liabilities, his brand, hotels, golf courses, other properties are being shunned by corporate leaders.
His access to a digital bully pulpit, Twitter, and Facebook has been cut off. No one knows what legal actions will be taken in New York by election time in 2022. In 2016, Donald Trump revealed just how little influence the party has in not only selecting its nominee, but in defining itself. The question going forward is whether a party can continue to survive tethered to a personality instead of a platform.
That's all for us today. Our senior producer is Amber Hall. Patricia Yacob is our associate producer. Polly Irungu is our digital editor. David Gebel is our executive assistant. Jay Cowit is our director and sound designer. [unintelligible 00:52:27] helped us out on the board this week. Vince Fairchild is our board op and engineer. Our executive producer is Lee Hill. Thanks so much for listening. It's politics with Amy Walter on The Takeaway.
[00:53:03] [END OF AUDIO]
Copyright © 2020 New York Public Radio. All rights reserved. Visit our website terms of use at www.wnyc.org for further information.
New York Public Radio transcripts are created on a rush deadline, often by contractors. This text may not be in its final form and may be updated or revised in the future. Accuracy and availability may vary. The authoritative record of New York Public Radio's programming is the audio record.