A Virtual Democratic Convention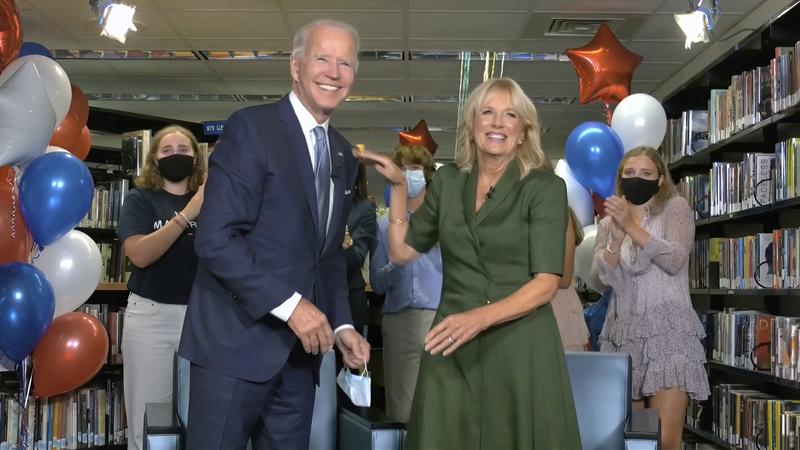 Transcript
[music]
Amy Walter: It's Politics with Amy Walter on The Takeaway. The first virtual national party convention is in the books, but it wasn't just the lack of balloon drops or cheering delegates that made this convention so different from the Democratic convention in Philadelphia four years ago. In 2016, the wounds of a contentious primary were still on display. This week on the final night of the convention, the major 2020 Democratic primary candidates were featured in a prime time Zoom-like talk show format where they gushed over Biden's decency and sense of purpose.
Elizabeth Warren: I think the day I saw Joe the clearest was on the one-year anniversary of the Boston Marathon bombing. Everyone, of course, was enormously honored to have the vice president here. At some point in that speech, he shifted to the parent who had lost a child, to the man who had lost a wife, to someone who had experienced loss very personally. He spoke to each of the families from the heart.
Amy: The week also featured a number of high-profile Republicans who vouched for Biden's competency and centrism. Their job was to assure the white suburban moderates who have soured on Trump that Biden is a safe choice.
John Kasich: I'm sure there are Republicans and independents who couldn't imagine crossing over to support a Democrat. They fear Joe may turn sharp left and leave them behind. I don't believe that because I know the measure of the man. It's reasonable, faithful, respectful, and no one pushes Joe around.
Amy: The through line in each night and each speech was the threat our current president poses to our democracy and the urgency of this moment.
Barack Obama: This administration has shown it will tear our democracy down if that's what it takes for them to win.
Kamala Harris: We're at an inflection point. The constant chaos leaves us adrift. The incompetence makes us feel afraid. The callousness makes us feel alone.
Michelle Obama: If we want a chance to pursue any of these goals, any of these most basic requirements for a functioning society, we have to vote for Joe Biden in numbers that cannot be ignored. Because right now, folks who know they cannot win fair and square at the ballot box are doing everything they can to stop us from voting.
Amy: There's a lot to get into, so let's dive right in. I am joined by a virtual panel of reporters who've been following the convention all week. Maya King is a reporter covering race, ethnicity, and campaigns for Politico. Alex Roarty is politics reporter from McClatchy. Astead Herndon is national politics reporter for The New York Times. Astead has actually been in the place where we were all supposed to be this week in Milwaukee. Astead, can we start with you and tell us what it is like to actually be in a convention city where there's no convention?
Astead Herndon: I think that the levels of the absence here has been even greater than folks would imagine. There are times when you would not even know that the convention was ostensibly being hosted a block away. There are very few protesters. There's very few signage. The hallmarks of convention that we're used to seeing are just totally absent. The fewer reporters who are here have watched it virtually just like everyone else.
There's been some programming this week. They had a drive-in to see. As they projected in Delaware, they have a drive-in and fireworks at the Milwaukee zoo. That was about the only in-person thing. Even that was kind of hard to see for press to get into. Just as one anecdote of how difficult it was, we took a five-minute convincing to get this bar to play Joe Biden's feed so that a few reporters were at turning it-- The kind of explanation from them was, "Well, they took it from us anyway, so why play it?"
Amy: [chuckles] Well, the hometown crowd is not happy with that. Do you think that not physically being there in a state that is so critical to getting the electoral college votes that Biden needs to win the election is ultimately going to be a problem?
Astead: The explanation you get from Democrats here is that voters are going to reward their cautiousness about the coronavirus and that for whatever they would have lost in terms of money, investment, or canvassing, they will gain back because voters recognize that this is a unique time and it's not the same as four years ago. Obviously, Republicans are trying to make that a bigger deal, "Oh, Democrats didn't invest. They didn't care about Wisconsin then and they're showing they don't do it now."
I don't think that that's the case. We know that four years ago, it was much more than just Hillary Clinton, who didn't have an in-person rally in Wisconsin, but that there wasn't the same level of money and investment in the organization and the state. Biden's already corrected kind of that half. Will voters hold it against him that he did not give his physical speech in Wisconsin? I just think that's a much, much smaller factor than the President handling of the protest, a referendum on how he's handled protest about racial justice. There's just such larger factors that have upended the political scene here. I don't think voters, even in a state like Wisconsin, are going to hold this week against them.
Amy: All right. Well, let's go around the table and talk about what happened on Thursday night which, of course, was Joe Biden's chance to tell his story. Maya, I'm going to start with you. How did he do?
Maya King: A lot of folks were really nervous that Biden would make a mistake or, of course, say a gaff or make some kind of a misstep, but it was really a very solid, very strong speech. It wasn't the pep rally speech, I think, that we would have gotten during a convention. It was very level-headed and almost felt like a presidential address or a fireside chat, which is what a number of my colleagues have described it as.
There was a clear contrast between the plans that he has for his presidency if elected and what the United States is currently experiencing under Trump. It was very much-- he made at the end of the speech, a clear-- there was a clear choice between the chaos of the coronavirus, consistent protests, and the general feeling of unrest in this country under Trump and the potential to, of course, as he says, save the soul of America and usher in some kind of a level-headed, steady-handed leadership that would be a Biden-Harris administration.
Amy: Alex, what did you think you agree with Maya that the real worry from so many Democrats was simply that Joe Biden wouldn't be able to show that forcefulness and stamina?
Alex Roarty: I think so. I think really the way in which Biden was able to deliver this speech was as important as anything else because that has been a really explicit criticism from the Trump campaign and Republicans. There are no euphemisms when they talk about Joe Biden a lot of times, right? They say that he is essentially old and doddering and in decline. I think it was an important moment.
I agree with Maya. There were some anxiety, some reservations for Democrats that Joe Biden, in a very big moment, wouldn't be able to summon the type of performance that they would like that maybe that they're used to seeing from their former president Barack Obama. I think it was a speech that started pretty well, but he seemed to gain momentum, Amy, as he went through.
He seemed to gain to become more forceful and more effective and really hit heights that if you watch Joe Biden throughout the primary, look, he was not always great during debates. He wasn't always great in public, but he seemed to deliver the kind of forceful speech that a lot of Democrats felt like he needed to in this moment. In the aftermath of this, you saw that the reaction I think was overwhelmingly positive as you might expect, but there was a little tinge of relief too from Democrats. I think it really helped put a bow on a convention that they thought, I think, overall, were pretty well for them.
Amy: Astead, I want to go back, for someone like you who's been on the campaign trail, this whole cycle, to where we were, say, in February. This moment seemed really unlikely that Joe Biden would be accepting the nomination. He came in a distant fourth in Iowa. He basically conceded New Hampshire, lost Nevada. Can you reflect on what it took for him to get here?
Astead: Yes. I think that the story of Joe Biden arriving to this moment looks unlikely in February. Sometimes it looks unlikely if we go back years and decades. This is not just someone who had a hard road to the nomination in this primary, but obviously has lost a presidential run twice before has turned down an opportunity in 2016. That looked like his best shot.
When they played the montage of President Obama awarding him the Presidential Medal of Freedom, it struck me that both of those men probably thought that would be the peak of Biden's political career at the time. They thought that Hillary Clinton would be the next president and that Joe Biden will assume a statesman role in the party. Obviously, that first assumption didn't work out and that changed the entire landscape of American politics.
I also think that we cannot overstress how quickly the Biden nomination came together. You had those moments in Iowa and New Hampshire, the states that think of themselves as the sift through that the Democratic candidates plainly reject him. While we knew that he had what they call the firewall but strong support, particularly among Black voters, as you move to more diverse states, that wasn't a certainty.
From Warren taking down Bloomberg to Steyer falling in South Carolina to two candidates dropping out and endorsing him before Super Tuesday, things came together so quickly for Joe Biden where he had gone from never finishing in the top three in any presidential primary to being the presumptive nominee in, basically, 10 days, two weeks. I think that is unprecedented.
Amy: Right. Maya, there was this assumption early in the cycle that there was no way that a party that had embraced much of the agenda of Elizabeth Warren and Bernie Sanders would nominate somebody who came from the centrist wing of the party, somebody who'd been part of Washington for so long. Tell us what that says too about the Democratic primary voters and maybe too about the political class in Washington and what they missed.
Maya: I think it's really a reflection of who the political class really believes can win against Trump. Of course, this has been a solid refrain, particularly among African-American voters who really delivered the momentum that Biden needed to become successful post-South Carolina. The Democrats have, of course, always bragged about getting a big tent party. What we get with that, of course, is a lot of representation. Even making up for that lost time during the entire convention, there was mention of progressive voters. There was mention of Medicare for All of young voters. I think there's really an attempt now to try to bring all of those groups into the fold.
Amy: Alex, I want to touch on something you wrote on Twitter on Thursday and it was this, "I'm genuinely surprised that Democrats who seem to agree for most of the last four years that it didn't make a forceful enough case in 2016, that Trump would make middle-class life harder are mostly running it back so far at this convention." What you seem to be saying is they spent a lot of time at this convention talking about Donald Trump and not enough time talking about the middle class or regular voter concerns. Is that what you were getting at?
Alex: Yes, it was. I was thinking in large part, Amy, you'll remember that the Democratic Party strategy in 2018 was really about criticizing Donald Trump's tax cuts. It was mostly about criticizing his health care proposals, including his plan to repeal the Affordable Care Act and remove protections for preexisting conditions. That was a huge push in 2018. It was reflective at the time.
People thought of this admission that in 2016, there was too much focus on Trump being a bad guy as Michael Bloomberg gave a reference during his speech on Thursday that he was a con-man instead of just making a plain case for why his presidency and putting Republicans in charge in Washington would hurt the middle class, would make expenses go up, would make health care harder to pay for.
I was and, to some degree, still am surprised that there wasn't more interwoven into everything that Democrats did over the convention. I think you heard. As you mentioned earlier, I think the main case against Donald Trump in a lot of ways was that he was an existential threat to democracy. You heard that, I think, from Bernie Sanders. You heard that from both Barack and Michelle Obama. I think you heard it from Joe Biden last night.
Now, in fairness to the former vice president, he did actually mention the tax law that Donald Trump's assigned at one point and how, in his words, it was a giveaway to the rich. That was one of the first times that it had been mentioned really all four days. Clearly, I think the main imperative from the Biden campaign and Democratic officials was to really talk directly to moderate Republican, Republican-leaning independent voters, white suburban voters like you mentioned earlier.
Many of whom have probably swung in polls to Joe Biden since the summer began because of the President's response to the coronavirus and, basically, just assure them that they're on the right side even if they have some misgivings about policy that Joe Biden is a good guy who works in a bipartisan way, who is going to work in Biden's words last night to represent all Americans. Over the next two and a half months, you might hear an awful lot from Donald Trump, but these are the reasons that you should stick with us. That was the main message and we'll see if it was the right one.
Amy: Astead, what do you think about that? You've been watching this campaign for a long time. You obviously saw what Alex is referring to in 2018 that so many Democrats stayed away from talking about Trump personally. Obviously, it's different now. Donald Trump is on the ballot this time. We're also in the middle of a pandemic. I'm wondering if you think that the convention itself and even Biden spent a little too much time talking about Donald Trump, the person, and not enough time talking about what regular people are struggling with day-to-day.
Astead: I think that's an interesting question. Coming out of 2016, what I think one of the lessons people took is that the Clinton campaign spent too much time trying to indict Donald Trump as a person and getting baited into going back and forth rather than outlining an affirmative vision for the country. He saw a big swing in 2018 as Alex was mentioning where candidates across the country very rarely mentioned Trump. I think that's easier to do when you're running in a localized race.
It's harder to do for statewide candidates and it's almost impossible to do for Joe Biden. This is the election whether he wants to or not will be a referendum on the presidency of Donald Trump. I think that's largely what reelection campaigns are. I think that what the balance that Democrats are trying to strike currently is to play up those differences and make inroads where they think they can while also trying to appease the voter who wants something more, who wants to hear the case of why Joe Biden and Kamala Harris would move the country forward.
I think the convention, in terms of tone, try to strike that balance. I don't think it went too far one way or the other, frankly, because I think they have their hands in both of those pots electorally. I just think there's a huge difference between in 2016 with the imagining of Donald Trump becoming president and then 2020, the reality that actually gives Democrats more leeway and indicting him.
The coronavirus has become such a referendum on the administration and its handling of government. I think that you can see from Biden's speech last night, he doesn't even mention another issue until later in the speech. He can make all of the points about the way government works, empathy, decency, and also legislation just using the coronavirus pandemic. I think that's just totally changed the ability for Democrats to make this a referendum on the President even though it always was going to be.
Amy: Maya, I want to end here with you. For the last four years, there's been this intraparty battle within the Democratic Party over which is more important, winning over those swing voters, those Obama-Trump voters like in the Midwest or energizing the base, especially younger voters of color. Watching this convention, watching Joe Biden's campaign, where do you think they've landed on that?
Maya: Well, I think they've had to strike a balance between the middle, though I do sense that they've actually made a really good attempt and actually been a bit successful in trying to galvanize those voters who at the margins might not have been willing, not necessarily to support Trump but to not vote at all. This is certainly, as we've said before, a referendum on the job that President Trump has done. Now, folks who may have normally been willing to sit at home are now actually willing to go out and see past a lot of the Democrats' shortcomings in order to get Trump out of office.
Amy: Maya King, Alex Roarty, Astead Herndon, thank you all so much for joining me.
Astead: Thank you.
Maya: Thanks for having me.
Alex: Thank you.
[music]
Amy: For me, the biggest difference, of course, was that this convention was virtual. Instead of being in a convention center, I sat in a studio watching the live feed. Now, I've been to every political convention since 1992, so it felt weird for me to not be there in person. For many of you, you said the virtual convention made you feel more included.
Mike Walsh: My name is Mike Walsh. I'm from Quinton, Virginia. I actually felt the Democrats' message was clearer using the virtual format. I think it's the format of the future.
Speaker 1: I really liked it. I liked the format. It has intimacy and makes a real human connection to people and their position and how they're suffering and struggling.
Amy: Many of you watching from home told us you felt inspired.
Barbara Anderson: This is Barbara Anderson. I live in Brownsville, Oregon. The convention is the first one I've watched as much as I was so heartened to see all the people who think in similar ways to myself and to hear our most respected leaders voice what we all know and see in the current administration. I have enjoyed it much more than a normal convention. I have some hope.
Evelyn Sapir: This is from Evelyn Sapir and I would describe myself as an independently-minded Democrat. Michelle Obama's intensely empathetic, impeccably reasoned message went straight to my mind and heart like an arrow to the mark.
Steve: This is Steve from Oregon. When either Michelle Obama or President Obama look straight in the camera and spoke about how serious the situation really is right now, that struck a chord with me. I'm a senior citizen, white, rural, own guns, can have many things in common with Trump supporters, but I'm a liberal and I'm very concerned about our democracy.
Amy: Others are still feeling unsettled about a primary process that favors established candidates.
Brian: Brian from Saint Paul, Minnesota. Boy, howdy, did that feel like a circus? The wounds from 2016 are still very real for me. I was a progressive Democrat. I was really a big fan of Bernie Sanders. After they just went with Hillary Clinton, I felt like I was robbed. It feels like it's more of the same where they're trying to paint the whole, "Oh, we're progressive," face on a really not that progressive party.
John: John from Omaha, Nebraska. I think the Democratic convention just confirmed that the best within the Democratic Party are not getting the nomination. That view was fantastic, good, intelligent thought. They'd win me over as an independent if their process of selection was a little more credible.
Amy: Unsurprisingly, some of you had a lot to say about the official Democratic nominee.
Speaker 2: Giffords says on the San Francisco Bay Area, the Democrats gave us four fabulous nights of examples of decency, compassion, honesty culminating in a fabulous presentation by Joe Biden and probably giving one of the best speeches of his life. If I were Trump, I'd be shivering in my boots.
Speaker 3: I wasn't even excited about Biden before, but it was such a relief to hear what seemed like normal, decent people talking that I became very enthusiastic. I thought the good, thematic organization of the convention was very powerful and Biden's final speech left me feeling confident and relieved.
Amy: It's clear that in these calls, there's a lot at stake in this election. For some, it's the ability to feel like there's a path to normalcy and away from the chaos of the coronavirus. For others, it's hoping electing a leader that respects the norms of a functioning democracy. We always love to hear from you. Let us know what you're thinking and give us a call, 877-8-MY-TAKE. It's Politics with Amy Walter on The Takeaway.
[music]
Amy: While Democrats across the country connected for their convention virtually this week, President Donald Trump crisscrossed the country, making public stops in Wisconsin, Minnesota, Iowa, Arizona, and Pennsylvania, where he spoke hours before Joe Biden accepted the Democratic nomination.
US President Donald Trump: If you want a vision of your life under Biden presidency, think of the smoldering ruins in Minneapolis, the violent anarchy of Portland, the bloodstained sidewalks of Chicago, and imagine the mayhem coming to your town.
Amy: Yamiche Alcindor is the White House correspondent for the PBS NewsHour and a political contributor for NBC News and MSNBC. Hi, Yamiche.
Yamiche Alcindor: Hi, Amy.
Amy: While we've had a Democratic convention, the President has been busy himself traveling around the country. Can you help us put that into context? What is he trying to do?
Yamiche: What he tried to do this week was counterprogram. He wanted to go to some really, really important states. The states that you mentioned, Wisconsin, Pennsylvania, Arizona. They're, of course, the states we've been talking about since 2016. They're key battleground states that he likely will need to win in order to be reelected. He was partly campaigning but partly making the case that as Democrats were having their virtual convention, he wanted to explain why he thinks they're not the right party to be in office and that Joe Biden, essentially, is dangerous for this country.
In Pennsylvania, in particular, on Thursday, he went to Scranton, Pennsylvania, which was really trolling Donald Trump, if I could use a great political term, because what he was doing was going to the place where Joe Biden grew up and saying, "He sold you out. He failed Pennsylvania. He didn't have you in mind when he went to Washington." That was, of course, in some ways, really telling.
Because on the day that he was doing that, Steve Bannon, his former White House chief strategist and senior advisor to the Trump 2016 campaign, was being indicted for defrauding donors in his private endeavor that was having people literally donate $25 million to We the People Build the Wall, this private movement, to collect money to build this wall on the southern border. The President was trying to make this case that the conservatives in his administration would take care of people while his former ally was literally being indicted for taking advantage of the very voters he needs to win.
Amy: Well, that's the thing, Yamiche, that I can't quite figure out, which is there doesn't seem to be a sustained message or coordinated message about Joe Biden from the President or from the campaign. We ran that clip where-- This was from Pennsylvania, where the President is talking about the Biden presidency. There's going to be blood in the streets. At the same time, he's saying he abandoned Pennsylvania because when he was in office, he voted for these trade deals. At another moment, he calls him, "His brain is shot. He just can't handle this job." Is that what you're sensing too, that they haven't quite honed in on what the main message is about Joe Biden, the main argument against him?
Yamiche: That is my sense. The Trump campaign, if you were to pose a question to them to say, "Well, what is this campaign really about?" the officials would say, "It's about the economy. It's about the future of America. It's about building people back better. It's about rescuing people from the ravages of a pandemic. When you listen to President Trump, he gets deeply personal. He talks about conspiracy theories and President Obama spying on his campaign. He gets really angry and says that they want to cancel-- talking about Democrats, they want to cancel every voter that agrees with him and destroys families.
He is someone who you can tell is really affected personally when the Democrats attack him and have pointed criticism for him. Just during the DNC on the last night, he got on Fox News in the middle of the DNC virtual convention to say that he might even send law enforcement officials, law enforcement like sheriffs and police officers to polling stations on election day. That is not the kind of message that the Trump campaign wants to be sending.
Amy: We know that as you pointed out, the President went on Hannity during the middle of the convention last night. He's also been on Twitter. What do you think the reaction has been from not just the President but folks inside the White House about how this DNC convention went?
Yamiche: My sense is that people realize that they're going to have to have a street fight with Joe Biden. As you've mentioned, President Trump has been making the case that he's someone, Joe Biden, that isn't all there anymore to put it lightly, that he isn't someone who is mentally up for the job. When we know and saw that Joe Biden probably delivered the best speech of his career during the DNC, it was shorter than most acceptance speeches. Possibly, the shortest one in since the 1980s, according to C-SPAN. What we also saw was someone who was very focused on the idea that we're in the battle for the soul of the nation.
You've heard that over and over again. Joe Biden talked about light versus darkness, good versus evil. President Trump on the other hand, he wants to make the case that Democrats are going to turn America into some sort of fascist, socialist country or Venezuela of sorts, but he's doing it talking about a way that he would run the country in authoritarian terms. Again, going back to saying that law enforcement are going to be at polling stations that the police need to be taking more control of the streets and suppressing what is a largely peaceful protest.
Amy: Yamiche, let's talk about what we know is going to happen next week, which is it's the RNCs turn. This seems like there's still a lot up in the air. What do we actually know about what this convention is going to look like?
Yamiche: I've been struck by the fact that we have very little information about the RNC. I've been talking to sources. When I asked them what's going to happen, they literally write back emails that say things like, "Well, let me know when you find out." [chuckles] What, essentially, we know is that there is going to be, of course, this conservative push to reelect President Trump. We're going to see people like First Lady Melania Trump, Mitch McConnell, the Senate Majority Leader.
He had, at one point, said he wasn't going to be speaking. Now, we know that he is going to be speaking. Matthew Gaetz, who is a congressman from Florida who's been a big ally of the President, he is going to be speaking. We're also going to see some personal people, ordinary people that are backing the President, including Alice Johnson, who was a woman who was freed by the President when he worked with Kim Kardashian on some criminal justice reform.
We're also going to see the couple from St. Louis who pointed their guns at Black Lives Matter activists. They were facing felony charges that have since been withdrawn. We're going to see cultural figures that were in these divisive moments, making the case that President Trump is the person who should be the next president or he should continue his presidency.
Amy: Right. It feels a little bit like they're trying to reprise the greatest hits of 2016?
Yamiche: They are, but I think they are trying to do a little bit of that. I think they also are understanding that now, they are coming behind the DNC, which is a tough place to be because the DNC had-- maybe the first night was a little bumpy with video quality and things not going well. The last three nights, I talked to Democratic sources who said we can never have a regular convention again.
The roll call was just too good in terms of seeing the cultural diversity of America. The speeches were crisp because they were pre-recorded in a lot of ways. You got to see things like Gabby Giffords deliver pointers. She might not have been able to do in the same way live. You also saw that young man who overcame stuttering. I'm talking about how Joe Biden helped him. The RNC now has to respond in kind and that's a highly-produced convention that we saw from the DNC, so the RNC has its work cut out for it.
Amy: Well, the President, of course, does like to amplify the fact that he is a showman. He knows how to put on a good performance. Is the expectation that he's going to basically be directing this and that he is going to be a part of every night?
Yamiche: The expectation is that we're probably going to hear some sort of push by President Trump every night. It'll be his voice, maybe a video of him, or a snippet of his speeches. That's what we saw with the DNC. Even if Joe Biden wasn't speaking every night, you got a sense and a flavor of him every night. I'm certain that the RNC would be doing something like that. I would be surprised to hear the President every single night. Also, again, they're following the DNC.
When First Lady Melania Trump speaks, you might see President Trump swagger out and have a moment just like Joe Biden did when Joe Biden was speaking. The President understands that for Trump supporters that he is their best messenger. He always talks about the fact that he is his own surrogate. He's also his own communications director and his own press secretary. In some ways, President Trump understands that he is the best thing to sell himself to people.
Amy: One other thing that the President or the RNC has announced that he is going to be giving his acceptance speech on the grounds of the White House. Can you help us understand how that is legal to be able to do something like that?
Yamiche: It's unprecedented that even that word is used so much for President Trump, but I'm just going to use it again because, what else is there to say? He is going to be giving the speech from the White House. It's, I think, shaky legal ground, but part of the reason why an incumbent president has often the upper hand is because you have the full wheels of the White House to grind into the next term. We saw President Obama film a campaign ad from the White House before.
It's not like this has never been done before in terms of a president using the White House as a backdrop. President Trump is doing it in a wholly new way. It seems like it's legal. It seems like the President is willing to skirt what is norms and ethical president. I don't think we're going to see the President arrested or anyone arrested for this. The President is going to do everything that he can to use the White House and I will say the National Mall as a whole to get re-elected.
Amy: Using the National Mall with fireworks, I heard, was one thing they were going to do, but do you think there are actually going to be spectators? He's going to try to get a whole bunch of folks, so he has a crowd?
Yamiche: Well, we've seen the President, even though we're in the midst of a pandemic where health officials say, "Do not gather. Stay at home. Wear your mask." He's had events where we've seen crowds. He was in all of the states that we talked about. He had people physically in front of him. The President likes to be applauded in person. I would not be surprised if we saw people out on the lawn of the White House as he was delivering his speech. It would be par for the course for the way that he's handled this campaign.
Amy: Yamiche Alcindor, again, thank you so, so much. Appreciate it.
Yamiche: Thanks so much, Amy.
Amy: Yamiche Alcindor, White House correspondent for PBS NewsHour and a political contributor for NBC News and MSNBC. We spoke on Friday.
[music]
Amy: Last week on the show, we heard about how one conservative group is still knocking on doors to get in touch with voters even in the midst of the pandemic. We wanted to see how other campaigns and organizers were getting their message out to voters. I reached out to Steve Deline and Ella Barrett, who run The New Conversation Initiative, a progressive group that trains people on a method called deep canvassing.
Instead of just making a quick pitch for a candidate or a cause, deep canvasing stresses longer, more personal, and more empathetic conversations. These conversations can happen over the phone or in-person, which works out quite well at a time when person-to-person contact is limited. This conversation is part of our continued look at the limits of campaigning during the pandemic and how activists and candidates are trying to connect in spite of restrictions. I spoke with Steve Deline and Ella Barrett about their efforts to connect with voters ahead of November.
Steve Deline: Deep canvassing is one of the only-- possibly, the only tactic that's been proven to be able to change people's minds in a lasting way on tough social issues and political questions. This is crucial because on the one hand, for quite a while now, right-wing strategists have really perfected the ability to reach and move voters at a deeply emotional level to use fear and strategic racism and distrust of others to move people lastingly to the right. If we want to win people over to the solutions that we believe in and that we feel like we all need on the left, we have to have an antidote that reaches people with that same emotional depth and makes the same lasting impact.
Amy: Right. Ella, talk to us about how you do this. I was reading somewhere. The concept of deep canvassing is about extending empathy and giving grace.
Ella Barrett: The goal of a deep canvas conversation is to really talk to conflicted voters, whether or not they are conflicted on a specific issue or conflicted about whether to vote at all. What we have really learned is that when people are conflicted about what to do, it's conflict on an emotional level. It's not really about facts. It's about, what have I experienced in my life? What have I heard in the news?
Our goal in a deep canvas conversation is to understand and ask a ton of really empathetic questions about what is going on for you around this issue. For our immigration rights conversations where our goal is to reduce stigma against undocumented immigrants, we asked, "Who have you met in your life who's an immigrant? Do you know anyone undocumented?" and try to ground that voter in an actual, real personal experience instead of what they've heard on Fox News or what potentially hypothetical fear.
Amy: As somebody who covers politics, I feel like I have to have this conversation lots of times with people who say to me, "Well, I don't understand it. This voter told me X, but then they did Y." We're asking them to make these binary choices, yes or no, on issues that are much more complicated than that. How do you know where to find these conflicted voters?
Steve: The origins of deep canvassing came out of really going into communities, into neighborhoods and precincts when it's been a door-to-door project, going into neighborhoods and communities where people voted against us in overwhelming numbers and that where we're normally afraid to go and knock and talk to people. It started in the LGBT rights movement where we had lost a ballot initiative in California around gay marriage.
It was literally a group of organizers and volunteers saying, "All right. We don't have a choice here but to go into the communities, the neighborhoods where people are voting against us in such overwhelming numbers and see if we can have an open and honest conversation with them and see if we can be vulnerable with each other, and if there's anything we can learn about what we're not understanding about these folks and their emotions, and if there's anything we can do to change their minds."
Amy: Is it goal then to literally change somebody's vote or is it to get them to just think differently?
Ella: Part of what's so powerful about deep canvassing is that it has been proven to uproot the underlying prejudice and stigma that we know makes voters so susceptible to right-wing race-baiting and fear-messaging. That part of our main goal is, yes, that short-term policy change, but we have to make long-term changes in our electorate. This story-sharing and empathy is the way to really dig at that and have a long-lasting impact.
Amy: Well, talk to me then about how it works in 2020. What are you focused on? Is it trying to make sure that certain candidates, when are you doing candidate-based deep canvassing?
Ella: Deep canvassing is being used on a myriad of issues. We are focused on both base mobilization and hopelessness around voting in general. Folks are not feeling great about our political system at this point. Really holding space and having deep conversations about folks' conflict around voting in general and being part of our political system. On the other hand, we're also running a program with People's Action. The goal is to persuade folks to vote for Biden and really wrestle with the conflict and the choice between Trump and Biden.
Amy: Can you give us some examples of conversations either that you have had or people you are working with have had about this conflict?
Ella: One of my favorite conversations was a rural voter in Wisconsin. She said, "Honestly, I'm going to flip a coin. I am really unmotivated by either candidate." I dug in and asked a little bit more about how she was feeling. She just said, "I'm so tired of empty promises. I'm so tired of candidates coming out during the election cycle and telling me exactly what I need to hear and then never following through."
She told me that she had voted for Trump in 2016 because she owned a small dairy farm. She was hoping that Trump was going to support rural farm owners. That didn't happen that she felt totally left out to dry and that he was prioritizing richer, more wealthier farms in her area. On the other side, she was really disillusioned and didn't know if she could trust the Democratic Party.
We talked and we dug deeper and I asked her if there was one kind of issue that she really cared about in this election cycle that was going to impact her family, what that would be as a small dairy farm and a small business owner like our health care is over $2,000 a month. There are times that we can't afford that. She was like, "I haven't been to the doctor in years." I talked about my own experience as an independent contractor paying for health care.
We got to talking about like, "Yes, Biden is an imperfect candidate." He did grow up working class and he probably understands the needs of her experience better than Trump who grew up with a silver spoon in his mouth. We talked about Biden's health care plan. By the end of the conversation, she said she was going to vote for Biden. I asked her, "How did you feel about the conversation?" She said that she was a little embarrassed that she had shared so much, but she was also so grateful because she needed to vent.
Amy: Well, Ella Barrett, Steve Deline, thank you so much for joining me. I really appreciate this.
Ella: Thank you so much, Amy.
Steve: Thank you for having us.
Amy: Steve Deline and Ella Barrett are the co-founders of The New Conversation Initiative.
[music]
Amy: Here's one more thing for me today. It's definitely weird for me to wake up in my own bed every night this week. Normally, I'd be joining you from a hotel in a convention city. I'd be exhausted from five days of running around trying to keep up with delegates and political leaders and sources. My feet would be sore. My voice would be shot. I should probably be happy to be able to watch the convention from the comfort of my own home.
A consensus seems to be growing that the days of jam-packed stadiums full of sign-waving delegates are over. From now on, the conventions will be televised or is it Zoomized. I've got to say I missed it. I'm missing old friends, catching up with colleagues, getting a chance to have extended conversations with elected officials and the long security lines or shuttle buses to and from the convention center.
What I really missed was a connection to the people outside the convention hall, having a conversation with the waitress at the restaurant outside of town, eavesdropping on the couple sitting behind you at the coffee shop, listening to the delegates' stories. They're on the ground observations of what is and what isn't working in their part of the country. I'm not saying I don't think the convention format needs an update, it does.
For those of us who cover elections, watching it on TV isn't making us more astute observers of what's really going on in the country. In fact, it makes it harder for us to see what's going on underneath all of the carefully-choreographed displays. Like everything else, the pandemic has changed the way we do politics. I'm not convinced that we're ready to go all virtual just yet. That's all for us today.
Our senior producer is Amber Hall, Patricia Yacob is our associate producer, Polly Irungu is our digital editor, David Gebel is our executive assistant, Jay Cowit is our director and sound designer, Debbie Daughtry is our board op, Vince Fairchild is our director and engineer, and our executive producer is Lee Hill. I'll see you next week. Thanks so much for listening. It's Politics with Amy Walter on The Takeaway.
Copyright © 2020 New York Public Radio. All rights reserved. Visit our website terms of use at www.wnyc.org for further information.

New York Public Radio transcripts are created on a rush deadline, often by contractors. This text may not be in its final form and may be updated or revised in the future. Accuracy and availability may vary. The authoritative record of New York Public Radio's programming is the audio record.