A Look at the SCOTUS Nomination Fight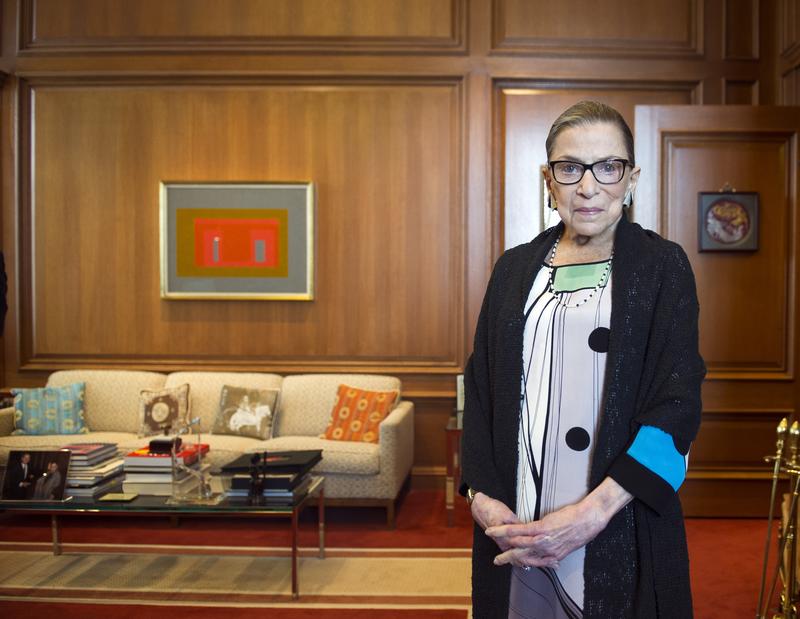 Transcript
[foreign chant]
Amy Walter: It's Politics with Amy Walter on The Takeaway. It's been a week of mourning and a week of partisan warfare in the United States following the death, last Friday, of Supreme Court Justice Ruth Bader Ginsburg.
Speaker 2: The Senate has never confirmed a nominee to the Supreme Court, this close to a presidential election.
Speaker 3: The Senate has more than sufficient time to process the nomination.
Speaker 2: This election and this vacancy mean everything. Leader McConnell and the Republican Senate majority have no right to fill it, no right.
Speaker 3: There's even more overwhelming precedent behind the fact that this Senate will vote on this nomination this year.
Speaker 4: Her dying words were, "My most fervent wish is that I not to be replaced until a new president is installed."
Speaker 5: A four-four Supreme Court is not a good deal for America. We need a nine-person Supreme Court.
President Donald Trump: Losing elections, that has consequences. It's like-- That means the other side gets to pick Supreme Court justices, which is a big deal.
Speaker 7: I look at what Abraham Lincoln did the last time someone died this close to the election he waited, he waited until after the election.
Speaker 8: I believe the right thing to do is for the Senate to take up this nomination and to confirm the nominee before Election Day.
Amy: The Senate will soon begin hearings and could vote on a new Supreme Court Justice literally days ahead of the election. Also, hanging over this process is a president who continues to sow confusion and doubt about the integrity of the election and argues that the Supreme Court will likely determine the ultimate winner of the 2020 presidential contest.
President Trump: With the unsolicited millions of ballots at this ending, it's a scam. It's a hoax. Everybody knows that, and the Democrats know it better than anybody else. You're going to need nine justices up there. I think it's going to be very important because what they're doing is a hoax with the ballots.
Amy: Not said there, but clearly implied, is that any justice Trump appoints would be loyal to him in any case involving the election. Even for this president, who often makes outrageous and baseless claims, the suggestion that he should be able to appoint a justice to the highest court in the land to help ensure his reelection is breathtakingly dangerous. Sahil Kapur is a national political reporter at NBC News, and he says Senate Republicans are planning for a speedy process.
Sahil Kapur: The growing expectation on Capitol Hill among Republicans is that they hope to have a vote, a final vote, on the Supreme Court nominee before Election Day, and that means a very speedy process. They're about scheduling a hearing. Now, the nominee is not announced yet, but once it is announced, as we expect it from the president to be Saturday, Chairman Lindsey Graham of the Judiciary Committee, a Trump ally, expects to schedule a hearing shortly after that. They're aiming to do it as early as October 12th and hoping to do a vote by the end of October, literally, days before the presidential election.
Amy: All right, let's talk through some of the political calculations that the White House is making with this pick. We've heard two names, Amy Coney Barrett and Barbara Lagoa as the front runners. What can you tell us about them? What do they bring? What are their shortcomings?
Sahil: Sure. The widespread expectation from almost everyone I talked to, Trump allies, senators, is that Amy Coney Barrett is the front runner. She is a circuit court judge right now, appointed just a few years ago by President Trump himself to the appellate court, and she is a favorite of the conservative judicial wing. She's also seen as someone, given her Catholic background and her outspokenness on certain issues, as someone that social conservatives and the president's Christian base can get firmly behind.
In terms of the other candidate, there's Barbara Lagoa, who is also a sitting judge at the moment, who is favored by some in the president's party given her background. She's Cuban American. She is from Florida. She is someone who can have a somewhat direct appeal to a very important constituency. She's also in the mix. The president is reportedly considering her, but she is not the favorite at this moment based on the sources I'm speaking to.
Amy: Do you think that it actually matters who he picks? In other words, it sure seems like Republicans are lined up to support a Republican appointee to the Supreme Court, Democrats are lined up to oppose it. Do you think that anything could change that?
Sahil: It is hard to see a scenario where President Trump does not get his nominee through the Republican-led Senate at this juncture. They have 53 senators in their ranks, only two of them, Susan Collins and Lisa Murkowski, have said they don't want to move forward with a nomination at this juncture. They can afford to lose one more, even beyond those two, and still get a judge confirmed.
The stakes are, I don't need to tell you, Amy, enormous in terms of what a six to three conservative court could do for the law, could do to hamstring progressive policies over the next several decades that democratic presidents might try to pass, the regulatory agenda that Joe Biden might try to pursue either through executive action or legislation. I think Republicans recognize the value to their political movement to get this judge confirmed. I think anybody on President Trump's, any woman on president Trump's lists, because he has said it would be a woman, is likely at this juncture to get the support of the Republican-led Senate to be confirmed.
Amy: I'm also thinking about what this hearing could mean for senators who are back at home campaigning but are going to have to come back to Washington, one of the most high profile, of course, would be Senator Kamala Harris. What do you think the stakes are for her? What it could mean for her to be, not just off the campaign trail, trying to course help Joe Biden win the presidency, but also, she gets back into her role as Senator Harris and not just VP Nominee Harris?
Sahil: Kamala Harris will be in an exceptionally unique position in the hearing. She will be the only one on Capitol Hill who is on a presidential ticket, and she will be in the hearing room as a member of the Judiciary Committee questioning President Trump's nominee during the hearing. Now, she has excelled in this situation in the past. She has drawn a lot of praise from progressives and from democratic voters, in particular, for her sharp questioning of previous Trump nominees, including his most recent Supreme Court nominee, Brett Kavanaugh. She is certainly someone to watch in terms of how it will play politically. Her role, without a doubt, is going to be to fit her questioning within the frame of what Joe Biden is trying to pitch to the country, his campaign message overall.
Amy: Exactly. That's what I'm wondering, is that balance that she has to have between like what she would have done as just Senator Kamala Harris versus, "Oh, I'm running mate, Kamala Harris," right? Do you think that there will be a lot of tension there, or do you think that it's pretty much the same message she would be or in the same line of questioning and the same focus, whether she was the VP nominee or not?
Sahil: Yes. I think it could matter around the margins in terms of the questions she asks, in terms of the general tenor and the attitude she takes, because of course Joe Biden is running on, "Let's turn down the volume. Let's cool it. Let's restore institutions and return to normal," that sort of thing. She and Joe Biden are, of course, on the same page in terms of opposing President Trump from filling the seat this close to the election, with this much at stake, with voters have already having started casting their ballots. That will be something to watch in terms of what kinds of questions she asks.
One thing I'm told is that Democrats plan a very heavy focus on the issue of healthcare. This is an issue that unites the party. It hits a sweet spot because it's a political loser for Republicans to be talking about this. There is a lawsuit against the ACA that's headed to the Supreme Court just one week after Election Day in which health insurance coverage for about 20 million people is at stake if the Trump administration gets its wish and the law is overturned. There is a constellation of factors around that issue that make it a good one for Democrats. I would expect that to be a major focus from numerous Judiciary Committee Democrats, including Camilla Harris, and that does fit very much with the Biden campaign's message.
Amy: Right. The one thing I haven't heard as much about, Sahil, that I'm maybe surprised about and I'm wondering if we will hear more about it once hearings get underway, is the issue of abortion. I mean, for years, Democrats have been arguing that a six-three court would mean the likelihood that Roe v Wade is overturned, and yet, as you pointed out, the focus right now is much more on the ACA than it is on Roe v Wade. Do you think that changes once we get into this?
Sahil: Well, a couple of things, the focus is less on Roe v Wade from Democrats because that's already a polarizing issue. The public opinion on the issue of abortion hasn't changed that much over the last really couple of decades, but healthcare is a slam dunk winning issue for them in terms of insurance coverage, protecting pre-existing conditions, and that sort of thing. Now, having said that, Roe v. Wade is probably facing its greatest threat, certainly in my lifetime, and I was born in the late '80s, and in the lifetime of many others who were born before me.
There is no doubt a great danger that a six to three conservative court could be the death knell for Roe v Wade. This could have a big political impact at the ballot box too because, historically, it's been Republicans who go to the polls, who think about judges, who think about the courts, who have that muscle memory to connect their ballots to a certain type of president being elected, picking a certain type of judge who will offer a certain type of outcome. Democrats don't do that. Democratic leaders don't have the vernacular to talk to their base about the courts. They don't really know how to do it. They haven't been doing it.
It hasn't been a concern for most democratic voters that Roe v. Wade could be gone. This could change that. I think that's why we're seeing in the polls, even before Ginsburg died, in anticipation of her needing to be replaced because she's been suffering from cancer and fighting it for a while now, she was 87 when she died, that Roe v Wade could be hanging by a thread at the moment.
Amy: One final thing I wanted to understand is, there are all these lawsuits that are working their way through the courts involving this election in some specific states about election rules, election law, that ultimately could make their way to the Supreme Court before the election. What does it mean to have a four-four court? Does this mean that potentially these lawsuits just don't go anywhere, that there is potential for chaos in that sense?
Sahil: Things could certainly get messy. It really depends on when the justice is confirmed. If the justice is confirmed before Election Day, they will potentially be sworn in and have the ability to hear post-election lawsuits, if those were to occur. We don't know that they will. In terms of a four to four court, I would say, that could get complicated and messy more so than necessarily chaotic because the rule there, of course, is that if the Supreme Court ties then it's the word of the appellate court that has the final say.
Now, that isn't a national binding precedent because appellate courts only cover a specific jurisdiction and not the entire country. If there is a nationwide challenge to something, then, we could be in for chaos, but it may be premature to speculate that that will happen. It's a possibility, hopefully, it doesn't, and hopefully, this election-- Hopefully, for everyone, frankly, and for the country that this election runs smoothly.
Amy: Sahil Kapur is a national political reporter at NBC News. We spoke on Friday morning. We'll be watching this story as it develops through the weekend, and we'll have an update for you on Sunday. Be sure to subscribe to our podcast for all the latest, and you can follow the show on Twitter @TheTakeaway, and I'm @amyewalter.
[music]
Back in April, as cities and states across the country began to shut down in response to the coronavirus pandemic, many states chose to postpone their primary elections, not Wisconsin. The primary went forward as scheduled on April 7th, and it was chaotic.
Speaker 10: Today will likely be an Election Day voters will never forget.
Speaker 11: Look at that line, blocks and blocks and blocks long.
Amy: The reason for these long lines, a decreased number of polling sites and shortage of election workers.
Speaker 12: I have probably been here for almost an hour now, and I have only moved from a little bit before the bridge to here.
Speaker 13: Come on. I'm upset. I really am upset because they've been doing, saying so many different things about how are we supposed to vote, when to vote, and you can't do it now.
Amy: Election officials struggled to keep up with absentee ballot requests. Thousands of mail ballots were ultimately rejected, and when it came to in-person voting, photos of people waiting in line for hours at the height of the pandemic went viral. Now, more than five months later, as we approached the general election, I wanted to check in on the Badger State to see how preparations are going and what changes have been made to ensure a safe, secure, and accessible voting experience this fall. Earlier this week, as part of our special election series, Every Vote Counts, I sat down with Meagan Wolfe. She's the administrator for the Wisconsin Elections Commission. I started out by asking her how the election process works in Wisconsin.
Meagan Wolfe: Every state runs elections very differently. We have different state laws that govern the process. In Wisconsin, how we're different is that elections are administered by the State Elections Commission, and that's a six-member bipartisan commission appointed by majority and minority states legislative leadership, and then, that bipartisan commission appoints the administrator as the chief election official. That's a title that's usually held by the secretary of states, in most states, and that's me as the administrator. I'm the chief election official for the state of Wisconsin. I'm required, as is my staff, to be nonpartisan by law.
Another way that our state is very different is we also administer elections at the municipal level rather than the county level, which means that we have 1,850 local election officials in each of our cities, towns, and villages as compared to most other states that operate at the county level where they might have 50 or so local election officials.
Amy: You were commissioned, though, in terms of the staff, like you, are required to try to keep on top of all of those different municipal election offices. How is that even possible? How many staff do you actually have to do that?
Meagan: Well, kind of incredibly, we only have about-- We have fewer than 40 full-time state employees on our staff. The ratio, the local election officials, our counties also do play a role. In total, we have 1,922 local election officials to a staff of about 40 at the state elections commission, but we really view them as our partners. In so many senses of the word, they are our partners in administering elections. We're there to provide training, to help share best practices, to develop technology, but they're the ones on the ground that are really administering elections. I think, in so many ways, our decentralized state can really be a benefit to our voters because the local election officials have such a connection to their local communities.
Amy: It would seem though that there could be some localities that are very well-prepared and everything moves along smoothly, but just down the road or a couple counties over, it may not be as smooth of a process. How do you guarantee that each of these municipalities is administrating, not just administering the law properly but is making sure that the process is fluid, fair, and that you feel confident that they're going to be able to handle what's in front of them on Election Day?
Meagan: Each of our local election officials is required by law to administer the law and to ensure that the process is carried out in accordance with that law. While it can be daunting, having 1,922 local election officials, I've also been just, time and time again, so impressed with their commitment to their job. Over two-thirds of our local election officials are part-time, so this might mean that they work another completely different full-time job, and then, they serve as the municipal clerk of their jurisdiction for maybe five hours a week, and they have to do other things like licensing taxes within their communities, in addition to knowing about elections.
These are incredibly dedicated public servants that are really doing this job to serve their communities. We find, in so many ways, that they live up to that and that they have a remarkable commitment, resiliency to overcome challenges within their communities, but again, I also think the real strength is that it allows us to have that human element on the ground in each of our communities to help voters have that point of contact and someone that they trust administering their elections. These are their neighbors, their friends. It also is a really nice complement to the technology that we've implemented to also have a really strong human element, again, in each of those 1,850 municipalities.
Amy: Let's talk about what happened during the primary in April, when we saw the very long lines, of course, in and around Milwaukee, polling places assessment had been closed and consolidated. Of course, many people were worried about, both going to the polls but also working those polls as volunteers. We know that there was a lot of confusion around absentee ballots, there was fighting with the legislature and the governor. Tell us where things are now, these many months later, what changes were made, and how confident do you feel should Wisconsin voters feel that those same problems aren't going to crop up again?
Meagan: There have been so many changes made since April. As you mentioned at the onset of this interview, is we were the only states to administer an election in the midst of the pandemic beginning. Our election for the April primary, that election actually began at the end of February At the end of February is when ballots were sent out, and our first act of stay-at-home order was not until the middle of March. That means we were really, literally, in the middle of an active election when the pandemic became front and center and there was that first executive order. That being said, in a lot of ways, people were trying to navigate that space just in their daily lives, in addition to elections. There was a great deal of uncertainty.
Since that April election, we've actually had two other significantly large elections in our state. In May, there was a big congressional district election that spanned over 700 of our municipalities, and then, in August was our statewide partisan primary. We've had two opportunities now to refine our process, to completely reimagine a lot of our processes in light of COVID, in light of public health guidance, in light of the new voter behavior we're seeing in terms of absentee, and we've had actually opportunities to practice that and make sure that we're ready for November.
We even just put out, recently, a 130-page report showing how the state of Wisconsin is ready for November. We don't think it's enough just to say that we're ready, we want to show it by highlighting over 20 program areas where we've made significant improvements, along with our local election partners, to make sure that we're prepared for this new election environment, for the new voter behaviors that we're going to see as we head into the November election.
Amy: Well, obviously, you can't go through all 130 pages in the time that we have here, but if you can just point us to a couple of things that you think were the most significant, again, as many as you want to point out.
Meagan: Absolutely. I think the biggest change is in our preparations for absentee voting by mail. Wisconsin went from a state where, historically, about 6% of Wisconsin voters participated using absentee voting by mail. In April, we saw that number reach over 60%. We went from 6% absentee by mail to over 60% of voters utilizing that option. If we then look at our August statewide election, that number actually increases to closer to 80%. Now, we're a request-based system, so those are voters that chose to exercise their option to utilize an absentee ballot by mail.
We don't really know exactly what the numbers are going to look like for the November election. We know that we're always a fairly high turnout state. We're always in the top five in terms of turnout in the country. We also know that there's about 1.1 million absentee ballots that have already been requested for November. We have to plan using some of those guidelines, but history doesn't really help us to understand what that voter behavior is going to look like in November.
We've made a lot of changes to our processes, to our technology to make sure that all three statutorily available options for voters to cast the ballot are ready for the November election. Most significantly, are things like incorporating tracking into our absentee ballots by mail. This allows for additional transparency for the voters to know where their ballot is in the process, and for accountability, to make sure that we know if something does go missing or if there is a problem with the ballots being issued that we're able to remedy that with enough time before the election to catch some of those issues.
We've also taken a look at some of our technology to, again, make sure that voters are able to interact with that process as well. Our local election officials use our statewide system, but voters use our My Vote Wisconsin website. They can go there to track their ballots. We've seen that there have been over 120,000 absentee ballot requests that have come through our website in the last week alone, and improving or making adjustments to all that technology to make sure that we're ready for the new voter behaviors that we're seeing that we couldn't have really even imagined prior to our April election. That really did cause us to have to rethink all of our processes and our technology.
Amy: Yes. You said, you went from, in the 2016 election, something like 6% vote by mail as a total percent of the vote, then, you went up to, what? 60% in April and then 80%? Is your thinking right now and the thinking of the commission that it is going to be above 50% in terms of the total vote cast by mail in this election?
Meagan: We don't know for certain, but we certainly have to be prepared for that to be a possibility, that voters may participate at, at least, the rate that we've seen in previous elections this year. I think we also have to be really prepared for the possibility that voter behavior could shift again without us being able to predict that. We have to make all the options ready for the traffic that might come their way.
We're also seeing some interesting combinations of voter behavior. For example, people are requesting their absentee ballot be sent to them by mail, but they're choosing to return it in person on Election Day. I think the voter education piece of this is huge as well so that voters know what their options are. We can also set ourselves up for success to make sure that the local election officials have the time that they need to be able to process those ballots on both sides.
Amy: My sense, especially now, the difference between where we were in April or May and where we are today is a lot of voters are talking about concerns, concerns that if they vote by mail, maybe the post office won't get it in time, maybe it will get lost in the mail. I keep hearing that there were ballots that were thrown out because people didn't properly fill in the form, they didn't have the right signature.
I wonder for people who really do want to vote by mail, do not want to go in-person to a polling place, or want to get it to their election office as quickly as possible. What can you tell them? Obviously, this is just for Wisconsin, do not take this for people who are living in other parts of the country as what you should do in your state. How can you help them do this in a way that it will be counted and they can feel confident that everything they're doing is set?
Meagan: That's a great question. I think that the key really is in voters informing themselves, understanding what their options are, and how they interact with the process in their states, and your local election official or your state election official is the source for that trusted information. There's a lot of misinformation out there, and it could be easy for a voter to become confused. I think that voters do have a responsibility to seek out the legitimate information from a trusted source and make sure that they're not perpetuating misinformation about the election process.
The mechanics of the election are so incredibly important. In the state of Wisconsin, again, we're a request based process. Voters that choose to vote absentee by mail need to make a request, they need to put a photo ID on file along with that request, they also have to have a witness sign their certification, and their ballot has to be returned to the polls by Election Day. Now, we're currently involved in some litigation that may extend that time period for receipts, but all those things vary by state. I think seeking out, again, that legitimate information, having a plan as you head into Election Day, how do you want to cast your ballot? What is the option that's best for you?
In Wisconsin, we have three options. You can vote absentee by mail, you can vote absentee in person at your local election officials office, and of course, you can vote at the polls on Election Day. We also have things like same-day registration. Again, those options are all different for voters in different states. Knowing what your options are, understanding what option is going to work best for you, and then, coming up a plan so that you can execute that option in time for your ballots to be counted is really, really important for people to be sure that their ballot is going to be counted with the totals on Election Day.
Amy: Let's talk about some of those ballots, and again, some concerns that people are having that whether it's that the ballot literally doesn't make it in time or somehow through the postal process is lost or discarded. There was a report by APM, looking at the April vote by mail in your state, and what it found was that about 23,000 ballots were thrown out, they were not counted mostly because voters didn't do things like fill out the proper lines or have the witness signature in the right place. There's talk now about states, like Wisconsin, where we know it could be a very, very close contest, the possibility of thousands of votes being discarded is a real concern for a lot of folks. Can you address that, and how that works?
Meagan: Again, I think this goes back to the having a plan. The more time a voter can have on their side, the more successful they're going to be. For example, if you choose to vote absentee by mail, get that request in now. As soon as you get your ballot, return it. I've actually already returned mine to my local election official for November. What this does is it allows time for a voter to be notified if there is some sort of an issue. When your local election official receives back your absentee ballot by mail, they're going to take a look at the certification to make sure that you have all the required elements.
If there's some type of an issue, they're able to contact you, let you know what the issue is. We're also able to display that information on the behalf of the local election officials on our website for voters to see. Then, the voter actually has opportunities to cure it. They can still cancel their ballots and have another one sent to them, or they could cancel their ballot and choose to vote at the polls on Election Day. You need time to be able to fix those things and to be able to formulate a backup plan, if that's needed. The best advice that I can give to voters is that come up with a plan, execute that plan in enough time that if there is some type of an issue, that you're able to remedy it.
Amy: Right. The idea of holding on, you can hold on to your absentee ballot as long as you want to drop it off at your election office on Election Day, but if you do that and there's a mistake, there's no way to cure that, right? It's too late.
Meagan: Exactly. Even if you got your absentee ballot by mail and you chose to drop it off at the polls on Election Day, let's say, you forgot to have your witness sign, you'd actually have to have your original witness come down and sign the ballot there at the polls in order for that to be counted. You may also have options to be able to cancel that ballot and then vote at the polls on Election Day, but it gets a lot more complicated and your options are much more limited.
In Wisconsin, if you return an absentee ballot, you're not eligible to cancel that ballot after the Thursday before the election and you're not eligible to vote at the polls on Election Day. That's actually going to show on your record on the poll book so that the election officials going to know that. The only way your local election official can help you, if there is a problem, is if we have enough time.
Amy: Talk to us a little bit about voting in person. Again, there were many polling places closed down in April, was at the very beginning of this pandemic, concerns about safety. What is the polling in-person situation going to look like, especially in places like Milwaukee, where we saw most of the consolidation, which really did impact voters of color more than anybody else?
Meagan: In those jurisdictions like Milwaukee and Green Bay, they have been able to restore the levels of polling places that they saw prior to April. Again, I think with some of that uncertainty, some of those jurisdictions needed additional resources to be able to operate at that same level. Those jurisdictions have also submitted plans and conveyed to their voters that they're ready to operate at the levels that they've seen in the past.
Voters should also be prepared to see polling places that are a little different if you haven't voted at the polls on Election Day in 2020 yet. We've already sent out all of the supplies to our polling places. All of our polling places have things like hand sanitizer and disinfectant. We've sent them all things like blue painters tape, so they can mark six-foot distances on the floor, they can hang signs about social distancing. You might see things like a pen that each voter is given to sign the poll book that you're able to take with you, rather than using one that someone else has used.
We've incorporated a lot of public health practices. We've actually worked with public health officials over the last four months to redevelop all of the procedures at the polling place to incorporate social distancing, to incorporate sanitation practices into that process. For example, when you go to the photo ID table at the poll book, when you show the election Inspector your photo ID, you're going to see a new process. It's almost like a dance where the voter steps up and puts down their photo ID, the poll worker then steps up to look at it while the voter steps back. These are all things that you'll see at your polling place because, again, we've had to reinvent what that in-person process looks like for everybody's safety and to make sure that we're incorporating that public health official best practice into the process.
Amy: Meagan, one last question from you. The one other issue in Wisconsin, and this is true in some other Midwestern battleground states, is that the actual process of tabulating those votes that come in early, it can't start until Election Day, or is it that the processing of those ballots? When does it start? You said you turned in your ballot, does your election office now know that you've turned it in, everything's ready to go, so on Election Day, they count it, or how does that work?
Meagan: I think that's part of the voter education piece too. Prior to April and absentee is being front and center, I don't think people realize that the absentee tallying process, the actual counting those ballots, that actually happen at your polling place. Even if you're not at your polling place, your absentee ballot is sent to your polling place and your local election official can't start tallying those absentee ballots until 7 AM, when polls open on Election Day, because each ballot is assigned a voter number.
Your name and your address is stated at the polling place just as it would be if you were there in person, and then, it's fed through the tabulator. None of that can start before 7 AM because the tallying of the absentee ballots is a publicly observable process just like Election Day. Nothing in elections and the tally is done in the dark or behind closed doors. They're all publicly observable processes, and the absentee is no exception. Even though we have a significantly larger number of absentee ballots, the time-frame remains the same.
As I say too, our commitment to the same standards to making sure that the tally is accurate, also remain the same. When you're counting what will be millions of absentee ballots, it should take longer than the tally that we've seen for thousands of absentee ballots in the past because there's a lot of checks that go into that process to make sure that the law is followed, that each ballot is cast securely, and only one ballot can be counted per voter. Those things take a long time, and it may take a little longer for your local election official to finish that process because they're not able to begin it until 7 AM on Election Day.
Amy: Meagan Wolfe, this has been really helpful. Thank you for taking this time. Good luck in this sprint to Election Day with all that you have in front of you.
Meagan: Thank you so much for having me.
Amy: Meagan Wolfe is the administrator for the Wisconsin Elections Commission. Wisconsin, and it's 10 electoral votes has been a major focus for both the Trump and Biden campaigns, with both candidates making in-person visits to the state in recent days. I wanted to take a step back and understand more about the political dynamics in the state. Laurel White is a state capitol reporter for Wisconsin Public Radio, and Craig Gilbert is the Washington bureau chief for the Milwaukee Journal Sentinel. I started by asking Craig, why it is that after Barack Obama won Wisconsin in 2008 and 2012, by pretty big margins, why it's been split so closely ever since?
Craig Gilbert: I think a lot of people have now come to look at those Obama elections as outliers because Wisconsin performed a lot better for Obama than the nation as a whole. He won by 14 points in 2008, and he won by seven points in 2012. Then, the two elections before that, the two Bush elections, the two W Bush elections were decided by less than a point. Of course, the 2016 election was decided by less than a point. I'm pretty sure Wisconsin is the only state that's had three presidential elections decided by less than a point in the last 20 years. Those results tell us more about where Wisconsin is than the Obama elections.
Amy: Where do things stand in the state right now? You've been writing a lot about polling in the state, specifically the Marquette University Law School poll, what is that telling us about the state of the race, and where each candidate needs to be focusing in these last few weeks here?
Craig: It's telling us, first of all, that it's a pretty stable race. We're all used to now thinking about seeing a very stable campaign in a very unstable world, and the numbers don't change very much from month to month. There are fewer undecided voters than there were four years ago. There are fewer voters that hate both candidates, which were a volatile, unpredictable factor in the last election.
I think what it tells us about Joe Biden's lead in the state, which ranges from about four points to six or seven points in most of the public polls, is that where you see Donald Trump seemingly under-performing his 2016 vote is in probably the two swingingest parts of Wisconsin, which is Western Wisconsin, and then, Northeastern Wisconsin, the region emanating from Green Bay.
Southern Wisconsin, the Milwaukee and Madison areas, are doing what they did four years ago, what you'd expect them to do, but it was those other areas of the state where Donald Trump really won the election and really surged. He's winning northern and central Wisconsin, but some of those regions, he's not winning by the same margins, and if you look at it in demographic terms, he had
he had massive margins among rural white voters and blue-collar white voters, there's a lot of them in Wisconsin. His margins are not as massive this time around in the polling. We'll have to wait and see whether that pattern holds on Election Day.
Amy: Laurel, what can you tell us about that other part of the state? We talk a lot about Milwaukee and the role that it did or didn't play in 2016. Nationally, a lot of Democrats look at what happened in Milwaukee, that turnout was down there, specifically, turnout among African American voters, and wonder if that is going to be a problem once again for the Democratic nominee, Joe Biden. What are you seeing and hearing?
Laurel: We know ahead of the COVID-19 pandemic that voter turnout efforts were going to be a major element of the Democratic strategy in Wisconsin. There were a number of advocacy organizations, a number of groups, partisan groups, that were set to hit the road in Milwaukee and go door to door and do a lot of knocking and doing a lot of rallies and in-person events. Those things we can't do any more [chuckles] to encourage people to turn out and to get new voters on the voter rolls in Wisconsin.
There's been a shift in how Democrats are approaching that. It's certainly still a goal to overcome that lagging that they had in 2016 but they're doing it in a different way. I've talked to some folks that are doing voter registration efforts in a drive-through way, where they come up and you still have that limited in-person contact, but not quite the same. Also just using personal networks in a way that they haven't before. Doing texting, we've become very familiar with that this election cycle, of course. Still definitely a goal but a different approach.
Amy: Was it a problem for Democrats that the convention in Milwaukee didn't happen? Did that take some of the wind out of the sales, not just for Milwaukee, but just overall a sense from Democrats in the state like, "We're going to be everything for a week."
Laurel: I don't think Wisconsin feels like it's not in the limelight [chuckles] that Wisconsin isn't getting attention. We're pretty good at that. I think there's obviously a difference. If the convention had happened as we expected it to, there would have been that opportunity to really energize and galvanize Wisconsin voters for them to be able to attend that in person, to experience that, to feel the emotional ripple effect, I guess, of the event. That certainly wasn't here but I think both campaigns in their own way are still trying to energize Wisconsin voters.
The Democratic Party, speaking in the Democratic Convention, Joe Biden has been here twice in the past month; his first in-person visits to Wisconsin that we've seen this campaign cycle. A little bit of a shift there. He's been doing virtual events here for a while. His wife, Jill, has had several actually recently. It's certainly a different way of energizing Wisconsin voters, but they're working on it.
Amy: Craig, let's go back to the question I'm sure you get every time you talk about Wisconsin politics, which is, what happened in 2016? The poll said that Hillary was up by this big margin and then look what happened. How confident should we feel that what we're seeing in the polling data now is actually what's really happening? It gets to this question, I want you to answer that, the question about whether what we're seeing in, as you said, this movement away from Donald Trump and small town, rural parts of the state, whether that's just at this moment and it could reverse itself on Election Day.
Craig: When people talk about this nationally, what went wrong in the battleground states with the polling, a lot of the focus has been on the fact that a lot of state polling didn't wait for education and we know what a big deal education is as a dividing line between the parties. That was not really the explanation or the story in Wisconsin, the main, most frequent polls during Wisconsin, the Marquette Law School, always waited for education, but there's a lot of evidence that what happens there was what I alluded to earlier, was you had a sizable 20% or more of the electorate that said they didn't like either candidate, but according to the exit poll, swung overwhelmingly to Donald Trump. That happened late and wasn't captured in the polling.
That's our best explanation right now for what happened in that particular poll, which did show Hillary Clinton up by six points, eight days out from the election. When you look at the polling this time around, again, there's always that caveat and that nagging concern in the back of your head about whether it will turn out to be a good guide or not but, again, the fact is there's fewer undecided voters, there is a lot less volatility in the race. We're almost certainly not going to have the number of third party votes cast as were cast four years ago.
Again, there's been a lot more polling in Wisconsin. There's a lot of polling being done by different organizations using different methodologies and they're really telling the same story. Again, range a lead by buying in a range of four to eight points. You would think all of that would give us a little bit more confidence but given the history, there's always going to be that sense of uncertainty.
Amy: Is the uncertainty the same thing as it was last time, Craig, when we're talking about this idea that there are these Trump voters that just don't get picked up in the polls? Some people call them shy Trump voters, I don't think that's what it is as much as maybe they just literally are not answering poll questions that maybe they're not particularly active voters. They're on the voter rolls, but they haven't voted in some time. They're not always picked up by either reporters or polls as a potential voter. Is through that possibility that they're sitting out there, there's a big enough group of them that all of a sudden on Election Day, they come and swarm into voting booths?
Craig: I think you can't dismiss it but when you talk to pollsters, they're looking for that and they just aren't finding a lot of evidence for that but that doesn't mean that the Trump campaign can't succeed in turning out more voters that sat out the 2016 election that are Trump supporters. That's certainly what they'd like to do. That's impossible to measure in a lot of ways but right now, the polling also suggests that Democrats and Republicans are equally enthused and motivated. Trump voters and Biden voters are equally enthused and motivated. You would think that we're not looking at a significant turnout gap in a way that would produce a late swing in the election.
Amy: Right. Laurel, I want to go to you and ask you about the happenings in Kenosha and where things are at this moment in time. How would you see that impacting voters in the state, how they're processing through this?
Laurel: I think that's a really interesting question and we got a really helpful insight into that, actually, when we got the latest Marquette University Law School Poll which was conducted August 30th through September 3rd. It was after the events in Kenosha and it was able to gauge how Wisconsin voters feel about a number of issues related to Kenosha as well as candidates.
What we found in the poll was actually that support for police and support for protesters was largely unchanged from a poll that was conducted before the shooting of Jacob Blake in Kenosha. Before and after, about 47% of registered voters in Wisconsin approved of the protests. That was down just one point from before the shooting and the survey found that 73% of those voters support police. That was a decline of just three points.
I think we were eagerly awaiting this poll to see if obviously, this very high profile event, this very divisive event, as we are watching it play out was going to change voter sentiment in Wisconsin and at least according to the poll, which of course has limits, we're not really seeing that. Folks had made up their minds about where they stand on these issues prior to seeing it happening in their state, their backyard. I think it's also really important to mention too that the general favorability ratings for both Donald Trump and Joe Biden maintained prior to and after the shooting as well. Both of the president and the candidate respectively were in Kenosha and pitched different messages, had different framing of the incident, had a very different response.
Those elusive voters in the middle, whoever they may be, or folks that are wavering one way or another, aren't sure how they feel about either individual, doesn't seem like there was much or according to the poll, there wasn't much change before and after Kenosha.
Amy: To your point too, for those voters who don't know who they're voting for, they got two very different perspectives from the two men running for president. About what happened in Kenosha, what it represents more fully. Talk to us too about, I think of Milwaukee when I think about Wisconsin, but I also think of Dane County, Madison, and the University of Wisconsin providing a lot of voters. I remember in 2016, again, it's always in hindsight, all of this stuff, it looks like, "Oh, it's so [unintelligible 00:51:06] if only I listened."
Anyway, getting reports from the University of Wisconsin, people who were on campus and around Madison saying, "Man, there is just no enthusiasm here for Clinton, for Democrats, just feels really dead." Now, you have a point in time where there is no campus to speak up. People are not milling about on campuses. I'm assuming a lot of this is done virtually, the actual college courses. What do you think that means to not have the University of Wisconsin and all of its students on campus on Election Day or the weeks leading into Election Day?
Laurel: It's certainly a difference. We do have students here in Madison. They did come back and the start of the school year was in person. Since then, the UW Madison has shifted to virtual instruction because of a flare-up of COVID-19 cases, and students were given the option to go home. We don't have hard numbers, or at least I don't have hard numbers right now of how many students chose to leave Madison.
I know that there is a fairly high profile disagreement right now between UW Madison leadership and Dane County leadership about students being in the community and their behavior in regard to COVID-19, mass squaring, going to bars, maybe being out, milling around campus a bit more than they should be right now. There's certainly not going to be the sort of rallies and events in Madison that we've seen in previous elections. I'm thinking, Bruce Springsteen and Barack Obama. That's not going to be the case this year. [chuckles] There are still students in Madison.
We've seen from polling that the enthusiasm might not be at the same level for Biden than it has been for some other Democratic candidates in the past. I think it's interesting to note that there isn't that third party element this year in the same robust way that we've had in the past. Jill Stein did net more votes in Wisconsin than Hillary Clinton lost by in the state. I think the absence of any Green Party conversation on campuses, which we do see sometimes, of course, might contribute to how turnout looks there.
Amy: Really a good point. Craig, I'm going to end this with you. If you can tell us as we're watching on election night, obviously we'll be talking a lot about Wisconsin. How are you watching election night in Wisconsin? I know after we spent all this time talking about, we may not know exactly because we're waiting on ballots, we're waiting for this court decision, but when would you feel confident as you're seeing returns come in about who is likely to win the state? What are you looking for?
Craig: If this court ruling is not overturned, it's actually going to be election week.
Amy: [chuckles] That's right.
Craig: I think what would happen is we get most of the numbers on election night and election the morning after, but then you could get 5%, 6% of the vote trickling in, in the six days afterward. The count's going to be unfolding over those days in real-time. It's just purely a function of how close it is. If it's really, really close, people aren't going to feel very comfortable calling it. If it isn't, I think there's a lot of good numbers crunchers out there who are going to be able to look at the geographic patterns and have a pretty good idea what's going on.
Again, the first thing I'll be looking for is I think Donald Trump first order of business, he needs to replicate those freakish margins he got in outlying parts of the state. If he doesn't do that or he's not doing that, that would be a real sign of trouble. Then if he is, then you start to look at turnout in the city of Milwaukee. You start to look at the Republican suburban counties outside of Milwaukee.
I think the most predictable thing in the Wisconsin political map is that Dane County is going to generate a massive landslide margin for the Democrats. All these other things are X factors and Western Wisconsin isn't really big X factor because it's very swingy and it's swung hard for Trump, but it's swung back in the midterms to some degree. There's a lot of pieces to the puzzle.
Amy: I'm looking forward to election night. I'm not trying to wish us away for these next few weeks, but I'm really excited to listen to both of you; Craig Gilbert, Laurel White, as you report on all things Wisconsin and Wisconsin politics for these last six weeks. Thanks so much for joining us. Really appreciate it.
Craig: Great to be with you.
Amy: Laurel White is a state capital reporter for Wisconsin Public Radio. Craig Gilbert is the Washington Bureau Chief for the Milwaukee Journal Sentinel and an important reminder, there are still legal challenges making their way through the courts in Wisconsin. As we mentioned on Monday, a judge extended the ballot receipt deadline for ballots postmarked by Election Day to six days after the election. On Wednesday, Republicans appealed the ruling.
This conversation as well as the one with Wisconsin Elections Commission Administrator, Megan Wolf, was taped on Tuesday as part of our Every Vote Counts Series. To hear more from those interviews, check out her podcast or you can watch the full event, Every Vote Counts Wisconsin at thegreenespace.org. That's G-R-E-E-N-E.
[music]
Black voters are the backbone of the Democratic Party. They're one of the party's most reliable voting blocks and failing to secure their votes, has significant electoral consequences.
Speaker 4: The fear isn't that Donald Trump is making gains among African American voters, though he says that he is making gains among African American voters. The concern is that African Americans aren't going to be the buffer against increased enthusiasm among Trump voters who think that he has a shot of winning at this point.
Speaker 5: Take a look at what happened in 2016 with Hillary Clinton and Tim Kaine, the turnout rate dropped. It dropped significantly. It dropped to a level that hadn't been seen since 2004. One of the key ingredients there to those Democratic victories was very strong turnout from African American voters.
Speaker 6: The Democratic Party's success has been built on the strength of support from African American voters, especially African American women. That has to be respected and it has to be acknowledged.
Amy: However, many African Americans feel like the party they've supported without question has come to view their votes as guaranteed. There's also a significant generational gap between younger African Americans who feel alienated from traditional politics and older Black voters who hold a stronger allegiance to the Democratic Party. To walk us through the cross-pressures facing Black voters, I spoke with Arisha Hatch, Vice President and Chief of Campaigns at Color Of Change. Color Of Change is an organization with 7 million members that seeks to improve the lives of Black people through online campaigns and activism.
Arisha Hatch: The pandemic is definitely top of mind as well as the ways in which the pandemic is being used to make it more difficult to vote. We've also seen whether it's in Milwaukee or in other places that the pandemic has been used as a justification to shut down polling sites. As we talk to our members, they have deep concerns now about vote-by-mail. Those are explicitly because of the ways in which some elected officials seem to want to make it harder for Black people and other people of color to vote. Milwaukee, we saw them shut down, go from 180 polling places to 5 polling places. We're watching in some communities as post office boxes were literally lifted off the ground.
Amy: I've just spoken with one of the election administrators in Wisconsin specifically about that. What happened in Milwaukee and what's going to happen in November. Her take was they have gotten back to a place where they can open all of the polling places that may be in different locations. How confident are you and your members that if people want to vote in-person in Milwaukee, there's going to be a place that is convenient and accessible for them to go to?
Arisha: We're still incredibly worried about whether or not there are going to be enough polling places. In Black communities across the country for decades, we have seen polling places close at the last minute, be switched to different areas. Part of what we have to do as organizers who are working to really let Black voters know what is at stake is also explain to them and helping them to move beyond the deep distress that they have in the democratic system because of these types of shenanigans that have gone on for years.
Amy: Vote-by-mail could increase and take away some of the worries for voters about not having access to the physical polling place. Is that enough?
Arisha: In theory, vote-by-mail should help to expand the electorate but I think what we've watched is that there's so much disinformation about vote-by-mail and there are real stories and anecdotes about how ballots have been turned away. Black people hear that, we take that seriously, we come from a history in which there were active efforts to suppress Black voters. What we're seeing as we talk to our members and as well as the Black voters that we're attempting to engage is that it's really helpful to help folks make a plan for voting. It's really helpful to actually walk them through the steps of submitting a vote-by-mail application or a vote-by-mail ballot. There are real fears around if they don't sign in the right place or they don't give their official name or they're in the middle of moving that their votes won't be counted. We're trying to do a lot of education work.
Amy: Arisha, are you giving them advice like saying, "It's better if you can to do early vote or it's better if you can to vote-by-mail or look, just go, if you feel comfortable, show up instead at the polling place."
Arisha: We obviously think it's safer from a public health standpoint that as many people vote by mail as possible, that as many people don't wait until that last day when they're waiting an hour's long line. We know that we're living in an environment where there is so much disinformation. People are receiving robocalls telling them at their polling place is closed. There are fliers threatening people that if they have a warrant out for their arrest or some other criminal violation that voting isn't safe for them.
Amy: Let's talk a little bit about the Democratic ticket. There have been a lot of stories earlier this summer about the lack of enthusiasm really among younger voters of color for the ticket. There's been a lot of talk about Hillary Clinton's inability to turn out voters of color, especially Black voters at the level she needed. What are you seeing out there in terms of that enthusiasm?
Arisha: I believe that the Democratic Party has taken Black voters for granted and there have been a lot more resources invested in white swing voters and Latinx voters, but what we're really saying to folks is that it is incredibly important for us to be in a constant dialogue with Black people around voting, especially Black young people because that reliable base is slowly being eroded by a lack of focus on the issues that those voters care about.
Amy: Politically, with Democrats supporting Biden by a really significant percent and it's male voters, especially younger men, who are either apathetic about Biden or even turned open to voting for Donald Trump and Donald Trump spent a lot of time during his convention trying to reach out to those voters. How successful do you think the Trump campaign has been in winning over some of those men?
Arisha: I expect for us to see a higher proportion of Black men as well as other men, white men, Latino men, voting for Trump in this election than we saw in the past.
Amy: Why is that?
Arisha: I think that's in part because of the disinformation that's been spread around the progress that Democrats have made. I think it's, frankly, the cultural environment that we're in, where women and especially women of color are really invested in social issues and the left movement that is attempting to push for broader equality and inclusiveness. Men feel like they're being pushed away, pushed away by the movement or pushed away by the Democratic Party but as we talk to Black men in particular, while they 100% believe that Donald Trump is racist, there are aspects of the way that he shows up that I think appeals to men. The bravado, telling a false narrative about his own financial success. Frankly, I think a lot of people across the country are sick of government and are looking for change. There's something about Donald Trump that feels like it's shaking things up.
Amy: Arisha, I want to thank you very much for coming in and speaking with me. I really appreciate it.
Arisha: Thank you so much for having me.
Amy: Arisha Hatch is the Vice President and Chief of Campaigns at Color of Change.
[music]
Here's one more thing from me. Earlier this week, President Trump raised the potential for a post-election constitutional crisis. When asked if he'd leave office peacefully if he lost reelection, he said this.
President Trump: We're going to have to see what happens. You know that I've been complaining very strongly about the ballots and the ballots are a disaster.
Reporter: [unintelligible 01:05:46] that but people are rioting. Do you commit to making sure that there's a peaceful transfer of power?
President Trump: We want to get rid of the ballots and you'll have a very peaceful-- There won't be a transfer, frankly, there'll be a continuation.
Amy: Many took this to mean that should he lose on November 3rd, the president would barricade himself in the White House. Images of a post-election dystopia flashed before many people's eyes, with images of tanks and troops marching down Pennsylvania Avenue, but let's be really clear about what the president is trying to do here. This isn't just about refusing to concede this election. This is about casting doubt on the very act of voting itself. It's about ratcheting up fear and cynicism. Why vote if the president's going to find a way to hold on to power anyway? This isn't how our democracy works and it doesn't have to be this way. No matter who you support, go, and cast a ballot. The only way your vote won't count is if you don't vote at all.
[music]
That's all for us today. Our senior producer is Amber Hall. Patricia Yacob is our associate producer. Polly Irungu is our digital editor. David Gebel is our executive assistant. Jay Cowit is our director and sound designer. Debbie Daughtry is our board up. Vince Fairchild is our board up and engineer. Our executive producer is Lee Hill. Remember, you can always find us on Facebook, leave us a comment there and of course, call us anytime at 877-8-MY-TAKE or send us a tweet on @amyewalter. The show is @TheTakeaway. Thanks so much for listening. This is Politics with Amy Walter.
Copyright © 2020 New York Public Radio. All rights reserved. Visit our website terms of use at www.wnyc.org for further information.

New York Public Radio transcripts are created on a rush deadline, often by contractors. This text may not be in its final form and may be updated or revised in the future. Accuracy and availability may vary. The authoritative record of New York Public Radio's programming is the audio record.