Final Thoughts Before Election Day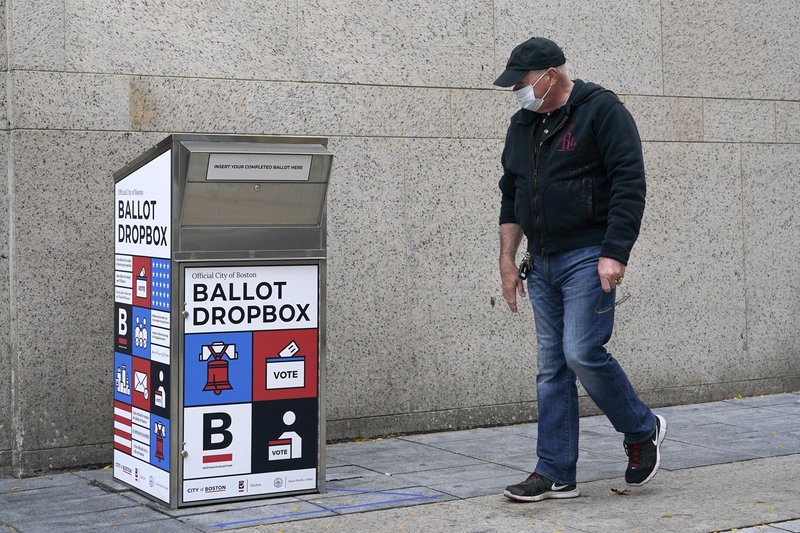 Transcript
[music]
President Donald Trump: If I don't sound like a typical Washington politician, it's because I'm not a politician.
Joe Biden: There's no quit in America. If we need you to stand up at any time in our history, we need you now.
Seth Meyers: The Iowa caucus was held yesterday and chaos ensued.
Van Jones: So many people running and people they have a big moment and then they just go down.
Reporter: Not even winning a delegate here in New Hampshire. This is another devastating setback.
Joe: Where I come from, that's the opening bell, not the closing bell.
Kamala Harris: Do you agree today that you were wrong to oppose busing in America then? Do you agree?
Joe: No, I did not oppose busing in America.
Female Speaker: Black voters are indeed watching. We have to remember, the number one thing for them is to beat Donald Trump.
Wolf Blitzer: CNN projects that Joe Biden is the winner in South Carolina.
Joe: The press and the pundits have declared his candidacy dead.
Audience: No.
Joe: No? Thanks to all of you, the heart of the Democratic Party. We just won and we've won big because of you.
Reporter: What's happening on the Republican side and take a look at the map of the states that President Trump has won. He's won seven states. Of course, he's got a clean sweep.
President Trump: I'm very, very proud to be the nominee of the Republican Party.
Nancy Pelosi: As Speaker of the House, I soundly and sadly open the debate on the impeachment of the President of the United States.
President Trump: It goes through air, Bob. It's also more deadly than your strenuous flus. There's no reason to be panicked about. We have it so well under control. We really have done a very good job.
Reporter: More than 200,000 people in the US have now been killed by the virus.
President Trump: I just left Walter Reed Medical Center and one thing that's for certain, don't let it dominate you. Don't be afraid of it.
Reporter: Stocks have now wiped out nearly $3.5 trillion in value.
Norah O'Donnell: In the past 24 hours, peaceful protests across the country have far outnumbered incidents of violence stemming from the killing of George Floyd.
President Trump: I am dispatching thousands and thousands of heavily armed soldiers to stop the rioting, looting, vandalism, assaults. Would you close down the oil industry?
Joe: I would transition from the oil industry, yes.
President Trump: I'm willing to do anything. I want to see peace.
Chris Wallace: Well, then do it, sir.
Joe: Say it. Do it. Say it.
President Trump: Stand back and stand by--
Joe: I'm not going to answer the question because--
President Trump: Why won't you answer that question?
Joe: Because the question is-- the question is--
President Trump: Radical Left.
Joe: Will you shut up, man?
Jake Tapper: That was a hot mess inside a dumpster fire inside a train wreck.
Joe: Trump is the worst possible standard-bearer for democracy.
President Trump: If Biden wins, China wins.
Joe: Just like everything else he inherited, he blew it.
President Trump: Where is Hunter?
Joe: Many wonder, has it gone too far? Have we passed the point of no return? Has the heart of this nation turned to stone? I don't think so. I refuse to believe it.
President Trump: We have made America proud again and we will make America great again.
Amy Walter: It's Politics with Amy Walter on The Takeaway. Campaign 2020, we knew it was going to be tumultuous, but none of us could have predicted the twists and turns or what can really only be described as a national trauma. More than 220,000 deaths due to COVID-19, economic devastation, a reckoning with systemic racism and police violence. Now, just days out from the election, we are seeing unprecedented early voting. About 60% of the total 2016 vote has already been cast. Most experts are predicting participation to be one of the highest in modern history.
The daily deluge of information has often made it difficult to separate the signal from all the noise of 2020, which is why I've brought in three people who have been regular guests on the show and who I think are some of the smartest and most insightful chroniclers of this moment. Clare Malone, the senior politics writer at FiveThirtyEight; Maya King, political reporter at Politico; and Heather Long, economics correspondent for The Washington Post. Hi, Clare. Hi, Heather. Hi, Maya.
Clare Malone: Hi.
Heather Long: Hi, Amy.
Maya King: Hi, Amy.
Amy: To get this conversation started, I asked you to think of a moment that really, for you, defined the 2020 campaign in one way or the other. Clare, I know your moment came during the primary, so I'm going to start with you.
Clare: My moment was when Joe Biden was interviewed by the New York radio DJ, Charlamagne tha God, who's become more than a radio DJ. He's become the best interviewer of Democratic political candidates because he asks hard questions. He asked Biden in an interview why Black voters should vote for Joe Biden, getting to this idea that the Democratic Party was maybe not doing enough for Black people. Biden said something along the lines of--
Joe: If you have a problem figuring out whether you're for me or Trump, then you ain't Black.
Clare: To me that encapsulated a lot of things about Joe Biden's campaign. One, just Joe Biden's Bidenness. It was in awkward, probably an appropriate thing for an older white man to say, but also demonstrated that question-- and his answer demonstrated a dynamic within the Democratic Party. One is that a lot of younger, more liberal people, younger Black people are going to probably want to start demanding different policies from the Democratic Party.
I think particularly after this summer and the protests that we've seen across America, that's something that's certainly bubbling up. It also captured the idea at the heart of this race, which was this is all a referendum on Donald Trump, right? Nothing else matters. In some ways, Joe Biden was a bit of an anemic candidate. He certainly maintained a steady place in the polls for the whole way through the race. He was never particularly beloved by a lot of coalitions in the party and I just thought that that moment really captured his essence as a candidate.
Amy: You're right. The race really is about Donald Trump. No matter what has happened all through 2020, he has been the center, sort of the straw stirring the drink. Maya, what about you?
Maya: My moment is in a similar vein actually. I'm thinking about Joe Biden's South Carolina sweep. That really set him up for success during the rest of the primary and then, of course, into now, the presidential. I think, one, it solidified the role that Black voters play and have played in Democratic politics, again, times two, plus established South Carolina as an even more valuable state to take during the primary, especially in the wake of the Iowa debacle for those of us who are old enough to remember that.
I think it got voters in the mindset, whether we realize it or not, to really expect the unexpected. That's really all this year has been about is just twists and turns at every stage and really trying to figure out how to roll with it. That was really my moment. I think it established where we're at, of course, electorally with Biden as the Democratic nominee, but also, again, really solidify the role of Black voters and the role of just plot twists in this really wild presidential season.
Amy: Maya, I'm glad you used the word "plot twist" because that was my moment too. I think this has been the challenge for so many of us who covered 2016 and then are covering 2020, which is to see 2020 as a different election than 2016. In that vein, as we watched the Democratic primary go from the Iowa debacle to New Hampshire to Nevada to South Carolina, it looked as if Democrats were going to do what Republicans did in 2016, which is continue to split the vote among two or three candidates.
It would either mean that maybe Bernie Sanders could pull this out and be the nominee or that we were going to end up at the end of a really long drawn out primary process with a very bruised nominee or what many political reporters were posting about, the possibility of the first contested convention in our lifetimes. Of course, there was the maybe Michael Bloomberg is going to sweep in and buy the party and "save everyone."
That moment when on March 2nd, Pete Buttigieg and Amy Klobuchar and Beto O'Rourke all bonded together to endorse Joe Biden. These are politicians. By their nature, they're incredibly ambitious and their job is to look out for themselves. It goes back to Clare's point, which is what has been driving this election, really since 2017, which is beating Donald Trump as the centerpiece of all of it and that policy, ideology, all those things have taken a backseat to unifying around one thing, which is beating Donald Trump.
It's going to set up for, I can't wait to have this conversation with you all, then if Biden should win, a fascinating look at where the Democratic Party goes when, for the last two years, its entire focus hasn't been on changing policy but on changing the person and the personality. Heather, I want to go to you. You are an economics reporter. You also obviously are a chronicler of all that is going on in this moment and the politics obviously play a big role in that. I'm curious about your moment here in this 2020 election.
Heather: For me, it was a little bit more recent. I kept thinking what's going to change swing voters' minds, the few that there are left. I just kept going to Friday, October 2nd, that unforgettable day when President Trump was airlifted to Walter Reed Medical Center. Just that powerful reminder of how not under control the virus was, the results of his pretty much cavalier attitude towards the coronavirus.
It was also, as an economics reporter, that warning even before we saw the chopper taking off, the September jobs report came out. People just gasped in the economic land because the report showed more than 865,000 women left the US workforce. That's just a jaw-dropping number of women who just-- they can't do their jobs anymore because they're at home. They're having to watch their kids while schools are closed.
This coronavirus has had such a deep, personal impact on women. I just remembered thinking back to the 2016 campaign. I remember having to call about the same time early October. The infamous tape, the [beep] grabbing tape came out from Trump. I remember calling back a lot of Pennsylvania women that weekend. I remember one told me, "I'm not voting for him to be pope and I'm still going to vote for him."
This time around, after that day of him being airlifted and that job report coming back, I remember calling Pennsylvania white women and it was such a different response. People were frazzled. Women wanted to talk to you. They didn't know what they were going to do with their kids. They couldn't handle their work. They were depressed. They were stressed. It was just such a different mindset four years later among white women in these swing states.
Amy: That's such a great point. Heather, I wonder about that. Again, here we are in the middle of a pandemic that has had such devastation in so many fronts. I'm wondering if you were-- I don't know if the word is "surprised," but how little the conversation about where we go from here has been, especially on, what do we about the fact that while many of these jobs have come back, there is this K-shaped recovery where we are going to come into 2021 with what is likely to be an even bigger Gulf between those who are working and whose lifestyles haven't changed all that dramatically. Their financial situation hasn't changed all that dramatically and those whose lives have been completely upended. What do we do with this?
Heather: It's definitely challenge number one for whoever wins this election. In particular, getting women back into the workforce, we've basically just wiped out a decade or more of gains for women in the workforce. The United States was already lagging behind other nations in terms of getting women into the workforce. This is challenge number one and it's been interesting. I think there's been a lot of pressure on President Trump, who really hasn't come out with an economic plan. He said back in August, "I'm going to come out with this new tax cut for the middle class."
There was never a plan that was delivered. It's really interesting to me that this week was supposed to be a big victory lap for Trump to be able to come out and say, "Look how much the economy rebounded in the third quarter. We had the best GDP growth in our history." Instead, that was totally overshadowed by the coronavirus cases surging again and the stock market almost nearing a correction, almost having this big downsweep because people are worried about what this is going to look like in the next few months.
Amy: To your point about women, it seems as if where the President is mostly focused as we heard from some of his rally speeches, he said, "Don't worry, women. We're going to get your husbands back to work." The focus seems to be on an economic reality that is trapped in another era.
Heather: Definitely, it's amazing. Your eyebrows just went up when you heard that. If there was any hope of trying to work, particularly some of these white women back who were willing to give them a chance in 2016, it just seems like everything that's happened in the last month has been the opposite of that. As I stepped back, it's insane if we had this conversation in February. Americans rated this economy as the best since the 1990s as recently as February. Here we are sitting on the verge of the election and President Trump, looks like he'll be the first president in his first term in modern history having lost millions of jobs. That's such a dramatic turnaround in just eight months.
Amy: Clare, that's what I want to get to as we close out the segment is where we are now versus where we were even in 2016. I know that you all over at FiveThirtyEight have to spend a lot of time answering these questions of, "Isn't this a lot like 2016? Didn't we see the same situation where Trump was behind and then he came back to win?" and all the comparisons back to then.
It seems to me that one of the biggest differences is that in 2016, the last week of the campaign, we were talking about James Comey and the FBI reopening the email case and all the attention was on Hillary Clinton and her troubles. Now, we're ending this election, as Heather said, with a spike in coronavirus cases, stock market downturn. How does that change the closing bell as we think about Tuesday?
Clare: The biggest difference between 2016 and 2020 is 2016 actually had quite a lot of fluidity in the race. As you just pointed out, lots of events were happening in the final days and weeks. Also, there were still a lot of undecided voters which lent greater chaos to the race. We have to remember that Donald Trump and Hillary Clinton were each historically disliked candidates. People found them unfavorable on both sides and so there were a lot of voters who were, what was the trite phrase that we tried it out, holding their nose and voting for fill-in-the-blank.
In 2020, we don't have that. Heather was alluding before to the strong opinions or feelings that are elicited in 2020. People know who they're voting for. There's actually quite a lot of steadiness in the polls. I think that, in and of itself, makes people nervous because, obviously, we're all human beings and we all have emotional reactions to what happened in 2016, good or bad, and uncertainty about-- I think it was a surprise to everyone though [chuckles] or some or most people. I think some of that is going on.
I feel like I need to mention every time I talk about election results, there is also the idea that Election Day is being talked about, I think, in a different way than it has been in any other year. There's been so much-- People are doing war games and newsrooms are talking about how to handle the potential eventuality that someone, i.e., the President, wouldn't accept a clear election result. I do think that there is a different-- While the polls are steady, there is a different aura, to use a woo woo term, surrounding Election Day this year.
Amy: [laughs] Maya, can I get your sense too? Talk to us a little bit too about how different, or maybe not, but as you're talking to voters, what is it that is at its core driving their impressions of this race?
Maya: Well, I think it's certainly, as Clare and Heather both said, a referendum on Trump. Very much what we're seeing at the polls and in talking to people, folks really, they appreciate Biden's policy plans and they see the difference between the two candidates, obviously, but they see this more as, "I cannot take four more years of this country under President Trump." It's also just being back in the field is just a totally different world.
I hadn't done any field reporting since March, so it was like when an injured athlete is out of the game for a few seasons and then goes back in and has to figure out how to move again. It was fascinating too because before the pandemic set in in March, these campaigns were trotting out these new and innovative outreach, grassroots-style ways of reaching out to voters. That was true of Democrats and Republicans who were trying to go after these key demographics.
All of that was thrown into flux or just deleted after March 11. I think it was when President Trump declared a state of emergency and everything started to shut down. What I was seeing was the skeletons of a lot of these outreach strategies and, in real-time, how effective they were. We've seen historic turnout, early turnout numbers, among a number of key demographics.
Democrats point to that as a reflection of the success of their communication style. They told voters very early on, "Mail in your ballot. If you don't do that by a certain point in March, line up at the polls or drop off your ballot at the ballot box." That's exactly what I saw. Republicans are doing the same thing. There's just a general level of anxiety among voters, not just surrounding whether or not their candidate will win but what will happen after November 3rd.
People are voting and then they're going to the grocery store, doing their doomsday shop or they're going and buying guns. These are real things that voters are really doing now as part of their Election Day preparedness strategy. It's not just throwing parties and watching the polls anymore. It really will be-- I don't think "interesting" is the right word to say, how we'll be able to analyze things after November 3rd. Journalists are preparing to, honestly, as Clare said for whatever happens in the next couple of days.
Amy: Maya, I'm curious if voters are thinking even past Election Day. You know what I mean? It seems we're so trapped in this election as it is who's going to win. Of course, we're trapped in the reality of a pandemic that is still gripping the country. Are they allowing themselves to think about what next year could look like or what they're hoping to get in 2021 if there's a new president?
Maya: I think voters are thinking about this in terms of how quickly life can get back to normal and what normal will look like under each potential president. Folks, of course, want to get back to work. They want to be able to gather with their family safely. These are all things that we've talked about. I think reporters and pundits are thinking about what the lame duck will look like. We're thinking about this very much in policy terms. Voters are just really-- they want to know if they can get together with their families for Christmas. I think that's really where we're seeing that divide.
Amy: Maya, Clare, Heather, thank you for joining me. Thanks for coming on this year. It's been wonderful.
Clare: Thanks for having us, Amy.
Heather: Thank you.
Maya: Thanks for having me.
Amy: Clare Malone is senior politics writer at FiveThirtyEight, Heather Long is an economics correspondent for The Washington Post, and Maya King is a political reporter at Politico.
[music]
Amy: Back in 2019, we had big plans for covering this election. We knew we wanted to hear from as many people in as many places as we could get to, to help us better understand what they thought was at stake in this election. We went to Michigan last July. This year, we traveled to Iowa in January, in New Hampshire in February. We knocked doors with activists, chatted with voters outside of campaign rallies, met up with political leaders and operatives. We're really excited about upcoming trips to states like Wisconsin and Pennsylvania and North Carolina, and then it all stopped.
Of course, the news didn't stop, a pandemic and economic recession, record unemployment, and uprising against racism and for police reform. We knew that it was more important than ever to hear from those impacted by these events. We had to do it virtually. It wasn't easy, but the hard-working producers of this show, Amber Hall and Patricia Yacob, found an incredibly diverse group of people who shared their stories with us this year. In our last politics show before Election Day, we checked back in with some of them.
David Bradley: My name is David Bradley and I'm the president of the Athens Area Chamber of Commerce in Athens, Georgia. Things have changed dramatically since May. Of course, then we really had no idea what to expect.
Lenore Estrada: My name is Lenore Estrada and I'm the owner of Three Babes Bakeshop in San Francisco and I'm also the founder of SF New Deal. My PvP money ran out. We've been really struggling to try to sell enough to justify the headcount that we have. I actually took out an additional EIDL loan. Also, I had a baby two weeks ago.
Abigail Opiah: I'm Abigail Opiah, co-founder of you Yeluchi by Un-ruly, a mobile hairstyling service for women of color. When we first reopened in June, we saw about $10,000 coming in within a matter of hours. By the end of the week, we had about $20,000 in revenue. It was obviously pent-up demand people itching to get their hair done. Since then, we've leveled down and we're not necessarily doing pre-pandemic numbers, but we are close.
Rachel Fine: My name is Rachel Fine and I own Gigglewaters. It's a restaurant bar in a one-screen classic movie theater in Safety Harbor, Florida. The last time we talked, Florida still had pretty significant restrictions on dining indoors. Since then, Governor DeSantis has moved us into phase three, which is full operations and 100% capacity. Something I should be thrilled about, but I'm not. I don't feel good about flinging open my doors and having a bunch of people crowd around the bar.
Spence Shelton: My name is Spence Shelton and I serve as the lead pastor of Mercy Church here in Charlotte, North Carolina. The last time we talked, we were holding services online. We did that for several months and recently have gathered outdoors for about the past eight weeks or so. We're actually going to begin with one very socially-distanced indoor worship service and then continue our outdoor services starting this upcoming weekend.
Judah Lewis: Hi, my name is Judah Lewis. Things have changed quite significantly, so I moved into Fort Worth. Now, I'm teaching sixth-grade and seventh-grade English language arts and reading. A lot of the students that I teach come from low-income backgrounds, special needs, students that are homeless. I have a lot of students that don't have internet to begin with.
Me teaching virtually and doing two 35-minute lessons, it's not going to be helpful for them. It's just not enough. Now, we've moved to a place where a lot of the students still are back in person. It's hybrid and we have students that are still online and they're not coming back soon. There's a heightened anxiety because of the fear of catching coronavirus.
[background noise]
Amy: Of course, the uprisings this year in the wake of the killing of George Floyd were on some minds as well.
Dr. Karlos K. Hill: I'm Dr. Karlos K. Hill. I have been pleasantly surprised by the number of Americans who are beginning to show solidarity with the movement for Black Lives Matter.
RJ Young: I'm RJ Young. I'm from Tulsa. I feel that I am constantly being gaslighted as my fears are no longer taken seriously at all, that in the very red state of Oklahoma, I'm being told that I am making everything about race or I am making everything about George Floyd and Breonna Taylor, that I am the person who is sensitive to COVID-19 that I'm preventing it from me living my life.
[music]
Amy: They share their concerns about their economic challenges.
David: If another round of emergency relief doesn't come in, I'm not hopeful that I would expect that we might lose 20%, 25% of our business downtown.
Lenore: I just think that the government has to do more to step in if they want to preserve our small businesses and our jobs.
Abigail: With this election, I think that no matter who wins, there's still going to be an effect on the economy. There's still going to be civil unrest that's happening. I'm not sure how long it's going to take for the recession to be turned around. Yes, although I am hoping that we get a new person in the White House this year, it's not lost on me that there's still going to be a lot to contend with.
Amy: On the policy front, some people were less than optimistic.
Dr. Hill: Even with this greater awareness and this seeming solidarity, it is by no means a given that legislation will occur, new policies will be developed, more accountability will occur as a result of those things. That's the sobering reality.
RJ: I feel that the results of the election have the possibility of moving the needle on the conversation and race, but only further into what I think is the wrong direction. Either folks are going to vote for Donald Trump and we'll get four more years of what we had and possibly worse or Joe Biden wins and a very loud and what we know to be at least enthusiastic part of the country is going to feel as if we threatened them further.
Amy: Some told us about the hopes they have writing on this election.
Judah: I am very, very optimistic about the future of the country because I am very optimistic in people.
Rachel: Well, I would just say that I'm cautiously optimistic.
Dr. Hill: I've never seen as big a push getting out to vote as in these last three to six months.
Spence: Well, if North Carolina is a purple state, I will tell you, Mercy Church is a purple church.
Rachel: Regarding the presidential election, I just want it over. I just want it over. Florida is such a passionately purple state and we are also divided right now. Everyone's feet are really just frozen in the mud waiting to see what direction life is going to go in. Honestly, if I could just fast forward and figure out what life looks like under the next presidency, I'd be so grateful because this is a very tough time.
Lenore: I'm definitely hoping for a Biden win as a human being and as a business owner really and as a mom. Jeez, I was listening today on NPR, just talks about the kids separated from their parents at the border and kids in cages. As a parent, it's just heartbreaking to get choked up. You'd be looking for your child forever.
Amy: For RJ Young, hope comes from within.
RJ: My girlfriend is white. She has two little girls who are also white. They're the only two people on the face of the earth that know me as RJ first and not as a Black man first. Knowing that those two girls will grow up to be two women who have a relationship with a Black man that is deeper than what color are you and where do you come from in the city gives me some measure of hope.
Amy: America has a complicated and messy history, one that we still are grappling to fully appreciate, but it's also a resilient and optimistic place that continues to change and evolve.
David: I hope next Wednesday that we breathe a sigh of relief and we really start holding hands to work together again to find a better tomorrow.
Amy: I want to thank all of our guests who shared their lives with us this year.
[music]
Amy: It's Politics with Amy Walter on The Takeaway. The most recent national polling shows President Trump trailing Vice President Joe Biden by almost nine points. Of course, many have memories of an albeit smaller, Clinton lead going into Election Day in 2016. This time around, there are fewer undecided and third-party voters who could swing us toward a surprise. My colleague and friend, Dave Wasserman, at The Cook Political Report, has also been digging into congressional-level polling.
In 2016, Wasserman saw Trump surging in many of the competitive districts that had significant rural and white working-class populations. This year, however, Dave finds the district-level polling is painting a very different picture. He joins me now to discuss key bellwether counties that could determine the outcome of the election and what demographic shifts have occurred since 2016 that put these counties in play.
Dave Wasserman: The places that are best positioned to be bellwethers don't all look alike. They really run the gamut from Pinellas County, Florida, which is going to be an early indicator on election night of whether Biden can really snap back among seniors and win a high-enough proportion of them to put Florida back in the blue column to New Hanover County in North Carolina, which is Wilmington, which has a lot of military, a lot of retirees, somewhat suburban in character.
That's a place that Democrats haven't won since 1976, but it's possible we'll know the winner of New Hanover County on election night. If Joe Biden wins it, then there's a good chance that he'll carry North Carolina. In Texas, the story has really been the shift in the suburbs and no county exemplifies that like Collin County, which is Plano. The number of corporate relocations from California and other blue states to Plano, Texas has been pretty staggering.
On the flip side in the North, we'll be watching Marshall County, Iowa, which is a meatpacking hub. It's home to the State Veterans Home. It voted for Donald Trump by nine points in 2016 and the state voted for Trump by about nine points, so it might be a good barometer. Everyone is watching Pennsylvania and Erie County, Pennsylvania has been a focus for both candidates who have recently stumped there. Erie let us know that it won't begin counting absentee ballots until the morning after the election.
Amy: Let's talk about your favorite county, Sumter County in Florida, home of The Villages. For people who don't know what that is, it's a retirement community. I think at one point, Dave, wasn't it the fastest-growing county in the state?
Dave: Perhaps even the country.
Amy: Oh, in the country. Wow, okay. You are looking at that county and saying, "You know what? We may know that early enough to be able to make some assumptions about the Florida vote.
Dave: I'm cautious of anyone even on election night who points to an early vote total out of any county or state and says that it's a great sign for either candidate. The one possible exception I would make on election night is Sumter County, Florida and the reason is that it's demographically extreme. The median age in Sumpter is 68.9 years old. In 2016, 84% of Sumter's votes were cast in advance of Election Day. We're already up to over 75,000 votes cast in Sumpter out of 105,000 registrants.
We know that the overwhelming share of votes is going to have been cast in advance and that we're going to most likely get that batch of results very early on election night because after all, Florida does permit their counties to begin processing these and the absentee and early ballots up to 22 days before the election. That could give us a clue. Donald Trump carried Sumpter County 68% to 29% in 2016. That was a 39-point margin on his way to carrying the state by one.
If we see the first batch of votes reported in Sumpter and we have over 80,000 ballots counted and Donald Trump is only leading something like 64 to 35, that's probably not good enough for him to win the state. We do know that the small number of Election Day votes reported there will be more favorable to Trump than the early votes and that's likely to be true just about everywhere. That might give him a 2% boost in his share of the vote total there, but he needs to be at least running two to one over Joe Biden, in my opinion, to have a chance of carrying the state.
Amy: Dave, the other thing that you have been writing a lot about is what district-level, congressional-level polling can tell us about this election that maybe the statewide polling does not or better yet, it gives us some perspective on what a state could do in this election. Can you talk a little bit about that and compare it to what it told us about 2016?
Dave: Yes. What a lot of people don't understand is that the majority of polling of the presidential race actually occurs at the district level, not the state or national level. Because as you and I have both loved over the years, this job of covering house races, it involves talking to a lot of strategists and party consultants who are constantly polling each congressional race to determine where to spend resources.
This data is not always-- It's not often made public, but it tends to be of higher quality because it's used to make important spending decisions. Both Republican and Democratic outside groups have invested accordingly this year after seeing polls that show the President running eight to 10 points behind his 2016 margins in competitive districts in Pennsylvania, Michigan, Arizona.
These are all places where across a broad swath of geography, Trump is running well behind where he was. For example, in Harrisburg, Pennsylvania, a district that Trump carried by nine points four years ago, there are polls that both parties have taken that show Joe Biden in the lead in that district. In Bucks County, Pennsylvania, a district that Clinton only won by two last time, multiple private surveys show Biden ahead by double digits. It's just several examples of what the district-level polls are telling us.
At this point in 2016, we were looking at polls in districts in Northern Wisconsin or the Upper Peninsula of Michigan or the Southern Tier of New York, all places with high white working-class populations where Trump leads that had been five points in the summer or in September had ballooned into 15-point leads in October. These were flashing red warning signs for Hillary Clinton that very few people in the media were picking up on and a lot of Democrats were in denial. This time around, the flashing red warning signs are for Trump.
Amy: Thanks, Dave.
Dave: Thank you.
Amy: Throughout the fall, President Trump has spread false and misleading information about the voting process in an attempt to sow confusion and doubt about its outcome. Just this week, the President once again cast doubt on the integrity of the election.
President Trump: Hopefully, the few states remaining that want to take a lot of time after November 3rd to count ballots, that won't be allowed by the various courts.
Amy: That, for example, is nonsense. There's no law that says ballot counting has to be 100% completed on election night. We do know that in states like Wisconsin and Pennsylvania, Election Day voting is expected to favor Trump while early votes are expected to be more Biden-friendly. Given the fact that states like Wisconsin and Pennsylvania don't start counting those absentee ballots until the day of the election, well, early election results could show President Trump ahead. To help us understand what we can expect on election night and beyond is Grace Panetta, senior politics reporter covering elections and voting for Business Insider.
Grace Panetta: It's important to note that election results are never final on the night of the election itself for any race. News outlets will sometimes make projections on who they think will be certified as the eventual winner. They do that based on the vote that sends so far and other factors, including exit polling, but the reality is that there are always ballots that are counted after Election Day, whether those are late-arriving mail ballots from domestic voters, absentee ballots for military and overseas voters, and then provisional ballots, which are cast by voters who had some issue with their registration or eligibility. Those need to be resolved by hand, by humans, and those are always the last to be counted. That's why states always give their election officials days and/or weeks to fully count the full vote and certify those results.
Amy: These news organizations are not going to call a race if they believe that it is so close, that more ballots that are either absentee or provisional are coming in from overseas, as you pointed out, need to be counted before they can feel confident that they know who the winner will be, correct?
Grace: Yes, that's exactly right. Usually, in the past, the reason why news outlets and other decision desks have been able to call the winners on election night is because there aren't enough outstanding apps into your provisional ballots that would change the winner. They can make a very confident projection of the winner because enough of the vote is in. Now with the rise in mail ballots, which take longer to count and can be accepted after Election Day in some places, that means that there's going to be a lot of votes outstanding that could change the outcome in some cases. News organizations are going to be very, very careful not to make premature calls that could confuse voters even further.
Amy: What are the reasons for the continued long lines in some of these states?
Grace: In some cases, it is just a really high amount of enthusiasm. We've seen particularly a lot of long lines on the very first day of early voting. The very first day of early voting in Georgia, for example, was also Columbus Day that a lot of people had offer and work and those were the longest lines. In some of these places too, it is a matter of how many polling places are open.
In New York, for example, there were only 15 to 20 early voting sites per borough and you had to go to your assigned site. You couldn't just go anywhere. Those were only open for about seven to eight hours on the day. The lines were very, very long because people thought they wanted to beat the rush on Election Day. That's like a staffing and resource allocation issue that needs to be resolved.
It's also important to note that sometimes these photos and these sped-up videos have long lines that we're seeing can be a little misleading because they don't reveal the wait time. A line can be long and still move super quickly. Obviously, that wasn't really the case in New York, but yes, overall, it just like is revealing some resource issues that definitely need to be resolved.
Amy: What are some of the issues that are still outstanding? What are the things that still concern you as we turn the corner here into these final days before November 3rd?
Grace: One of the main things that I am looking at and a little worried about are just the sheer number of outstanding male and absentee ballots that are out there that have been received by voters and not returned. Obviously, we want to see those get returned and be counted. It is definitely too late at this point for people to send their ballots back through the mail, through the US Postal Service.
Nearly every state does allow people to drop off their ballots in person, whether that's to a dropbox or an early voting site or to their county elections office. I'm really going to be watching to see if all the outstanding ballots get returned or not. The other big question mark is what will November 3rd look like in terms of in-person voting? There may be a lot of pressures on the system. We don't know how many people are going to show up.
Amy: Grace, now let's go to the court. The Supreme Court has been weighing in, or maybe not weighing in as if we want to say it that way, on a number of cases involving absentee ballots. One in Pennsylvania, one in Wisconsin. Can you give us the latest on that?
Grace: Recently, the Supreme Court ruled on Monday to uphold a ruling from the Seventh Circuit Court of Appeals, stating that mail ballots in Wisconsin have to arrive by the time the polls close on Election Day to be counted. In that case, the Seventh Circuit had overturned a ruling from a lower district court judge who had sided with some plaintiffs who wanted, because of some of the issues with mail delivery and voting by mail, to require Wisconsin election officials to accept ballots that had been postmarked by Election Day and arrived six days later.
The state appealed that to the Seventh Circuit and the Seventh Circuit overruled it and then that was upheld in the Supreme Court. Essentially, what they said is that the federal court essentially acted improperly in overriding the state legislature and ruling something that was counter to the law that had already been set by the legislature. Obviously, in that decision, Justice Kavanaugh's concurrence got a lot of attention. His concurrence was really controversial for a number of reasons.
It caused a lot of alarms for voting rights advocates because he essentially advanced a pretty stark view of the role that state and federal courts have in ruling on elections. He essentially said it's improper for the federal court to overstep here and rule something contrary to what the legislature had agreed. He also said that state courts-- not even state courts have the ability to overrule rules that have been set by state legislatures. A lot of people thought that was alarming that he said that. Not even state courts necessarily have the jurisdiction to do this when it comes to federal elections.
Amy: Do you think this gives us an insight into what could happen if, indeed, a case made its way to the Supreme Court involving a final decision about this election?
Grace: Yes, it's a little bit difficult to say. Just the chances of this election ending up in the Supreme Court at all are very, very low. We can say broadly that the conservatives on the court in responding to some of these cases involving ballot receipt, deadlines in Wisconsin and other in Pennsylvania too have really sided with state legislatures and the rules that state legislature set and have really been opposed to either state courts or federal courts issuing rulings that change state law that's been passed in the legislature.
That could come up in a possible ballot-counting dispute. Of course, we don't know what role the new justice Amy Coney Barrett will play. We know she's an originalist. We know she's conservative, but it's unclear if she'll go as far as Kavanaugh in some of these cases and saying it's inadvisable in general to have states let ballots count after Election Day or how strict she'll be about siding with state legislatures over state and federal courts.
Amy: Grace, there's one state that a lot of folks talk about that they are worried about on election night and that's Pennsylvania. Can you help us understand just what Pennsylvania could look like? And are you worried that there may be a number of hangups there come November 3rd?
Grace: Yes, I'm very concerned about Pennsylvania for a number of reasons. The first being that this is their first time with allowing anyone to vote by mail. Before 2020, they only allowed absentee voting under pretty restrictive circumstances, but this is their first time allowing anyone who wants to vote by mail to do so. It's the first time having these satellite county offices where people can go and get ballots. Those have contributed to long lines and have had issues and its part of the issue.
Another thing with Pennsylvania is that the state legislature has resisted throughout this year bipartisan calls from election officials to give them more time to pre-process this huge rise in mail ballots. Under the current law, election officials are not permitted to even begin opening envelopes for doing any kind of processing and counting before the polls open on 7:00 AM on Election Day. What this means is there's going to be a wide variation in how ballots are processed and counted and which votes counties will report first.
We know that there are some counties in the Philadelphia area that are going to start right at 7:00 AM and just count all the way through until all the ballots are fully counted. They can report as much as they can. Whereas other counties that don't have as many resources are now starting to say, on Wednesday and Thursday, that they're going to do the in-person on Election Day votes first and then not start processing mail ballots at all until the day after, which means that we could see a really big difference between how the vote count look because we all obviously know that mail ballots are more likely to favor Biden.
There could be many counties where Trump is leading a lot in the first batch of votes that are reported, then Biden catches up. Trump has been zeroing in on Pennsylvania. There's been a lot of litigation there. He's been saying throughout this year that everything there is suspect, bad things happen in Philadelphia, there's massive fraud, which is not true. That is one that, especially if it's close, definitely want to keep an eye on and be concerned about possible election challenges and litigation.
Amy: Well, Grace Panetta, thank you again for really helping us to understand the complicated, complicated world of voting in the year 2020. Really appreciate your time.
Grace: Of course, thank you so much for having me.
[music]
Amy: One more thing for me. At the end of every election, we ask ourselves, "What has defined this election?" Even with all the chaos and events we've endured over this year, it's clear that this election has always been about one thing, Donald Trump, the man who can never be out of the spotlight, couldn't see it even when it would have helped him politically. An election that revolves around a person has meant that there's not been enough discussion of the hard realities this country is going to face in 2021. A pandemic that's still not under control, the widening gap between haves and have-nots, police violence that continues to plague people of color around the country.
I've spent the last five years talking about this era we are living in as a tipping point, a cultural, social, economic, and technological tipping point. There's always a lot of fear around change, a desire to try to keep things stable. We also know deep down, things are never going back to normal. Thus far, our leaders have not met this moment. Every four years, we get the chance to demand they do. We end this election knowing that it's really just the beginning. I have faith in my fellow Americans, but we all need to dig deep to find the courage and demand our political leaders do too.
That's all for us today. Our senior producer is Amber Hall. Patricia Yacob is our associate producer. Dina Sayedahmed is our digital editor. David Gebel is our executive assistant. Jay Cowit is our director and sound designer. Vince Fairchild is our board-op and engineer. Our executive producer is Lee Hill. Thanks so much for listening. This is Politics with Amy Walter on The Takeaway.
[music]
Copyright © 2020 New York Public Radio. All rights reserved. Visit our website terms of use at www.wnyc.org for further information.
New York Public Radio transcripts are created on a rush deadline, often by contractors. This text may not be in its final form and may be updated or revised in the future. Accuracy and availability may vary. The authoritative record of New York Public Radio's programming is the audio record.