Candidate Talk: Seth Moulton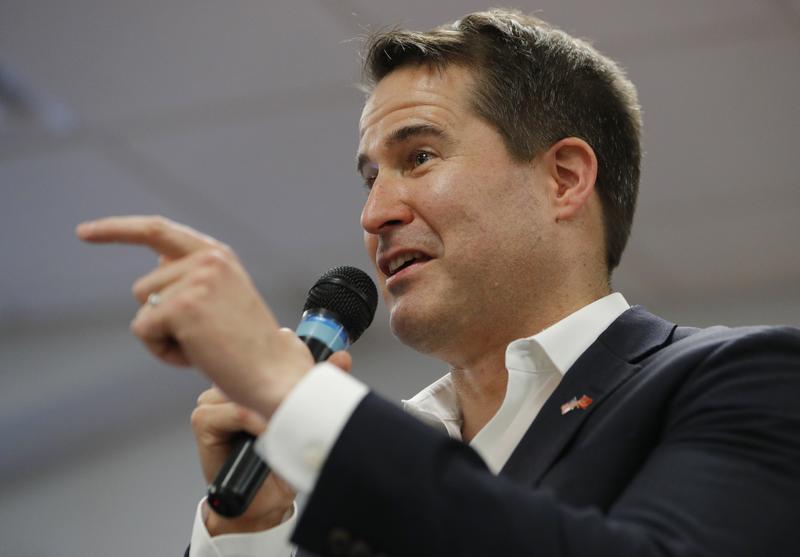 Transcript
Takeaway071219-moulton
TRANSCRIPT
(HOST) Amy Walter: It's Politics with Amy Walter, and thanks for checking out our candidate talk series. This week, I sat down with Congressman Seth Moulton. Moulton represents Massachusetts' Sixth Congressional district, and in April, he joined the ranks of Democrats running for president. I asked him what he felt was missing from the pack that he would bring to the race.
Congressman Seth Moulton: I'm the only combat veteran in this race. Someone who's really led troops in combat had to bring together Americans and some of the most difficult and divisive circumstances that exist today in the middle of the Iraq war, where my job as an infantry platoon commander leading troops on the ground was fundamentally to take this amazingly diverse group of Americans from all over this country with different backgrounds, different religious beliefs, different political beliefs, and get them united behind a common mission to serve America.
And that experience of building a coalition of bringing people together in divisive times is the hardest and the best job I've ever had. And I think it is exactly the kind of leadership we need from a nominee to take on Trump. Someone who has to build this coalition of everybody in the Democratic Party, plus independent voters -- those Obama, Trump voters -- and even some disaffected Republicans. And at the end of the day, I think that beating Trump is going to be harder than a lot of Democrats think.
Amy Walter: Yeah, I've heard you say that before. What are Democrats either underestimating or overestimating about Trump?
Moulton: Well, first of all, he's a sitting president with a fairly strong economy. Now I caveat the economy because it's not working for a lot of Americans, but the top line numbers are good and he's gonna run on that. When I go to parts of the country that we need to win -- the places where I campaigned for House candidates in the last two years, where myself and my organization serve America -- we're a big part of winning back the house.
Over half the candidates that flipped house seats to take control were folks that I supported and they were in difficult districts. Many of them fellow veterans running in places where not a lot of Democrats go. There's a lot of support out there for Trump. And if Democrats don't offer an alternative, that's a unifying alternative, not only are we not going to be able to beat Trump, but it's going to be really hard to pursue our agenda even if we do.
Amy Walter: So there are a couple of people who seem to be making the same argument that you are. One is Pete Buttigieg who would argue he's also served in the military.
Moulton: He's not, I mean -- I really admire his service just to be clear -- but I lead troops in combat
Amy Walter: And you see that as a very different experience? How so?
Moulton: Look, he did an important job. He was an analyst, looking at terrorist networks or whatnot. Leadership in combat -- when you're asking young marines to risk their lives -- that's a leadership experience that is unique in this race.
Amy Walter: You also have argued as you watched the first debate -- you were not on the debate stage either night -- but you watched the debate and said you thought that the Democratic Party was careening to the left. What did you mean by that?
Moulton: Well, I think a lot of Americans felt that watching and listening to the debate that there's sort of a competition to appeal to the party base while forgetting a lot of Americans that we have to win over if we're going to have a majority in this election. And it comes through with certain issues. For example, healthcare. I'm the only candidate in this race who actually gets single payer healthcare because I made a commitment to continue going to the VA, even as a member of Congress, because I said, if my fellow vets are going there and it's messed up and I'm in a position to help fix it, then I'm going to see it for myself.
So I go to the VA and you know what, it's not all that great. I've seen the good, the bad, and the ugly of single payer health care through the VA. The good is that the VA negotiates prescription drug prices, which Medicare does not. But the bad is that I got sent home from surgery once with the wrong medications and the ugly is veterans dying on waiting lists or not getting to see the mental health care professionals they need before they commit suicide. That's not a system that I think we should force on every American.
I'm with President Obama where every American deserves healthcare, but we should have a public option -- an optional public plan -- that competes with private healthcare plans and may the best plan win. That competition is good for the system.
Amy Walter: Were you surprised to see almost every hand raised when asked the question of whether to decriminalize crossing the border?
Moulton: Yes, because on day one of my administration I would say there will be no kids in cages. There will be no family separations. I'm not going to wait for some law to be changed to make sure that that happens.
Amy Walter: But do you think we should decriminalize border crossing?
Moulton: I want people to come to America legally and I want them to be encouraged to come here legally rather than have this debate about decriminalizing crossing the border illegally, right? Let's just encourage people to come here legally by fixing our asylum system, by making sure that people get their cases judged right away and they can either get jobs and pay taxes like the rest of us because there are legally here -- because coming here through asylum is legal if you're legitimate -- or they're sent home right away, but they're not kept in limbo. Let's make sure that we actually strengthen the border where it needs to be strengthened at border crossings -- where we do have a lot of illegal drugs coming through. But not building a silly concrete wall in the middle of the desert.
Let's make sure that when we have immigrants come here as students on student visas that learn from our educational institutions, our universities, that we don't then send them home with their degrees to use their education, their American education in China, to compete against us. These are sensible immigration reforms that we need to do. I think that just simply saying it's totally fine to come here illegally is not the message that we want to send to America. It's not the message we want to send to the rest of the world.
Amy Walter: I have more of an existential question to ask you about --
Moulton: Oh boy --
Amy Walter: Just looking at the house -- we have a number of house members running this year, which is a new thing. Usually you don't see members of the house running for Congress. Nonetheless, this many. And what I also noticed is you've got a number of you who got to Congress in sort of non traditional ways.
You either beat an incumbent: Beto O'Rourke. You beat a sitting democratic incumbent: Eric Swalwell, who obviously has since dropped out, but he beat an incumbent. Or you challenged the leadership in your party as Tim Ryan did from Ohio. What do you think this says about where members are coming from? Or why is it that the members who are in some cases the outsiders challenged the system and now are running for president. What does that mean?
Moulton: Because I think that we all believe that the status quo isn't good enough. That we need to move America forward. And there's a debate right now in the party about how to do that. You know, one of the things you saw on the debate stage is a group of Democrats saying, we need to totally upend the system, basically remake America from its foundations.
And I don't think that's right. I think this has always been a great but imperfect country. But I think our fundamentals, our values, our constitution are strong. There's another group of people who just kind of want to go back to the way things were. I don't think that's right either. I think what we need is an update. You know, it's sort of like America's running on windows 95 right now and -- you're certainly sitting here with your Apple laptop -- you're certainly not running Windows 95. We all know that America is just kind of falling behind.
And we don't need to completely change our fundamental foundations, but we do need an update. And that needs to happen now. If we do wait, we're just going to leave more Americans behind. I think that's the sense of urgency that you see with some of us who looked at our home districts and said, I'm not gonna wait for this guy to retire.
I think we can do better today. I'm not going to just wait for our party leadership to retire. They've been here for a combined total of about a hundred years. Like, let's get some debate here. And that's healthy for the party.
Amy Walter: Well, let's talk about that because that debate seems to be happening. You had argued for a while that Nancy Pelosi and other members of the leadership needed to step aside and let a new generation come forward. Obviously, Nancy Pelosi won reelection as speaker. But we're now seeing this tension with these new freshman members, again, many of whom beat sitting incumbents to get their jobs like Alexandria Ocasio-Cortez. Do you feel like you've been vindicated in your message that the leadership was out of touch with this generation?
Moulton: I don't think about being vindicated or not, but I've argued since the very beginning, since my first campaign, that is time for a new generation of leadership in our politics. And it's why I worked so hard to get so many new young voices into Congress and I focused on the seats that we needed to win to flip the house.
These are people like Mikey Sherrill, Elissa Slotkin, Abigail Spanberger. Those are three fellow veterans who won really tough seats that we needed to take back to flip the house. And once I got here, I said, look, I want them to have a voice in our politics too. As a result of that debate, we got some good things. We got the climate change subcommittee. We got the voting rights subcommittee. We got an agreement on term limits from leadership that will ensure these voices rise up in the future. But I do think that there's this urgency out there and there's a reason why American voters picked the most young, diverse, incredibly vibrant freshman class we've ever seen in the House of Representatives.
And we want to make sure that we actually live up to that call.
Amy Walter: But that tension is also apparent as well, not just between Pelosi and what folks are calling "the squad." Those younger members who are getting a lot of attention like Ocasio-Cortez, Talib, Omar. But the members that you mentioned in those swing, tough Republican districts aren't getting a whole lot of attention. And the worry is that the focus and the messaging and the policy agenda of the more liberal members is making it harder for members that you worked for in those swing districts to get reelected. Do you buy that?
Moulton: I do think there's tension there and it's important to remember that Representative Ocasio-Cortez is great. She's offering some great ideas. I just had a nice conversation with her yesterday about posttraumatic stress, for example, and mental health care. But it's important to remember that, you know, she took out a Democratic incumbent so it didn't flip a seat.
It didn't help us win back the house in the way that people like Abigail Spamberger and Mikey Sherrill and Elissa Slotkin did. And and also Max Rose and Jason Crow and a whole bunch of other folks who really won in really tough districts. In districts that are going to be hard to hold on. And if we want to maintain the majority so that members like the squad you refer to have a voice, have a chance to actually get a vote on some of the policies that they want to put forward, regardless of whether they pass, then we got to make sure we hold onto the majority and that should be our top political priority.
Amy Walter: Talk to me a little bit about your plans going forward. There is a debate at the end of July. Do you expect to be on stage there?
Moulton: You know, we've met the polling criteria from the DNC in nine different polls, but the latest thing they've told us is that they're not counting those nine polls. I don't know what that means exactly. And I don't think it's a great idea to exclude a combat veteran rom this debate. I think that these views need to be a part of the debate stage there. But you know what, if that's what their rules are, then fine.
What matters is not what the Democratic National Committee establishment and DC says, it's what the American voters say. And my message is resonating on the ground when I go to the early states. Like I was in Nevada over the 4th of July. I was in New Hampshire this past weekend. I'm getting a great response. I'm getting people who say, this is the kind of leadership we need to bring the country together and to move us forward. This is the kind of leadership in tough divided times that we need to win this election and to go toe to toe with Donald Trump on the debate stage.
And I think that's what Democrats ultimately want in a nominee. So as long as I still get that positive response on the ground from the voters who are actually gonna make this decision I'm going to keep plowing ahead.
Amy Walter: You could also make the debate stage by getting a certain number of donors contributing to your campaign. Are you close on that metric.
Moulton: We're moving in the right direction. And we're certainly getting closer every day, but you know, that kind of metric plays to a certain part of the party that responds to the flashing light emails that doesn't always represent everybody in the Democratic primary electorate. I was down at a church in South Carolina, great black church with a wonderful preacher and amazingly engaged congregation. And the preacher talked a little bit about my background at service and why I'm running for president.
And, and a whole bunch of people came up afterwards and wanted pictures with me. I said, you know, if you don't mind, you know, put these on Facebook and share with your friends. And they, they looked at me, he said, we don't have Facebook. You know, we don't even have Internet access. And how are they gonna make online contributions? So by having metrics like that, we're leaving a lot of Democrats out of this conversation. And I think that's a democratic party mistake.
Amy Walter: Congressman Seth Moulton, thanks so much for coming and talking.
Moulton: Thanks for having me. This was great.