Part 3: A Star With Schizophrenia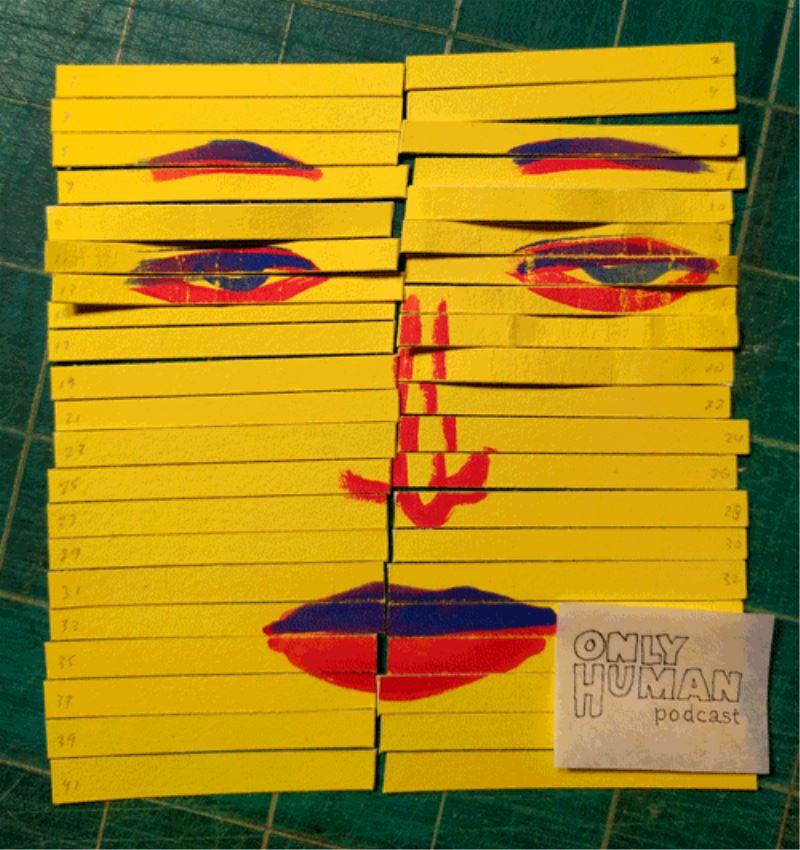 Transcript
'PODCAST APPRECIATION MONTH' CALLOUT:
Hey there- Before we start the show this week, I'm going to take just a couple of minutes to say thanks.
About 10 months ago, the Only Human team and I set out to create a show about stuff we don't normally talk about. We wanted to get really honest about our bodies. To talk about health -- but focus less on studies and stats and more on the voices and stories behind them. Your voices. And you guys have blown us away. You have called in to tell us your health confessions, stories of when your body betrayed you. One woman even called in with sex tips.
What I'm saying is that - this community is going strong because of listeners just like you. And this month, we are asking you to support us in a new way. A big reason we're able to be here in the first place is because of individual donations from listeners just like you. So this month, if you like what you're hearing - we are asking you to show your support financially. WNYC Studios is calling this "Podcast Appreciation Month."
Giving is really easy -- just go to OnlyHuman.org/donate and do it there or, you can do it right on your phone. Text the word "Human" to the number 698-66, and we'll respond with a little link where you can give in just a few seconds.
This is a two way thing - you appreciate us, we appreciate you. So - the first 50 of you who donate will get a little gift - an Only Human water bottle. If what we do here every week is important to you - show us your support. That website again is OnlyHuman.org/donate. Thank you! Now, on with the show.
Mary Harris: I'm going to pull up YouTube here for a second. Okay, if I'm logged in, I'm looking at the first couple of videos that pop up here. [laughs] The first 20 are Minecraft tutorials…
CLIP "Hey, guys it's me!" (sound continues under)
MH: "Minecraft: Too many structures," "Minecraft: How to build an elevator," "How to make a portal to the moon in Minecraft." This is what happens when you give your eight-year old your username.
CLIP "Hi I'm Dominic from Ask me DIY dot com" (sound continues)
And then, there's this other video on how to change the filter in your boiler, which I've watched a bunch of times actually and I still can't do. And then there's this whole other kind of "how to" video.
Rachel Star Withers [YouTube clip]: Hey, what's up – I'm Rachel Star. This is...
MH: It's this woman named Rachel Star, and it's here because this reporter at NPR, Angus Chen, told me about her.
RSW [YouTube clip]: The first thing I want to say is that, for those who don't know, I am a paranoid schizophrenic. I've been diagnosed with other things--bipolar, schizoaffective disorder, schizoid personality...
MH: This video is called "Ask A Schizophrenic - My Answers." It was uploaded February 9, 2012. It has 157,000 views. Rachel is basically answering questions about what it's like to live with her disease.
RSW [YouTube clip]: So please understand you need to talk to a doctor about all this stuff. I can only tell you from my personal experiences.
MH: I'm Mary Harris, this is Only Human. This week's episode is about how you can find people that really get you. And whether being this upfront about your mental health can actually help you cope. Angus Chen is here. When he saw these videos, he thought, I gotta meet this woman.
Angus Chen: So when I first saw Rachel's videos on YouTube, She really just seemed like anyone else I might see at a skate park. She's usually in a tank top and a baseball hat, her dark curls tumble down her shoulders. But she does something that's totally unordinary.
RSW [YouTube clip]: Hey, what's up – Rachel Star. Anyway, so last video I talked a little bit about hallucinations and mainly delusions.
AC: Not all people with schizophrenia can handle their symptoms like this. And definitely not everyone would post about it on YouTube. On camera, she seems in control. It just makes you wonder, what does it mean to be the schizophrenia star of YouTube? So I went to visit Rachel in the small town where she grew up. It's not too far from Charlotte, North Carolina. It's the kind of place where driving around you'd pass a few people on horseback, where when people meet you, they might ask what church you go to.
RSW: Hey!
AC: Hey!
RSW: Need any help?
AC: No, I think I'm good.
AC: Rachel is 30, and she's been running this YouTube channel for about a decade. The first videos she posted weren't about schizophrenia. They were these wild, thrill-seeking stunts. There's one of her swinging flaming nunchucks around her head, and another where she has a friend stick a power drill up her nose. She still makes these crazy stunt videos, and she makes money from them, and from a part-time job at a gym. One of her most popular ones is called "Boob Can Crush." You can probably guess what happens in this video.
RSW [YouTube clip]: Hey, what's up — I'm Rachel Star, and let's see how many cans here I can crush with my boob, and how fast.
AC: She's in a blue tank top and skinny jeans, and she has a bunch of soda cans lined up in a row on what looks like a busted, wooden picnic table. She leans down, grabs her right boob, and...
RSW [YouTube clip]: Ready? Ready? Alright.
AC: She's grunting as she crushes cans with her chest. The cans fizz, and soda gushes out as she throws. And at the end, she belly-flops on the table.
RSW [YouTube clip]: That kind of hurt.
AC: This video got half-a-million views. At the time, Rachel was building her YouTube channel as a silly, adventuring jokester, who performed wacky stunts on camera. Today Rachel is very open about her illness, and how she sometimes wants to harm herself. She tells complete strangers online whatever they want to know about her disorder. But growing up, Rachel did her best to hide all of this from her family. When she cut herself, she hid it with long sleeves and long pants. The only thing her parents noticed that they thought wasn't standard teen angst was rage. Rachel constantly fought with her little brother and had intense tantrums.
Janelle Withers: "Rachel, why don't you do this?" You might be trying to give advice. Like, "Rachel, why don't you do this?" "But no, I want to do that." If you two started going back and forth...
Dean Withers: She really thought about that, and that's when she would explode, you know, like...
AC: That's Janelle and Dean Withers, Rachel's parents. They couldn't understand why this was happening, and they didn't know what to do.
DW: She would just explode. Just start kicking something or ripping off something, jump in the car and run off. Just left over a thing that wasn't worth fighting over. I didn't mean for it to go that far.
JW: She was getting upset almost every day. I was getting, so I'd sneak through the house, which is not a good way to live.
AC: I asked Janelle and Dean if they thought their daughter needed to see a doctor about that rage.
JW: Well we would talk to her about going to get help, about seeing a psychologist or a psychiatrist, or whatever, but it was like, "There's nothing wrong with me. No, that's not what I want." She would argue with you about it, so we just didn't press it. You can't force a 16, 17-year-old kid, who is so adamant about it.
AC: As a kid, Rachel was also battling hallucinations. Even now, she still hears ticking in rooms with no clocks. When she walks down the street, things can come to life that shouldn't. A store mannequin will take off its hat and approach her.
RSW: Yeah, just stuff everywhere--things in my closet. I'd see my closet door opening and closing. And anything--I could look at the wall and suddenly it would become...there'd be a face there making expressions at me.
AC: You never told anybody about this?
RSW: So there were a few issues. One, I grew up in the church, so you hear about angels and demons and Satan, and honestly I just kind of thought that's what I was seeing. You hear it in church all the time, "And Jesus cast out the demons." I just assumed everybody saw them.
AC: But she quickly realized that wasn't the case. And as she got to her late teens, she thought more intensely about hurting herself.
RSW: It was just like it's this thing that's always there. And if I dwell on it too much, I'll want to hurt myself. And, yeah, kill myself.
AC: Rachel told me she had thought a lot about killing herself in a way that echoed one of her hallucinations. Sometimes when she caught her reflection, what looked back at her wasn't really her.
RSW: Like the eyes were still there, but all the skin was peeled off. I'd see her in store windows, anything like that. Any reflective type thing I'd just stay away from.
AC: Was that terrifying?
RSW: Oh yeah, it was horrible. It was...yeah it messed me up. I was very suicidal. I mean there was no escaping something that's in your brain, like there is no escaping it. While I was there, I started the cuts to cut my face off. I actually had started them just to kind of calm the hallucination down.
AC: Do you think you would have done that to yourself, eventually?
RSW: Yeah, yeah, probably would have committed suicide somehow and that been involved. I knew I needed to get help. Like this has gotten out of control, there's something seriously wrong with me.
AC: It wasn't until she was 20, in college, that she finally found doctors that specialized in mental illness, psychologists and psychiatrists. Rachel says it was good to be finally getting help, but she was also scared.
RSW: I remember it was scary when I first got told I was a schizo. Pretty much if you looked up stuff, the only things you could find were serial killers, just all of this horrible stuff about schizophrenics. I was like, I don't want, if someone else gets this diagnosis tomorrow, for that to be the only thing they see pop up if they Google it. It's just scary stuff. I hope that a real person pops up and knows that, hey, this isn't the end of the world.
AC: The thing with Rachel is she's pretty fearless. She already had this YouTube channel where she was doing those crazy stunts. So she turned to the only audience she knew, her followers.
RSW [YouTube clip]: I'm a 22-year-old, female schizophrenic.
AC: This is the first video Rachel makes about her illness.
RSW [YouTube clip]: Schizophrenia is a very lonely disease because you're trapped in your own head, and it's hard to explain to other people what's going on. I'm making this cause I don't want you to feel alone.
AC: So in 2008, when you were afraid for people to know about your diagnosis, it must have been so hard to make that video and hit that upload button.
RSW: I remember telling that counselor, and he was like, "Are you sure you want to do this?" And I was like, "Yeah, yeah, you know, I make other videos. Why not?" But really being terrified, and I think he was worried, you know, the response, too. Yeah, you're just scared, what are people going to say, how are people going to react. And my parents, too, really didn't want me putting stuff out there. My mom used to worry all the time.
JW: You know, why put it out there for the world to come back at you, or to start treating you differently. Or jobs. You know, they look you up and they see this and they'll be like, "Well, I don't know. Schizophrenic, I don't know. She may go nuts here."
AC: And Rachel worried, too. Even in those early days of YouTube, the internet trolls could be really cruel.
---------------------------------
MIDROLL
MH: Last week, our reporter Amanda Aronczyk talked to Giselle, an outspoken medical student struggling with anxiety and depression. A lot of you related to her story of trying to get through school while dealing with mental health issues. A woman who goes by the nickname Lumi said her childhood trauma and depression meant it took her ten years to get her Bachelor's degree.
Lumi: I had such a hard time staying in classes and being able to complete anything. I never thought I would actually get a Bachelor's even though I knew that I would be perfectly capable of doing it.
MH: After that, she tried to get a doctorate in audiology, but her mental health kind of derailed her plans.
L: You know, this stuff came back to bite me in the butt. I ended up dropping out of the doctoral program after two years, but I was lucky enough because I had completed two years, they awarded me a Masters.
MH: Lumi said she found Giselle's story really inspiring.
L: Hopefully at some point I can not be afraid, and be more open, and say, "Hey, this is something I struggle with," and to be okay with it, but I'm still not...I still don't feel like I'm quite at that point yet.
MH: Some of you said having more doctors like Giselle could make medicine more empathetic.
Kristy Brown: I guess my first reaction was yes, yes, yes, we need someone like that. We need doctors like that.
MH: Kristy Brown lives in Houston, Texas, and she suffers from anxiety, so does her 11-year-old son.
CB: He is currently being diagnosed with Asperger's as well, and it's been a long battle to get him the treatment and the help that he needs. And I think that someone who has anxiety or depression can understand that better than people who are on the outside looking in.
MH: Thank you guys so much for continuing this conversation. You can find us at any time at Only Human Podcast on Facebook.
AC: In some ways, that first video was Rachel's greatest stunt of all. And back then, the idea of doing something like this was really rare. Rachel expected to be attacked by internet trolls, but then the emails started rolling in, and they came from people like Don, a dad in Portland.
Don: I saw that and I said, "Wow, that is so much like my family and my daughter and our experience.
AC: Don's daughter Tracy has schizophrenia.
AC: Can you tell me what it felt like when you first saw that video and you were thinking these things?
D: Oh, I was in tears. Now you could get a window into the mind of a young woman who was going through this, and she was very descriptive about what was happening in her.
AC: Don eventually asked his daughter to watch them with him, and Rachel kept posting videos. A lot of them were practical answers to emails and comments that she got from her viewers, like "How have you dealt with your hallucinations?"
RSW [YouTube clip]: The biggest help to me with my hallucinations has always been my dog. Some people will be like, "Rachel, that's crazy," because whenever I get scarred or I see stuff, a lot of the times if she doesn't react to it, obviously not really there. So I would suggest, I know it's hard to go out and get a dog...I just, the past three, four years I've had Twinkle, amazing difference in me, and she's the best little friend ever.
AC: A lot of them are like this, where she talks about really difficult symptoms. Like depersonalization, when you feel disconnected from yourself and reality.
RSW [YouTube clip]: It's like driving a car except you're the car. So like when I drive a car, I'm completely in control of it. At no point do I think, "Whoa, I'm this car." Right, when you drive. I think depersonalization is a lot like that. It's like, you're in control of this body, but I don't know, there's still this disconnection from it. Mine comes and goes. I think I always feel...I always feel disconnected.
AC: When Julia, a 22-year-old schizophrenic in Peoria, Illinois, saw this video, she didn't know what depersonalization was.
Julia: Sometimes I would just click through all her videos and I would find a video on something I had no idea about. And I would just learn everything I could about it. And then I would get that symptom. I don't know if there's any direct correlation, but it was like it prepared me in a way, so when it did happen to me, I was like, "Okay, this is just depersonalization. I just need to calm down and ride it out and I'll be fine."
AC: Rachel often hears from people like Don and Julia who say the videos really help them.
RSW: And it was interesting how many people started reaching out to me, saying, "Oh my gosh, I had the exact same thing happen. Oh my gosh, yes, this is what I think I have, too. What should I do?"
AC: It's interesting because that's like exactly what you never had when you started to deal with everything.
RSW: Yeah, pretty much. And, I think I still always felt a loneliness up until that point, and it really kind of helped that go away, and I'd be like, "Oh my god, there's so many people." And that's what's awesome about the internet obviously is it connects all these people. [laughs] And you're just like, wow, I have all these people who are going through the exact same thing, who grew up seeing faces, who grew up hearing voices, who have these thoughts that they don't know why they have them. And yeah, it definitely made me feel not so alone.
AC: One online friend Rachel made by posting these videos is Jacqueline Phillips-Sabol, a psychologist in Erie, Pennsylvania. Sometimes, she says, she shows videos like this to her patients.
Jacqueline Phillips-Sabol: And as a professional, I am the better person to help them to deal with certain aspects of it. I'm the better person to diagnose them. I'm the better person to advise them as far as medications and emergency-type situations and things like that. But I can't be inside of their skin and explain to them or relate to them on how it feels to experience symptoms the way that Rachel can.
AC: For a lot of us, building this online community of people all facing the same struggles might be enough to feel better, but for Rachel and people like her, it isn't enough. She still has some awful, dark days that she doesn't film and she doesn't talk much about online. It's the episodes of depersonalization when she gets detached from reality, and she told me about one of these moments.
RSW: I was just really sick and I got stuck somewhere, and when I get off, I know it, so I don't drive or anything. I pretty much sit bunker down, but I bunkered down in this parking lot, and I was able to call my mom and be like, "Look, you probably want to come get me. I'm just sitting in a parking lot.
AC: Are you afraid that after people see you this way they'd start to see you differently?
RSW: It freaks...I think it freaks a lot of people out.
AC: Rachel says she doesn't know how to regain control when she loses touch with reality. It happens a few times a month. These episodes are part of why Rachel will probably never live alone. She's afraid she'll get stuck in this detached state of mind and will need to check into a psych facility. She's been saving money in case that happens.
JW: But then you think about, will she ever get married, who will take care of her when we're gone.
AC: This is Rachel's mom, Janelle, again.
JW: I mean, you worry about those things cause so many times if people don't get the right help, they end up on the streets as homeless people, and I had thought about that. And I think about who will, you know about her marrying. I want her to be happy. And it's really sad when your daughter worries about herself, that she has a savings account that she keeps money in, in case she ever has an episode and has to be put into the emergency room, and she doesn't want to feel like it'd have to be money out of our pocket.
AC: But Rachel looks at things a little differently.
RSW: I guess for me now, this is just a much better situation. Because even when I did live alone, I told you, I downward spiraled. I wasn't happy. So in my make believe world, "Oh, everything's fun," but no, in real life it wasn't. The few times, yeah, that I have lived alone, that's kind of happened each time. For the most part, other than being embarrassed to tell some people, like, "Oh yeah, I still live with my parents. Super cool." Other than that little bit of embarrassment, like when people find out, it really doesn't bother me now. Because it's...I feel like I'm in a good place.
AC: The only thing her parents can't do for her is really understand what it's like to live with schizophrenia. But if she ever needs to talk, she has the internet and thousands of subscribers who know exactly what she means.
MH: That was Angus Chen. This was the third part of our series on mental health in collaboration with NPR. If you haven't already, subscribe to this podcast so you can hear them all. Find us on iTunes or at OnlyHuman.org.